Valentino (Santa Monica, CA) [2]
Valentino Restaurant "40th Anniversary"
3115 Pico Blvd, Santa Monica, CA 90405
310.829.4313
www.valentinosantamonica.com
Wed 11/14/2012, 06:50p-11:00p

If we're talking about old-line Italian restaurants here in LA, there's no doubt that
Valentino
would be at the top of that list. Founded by the affable Piero Selvaggio way back in 1972, the restaurant really helped establish the Italian scene here in the Southland, and has brought the City some of its best Italian chefs, many of which have gone on to do great things of their own in Los Angeles. As such, we can't be surprised that Valentino is celebrating its 40th anniversary this year. To mark the occasion, Selvaggio recently hosted a celebration featuring 40 courses of food from the islands of Sicily (Piero's birthplace) and Sardinia (where Chef Nico Chessa comes from), ostensibly inspired by the cooking of revered Sicilian chef Ciccio Sultano of the Michelin two-star Ristorante Duomo.
Chessa was assisted by Pastry Chef Alessandro Stroppa, as well as guests chefs
Celestino Drago
,
Steve Samson
, and guest pastry chef Davide Giova (of Urth Caffe, and also Valentino, previously). In addition, Darrell Corti of the famed Corti Brothers grocery in Sacramento was on hand MC'ing the event (though I didn't manage to catch him even once during the night), and the whole meal was dedicated to the late Mauro Vincente, of the seminal Rex il Ristorante.
If that wasn't enough, on December 4th, Selvaggio is following things up with another dinner, this time a 10-courser featuring Urbani white truffles. The guest chef that evening will be Il Cascinale Nuovo's Walter Ferretto from the Asti province of Piedmont, along with Valentino Las Vegas' Luciano Pellegrini and Farina's Angelo Auriana (also a Valentino alum).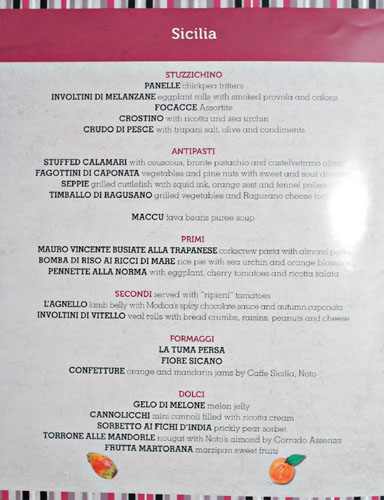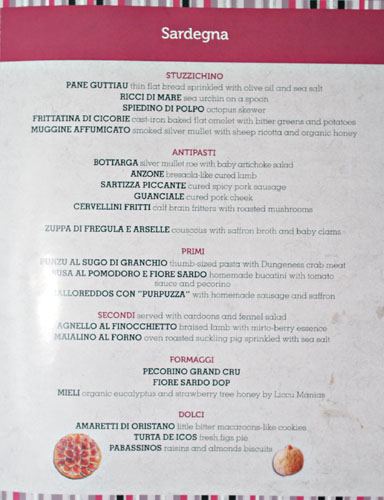 The night's 40 courses (or 43, if you actually count the number on the menu) were priced at an astoundingly reasonable $125 per head, which comes out to a mere $3.13 per course; that must be some sort of record. Click for larger versions.
Meanwhile, to drink,
forty
2oz shots of wine were available for an extra $75pp. That means 80 ounces of
vino
, or over three bottles worth, per person. Clearly, they were trying to get us
ubriaco
. Unfortunately though, the 40 wines didn't really form a
wine pairing
of any sort; rather, they just came out willy-nilly at our server's whim, sometimes announced, other times not. As such, it was an exercise in futility to actually try to determine which wine was which exactly, so here's just a list of the producers (not at all helpful I know):
Sicilian Wines: Graci, Planeta, Regaleali, Donnafugata, Frank Cornelissen, Girolamo Russo, Rapitatà, Faro Palari of Salvatore Geraci, Tami by Arianna Occhipinti, Benanti, Pellegrino, Di Giovanna, Antica Terra del Nanfro, Feudo Maccari, Cantine Gulfi, De Bartoli, Azienda Agricola Spadafora, Aziendor A. Vivera, Virgona, Valle dell'Acate.
Sardinian Wines: Pedres, Cantine Santadi, Sella e Mosca, Barrua, Dettori, Argiolas, Cantina Dorgali.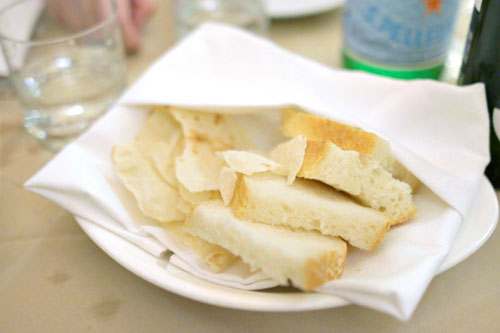 Upon being seated, a small plate of bread was quickly dropped off at our table. The first varietal wasn't much to talk about, but the second was much more interesting. I believe it was a
pane guttiau
, a version of a thin, crisp traditional Sardinian flatbread called
pane carasau
, but with the addition of olive oil and salt.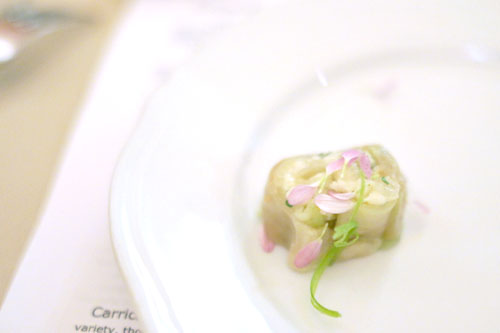 INVOLTINI DI MELANZANE
| eggplant rolls with smoked provola and onions
Our first few courses arrived simultaneously, and my first bite comprised this
involtino
, a sort of rolled eggplant dish. I'm generally not a fan of the vegetable, but I actually quite enjoyed this, finding the smoky, lingering taste of the eggplant nicely offset by the marked sweetness present.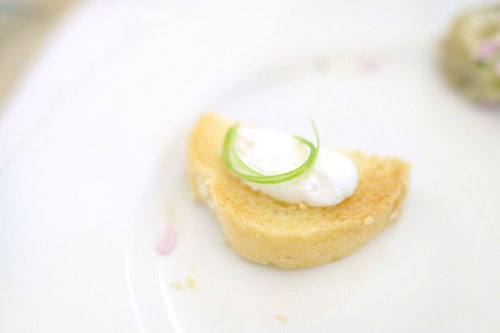 CROSTINO
| with ricotta
and sea urchin
Things quickly started to go downhill. A crostino of sea urchin and ricotta arrived without the former ingredient, and thus was just cheese on bread, hardly something to write home about. I suppose that's better than what some of my other dining companions got, which was nothing (the bite was omitted altogether).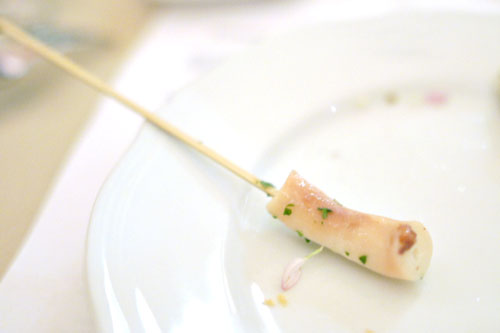 SPIEDINO DI POLPO
| octopus skewer
This tiny tentacle was tasty enough, with a delightfully soft, supple consistency and a creeping brine and sweetness, all with an undercurrent of bitter char. I just wish that the piece were larger, so I could've better appreciated the texture of the octopus.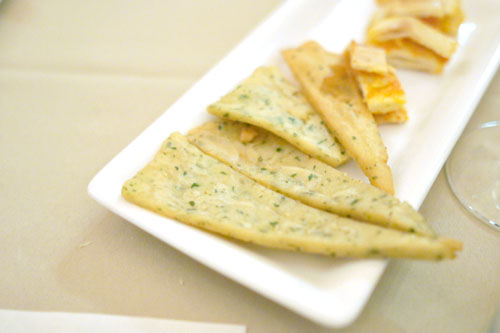 PANELLE
| chickpea fritters
FOCACCE
| Assortite
Triangular portions of
panella
were delicious: salty, crunchy, and full of hearty, savory goodness. The focaccia was delectable as well, with a delightful onion-y tanginess to pair with the substantial bite of the dough.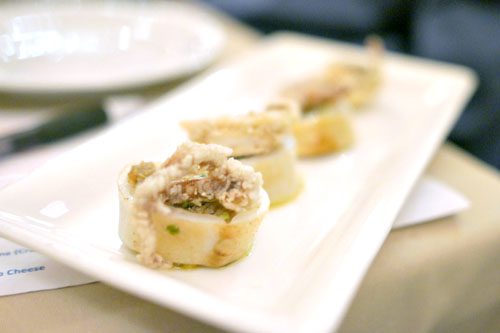 STUFFED CALAMARI
| with couscous, bronte pistachio and castelvetrano olives
Squid was quite good: snappy and with a tasty ocean-y relish, yet moderated by the crunchy, nutty combo of the pistachio and couscous.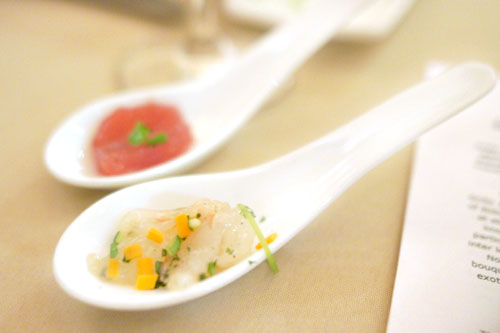 CRUDO DI PESCE
| with trapani salt, olive and condiments
Nobody (including our server) knew exactly what this was when it arrived at the table. The red fish was obviously tuna, and it was decent, albeit a bit dry, with a creeping brine, slight olive oil character, and nice pricks of saltiness from what I assume is the Trapani. The other spoon left us scratching our heads, though. The specimen was somewhat chewy, with a "stickiness" that reminded us of raw shrimp, but lacked sufficient acidity.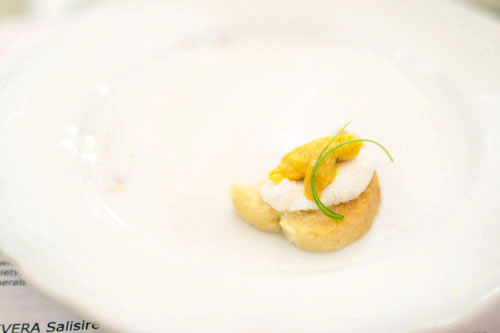 CROSTINO
| with ricotta and sea urchin
At last, we were properly provided our crostini course. This one was much better, obviously. The addition of the urchin really worked here, adding a cool, creamy, ocean-y counterpoint against the tangy ricotta.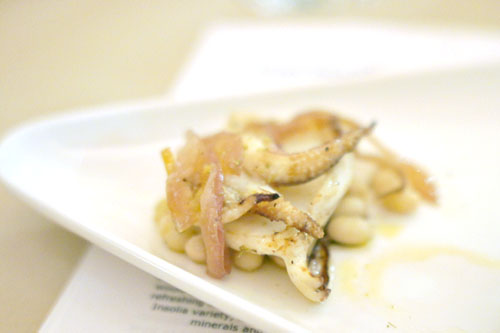 SEPPIE
| grilled cuttlefish with squid ink, orange zest and fennel pollen
The
seppie
was definitely a highlight of the evening. I loved the springy texture of the cuttlefish, and how its salinity was countered by the beans in the dish. Topping things off was a hint of citrus, which gave the course a lovely brightness.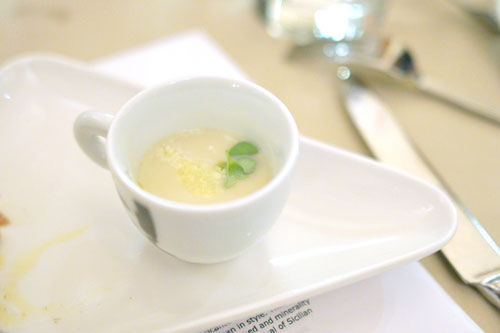 MACCU
| fava beans puree soup
The traditional Sicilian soup
maccu
was a welcomed sight. The potage was hot and hearty, with a great earthy weight from the favas accented by just a touch of funk.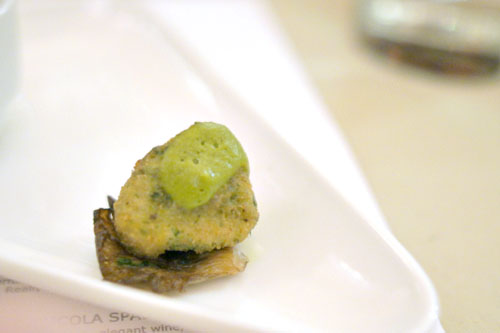 CERVELLINI FRITTI
| calf brain fritters with roasted mushrooms
A small sphere of calf brain was surprisingly delish, mild at first, with a balance of creamy and crispy textures, leading to a growing gaminess on the close that lingered on and on.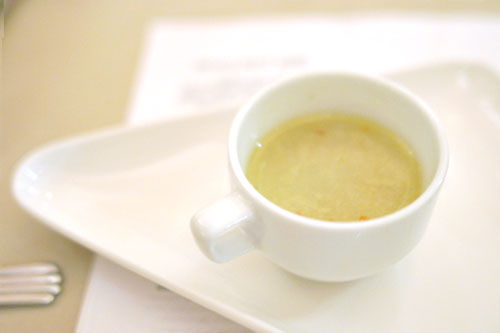 ZUPPA DI REGULA E ARSELLE
| couscous with saffron broth and baby clams
Accompanying the
cervellini
was a rich, heady soup featuring saffron. I really appreciated its depth and intense savoriness, bolstered by the incorporation of clam, while the couscous provided a fitting textural counterpoint.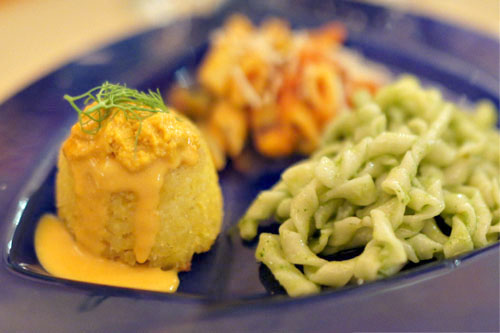 MAURO VINCENTE BUSIATE ALLA TRAPANESE
| corkscrew pasta with almond pesto
BOMBA DI RISO AL RICCI DI MARE
| rice pie with sea urchin and orange blossom
PENNETTE ALLA NORMA
| with eggplant, cherry tomatoes and ricotta salata
Next up was a trio of Sicilian pastas. The first was dedicated to the late Mauro Vicente and was ostensibly handmade by the 86-year-old Elvira Cavallo, formerly of Selvaggio's shuttered Primi. I quite liked it, finding the bright, verdant relish of the pesto excellent against the slightly astringent character of olive oil; I would've liked the pasta a touch firmer though. The rice
bomba
was even better, a blend of crispy and creamy parts, with the lushness of the sea urchin conveyed admirably. Last up was the
pennette
, probably the most conventional of the pastas, named after Vincenzo Bellini's opera
Norma
. It showed off a classic tomato tanginess, balanced by the salty ricotta, but then augmented by the use of eggplant.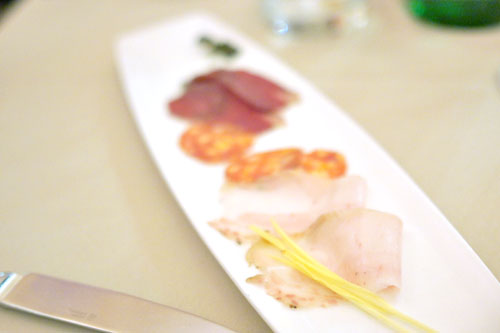 ANZONE
| bresaola-like cured lamb
SARTIZZA PICCANTE
| cured spicy pork sausage
GUANCIALE
| cured pork cheek
Three salumi from the Sardinian side of the menu made an appearance. Up first was the pig jowl-based
guanciale
, which was pretty wonderful, with a very satisfying bite and great blend of pork-y and herb-y flavors. The
sartizza piccante
was also delicious, and delectably spicy, while the
anzone
was tasty as well, showing off a delightful meatiness and fascinating complexity.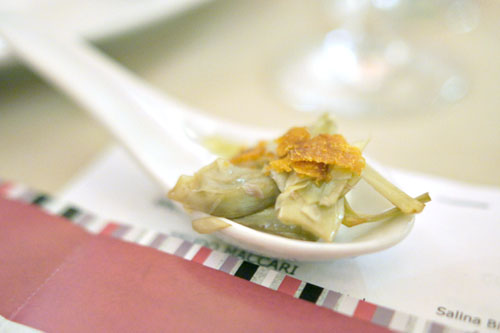 BOTTARGA
| silver mullet roe with baby artichoke salad
A spoonful of artichoke and bottarga I found quite endearing, with the vegetable providing a perfect temper to the substantial salinity of the mullet roe.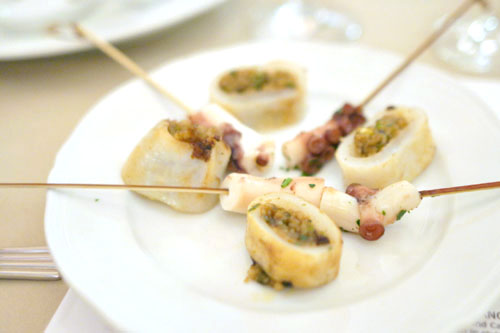 SEPPIE
| grilled cuttlefish with squid ink, orange zest and fennel pollen
SPIEDINO DI POLPO
| octopus skewer
At this point in the meal, our servers were thoroughly confused as to our progress in the menu, and thus brought out another serving of the cuttlefish and octopus that we'd already had. I guess I wasn't complaining
too
much, though, as these were some tasty little bites.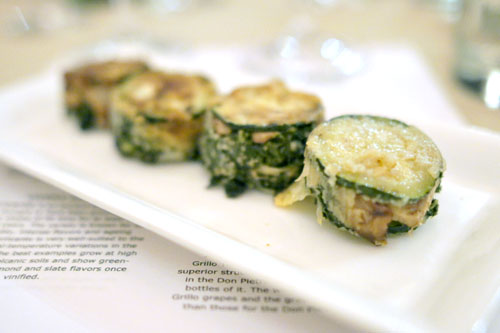 TIMBALLO DI RAGUSANO
| grilled vegetables and Ragusano cheese tortino
Nevertheless, we pointed out to the staff which items we were still missing, including the
Fagottini di Caponata
and this
Timballo di Ragusano
. The
timballo
, though, did arrive eventually, and was quite enjoyable, with a tasty interplay between the grilled veggies and Ragusano. Great "crust" from the cheese, too.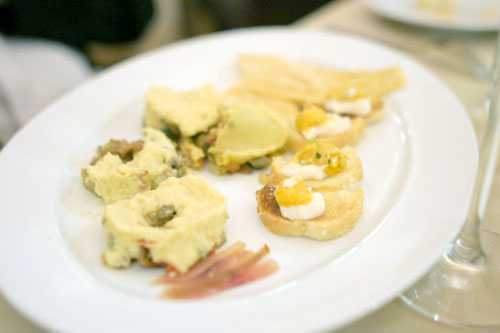 FRITTATINA DI CICORIE
| cast-iron baked flat omelet with bitter greens and potatoes
CROSTINO
| with ricotta and sea urchin
MUGGINE AFFUMICATO
| smoked silver mullet
with sheep ricotta and organic honey
PANE GUTTIAU
| thin flat bread sprinkled with olive oil and sea salt
A plate containing four courses followed. The
pane guttiau
we already had with the bread, so I'm not sure why it's listed as a separate course on the menu, and of course, this was our
third
serving of the sea urchin crostini. With that out of the way, we were free to enjoy the
frittatina
, basically a mini egg fritatta. I liked it well enough, but really wanted to taste more of that potato. We also had some thin slices of what I believe was the
Muggine Affumicato
--intense, salty, and hammy--but where was the ricotta and honey?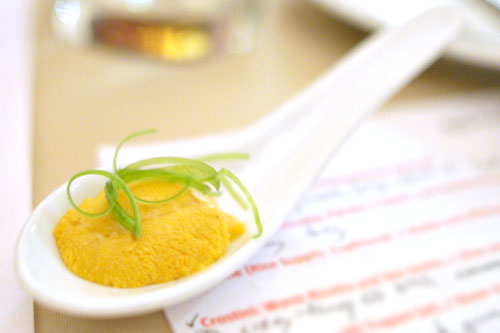 RICCI DI MARE
| sea urchin on a spoon
Sea urchin on a spoon was exactly that: sea urchin on a spoon. It was some solid urchin, but I would've really liked more to have been done here.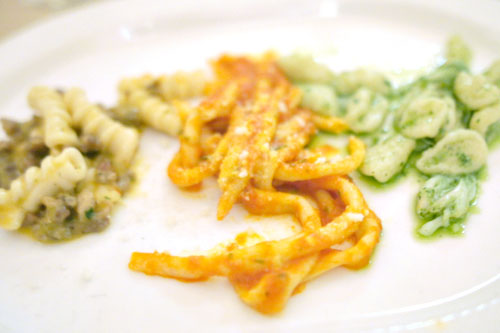 PUNZU AL SUGO DI GRANCHIO
| thumb-sized pasta with Dungeness crab meat
BUSA AL POMODORO E FIORE SARDO
| homemade bucatini with tomato sauce and pecorino
MALLOREDDOS CON "PURPUZZA"
| with homemade sausage and saffron
Here was our threesome of Sardinian pastas now. I started with the
maccarrones de punzu
, and it was excellent, with a very satisfying bite and a superb sweetness and brine from the crab to go against the brightness of the sauce. The
busa
was also quite nice, with a classic interplay between the tart tomato and salty shavings of Pecorino. My favorite here, though, was the
malloreddus
, which was paired with an incredible
purpuzza
sausage that showed off just a marvelous depth of flavor. I definitely could've used a larger portion here.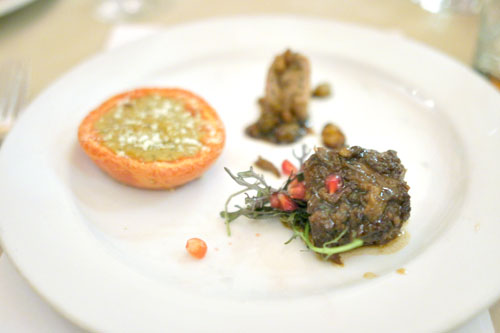 L'AGNELLO
| lamb belly with Modica's spicy chocolate sauce and autumn caponata
INVOLTINI DI VITELLO
| veal rolls with bread crumbs, raisins, peanuts and cheese
Moving on to the main courses now, we started with a Sicilian preparation of lamb belly that I found rather delicious. I loved its dark, deep intensity, tarted up by the sour bits of pomegranate and the juicy side of sweet-smoky stuffed "
ripieni
" tomato. The veal roll didn't disappoint either, with a certain sweetness initially that led to the savoriness of meat on the midpalate.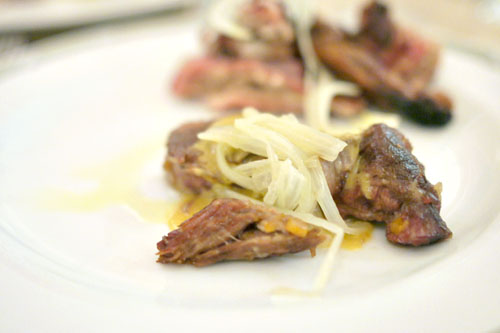 AGNELLO AL FINOCCHIETTO
| braised lamb with mirto-berry essence
The Sardinian braised lamb was quite a bite to behold as well: tender, with a good crust and boatloads of ovine flavor deftly moderated by the slices of fennel and cardoon present.
MAIALINO AL FORNO
| oven roasted suckling pig sprinkled with sea salt
The suckling pig was a fitting conclusion to the savory portion of our meal. There was porky goodness here in spades, accented by pinpoints of salt, and I appreciated the balance between crispy and tender textures, too.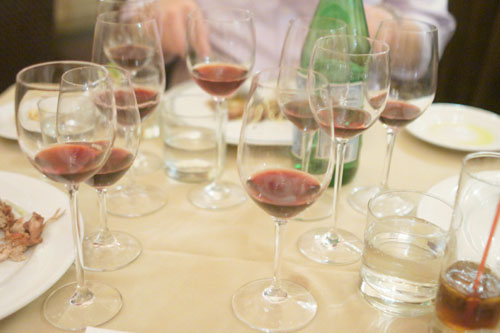 At this point, thanks to the disorganization of the wine service tonight, we had no less than nine glasses on our table, all unidentifiable. And I'm the only one who ordered wine in our party of four;
imagine if we all did
.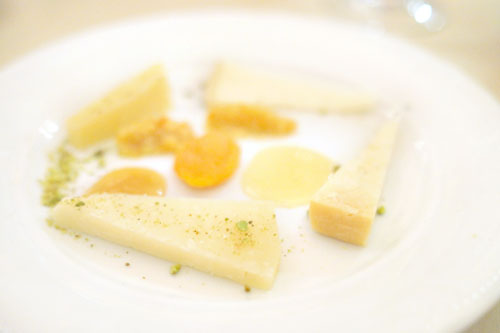 LA TUMA PERSA
FIORE SICANO
PECORINO GRAND CRU
FIORE SARDO DOP
Our cheese course comprised four varieties. Representing Sicily was the La Tuma Persa, the dry, crumbly, somewhat nutty "lost cheese," as well as the slightly grassy cow's milk Fiore Sicano. From Sardinia was the Pecorino Grand Cru, a tangy, salty cheese that one could liken to Parmiggiano-Reggiano, and the famed Fiore Sardo. Accompanying the cheeses was duet of orange and mandarin
confetture
(jams) by the longstanding Caffe Sicilia in Noto, Italy, along with eucalyptus and strawberry tree honeys from Sardinian producer Liccu Manias.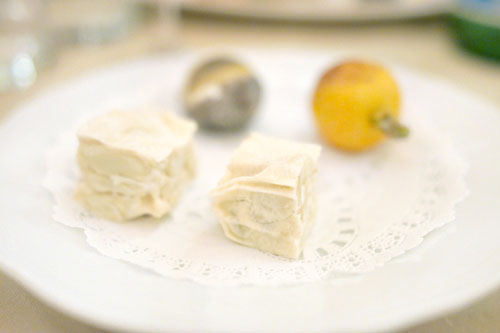 TORRONE ALLE MANDORLE
| nougat with Noto's almond by Corrado Assenza
FRUTTA MARTORANA
| marzipan sweet fruits
Corrado Assenza of the aforementioned Caffé Sicilia crafted some lovely almond nougats, showing off a perfect mix of sweet and nutty flavors. We also had marzipan from Palermo, fun little fruits with boatloads of sugary flair.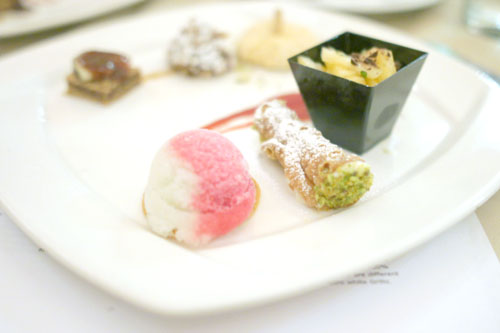 GELO DI MELONE
| melon jelly
CANNOLICCHI
| mini cannoli filled with ricotta cream
SORBETTO AI FICHI D'INDIA
| prickly pear sorbet
AMARETTI DI ORISTANO
| little bitter macaroons-like cookies
TURTA DE ICOS
| fresh figs pie
PABASSINOS
| raisins and almonds biscuits
The final plate tonight contained our last six desserts, three each from the two islands. Sicily provided a nice cantaloupe jelly; an absolutely flawless miniature cannoli (quite possibly the best I've had); as well as a surprisingly restrained, but bracingly cold prickly pear sorbet. Sardinia brought us a delightfully soft, nutty almond cookie (which reminded me of the Chinese type); a sugary fig tart with an almost coffee-like astringency; and finally a licorice-tinged raisin cookie.
In the end, this was a fun, but also very trying meal. The food, for the most part, was on point, and it was fantastic to be able to taste some of these hyper-regional specialties that you'd have a hard time finding otherwise. It really was a different take on Italian cuisine, one that I appreciated. However, the overall experience was severely marred by the utter disarray of the service staff and perhaps the kitchen as well. At one point, the front-of-the-house seemed to completely lose track of which courses had been served, and I ended up having to circle items on a menu that was subsequently handed to our server. Courses were missed; courses were repeated; courses were brought out with little or no explanation (or the
wrong
explanation); and courses were served totally out of order (why are pastas coming out before the
stuzzichini
?). Things got a bit heated with our servers at times, as both parties were at their wit's end.
The wine service, though, was arguably even more lamentable. The size of the pours ranged from barely enough for a sip to a healthy half-glass, while some were paired with eight courses, some only one. Some wines were brought out with no announcement, and servers had to constantly ask us which wines we had already, which of course we didn't really know, since the entire process was pretty much a free-for-all. The whole ordeal was a bit of a mess really, probably the most harried dining experience that I've ever had, and we still never saw that
fagottini
.