Providence (Los Angeles, CA) [4]
Providence Restaurant
5955 Melrose Ave, Los Angeles, CA 90038
323.460.4170
www.providencela.com
Thu 02/07/2013, 07:45p-12:20a

Whenever people ask me for fine dining recommendations in LA, Providence has almost always been the first place that comes to mind. Since opening in 2005, the restaurant has firmly established itself as one of the premier dining destinations in the Southland, and its chef,
Michael Cimarusti
, has been universally hailed as among the City's finest. And I want to emphasize
universally
; people in this town seem to love to talk trash about chefs (
Ludo
,
Mike Voltaggio
, and
David Myers
seem to draw the most ire), but I've never
once
heard anyone speak negatively about him--that should tell you something. Though I've been to Providence seemingly numerous times for
special
events
, my last "real" meal here was
way back in 2009
, and that's just not right. As such, a revisit was
long
overdue.

For this evening, we ended up with a whopping 15 diners, the largest party that I'd ever organized. Because of that, we booked the Sonoma Room, a private dining room that seats 16 (note a minimum charge of $3,000 for Thursday nights). For even larger parties, there's the option of the Cellar Room, which handles up to 22.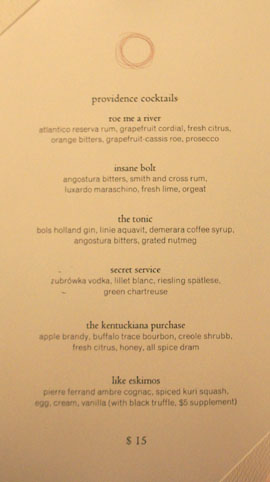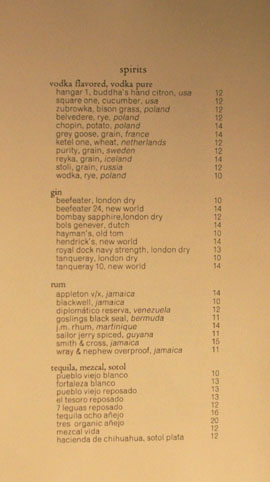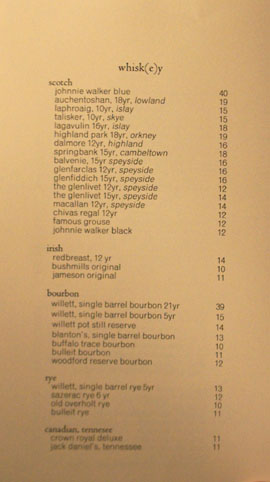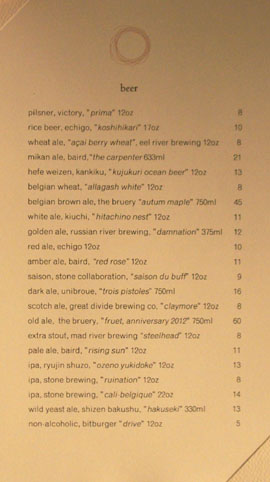 Arriving early at the restaurant, I was handed Providence's comprehensive drink list and soon found myself perusing the cocktails (I believe now the work of
Laura Lindsay
, following the departure of
Zahra Bates
). If that's not your thing, the beer and spirit selection here is also surprisingly well-curated. Click for larger versions.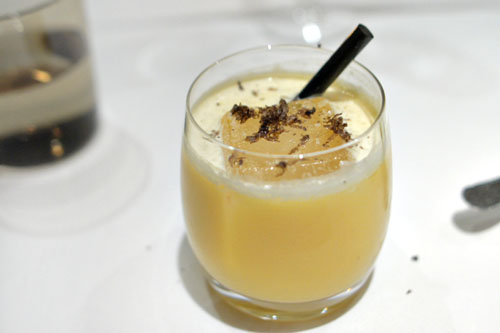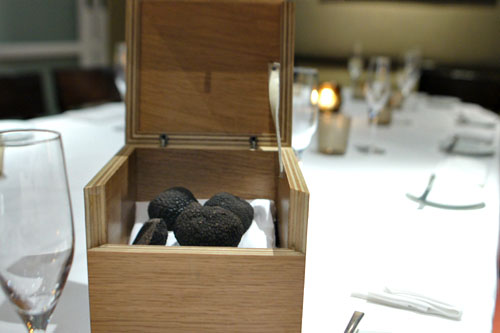 like eskimos [$20.00]
| pierre ferrand ambre cognac, spiced kuri squash, egg, cream, vanilla, black truffle
Unsurprisingly, I wound up with the
Like Eskimos
(hey, it had truffle in it!). It really was delicious though: creamy, eggy, redolent of earthy Périgord on the nose, and with a tinge of sweet spice that all paired beautifully with the drink's base of cognac. I loved the whole pomp and circumstance with the presentation of the truffles, too.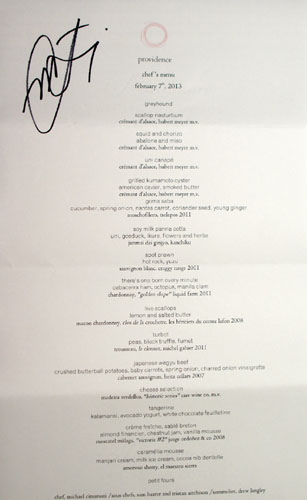 And here we see Providence's flagship Chef's Menu, a 16-course extravaganza at $175 per head, plus $115 for optional wine pairings from Sommelier Drew Langley. Click for a larger version.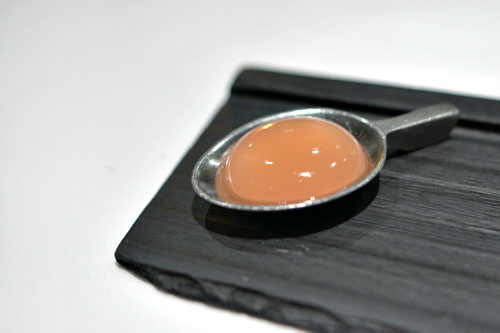 1: greyhound
We began with the restaurant's signature amuse bouche, a spherified (or
reverse
spherified, most likely) Greyhound cocktail containing vodka and grapefruit juice. It showed off a bright acidity initially, leading to a mix of fruity and alcoholic notes on the midpalate. A fun burst of flavors.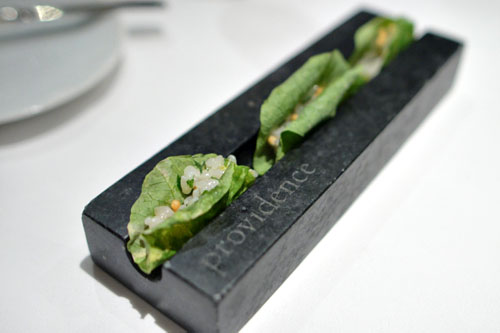 2: scallop nasturtium
crémant d'alsace, hubert meyer m.v.
Another, newer mainstay on the menu is the whimsical
Scallop Nasturtium
, basically diced
kombu
-cured scallop and sushi rice in a nasturtium wrapper. It was a marvelous, perfect little bite, with the sweet, creamy scallop melding beautifully with the rice, then taken up another notch by the crunchy, savory bits of rice cracker sprinkled within. The nasturtium, meanwhile, contributed a delightful tanginess on the finish that balanced out the dish in stellar fashion.
3: squid and chorizo / abalone and miso
crémant d'alsace, hubert meyer m.v.
Up next were
binchotan
-grilled skewers that I'd last encountered at the
OAD dinner
in 2011. I first tried the Monterey abalone, done up with dashi and miso. It was superb, with a fantastic sweet-savory interplay from the miso and a delightful char character; lovely texture, too. The Japanese sword squid and chorizo skewer was arguably even better, with a mouth-watering kick of spiciness from the sausage that paired wonderfully with the subtle, tender squid.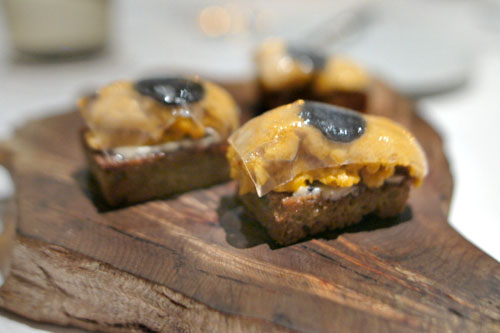 4: uni canapé
crémant d'alsace, hubert meyer m.v.
The parade of hits continued with these bites of Santa Barbara uni, black truffle butter, and
lardo de Bellota
, all served on rectangles of focaccia. Unsurprisingly, they were delicious, with the creamy sweetness of the urchin playing perfectly off of the in-your-face smack of the lardo-focaccia combo. Some great transitions of flavors here, and one of my dining companions even likened the taste to eating "fried uni."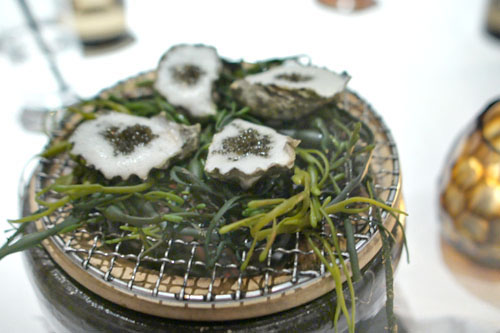 5: grilled kumamoto oyster
| american caviar, smoked butter
crémant d'alsace, hubert meyer m.v.
Kumamotos arrived in a bed of seaweed, topped with a Champagne beurre blanc and Alverta caviar. The dish showed off classic oyster flair, with a mélange of creamy, rich, briny flavors set off by sharp pricks of salt from the sturgeon roe.
6: goma saba
| cucumber, spring onion, nantes carrot, coriander seed, young ginger
moschofilero, tselepos 2011
Mackerel was marvelous, displaying a clean, focused, yet subdued salinity that perfectly matched the tart, crunchy pickles, all while the finish lingered on and on with the relish of the ocean. A flawless marriage of flavors and textures--I do not hesitate in calling this the best
saba
that I've ever had.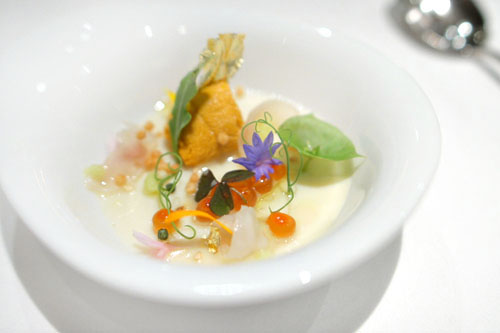 7: soy milk panna cotta
| uni, geoduck, ikura, flowers and herbs
junmai dai ginjyo, kanchiku
Our next course was a redux of a dish Chef Cimarusti presented at 2011's
Ibaraki benefit dinner at Breadbar
. It was a beautifully composed plate, with the three types of seafood taking center stage and conveying some pure, unmitigated flavors that really tasted of the sea. I especially appreciated the firm, crunchy texture of the geoduck. To that, the soymilk panna cotta offered up a lush, creamy counterpoint, moderating the dish in effect, while the crunchy little bits present really added some well-placed savory accents to the fray.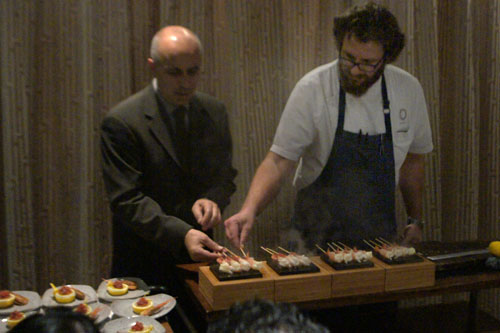 Here, Providence GM/Co-Owner Donato Poto and a particularly hirsute Cimarusti (his "winter coat") made their first appearance to present and cook some beautiful just-in-season
spot prawns
.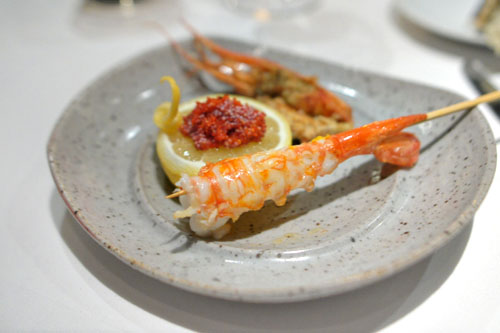 8: spot prawn
| hot rock, yuzu
sauvignon blanc, craggy range 2011
Cimarusti and company are known for their adept handling of spot prawns (particularly the salt-baked variety), and the version we had tonight did not let them down. Cooked briefly on hot stones, they were finished simply with a dash of yuzu, resulting in just about the purest, freshest, most profound expression of the ingredient possible, with a fantastically snappy texture to boot. The prawn roe, too, was tasty, with a lovely piquancy to it, and I really appreciated the head as well, with its smokier, weightier facets.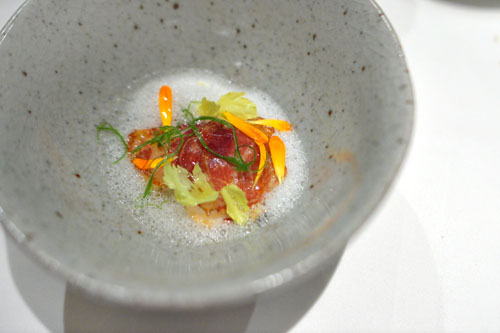 9: there's one born every minute
| cabacerra ham, octopus, manila clam
chardonnay, "golden slope" liquid farm 2011
Despite the abstruse moniker, the risotto of octopus and clam managed to be a table favorite, and for good reason. The rice was spot on in consistency, and served as a flawless base to the tender, sweet bits of seafood strewn within. If that wasn't enough, the slices of ruby Ibérico neck ham added further layers of spice, savor, and complexity, while the entire amalgam was enveloped by a certain lightness courtesy of celery. A bigger bowl, please!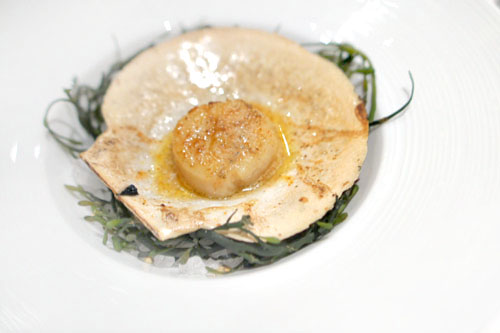 10: live scallops
| lemon and salted butter
macon chardonnay, clos de la crochette, les héritiers du comte lafon 2008
Live New Bedford scallops were presented with their adductor muscles still attached to the shells, and served simply with French
fleur de sel
butter (Rodolphe Le Meunier's Beurre de Baratte), salt, and lemon. I was afraid that the butter would overwhelm the bivalve, but that simply wasn't the case. Rather, it provided a richness and depth to the dish that melded gorgeously with the inherent sweetness of the scallop, all while a slight touch of char added further interest to the course.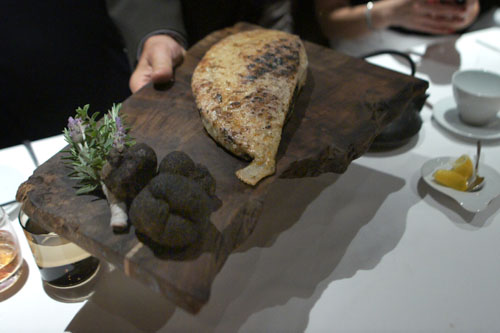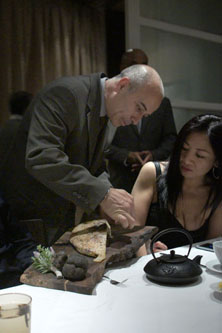 At this point, a magnificent filet of Brittany turbot, replete with truffles, was brought out to the table for us to take a gander at.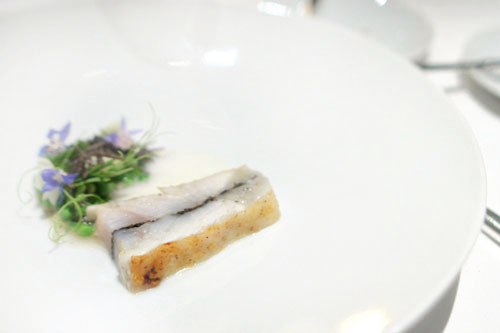 11: turbot
| peas, black truffle, fumet
trousseau, le clousot, michel gahier 2011
After being plated, the turbot was brought back outside, accompanied by a pea salad and Périgord fumet. The fish was beautifully done, with a soft, delicate flavor that was keenly augmented by the Morbier-esque line of black truffle within. It was a smart combination of two disparate elements, and I absolutely adored the pea here too, which showed off some bright, verdant flavors that really set the dish off.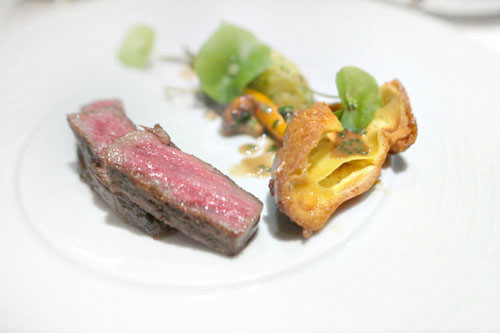 12: japanese wagyu beef
| crushed butterball potatoes, baby carrots, spring onion, charred onion vinaigrette
cabernet sauvignon, heitz cellars 2007
Despite being a seafood-centric chef, Cimarusti has always had a knack for cooking up some of the best steak I've ever tasted, and tonight was no exception. What we had, thus, was real deal Japanese wagyu, grade A5, from Kagoshima Prefecture. It was pretty much flawless: melt-in-your-mouth tender, loaded with all the beefy, fatty flavor that you'd expect, and with a fantastic twang of char bitterness. One of my dining companions declared this the best steak he'd ever eaten, and I believe him. As good as the meat was, the accompaniments made sense, too. The Yorkshire pudding was runny and rich, comforting really, as were the potatoes, while the carrots made for a fitting touch of levity to the dish.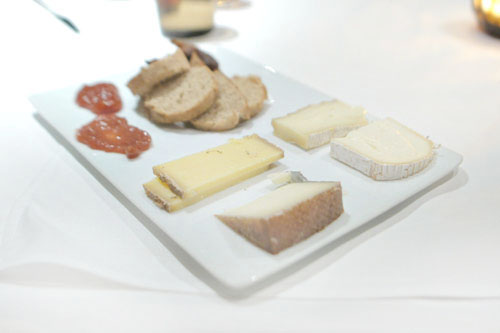 13: cheese selection
madeira verdelho, "historic series" rare wine co. m.v.
Providence's cheese cart is one of the best in the City, and we were able to enjoy four selections from it. Going counterclockwise from bottom-right, we had Casatica di Bufala (a creamy, soft, Italian water buffalo cheese with a mushroom-y character), Nuvola di Pecora (Italian sheep's milk with an earthy flair), green label Comté (raw cow's milk--sweet and caramel-y), and Dallenwiler Geisskase (a nutty Swiss goat cheese). Joining the
fromage
was housemade bread, quince and rhubarb jams, candied walnuts, and dried figs.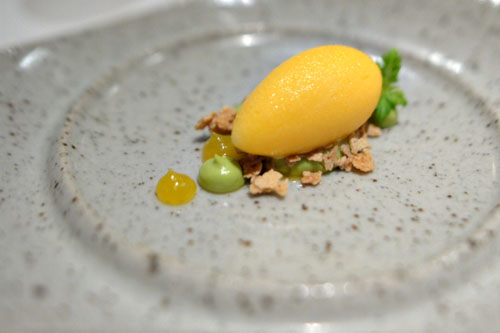 14: tangerine
| kalamansi, avocado yogurt, white chocolate feuilletine
Moving now into the sweet stuff, we began with a sort of pre-dessert. A flawlessly smooth quenelle of tangerine sorbet was a jolt to the palate, putting forth some really bright, citrus-y flavors, moderated in part by the lushness of avocado, all while the feuilletine added texture and a nice savory tinge to the dish. Great as a palate cleanser.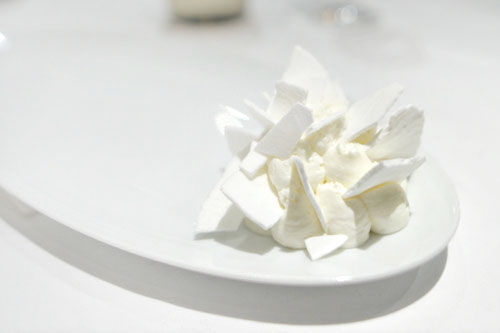 15: crème fraîche, sablé breton
| almond financier, chestnut jam, vanilla mousse
moscatel málaga, "victoria #2" jorge ordoñez & co 2008
Here we had the kitchen's riff on the classic Mont Blanc (whipped cream-topped chestnut purée), but done up in a visually-striking all-white visage. The dessert conveyed a marked sugariness up front that reminded one of my dining partners of "cupcake frosting." Balancing that out was the chestnut jam and slightly savory financier, all while the crème fraîche provided an undercurrent of tanginess.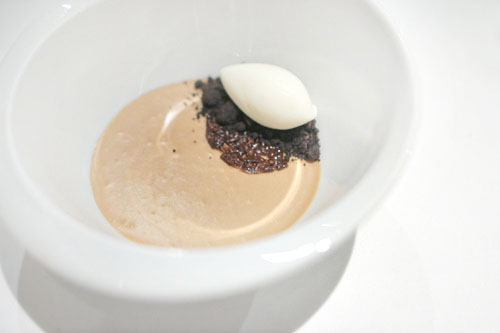 16: caramélia mousse
| manjari cream, milk ice cream, cocoa nib dentelle
amoroso sherry, el maestro sierra
Last up was a dual-layered mousse containing both Valrhona Manjari dark chocolate and Caramélia milk chocolate. It was actually overly sweet for me, and I would've liked some herbaceous or fruity notes to balance things out a bit. That being said, the milk ice cream did deliver a temper to the dessert, and I quite appreciated the textural aspect of the dark chocolate streusel and cocoa nib tuile.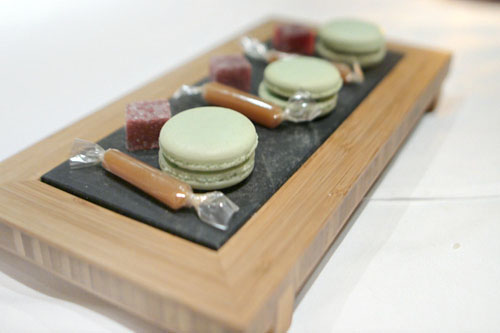 17: petit fours
To close: peppermint macarons, caramels, and raspberry-tarragon
pâtes de fruits
.
A return to Providence was long overdue, but I'm really glad I made another trek out here. The food was even better than I remember, and it was fantastic to see how Cimarusti's cooking has progressed over the years. If anything, it's become even more precise, even more focused, with a cleaner, more ingredient-centric aesthetic and an acute nod to modernity. In a way, the plates are simpler, yet more profound, with boatloads of finesse and a palpable purity to them. If that wasn't enough, the beverage pairings by Drew Langley were top notch, and the service was to be commended as well. A lot of people call Providence the best restaurant in LA, and they might just be right--it's a must visit for Angelenos and foodie-focused out-of-towners alike.