Barbershop Pop-Up (Los Angeles, CA)
Barbershop Ristorante Italiano
8700 W 3rd St, Los Angeles, CA 90048
424.272.5849
www.barbershop-venice.com
Wed 01/09/2013, 08:30p-11:40p

The last time we caught up with Walter El Nagar, he was serving as Chef de Cuisine at Sal Marino's longstanding
Il Grano
. Not long after that pretty remarkable meal, he left the restaurant and began working at
Piccolo
in Venice. From there, he transitioned to
La Botte
(where he'd previously consulted) in July, and had plans to overhaul the menu by November. However, by the time that rolled around, he'd already departed to begin work on Barbershop, his first solo project. To get the concept off the ground, El Nagar, like many chefs these days, instituted a pop-up, one set inside the recently-shuttered Il Covo, which itself had opened up in the old Orso space back in March 2011. The temporary restaurant kicked off on December 19th, and ran until the 12th of this month, Wednesdays through Saturdays. Chef El Nagar partnered with Piccolo veteran Mario Vollera, who also served as Wine Director, and was joined in the kitchen by
LudoBites
alum
Chuck Kallal
.

Barbershop occupied the upper floor of Il Covo, which, as you probably already know, is in the process of being converted to the new location of Suzanne Goin's
AOC
. The room is cozy and rustic, and features a sole Chef's Table that seats up to 16.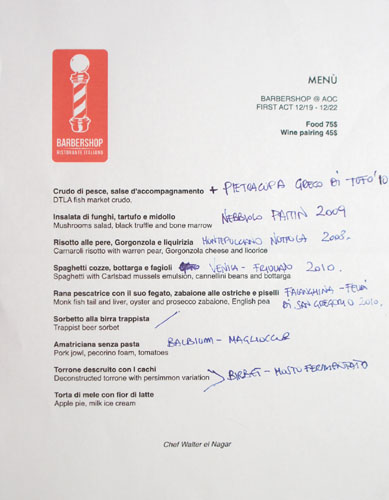 As far as Barbershop's menu is concerned, it was a prix fixe tasting of progressive Italian cuisine, set at $75pp, plus $45 for an optional wine pairing from Vollera. Click for a larger version.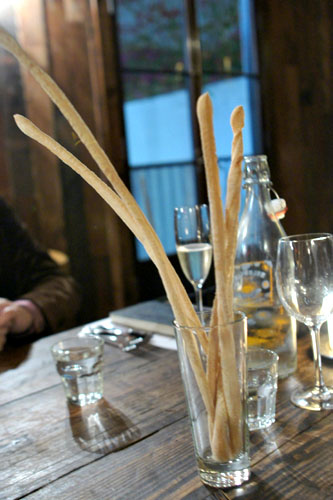 To begin: quite possibly the lengthiest
grissini
(breadsticks) that I'd ever encountered.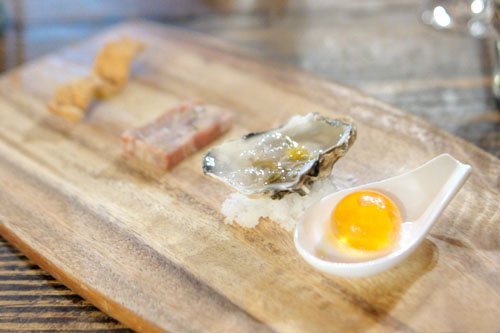 Stuzzichini
A quartet of canapés was brought out next. I started with the so-called "Italian chicharrón," which I found nicely crisp and savory, with a lovely, citrus-y sauce as an accompaniment. I then moved on to the Luna oyster: firm and crisp, with a very focused salinity partly offset by the tart pomegranate notes in the bite. Next was the "Italian Spritzer," basically a spherification of Prosecco, Aperol, and orange that showed off some bittersweet flavors, but was rather watery and diluted. Finally, we had my favorite of the foursome, a delectably salty, satisfying chicken terrine.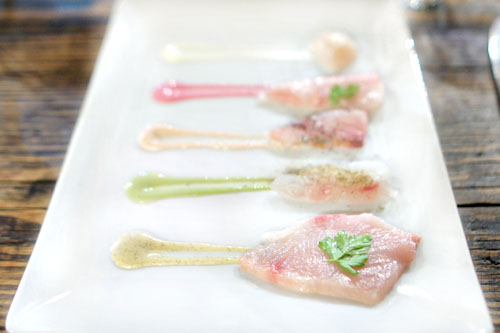 1: Crudo di pesce, salse d'accompagnamento
| DTLA fish market crudo
Pietracupa Greco di Tufo 2010
Next was a quintet of crudo. Going from back to front, we had:
Scallop - Firm and fresh, with an intense, lingering brine moderated by the application of its Meyer lemon dressing.
Amberjack - Hearty and sticky, with a subtle taste that wasn't overwhelmed by the surprisingly restrained sweetness of beet.
Trevally Jack - A fish that you don't encounter all that often, with a superb tanginess from the accompanying blood orange.
Red Sea Bream - Delicate and refined, with the best use of sauce in the form of that cilantro smear.
Yellowtail - Nicely fatty, with a great texture and subtle kiwi tartness to balance things out a bit.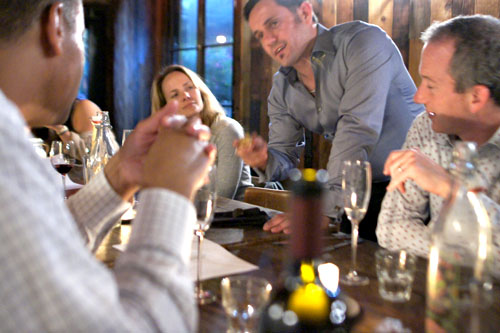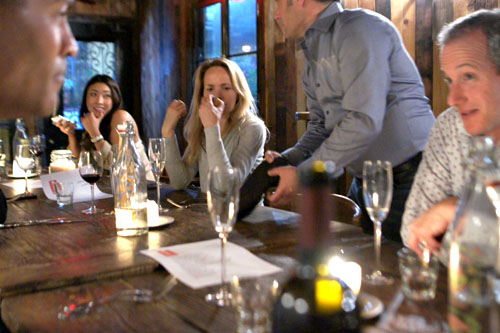 Here, Mario Vollera shows off the truffles used in our next course.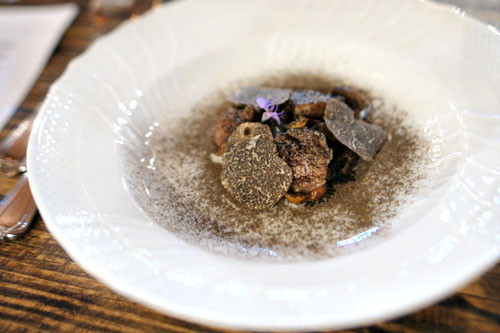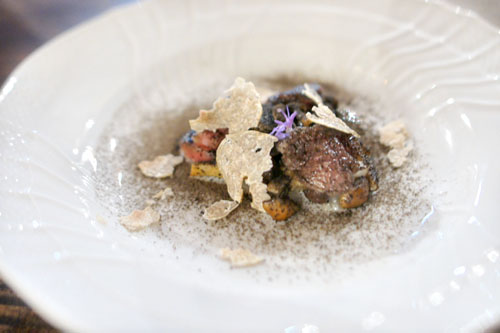 2: Insalata di funghi, tartufo e midollo
| Mushrooms salad, black truffle and bone marrow
Nebbiolo Paitin 2009
A "salad" of mushroom brought together three different types of the fungus, including a dust of trumpet mushroom, on top of which was shaved black or white Alba (at an additional charge) truffle. There were some great textures here, with the crisp, crunchy, slightly gelatinous
funghi
providing an earthy veil to the dish, one that was then complemented by the rich, gooey bone marrow.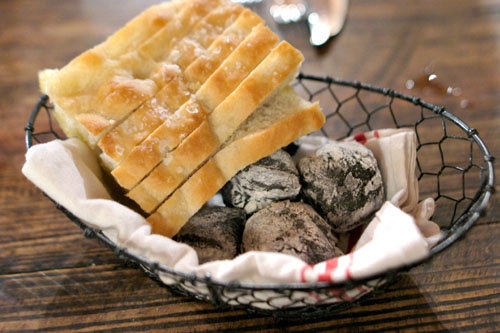 The bread basket included a delightfully salty focaccia, as well as some surprisingly saline squid ink rolls.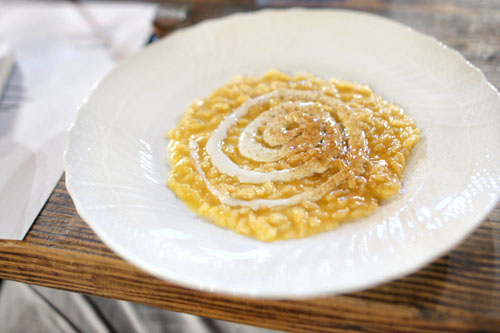 3: Risotto alle zucca, Gorgonzola e liquirizia
| Carnaroli risotto with butternut squash, Gorgonzola cheese and licorice
Montepulciano Nottola 2008
A risotto incorporating squash and Gorgonzola was surprisingly delicious, one of the better preparations of the dish that I'd had in a while in fact. I loved the salty, funky bite of the
bleu
and how it enrobed and encapsulated every single grain of the properly
al dente
Carnaroli rice. If that wasn't enough, the butternut actually provided a delightfully sweet counterpoint to the cheese, making for a very balanced course overall.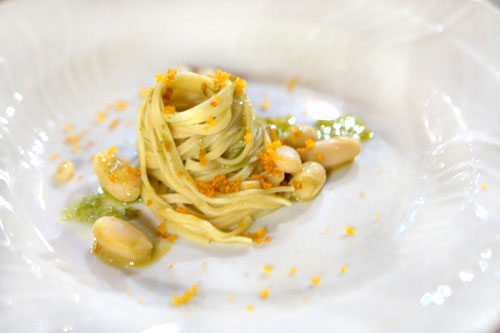 4: Spaghetti cozze, bottarga e fagioli
| Spaghetti with Carlsbad mussels emulsion, cannellini beans and bottarga
Venica Friulano 2010
Housemade spaghetti was another strong course, with a fantastic, overarching salinity from the combination of mussels and Sardinian bottarga that was dutifully moderated by the weighty, earthy beans. Lovely consistency on the noodles, too.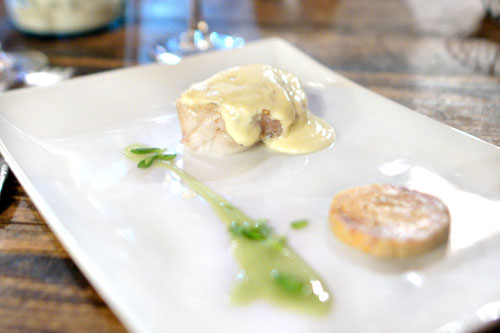 5: Rana pescatrice con il suo fegato, zabaione alle ostriche e piselli
| Monk fish tail and liver, oyster and prosecco zabaione, English pea
Falanghina Feudi di San Gregorio 2010
El Nagar's monkfish, prepared sous vide, was divine, one of the best presentations of the fish I've had actually, with a beautifully spongy, springy, snappy texture and mildly saline taste that was wonderfully complemented by the lush, creamy
sabayon
. A disk of monkfish liver, meanwhile, was also served, and definitely lived up to its moniker as the
foie gras of the sea
, putting forth a rich, luxurious, briny character that was deftly tarted up by the use of English pea and a dusting of Maldon sea salt.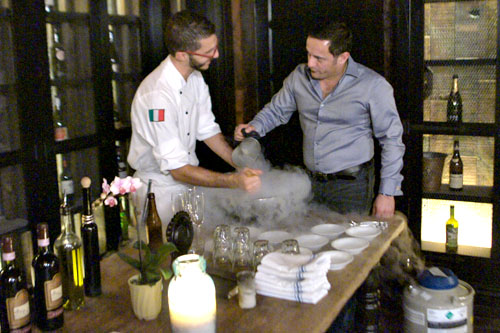 Here, we see the staff using liquid nitrogen to make an instant sorbet.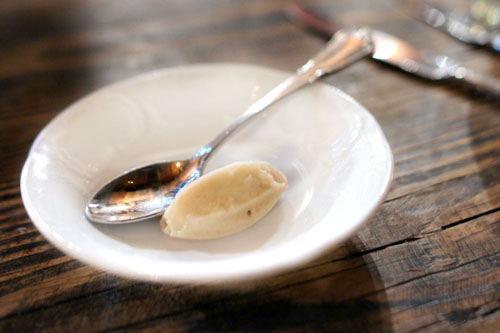 6: Sorbetto alla birra trappista
| Trappist beer sorbet
Serving as a sort of palate cleanser, we had here a quenelle of Trappistes Rochefort 6, flash frozen using the LN2 above. It really was like drinking the beer, showing off the pure, unmitigated essence of the brew, but in a different textural form.
7: Amatriciana senza pasta
| Pork jowl, pecorino foam, tomatoes
Balbium Magliocco 2009
Our last savory course brought us a reimagined version of the classic
all'amatriciana
, a traditional pasta sauce based on
guanciale
(cured pork jowl), pecorino, and tomato. Instead of the
guanciale
, we had instead a wonderfully tender cut of sous vide pork cheek. It was delicious all by itself, showing off a mouthwatering blend of porcine flavors, but also went superbly with the sauces, the pecorino providing a bit more heft to the dish, while the tomato inserted a well-placed tanginess into the mix.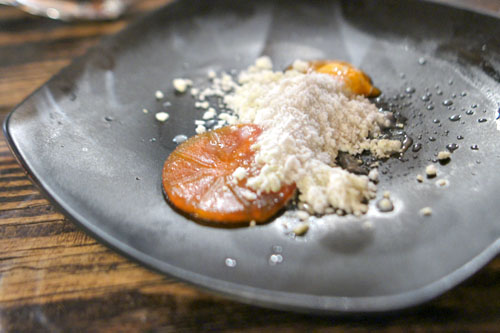 8: Torrone descruito con I cachi
| Deconstructed torrone with persimmon variation
Ca' Rossa Birbet Mosto Fermentato NV
Getting into the sweet stuff now, the first dessert course was El Nagar's version of a deconstructed
torrone
, traditionally a nougat-like Italian confection embedded with various nuts. The incarnation here, though, comprised pistachio-almond milk powder and persimmon over a base of egg and sugar. It was rather lovely,
really
recalling the classic candy with its multifaceted flavors and intriguing textures.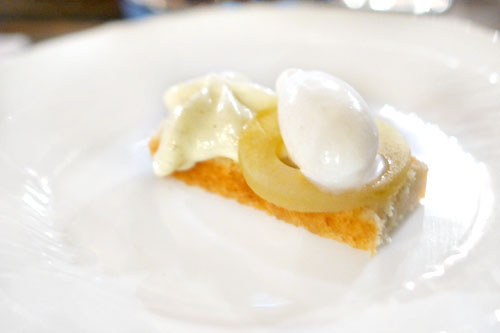 9: Torta di mele con fior di latte
| Apple pie, milk ice cream
Ca' Rossa Birbet Mosto Fermentato NV
Last up was the Chef's riff on apple pie: a sponge cake, served with sous vide compressed apple and a mascarpone ice cream (taking the place of cheddar cheese?). It was a success, with the fruity sweetness of the dish pairing beautifully with the cool, tangy
gelato
, making for a delicious, and very well-integrated dessert.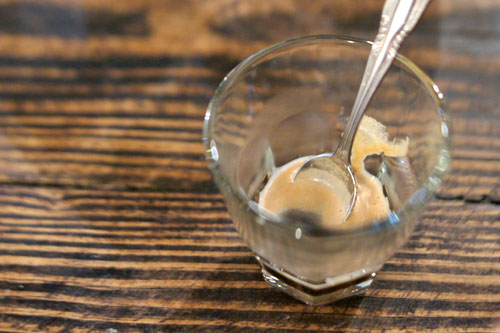 To close, a cup of espresso.
It was nice to be able to catch up with Chef El Nagar again. Italian in LA is often criticized for being cookie-cutter, so I really appreciated what he was trying to do here: present the heart of Italian cookery, but with a slightly modern twist. It's actually something that I'd like to see done more often. As for what's next for the Chef, he plans to follow up with another round of Barbershop, after which he'll hopefully be moving into a permanent spot near his home in Venice. It'll be a tiny, intimate restaurant, serving perhaps a dozen diners in a bar-seating-only, tasting menu format, which is indeed very unusual for an Italian eatery. Should be interesting.