Opinionated About Dining Dinner at Providence (Los Angeles, CA)
Opinionated About U.S. Restaurants 2011 "Four on Fish" at Providence
5955 Melrose Ave, Los Angeles, CA 90038
323.460.4170
www.providencela.com
Mon 06/20/2011, 09:30p-01:00a
Providence
seems to be
the
place in LA to hold these special multi-chef dinners. We of course had the
Bocuse d'Or USA dinner
late last year, replete with its gaggle of foie gras protesters; and let's not forget the seminal
5x5 collaborative dinners
that kick-started the trend back in '08. The latest in this series marks the debut of
Opinionated About U.S. Restaurants 2011
, a new nationwide dining guide curated by
OAD
's Steve Plotnicki.
To celebrate the publication of the book, Plotnicki is hosting a number of exclusive events at some of the country's top restaurants, the first of which took place right here at Providence. Entitled "Four on Fish," the dinner featured the likes of Michael Cimarusti, Ludovic Lefebvre, Hiroyuki Urasawa, and Ricardo Zarate, all preparing their best seafood dishes.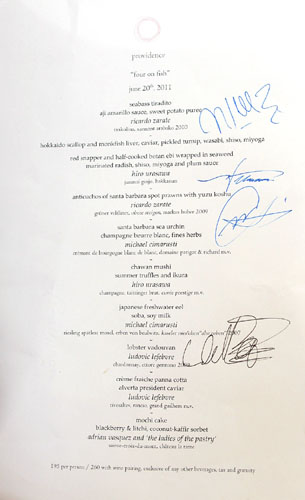 The menu was a nine-courser, priced at a lofty $195 per person, plus $65 for wine. In addition, everyone in attendance received a copy of Plotnicki's
Opinionated About U.S. Restaurants 2011
, a $29.95 value. Click for a larger version.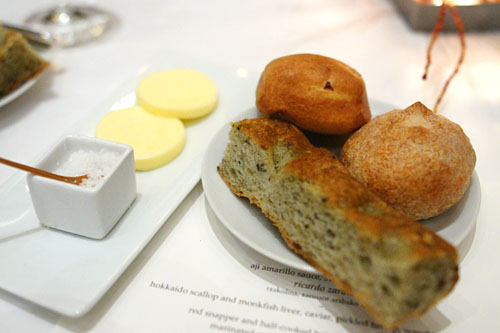 Bread consisted of bacon brioche, nori focaccia, and sourdough varieties, along with sea salt and Providence's trademark circular butter pats.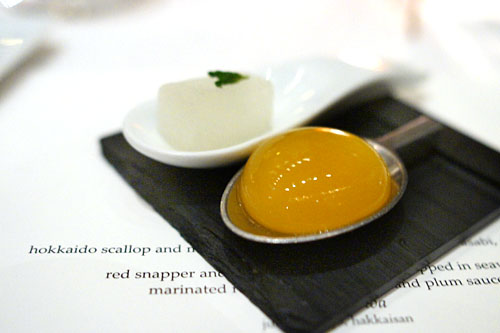 Amuse Bouche: Mojito Gelée & Screwdriver Bubble
Kicking off a meal at Providence with a duet of "cocktails" is almost
de rigueur
these days, and tonight was no exception to the rule. I started with the Mojito gelée, which I found refreshingly fizzy, with a lovely bit of creeping mintiness on the palate. The Screwdriver spherification, on the other hand, was much more straightforward in its sweetness.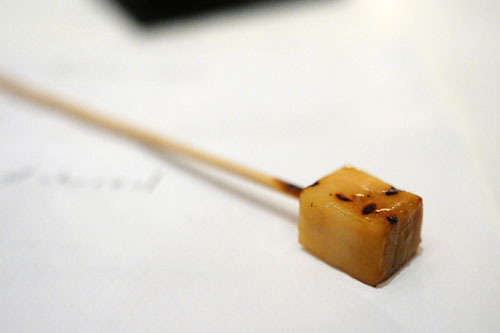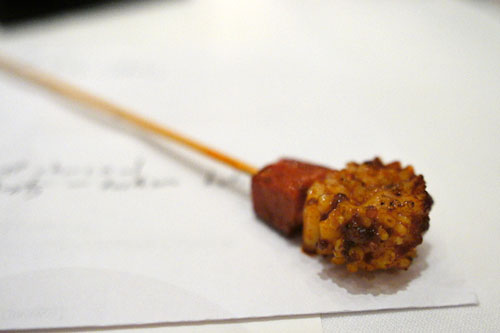 Amuse Bouche: Abalone & Sword Squid with Chorizo
We continued on to a cuboid of Monterey abalone, marinated in
saikyo shiro miso
and grilled over Japanese charcoal. The result was fantastic, quite possibly the best bite of
awabi
that I'd ever had in fact, showing off a perfect interaction between sweet, savory, and smoky flavors. Great texture too! The abalone was followed up by a duo of Japanese sword squid and Spanish chorizo, a combination that proved to be almost as good as the abalone. The tender, subtle nature of the squid went gorgeously with the lingering heat of the chorizo, while the lovely bit of char just tied everything together. Superb.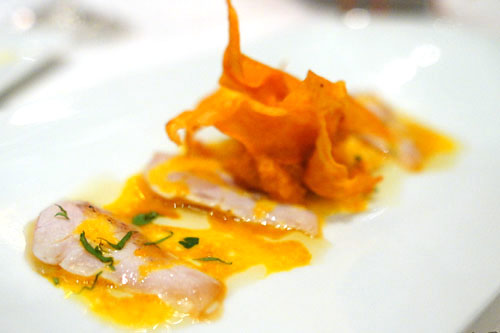 1: seabass tiradito
| aji amarillo sauce, sweet potato puree [
ricardo zarate
]
txakolina, xarmant arabako 2010
Ricardo Zarate, of the upcoming
Picca
, started with a tiradito, a Japanese-inspired preparation of marinated raw (or subtly seared, in this case) fish. The seabass itself was delightfully fresh, with a tender consistency and mild flavor that linked up perfectly with the piquancy of its accompanying sauce. The use of olive oil and sesame oil, meanwhile, added further weight and complexity to the fray. At the same time, the sweet potato purée, in concert with cinnamon, conveyed a marked sugariness in the dish, which actually wasn't overwhelming surprisingly. A nice take on a classic Peruvian staple.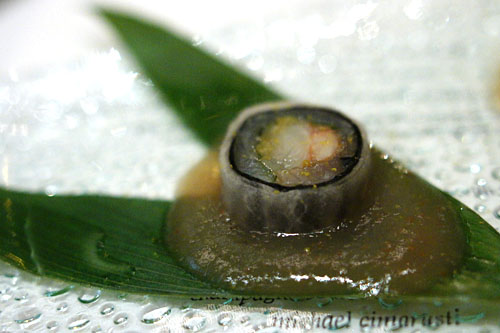 2a: red snapper and half-cooked botan ebi wrapped in seaweed
| marinated radish, shiso, miyoga and plum sauce [
hiro urasawa
]
2b: hokkaido scallop and monkfish liver
| caviar, pickled turnip, wasabi, shiso, miyoga
junmai ginjo, hakkaisan
Urasawa actually presented two distinct items on the plate. I began, as instructed, with the snapper. The
tai
really set the stage for the shrimp, which was the star of the show here for me. Both items were then finished with a sweet, nori-tinged ending that made for perhaps the most complex bite of the evening. Next up was scallop, which arrived wonderfully raw, complemented beautifully by the comparative luxuriousness of the
ankimo
hiding underneath--the combination of delicate and decadent flavors just worked. As well as the two ingredients played together, I thoroughly enjoyed the panoply of flavors--sweet, salty, tart, bitter--imparted by the dish's other elements. A wondrous mélange of Japanese sensibilities, clean and focused, exactly the type of food that you'd expect, that you'd want, from Hiro-san.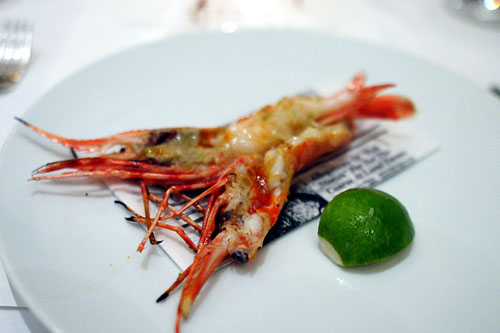 3: anticuchos of santa barbara spot prawns with yuzu koshu
[
ricardo zarate
]
grüner veltliner, obere steigen, markus huber 2009
Anticuchos
refer to Peruvian style skewers of grilled meat, and this spot prawn variation is one of Zarate's signature preparations. Indeed, the prawn here was cooked through, yet still retained a fantastically snappy consistency that I adored. Its sweet, saline savor was heightened by a bit of char, and I definitely appreciated the
creeping
salty-spicy nature of the
yuzukosho
, a nod to Zarate's considerable Japanese training I'm sure. Providence is known for its presentations of spot prawns, and Zarate did the tradition justice with this superb, straightforward rendition.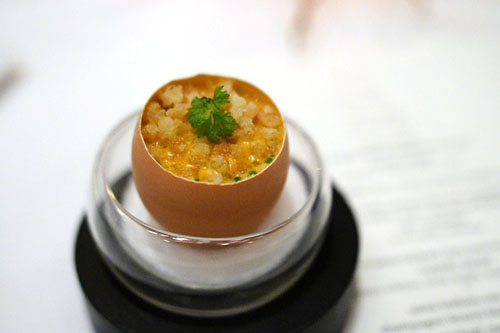 4: santa barbara sea urchin
| champagne beurre blanc, fines herbs [
michael cimarusti
]
crémant de bourgogne blanc de blanc, domaine parigot & richard m.v.
Here, I am reminded of the episode of
Iron Chef
wherein the hosts extol the virtues of pairing "egg and egg," the latter of course referring to uni. Sure enough, the combination clicked flawlessly in Cimarusti's riff on
oeufs cocotte
, with the sweetness of the urchin blending beautifully with the lush nature of its eggy enveloper. The beurre blanc was key, invigorating the dish with an added depth of flavor, while the fines herbs did a great job in lightening things up. We also can't forget the crumbles of housemade brioche croutons either, which made things more interesting texturally. As
Stephane Bombet mentioned
, I wish it were inside an ostrich egg!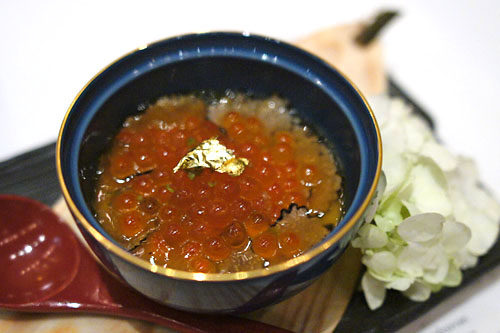 5: chawan mushi
| summer truffles and ikura [
hiroyuki urasawa
]
champagne, taittinger brut, cuvée prestige m.v.
It was interesting that there were two egg courses back-to-back, but being the
egg slut
, so to speak, that I am, I didn't mind one bit. That being said, one of the things that I always look forward to at Urasawa is the
chawanmushi
egg custard, and Hiro-san's version tonight did not disappoint. It was actually particularly luxurious this evening with the inclusion of truffles, and indeed, the earthy, yet restrained relish of those truffles just worked in concert with the relative levity of the egg. At the same time, the ikura added the right amount of salty kick on the close, and I adored additional character imparted by the shrimp and uni hidden underneath. The most interesting facet here, though, was the finish, which was imbued with an almost fishy sweetness.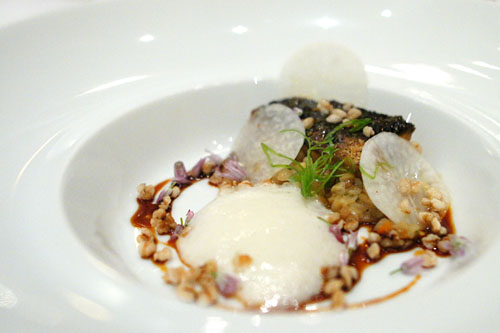 6: japanese freshwater eel
| soba, soy milk [
michael cimarusti
]
riesling spätlese mosel, erben von beulwitz, kaseler nies'chen "alte reben" 2007
Seeing as how
unagi
is oft considered a summertime delicacy in Japan, the serving of freshwater eel made sense. It really did recall a Japanese preparation of the fish, with a heavy, oily body accented by the sweetness of eel glaze. Great crisp skin too! I enjoyed the eel alone, but also greatly appreciated the moderating flavors, and textural variation, of the soy espuma and buckwheat bits.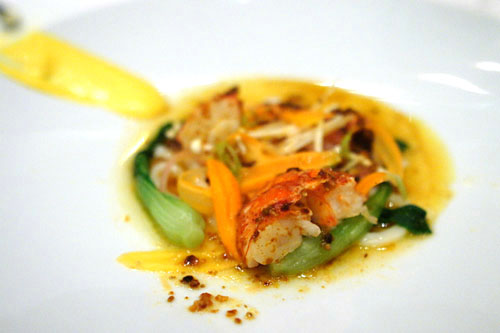 7: lobster vaudovan
[
ludo lefebvre
]
chardonnay, ettore germano 2009
Vadouvan refers to a French spice blend, largely based on Indian masala curry, that happens to be one of Ludo's favorite ingredients. It was front-and-center here, lending a delightfully pungent smack to the Chef's deftly-prepared butter-poached-and-roasted lobster. I was afraid that the delicate flavor of the crustacean would be overwhelmed; instead, the lobster was still the hero in this dish, with the vadouvan acting as its dutiful sidekick. I loved the various textures at play here too, and how the cardamom-infused carrots, bok choy, udon, and enoki all made themselves known while integrating faultlessly in the dish.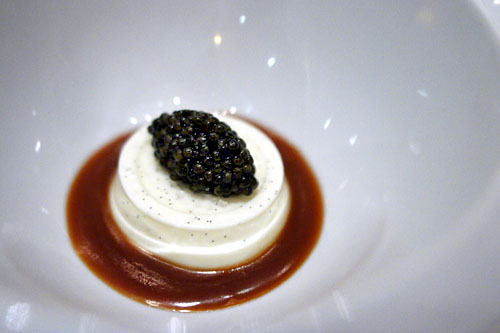 8: crème fraiche panna cotta
| alverta president caviar [
ludovic lefebvre
]
rivesaltes, rancio, grand guilhem m.v.
Pairing sugary caramel with something salty--bacon, Maldon sea salt, caviar in this case--usually works out for the better, and this was no exception. The dish quickly reminded me of Ludo's famed custard-
cum
-caviar desserts from
dinners
past
. As expected, the crème and caviar formed a striking sweet-n-salty amalgam that recalled the essence of salted caramel--delicious. As Krissy once stated:
Milk Duds with popcorn
indeed.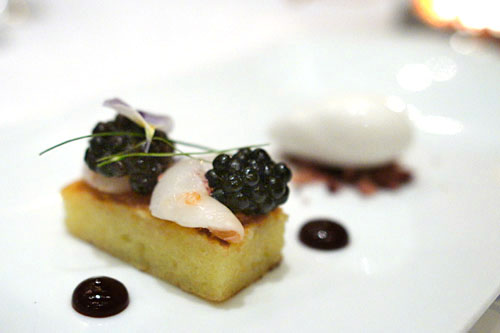 9: mochi cake
| blackberry & litchi, coconut-kaffir sorbet [
adrian vasquez and 'the ladies of the pastry'
]
sainte-croix-du-mont, château la rame
Earlier this year, we were saddened to hear about the departure of Providence's longtime Pastry Chef, Adrian Vasquez, who had moved to Boston for familial reasons. He briefly took on a position at
Ventuno
, a quaint Italian eatery on the isle of Nantucket, MA, but quickly realized that the restaurant wasn't for him. LA beckoned, so Vasquez is back at Providence on a consulting basis, spending one week a month here crafting desserts such as this (which are subsequently executed by his "ladies of pastry"). It was a stellar dessert to be sure, the cake showing off a perfect mochi texture and a taste that blended fantastically with the combination of blackberry and lychee. Finishing things off was the coconut-kaffir sorbet, with its bracing, refreshing flavor that served as the exclamation point in the dish.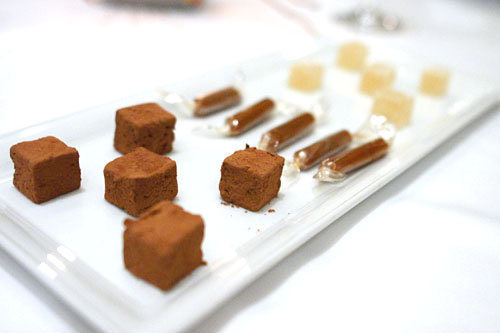 Mignardises
To close: strawberry-chocolate marshmallows, Darjeeling tea caramels, and citrus pâtes de fruits.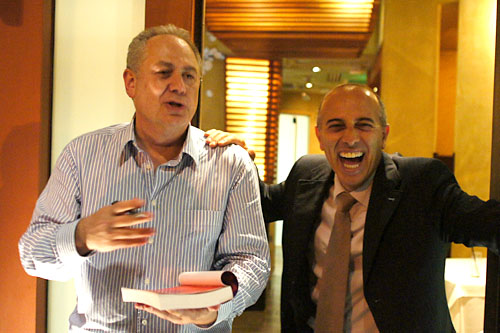 OAD's Steve Plotnicki signing our books, alongside Providence's ebullient maître d' Donato Poto.
I do not hesitate in deeming this the strongest collaborative dinner event yet at Providence, with a great line-up of chefs serving up a near-flawless string of dishes that expertly showcased each of their unique styles. Steve and OAD aren't done with LA quite yet, so be on the lookout. There are some exciting things in store. 'Til next time...