Hinoki & the Bird (Los Angeles, CA)
Hinoki and the Bird
10 W Century Dr, Century City, CA 90067
310.552.1200
www.hinokiandthebird.com
Thu 01/17/2013, 08:00p-11:40p
This year's first "big" debut comes to us in the form of the whimsically-monikered Hinoki & the Bird, the latest project from the
David Myers Group
and quite possibly the successor to
Sona
that we've been waiting for these past few years. The restaurant is housed on the ground floor of
The Century
, the priciest condo tower west of the Mississippi, and is helmed by Myers' prized protégé
Kuniko Yagi
, a current contestant on
Top Chef: Seattle
. As for the name,
hinoki
is a type of cypress tree that is meant to represent the spirit of Japan, while the "bird" encompasses Myers, Yagi, and the staff, whose worldly travels have ostensibly influenced the modern Cal-Asian cooking here.
About the Chef
: Yagi hails from Maebashi, the capital city of Japan's Gunma Prefecture. She first began taking an interest in food due to her mother's cooking, but declined to pursue a career in the kitchen, instead opting for a "safer" profession, resulting in an unsatisfying position at a bank in Tokyo. She yearned to do something more creative, something that would allow her to
create
using her hands. As an escape, Yagi married an American and moved to Southern California in 2003. The marriage, however, was brief, and she soon found herself alone and looking for a job.
Given her limited English skills at the time, Yagi ended up working as a server at Ubon,
Nobu
Matsuhisa
's ill-fated noodle house. Here, her love of food was rekindled, and it just so happened that one of Ubon's regular customers was none other than David Myers. The two began talking, and Myers, impressed by her zeal and enthusiasm, offered her a job at Sona. She was 26 at this point. Thus, in 2004, Yagi began working at one of the best restaurants in LA, starting in prep, then the amuse station, then working her way up the line to sous before being named Chef de Cuisine in late 2007. She excelled in this post, even becoming one of
StarChefs
' Rising Stars, and held the position up until Sona's unfortunate shutter in
May 2010
.
After the closure, Yagi traveled to her homeland,
staging
across a number of eateries in Japan, including traditional Kyoto
kaiseki
restaurants Yachiyo and Konobu, under Chef Takuji Takahashi. In Tokyo, she interned at Seiji Yamamoto's much-talked-about modernist
kaiseki
joint Ryugin, as well as at Sushi Shin, where she made numerous visits to the famed Tsukiji fish market. Returning from Japan in mid-2011, Yagi worked a stint at EN Japanese Brasserie in New York, under Chef Abe Hiroki, then traveled to Paris and Italy (Milan, Venice, Florence, Rome) for additional inspiration. At this point, she became Executive Chef of Comme Ça here in LA, then left to film Season 10 of
Top Chef
. Following, Yagi took a tour of Southeast Asia to further broaden her horizons, and started work on bringing Hinoki & the Bird to life.

The
Milo Garcia/MAI Studio
-penned decor is a slight departure from the LA norm, which is appreciated. It's an indoor/outdoor space, wood-y and homey and multifaceted on the inside, anchored by a copper-topped communal table, cozy bar, and gleaming open kitchen (replete with
binchotan
charcoal grill). Further seating is available in the adjacent enclosed patio.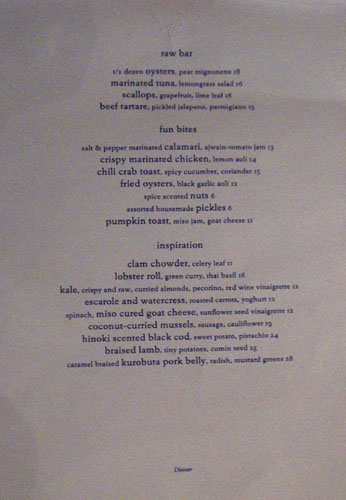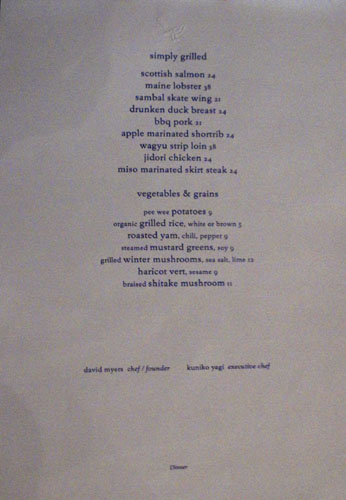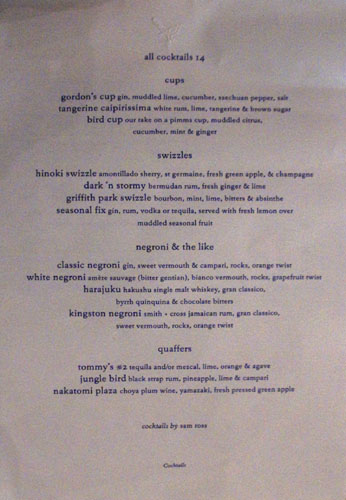 The Hinoki & the Bird menu is surprisingly lengthy, a celebration of globally-inflected Cali cooking split among smaller plates good for sharing, heartier mains, and some appealing sides. It's a dinner-only affair at the moment, but there are indeed plans to add lunch as well, and I'd love to see them offer a tasting menu option. Also worthy of note is the cocktail list, an intriguing selection with good breadth crafted by none other than New Yorker
Sam Ross
(Attaboy, Milk and Honey, Little Branch, Pegu Club, East Side Company Bar). Click for larger versions.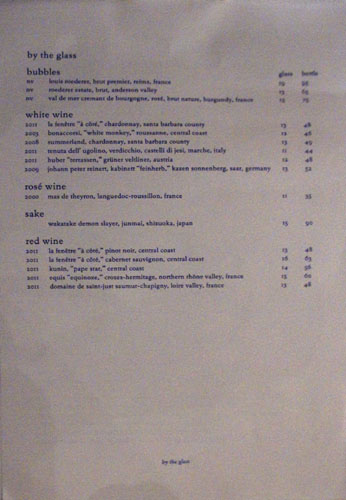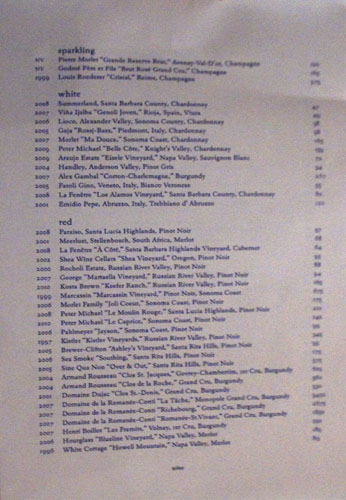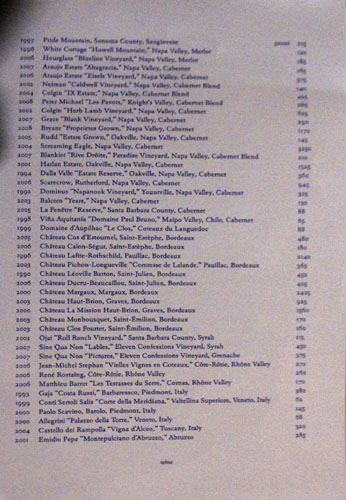 For all you winos out there, H&tB offers up a formidable wine list as well. Click for larger versions.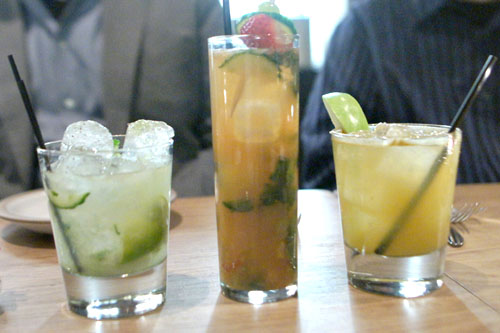 gordon's cup [$14.00]
| gin, muddled lime, cucumber, szechuan pepper, salt
bird cup [$14.00]
| our take on a pimms cup, muddled citrus
nakatomi plaza [$14.00]
| choya plum wine, yamazaki, fresh pressed green apple
We were in a cocktail sort of mood though, and would eventually wind up sampling every single one of Ross' 14 creations. Our first round began with the
Gordon's Cup
, sort of the requisite gin-cucumber cocktail on the menu, but a good one at that; sure, the classic pairing of the cool cucumber and zesty, aromatic gin was spot on, but what really made this special was the spicy, savory overtones from the Sichuan pepper and salt. The
Bird Cup
, meanwhile, was the restaurant's version of the famed Pimm's Cup, lightly boozy and highly quaffable, with a tangy, fruity character over a somewhat medicinal backbone. Last up was the
Die Hard
-inspired
Nakatomi Plaza
(actually the nearby
Fox Plaza
), a neat little cocktail featuring an almost candy-esque apple-y sweetness intertwined with the smoky heft of the whiskey.
Yippie-ki-yay
.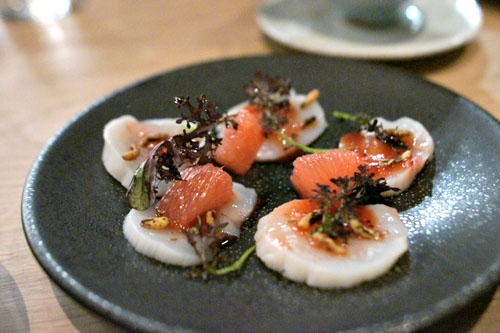 scallops, grapefruit, lime leaf [$16.00]
Our first course brought us some supple medallions of scallop, mild and delicate, yet nicely accented by the bittersweet taste of its accompaniments. The crux of the dish, though, was the use of toasted rice, which added a fantastic savoriness on the finish, as well as a lovely crunch.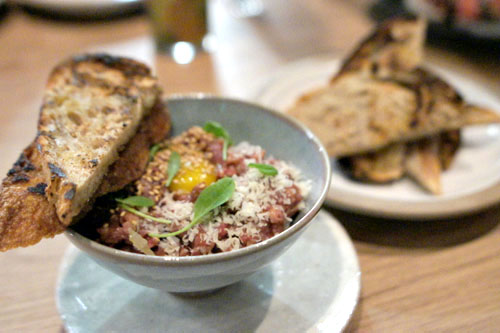 beef tartare, pickled jalapeno, parmigiano [$15.00]
Yagi's beef tartar, quite simply, may very well have been the best I've ever had. I loved the Asian-y slant of the dish, with its supple, springy chunks of steak expertly highlighted by the use of Parmesan and quail egg, while the jalapeño added a spicy, piquant contrast that lingered just on and on. It was a perfect mélange of flavors, gorgeously set on some wonderfully crusty, toasty pieces of bread.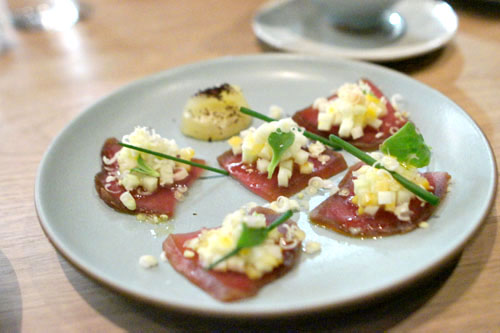 marinated tuna, lemongrass salad [$16.00]
Tiles of tuna arrived at the table subtle and sticky, with a slight ocean-y savor that paired well against the bright, zesty nuances of the lemongrass salad.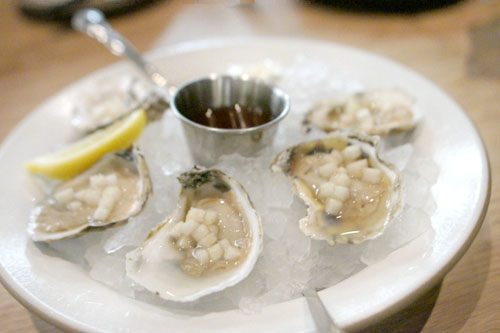 1/2 dozen oysters, pear mignonette [$18.00]
Our oyster plate featured the
Forbidden
varietal, harvested from a private farm in Yorktown, VA, right on the Chesapeake Bay. I don't think I'd ever actually had these before, but they were on point: plump and crisp, with a focused salinity that paired nicely with the tangy sweetness of the pear mignonette.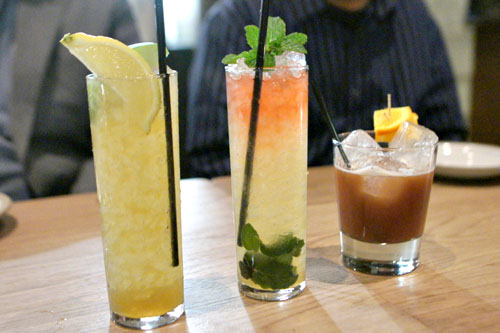 hinoki swizzle [$14.00]
| amontillado sherry, st germaine, fresh green apple & champagne
griffith park swizzle [$14.00]
| bourbon, mint, lime, bitters & absinthe
jungle bird [$14.00]
| black strap rum, pineapple, lime & campari
Round #2 commenced with the
Hinoki Swizzle
, a fascinating concoction with a coffee-like character from the sherry set off against the fruity, effervescent nature of the rest of the drink. The
Griffith Park Swizzle
, meanwhile, was considerably more intense, showing off an almost cough syrup-y nature from the booze, bitters, and absinthe that was only slightly moderated by the lime and mint used. The
Jungle Bird
, finally, was easily the most polarizing of the trio, a dark, viscous, saccharine, spicy libation with a bittersweet tinge that left some of us scratching our heads.
salt & pepper marinated calamari, ajwain-tomato jam [$13.00]
The "fun bites" portion of the menu (which almost seems like drinking food, a concession to the bar patrons) got off to a strong start with one of the best preparations of fried calamari that I'd ever eaten. One of my common complaints with the dish is an overly thick batter, but that wasn't the case here. Instead, the "crust" was light and thin, with a mouth-watering savor that transitioned gracefully to the supple cuts of squid contained within. The fritters were delicious alone, but the tangy, Indian-inflected dipping sauce was appreciated as well.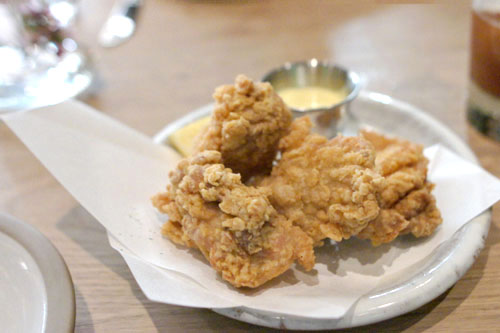 crispy marinated chicken, lemon aoli [$14.00]
Yagi's fried chicken (
karaage
?) was similarly delectable: tender and juicy, set in a delicate layer of batter and brimming with chicken-y goodness. Just think of these as the best chicken tenders you've ever had. The included sauce wasn't even necessary.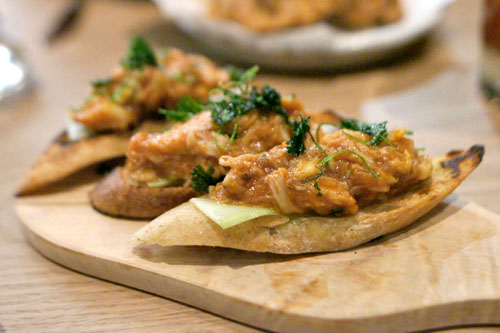 chili crab toast, spicy cucumber, coriander [$15.00]
The Chef's chili crab toast was another standout, actually reminding me of the excellent version of the dish at
Starry Kitchen
. I loved how the inherent sweetness and texture of the crab was so perfectly displayed here, yet not overwhelmed by the sharp, lingering heat in the dish. A must try.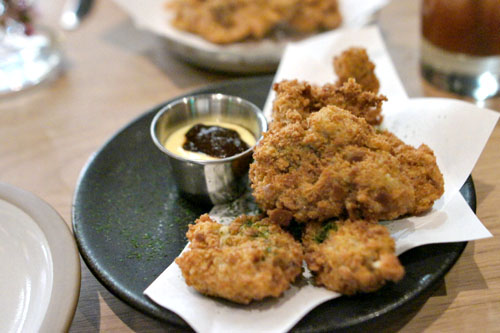 fried oysters, black garlic aoli [$12.00]
Kaki furai
were just as I expected, crisp and crunchy, with a well-placed brininess from the huge Hama Hamas. The interesting thing here was the included aioli, topped with a bit of black garlic that made the sauce a fitting temper to the bite of the oysters.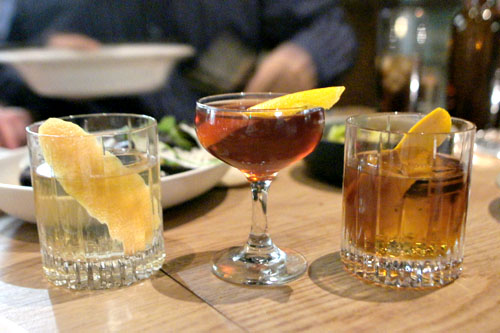 white negroni [$14.00]
| amère sauvage (bitter gentian), bianco vermouth, rocks, grapefruit twist
harajuku [$14.00]
| hakushu single malt whiskey, gran classico, byrrh quinquina & chocolate bitters
kingston negroni [$14.00]
| smith + cross jamaican rum, gran classico, sweet vermouth, rocks, orange twist
Our third set of cocktails brought us variations on the negroni, reportedly Sam Ross' favorite drink. The
White Negroni
conveyed a base of vegetal, bittersweet flavors courtesy of the Amere Sauvage, balance by citrus-y overtones from the grapefruit. The
Harajuku
, on the other hand, had a sugary, almost candy-esque sweetness to it countered by a hefty base of booze and bitters. Rounding out the threesome was the
Kingston Negroni
, with the rum serving as a fitting replacement for the traditional gin, providing a bolder, sweeter taste to go along with the medicinal notes in the cocktail.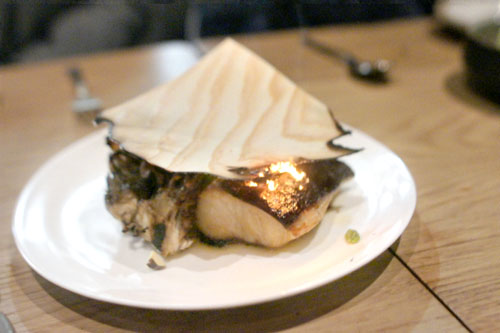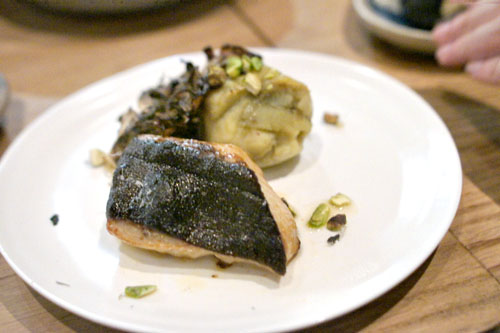 hinoki scented black cod, sweet potato, pistachio [$24.00]
The most intriguing section of the menu is titled "inspiration," and we delved into it with this beautifully-cooked black cod, replete with a sheet of burning
hinoki
that lent a sort of smoky veil to the dish. The fish was marvelous, one of the best preparations of black cod I've tasted: super flaky, meltingly tender, and undeniably buttery. It was superb alone, but the earthy mushrooms by its side were spot on as well. My only concern was the sweet potato, which I found overly sugary; I would've preferred a standard potato instead.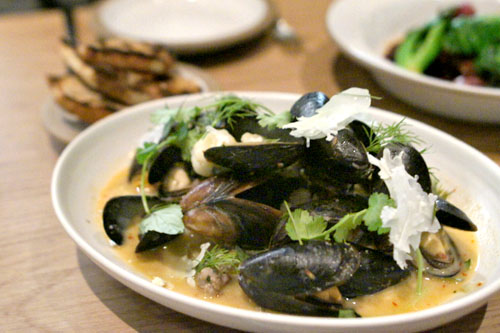 coconut-curried mussels, sausage, cauliflower [$19.00]
It seems like I've been having some really good luck with mussel dishes recently (e.g.
Bestia
), and this course just continued that trend. The mussels themselves, first off, were spot on: plump and satisfying, with a good brine to 'em. The key, though, was that phenomenal coconut curry, which put forth some mouth-watering sweet and herb-y notes that melded flawlessly with the mollusks. At the same time, the bits of sausage thrown it added a delightful saltiness to the course, while the cauliflower did wonders in providing a touch of lightness.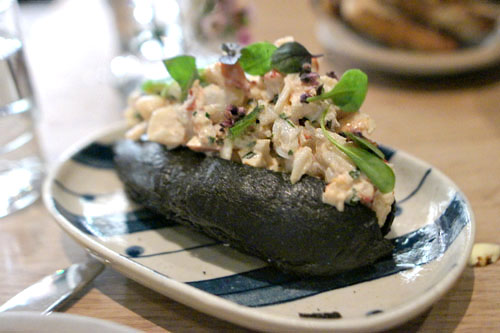 lobster roll, green curry, thai basil [$16.00]
I have a feeling that
this
is the dish that everyone will be talking about, and for good reason. It just might've been the tastiest version of the New England classic I've eaten, even beating out my current favorite at
Son of a Gun
. The lobster itself I found utterly sweet and springy, a spot-on presentation that was perfectly accented by the use of a wonderfully aromatic lemongrass-y curry. If that wasn't enough, the dark-as-night charcoal powder bread lent a fascinating visual cue to the dish, and also served as a fitting counterpoint to the crustacean.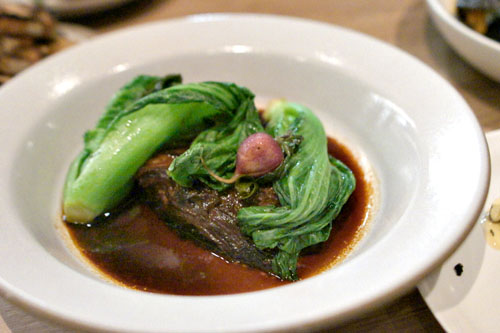 caramel braised kurobuta pork belly, radish, mustard greens [$28.00]
The requisite pork belly course brought out something that was undoubtedly inspired by the classic Chinese
hong shao rou
. Unsurprisingly, the meat was falling-apart tender and fatty, with boatloads of deep, dark, umami-laced flavors tinged with a marked sweetness. Given the heft of the pork, I much appreciated the crisp mustard greens here, which really helped counteract the considerable weight of the belly.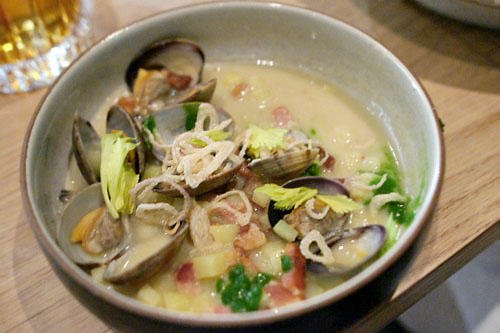 clam chowder, celery leaf [$11.00]
We concluded this part of the menu with Yagi's riff on clam chowder. It was pretty amazing, with what little actual soup there was conveying the heady essence of the sea, augmented by actual bits of clam, and taken up yet another notch by the wonderfully salty dices of bacon. Tiny cubes of potato, meanwhile, served as a moderating element in the chowder, adding heft and body, while the celery provided a lovely touch of levity and vegetal astringency to the course.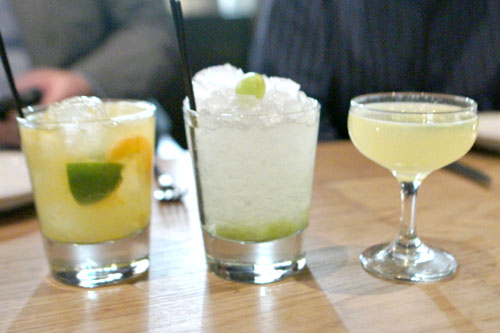 tangerine caipirissima [$14.00]
| white rum, lime, tangerine & brown sugar
seasonal fix [$14.00]
| gin, rum, vodka or tequila, served with fresh lemon over muddled season fruit
tommy's #2 [$14.00]
| tequila and/or mezcal, lime, orange & agave
Even more cocktails: The
Tangerine Caipirissima
was basically a caipirinha in essence, with a delightfully citrus-y character paired with an appealing sweetness from the brown sugar--quite refreshing. The
Seasonal Fix
gives imbibers a choice of base liquors and fruit. We requested a "dealer's choice," which resulted in a gin and grape concoction that was actually quite nice, with the bright flavors of the grape playing well with the floral, fragrant gin. Our version of
Tommy's #2
, lastly, came with mezcal, and it was a prototypical presentation of the spirit, contrasting the smoky, woody taste of the booze against the light, juicy citrus nuances present.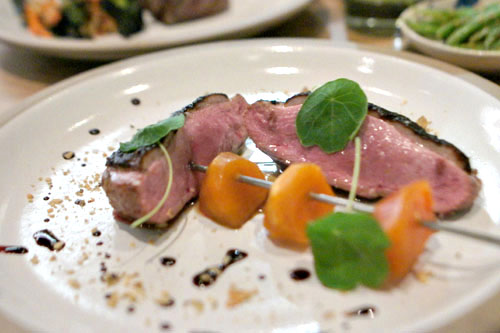 drunken duck breast [$24.00]
At this point, it was time to venture into the "simply grilled" dishes, which, I imagine, might be there to appeal to the less adventurous eaters that are bound to visit the restaurant (e.g. residents of The Century). Kicking things off was this duck, which I quite enjoyed. It actually possessed a pretty profound depth, with an immensely savory relish to it that might be too much for some--
it definitely tasted like duck
, that's for sure. The persimmons, meanwhile, were unnecessarily sweet, though some of my dining companions appreciated the fruit. Personally, I would've wanted to see some lighter, bitter greens to counteract the intensity of the bird.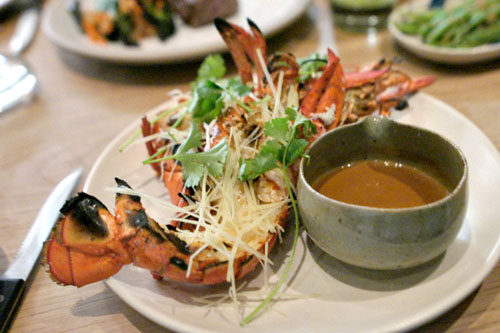 maine lobster [$38.00]
An entire lobster arrived halved and grilled. The course showed off the classic notes of the crustacean that you'd expect, but tarted up by the use of ginger, cilantro, and a hefty sauce that somehow managed not to completely overwhelm the main ingredient. My concern here was that lobster was just a shade tough in certain places.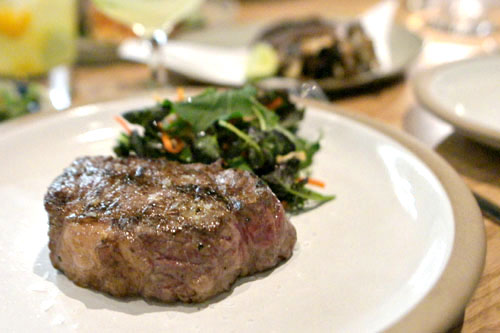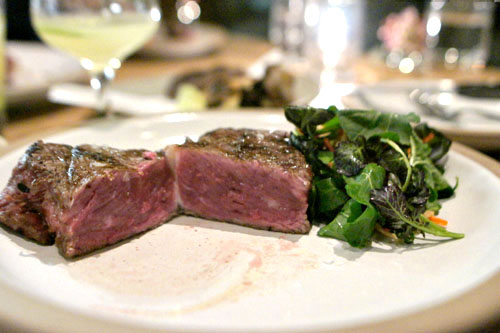 wagyu strip loin [$38.00]
Hinoki & the Bird's strip loin would put that at a lot of steakhouses to shame. Done to a properly rare temperature, it was tender to the bite, and displayed an immense beefy goodness that was keenly accented by a salty outer crust. The greenery on the plate, meanwhile, provided a fitting, bitter temper to the meat. Just a lovely steak overall.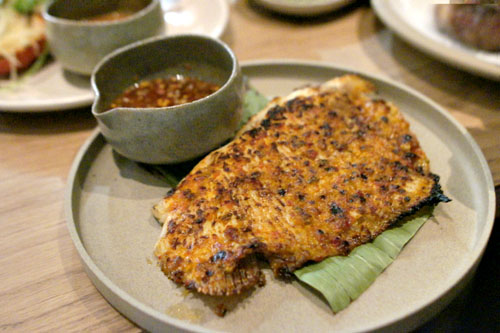 sambal skate wing [$21.00]
The skate wing was my favorite item in this section, and one of my favorite preparations of the fish ever. Served on the bone, the skate was oh-so tender, and even slightly gelatinous, with a fantastic touch of heat from the
sambal
. The included bowl of pungent fish sauce provided even more complexity to the dish, but wasn't strictly necessary for me.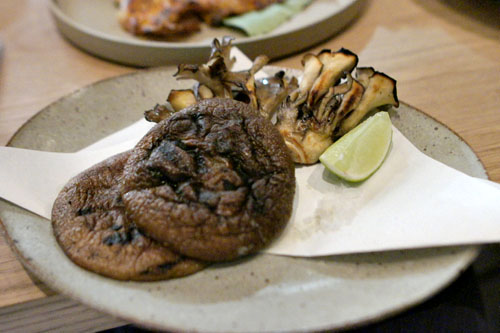 grilled winter mushrooms, sea salt, lime [$12.00]
Moving on to the side dishes now, our server recommended these mushrooms, and she was right on the money. We had here oyster and shiitake varieties, and they each were spot on, really conveying the earthy, umami-laden flavors that I was expecting, but taken up a notch by a dash of lime and sea salt.
haricot vert, sesame [$9.00]
The green beans were excellent: crisp and bright, but with a fantastic counterpoint in the form of that toasty, savory sesame.
braised shitake mushroom [$11.00]
Our final side comprised more shiitakes, but this time in braised form. They were utterly classic in essence, but with a really smart complement in the form of that spicy-salty
yuzukosho
.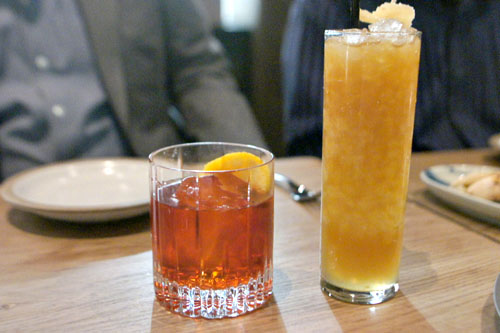 classic negroni [$14.00]
| gin, sweet vermouth & campari, rocks, orange twist
dark 'n stormy [$14.00]
| bermudan rum, fresh ginger & lime
At this point, I don't think we really needed more cocktails, but we were two away from "gamuting" the list, so we figured what the hell. The
Classic Negroni
was just that, a quintessential expression of the drink highlighting its bittersweet taste. The
Dark 'n Stormy
was similarly prototypical, with a perfect balance of boozy and fruity flavors against an undercurrent of refreshing ginger notes.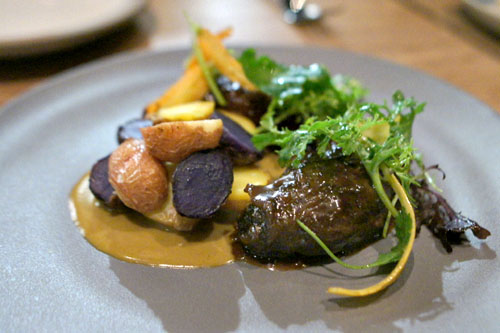 braised lamb, tiny potatoes, cumin seed [$25.00]
We were ready for dessert now, but we had two go-backs on the menu. The first was this lamb, requested by one of my fellow diners. Tender, though a touch dry, the meat was fairly intense, with distinct
lamb-y
flavors that might veer toward overly gamy for some. The yellow curry, thus, was much appreciated, providing a South Asian-inspired counterweight to the meat. I loved those hearty pee wee potatoes as well.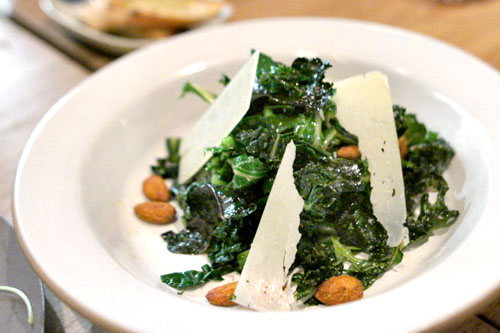 kale, crispy and raw, curried almonds, pecorino, red wine vinaigrette [$12.00]
Our final savory came courtesy of the Nick, the restaurant's affable General Manager. It's one of his favorite items on the menu, and became one of mine as well. In fact, it was the best salad I've had since the one I had at
Bereket
, which, coincidentally, also featured kale. The veggie arrived in three forms and three preparations--braised, fried, and raw--making for a multifaceted bitterness that was beautifully accentuated by the delightful curry almonds and salty shavings of Pecorino cheese. The vinaigrette, meanwhile, added an overarching tanginess to the course that did wonders in tying all the elements together.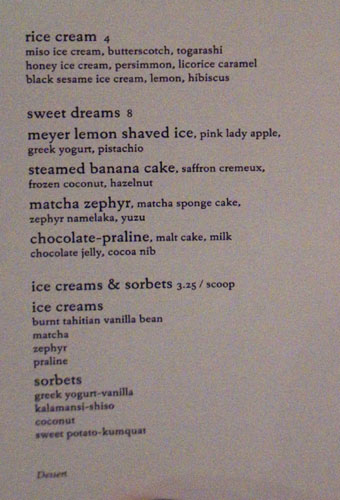 Desserts here at Hinoki & the Bird are handled by none other than Pastry Chef
Ramon Perez
, whom we last encountered at a special
5weet & Savory dinner at Breadbar
. Click for a larger version.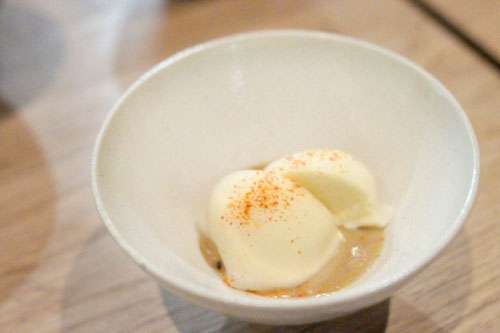 miso ice cream, butterscotch, togarashi [$4.00]
Perez offers up a rotating selection of "rice creams," which basically amount to mochi ice cream, and naturally, we had to try 'em all. The first really worked in showing off the savory flair of the miso, which went flawlessly against the unabashed sugariness of the butterscotch, all while
togarashi
added an extra hint of spice to the mix.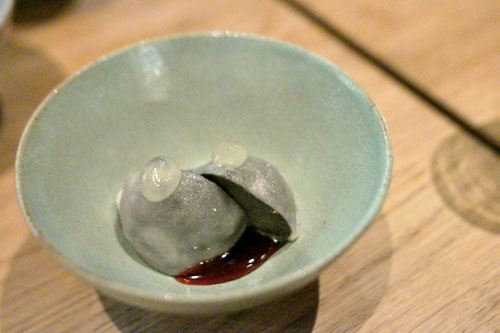 black sesame ice cream, lemon, hibiscus [$4.00]
The black sesame version was all up in-your-face, offering up a bold blast of sweet sesame goodness that recalled the potency of
tangyuan
filling. To that, lemon and hibiscus served as apt foils to the intensity of the ice cream.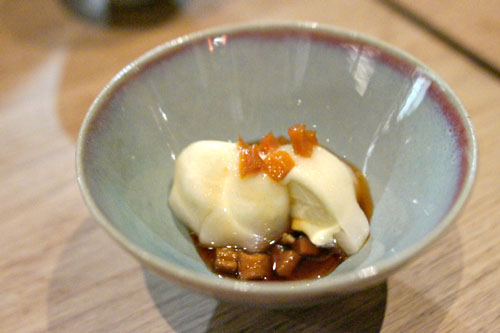 honey ice cream, persimmon, licorice caramel [$4.00]
The honey ice cream, as you'd imagine, was unapologetically saccharine, and augmented even more by that rich, viscous caramel. The licorice element in there actually served to moderate the overt sweetness at play, as did the diced persimmon.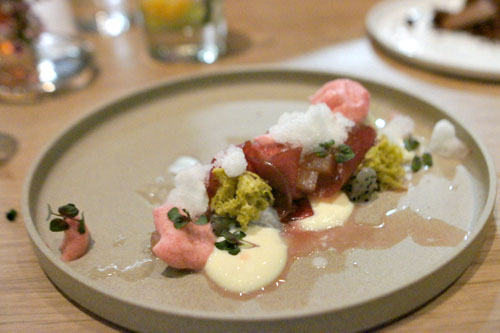 meyer lemon shaved ice, pink lady apple, greek yogurt, pistachio [$8.00]
Next, we moved on to Perez's plated desserts, which definitely had a certain avant garde flair to them. The first did an admirable job in putting together some disparate tastes and textures, really conveying an interplay of sweet, sour, and almost perfume-y flavors set off by a focused savory element.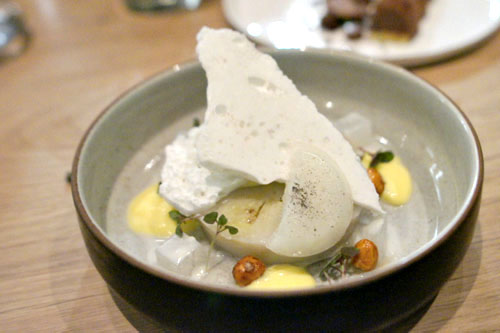 steamed banana cake, saffron cremeux, frozen coconut, hazelnut [$8.00]
The banana cake didn't get much love around the table, though I enjoyed it. The star of the show here was clearly that cake, which was dense and substantial, loaded with sugary banana flavors. What made it work, though, was the layering of flavors from the grassy saffron and subtly sweet coconut.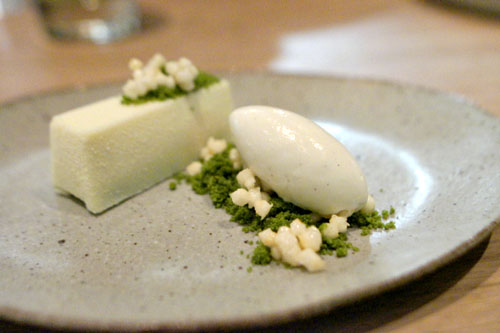 matcha zephyr, matcha sponge cake, zephyr namelaka, yuzu [$8.00]
What ended up being the table favorite among the desserts was this matcha cake, which really did a nice job in setting the bittersweet flavors of the cake against the tart and tangy bite of yuzu. Some lovely textures here, too.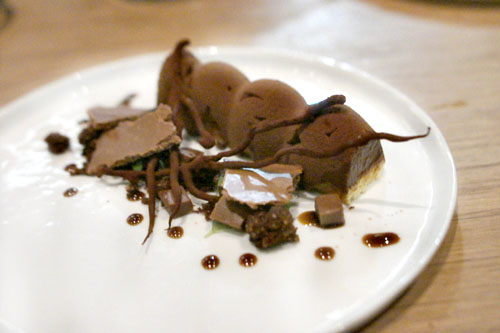 chocolate-praline, malt cake, milk chocolate jelly, cocoa nib [$8.00]
Last up, natch, was Perez's chocolate dessert, which had a base of nutty, chocolate-y, and satisfying sweetness that I found reminiscent of
gianduja
. It was great to see the various forms and facets of cacao here, and I especially appreciated the bright, herbaceous accents in the dish.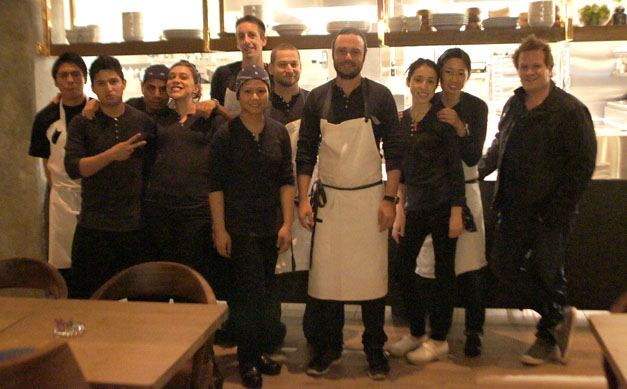 David Myers, Kuniko Yagi, Ramon Perez, and the entire Hinoki & the Bird opening crew.
This was an impressive meal overall, and Hinoki & the Bird is no doubt a worthy addition to Myers' burgeoning empire. Chef Yagi has clearly upped her game since we last saw her at Sona. Her cooking has progressed nicely, and the plates we witnessed tonight point toward a focused, almost minimalistic, yet organic style that oozes vibrancy and robustness in flavors--a deft blend of Asian influences and modern American flair. Desserts and cocktails, meanwhile, were also on point, undoubtedly contributing to the appeal of the place. There's no question that H&tB is one of the most promising new debuts in recent times--a bit less formal than Sona, but just as engaging, and arguably even more exciting. I'm looking forward to seeing how this all evolves.