WineBar @ CoffeeBar (Los Angeles, CA)
WineBar at CoffeeBar Pop-Up
600 S Spring St, Los Angeles, CA 90014
213.327.1157
www.coffeebarla.com
Thu 02/21/2013, 07:30p-10:10p

The City's latest pop-up comes to us courtesy of
Greg Bernhardt
.
A bit of history for the uninitiated: Bernhardt's an LA stalwart who cut his teeth at Le Dome and Vida before becoming Neal Fraser's Chef de Cuisine at
Grace
(he even assisted Fraser on
Iron Chef America
, defeating Cat Cora in Battle Pork). In 2007, he was hired by Steven Arroyo to run things at 750mL in South Pasadena, but left soon after to open
Church & State
. His tenure there was brief, though, and he was out by November 2008, replaced by none other than
Walter Manzke
. From there, he moved on to several iterations of
LudoBites
, serving as sous, then went on to consult at The Kitchen Table with Fernando Darin. His latest gig is with ACME Bar Group, where he's serving as Executive Chef for a number of projects, one of which is a revamp of CoffeeBar in Downtown's Old Bank District.
Bernhardt is planning to transform the space into a legit restaurant. But before then, he's holding a temporary dinner series with his friend
Sergio Perera
, another LudoBites alum whom we last encountered at the
Amalur Project
pop-up at
Marcona
. The unfortunately-named WineBar @ CoffeeBar debuted on February 6th, and runs Tuesdays through Sundays until mid-March.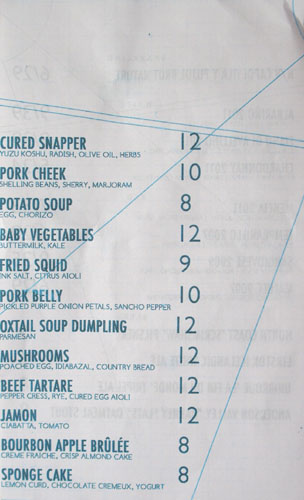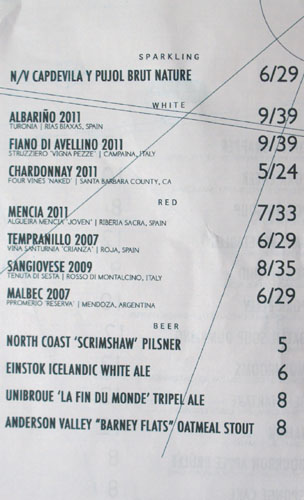 The WineBar@CoffeeBar menu features a compact list of reasonably-priced dishes, designed as a collaborative effort between the two chefs. A small group can easily run the gamut here, which is exactly what we did (though the mushroom course was curiously omitted). To drink, there's a small selection of wines (all available by the glass), as well as a handful of beers, and coffee too, I suppose. BYOB is a possibility. Click for larger versions.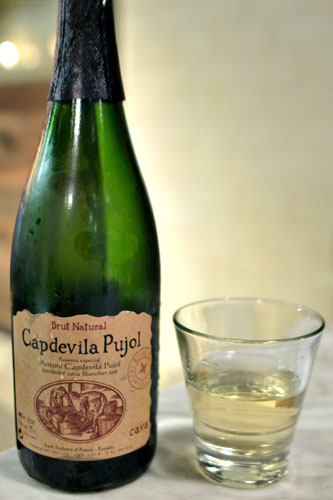 What better way to start than with some bubbly? Hence, we popped a bottle of the
N/V Capdevila y Pujol Brut Nature [$29]
, a dry, quaffable sparkler that worked out well enough.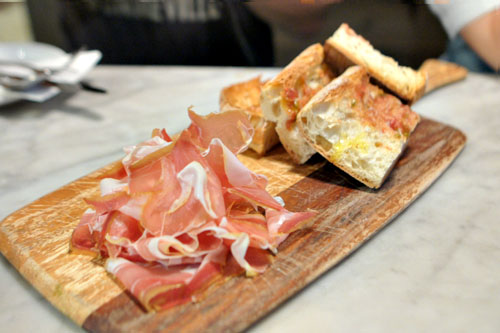 Jamon [$12.00]
| Ciabatta, Tomato
Up first was a straightforward plate containing slices of nutty, fatty
jamón serrano
. The ham itself was spot on, but the paired
pan con tomate
fell short, being rather tough to chew and providing too little in terms of offsetting tomato tartness.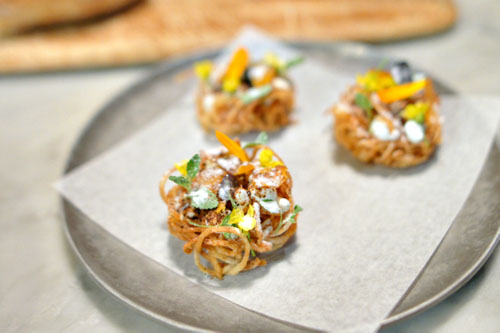 Next, Perera presented an extra plate comprised of potato "nests" encircling whipped crème fraîche, bottarga, lavender flower, and mustard. They were delicious little bites, with a wonderful crunch and the salty, satisfying weight of the potato playing off the tangy cream in commendable fashion. A great amuse bouche-y type of course.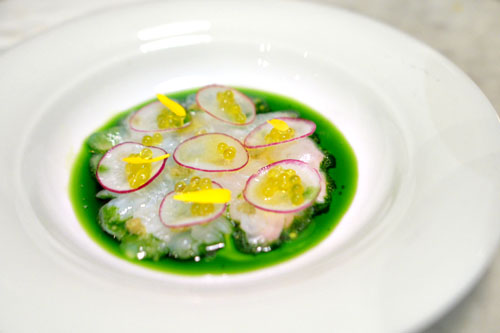 Cured Snapper [$12.00]
| Yuzu Koshu, Radish, Olive Oil, Herbs
A crudo dish of sorts featured clean, supple cuts of red snapper, nicely enhanced by the weight of the olive oil "caviar" present and the undercurrent of vegetal nuances provided by the kale oil. My favorite thing here, though, was the use of
yuzukosho
, which lent a salty, spicy intensity to the finish that I was quite enamored with.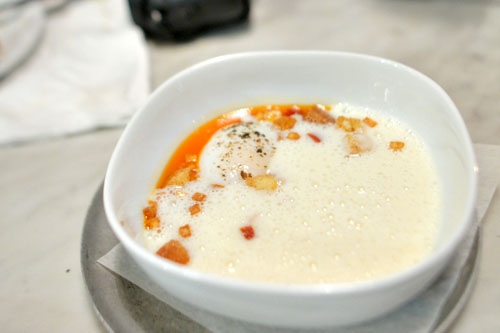 Potato Soup [$8.00]
| Egg, Chorizo
Up next was Bernhardt's riff on
Ludo's
well-known "Poached Egg, Potato Mousseline, Chorizo" dish. Though it didn't quite reach the lofty levels of its predecessor, the dish was tasty and stood on its own merits. The velouté formed a rich, hearty base to things, and the interplay between the egg and overarching spice of the chorizo was classically effective. At the same time, the incorporation of brown butter croutons added a nice textural element, and I believe also imparted a slight sweetness to the mix.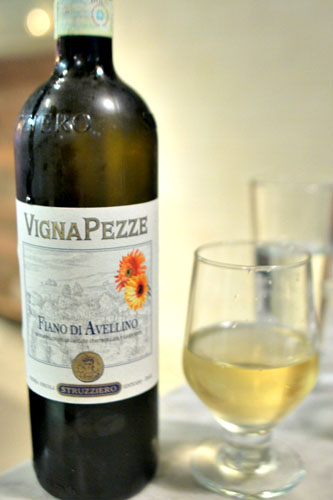 Our second wine was the
Fiano di Avellino 2011, Struzziero 'Vigna Pezze', Campaina, Italy [$39]
, which I was
quite
fond of. In fact, my dining companions and I all loved its bright, honeyed, stonefruit-laced sweetness and crisp, refreshing character.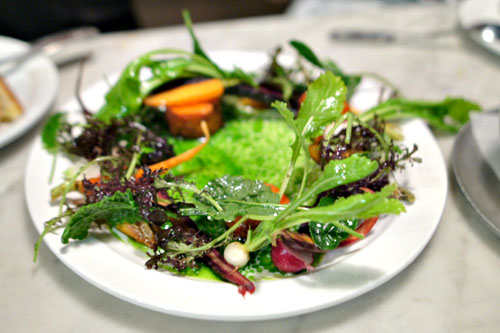 Baby Vegetables [$12.00]
| Buttermilk, Kale
The requisite veggie plate arrived beautifully presented. The various items here showed off a bevy of bright, bitter, verdant flavors and a delightful mélange of textures, all while the included vinaigrette and kale oil served to tie everything together. Surprisingly satisfying.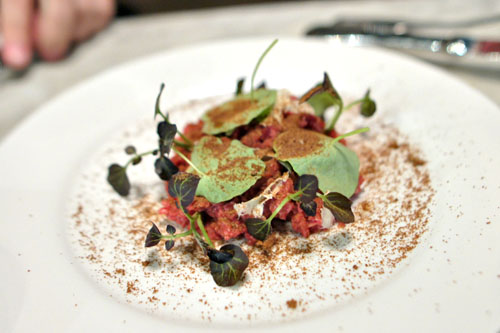 Beef Tartare [$12.00]
| Pepper Cress, Rye, Cured Egg Aioli
The beef tartar made a nice showing, conveying a great herbaceousness from the cress and nasturtium that melded seamlessly with the gravity of the meat, all while rye dust imprinted a palpable earthiness to the dish. I also quite liked the aioli here, which added a palpable punch to things and did a great job integrating the various elements at play. Superb when taken with the accompanying bread.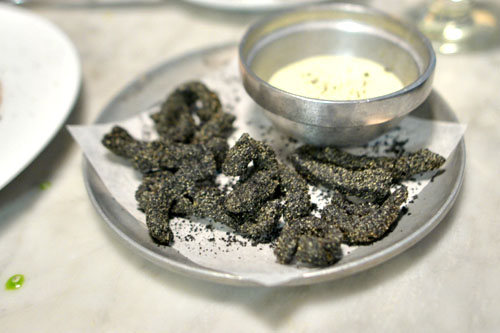 Fried Squid [$9.00]
| Ink Salt, Citrus Aioli
Now this I found quite whimsical, as well as tasty, with the squid's crisp, briny crust working well with its supple, creamy insides. A dab of the tangy aioli, meanwhile, served as a fitting finishing touch to the dish, making this a fun take on traditional fried calamari.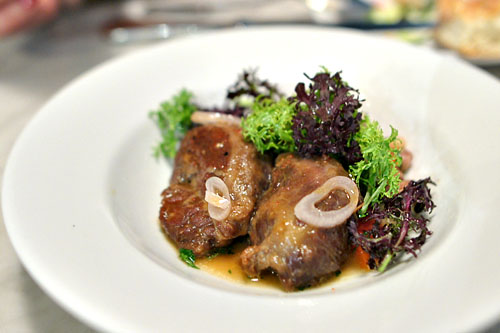 Pork Cheek [$10.00]
| Shelling Beans, Sherry, Marjoram
Pork cheek was just as you'd expect: falling-apart tender and teeming with dark, sticky, porcine flavors, all while the red pepper sherry vinaigrette imparted a bit of balance to things. I really appreciated the flageolet and cranberry beans here, too, which worked as a fantastic counterpoint to the pork.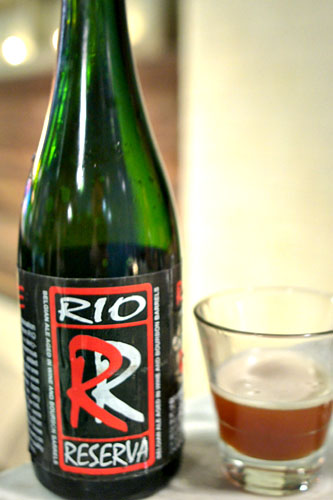 Our final beverage was the
De Struise Rio Reserva
, a rather hard-to-find Belgian that I'd brought from my collection. It was an intriguing beer to be sure, a golden quadrupel brewed way back in 2008, aged for a year in Bordeaux barrels, then aged another three years in Bourbon barrels before finally being bottled in 2012. I quite enjoyed it, with its multifaceted burst of spicy, fruity, caramel-y, and woody flavors intermingled with a marked, pervasive alcoholic tinge.
Very
cool.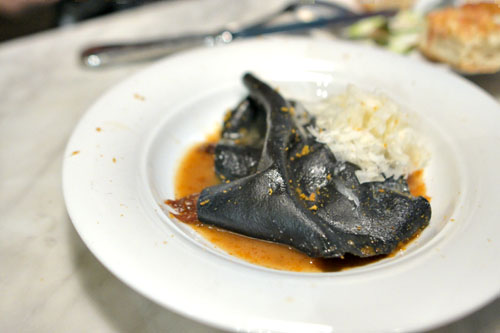 Oxtail Soup Dumpling [$12.00]
| Parmesan
Oxtail was as hearty and satisfying as I wanted, putting forth some really deep, satisfying flavors that played nicely with the included shavings of Parmesan. The pasta, meanwhile, did a great job in providing a textural counterpoint to the meat, and also served to ground and moderate the dish. However, a bit more brightness or acidity would've been nice.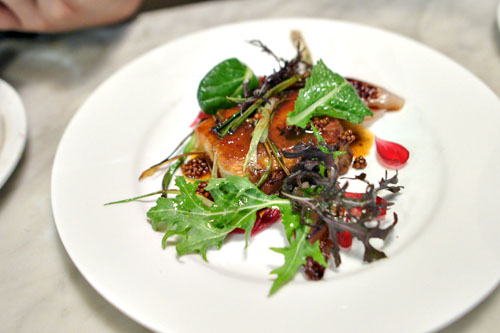 Pork Belly [$10.00]
| Pickled Purple Onion Petals, Sancho Pepper
We ended the savory section of our meal with a lovely presentation of pork belly. The meat arrived expertly prepared, with a boatload of piggy flavors and a great balance between fat and lean, along with a wonderfully crisp crust. Certainly, the belly stood alone, but the various greenery worked wonders in providing contrast and levity to the plate.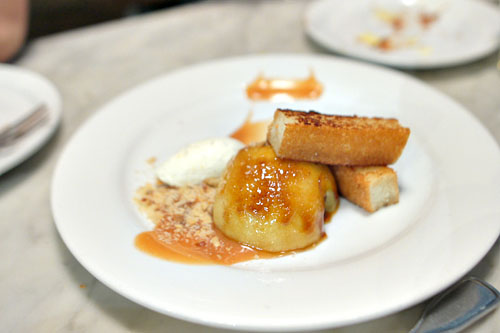 Bourbon Apple Brûlée [$8.00]
| Creme Fraiche, Crisp Almond Cake
A cooked apple gave us a satisfying crunch as well as a burst of sweet, spicy flavors, intertwined with a touch of herbaceousness (rosemary?). I quite liked the almond financiers here too, while the crème fraîche certainly added a light, tangy temper to the dessert.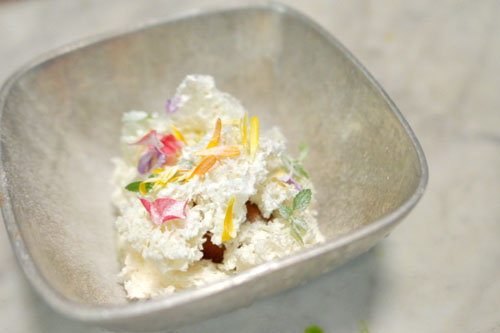 Sponge Cake [$8.00]
| Lemon Curd, Chocolate Cremeux, Yogurt
The sponge cake (aerated brioche?) showed off an almost impossibly light, ethereal consistency, one grounded by the chocolate-y, fruity notes present. A dash of thyme, olive oil, and salt, meanwhile, added a savory twang to the dessert that really took it to the next level.
This was another laudable showing from Perera, and it was great to finally be able to taste Bernhardt's food for the first time as well. I will say, though, that since this was a collaborative effort, the menu didn't have as much cohesion as I would've liked. That being said, there were some great dishes presented tonight. As for what's next for the duo, Chef Bernhardt will be launching 6th Street Tavern in place of the old Urbano Pizza Bar in the coming weeks (where he'll likely spend most of his time), and CoffeeBar will be rebooted as well, turning into a bona fide restaurant. Chef Perera, meanwhile, will be consulting at Marcona for a bit, and will continue firming up plans to open his first solo project in LA. Stay tuned.