L2O (Chicago, IL)
L2O
2300 N Lincoln Park W, Chicago, IL 60614
773.868.0002
www.l2orestaurant.com
Mon 05/18/2009, 07:00p-11:50p
Opened in May 2008, L2O ("el-two-oh") may be the proverbial new kid on the block, but the restaurant has already taken its place among the pantheon of Chicago's great eateries. This modern temple to seafood is the work of French native Laurent Gras. The chef first made his way to the States in 1997, helming the kitchen at the Waldorf-Astoria's Peacock Alley, eventually garnering a three-star review from the
New York Times
. Before that, Gras worked his way around various Michelin-starred establishments in France, along the way learning from such legends as Alain Ducasse, Jacques Maximin, Guy Savoy, and Alain Senderens. Gras left Peacock Alley in 2001, moving across the country to San Francisco to assume the position of Executive Chef at
Fifth Floor
, where he achieved considerable fame and critical acclaim, earning
Food & Wine
's 2002 Best Chef honor and
San Francisco
magazine's Chef of the Year title.
In 2005, Gras returned to New York, this time working at Bistro du Vent, a French bistro concept; he also dabbled in consulting during this period. Gras was not satisfied, however, and rumors began to spread in 2007 that he was planning an exciting new seafood restaurant in Chicago. L2O was the result, and the restaurant began receiving considerable amounts of buzz, even before opening, thanks in part to
Gras' blog
chronicling the process. And when L2O did finally open, it quickly captured a four-star review from the
Chicago Tribune
as well as the hearts and minds of countless Chicago diners, who praised Gras' daring approach to seafood, blending French, Japanese, and contemporary (or dare I say, "molecular") techniques.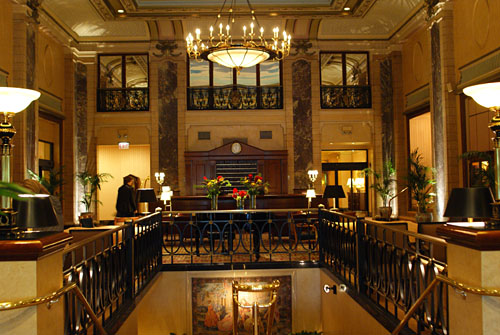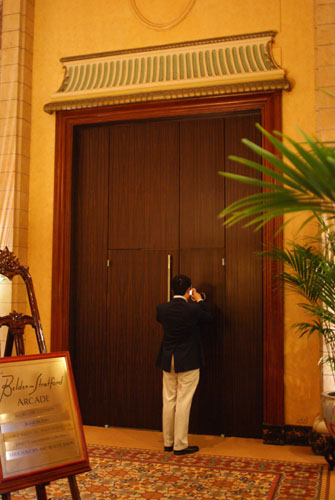 L2O is situated off the lobby of the landmark Belden Stratford hotel, in Chicago's Lincoln Park district. Ambria, one of Chicago's great French eateries, occupied the space for 30 years prior.
Compared to Ambria's classic Art Nouveau dining room, L2O's space, designed by Chicago-based Dirk Denison Architects, is soft, subtle, and serene. The room is divided into distinct areas by floor-to-ceiling Macassar ebony columns, 600 stainless steel cables, and etched and frosted glass panels. Off-white "b_sit" leather chairs from Haworth, dark ebony tables, and light Sen wood paneled walls complete the look in alternating tones of dark and light.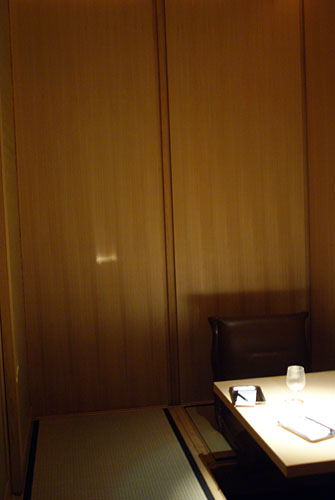 However, we would be bypassing the main dining room for the tatami rooms, inspired by Gras' stays in
ryokan
throughout Japan. The rooms are surrounded with grass tatami mats and are accessed by two sets of sliding doors, one for diners, and one for servers. There were actually two rearrangable rooms--ours seated two, while an adjacent, larger room had a capacity of six. Guests sit on low chairs directly on the mats; there is a cutout for your feet (and yes, you must remove your shoes!), so it is actually quite comfortable. Tables are made of Alaskan yellow cedar, and are sanded daily to release the aroma of the wood (a featured reminiscent of
Urasawa
). Diners have a choice of the standard 12-course dégustation, or, more appropriately, a 14-course menu inspired by kaiseki, a traditional multi-course Japanese meal.
Perhaps the most fascinating aspect of the tatami room is the service, which is handled by only two servers (though I've heard of cases in which only one server was utilized), both dressed in Japanese-inspired garb (normal servers wear suits by "Z" Zegna and Elie Tahari). They were named, somewhat confusingly, Christina and Christine, and provided exemplary service throughout the night, up to and including securing a taxi cab for our ride back to the hotel.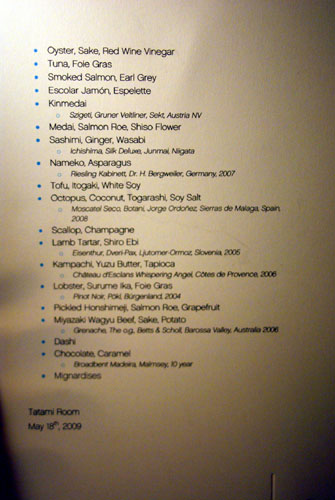 At the end of the meal, we were provided with a copy of the kaiseki menu [$225]. Though 19 courses are listed, the first five comprise a
sakizuke
(amuse bouche) course, and are thus combined into one. A wine pairing is available for an additional $90 per person. Click for a larger version.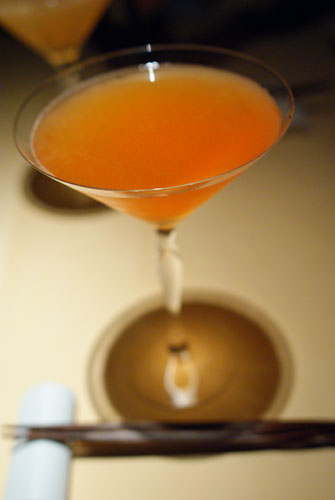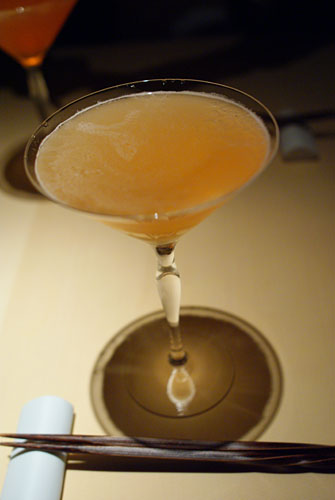 L2O takes its cocktails seriously, and the results are evident. The restaurant's most popular drink is the L2O Gimlet [$17], made with Plymouth, House Lime Cordial, and Aperol. The use of Plymouth gin adds a bit of sweetness compared to standard dry gin. This is accented by the sharp tartness of the house-made lime cordial, and the astringent flavor of Aperol, an Italian aperitif flavored with bitter orange, rhubarb, gentian, and cinchona (think Campari). The end result is sweet, sour, with strong citrus notes--familiar, yet with a twist.
We also had The Norman [$18], with Lecompte Calvados and Lang Beerenauslese. The use of calvados (produced in Lower Normandy, hence the cocktail's name), basically an apple brandy, gave the drink an almost bourbon-like character, with distinct notes of wood and smoke, intermixed with hints of apple. Only a hint of the sweet beerenauslese (a late harvest wine made from botrytized grapes) shined through.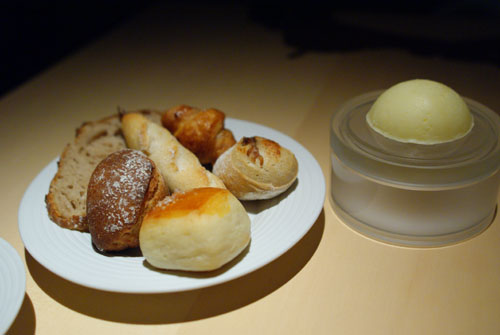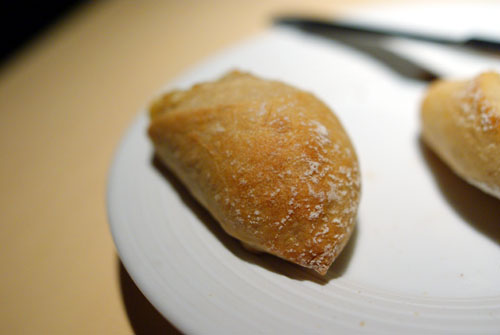 The bread program at L2O is also a source of pride for the restaurant, and all breads, as well as the butter, is homemade. Bread is baked once before dinner service, and once again in the middle; this is to ensure that the bread is served at optimal temperatures. Butter is made from organic cream from grass-fed cows, sourced from local artisanal farms. Breads included: a bitter, tangy whole wheat; a prototypical demi-baguette; a nutty pretzel-esque bread; a very rustic rye-like country bread; a wonderful, butter, flaky rosemary croissant; a sweet red onion epi that reminded me of Chinese spring onion bun; and finally an Asiago cheese bread that was brought later in the meal (right photo).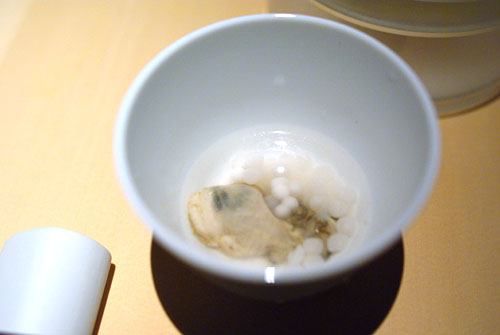 1a: Oyster | Sake, Red Wine Vinegar
Szegeti, Gruner Veltliner, Sekt, Austria NV
The first of our quintet of amuses was a Rhode Island oyster served with frozen sake and tapioca pearls. The bracing attack of the dish was dominated by alcoholic notes of sake, but this quickly gave way to the sharp, briny flavor of oyster, devoid of the mollusk's signature sweetness. The firm, chewy tapioca balls, meanwhile, provided an interesting texture contrast to the slimy oyster. A Grüner-based Sekt was paired for all five amuses, and it showed a light, crisp, dry minerality with a great effervescence that complemented the seafood well; GV wouldn't be the first wine I'd reach for, but it worked in this case.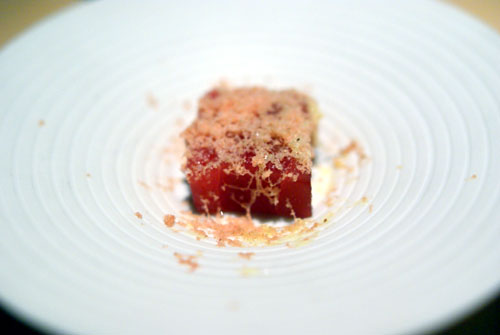 1b: Tuna | Foie Gras
Szegeti, Gruner Veltliner, Sekt, Austria NV
Tuna and foie gras is a combination that I don't think I've experienced before. Here we had a beautiful, crimson rectangle of ahi tuna, topped with shaved foie gras. The tuna was dense, creamy, with a clean, crisp flavor as expected. The foie "snow," on the other hand, was almost ethereal in body, adding a gossamer essence of liver to the finish.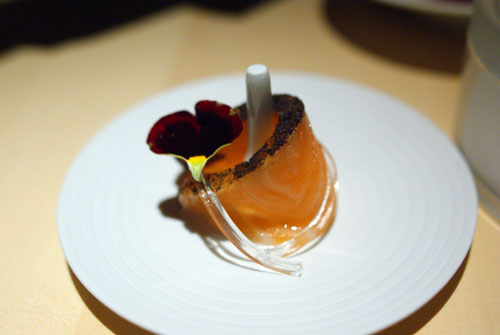 1c: Smoked Salmon | Earl Grey
Szegeti, Gruner Veltliner, Sekt, Austria NV
For this dish, Gras first cures the salmon with sea salt, sugar, and Earl Grey. He then uses an Enviro-Pak cold smoker to smoke the fish for nine hours at around 60ºF and 40% humidity. The result is a meaty, heavy fish, distinctly salmon, but with hints of pepper, smoke, and bergamot orange, elements which balance the gravity of the fish. The salmon was served with a translucent ginger noodle, which was rather flavorless; it was mostly there to make things more interesting texturally.
1d: Escolar Jamón | Espelette
Szegeti, Gruner Veltliner, Sekt, Austria NV
This was escolar, a.k.a. "butterfish," done ham-style, which in this case meant cured with espelette pepper. The dry curing of the fish accented the escolar's richness and added a salty tang, resulting in an experience not unlike eating ham. The small piece of greenery, crystal ice lettuce, meanwhile, gave the dish a somewhat vegetal finish.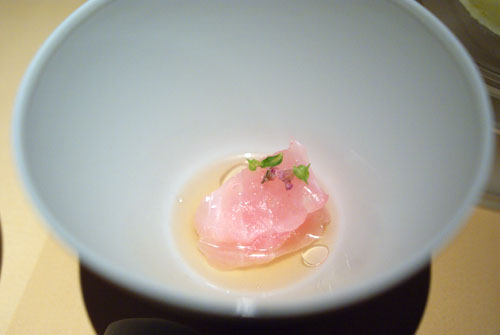 1e: Kinmedai
Szegeti, Gruner Veltliner, Sekt, Austria NV
The last of the
sakizuke
was kinmedai, also known as alfonsino or golden eye snapper, served with shiso flower and ginger oil. It had a delightfully pink, tender, flesh with delicate fishy notes deftly matched with the subtly sweet, floral nature of its accoutrements. Very nice.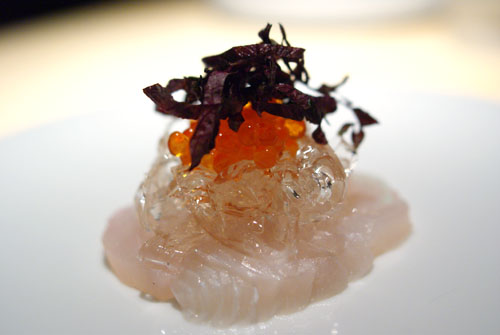 2: Medai | Salmon Roe, Shiso Flower
Ichishima, Silk Deluxe, Junmai, Niigata
Japanese butterfish, with red shiso, ikura, and ginger noodle. The fish itself was tasty enough, clean and firm, but the key was to eat everything together. This resulted in a salty attack, mainly due to the ikura, and a minty, shiso-tinged finish. The ginger noodle, as was the case with the salmon, was there mostly for texture. The medai was paired with a junmai-class sake (65%
seimaibuai
), which had a rather heady nose and was sweet, smooth, and soft on the palate. It had enough acidity to stand up to the fish, and in fact, really accentuated its brininess.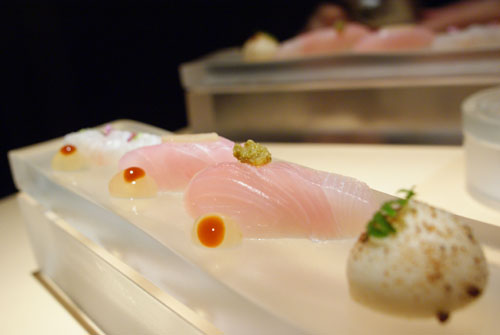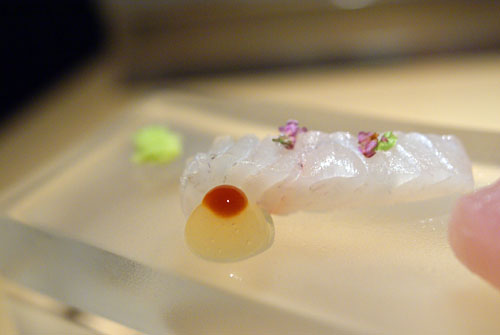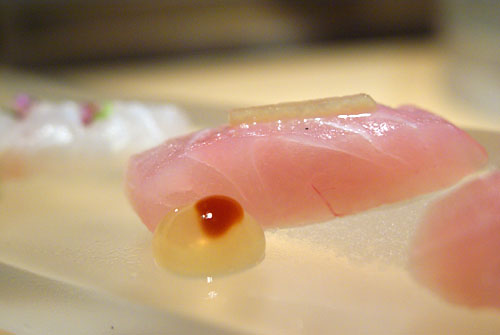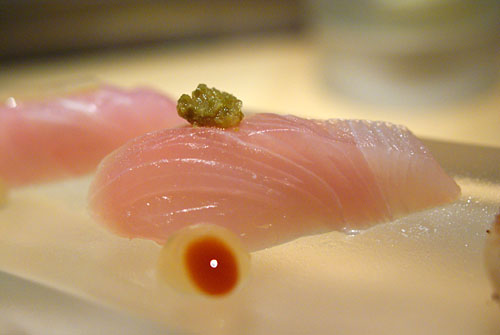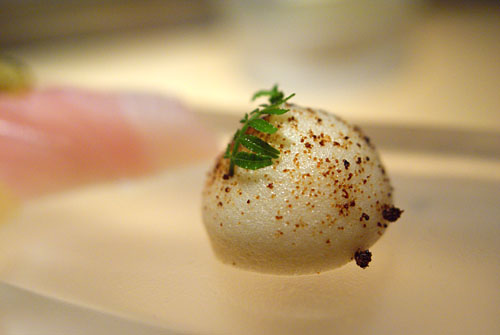 3: Sashimi | Ginger, Wasabi
Ichishima, Silk Deluxe, Junmai, Niigata
Next up was a trio of sashimi, served with wasabi, ponzu soy spheres, and an airy, smoky-sweet soy meringue:
Medai - This was Japanese butterfish, the same fish used in the previous course. Again, I found it firm, clean, and mild, with the shiso flower adding just a bit of tang. Very good.
Kinmedai - The golden eye snapper was topped with a sliver of ginger; the pungency of the root was a superb accompaniment to the fish. Excellent with wasabi too.
Shima Aji - Striped jack or yellowjack with yuzu kosho. Yuzu kosho is a spicy Japanese condiment made from yuzu zest, chili peppers, and salt; it provided an absolutely fantastic spiciness that complemented, yet did not overpower, the richness of the fish. My favorite of the troika.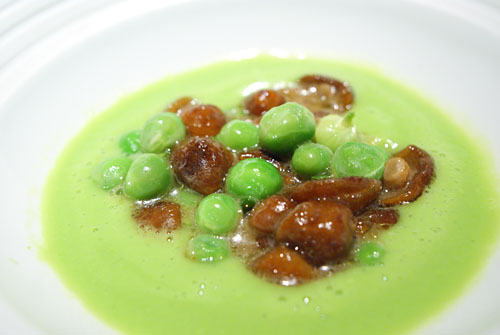 4: Nameko | Asparagus
Riesling Kabinett, Dr. H. Bergweiler, Germany, 2007
Though the menu says asparagus, I'm sure that this was English pea with
nameko
(a small, gelatinous mushroom used in miso soup and nabemono) in an English pea purée. Compared to the preceding dishes, this was much heartier, with a pleasing interplay between the fresh, vegetal notes of the peas and the rich, earthy mushroom. Interestingly, the
nameko
was more apparent upon initial taste, with the pea providing a lingering finish--both elements were distinct, yet complementary. I also greatly enjoyed the firm texture contrast provided by the peas. The Kabinett-class Riesling was a quintessential expression of the style, and really reminded me of everything I like about the varietal. Sweet, easy-drinking, with apple and lemon curd, it stood up to the dish nicely.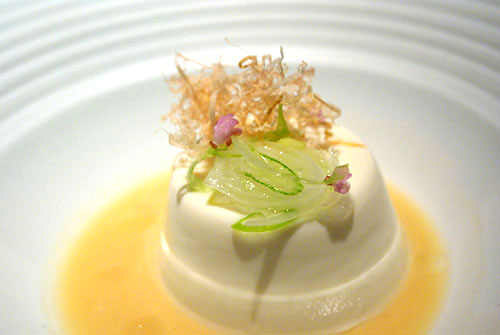 5: Tofu | Itogaki, White Soy
Moscatel Seco, Botani, Jorge Ordoñez, Sierras de Malaga, Spain 2008
By now, everyone should be familiar with
katsuobushi
, basically dried, fermented, and smoked skipjack tuna (bonito). Well, the
itogaki
refers to a similar ingredient, but made from blue fin tuna. Here, it was used to complement tofu, along with ginger oil, scallion, shiso flower, and white miso broth. The tofu, with its wonderful silky soft texture, was almost flavorless on its own. It acted as a canvas for the other ingredients, specifically the tanginess of the ginger-scallion complex and the light smokiness of the
itogaki
.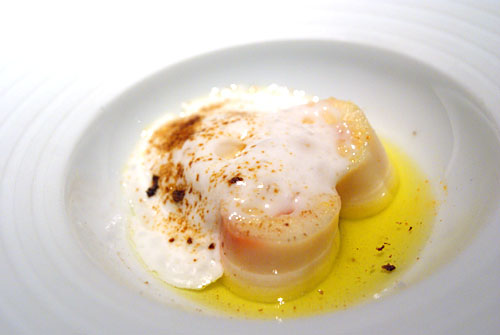 6: Octopus | Coconut, Togarashi, Soy Salt
Moscatel Seco, Botani, Jorge Ordoñez, Sierras de Malaga, Spain 2008
Gras is a proponent of marrying octopus with olive oil, stemming back to his experiences as a child in southeastern France, catching octopi on the Cap d'Antibes and pressing olives in Fayence. At L2O, he peels the octopuses completely, freezes them to tenderize, and poaches them slowly in olive oil. The result is a very "meaty" tasting
tako
, contrasting with an almost "fluffy" application of coconut, the dominant flavor here and the key to the sweet-salty contrast of the dish. The wine was Moscatel, a type of Muscat. Its nose was reminiscent of Albariño, with a crisp floral bouquet, but a drier palate. Furthermore, its somewhat tropical flair was a nice link with the strong coconut flavors of the course.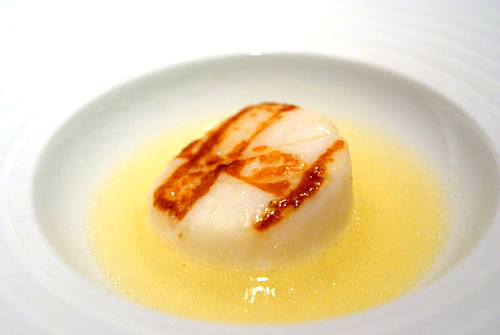 7: Scallop | Champagne
Eisenthur, Dveri-Pax, Lyutomer-Ormoz, Slovenia, 2005
A seemingly simple preparation of Maine diver scallop, cooked in Champagne brown butter. It had a perfect, silken texture, with a slightly tough, caramelized surface. Meanwhile, the brown butter sauce had a rich, intoxicating aroma and a great sweet-sour interplay that nicely complemented the natural sweetness of the mollusk.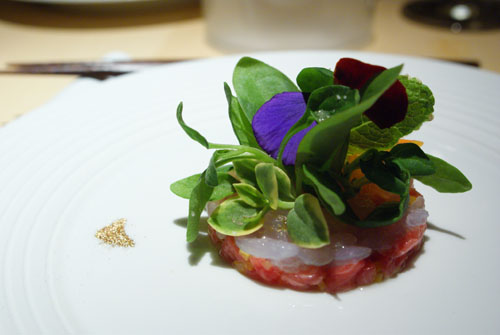 8: Lamb Tartar | Shiro Ebi
Eisenthur, Dveri-Pax, Lyutomer-Ormoz, Slovenia, 2005
I'd never think to mix raw lamb and raw shrimp, but Gras did, and it works. What we have here is a disk of lamb tartar, topped with raw white shrimp, an herb salad, tarragon, and peach, served with a side of gold powder (note that I've had gold foil plenty of times, but never gold
powder
). The lamb had a firm, somewhat chewy consistency--it had a good bite to it. In contrast, the shiro ebi had a pleasing crispness, backed by a creamy body and subtle sweetness. This whole commixture was then heightened and tempered by the intense herbaceousness of the salad, as well as the sweetness of the peach. Excellent.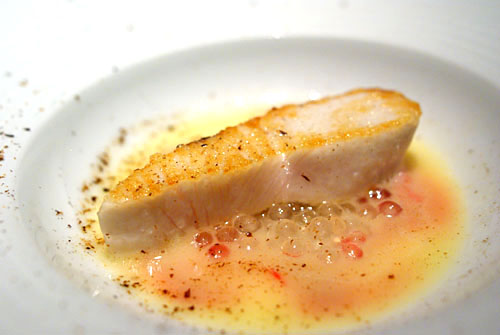 9: Kampachi | Yuzu Butter, Tapioca
Château de'Esclans Whispering Angel, Côtes de Provence, 2006
Here was a seared kampachi, a type of yellowtail, with hibiscus gelée, grated black lime, tapioca pearls, and yuzu butter. The use of yuzu butter and black lime added a considerable amount of sourness and even a bit of bitterness to the dish, and unfortunately I felt that the flavor of the kampachi was lost. I also wasn't sure about the use of tapioca, which was a bit distracting texturally.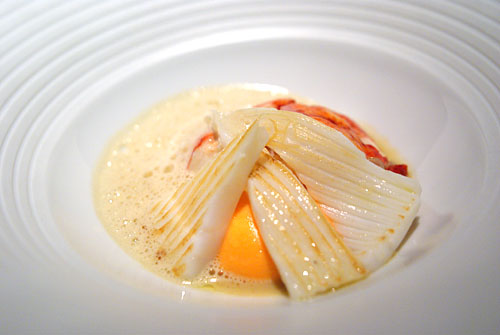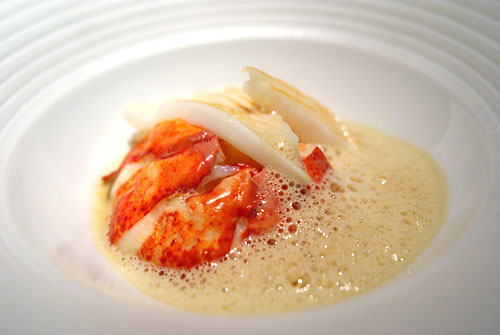 10: Lobster | Surume Ika, Foie Gras
Pinot Noir, Pökl, Bügenland, 2004
This was a combination of rare poached Maine lobster and squid, in a foie gras emulsion. I first tasted the squid, which was tender, yet possessed a great bite. The lobster, on the other hand, was meaty with a nice snap and a subtle sweetness. Both elements were further elevated by the rich foie gras and lobster broth, a delectable soup that added palpable weight and depth to the dish.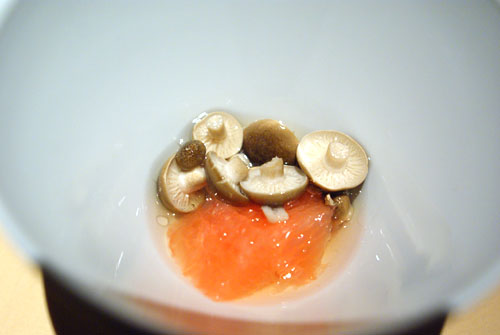 11: Pickled Honshimeji | Salmon Roe, Grapefruit
This was a spare, but profound dish leading to the main course, sort of an intermezzo. Mushroom, ikura, and grapefruit, and in a honey liquid. Interesting. So we have the acidity of the pickled 'shrooms, the brininess of ikura, the tanginess of the grapefruit, and the cloying sweetness of honey--oh my! The grapefruit was really the dominant flavor profile here, and the mushroom was actually there more for textural contrast; the finish was strictly honeyed. Overall, each element was discernable, yet part of an integrated whole.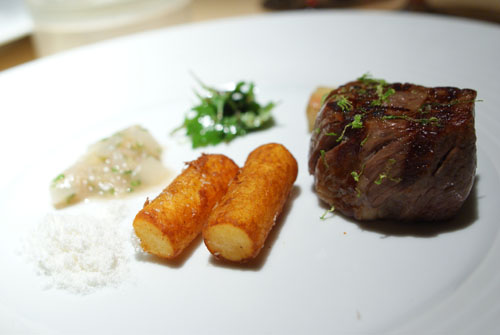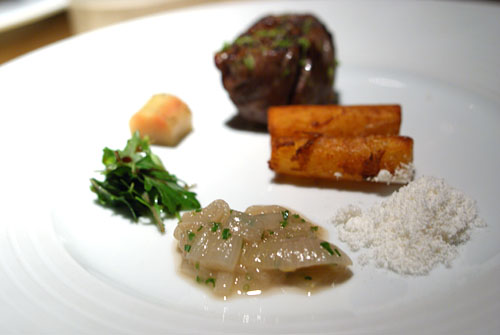 12: Miyazki Wagyu Beef | Sake, Potato
Grenache, The o.g., Betts & Scholl, Barossa Valley, Australia 2006
Miyazaki wagyu refers to wagyu beef raised in Miyazaki prefecture on Kyushu island; Miyazaki is one of the larger producers of wagyu in the country, and apparently, only the Japanese Black breed is used there. In any case, the beef was brushed with sake and presented with potato batons, wagyu powder (made from fat), crushed shallot, kale, and rhubarb. The beef itself was only moderately fatty, but still nicely tender and possessing a lovely citrus tang. It was great to eat it with its various accoutrements: the fantastic potato, the sweet shallots, zesty kale, and cool, biting rhubarb. The paired Grenache was quite enjoyable as well, with plenty of dark fruit on the nose, leading to leather, pepper, and earth on the palate.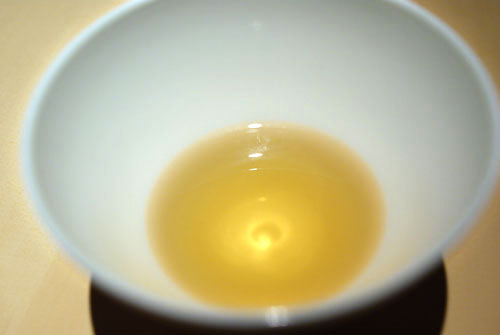 13: Dashi
The presentation of a mere bowl of dashi was an unexpected "pre-dessert" course. But perhaps its sparse simplicity was the point? No matter, it was hearty, smoky, and savory, draped in a heavy veil of umami.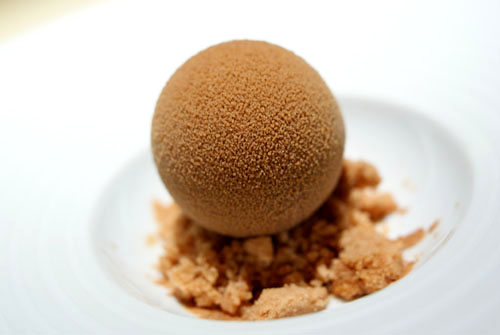 14: Chocolate | Caramel
Broadbent Madeira, Malmsey, 10 year
Gras has described this dessert as a "cloned egg," in that he uses a silicon mold created from a real egg--a
bombe glacée
in essence, with salted caramel and whipped cream, frozen, dipped in chocolate, and given a fuzzy, velveteen coating, placed atop praline and espresso snow. Originally, Gras even wanted a "yolk," but this idea was eventually abandoned. The end result is a masterful combination of tastes and textures: the creamy interior, the crunchy shell, the airy praline and espresso flakes; the sweetness of chocolate, tempered with coffee, the saltiness of caramel, the richness of praline--fantastic.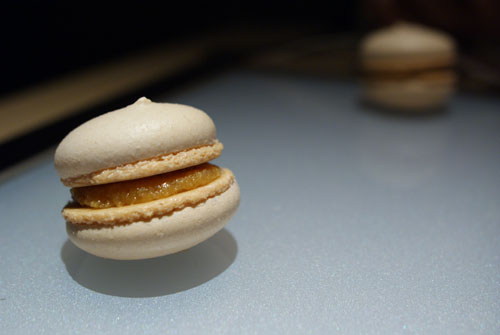 Mignardises
Macarons hold a special place in Gras' heart; he fondly remembers his first real macaron experience 20 years ago at Ladurée, the famed Parisian pâtisserie that invented the modern double-decker macaron. L2O creates a variety of flavors, but this particular one was of salted caramel and brown butter. The sweetness of caramel can be overwhelming, but here, it was deftly tempered by the salt, giving the admixture an almost savory flavor. Mixed with butter and almond powder, the caramel proved to be the perfect filling for the crisp, moist, toothsome shell, the two elements almost fusing into a perfect amalgam.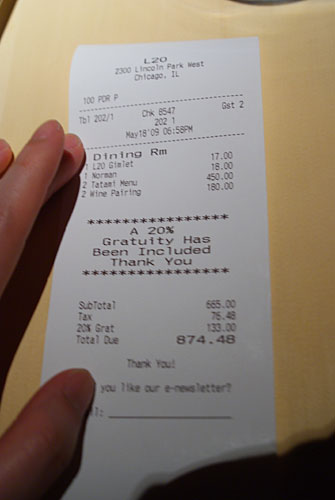 The automatic 20% tip was a bit presumptuous, though not undeserved, given the level of service.
Despite being a relative newcomer to the scene, L2O rightfully deserves its place among top Chicago restaurants. Laurent Gras makes a strong case at L2O, creating some of the most interesting seafood dishes I've had in recent memory. My only concern is that a kaiseki-styled presentation may not be the best way to experience Gras' cuisine; the fusing of east and west here just seemed a bit discoherent. Thus, I look forward to trying the standard seasonal tasting next time.