Sotto (Los Angeles, CA) [2]
Sotto Restaurant
9575 W Pico Blvd, Los Angeles, CA 90035
310.277.0210
www.sottorestaurant.com
Sun 04/21/2013, 06:00p-08:50p
When it opened two years ago,
Steve Samson
and
Zach Pollack
's
Sotto
made quite a splash on the Italian scene here in LA, offering up a chef-driven restaurant dedicated to the bounties of Southern Italian cooking. Personally, I was rather smitten by this keenly regional approach to the cuisine, and figured that it was a time for a revisit.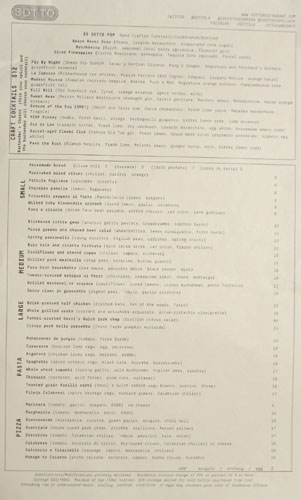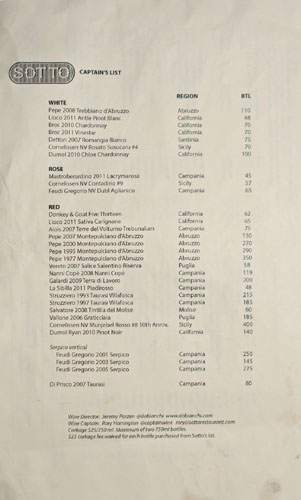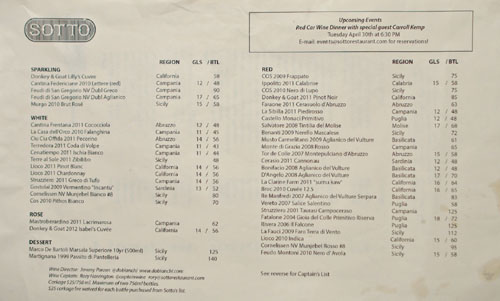 Sotto's menu remains firmed rooted in Southern Italian traditions, and features a line-up of standbys (e.g. the octopus and mackerel) joined by a rotating selection of new creations. To drink, you can't go wrong with the cocktails here, while the wine list--curated by Wine Director
Jeremy Parzen
and Wine Captain
Rory Harrington
--features a smart selection of eclectic, reasonably-prices
vinos
from Italy and California. Click for larger versions.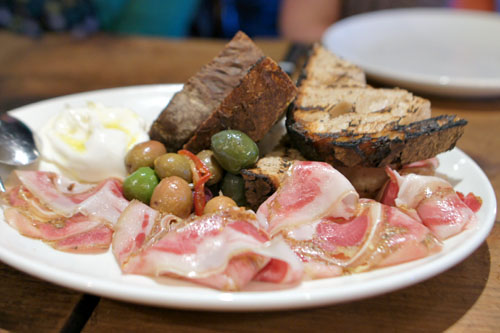 Housemade bread [$9.00]
| burrata
Housemade bread [$9.00]
| coppa di testa
Housemade bread [$7.00]
| lardo pestato
Bread is baked in-house using residual heat from the restaurant's vaunted pizza oven, and arrived toasty, smoky, and charred. It was tasty alone, but you have to try the various toppings, the most famous of which is the
lardo pestato
, affectionately known as pork butter. The spread was as satisfying as it sounds, but the burrata was on point as well, and the
coppa di testa
was marvelous: slick, spicy, fatty, and just brimming with pork-y sapor.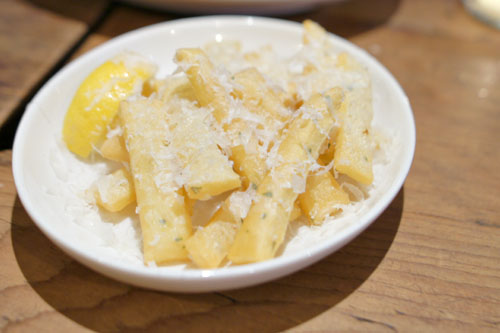 Chickpea panelle [$6.00]
| lemon, Ragusano
Next up was Sotto's signature snack of Sicilian chickpea fritters. They were fun little bites, crisp on the outside, fluffy on the inside, loaded with a straightforward savory character, amped up by the salty Ragusano, and topped off by a hit of lemon-y tang.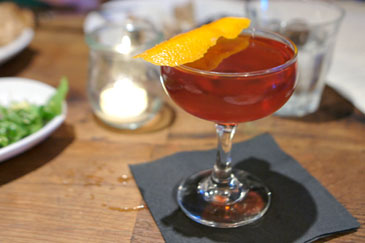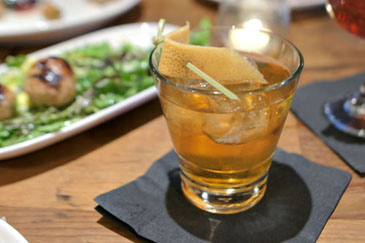 La Camorra [$12.00]
| Rittenhouse rye whiskey, Pierre Ferrand 1840 Cognac, Campari, Carpano Antica, orange twist
Fly By Night [$12.00]
| Sheep Dip Scotch, Saler's Gentian liqueur, King's Ginger, Angostura and Peychaud's bitters, grapefruit essence
Return of the Daq (OMG!) [$12.00]
| Smith and Cross rum, Zucca rabarbaro, fresh lime juice, Maraska maraschino, fragola
Sotto's cocktail program--the work of
Julian Cox
and
Nick Meyer
these days--has always been worthy of praise, so naturally we had to have a few to begin. Based on our server's recommendation, I went with the
La Camorra
and wasn't disappointed. It was a stout concoction, classic in essence with a great balance of boozy, bitter, and sweet-aromatic flavors perked up with just a bit of citrus-y flair. The
Fly By Night
was a success as well, with a slight smokiness and a lovely mix of ginger and grapefruit nuances. My favorite of the bunch was the
Return of the Daq (OMG!)
, a riff on the daiquiri that served up a perfect balance of sugary and astringent flavors over a base of Smith & Cross.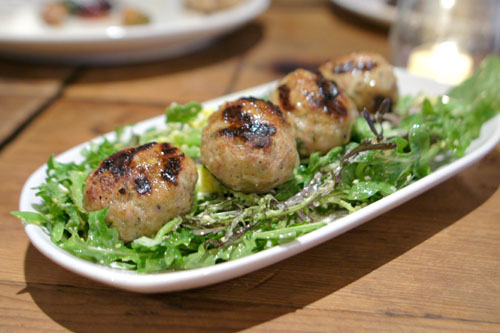 Grilled pork meatballs [$11.00]
| snap peas, pecorino, bitter greens
I normally shy away from ordering meatballs, often finding them uninspired,
but my god
, these were the best I've ever had. They came out utterly juicy and brimming with piggy goodness, offset by just a whisper of char. The meatballs were fantastic alone, but I appreciated the tempering effect of the greenery here as well. You
need
to get this.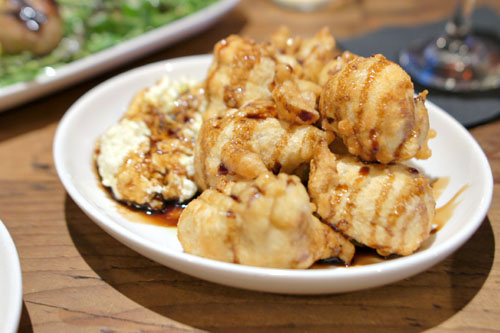 Pittule Pugliese [$6.00]
| vincotto, ricotta
Next up were globules of fried dough--dense, filling nuggets with a savory yet slightly sweet taste to 'em that paired well with the sweet
vincotto
(grape must condiment) and creamy-cool ricotta.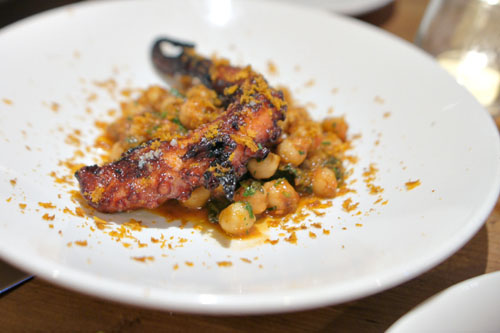 Tomato-braised octopus ai ferri [$16.00]
| chickpeas, preserved lemon, chard, bottarga
Between this and the version at
Bestia
, I gotta say that the Italians have got a way with
polpo
. It was flawlessly cooked, coming out tender, yet still with a bit of bite and a wonderfully crisp crust, redolent of smoky char notes. The bottarga, meanwhile, served to amplify the natural brine of the octopus, and I loved the moderating effect and textural play of the garbanzos as well. A must-try.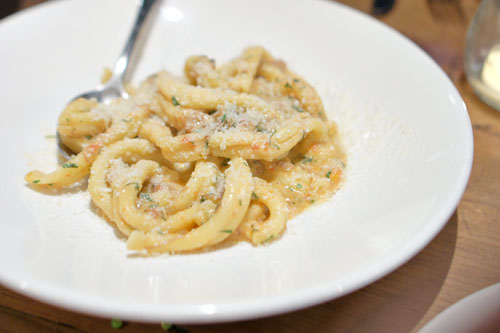 Casarecce [$16.00]
| braised lamb ragu, egg, pecorino
Our first pasta was of the rolled variety. The
casarecce
arrived properly firm to the bite, and worked flawlessly against the hearty, meaty ragu, while the egg and cheese added further lusciousness to the dish. Hard not to enjoy this one.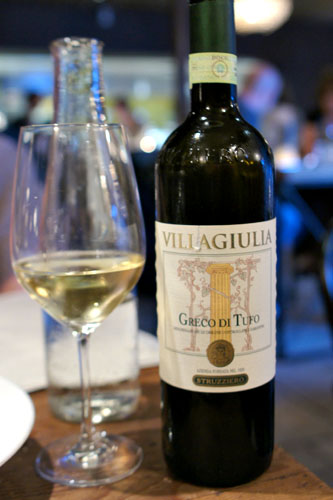 We transitioned from cocktails to wine, the first of which was the
Struzziero 2011 Greco di Tufo [$56]
from Campania. I quite liked this one, with its marked stonefruit flavors on the tongue joined by dry, herb-y notes that made for a very balanced wine.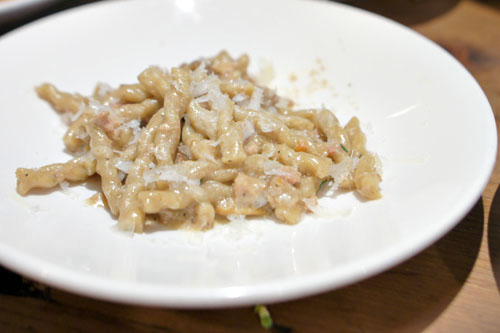 Toasted grain fusilli corti [$19.00]
| Devil's Gulch rabbit ragu bianco, porcini, thyme
"Short" fusilli are a treat from Calabria and showed off a delightfully hearty, nutty character that I adored. The pasta was a perfect match to soak up the comfy, cozy flavors of the rabbit sauce, which I found simply delicious, with a hit of earthiness from the porcini and a great aromatic component from the thyme.
Spaghetti [$19.00]
| spicy octopus ragu, black kale, burrata, breadcrumbs
Spaghetti was well-executed as well. The spicy ragu worked wonders here, beautifully countered by the astringency of the kale while the burrata added a palpable luxuriousness to the dish.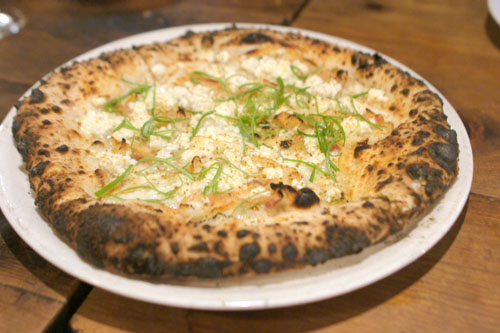 Guanciale [$17.00]
| house-cured pork cheek, ricotta, scallions, fennel pollen
Pizza is naturally a must-order here, and the guanciale variety is one of the more popular selections available. For me it starts with the crust, properly bitter and leopard-spotted, with a blend of crisp and fluffy textures. To that, the pork cheek imparted a focused saltiness to the pizza that paired swimmingly with the lush chunks of ricotta sprinkled on top, all while the fennel and scallions offered up a bit of the levity to the mix.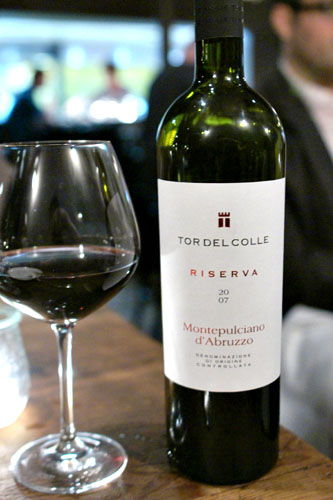 To go with the heavier courses, we opted for a bottle of the
Tor de Colle 2007 Montepulciano d'Abruzzo [$58]
. This one was quite pleasing as well, dry on the palate, with a tannic quality to it and a marked berry fruit character joined by a peppery spice. It stood up nicely to the food.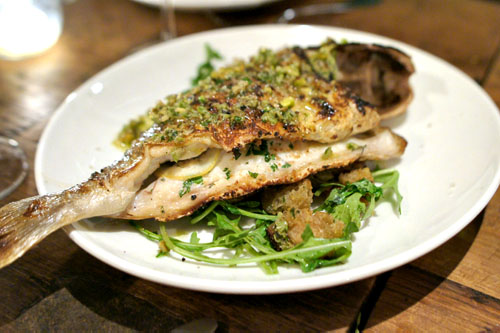 Whole grilled orata [$29.00]
| currant and artichoke acquasale, olive-pistachio vinaigrette
Gilt head bream was masterfully presented: tender and moist, with a particularly savory skin and charming brininess to it that melded surprisingly well with the tangy
acquasale
.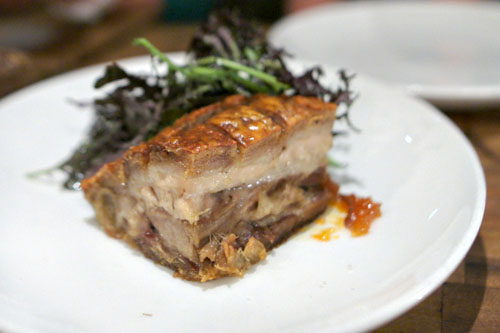 Crispy pork belly porcetto [$24.00]
| Chino Farms pumpkin mostarda
In sandwich form, the
porcetto
is perhaps Sotto's signature item at the moment, available during lunch only. Less well known, though, is this version of the delicacy, served only on Sundays we're told. It's similar to its better known cousin
porchetta
, but not quite the same, being traditionally made from a slow-roasted, salted and herbed suckling pig. Differences notwithstanding, the end result is a contrast of tender, fatty, immensely flavorful flesh and wonderfully crunchy, salty skin that satisfies your basest cravings. A dab of
mostarda
added a hit of piquancy to the dish, and the greens a certain levity, but clearly, the pig was the hero here.

Time for dessert. There is no dedicated pastry chef here, so the sweet stuff comes from the two Chefs as well. Click for a larger version.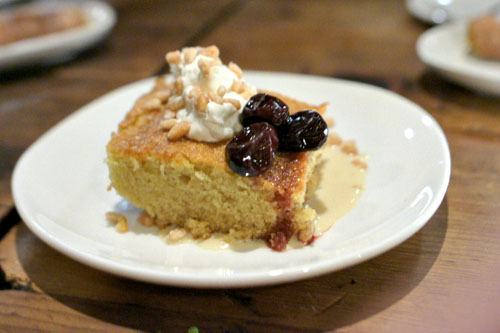 Olive oil cake [$7.00]
| pine nut crema inglese, honey whipped cream, roasted grapes
The olive oil cake was pretty phenomenal, one of the tastiest I've had no doubt, with its slight savory character flowing beautifully into the sweetness of the pine nut crema and whipped cream, all while the grapes added an unabashedly sugary smack to the dessert. Really well balanced.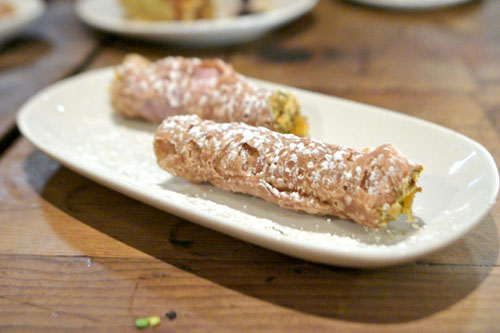 Cannoli Siciliani [$7.00]
| ricotta, orange marmalade, pistachios, chocolate
A Sicilian treat, cannoli comprise rolled tubes of fried pastry, stuffed here with a mixture of ricotta, pistachio, orange, and chocolate. It was a paradigmatic presentation of the dessert, with the crisp dough playing off of the orange-chocolate nuances beautifully, all while the ricotta served as subtly sweet base to the course.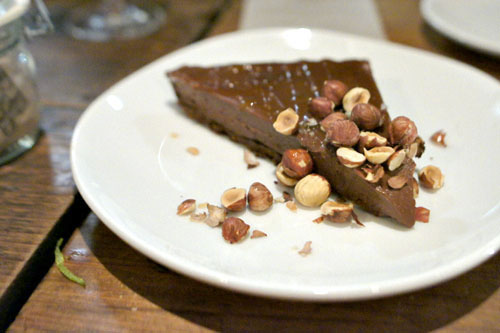 Bittersweet chocolate crostata [$8.00]
| hazelnuts, salted rosemary caramel
Our party closed out with Sotto's tart-like crostata. Here we're talking rich, lush, chocolate-y flavors joined by a savory, herby element from the rosemary caramel, all while the hazelnuts offered up a nutty crunch to the fray.
Sotto's going as strong as ever, with Pollack and Samson serving up some of the most unique, and delicious Italian cooking in the Southland. I love the duo's focus (or obsession, more appropriately) on the southern reaches of the country, which allows them the latitude to present to diners some of the region's lesser known delicacies, a blend of rustic and refined that makes me feel thankful that we have a place like this. Definitely a star in LA's Italian repertoire.