Trois Mec (Los Angeles, CA)
Trois Mec Restaurant
716 N Highland Ave, Los Angeles, CA 90038
323.462.1344
www.troismec.com
Thu 04/18/2013, 07:00p-09:30p

Given the fervor and fanfare that Ludovic Lefebvre has generated through his
LudoBites
pop-ups over the past several years, I think it's pretty safe to say that Trois Mec ("three guys") is likely the biggest LA opening of 2013. The restaurant represents a collaboration between Ludo, Jon Shook, and
Vinny Dotolo
, though from a practical standpoint, it's Ludo's restaurant, his food, his style. The Dudes are taking on more of a management/operations role, bringing over
Animal
's Ashley Ragovin to serve as GM, and also installing Operations/Beverage Director Helen Johannesen. In the kitchen, Ludo will be supported by Chef de Cuisine
Doug Rankin
, formerly of Chris Cosentino's PIGG at Umamicatessen (
Ink
and
The Bazaar
, too), not to mention eliminated
The Taste
contestant Renée Everett (she preps in the morning).
Now, this being a proper Ludo venture, things just wouldn't seem complete without reservation drama, and indeed, the process didn't go quite smoothly with the restaurant's new (and controversial) ticketing system, Next Table (as popularized by Next and
Alinea
in Chicago). Though I was able to register with no problem, I had difficulty actually logging in, and failed to secure a ticket. Judging from the stream of tweets from the
@TroisMecLA
account, I wasn't alone. Fortunately, a friend and longtime reader stepped in and included me on her reservation. Some way, somehow, things always tend to work out in the end, and for that, I'm grateful.


Trois Mec is situated inside the building once occupied by Raffallo's Pizza, which closed in the middle of last year. The interior's been completely gutted and rebuilt, and is now swathed in white marble, while mirrors give the illusion of a larger space. There are four tables against one wall, opposite an eight-seater kitchen counter, giving a total capacity of 26. A wine cellar built by
Premier Cru
sits in one corner. According to Ludo, the idea is to convey the experience of dining in a working kitchen, with every table being a kitchen table, in effect. Sharp-eyed readers may notice Jon Shook conversing with none other than
Jimmy Kimmel
in the second photo.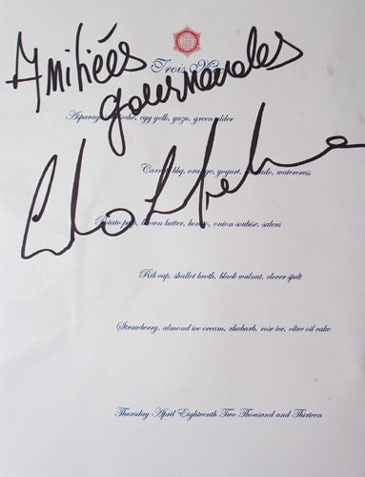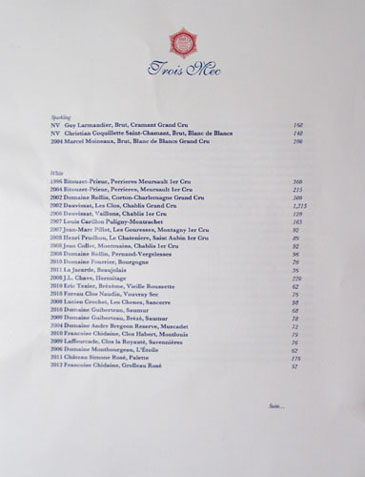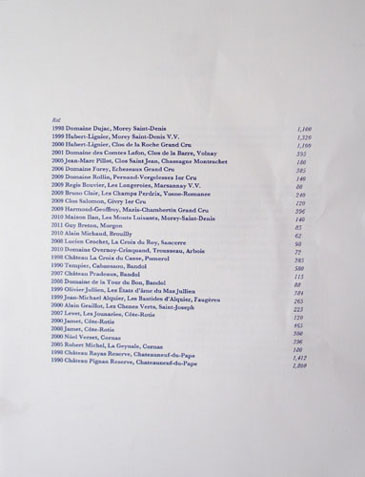 The Trois Mec menu comprises five courses (plus "snacks") at $97.13 per person (inclusive of 9.75% tax and 18% tip, on a base price of $75). A ticket entitles a diner to food only, while a wine pairing ($49) and other francocentric wines are available for an extra charge at the restaurant. Click for larger versions.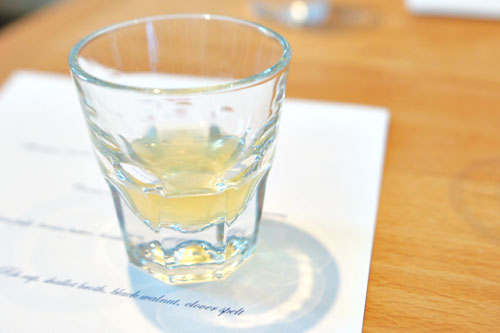 elderflower and mugwort beer
We commenced with a palate opener comprising mugwort beer and elderflower, a fun way to start that showed off a refreshing sweetness with just the right amount of astringency.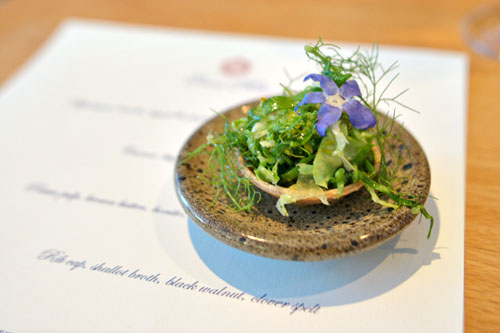 Herb and flower tart
2011 Rouletabulle, Eric Texier
Our first "snack" was an herb tart featuring fennel, little gem, and sorrel. It was essentially a one-bite salad, with the bright, bitter taste of the herbs transitioning beautifully to the richness of the buttery, savory crust, all while the dressing served to tie together and accentuate the dish. To pair with our snacks, we were poured a delightful sparkling Chasselas from the northern Rhône. This was described by Ragovin as a "naked poolside wine," and indeed, it was sweet and bubbly, an unabashedly gluggable
vin
that's perfect for summer sipping.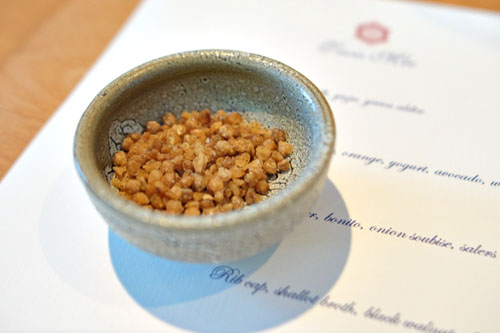 Buckwheat popcorn
2011 Rouletabulle, Eric Texier
I could see the buckwheat becoming a mainstay snack here, and for good reason. The "popcorn" was undeniably satisfying, giving us a fantastic crunchiness and a lip-smacking, almost chicken-y savoriness. They really need to bag and sell this stuff.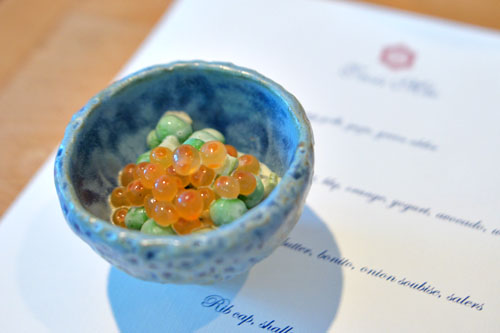 Peas and asparagus with salmon roe
2011 Rouletabulle, Eric Texier
I've got quite the pea fetish, but I'd never had a presentation quite like this before. The combo of peas and asparagus delivered a blast of bright, green, astringent, yet sweet flavors that were superbly complemented by the enveloping weight of the miso mayo. If that wasn't enough, we had pricks of saltiness from the salmon roe that served as an intriguing, yet effective accent piece here.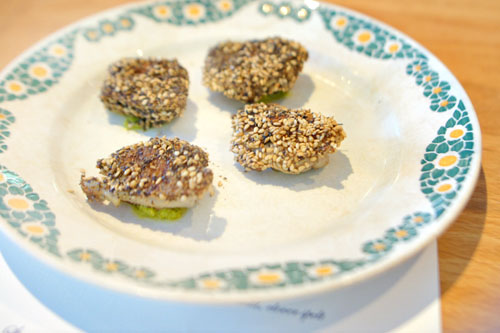 Chicken with sesame seed and mustard
2011 Rouletabulle, Eric Texier
As we all know by this point, Ludo is comfortable around
coq
, and that was made very clear in this dish. The chicken arrived juicy and tender, with a rather profound flavor to it that perfectly married the nutty savoriness of those sesame seeds with the tanginess of mustard. I just wanted to keep eating.
1: Asparagus, brioche, egg yolk, yuzu, green alder
2011 Jurancon Sec, Dm. Bru-Bache
With the snacks out of the way, it was now time for the meal proper to begin, and what a start! This just might be the best asparagus dish I've ever eaten. The spears were flawlessly prepared: bright and bitter, with a supple snap to them that I reveled in. The key to this, though, was to mix everything together. That way, you got a blast of sour, bitter, savory (love those brioche crumbles), and creamy that resulted in some fantastic flavor transitions and a great mix of textures as well, with the asparagus always remaining the star of the show. A smart, multifaceted course that paired swimmingly with the complex fruity-minerally notes of the Jurançon.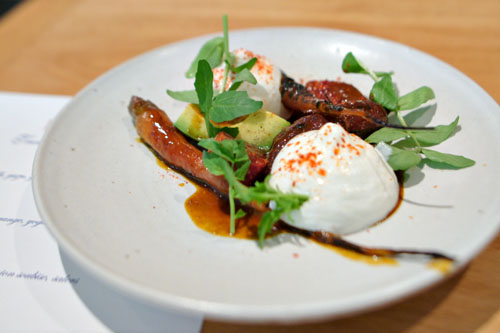 2: Carrot, bbq, orange, yogurt, avocado, watercress
2011 Pinot Auxerrois, Maurice Schoech
You could smell the curry-esque aromas from a mile away on this one. Indeed, that spice permeated the dish, infusing the carrots with an in-your-face smack of flavor that coexisted with sweet and smoky nuances. The end result was a mélange of bold, lusty elements that made this one of the most intriguing presentations of carrot that I've experienced. I especially appreciated the countervailing levity imparted by the juicy citrus wedges here, as well as the almost ethereal lightness of the yogurt. I'm not a fan of cooked carrot in general, but Ludo worked it out here. In addition, I really enjoyed the wine on this one, an Auxerrois Blanc from an Alsatian
grand cru
Riesling producer that perfectly blended sweetness and minerality in a crisp, refreshing format.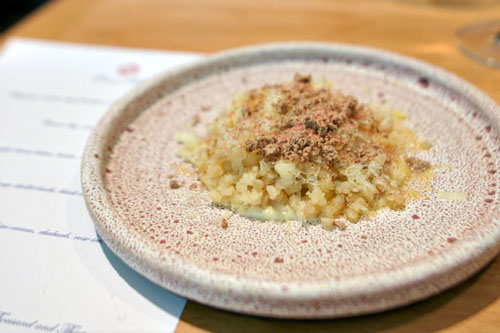 3: Potato pulp, brown butter, bonito, onion soubise, salers
2008 Saint Aubin, Sentier du Clos, Henri Prudhon
This is a course that I'm sure will become one of the signatures here at Trois Mec. The potato showed off an almost "fluffy," yet substantial consistency, with a satisfying butteriness to it that was beautifully highlighted by the umami-laced flavors of the
katsuobushi
, all while the soubise and Salers contributed an integrating creaminess and heft to the dish that underscored everything. Make no mistake though, the potato always remained the hero in the dish, as it should. Such a humble ingredient, but properly elevated.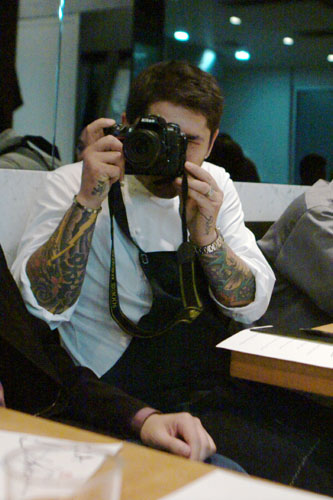 There's no no-photo policy anymore (unlike at MasterCard's
Priceless LA
preview dinners
), but using flash
is
highly discouraged.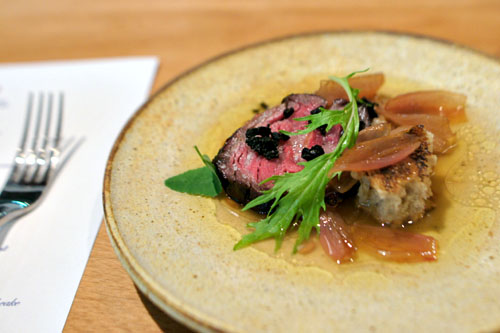 4: Rib cap, shallot broth, black walnut, clover spelt
2010 Gevrey-Chambertin, Dm. Maume
Our most substantial course of the night featured rib eye cap set in a "risotto" of spelt. The steak itself arrived fatty and tender to the bite, with a hearty, smoky flair (notes that were mimicked in the wine) to it that paired smartly with the piquant, comforting
soupe à l'oignon
-inspired sauce. The spelt, meanwhile, did an admirable job mixing things up texturally, and also served to moderate the dish.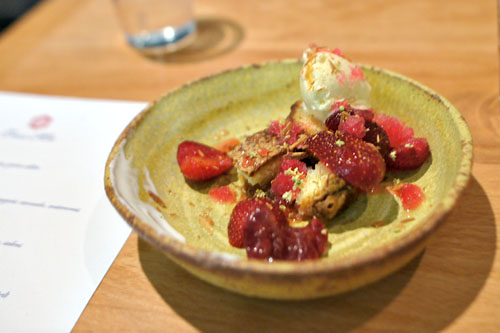 5: Strawberry, almond ice cream, rhubarb, rose ice, olive oil cake
Bugey-Cerdon, Patrick Bottex
Dessert was a success, no doubt one of the best that Ludo's ever served. The sugariness of strawberry was proudly conveyed here, gorgeously set off by the floral aromatics of the rose while the olive oil cake imparted a subtle savory balance to things. The sweet, nutty, amaretto-esque ice cream was a further point of interest in the dish, making for an utterly balanced dessert that was delicious alone, and even better with the accompanying sparkling Gamay.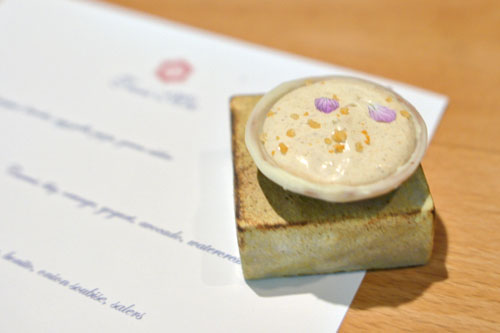 Caramel tart
We closed with a caramel tart laced with cumin and habanero salt, a fitting end to the meal that did a wonderful job in countering the sweetness of the caramel with just a trace of spicy, savory goodness.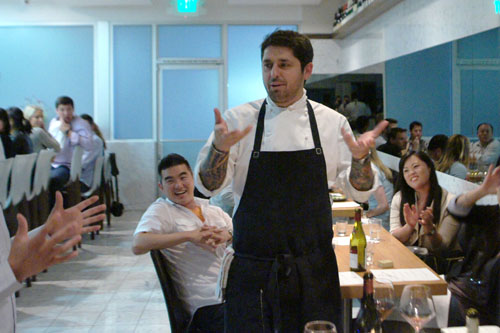 Toward the end of the evening, Ludo
once again
regaled us with another rendition of a traditional Burgundian drinking song (first encountered with David Féau and company at
The Royce
).
Well it's about damn time
. It was worth the wait though. As someone who's consumed more than my fair share of
LudoBites
dinners (dating back to
2.0
), it's clear that the Chef has upped his game here. The cooking gives the impression of more polish, more restraint, while at the same time jiving with the concept of presenting something fancy, but not
too
fancy--call it bistronomy if you wish. In fact, I'd go as far as to say that, taken as a whole, this is the best food Ludo's ever presented (with apologies to his work at L'Orangerie and Bastide, which I did not have the pleasure of experiencing), and I have no doubt that Trois Mec is well on its way to become one of LA's iconic dining destinations. Dinner and a show? No, dinner
as
the show.