Sotto (Los Angeles, CA)
Sotto Restaurant
9575 W Pico Blvd, Los Angeles, CA 90035
310.277.0210
www.sottorestaurant.com
Thu 04/07/2011, 07:35p-10:55p
When we last caught up with Steve Samson and Zach Pollack, the two were working a stint at
Test Kitchen
, where they served up Italian cuisine inspired by the islands of Sardinia and Sicily. Since that time, the duo has been hard at work transforming the former Test Kitchen space into
Sotto
("downstairs" in Italian, in reference to their ground floor location within the building--the upstairs will be turned into
Picca
), their debut restaurant opened in partnership with veteran restaurateur Bill Chait (
Playa
,
Rivera
, as well as the upcoming
Short Order
).
About the Chefs
: A native of the San Fernando Valley, Stephan Samson was born to a Bolognese mother and spent his childhood summers at his grandparent's home back in Italy. He studied Italian history and culture at the University of Venice Ca' Foscari, history and literature at UC San Diego, and medicine at Columbia University before enrolling in New York's Institute of Culinary Education (formerly Peter Kump's New York Cooking School). After graduating in 1997, he cooked at a number of restaurants in New York, Maine, and Italy (including Cascinale Nuovo, Nadia Santini's famed Michelin three-star Ristorante dal Pescatore, Agata e Romeo, and Antonello Colonna) before joining Piero Selvaggio at his outpost of Valentino in Las Vegas in 1999, working under Luciano Pellegrini. Following, Samson returned to the Valley in 2000 to helm the kitchens at the now-shuttered Posto in Sherman Oaks, then traveled again to Italy, this time to the South, working at Il Duomo, Quattro Passi, and Torre del Saracino. In 2003, he became Executive Chef of Selvaggio's flagship
Valentino
in Santa Monica, but left in 2005, volunteering at
Neal Fraser
's
Grace
before eventually landing at
Sona
.
Zachary Pollack, on the other hand, grew up culinarily sheltered. He studied architecture at Brown University from 2002 to 2006, but fell in love with Italian cookery during a study abroad program in Florence. During his breaks, he spent time
staging
at Grace, where he would eventually meet Steve Samson, his future business partner. Following his graduation in 2006, Pollack began cooking at Grace, and subsequently BLD. However, he was inevitably drawn back to Italy, and thus worked stints at Ristorante Ambasciata in Quistello and Duomo Ristorante in Ragusa. Pollack returned to the US in 2007, where he rejoined Samson at Sona. The twosome would continue cooking there until late 2008, when they were tapped by David Myers to open up
Pizzeria Ortica
in Costa Mesa. Ortica debuted in January 2009 and was a moderate success, but in the end, the two Chefs still wanted a place of their own, and wound up leaving the restaurant in May of last year to begin work on Sotto (which included an eating trip through Southern Italy).

The space has undergone a thorough renovation, but shades of
Test Kitchen
still shine through. The bar's been redone, and now features a zinc top that wraps around to the open kitchen. A wine vault has been added and the ceiling reworked to lessen noise, while unfinished wooden tabletops and revamped lighting round things out. It's an improvement to be sure.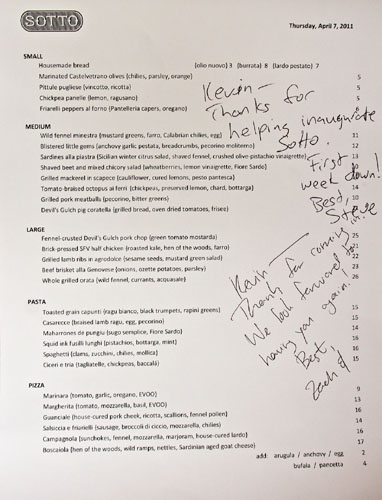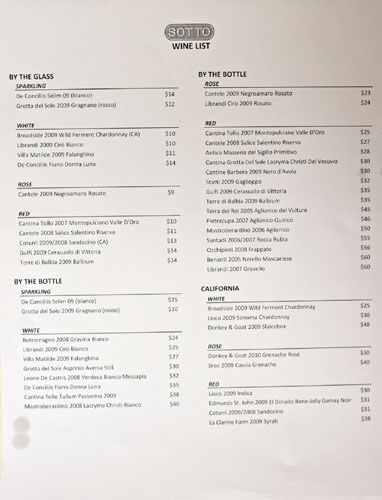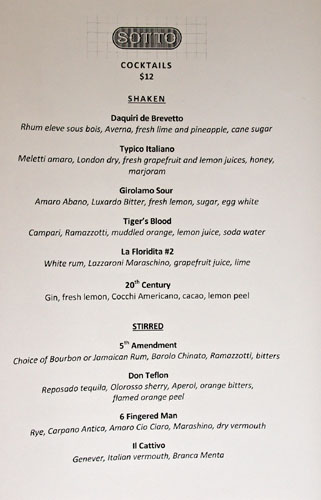 Sotto's menu touts a focused selection of Southern Italian-inspired dishes, with particular attention being paid to the housemade pastas and wood-fired Neapolitan pizzas. The wine program features a small selection of reasonably-priced (nothing over $60) bottles from Italy and California, while Julian Cox (aided by Brian Summers and Kate Grutman) takes cares of the
amaro
-centric cocktail list. Click for larger versions.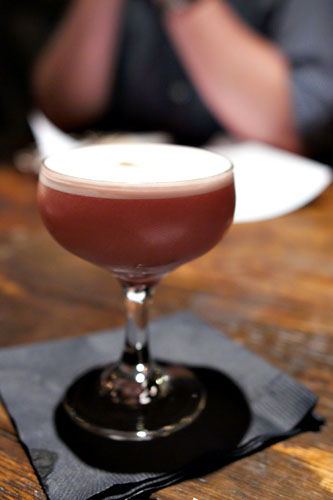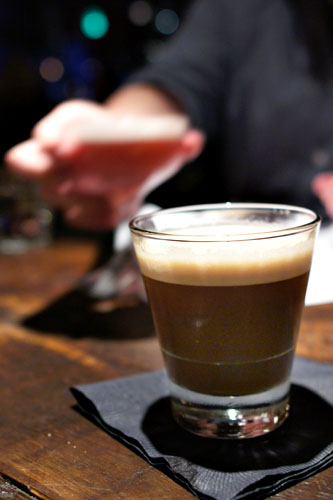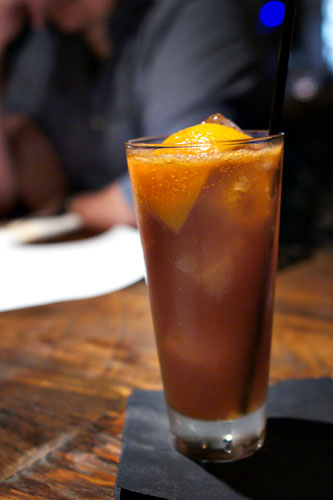 Clover Club [$12.00]
| gin, raspberry syrup, lime juice, egg white
Girolamo Sour [$12.00]
| Amaro Abano, Luxardo Bitter, fresh lemon, sugar, egg white
Tiger's Blood [$12.00]
| Campari, Ramazzotti, muddled orange, lemon juice, soda water
In honor of the
Cullen-Harrison Act
, which passed into law on April 7, 1933, Sotto had a special cocktail this evening, the Clover Club, reportedly a favorite of Franklin Roosevelt (who signed the act into law). A pre-Prohibition era drink, the Clover Club featured a strong base of gin, deftly balanced by the inclusion of fruit, while the egg white added a frothy bit of complexity to the cocktail. The Girolamo Sour was also quite enjoyable, with the bittersweet, herbaceous, almost Cynar-esque flavor of the amaro playing nicely with the tartness of the lemon. Here again, the use of egg white added a great touch of frothiness to the fray. Finally, we had the Tiger's Blood, a must order for Charlie Sheen fans. It was actually my favorite of the trio, with a perfect interplay between the amaro, Campari, and citrus. I fully expect an Adonis DNA cocktail in the near future!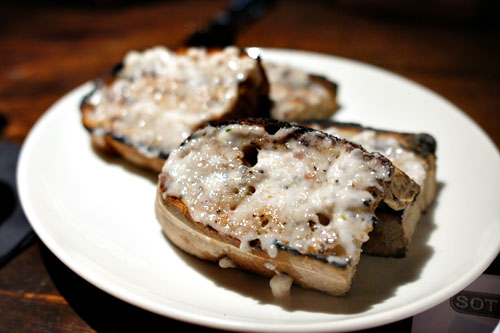 Housemade bread [$7.00]
| lardo pestato
Our meal began with a complementary plate of
pane
, baked in-house using residual heat from the restaurant's pizza oven. The bread arrived lathered up with
lardo pestato
, basically a pork back fat spread with fennel pollen. It was superb, a porcine version of butter in effect, with an unabashed richness and decadence tinged with just a touch of sweetness from the fennel. Be careful not to fill up on this.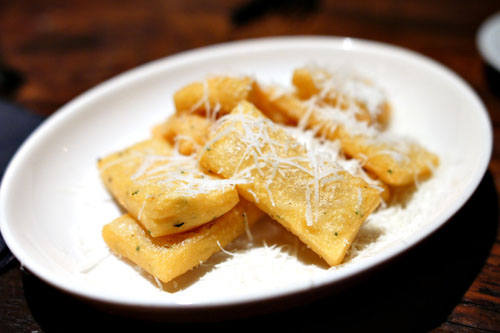 Chickpea panelle [$5.00]
| lemon, ragusano
Panelle
are chickpea fritters from Sicily, crisp out the outside, yet with a delightfully creamy interior. They showed off a hearty, simple, satisfying savoriness, elevated by the intensity of the
Ragusano
cheese and tinged by a subtle tartness from the lemon.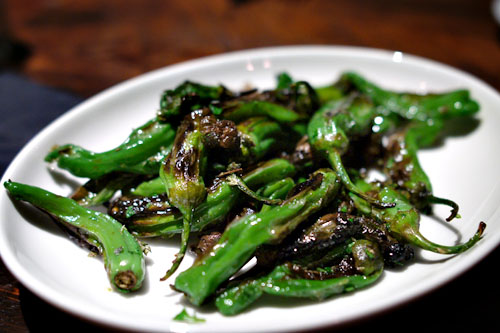 Friarelli peppers al forno [$6.00]
| Pantelleria capers, oregano
Friarelli
are mild peppers from Southern Italy, the Italian cousins of Japanese
shishitos
if you will. They were similar in flavor, with a slight bit of heat and subtle smokiness, all perked up by the piquancy of the capers.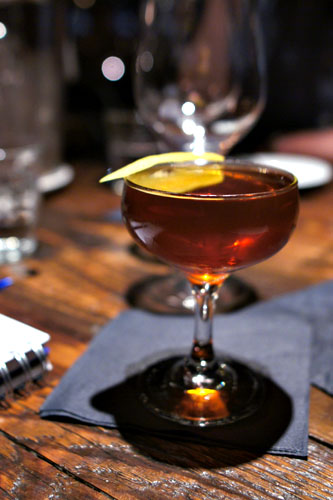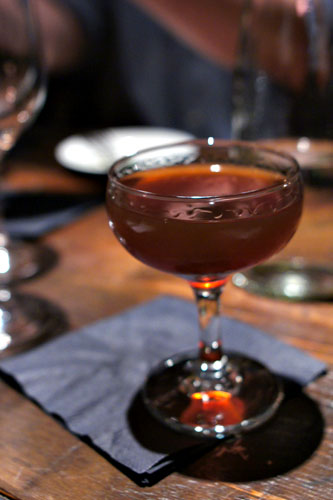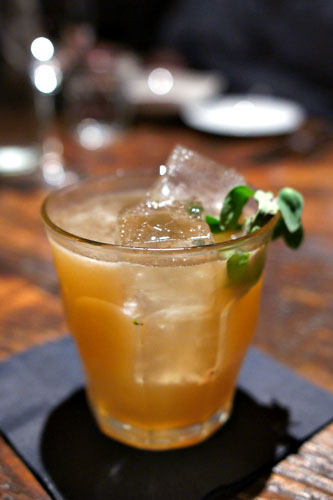 Don Teflon [$12.00]
| Reposado tequila, Olorosso sherry, Aperol, orange bitters, flamed orange peel
5th Amendment [$12.00]
| Choice of Bourbon or Jamaican Rum, Barolo Chinato, Ramazzotti, bitters
Typico Italiano [$12.00]
| Meletti amaro, London dry, fresh grapefruit and lemon juices, honey, marjoram
Our second round of cocktails brought us the Don Teflon, which had a hefty body teeming with dark, almost maple syrup-like undertones, all set off by the sweet astringency of Aperol. The 5th Amendment, meanwhile, showed off a deft interplay between boozy and saccharine cherry flavors, moderated by the aromatics of Barolo Chinato. My favorite of the troika was the Típico Italiano, with its floral, almost perfume-y essence and wonderful herbaceousness from the amaro, perfectly balanced by the use of honey and citrus--delish.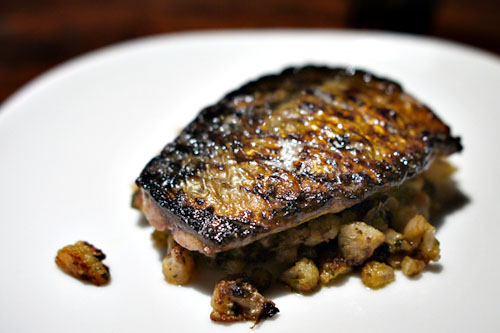 Grilled mackerel in scapece [$11.00]
| cauliflower, cured lemons, pesto pantesca
The mackerel, as you'd expect, was delightfully fishy, not to mention tender and succulent. It had a great tinge of acidity from its
scapece
(escabeche) marinade, as well as a tartish component from the
pesto pantesco
(a type of pesto from
Pantelleria
, comprised of basil, capers, tomato, and garlic, among other ingredients). The cauliflower, thus, helped to temper and tame the dish.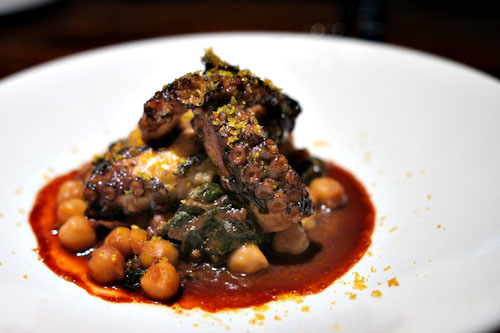 Tomato-braised octopus ai ferri [$14.00]
| chickpeas, preserved lemon, chard, bottarga
Being the octopus fiend that I am, this was naturally a must-order. The octopus arrived grilled and conveyed a BBQ-esque essence, with a skillful combination of smoky, bitter chard, and sweet tomato flavors, augmented by the brine of bottarga and perked up by a touch of lemon. It was a delectable admixture of flavors, expertly moderated by the use of chickpeas.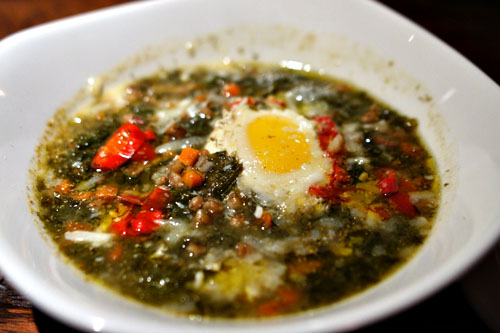 Wild fennel minestra [$11.00]
| mustard greens, farro, Calabrian chilies, egg
Next up was Sotto's interpretation of the ubiquitous minestrone, which was, without a doubt, the best version of the soup that I've had. I loved its heavy, hearty, rustic flair, with a wonderful bit of piquancy from the chilies and an additional modicum of lusciousness from the egg. The farro, meanwhile, served as a fitting base to the soup, grounding the dish and providing some textural variation.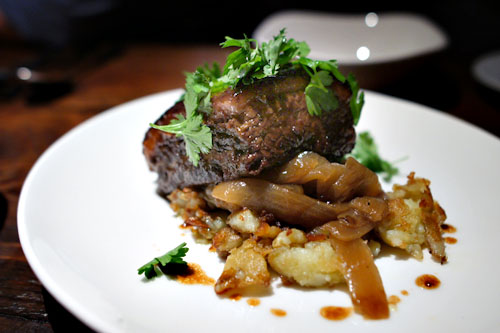 Beef brisket alla Genovese [$23.00]
| onions, ozette potatoes, parsley
Brisket is known for being a rather tough cut of beef, but this had none of that. Instead, the meat was almost falling-apart tender, with deep, dark, smoky flavors that I found immensely satisfying. It was beautifully brightened by the sprigs of parsley, and perfectly paired with the Ozettes and onions. Quite possibly the strongest presentation of beef brisket that I've ever experienced.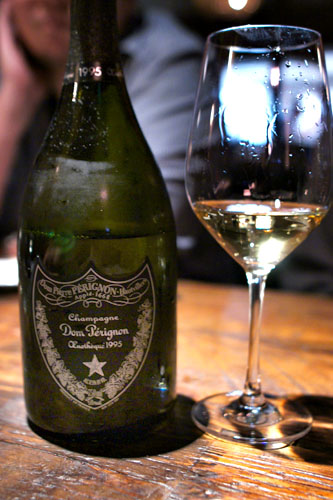 Moving away from cocktails, at this point we popped a bottle of 1995 Dom Pérignon Oenothèque late-disgorged Champagne that we'd brought along (the sole bottle left over from last year's infamous
1995 Champagne horizontal dinner at Urasawa
). This was the first Oenothèque release of the wine that I've tasted, and it seemed like a departure from DP's normal style: immaculately clean, crisp, and bright, with a lovely effervescence and marked notes of citrus and hay and a very, very subdued toastiness. We offered glasses to the Chefs as well as co-owner Bill Chait, and they seemed to enjoy it as well, perhaps even waiving the normal $18 corkage fee as a result!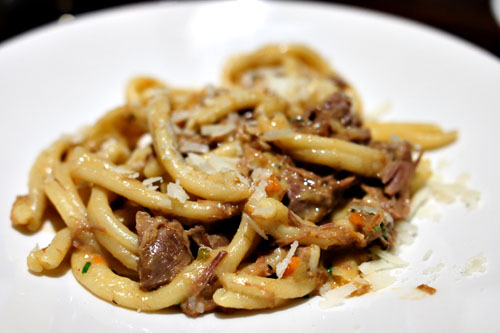 Casarecce [$15.00]
| braised lamb ragu, egg, pecorino
And now on to the pasta, all of which are created in-house.
Casarecce
(literally "homemade") are short rolled strips from Southern Italy, a variety that I'd never had before. The pasta did a great job in soaking up the heady flavors of the lamb ragu, and I enjoyed the additional gravity from the Pecorino as well.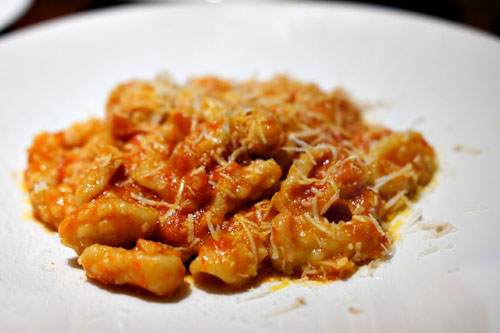 Maharrones de pungiu [$14.00]
| sugo semplice, Fiore Sardo
Another uncommon pasta,
maharrones
are dense, doughy, studded little bits, somewhat in the same vein as orecchiette or gnocchi. The use of
Fiore Sardo
cheese added a certain luxuriousness to the dish, while the sweet tang of the
sugo semplice
(a "simple sauce" of tomato, olive oil, and onion) contributed a countervailing note.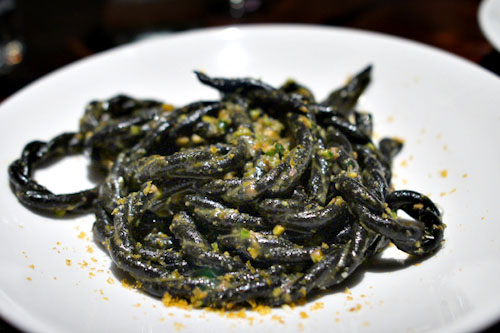 Squid ink fusilli lunghi [$16.00]
| pistachios, bottarga, mint
Fusilli were tinted with squid ink and arrived looking like black licorice! The pasta certainly didn't taste like licorice though, showing off an intriguing combination of nutty and minty flavors, all under overtones of ocean-y goodness from the bottarga.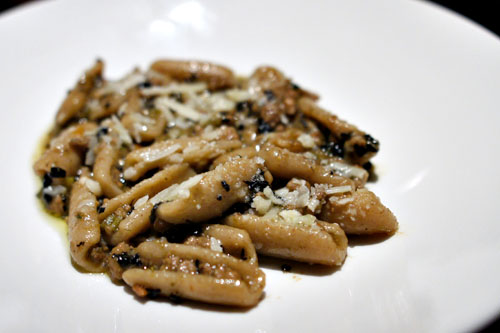 Toasted grain capunti [$15.00]
| ragu bianco, black trumpets, rapini greens
At this point, Chait graciously sent out a plate of the
capunti
(rolled peapod-like pasta), which we enjoyed as well. The pasta paired well with the
ragu bianco
(a tomato-less Bolognese sauce in effect), and I thoroughly savored the earthy essence of those trumpet mushrooms.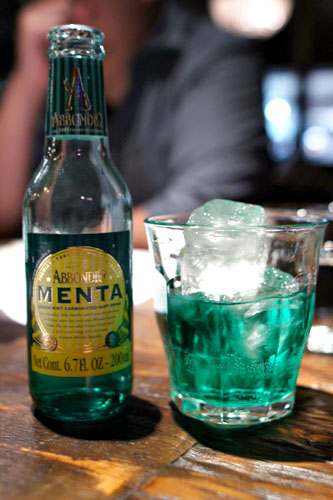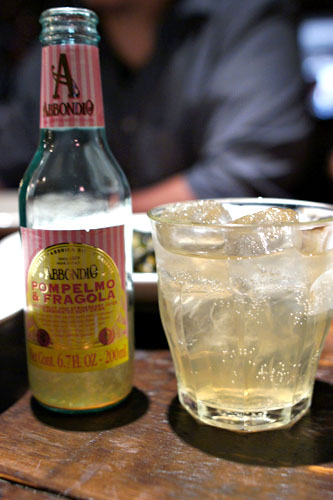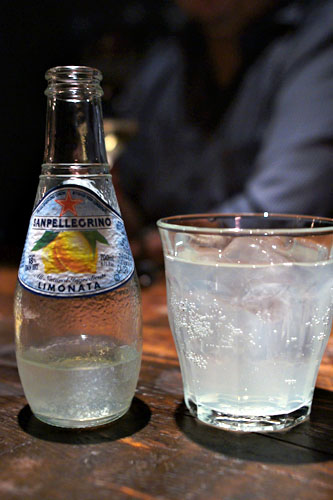 For you teetotalers out there, Sotto also offers up a small selection of interesting Italian sodas, including Abbondio Menta [$3.50], which is what
Scope
would be like if it were made into soda; a very restrained Abbondio Pompelmo & Fragola [$3.50] grapefruit-strawberry drink; and the bracingly tart San Pellegrino Limonata [$4.00].
With the pastas taken care of, it was time to move on to the pizza. The pies here are particularly notable thanks to the oak- and beech-fired oven employed, which burns near over 900°F, cooking a pizza in mere minutes. Samson and Pollack imported over seven tons of materials from Naples, as well as one Stefano Ferrara, a third-generation oven-builder who's built less than 10 ovens here in the US, including the one used at Mario Batali's Eataly. Sotto's will be the first in Southern California. For more on the laborious construction process, check out an article over at
Squid Ink
.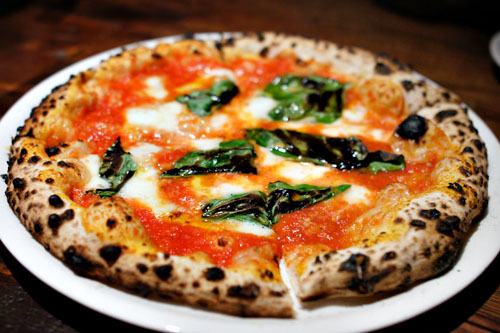 Margherita [$13.00]
| tomato, mozzarella, basil, EVOO
Without a doubt, the margherita is the quintessential example of the Neapolitan pizza. This was a classic example of such, with a textbook interaction between the tangy tomato and substantial cheese, all accented by the pepperiness of basil. Just as crucial as the toppings is the crust, which was crisp and blistered along the edges yet thin and soft in the middle, with a subtly sour character and a pleasant touch of bitterness from the char.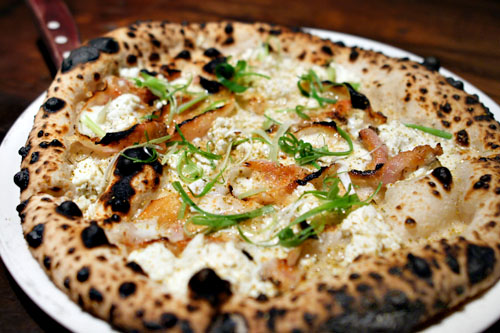 Guanciale [$16.00]
| house-cured pork cheek, ricotta, scallions, fennel pollen
For the uninitiated, guanciale is pork cheek bacon, and here it was used to great effect, adding a delectably salty porcine relish to the pizza. The meat paired gorgeously with the creamy, luscious ricotta, while the fennel and scallions helped to balance things out.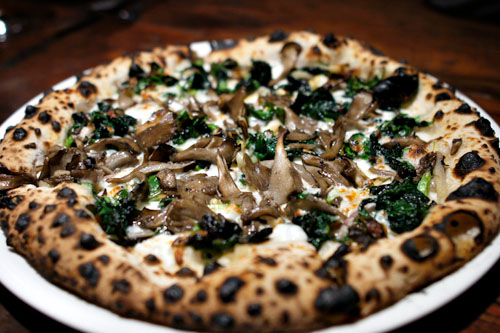 Boscaiola [$17.00]
| hen of the woods, wild ramps, nettles, Sardinian aged goat cheese
Boscaiola
(literally "woodsman") typically refers to a sauce with mushrooms, and indeed, here the hen of the woods was the star of the show, imbuing the pizza with a hefty, earthy gravitas that played perfectly with the ramps and nettles, while the goat cheese served to tie all the flavors together. My favorite of the three pizzas.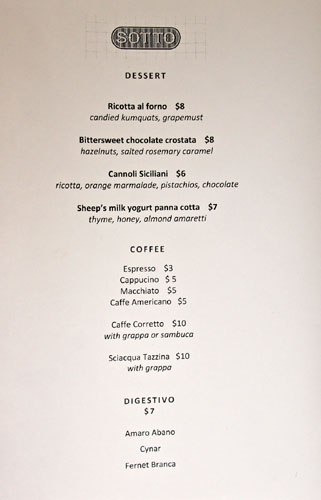 Sotto's current budget doesn't allow for a dedicated Pastry Chef, so Samson and Pollack are doing dessert duty themselves. Click for larger versions.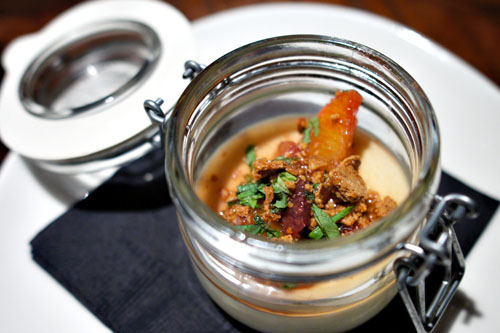 Sheep's milk yogurt panna cotta [$7.00]
| thyme, honey, almond amaretti
Panna cotta is one of the most well-known Italian desserts, and the version here was certainly one of the tastiest that I've had. The cream itself showed off a delectably sweet lactic tang, which paired flawlessly with the sugary honey and herb-y thyme, while the amaretti added a nice crunch to the course.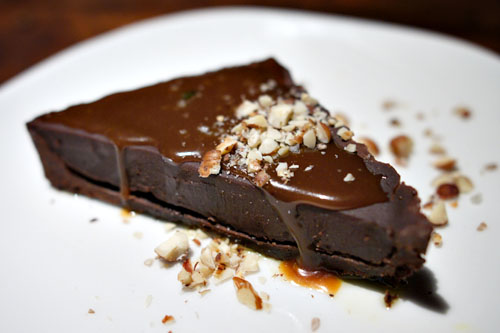 Bittersweet chocolate crostata [$8.00]
| hazelnuts, salted rosemary caramel
We ended the evening with Sotto's crostata, a sort of dessert tart that demonstrated a restrained chocolate-y sweetness and slight boozy character. It was well-matched with the hazelnuts, while the salted caramel finished things beautifully with its sharp, savory smack.
I've been known to be somewhat disinterested when it comes to Italian food, but meals such as this are undoubtedly giving me a greater appreciation for the cuisine. I respect Sotto's focus on regional Southern cooking, which allows for flavors and preparations not typically found on Italian menus. Certainly then, everything that I tasted over the duration of the dinner was pretty much on point, and execution was basically flawless as well. Samson and Pollack are off to a strong start here, making Sotto a great addition to the neighborhood indeed.