Paiche (Los Angeles, CA)
Paiche Restaurant
13488 Maxella Ave, Marina del Rey, CA 90292
310.893.6100
www.paichela.com
Fri 04/12/2013, 07:30p-01:05a

The Ricardo Zarate train keeps on rollin'. Hot on the heels of
Picca
and
Mo-Chica
is Paiche, the Chef's latest project with partner Stephane Bombet named after a large Amazonian fish that's prominently featured on the menu. Though the restaurant was slated to become a ceviche-focused spot initially, it's now squarely advertised as a Peruvian
izakaya
of sorts. The seafood-centric slant remains, though, as Paiche focuses on the coastal cuisine of Peru, and also pays homage to the Japanese influences inherent in the cuisine.
Angelenos got a first taste of Paiche at a pair of
Food & Wine
Best New Chefs dinners on March 26th and 27th featuring Naomi Pomeroy and the duo of Jamie Bissonnette and Viet Pham. This was followed up by a lottery-based sneak peak days later. The restaurant was supposed to grand open on April 2nd, but the debut was pushed back to the 12th due to an emergency in the Chef's family.

Paiche was penned by the Santa Barbara-based
DesignARC
, with input from both Zarate and Bombet. Not surprisingly, the space features an ocean-y theme draped in shades of blue, appropriate for the menu as well as the MdR locale. There's an open kitchen of course, adjacent to the bar, a 42-seat semi-enclosed patio, and
de rigueur
swaths of reclaimed wood all over.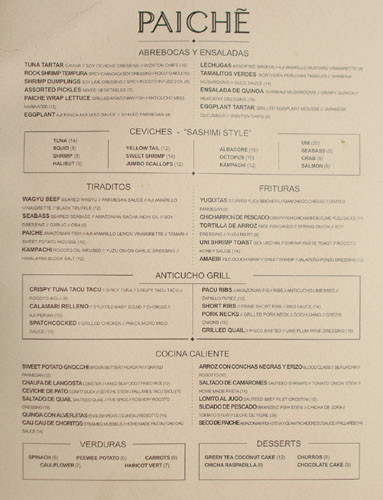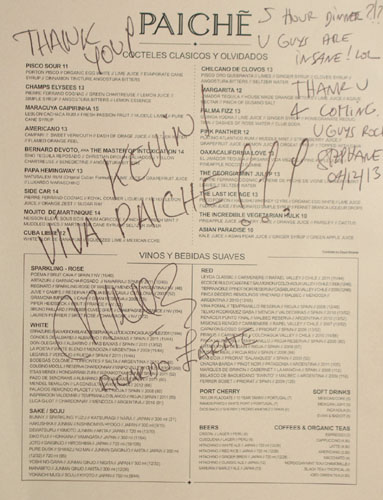 The menu at Paiche is vast, featuring 60 small plates divided into various sections. A lot of people have complained about the price/portion ratio here vis-à-vis the other restaurants; I'm not sure why it tends higher, but I'm curious to see how Paiche responds. To drink, you'll find a cocktail program by Deysi Alvarez (
Mo-Chica
), in addition to beer, soju, and a selection of Latin-focused wines and liquors. Click for larger versions.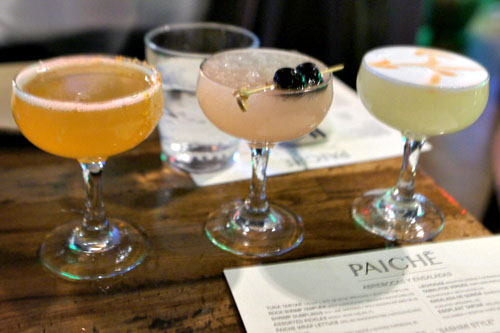 Side Car [$14.00]
| Pierre Ferrand Cognac // Royal Combier Liqueur // Meyer Lemon Juice // Orange Zest // Sugar Rim
Papa Hemingway [$13.00]
| Matusalem Rum (Original Cuban Formula) // Lime Juice // Grapefruit Juice // Luxardo Maraschino
Pisco Sour [$11.00]
| Porton Pisco // Organic Egg White // Lime Juice // Evaporated Cane Syrup // Cinnamon Tincture // Angostura Bitters
There were no less than 16 cocktails on the menu, and we made sure to sample each and every one of 'em. The
Sidecar
was a fairly traditional version, with a nice interplay between citrus-y and boozy notes, all while the sugar rim added a hit of sweetness on the finish. The
Papa Hemingway
, meanwhile, showed off a certain lightness to it, with the rum really tempered by the lime and grapefruit and the maraschino contributing a sugary contrast in the cocktail. Finally, the
Pisco Sour
represented a prototypical presentation of the drink, but with the addition of cinnamon. It worked out rather well, with the classic eggy and boozy nuances complemented by a lovely trace of sweet spice.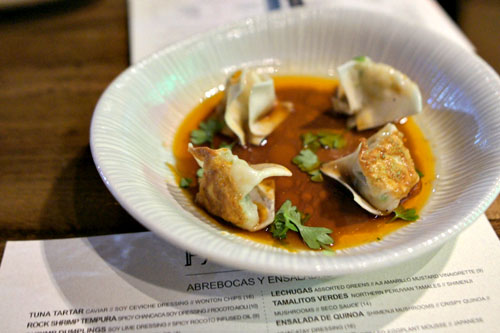 Shrimp Dumplings [$9.00]
| Soy Lime Dressing // Spicy Rocoto Infused Oil
Now, on to the food. Dumplings were fantastic, really conveying the sweet, saline essence of shrimp and playing it off of the Asian-y flavors of the soy-lime dressing, all while the cilantro added a wonderfully aromatic touch on the close. Just gimme a big bowl of the stuff!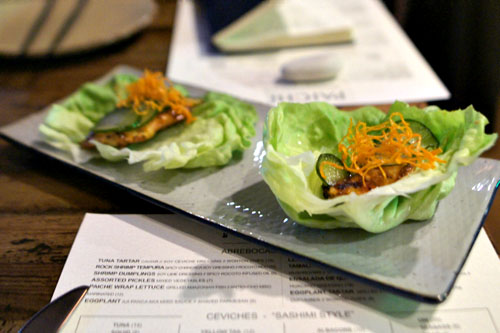 Paiche Wrap Lettuce [$12.00]
| Grilled Amazonian Fish // Anticucho Miso Marinated
Here was the first of three dishes featuring the restaurant's eponymous fish. It did not disappoint, with the miso providing a great depth of flavor to the paiche while the pickles imparted a crunchy, tangy counterpoint to the course. Tasty, and something you should probably order.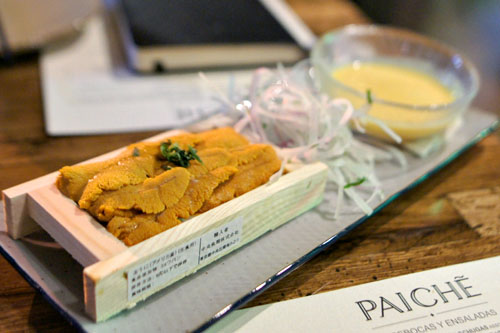 Uni [$25.00]
The uni ceviche brought us an entire tray of the echinoderm. Taken alone, the urchin conveyed a cold, creamy, briny character with a whisper of bitterness. It was solid by itself, but the key was to eat it with all the other elements here, resulting in a mélange of textures and a deft marriage between the uni and that
leche de tigre
.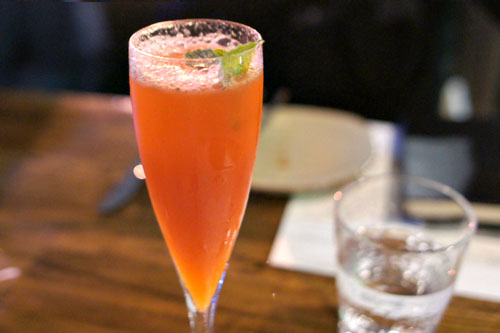 Pink Panther [$12.00]
| Platino Atlantico Rum // Muddled Mint // Strawberry Juice // Grapefruit Juice // Lemon Juice // Orgeat Syrup // Topped with Cava
At this point, we were delivered a
Pink Panther
by mistake, but we gladly drunk up the error. It was a summer-y, quaffable cocktail, with almost no booziness to it and a bracingly pure expression of strawberry sweetness.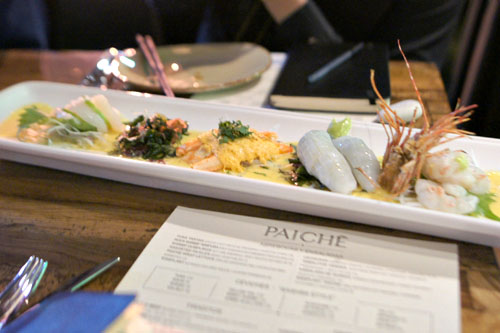 Four of our ceviches arrived on one long slab, though I much would've preferred each dish on its own separate plate.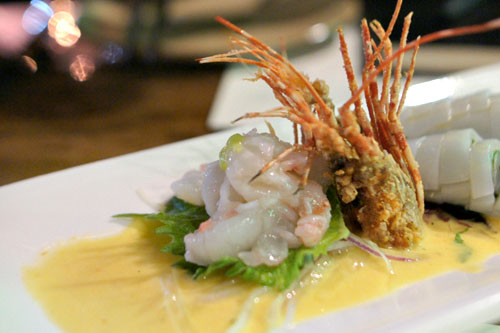 Sweet Shrimp [$14.00]
The sweet shrimp was the only serious misstep of the night. Texturally, it was off, delivering a soft, mushy consistency rather than the snappy, springy bite that you'd expect, while the taste really didn't convey the sweet salinity that I wanted either.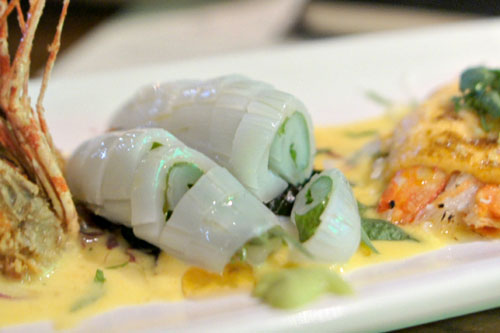 Squid [$8.00]
Squid was better, supple and creamy, with a marked shiso character and a touch of sesame(?) savoriness.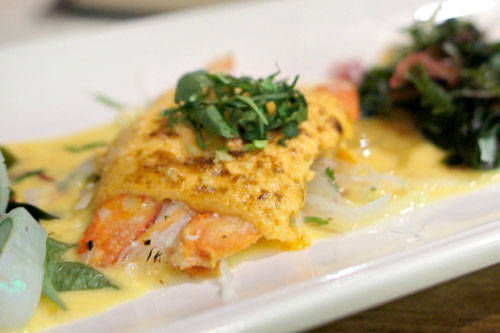 Crab [$8.00]
The crab was the heartiest item on the plate: sweet and ocean-y, with a satisfying texture and a creamy richness from its hefty topping.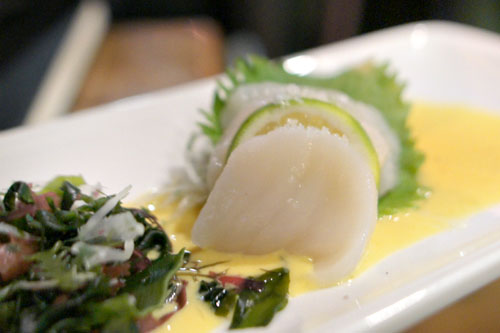 Jumbo Scallops [$12.00]
Last up were the scallops. They were on point to be sure, with a lovely chew to them and a subtle sweet brine that worked beautifully with a prick of salt and the acerbic zing of the ceviche liquid.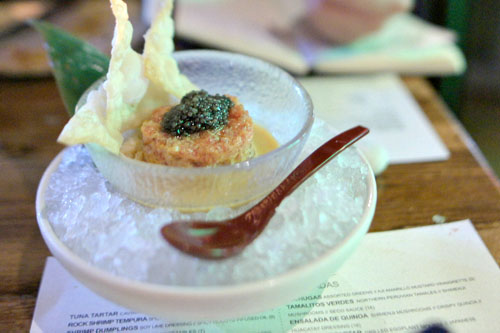 Tuna Tartar [$16.00]
| Caviar // Soy Ceviche Dressing // Wonton Chips
Our next course sort of reminded of the tuna tartar at
Nobu
--not a bad thing mind you. The fish was ground to a fine grain, and dutifully displayed an oily, briny character, augmented by the soy, that went perfectly with the salty kick of caviar. I loved the crunchiness of those chips, too.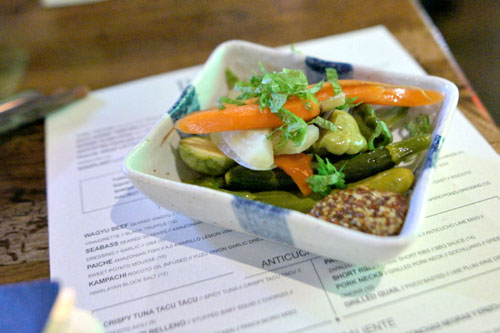 Assorted Pickles [$7.00]
| Mixed Vegetables
A commendable array of pickles here: crisp, tart, and nice with the included whole grain mustard.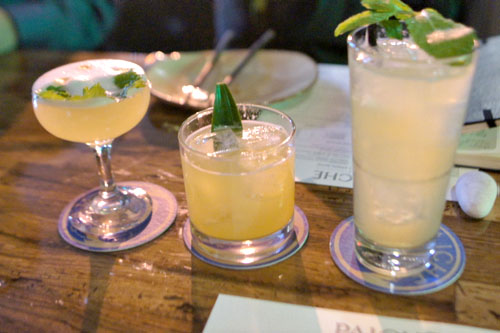 The Last Ice Age [$13.00]
| Pisco Porton // Hakushu Whiskey 12 Yrs // Organic Egg White // Lime Juice // Lemon Juice // Evaporated Simple Syrup // Fernet Branca Liqueur Drops
Oaxacalifornia Love [$13.00]
| El Jimador Tequila // Organic Vida Mezcal // Pineapple Juice // Pineapple Rocoto Gomme
Mojito de Martinique [$14.00]
| Neisson Eleve Sous Bois Rhum Agricole // Pine of Fresh Mint // Muddled Limes // Martinique Cane Syrup // Seltzer Water
Round number two for cocktails.
The Last Ice Age
was rather fetching with its balance of pisco and whiskey flavors against the sweet, eggy, creamy elements in the drink--one of my favorites of the night for sure. The
Oaxacalifornia Love
, meanwhile, was even better. I'd had it before at
Mo-Chica
, and loved its smoky nose, tart and spicy notes on the midpalate, and lingering finish redolent of mezcal. I gave up mojitos long ago, but the
Mojito de Martinique
was certainly a laudable version of my former drink, perhaps a bit more contemplative than usual.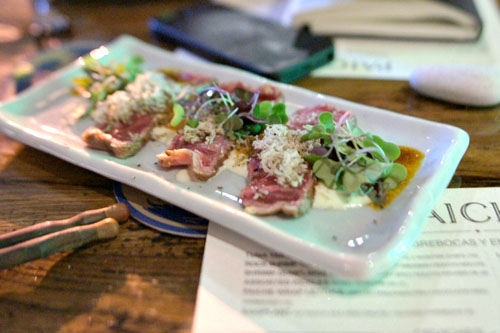 Wagyu Beef [$12.00]
| Seared Wagyu // Parmesan Sauce // Aji Amarillo Vinaigrette // Black Truffle
Wagyu arrived tender and fatty, imbued with a heady hit of truffle, though I wanted more substantial slices here, so that there'd be a more apparent beefiness to pair with that tangy aji amarillo dressing.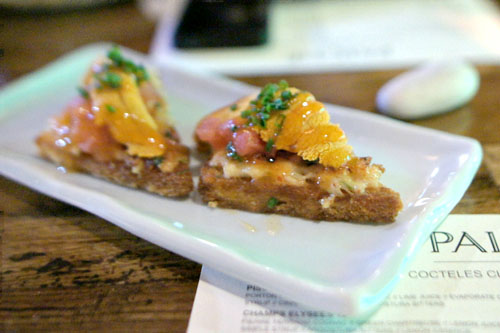 Uni Shrimp Toast [$14.00]
| Sea Urchin // Shrimp Paste Toast // Rocoto Honey Sauce
I've never met an
uni
toast
I didn't like, and Zarate's was no exception. The combo of urchin and shrimp worked flawlessly, and I loved the lightness imparted by the tomato "salsa" here. A must try.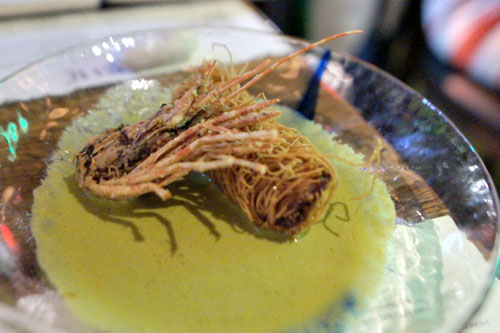 Amaebi [$12.00]
| Filo Dough Wrap // Sweet Shrimp // Jalapeño Ponzu Dressing
Shrimp arrived wrapped in phyllo, reminding me of a similar dish that I'd had at
Nobu
before. This one was just as good, with a fantastic crispness from the dough that worked beautifully with the
amaebi
--lovely head, too. What was even better, though, was the sauce here, a mouth-watering mix of jalapeño heat and ponzu sour-savor that made us wish we had some bread around to sop up the remaining liquid. I could've used another one (or six) of these.
Paiche [$10.00]
| Amazonian Fish // Aji Amarillo Lemon Vinaigrette // Tamari // Sweet Potato Mousse
Our second preparation of paiche showed off a gorgeous savoriness to it that was heightened by the umami-rich relish of the
tamari
, though the sweet potato wasn't strictly necessary.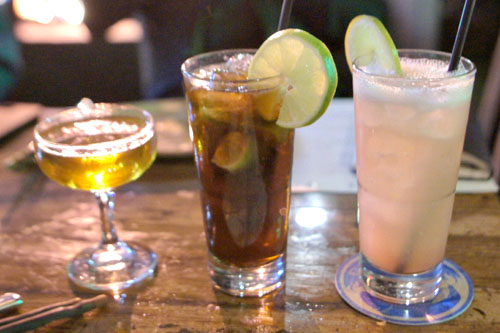 Bernard Devoto, aka The Master of Intoxication [$14.00]
| Sino Tequila Reposado // Christian Drouin Calvados // Yellow Chartreuse // Benedictine // Angostura Bitters
Cuba Libre [$12.00]
| White Flor de Cana Rum // Squeezed Lime // Mexican Coke
Palma Fizz [$13.00]
| Quinoa Vodka // Lime Juice // Ginger Syrup // Pomegranate Reduction // Dashes of Rose Water // Club Soda
Continuing on with the cocktails, we had here the wordy
Bernard Devoto, aka The Master of Intoxication
, with its aroma that was half way between medicinal and candied Jolly Rancher, a sensation that continued on the palate--I was down with it. The
Cuba Libre
was a by-the-book preparation with a strong lime component, though the cola seemed a bit flabby. Lastly, we had the
Palma Fizz
, a bright, bracing cocktail with a strong blast of ginger over an undercurrent of sweet, tart flavors.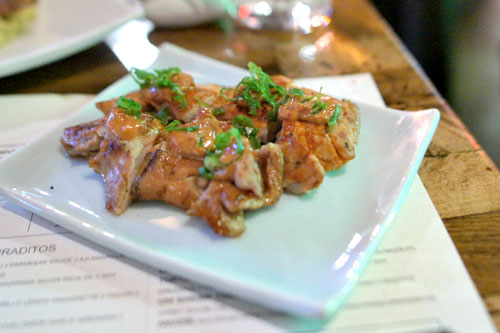 Spatchcocked [$10.00]
| Grilled Chicken // Panca Moro Miso Sauce
Boneless, butterflied chicken was tasty, the bird coming out moist and tender, with a deep, satisfying sapor from the miso sauce, all set off by a bit of char astringency.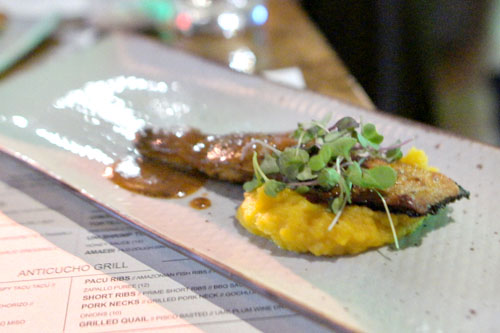 Pacu Ribs [$12.00]
| Amazonian Fish Ribs // Anticucho Lime Miso // Zapallo Puree
The
pacu
is a South American freshwater fish that happens to be related to the famed piranha. Its ribs were surprisingly substantial, with a rich, meaty character and a hint of spicy sweetness that satisfied.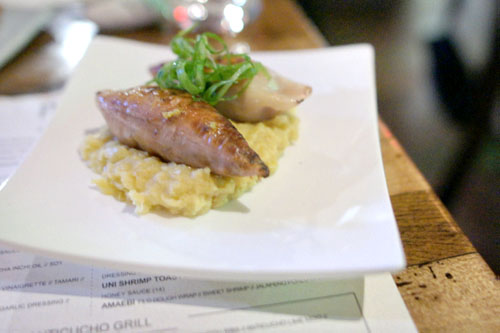 Calamari Relleno [$10.00]
| Stuffed Baby Squid // Chorizo // Aji Pepian
Stuffed squid is always a smart decision, as was the case tonight, coming out torpedo-shaped, with a great interaction between the ocean-y flavors of the cephalopod and the meaty, spicy chorizo. Lovely texture on the squid, too, and I appreciated the starchy counterpoint in the course as well.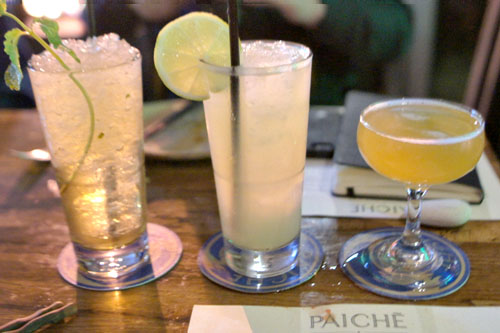 The Georgia Mint Julep [$13.00]
| Pierre Ferrand Cognac // Creme de Peche de Vigne Liqueur // Mint Leaves // Seltzer Water
Chilcano de Clovos [$13.00]
| Pisco Oro Quebranta // Limes // Ginger Syrup // Cloves Syrup // Angostura Bitters // Seltzer Water
Champs Elysees [$13.00]
| Pierre Ferrand Cognac // Green Chartreuse // Lemon Juice // Simple Syrup // Angostura Bitters // Lemon Essence
The Georgia Mint Julep
was a reworked version of the original, with a juicy peach sweetness initially leading to intermingled flavors of slightly medicinal cognac and mint on the midpalate. Another modified classic, the
Chilcano de Clovos
gave us a strong essence of ginger along with more subtle overtones of clove. Finally, the
Champs Elysees
arrived very well balanced, with the base of cognac flowing smoothly into bitter and citrus-y nuances.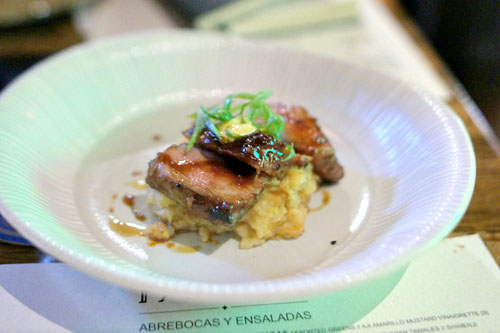 Grilled Quail [$16.00]
| Pisco Basted // Ume Plum Wine Dressing
One of my favorites was the grilled quail. It was delicious, with a wonderful char bitterness to go along with the juicy, mouth-watering meat, amplified by the deep flavors of the plume wine. I just wanted to keep eating.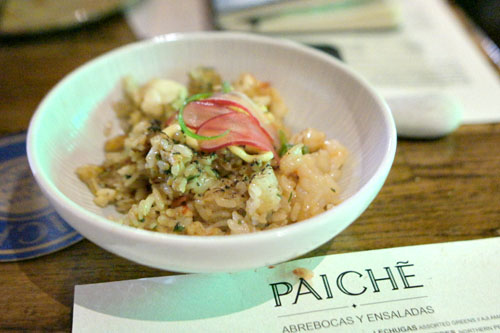 Chaufa de Langosta [$12.00]
| Lobster // Mixed Seafood // Fried Rice
Yet another highlight of the meal was Zarate's lobster fried rice, which just might be the best fried rice I've ever had (interestingly, the other one that comes to mind was at
Picca
). The inherent brine of the various seafood here was so deftly conveyed, set off even further by the smoky char essence in the dish and working hand-in-hand with the slightly sticky grains of rice. At the same time, a blast of citrus offset the strong flavors at play here, and the radish was a beautiful touch as well. A bigger bowl please!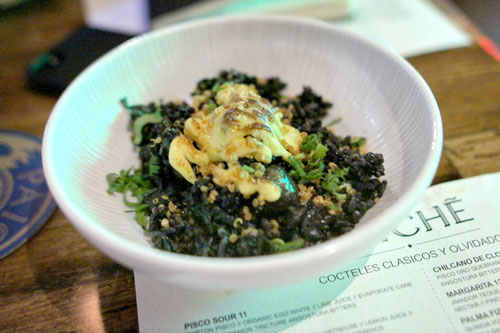 Arroz con Conchas Negras y Erizo [$18.00]
| Blood Clams // Sea Urchin // Risotto
Risotto came out somewhat crispy, and positively imbued with the ocean-y relish of the clams and urchin. Quite enjoyable, though I would've liked more texturally from the clams.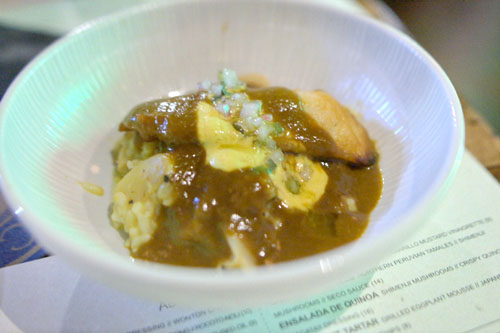 Seco de Paiche [$14.00]
| Amazonian Fish Stew // Cilantro Aderezo Sauce // Pallares
Our final paiche dish didn't let us down. Indeed, it was the heftiest of the trio, with the tender, tasty meat playing off of the cilantro notes in stellar fashion, all while the bean-y
pallares
did a wonderful job in grounding the dish. Definitely worth a try.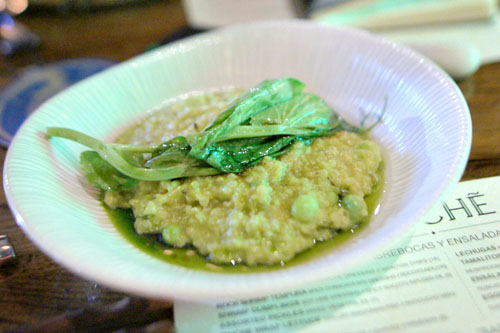 Quinoa con Alverjitas [$14.00]
| English Peas // Quinoa // Risotto
Quinoa was soft and gritty, with a nutty relish that paired swimmingly with the bright, verdant flavors inherent in the peas.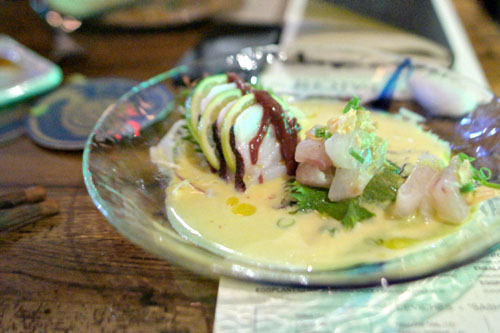 Octopus [$10.00]
Kampachi [$12.00]
More ceviches. First was the octopus, a soft, supple, satisfying example that had an almost olive-y zestiness to it. The kampachi, meanwhile, was firm and incredibly dense, with a mild taste that was taken up a notch by the tangy
leche
.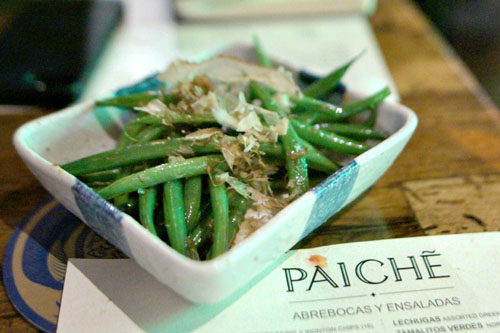 Haricot Vert [$7.00]
Green beans didn't seem all that exciting on the menu, but they were stupendous, probably one of the best versions I've had in fact. I loved their waxy, crunchy consistency and deep, dark flavors, heightened by the use of
katsuobushi
.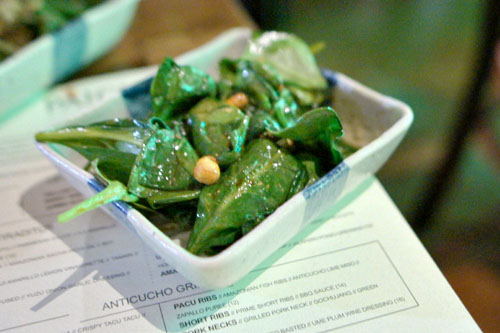 Spinach [$6.00]
Spinach was similarly on point, with a fantastic texture to it and faultless blend of savory and astringent flavors. I quite appreciated the use of crispy bits of
cancha
here, too.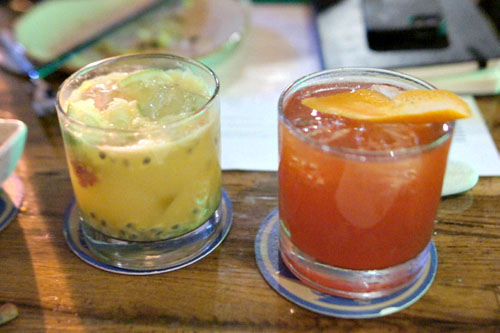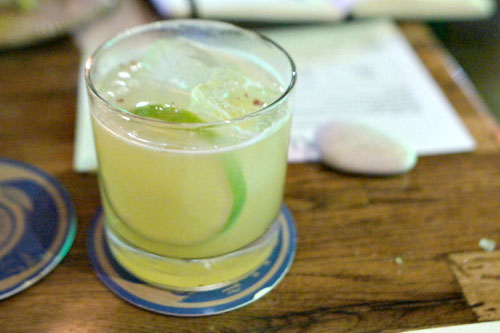 Maracuya Caipirinha [$15.00]
| Leblon Cachaca Rum // Fresh Passion Fruit // Muddled Lime // Pure Cane Syrup
Americano [$13.00]
| Campari // Sweet Vermouth // Dash of Orange Juice // Seltzer Water // Flamed Orange Peel
Margarita [$12.00]
| Jimador Tequila // House Made Orange Bitters // Lime Juice // Agave Nectar // Pinch of Gusano Salt
Our final cocktail troika got started with the
Maracuya Caipirinha
, which had a blast of passion fruit tartness over the classic flavors of the drink. The
Americano
, on the other hand, was delightfully effervescent, with a pleasing bittersweetness that went superbly with the flamed orange. Lastly, we had Paiche's version of the ubiquitous
Margarita
. I'm happy to report, though, that it was one of the best I've had, with a superb woody, savory character from the combo of tequila and
gusano
(worm) salt.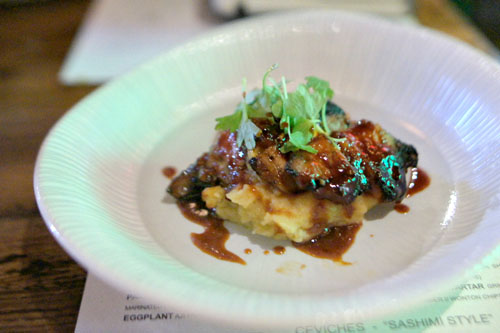 Pork Necks [$10.00]
| Grilled Pork Neck // Gochujang // Green Onions
Zarate's pork neck was also a standout for the table, giving us delectably sweet, smoky, almost
char siu
-esque flavors that made absolute sense against the pork. Yum.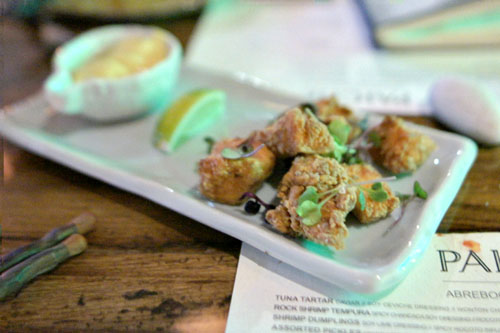 Chicharron de Pescado [$11.00]
| Crispy Fish Chicharron // Lime Yuzu Sauce
Nuggets of fish were fun little bites, with a surprisingly strong salinity to 'em that paired in commendable fashion with that puckering lime-yuzu condiment.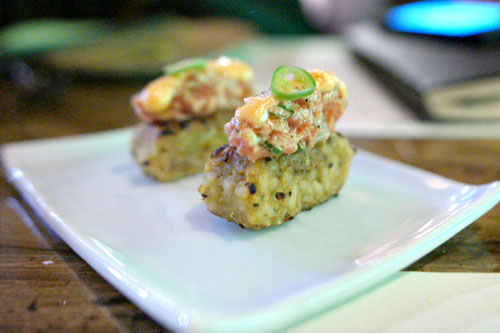 Crispy Tuna Tacu Tacu [$8.00]
| Spicy Tuna // Crispy Tacu Tacu // Rocoto Aioli
Spicy tuna was about as tasty as you'd expect, brightened up a bit by the rocoto while the
tacu-tacu
(fried rice and beans) served to temper the bite.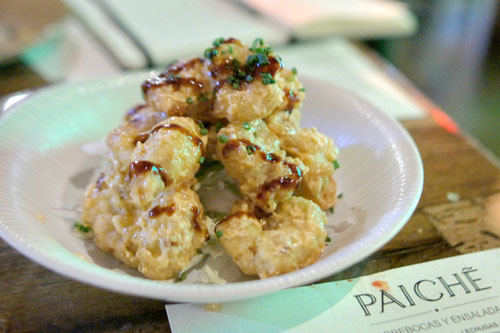 Rock Shrimp Tempura [$10.00]
| Spicy Chancaca Soy Dressing // Rocoto Aioli
Rock shrimp were easy enough to like, reminding us of a Chinese-style walnut preparation, especially with the slight sweetness in the dish. My concern here was that the batter was overly thick, distracting us from the inherent goodness of the shrimp.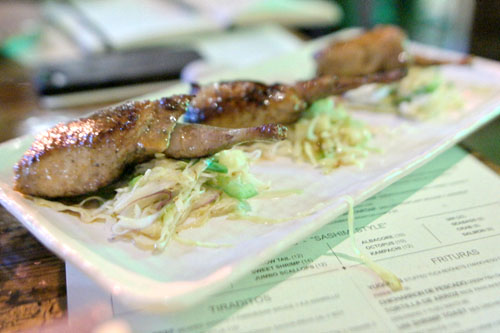 Saltado de Quail [$19.00]
| Sauteed Quail // Five Spice // Rosemary Rocoto Dressing
A sauté of quail was a table favorite. Tender and incredibly succulent, the bird was teeming with savory flair, and yet imbued with the heady essence of five spice and char. Delicious, especially when taken with a scoop of the included slaw.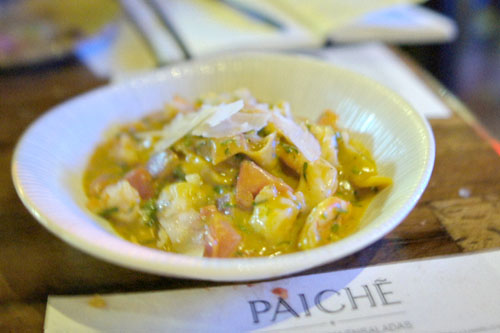 Saltado de Camarones [$14.00]
| Sauteed Shrimps // Tomato Onion Stew // Home Made Pasta
Our final savory dish was yet another
saltado
, this time of shrimp. It didn't quite reach the lofty levels of the aforementioned quail, but was appealing in its own right: creamy and comforting, with the tomato and onion working masterfully with the shrimp and pasta.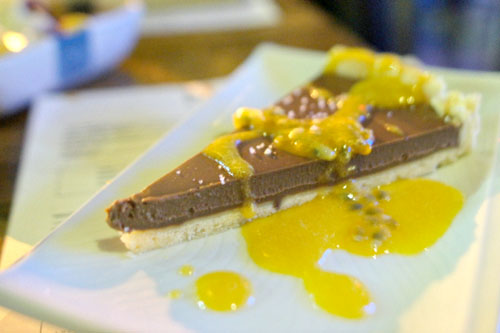 Chocolate Cake [$9.00]
Apparently, lauded LA Pastry Chef
Waylynn Lucas
helped Paiche out with the desserts, a fact that I don't think I've seen advertised before. Her chocolate cake came out looking much like a chocolate tart, but was enjoyable nonetheless, with the dark, sugary notes of the chocolate balanced by the in-your-face tartness of passion fruit. Nice crust here, too.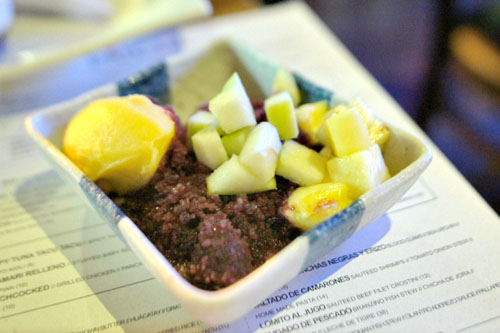 Chicha Raspadilla [$9.00]
What we had here was what basically amounted to shaved ice made with
chicha morada
. It was surprisingly to my liking, with the overt sugariness of the ice making sense alongside the crisp, tart cubes of apple and pineapple.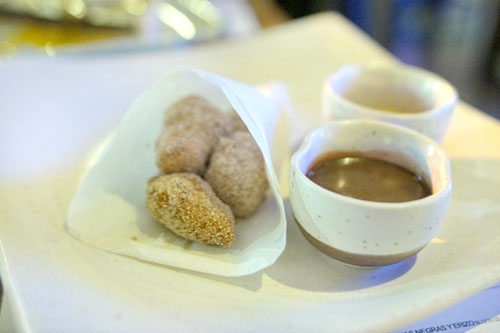 Churros [$9.00]
Churros, finally, were as scrumptious as you'd expect: hot, fluffy fritters dusted with sweet spice--tasty alone, and just as good with the two dipping sauces.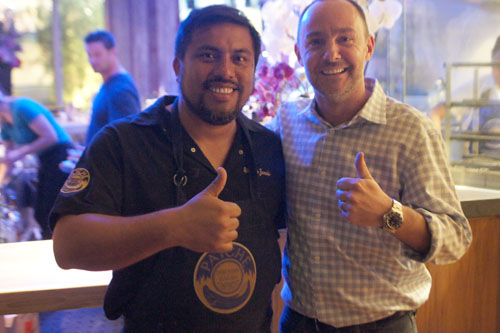 Two thumbs up from Ricardo Zarate and Stephane Bombet.
Cuisine-wise, aside from the gaffe with the sweet shrimp, the kitchen was pretty much on point, delivering an appealing array of dishes with some true standout items. The cooking upholds the standards set by Mo-Chica and Picca, though it offers up a palpably different, though compatible, and arguably more refined experience, a Japanese-inflected ode to seafood in effect. As for what's next for Zarate and Bombet, the two are aiming to launch Suave Riko, a
pollo a la Brasa
joint that was supposed to be housed in the
original Mo-Chica
space (which the duo has since given up). After that, there's always the Peruvian fine dining concept that the Chef's been hinting at for the past few years...