Alma (Los Angeles, CA) [3]
Alma Restaurant
952 S Broadway, Los Angeles, CA 90015
213.444.0984
www.alma-la.com
Sun 02/09/2014, 08:35p-12:10a

Regular readers may recall that I
visited Alma not too long ago
, toward the end of 2013. Regular readers will also know that I tend not to revisit restaurants all that quickly, so this six week hiatus was indeed brief. The reason? I've become tangentially involved with the
USC Asian Pacific Alumni Association (APAA)
, and helped the group plan their first
Young Alumni Council Supper Club outing
here. Tonight's experience was a pre-arranged private dinner, one limited to 20 diners and held on a Sunday, a day on which Alma's normally closed.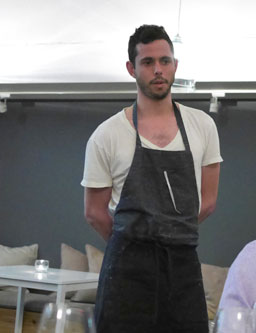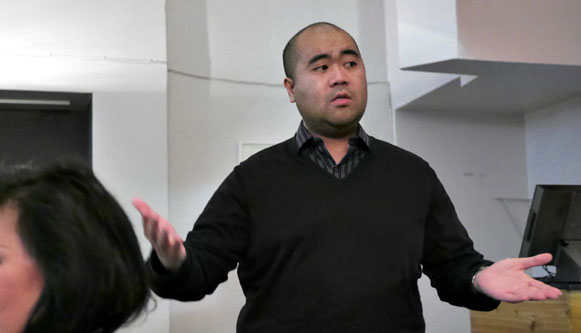 Before things got going, Chef Ari Taymor came out to say a few words, as did APAA Board of Directors member (and chief instigator) Michael Lumunsad.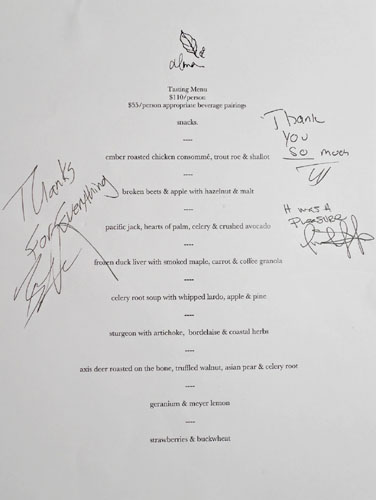 The evening's menu was Alma's longer, nine-ish-course degustation priced at the nominal $110 a head, plus 9% tax and 20% service, all paid for ahead of time. To drink, we opted for a few bottles from the list:
Prosecco (Glera), Sommariva Superiore Brut, Veneto, n.v. [$44]
;
Albariño, Pedralonga, Rias Baixas, Galicia '11 [$58]
;
Gamay, Marcel Lapierre, Morgon '12 [$64]
; and
Late Harvest Chardonnay, Donkey & Goat, El Dorado '11 [$60]
. Click for larger versions.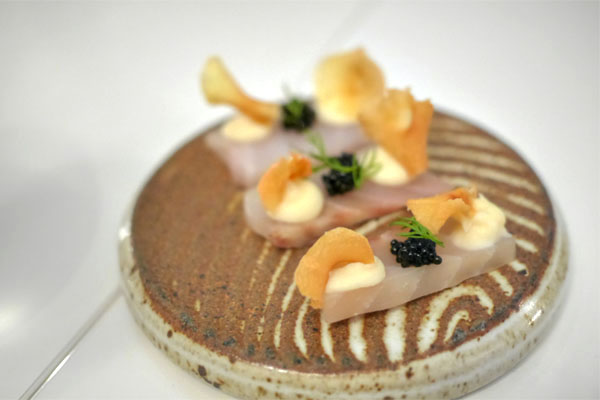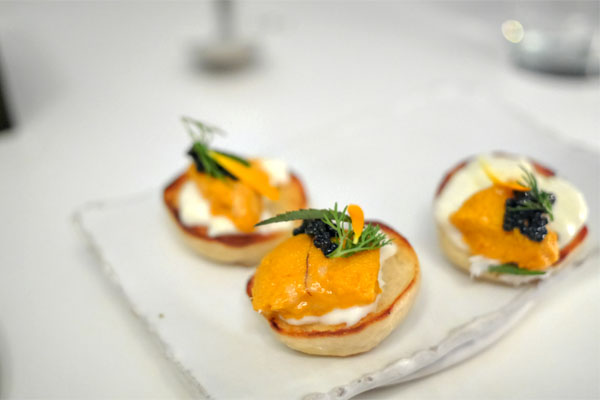 1: snacks
Surprisingly, our meal did not begin with Alma's signature seaweed-tofu beignets, but rather two items that I'd had during my last meal here. First were slivers of smoked sturgeon with caviar, parsnip purée, and parsnip chip, the smoky, salty interplay of the seafood balanced by the sugariness of the root vegetable. We also had miniature English muffins topped with sea urchin, burrata, and caviar. The key were was how the luxuriousness of the bite melded with the comforting muffin-y base, all while the bit of dill added an overarching, herbaceous note to things.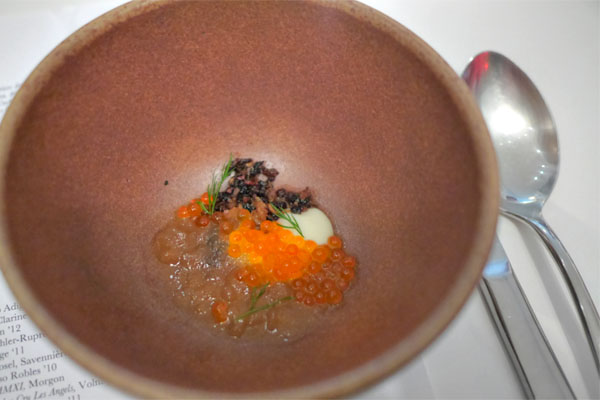 2: ember roasted chicken consommé, trout roe & shallot
The first formal course represented a real showcase of chicken, with the jellied consommé commingling with the roe to form a salty, savory, smoky amalgam that led to the in-your-face saltiness and crunch of chicken skin, the entire experience tempered by the comparative levity of an undercurrent of shallot.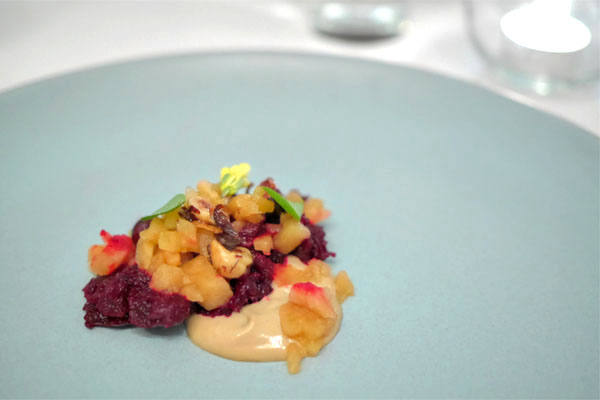 3: broken beets & apple with hazelnut & malt
Alma's dish of broken beets stands as one of the best presentations of the ingredient I've had. The combination of the sweet root vegetable, juicy apple, and crunchy hazelnuts really worked for me, but the most interesting element here was that malt, which had an earthy depth to it that really underscored the entire dish.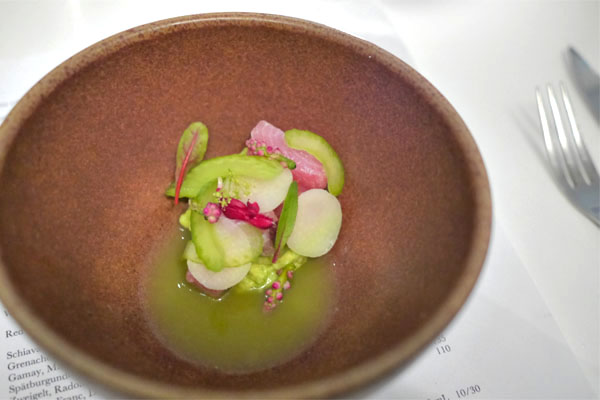 4: pacific jack, hearts of palm, celery & crushed avocado
I'm no fan of celery, but here it really made the dish, adding a bright, slightly astringent jolt to the combo of lush avocado and fish. It's a marriage that may sound a little weird, but it truly came together just beautifully, like Alma at its best.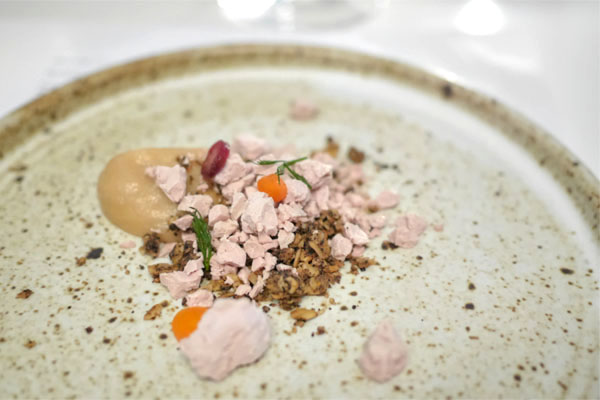 5: frozen duck liver with smoked maple, carrot & coffee granola
This was another standout, with the offal-y heft of the liver really increasing in intensity as it melted, when it came together with contrasting notes of sweet, nutty, and bitter, the granola adding a crunchy exclamation point to the course.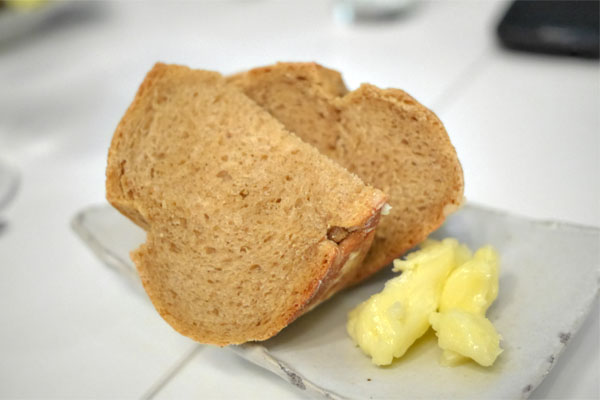 Bread comprised a beer-and-rye variety, one that showed off its smoky, starchy qualities commendably. Even better when taken with the salty cultured butter on the side.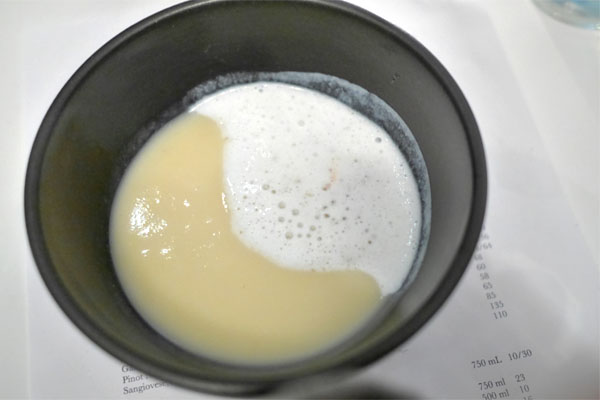 6: celery root soup with whipped lardo, apple & pine
A potage of celeriac was hefty, hearty, with a comforting quality to it moderated by a tanginess that permeated the entire dish. I appreciated the apples here in particular, which added a sweet, crunchy counterpoint to the soup.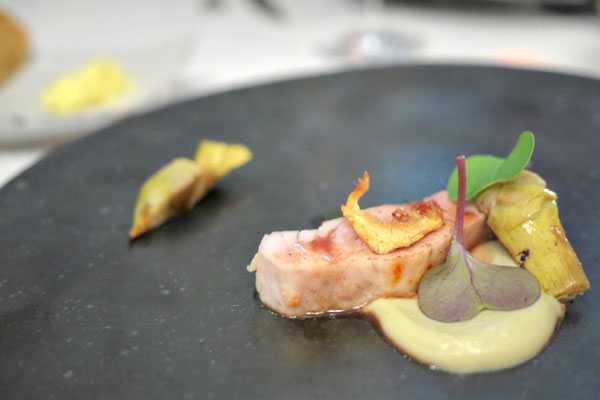 7: sturgeon with artichoke, bordelaise & coastal herbs
Sturgeon, meanwhile, arrived deftly cooked, and super savory, with the salinity of the fish smartly paired against the milder nuances of artichoke, all while the bordelaise helped tie everything together. One of my dining companions even mentioned that this was the best sturgeon that he'd ever had.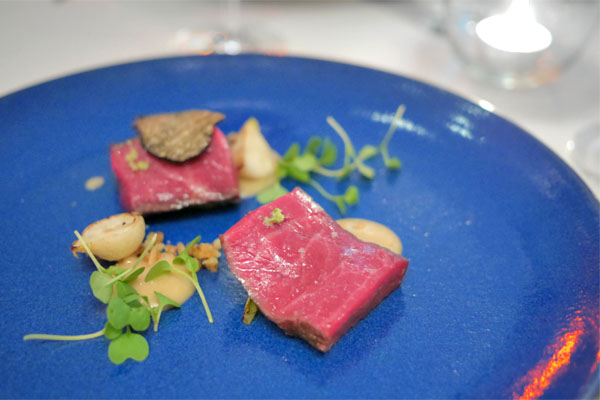 8: axis deer roasted on the bone, truffled walnut, asian pear & celery root
The evening's final savory course was a pretty impressive looking plate, and one of the strongest preparations of venison that I've had. Cooked properly rare, the meat was elegant on the palate, giving off a slightly smoky, toothsome quality to it, with just the right amount of fat. I was quite enamored with the pickly-bits here too, which added a great counterbalancing crispness and acidity to things, while the walnuts were a pleasant surprise as well.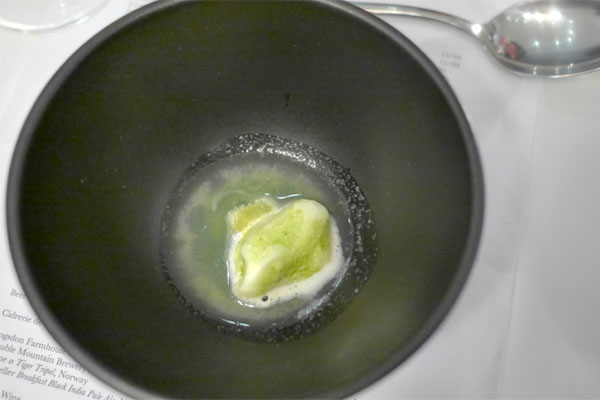 9: geranium & meyer lemon
Tonight's intermezzo was delightful, a refreshing burst of tart, lemon-y, mildly herbaceous nuances served alongside the wonderfully floral, enveloping notes of geranium.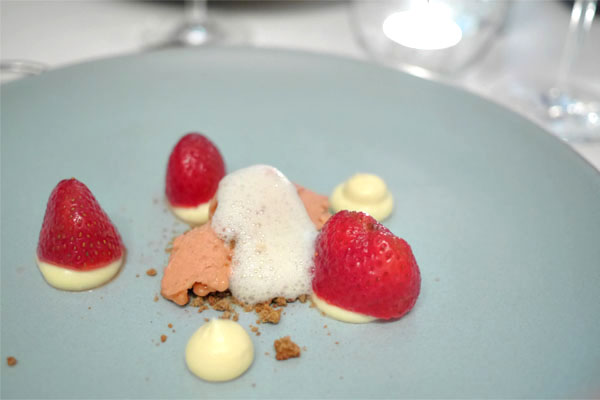 10: strawberries & buckwheat
Dessert proper was a winner as well, the strawberry coming together with the buckwheat in commendable fashion, a mélange of interesting textures and sensations that actually reminded me a bit of a strawberry parfait in the end.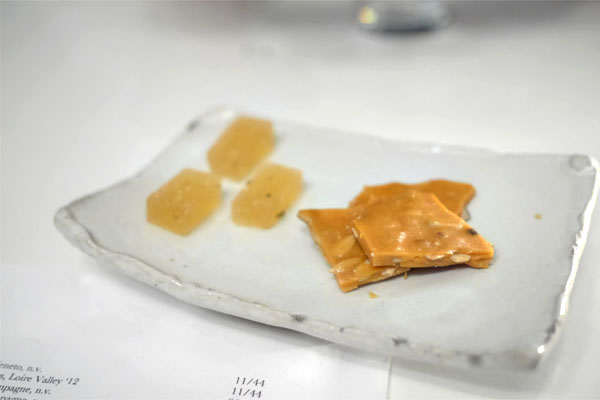 Mignardises comprised spicy apple
pâte de fruit
jellies and a superb sage brittle, the aromatics of the herb doing a great job cutting through the sugary, nutty notes of the confection.
Given that it was the first time planning such an event for both Alma and the APAA, I was a touch apprehensive going in to tonight. The dinner wasn't without its share of hiccups, but taking everything into consideration, the event went off relatively smoothly. The kitchen really got to show off its culinary aesthetic, which is what I was hoping to accomplish--to expose some of the diners here to a more contemplative, subtle style of cooking that they may not be accustomed to. All in all, a nice start to the dinner series, and many thanks to the Alma team for helping us pull it off.