The Factory Kitchen (Los Angeles, CA)
The Factory Kitchen Restaurant
1300 Factory Pl, Los Angeles, CA 90013
213.996.6000
www.thefactorykitchen.com
Mon 02/03/2014, 08:30p-10:45p

The City's latest Italian eatery of note is the somewhat perplexingly-named Factory Kitchen, a trattoria-style restaurant set in the ground floor of the Factory Place Arts Complex, an Arts District building that was once going to be home to Walter Manzke's
Republique
. The spot debuted at the end of October 2013, and is the work of Chef Angelo Auriana and GM Matteo Ferdinandi, longtime friends who met in the LA culinary scene during the mid 1990's.
About the Chef
: Born in Bergamo, Italy (northeast of Milan), Auriana graduated with honors from the hotel management school of San Pellegrino Terme at age 17. He began cooking for Pierangelo Cornaro at the Michelin two-star Antico Ristorante dell'Angelo, then made his way around Italy refining his mastery of the craft. In 1985, he relocated to Los Angeles and helped open Piero Selvaggio's Primi, but quickly moved over to
Valentino
. He stayed there for nearly 18 years and made it the grandest Italian restaurant in all of LA, but finally decamped in 2003. Following, Auriana relocated to Northern California and became Exec Chef at Masque Ristorante in El Dorado Hills (outside Sacramento), but left that partnership in early 2006.
He returned briefly to helm the kitchens at Valentino, but then moved back up north in 2007. He started consulting for Gary Rulli, the pastry chef behind Emporio Rulli Gran Caffe in San Francisco's Marina, and started cooking Tuesday night dinners there, which expanded to Friday night wine events. This then led Rulli to shut down the space and reopen it as Ristobar in February 2010, with Auriana behind the stove daily. However, the Chef left the place the following year and joined the team over at Ligurian trattoria Farina in the Mission, officially taking over chef duties in October 2011 and staying there until leaving to start work on The Factory Kitchen.
Ferdinandi, for his part, was born in Venice in 1966, the son of a fourth-generation baker. During his childhood, he worked at the family bakery as well as at his uncle's restaurant Il Colombo, and soon developed an interest in the business. However, he attended surveying school in Padova, graduating in 1986, and soon left for London to study English and pursue a career in architecture. To make ends meet, Ferdinandi started working as a waiter, and eventually decided to devote himself to the restaurant industry. In 1992, he moved to New York and bounced around various places before relocating to Los Angeles after a visit in 1994. Here, he joined Spectrum Foods, a hospitality group that ran a number of restaurants, including the one that got
Celestino Drago
his start. Following, Ferdinandi returned to NYC to work as GM for Pino Luongo at Coco Pazzo, then moved to Las Vegas to head up operations at
Spago
. He stayed with Wolfy and came back to LA to open
CUT
in 2006, and followed that up with his own cafe-
cum
-retail shop, Froma, in 2007. Ferdinandi would then partner with Celestino to launch
Drago Centro
in 2008.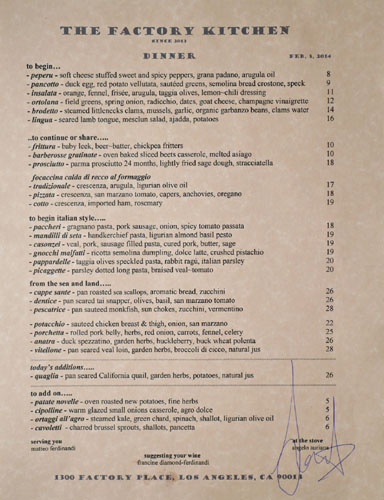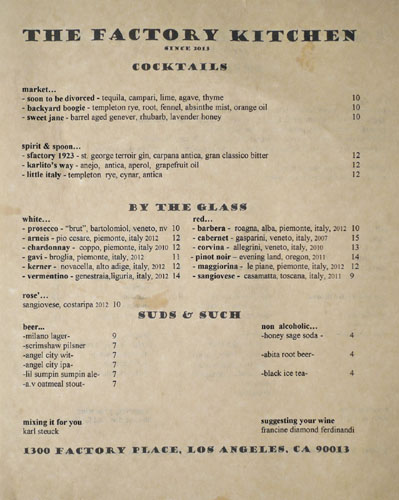 As for Factory Kitchen's menu, think trattoria-inspired cuisine and house-made pastas, but with some unusual dishes and a regional slant, set in the typical progression of starters-pastas-mains. To drink, we have a manageable, not-too-expensive, Italian-centric wine list written by Director of Wine Francine Diamond-Ferdinandi (Gramercy Tavern, Spago, Postrio, Picholine, Artisanal), with corkage set at $20 (limit two bottles). There are also a few requisite beers, as well as a short list of cocktails by Karl Steuck (Writer's Bar,
Hatfield's
). Click for larger versions.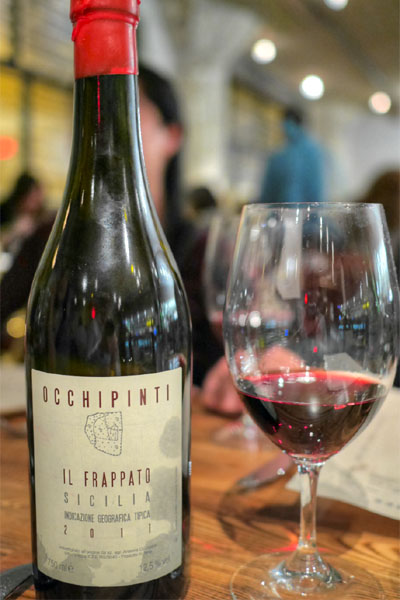 I opted to bring my own wine this evening, and our first bottle was the
2011 Arianna Occhipinti Il Frappato Sicilia IGT
, which we all enjoyed. It was a fairly light, yet substantial wine, with loads of floral and berry on the nose paired with plenty more on the palate, joined by just the right amount of tempering herbaceousness.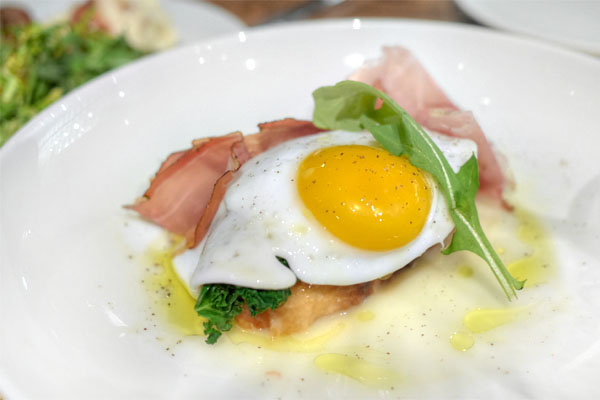 pancotto [$9.00]
| duck egg, red potato vellutata, sautéed greens, semolina bread crostone, speck
We began with Auriana's take on
pancotto
(literally "cooked bread"), a sort of bread soup popular with the peasant set. Here, it's reinterpreted in a much more elegant manner, but still retained its hearty, comforting nature, the crostino serving as a weighty base on which the lush, enveloping egg could really sing with the salty ham.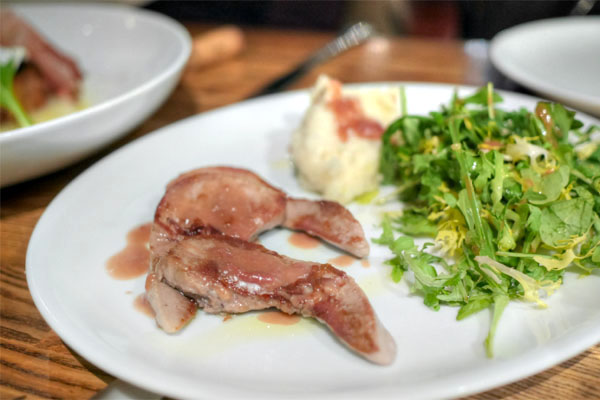 lingua [$16.00]
| seared lamb tongue, mesclun salad, ajadda, potatoes
Lamb tongue arrived tender and tasty, though perhaps more flavor could've been extracted from the organ meat. Nevertheless, the
lingua
made sense with the dollop of silky mashed potatoes on the plate, and I quite appreciated the bright, zesty counterpoint provided by the lightly-dressed greens.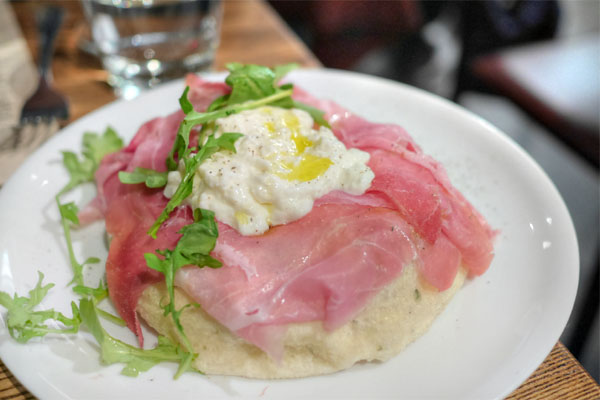 prosciutto [$18.00]
| parma prosciutto 24 months, lightly fried sage dough, stracciatella
The prosciutto is a dish here that people tend to talk about, and with good reason as I found out. Aged for two years, the ham itself was on point by itself, but the key was to eat everything together, the lush, gooey
stracciatella
cheese and wonderful aromatics of the airy sage loaf melding in flawless concert.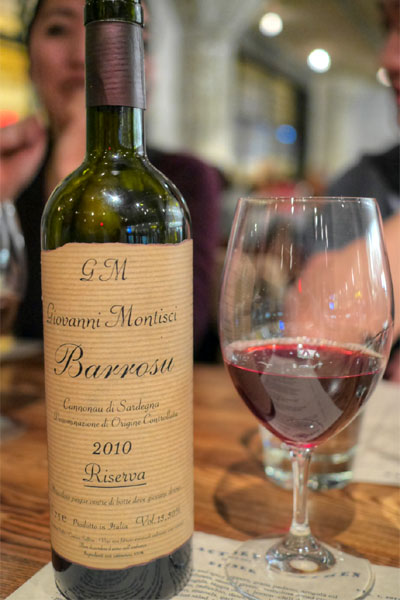 Following the Frappato was the
2010 Giovanni Montisci Cannonau di Sardegna Barrosu Riserva
, a much weightier affair. Think dark and spicy aromas, with a certain earthiness on the tongue over a base of dusty fruit and some forest-y nuances. Quite nice as well.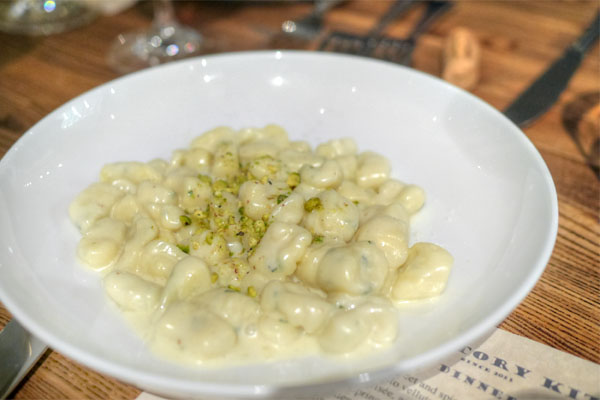 gnocchi malfatti [$19.00]
| ricotta semolina dumpling, dolce latte, crushed pistachio
Our first pasta of the evening brought out a pretty marvelous rendition of gnocchi, one of the best I've had in fact. I found 'em utterly fluffy to the bite, their luxurious, creamy goodness beautifully accented by the nutty crunch of pistachio.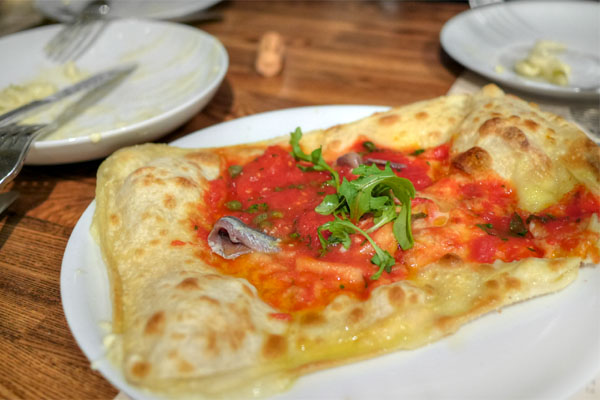 focaccina calda di recco al formaggio - pizzata [$18.00]
| crescenza, san marzano tomato, capers, anchovies, oregano
Next was another dish that'd been garnering quite a bit of attention. A relatively obscure Ligurian specialty, the
focaccina
's basically a flatbread stuffed with
crescenza
cheese, then baked. The combination of the light, crisp, blistered layers of dough and tangy cheese is something you should probably try. However, I'd recommend ordering the variation
sans
toppings. The tomato sauce here did work as a tart complement to the dish, but unfortunately, rendered much of the flatbread soggy. This is not one to get fancy with.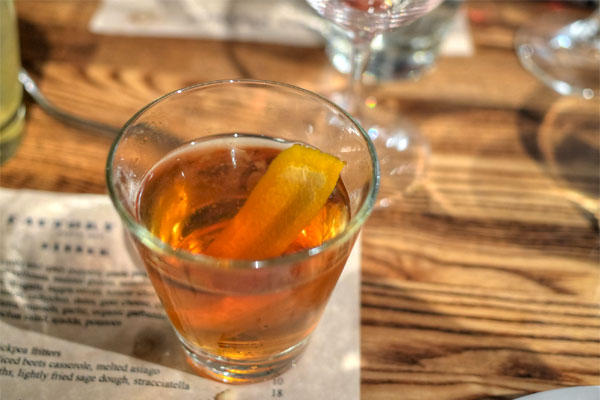 backyard boogie [$10.00]
| templeton rye, root, fennel, absinthe mist, orange oil
With the wine drunk up, it was time to sample some of Karl Steuck's cocktails. His first entrant was one for fans of the boozier, more aromatic stuff. Imagine some root beer-esque flavors, commingled with the kick of whiskey, the fennel and absinthe contributing an anise-laced veil to the drink.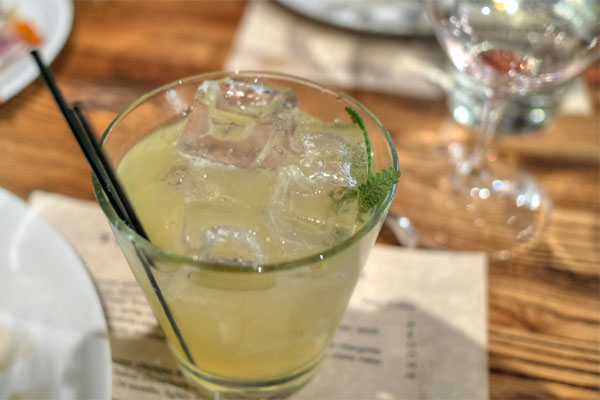 sweet jane [$10.00]
| barrel aged genever, rhubarb, lavender honey
This one was also enjoyable, though it leaned more toward the sweeter side, the woody, herb-y notes of the genever mixing it up admirably with sugary rhubarb and floral lavender elements.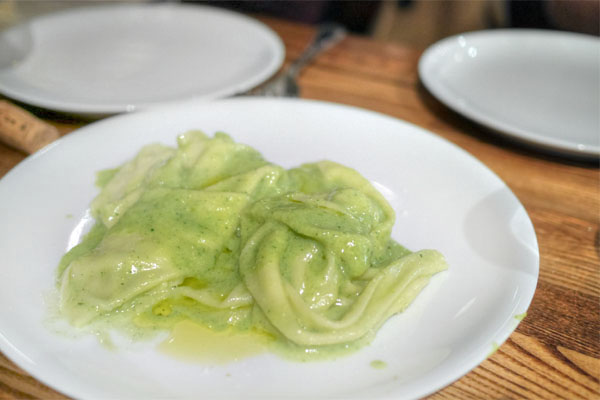 mandilli di seta [$19.00]
| handkerchief pasta, ligurian almond basil pesto
Of course, we had to give the Chef's signature pasta a try, a dish he first popularized during his tenure up in the Bay Area. The name translates to "silk handkerchiefs," which is actually a fitting description for the slick, almost sensual sheets. It was certainly a winner, the delicate folds of pasta working the tongue while the pesto imparted a bright, nutty, creamy verve to everything.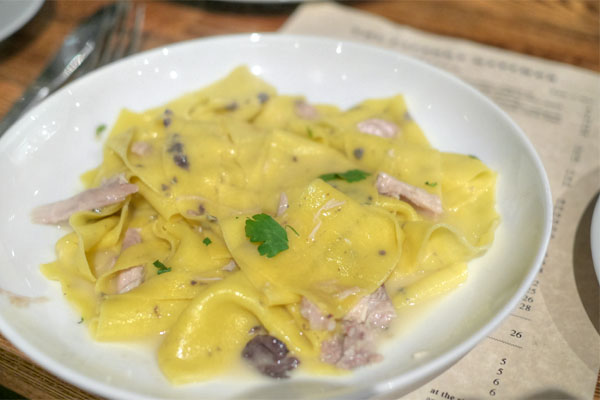 pappardelle [$20.00]
| taggia olives speckled pasta, rabbit ragú, italian parsley
The pappardelle was yet another standout. I loved how the embedded specks of olive in the pasta so forcefully conveyed the piquancy of the fruit. Paired with that hearty ragù, it was a satisfying eating experience to say the least.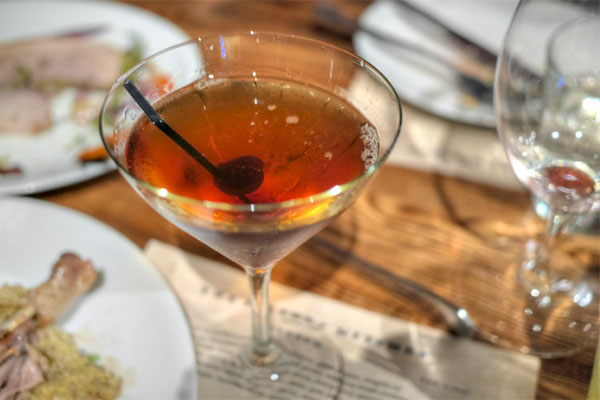 little italy [$12.00]
| templeton rye, cynar, antica
Steuck's last cocktail was sort of a variation on the classic Manhattan and displayed many of its finer points, the Cynar imparting a more vegetal, bittersweet hue to the drink.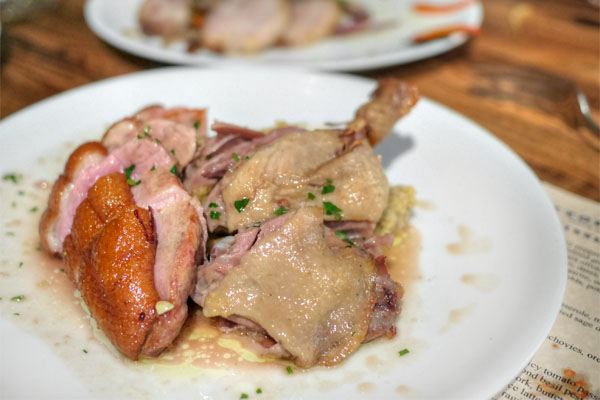 anatra [$26.00]
| duck spezzatino, garden herbs, huckleberry, buck wheat polenta
Moving on to the mains now, we had here the duck "stew," with the bird prepared two ways. The pan-seared breast was intense, really putting forth a rather profound "duckiness" that worked well with its crisp, savory skin, though I would've liked the meat cooked a touch rarer. The leg/thigh confit, though, was spot on, as rich and falling-apart tender as you'd expect, and smartly paired with the polenta.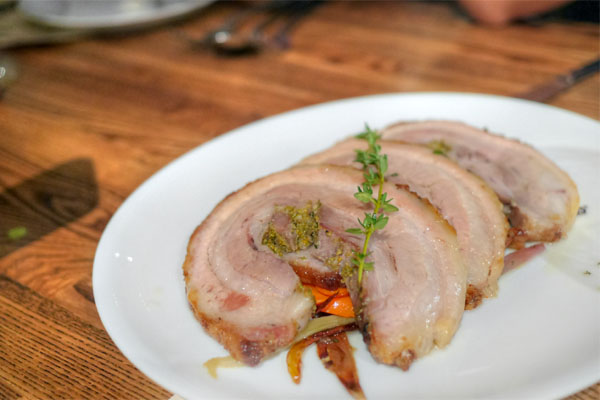 porchetta [$25.00]
| rolled pork belly, herbs, red onion, carrots, fennel, celery
Last up was the porchetta, which seems to be
the
pig dish that's come into its own over the past couple years. Auriana's preparation hit the spot, coming out salty and succulent, the alternating strata of lean and fat eating beautifully with the hits of herbs and fennel in the dish, all while crisp stalks of celery and carrots provided a modicum of lightness to things.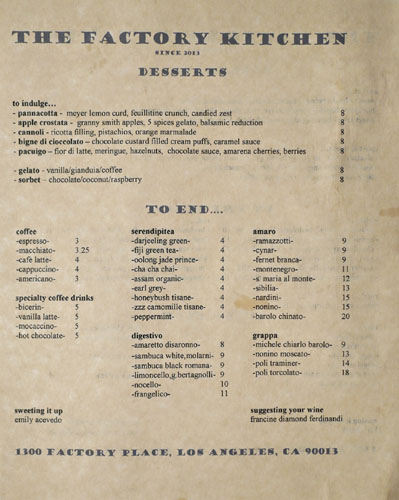 The Factory Kitchen's dessert menu is composed by Pastry Chef Emily Acevedo (Soho House, Nickel Diner, Bottega Louie), and features appropriately Italianate selections. Click for a larger version.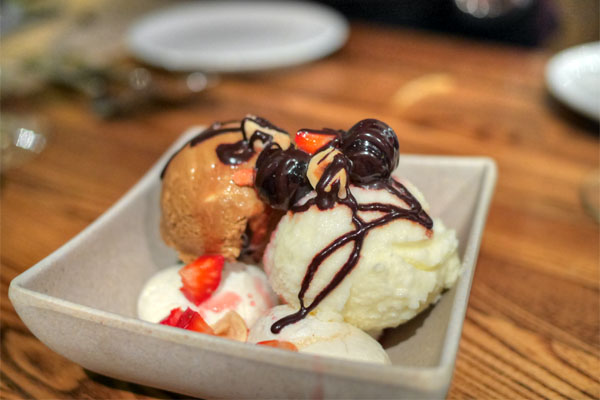 paciugo [$8.00]
| fior di latte, meringue, hazelnuts, chocolate sauce, amarena cherries, berries
Gelato from producer
Paciugo
was the hero here in this sundae-like contraption, lovely on its own (albeit a tad icy at times) but even better when taken with its various accompaniments. I especially appreciated the meringue and its airy textural contrast.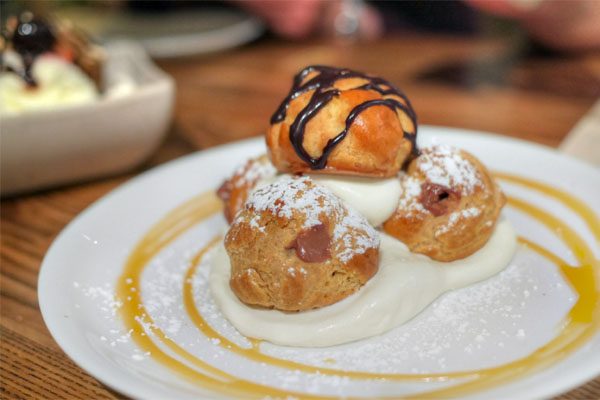 bigne di cioccolato [$8.00]
| chocolate custard filled cream puffs, caramel sauce
We finished with what basically amounted to profiteroles, not that that's a bad thing mind you. The puffs really were delicious, their chocolate-y filling pairing in stellar fashion with the choux pastry and whipped cream.
It may take some
stugots
to open an Italian place this close to powerhouse
Bestia
, but the guys have done a nice job. The cooking here probably leans toward more regional, more traditional, and exudes a certain quiet confidence and simplicity that's not surprising to see from a Chef with Auriana's experience. The Factory Kitchen's not a flashy sort of joint or one that begs for the spotlight, but is nonetheless a worthy addition to the City's Italian landscape.