Little Sister (Manhattan Beach, CA)
Little Sister Restaurant
1131 Manhattan Ave, Manhattan Beach, CA 90266
310.545.2096
www.littlesistermb.com
Mon 12/30/2013, 07:00p-09:55p
The launch of
David LeFevre
's
MB Post
back in 2011 helped usher in a renewed interest in the Manhattan Beach dining scene, and one of the newest entrants comes in the form of Little Sister, set in the former address of Hamptons and Sun & Moon Cafe. The name makes sense in the context of its "sister" restaurant-slash-brewery Abigaile in Hermosa Beach, a massive, globally-influenced gastropub run by the same partners: Chef Tin Vuong and Jed Sanford. The food here, though, is billed as a sort of pan-Southeast Asian affair, thus more closely reflecting the Chef's heritage.
About the Chef
: Chef Vuong traces his roots back to China, but his grandparents had to flee the country when the Communist party seized power, settling in Vietnam. However, the family was forced to relocate once again following the fall of Saigon in 1975, becoming "boat people," first landing in Malaysia, which led to Hawaii, and eventually California's San Gabriel Valley, where Vuong was born in 1980. He grew up in Monterey Park, his mother working as an orthodontist and his father making deals in real estate. The family rarely cooked at home though, preferring to enjoy all culinary delights that the SGV had to offer (and still continues to offer). To please his parents (being a good Asian boy and all), Vuong attended UCLA and attained a degree in economics.
However, upon graduation, he and two friends decided to enroll in culinary school on a whim, and soon found themselves at the California Academy of Culinary Arts in Pasadena. Vuong excelled there, finding cooking a natural fit, and after finishing, took a job at the St. Regis in Monarch Beach, which had opened in July 2001. He quickly made his way up the ranks, eventually reaching the position of Executive Sous Chef after five years. At this point, he transition to Azmin Ghahreman's Sapphire in Laguna Beach, becoming Director of Culinary Operations for the restaurant and all its related business. Vuong then teamed up with friend and fellow Sapphire alum Justin Young (now Little Sister's GM) and Michael Segerstrom (Little Sister's CdC), and the trio started a series of high-end private dinners in the area.
Vuong's next move brought him together with Sanford, who had shuttered his successful Union Cattle Company in Hermosa and replaced it with the considerably more ambitious Abigaile. He replaced opening chef Max DiMare in March 2012, who left after only a month and a half and moved back to San Francisco. Nevertheless, Abigaile was a hit, and the success of that restaurant led the duo to debut Wildcraft Sourdough Pizza in Culver City in February 2013, taking over the old Le Saint Amour spot. Vuong, however, wanted a smaller place, one where he could do the kind of food he really wanted to cook, the kind of food that was close to his heart. Little Sister is that restaurant, and debuted in July to considerable fanfare.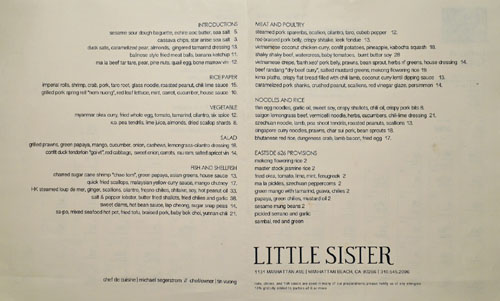 The menu at Little Sister is fairly extensive, extending across multiple categories and spanning the culinary traditions of a wide swath of Southeast Asia (with some of the dishes sounding like they could've come straight from the dearly departed
Spice Table
), and I'm told that the Chef even incorporates ingredients from his own garden. Click for a larger version.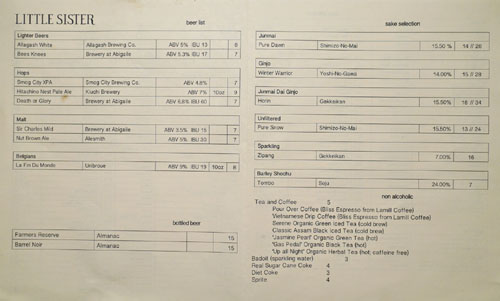 To drink, you won't find cocktails unfortunately, but there is a small but craft-y beer selection (mostly on draught and featuring a number of brews from Abigaile), a pretty good Cali-centric wine list (Vuong has some training as a sommelier), as well as a smattering of sakes (which doesn't seem to make sense given the intensity of the food). Click for larger versions.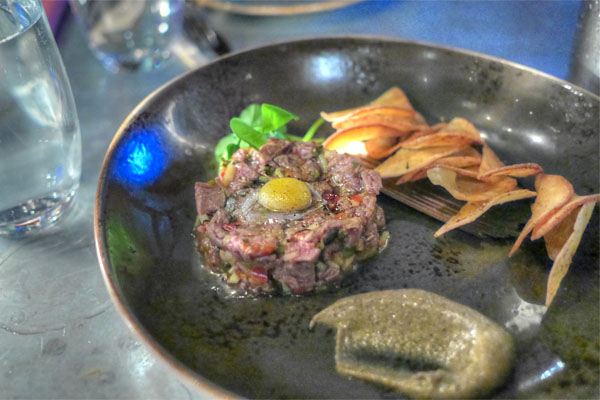 ma la beef tartare, pear, pine nuts, quail egg, bone marrow vin [$12.00]
We had to try the tartar naturally, and I was quite pleased, finding it a really smart update on the classic, with the sweet, tangy elements and creeping spice working hand-in-hand with the beef, all while the nuts added a great crunch to the dish. I was a fan of the salty, crunchy cassava chips as well, though it would've been nice if the
mala
numbingness were more apparent.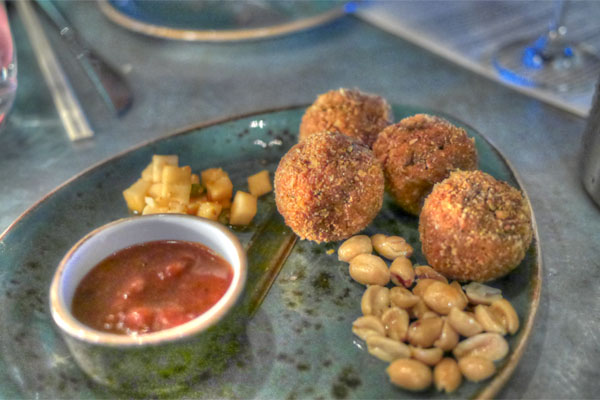 balinese style fried meat balls, banana ketchup [$11.00]
I have a hard time resisting balled meat, so these were a must-order as well. They really were tasty though, just crunchy enough on the outside, yet moist and tender on the inside, hearty and just brimming with a multifaceted spice. The banana condiment was on the sweet-side, yet somehow played near-perfectly with the meatballs, while I appreciated the crunch of those peanuts as well.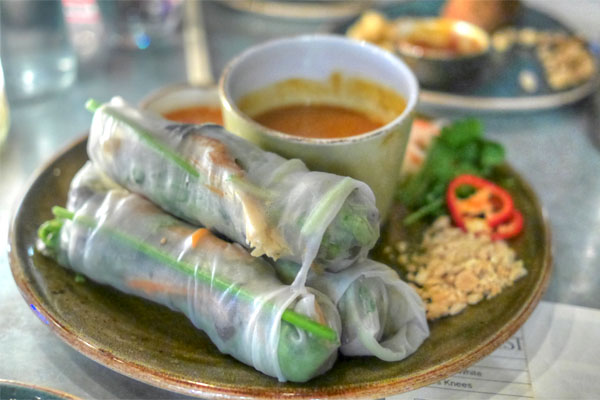 grilled pork spring roll "nem nuong", red leaf lettuce, mint, carrot, cucumber, house sauce [$10.00]
Now, if we're talking about
nem nuong
spring rolls, nothing really beats those at
Brodard
, but these came closer than I expected. You had most of the right components in the
goi cuon
(minus the crispy strip though), but the cohesiveness of it all wasn't quite there, and of course, the sauces, while commendable, didn't reach the lofty levels of Brodard's. That being said, I still enjoyed the rolls a lot, and they're certainly worth a try.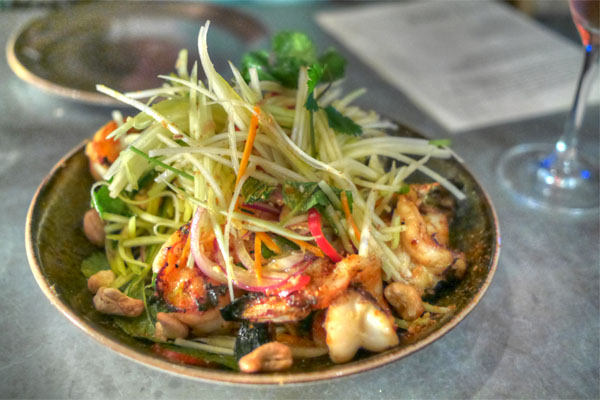 grilled prawns, green papaya, mango, cucumber, onion, cashews, lemongrass-cilantro dressing [$18.00]
Vuong's take on the popular papaya salad seems to be a popular dish at the restaurant. It's not hard to see why, with the charred shrimp working well alongside the crisp, refreshing fruit and veggies, while the whole assemblage was underscored by a growing heat and slight minty character. I would've liked a stronger, more assertive dressing to tie it all together though.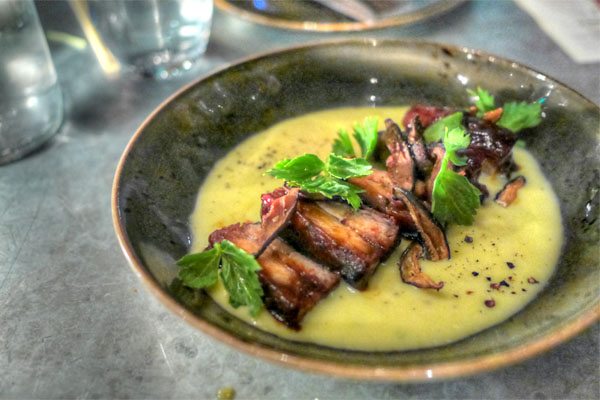 red-braised pork belly, crispy shiitake, leek fondue [$13.00]
Red-cooked pork belly was a surprise standout, the meat coming out delightfully crisp and full of flavor, with a lovely ratio of lean and fat that I found very satisfying. The use of leek, meanwhile, served to temper the strong flavors at play, and I much appreciated the bitterness of the greens here as well.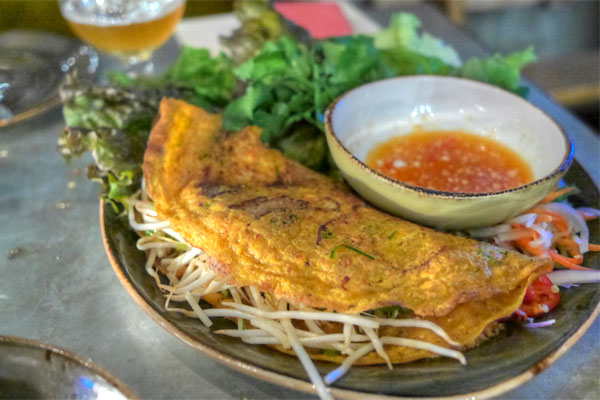 vietnamese crepe, 'banh xeo', pork belly, prawns, bean sprout, herbs n' greens, house dressing [$14.00]
I'm generally not a fan of
banh xeo
, finding the coconut milk that most of 'em have overly sweet. That sweetness, though, was fortunately subdued here, making this one of the best versions I've had, with the prawns and pork really getting a chance to shine along with the crisp, crunchy sprouts. Wrapped in greens and dipped in the accompanying fish sauce, the combination really worked.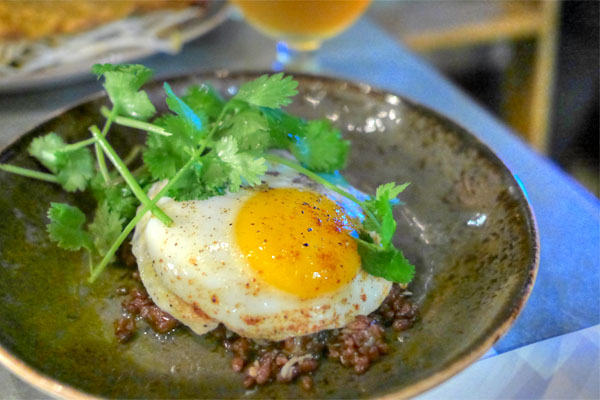 bhutanese red rice, dungeness crab, lamb bacon, fried egg [$17.00]
The red rice reminded me of a similar dish I'd had not too long ago over at
Lukshon
. The rice itself displayed a really satisfying crispness, chew, and "stickiness" to it that paired well with the salty chunks of lamb tossed in. Also key were the lush bits of egg, not to mention the moderating influence of the greenery present.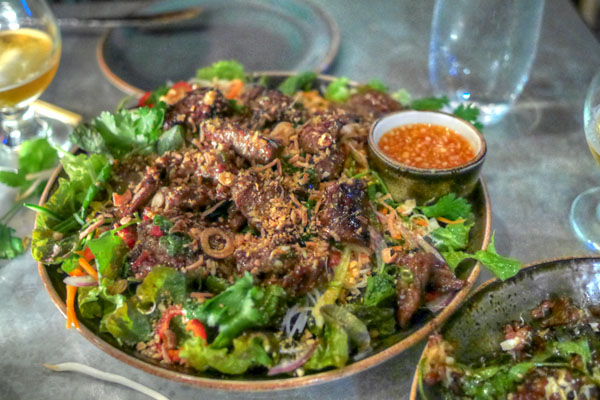 saigon lemongrass beef, vermicelli noodle, herbs, cucumbers, chili-lime dressing [$21.00]
Our final savory was a rather large bowl of Vietnamese-style
bun thit nuong bo
, a worthwhile interpretation of the classic dish. I enjoyed the beef, finding it tender, flavorful, and a fitting foil to the lightness of the noodles and veggies, all while the sweet-sour-spicy
nuoc cham
-based dressing brought it all together.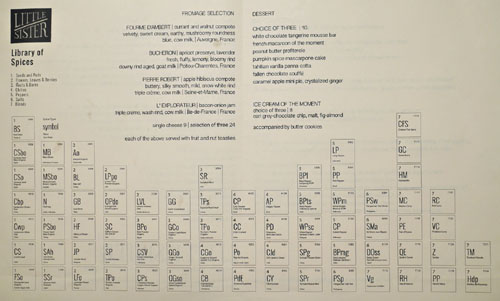 Little Sister lacks a traditional dessert menu. Instead, you get a choice of mini desserts at three for $10, or scoops of ice cream at three for $8. There's also the option of a cheese course, which seems out of place given the food here. Click for a larger version.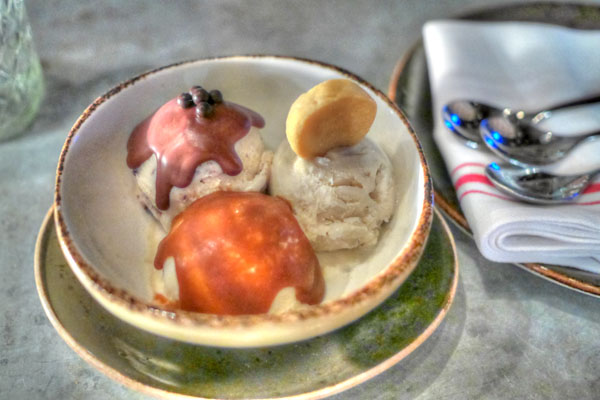 earl grey-chocolate chip / malt / fig-almond [$8.00]
Ice cream, unfortunately, isn't house-made, but rather sourced from
Pazzo Gelato
. Three varieties were offered, and all three were delicious in their own right, with the earl grey being particularly fetching with its great interplay of floral and citrus flavors. Yum.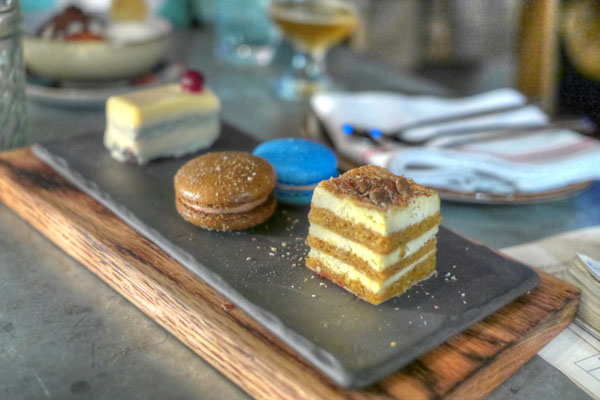 white chocolate tangerine mousse bar / french macaron of the moment / pumpkin spice mascarpone cake [$10.00]
The dessert trio we chose comprised the mousse bar with its effective blend of chocolate-citrus flavors, a properly autumnal pumpkin spice cake, and two types of macarons: a classic chocolate-hazelnut and a particularly true-to-life blueberry.
You always run a certain risk when doing this type of food in this type of location for this type of crowd, but I think Vuong's done a commendable job translating the cooking of his homeland here. You can argue that some of the finer points might've been lost in the process, but the essence of Southeast Asian cookery remains, plain to see in all its sour, spicy glory. The restaurant sort of represents a much-needed addition to the Manhattan Beach scene, which is exactly what I want to see, and judging by the crowds, I'm not the only one.