Bizarra Capital (Whittier, CA)
Bizarra Capital Restaurant
12706 Philadelphia St, Whittier, CA 90602
562.945.2426
www.facebook.com/BizarraCapital
Thu 01/02/2014, 07:50p-10:15p
My recent experience at
Guisados
got me curious about the whereabouts of the restaurant's co-founder, Ricardo Diaz. Diaz, you may recall, was the chef responsible for Monterey Park establishments Cook's Tortas and Dorado's, but it was at Guisados where he really started making a name for himself with his home-style stews and braises. All three of those restaurants were operated in partnership with Armando De La Torre, but Diaz struck out on his own in June 2012 with the debut of Bizarra Capital, sort of Mexican-style "gastropub" named after Ramón López Velarde's poem
La Bizarra Capital de mi Estado
. He would eventually break things off with De La Torre just months later, and opened Colonia Taco Lounge in August 2013, serving Guisados-style tacos in league with his sister Stephanie Aguirre and her husband Patrick.

Bizarra sits in the building once occupied by an outpost of El 7 Mares, a mini-chain of Mexican eateries that Diaz's grandfather started decades ago. The space has been refreshed, but you can still see the remnants of the former tenant showing through.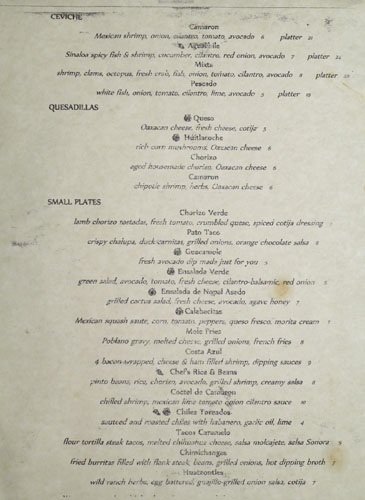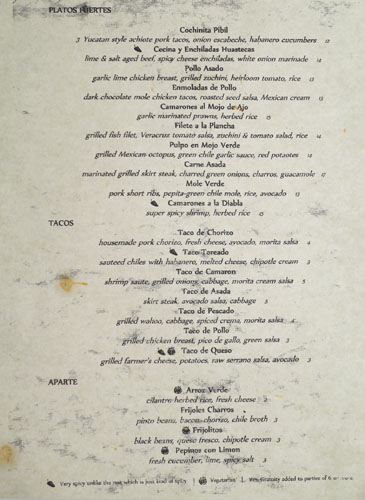 As for Bizarra Capital's menu, it's much more varied than what Diaz was dishing out over at Guisados. There are small plates, larger plates, entire sections dedicated to quesadillas and ceviches, and of course, tacos. Click for larger versions.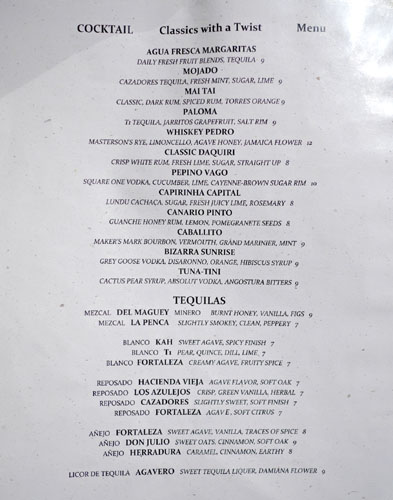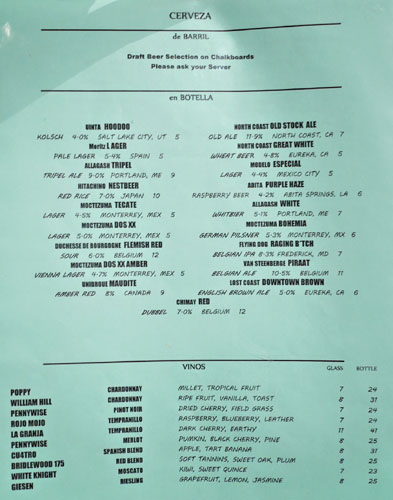 Meanwhile, to imbibe you'll find some of the cheapest cocktails I've seen a while, some pretty legit beers on tap and in bottles (not to mention your typical Mexican
cervezas
), and a better-than-you'd-expect wine list. Click for larger versions.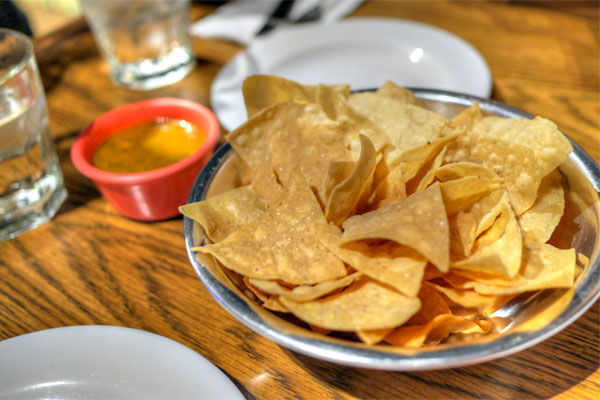 We were quickly presented with what I'll say was the best complementary chips and salsa that I've ever had. The chips were exactly what you'd want, but it was the salsa that surprised me a bit, arriving smooth and a bit watery in consistency, but with a flavor profile that was far more multifaceted than most, a smoky, sweet, spicy, and salty combination that we just ate up.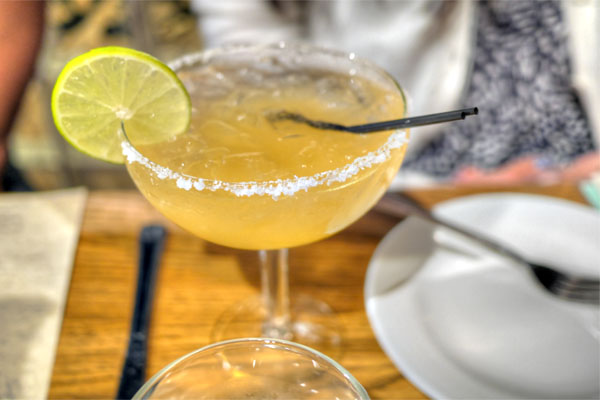 Agua Fresca Margaritas [$9.00]
| daily fresh fruit blends, tequila
We had to give the cocktails a go, and began with this twosome. The
Agua Fresca Margarita
made use of what I believe was cantaloupe, and really showed off the sweetness of the melon against a boozy backdrop of tequila.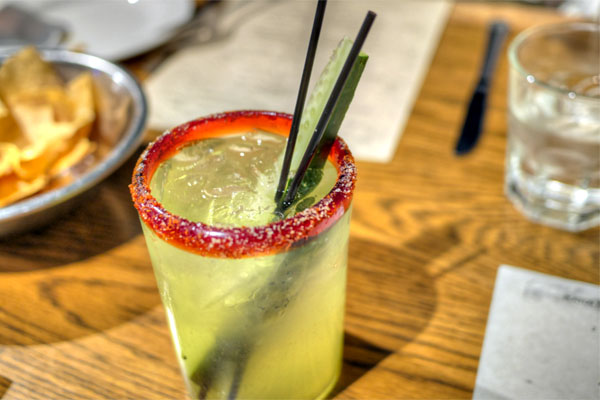 Pepino Vago [$10.00]
| Square One vodka, cucumber, lime, cayenne-brown sugar rim
The
Pepino Vago
, meanwhile, came recommended by our server. He made a good call, with the drink coming out very balanced, with a smoothness to it that really integrated the sweet, tangy flavors here with a whisper of cucumber.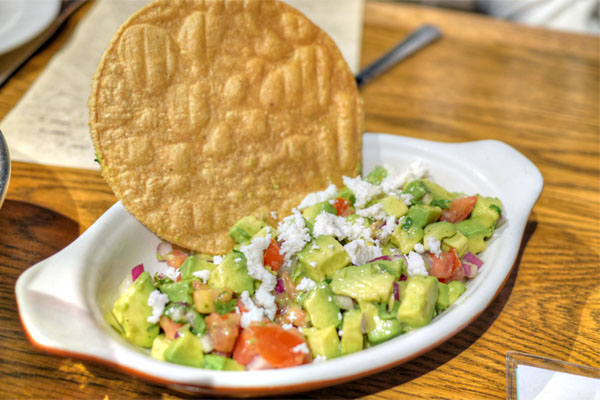 Guacamole [$5.00]
| fresh avocado dip made just for you
Guac was an obvious choice for a starter, and definitely didn't disappoint. In fact, it was one of the strongest preparations I've had, with a pleasingly chunky texture to it and a lushness from the avocado that was beautifully paired with contrasting notes of acid. Great alone, and even better when eaten with the accompanying tostada.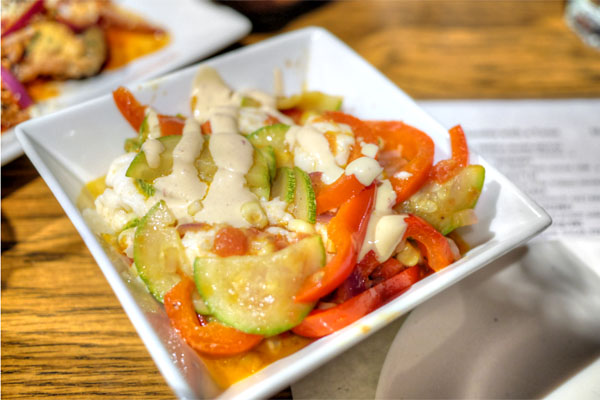 Calabacitas [$7.00]
| Mexican squash saute, corn, tomato, peppers, queso fresco, morita cream
The
calabacitas
was a sauté of various veggies, a surprisingly satisfying commingling of different tastes and textures tied together by that crema on top.
Huazontles [$7.00]
| wild ranch herbs, egg battered, guajillo-grilled onion salsa, cotija
This was my first experience with
huazontle
, a Mexican vegetable that's often compared to a sort of elongated broccoli. Here, it's dipped in an egg batter then fried crisp before being slathered in a sauce of onion and
chile guajillo
. The end result was rather enjoyable, the bitterness of the plant working hand-in-hand with the eggy notes present, all while the salsa imparted a piquancy to the dish. Give it a shot.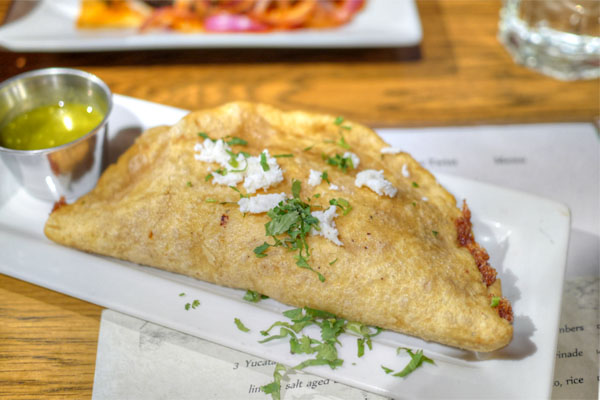 (Quesadilla) Huitlacoche [$6.00]
| rich corn mushrooms, Oaxacan cheese
The
huitlacoche
was another ingredient that I don't encounter often. It's known in English, unappetizingly, as corn smut, a type of fungus that infects corn stalks. The
quesadillas frita
, though, was quite tasty, displaying a deep, earthy, woody, somewhat sweet relish that paired swimmingly against the stringy Oaxacan cheese. Even better with a dab of the wonderfully zippy condiment on the side.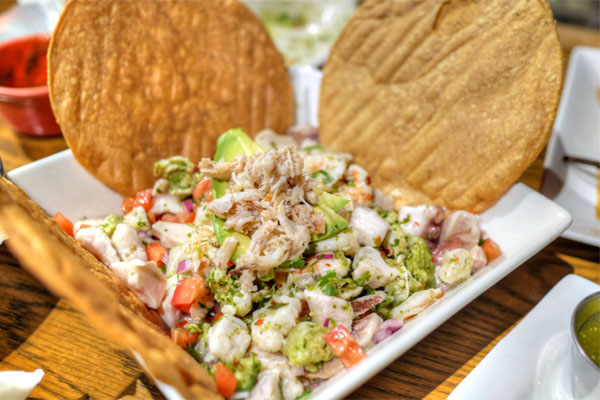 (Ceviche) Mixta [$26.00]
| shrimp, clams, octopus, fresh crab, fish, onion, tomato, cilantro, avocado
Next up was quite simply the largest mound of ceviche that I'd ever encountered. It was good though, a traditional example of the dish that deftly presented each item of seafood distinctly, but with the whole mélange effectively conveying the essence of the sea, dutifully perked up by the application of acidity and tartness. Again, lovely over a base of tostada.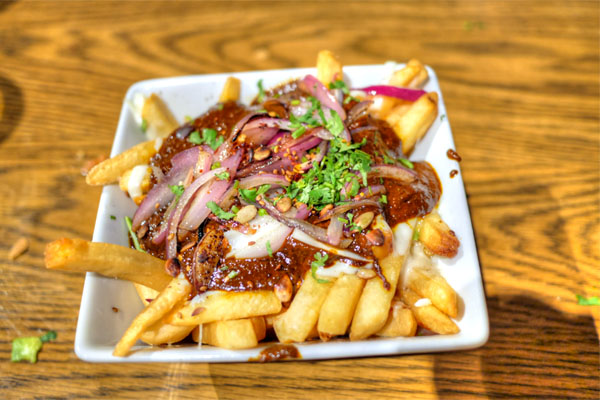 Mole Fries [$8.00]
| Poblano gravy, melted cheese, grilled onions, french fries
The mole fries (or
_anything_
fries, for that matter) is a dish that's just begging to be ordered, and naturally we had to succumb. The fries themselves were about what you'd expect, so the mole was clearly the star of the show, a dark dressing of earthy, deep, sweet, and nutty nuances draped over the comparatively mild batons of potato. I would've appreciated some more astringency from the onions though, to offset the richness of the sauce.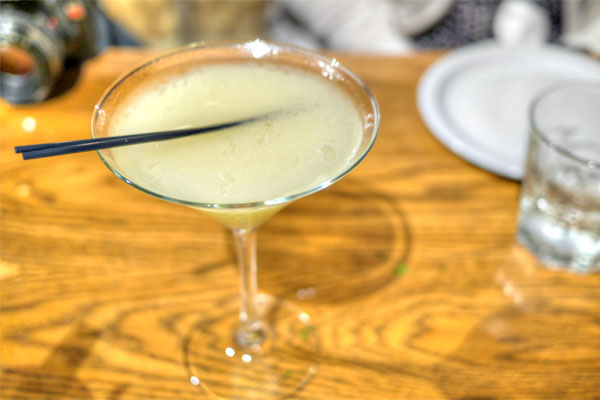 Tuna-Tini [$9.00]
| cactus pear syrup, Absolut vodka, Angostura bitters
Time for more
cócteles
. No, the
Tuna-Tini
didn't feature tuna the fish, but instead was a prickly pear martini of sorts. The sugariness of the
tuna
was nicely presented here, but the crux was the kick of spice at the end, which really balanced out the fruit.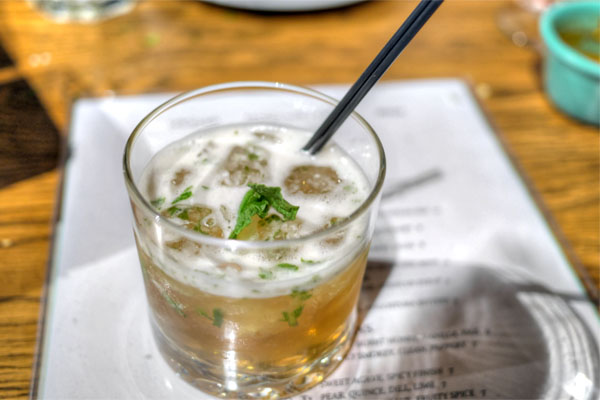 Caballito [$9.00]
| Maker's Mark bourbon, vermouth, Grand Marnier, mint
The
Caballito
, meanwhile, was also worth trying, really showing off the boozy nature of the Maker's with enough sweetness from the Grand Marnier, while the finish conveyed just the tracest amount of mint.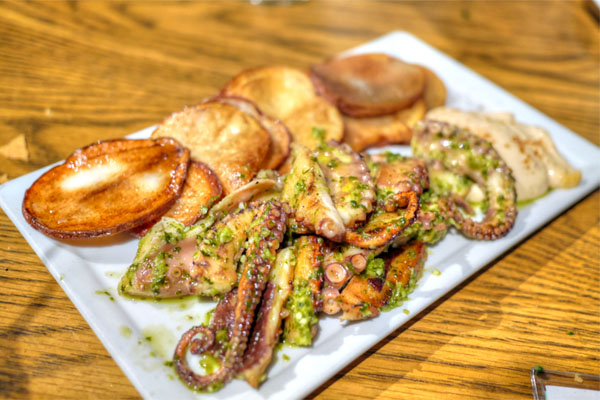 Pulpo en Mojo Verde [$14.00]
| grilled Mexican octopus, green chile garlic sauce, red potatoes
The
pulpo
was another must-try for us, and kicked off our more substantial courses of the evening. The octopus itself was tender, yet still had some bite, and gave up a slightly ocean-y taste to it that went superbly against the delightfully tangy
mojo
. I also appreciated the pairing of the potatoes here, though perhaps they could've been a tad crisper.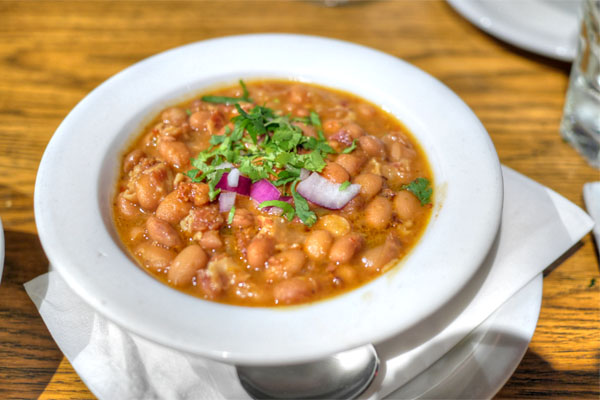 Frijoles Charros [$3.00]
| pinto beans, bacon chorizo, chile broth
Pintos were elevated here, and were probably the best I've had. They just had a really satisfying, hearty depth to them, the chorizo adding the perfect amount of salt and heat to the beans.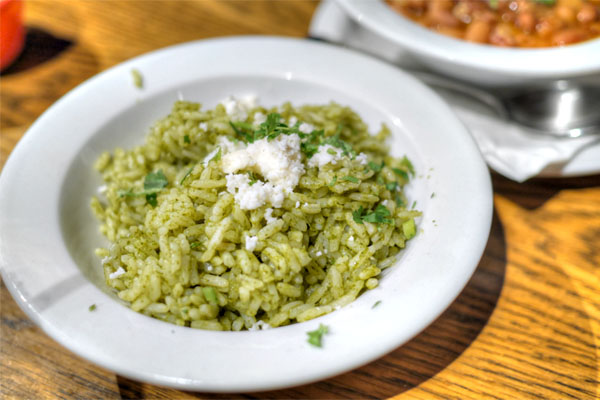 Arroz Verde [$2.00]
| cilantro herbed rice, fresh cheese
Along with beans, you gotta have rice, and the version here was, again, top notch. The
arroz
was a great example of Mexican-style rice, a flawless counter to the
frijoles
infused with a fantastic brightness from the cilantro.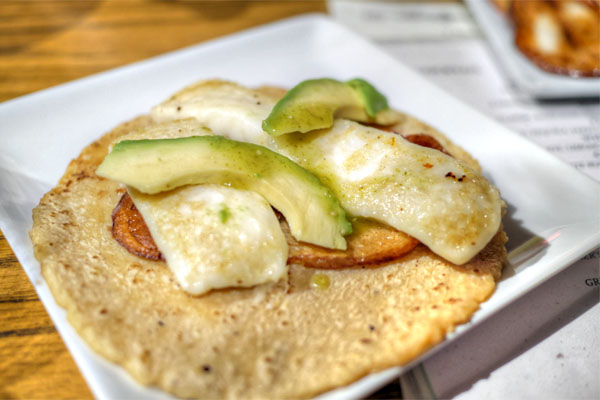 Taco de Queso [$3.00]
| grilled farmer's cheese, potatoes, raw serrano salsa, avocado
Naturally, given Diaz's résumé, we had to sample some of the tacos, and they did not let us down. On this one, the soft cheese just melded wonderfully with the creamy slices of avocado, while the potato perfectly moderated the dish, imparting just the right amount of salt in the process. Delish.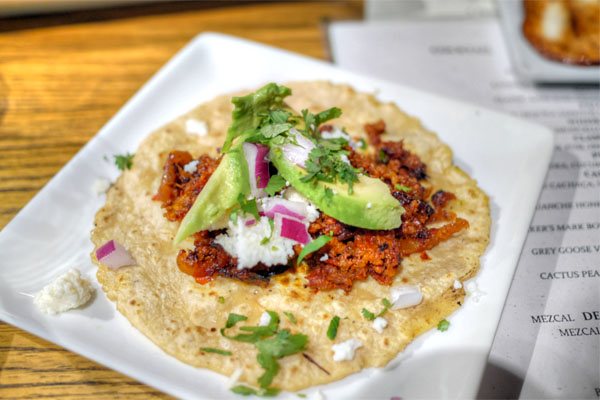 Taco de Chorizo [$4.00]
| housemade pork chorizo, fresh cheese, avocado, morita salsa
The chorizo taco was another winner, the spice and savor of the pork forming a great base on which the other ingredients could really commingle. The tortilla was totally on point, too.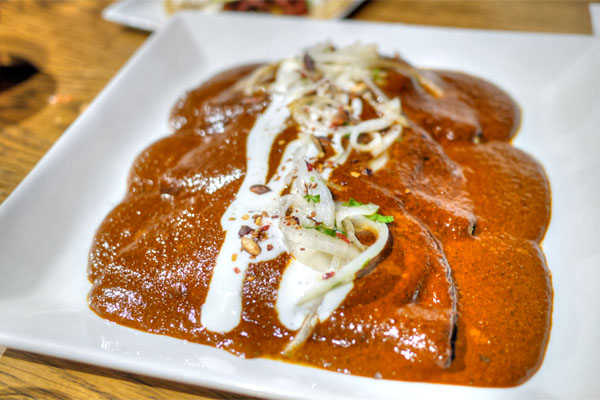 Enmoladas de Pollo [$13.00]
| dark chocolate mole chicken tacos, roasted seed salsa, Mexican cream
Mole made its second appearance in this quintessential expression of the sauce. Its rich, rather profound balance of sweet, savory, and nutty, amplified by a creeping spice, served as a great complement to the tacos of tender, shredded chicken, with the onions on top adding just a touch of tanginess to the course.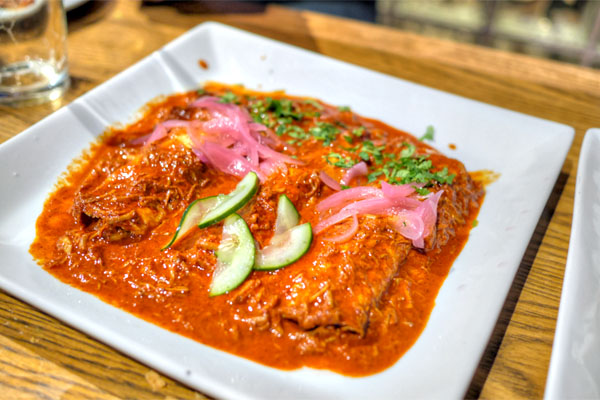 Cochinita Pibil [$12.00]
| 3 Yucatan style achiote pork tacos, onion escabeche, habanero cucumbers
Our final savory brought us Diaz's rendition of
cochinita pibil
, a saucy, sour, citrusy preparation that nicely enrobed the shards of tender pork, with the red onions adding an even further bit of piquancy into the mix. Classic and comfy.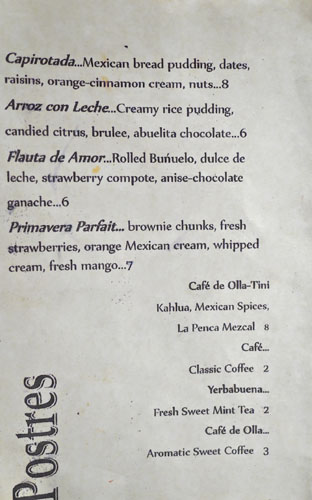 We were all quite stuffed by this point, but ended up ordering all three desserts (they were out of the parfait) to share anyway. Click for a larger version.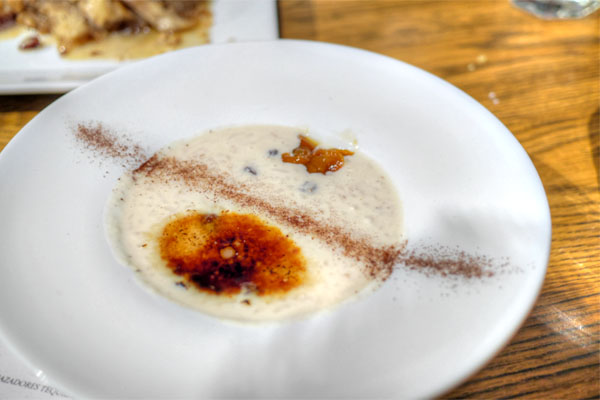 Arroz con Leche [$6.00]
| Creamy rice pudding, candied citrus, brulee, abuelita chocolate
The rice pudding was a prototypical representation of the dessert: mildly sweet, with a subtle undercurrent of spice. I quite appreciated the crunch of the brûléed bit on top, too.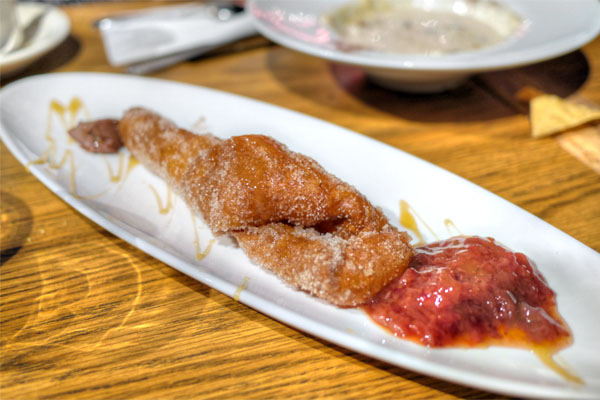 Flauta de Amor [$6.00]
| Rolled Buñuelo, dulce de leche, strawberry compote, anise-chocolate ganache
Buñuelos
were fried to a crisp, giving up a sweet, yet savory quality that was evened out by that sugary strawberry compote. Tasty, though I wished they were moister on the inside.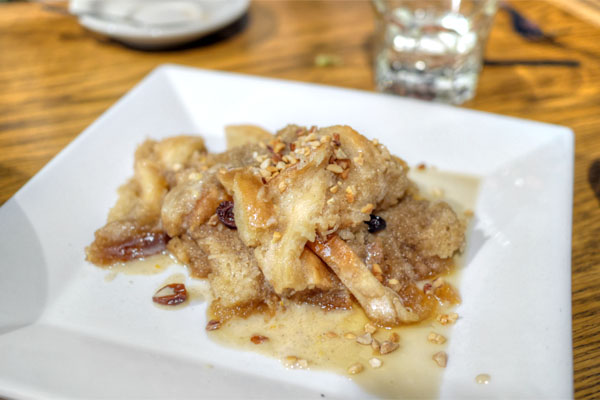 Capirotada [$8.00]
| Mexican bread pudding, dates, raisins, orange-cinnamon cream, nuts
The best of the trio was clearly the
capirotada
, basically a Lenten bread pudding. I found it wonderfully sweet and syrupy, with a delightful base of cinnamon-y spice and some nice textural contrast as well. This is the one to get.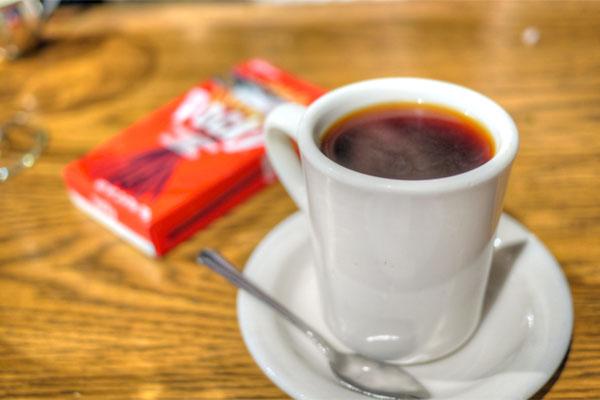 Café de Olla [$3.00]
| Aromatic Sweet Coffee
To close: hot mugs of sweetly spiced coffee (and a few sticks of Pocky).
Well, it looks like Diaz has gone and done it again, continuing his trend of killing it with Mexican cookery and greatly contributing to the conversation of
cocina mexicana
here in the Southland. This meal at Bizarra certainly was one of the tastiest examples of the style I've had, and the food really showed a particular thoughtfulness, verve, and robustness that you just don't find everywhere. Now I'm even more curious about trying out Colonia.
So what's next for Chef Diaz? Well, from what I hear, he and the Aguirres are partnering up again for Duro, an eatery dedicated solely to crispy tacos and
flautas
. It's set to debut in the coming months at the site of the Siete Mares in Silver Lake, though the adjacent La Playita ceviche stand will remain as-is. Further along, Diaz has also expressed interest in opening up Chorizo Amor, a Mexican sausage-plus-beer concept that was originally slated for the Duro space. Exciting times.