Taco Maria (Costa Mesa, CA)
Taco María Restaurant
3313 Hyland Ave, Costa Mesa, CA 92626
714.538.8444
www.tacomaria.com
Fri 12/27/2013, 06:40p-09:15p
[A Note on Photography: This was my third outing with the new camera, and my first with a proper lens, a 20mm f1.7 prime. The photos tonight were shot with an exposure of 1/20s + f2.0 @ ISO 3200 and were much more promising, and I'm hoping that my results will improve even further once I get a better handle on both the camera as well as how to optimally post-process.]
The first thing you need to know about the ironically-named Taco Maria is that it's not a
taquería
. Sure, the taco may make an appearance once in a while, but the cooking here is squarely focused on modern Mexican, the so-called "Chicano Cuisine" of Chef Carlos Salgado that blends
mexicano
and
americano
culinary traditions. Named after the long line of
mujeres
in his family, the restaurant debuted recently at The OC Mix at
SoCo Collection
, a somewhat hipster-ish (for OC) shopping plaza bordering the 405 that also houses Portola Coffee, ARC, and Shuck Oyster Bar.
About the Chef
: Salgado was raised in the city of Orange in a family that operated a series of Mexican restaurants in the area, though he never worked in any of them except during his summers off. He attended Villa Park High School (where
Roy Choi
went, incidentally), and found himself in a career in tech/video games/Web development, working at a few start-ups and small companies in the Irvine area. However, Salgado decided to leave the field in 2002, and later moved up to San Francisco to start his culinary career. His first real job in the biz came in 2004, when he took a position under Pastry Chef Boris Portnoy at Vernon Morales' Winterland. After six months, he took over Portnoy's role, but didn't stay at the restaurant too long.
Salgado enrolled at the California Culinary Academy, graduating in 2006. Following, he joined the ranks at Daniel Patterson's Michelin two-star
Coi
, working under Jake Godby and eventually making his way around the various stations in the kitchen. He would wind up taking over for Godby, and even implemented a baking program at the restaurant. After three years at Coi, he moved on in June 2009, teaming with James Syhabout to open
Commis
in Oakland. Commis was well received (even gaining a Michelin star), but Salgado left in May 2011, replaced by Kyle Caporicci (Campton Place, Coi).
He ended up moving back home to Orange County with the idea of reinventing his family's 25-year-old restaurant,
La Siesta
, after his parents started thinking of selling it. Salgado partnered with his sister Silvia and launched the
Taco Maria
lonchera
in 2011, which was originally meant to be an extension of La Siesta and part of their catering operation, but the haute food truck became a smashing success in its own right. However, a truck was never the end goal. A permanent location was, and so Taco Maria, the truck, ceased operation in April 2013. The siblings then put their collective efforts into debuting a brick-and-mortar place, the result of which is Taco Maria, the restaurant, which bowed in late August, inspired by the progressive chefs of Mexico and their
alta cocina
movement. Joining Salgado here is Roland Rubalcava of the former Rubalcava's Market and Bakery in Placentia, who's doing the tortillas.

Taco Maria has an indoor-outdoor setup, and the inside space is on the small side, featuring three tables seating eight, as well as an eight-seater chef's counter facing the open kitchen and its wood-fired grill. Much more space is available on the patio.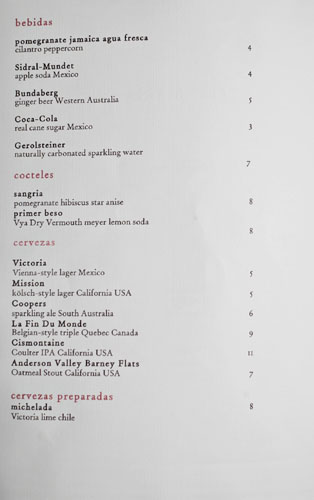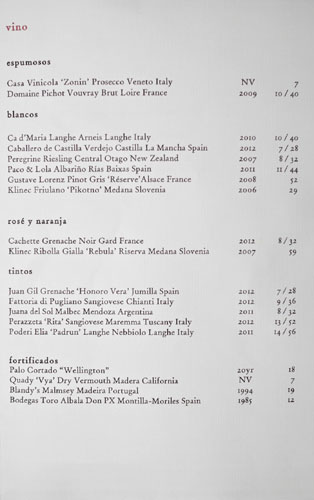 As for Taco Maria's menu, the thing to get is the four-course prix fixe at $46, plus $24 for wine pairing, while an à la carte lunch is available as well. If you opt out of the pairing, you'll find a smattering of beers (including
michelada
) and a small wine list, with corkage priced at $40/$20 (first/subsequent bottles, waived for each bottle purchased). Click for larger versions.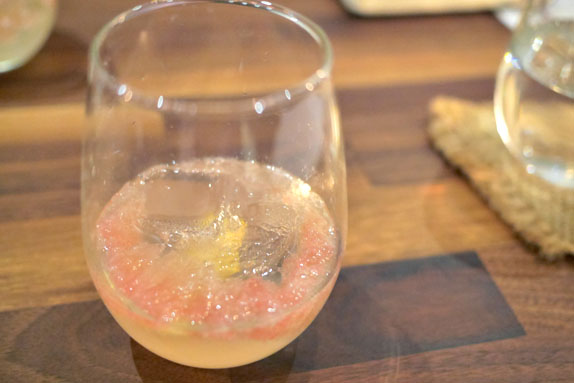 We began with a welcome cocktail, a citrus-Prosecco sangria basically. It was as refreshing as you'd imagine, a burst of tart, citrus-y tastes with a pleasantly boozy undercurrent from the sparkling wine.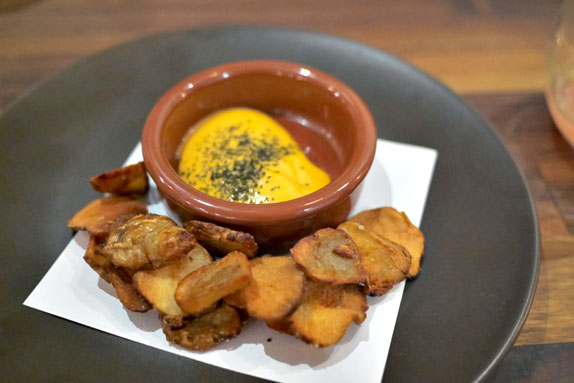 Our amuse bouche comprised sunchoke chips and a chorizo aioli. The chips themselves were delightfully savory and crisp, sort of like
papas fritas
, but "stickier" and a touch sweeter. They were delectable alone, but the piquant dip, imbued with just the slightest hint of chorizo heat, really completed the dish.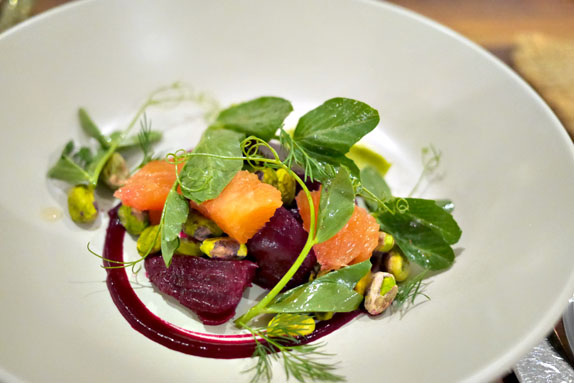 1a: BETABELES
| beet, avocado, fromage blanc, pistachio, pea tendrils
2012 Caballero de Castilla Verdejo Castilla La Mancha Spain
The first proper course was what amounted to one of the best beet salads I've had. The sweetness of the offending ingredient was apparent sure, but not in my face, and worked flawlessly with its various accompaniments: the tart citrus, lush cheese, bitter greens, and nutty, crunchy, salty pistachios--everything had its place, making for an eminently balanced dish.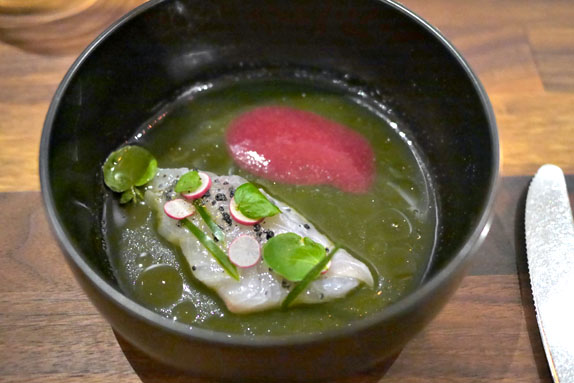 1b: AGUACHILE
| local rockfish crudo, serrano, guava, Ensenada olive oil
2007 Peregrine Riesling Central Otago New Zealand
Salgado's take on
aguachile
was quite something. The broth had a real fire to it--a blast of sour, spicy goodness that lingered on and on, a strident counterpoint to that silky fish, impeccably dotted (via tweezers I'm sure) with micro herbs and micro radish. Olive oil, meanwhile, brought it all together, but the most interesting element here was clearly that island of guava, which was simultaneously disconcerting yet somehow crucial to the dish.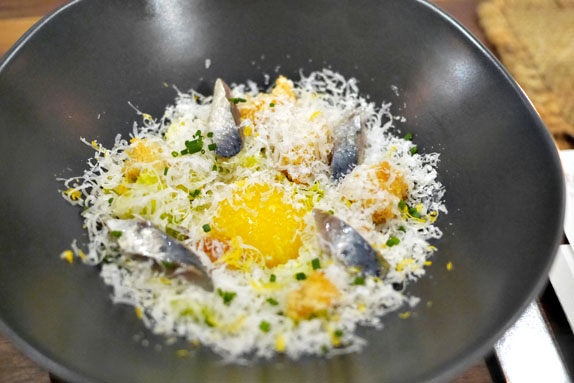 2a: 'CAESAR'
| pacific sardine, celtuce, egg yolk, parmigiano, sourdough
2012 Ca d'Maria Langhe Arneis Langhe Italy
Next was no doubt one of the best renditions of Caesar salad I've tasted. The hero here was that sardine, its wonderfully fishy notes recalling a fine Japanese
saba
. The brine really permeated the dish, pulling in the runny egg, crispy croutons, salty cheese, and juicy celtuce and making for a cohesive whole. Of all the courses we had, this was the one that seemed to most recall the culinary sensibilities of
Commis
.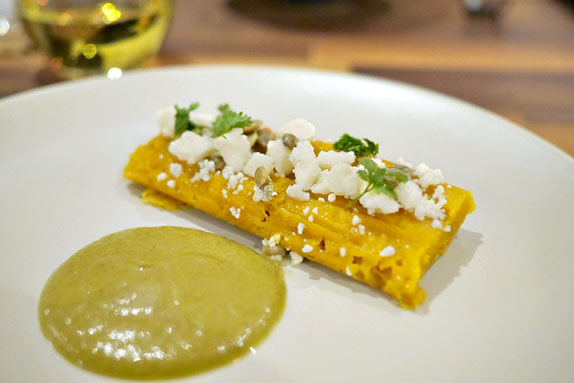 2b: TAMAL de CALABAZA
| winter squash, queso fresco, lime blossom honey, pipian verde
2008 Gustave Lorenz Pinot Gris Réserve d'Alsace France
Salgado's
tamal
was true to form, really showing off the inherent goodness of
masa
dough. The use of winter squash steered the dish overly sweet and floral for me, but I could see where he was going with it. I really enjoyed that
pipián verde
though, which helped tame the sugary notes present.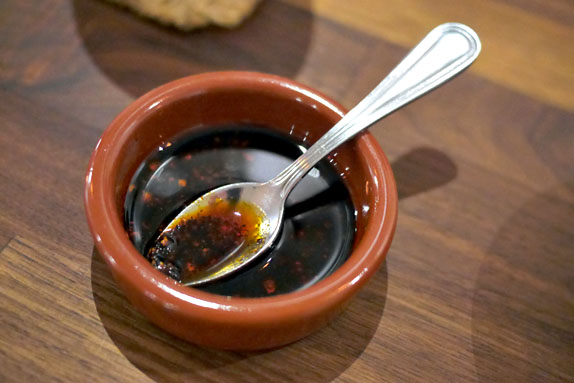 At this point, our server brought out the Chef's homemade
salsa negra
, which is composed of dried
chile de árbol
, black garlic, cumin, and oil. It's got a good amount of heat to it, but it's a tangy, smoky, creeping spice that sticks with you. This stuff was seriously addictive, and you sort of want to put it on everything, which Salgado doesn't necessarily discourage.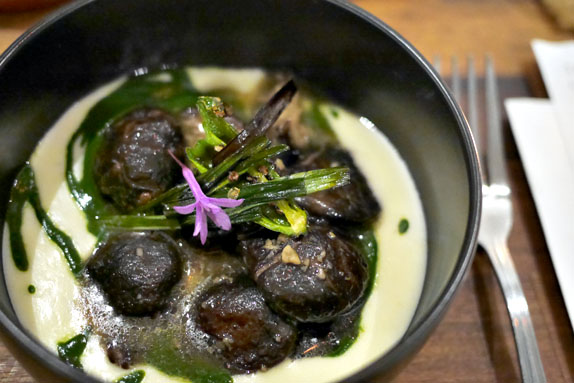 3a: JARDINERO
| shiitake, stinging nettles, shishito peppers, queso Oaxaca
2011 Juana del Sol Malbec Mendoza Argentina
One of the highlights of the meal was certainly the mushrooms. The potent, umami-laced essence of those shiitakes was just so forcefully displayed here, bound by the astringency of the nettles while the cheese just added a fantastic richness to the mix. A hearty, heavy course, but utterly satisfying, and arguably even better with a sprinkle of "black sauce."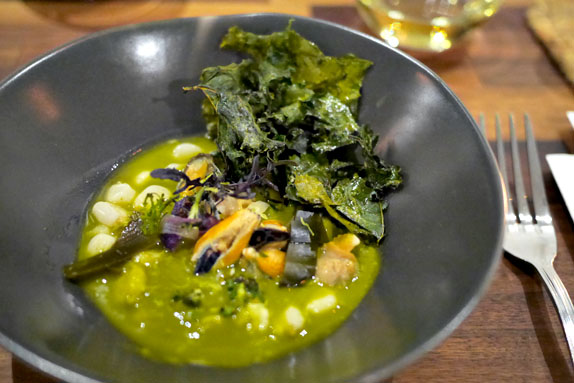 3b: POZOLE de MOLUSCOS
| shellfish, heirloom hominy, brassicas, lime
2011 Paco & Lola Albariño Rias Baixas Spain
The
pozole
was another winner for me. I loved the hominy here, its texture and earthy savor really grounding the course, a base on which the salinity of the shellfish could really sing against a backdrop of bitter brassicas. The whisper of lime tartness was much appreciated as well, and again, this was another candidate for the application of that
salsa negra
.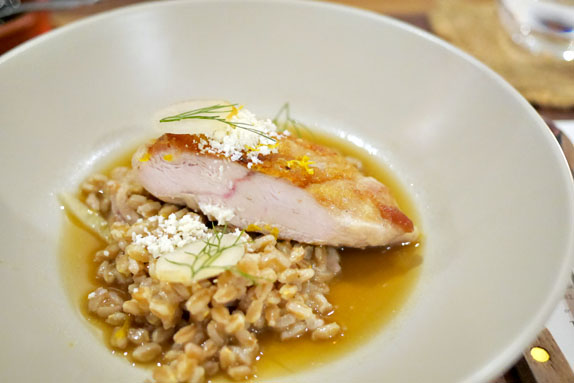 4a: ARROZ con POLLO
| Jidori chicken, toasted farro, pear, fennel
2011 Eola Hills Pinot Noir Willamette Valley Oregon
Here we had what amounted to the schmanciest
arroz con pollo
I've had, but also the best. The bird itself was pretty fantastic, all juicy and tender and full of flavor, with a wonderfully crisp bit of skin to boot. The use of farro, though, was what set the dish apart, imparting a satisfying bite and nuttiness to the fray. And if that wasn't enough, you had those slivers of pear giving up the perfect amount of juicy, offsetting brightness. Another favorite of mine.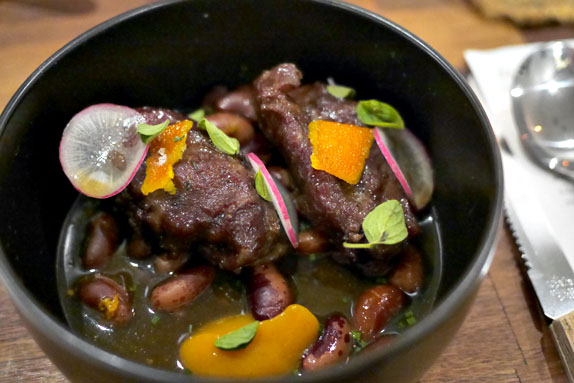 4b: CACHETE
| pork confit, cattle beans, persimmon, chrysanthemum
2012 Cachette Grenache Noir Gard France
We ended with some of the tenderest pork cheek around, a bounty of deep, dark, piggy flavors that was reined in by the copious amounts of citrus here. I quite enjoyed the beans as well, which did a great job mixing things up texturally while really moderating the course.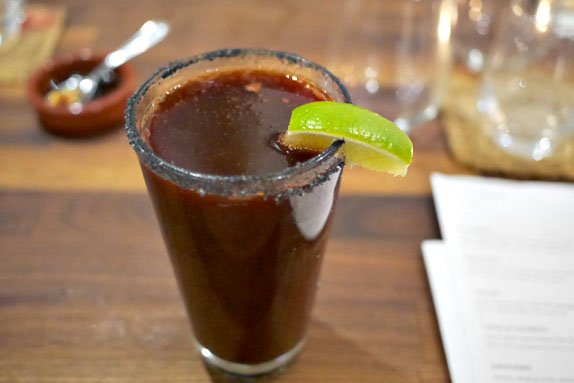 michelada [$8.00]
| Victoria lime chile
With our wines dispensed with, we requested a couple more
bebidas
, starting with the
Michelada
, a spicy, sour, salty concoction that ended up being one of the better versions I've had.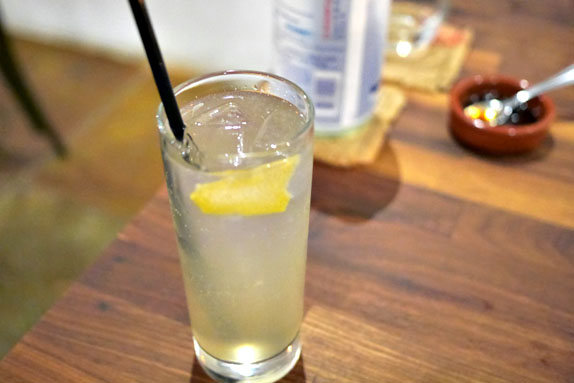 primer beso [$8.00]
| Vya Dry Vermouth meyer lemon soda
The
Primer Beso
, on the other hand, was pretty much the polar opposite of the
michelada
, coming out light and refreshing, with juicy overtones of lemon enveloping the drink.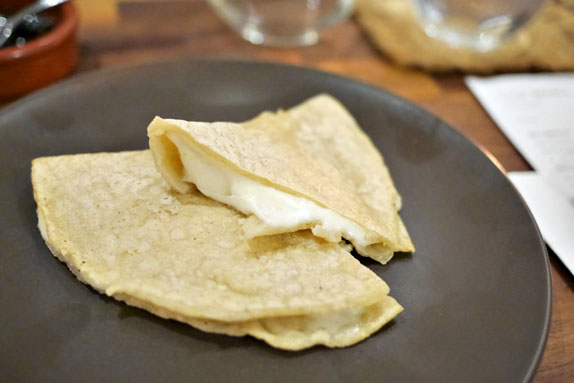 I'd heard that the kitchen here turns out a pretty mean quesadilla (an off-menu item originally meant for kids), so naturally I had to ask for one. Turns out it might've been the strongest example of the staple I've had. It was just the tortilla and cheese and nothing else, but that simplicity was absolutely key, the two components in total harmony (though a dash of that
salsa negra
didn't hurt either!).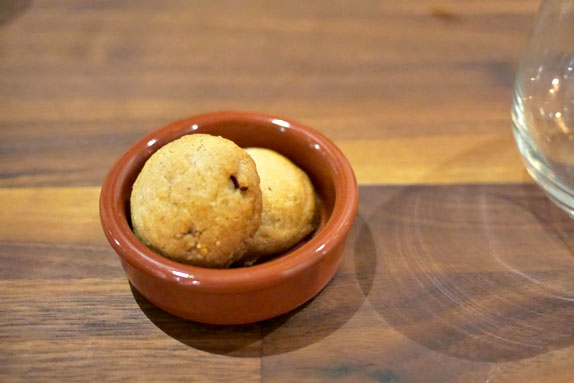 One of the ironies here is that Taco Maria doesn't serve a real dessert, despite Salgado's considerable training in the craft (though I hear they're looking for a proper pastry chef). Instead, we were given pecan
polvorones
(a.k.a. "wedding cookies"), basically some lovely shortbread bites spiced with what I believe was cinnamon.
So as it turns out, one of my most promising meals of year has come at the very end of 2013. Salgado's cooking is both comforting, familiar even, yet simultaneously exciting, modern, with a lot of potential; it gives us a taste of the
alta cocina
that we've been lacking all this time. I really applaud what the Chef's doing, opening up such a place in a somewhat difficult environment, being OC and all that. I'm hoping that he can keeping pushing here, turning out longer, more complex menus that could rival something you might expect to find in the
D.F
. This is one to watch.