Pok Pok (Portland, OR)
Pok Pok Restaurant
3226 SE Division St, Portland, OR 97202
503.232.1387
www.pokpokpdx.com
Thu 02/27/2014, 08:20p-10:25p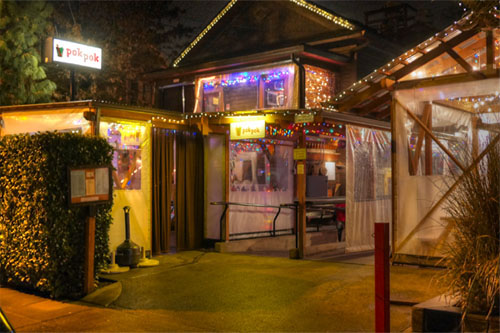 I took a brief trip up to the Portland/Seattle area recently, and it was actually my first time in either of the two cities. First up was Portland, and naturally, I spent a good amount of time considering the various dining options in the vicinity before deciding on perennial favorite Pok Pok for my introduction to the PDX food scene. Pok Pok is, of course, the game changing Thai restaurant from Chef Andy Ricker that was one of the first to really bring the cuisine of northern Thailand to the limelight.
About the Chef
: Ricker was born in 1964 in North Carolina, but spent his formative years largely in Vermont, raised by a mother who was, in the Chef's own words, a "pot-smoking hippie," but also a cook at a local restaurant. He started in the business at age 15, serving as a dishwasher at a Swiss fondue joint, and worked at a number of places in the area throughout high school. Ricker moved out to Vail, Colorado the day of his graduation and got a job there as a short order cook, then made his way up the ranks, eventually reaching the level of sous chef. He later relocated to Los Angeles, though not for culinary reasons, but left the United States to see the world in 1985. He was abroad for four years, landing in New Zealand, Australia, various parts of Asia (including Thailand in 1987), and even Europe, where he cooked at Raymond Blanc's Michelin-ranked Le Manoir aux Quat' Saisons in England.
Ricker got back Stateside in 1989, and eventually secured a position at Christopher Israel's Zefiro in Portland. He ended up burning out, however, and, after a short stint as a bartender, took an eight year break from the restaurant business and started a painting company. Ricker's obsession with Thai cookery, thus, came almost accidentally in 1993, when he visited his old friend Chris and his wife Lakhana in Chiang Mai. He tasted a revelatory local puffball mushroom curry called
kaeng het thawp
, which got him hooked on the bounties of regional, seasonal northern Thai cuisine, and would return many times to further study the food there. After splitting his time between Portland and Thailand for nearly a decade (with a brief detour in 2003 to New York), he launched Pok Pok in 2005 as a take-out stall selling grilled game hens and
som tam
in the southeast portion of the City (at his own house). The shack garnered quite a following, which led Ricker to turn it into a proper restaurant the next year.
Pok Pok became a huge hit, even scoring the "Restaurant of the Year" award from
The Oregonian
in 2007. This success allowed Ricker to debut Ping in 2009, a pub-y sort of eatery that made Alan Richman's list of top 10 best new restaurants in the country, and was also
The Oregonian
's pick for "Rising Star." Ping was followed up by Whiskey Soda Lounge later that year, which had previously resided in the basement of Pok Pok. It served as a bar/lounge serving
ahaan kap klaem
, or drinking food. In January 2010, Ricker stepped away from Thai for a bit and opened Foster Burger with partners Daniel Mondok and Kurt Huffman, and soon thereafter, got a double dose of James Beard, nominated both for "Best Chef Northwest" and for "Best New Restaurant." In September however, he relinquished his stake in Foster Burger, ostensibly to focus on other projects such as his line of drinking vinegars, which went
on sale
that December.
March 2011 saw the debut of Pok Pok Noi, a take-out place (though it eventually turned into a full service restaurant the following May). This was followed by Ricker's snagging of James Beard's "Best Chef Northwest" award, and in September, he took over a spot just a few blocks from the original Pok Pok with the goal of transforming it into a curry place. He also announced his New York intentions around this time, and in October, Eddie Huang broke the news that a wing-focused eatery would be taking over his old Baohaus space in the Lower East Side. Meanwhile, Ricker also finalized plans for a full-service Pok Pok in the Red Hook neighborhood of Brooklyn, and simultaneously bowed out of his responsibilities at Ping, citing his growing work load. Pok Pok Wing ended up opening in January 2012, while Pok Pok proper bowed in April. However, the wing joint didn't last long, closing in August and quickly replaced by a pad thai restaurant called Pok Pok Phat Thai.
2013 started with Ricker scrapping the idea for his Portland curry place Pok Pok Lat Khao. Instead, he premiered Sen Yai, a Thai noodle house, in May. Getting back to NYC, the Brooklyn branch of Whiskey Soda Lounge came to fruition that August, and the Chef released his cookbook
Pok Pok: Food and Stories from the Streets, Homes, and Roadside Restaurants of Thailand
, written in collaboration with JJ Goode, in October. Toward the end of the year, Pok Pok New York moved to a larger space just a few doors up the street, and the old space is reportedly turning into an event space called Suan Pok Pok. 2014, finally, will see the debut of
Farang
, a feature length documentary detailing Ricker's obsession with Thai cookery and the process of opening up Sen Yai.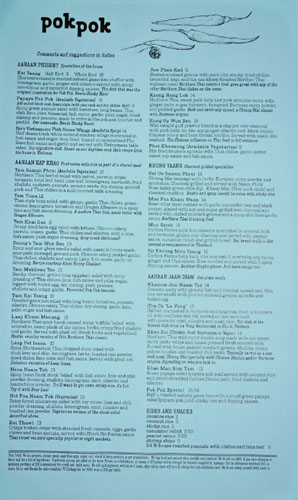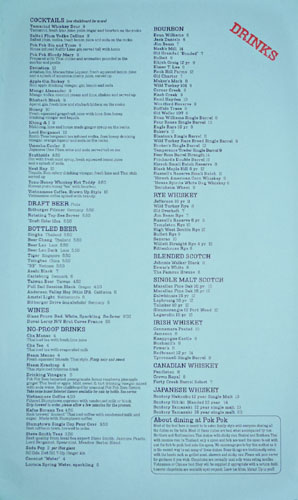 Pok Pok's menu focuses on northern Thai, though the kitchen does deviate quite often (hell, the famous wings aren't even Thai). Most of the items are meant for sharing, and many tend to go well with sticky rice and booze. To drink, you'll find a legit cocktail list, a selection of lighter beers, a couple wines (Ricker doesn't seem to be a practitioner of the
Night+Market
school of pairing wine with Thai), and an impressive selection of whiskies; corkage is a reasonable $10 per bottle. Click for larger versions.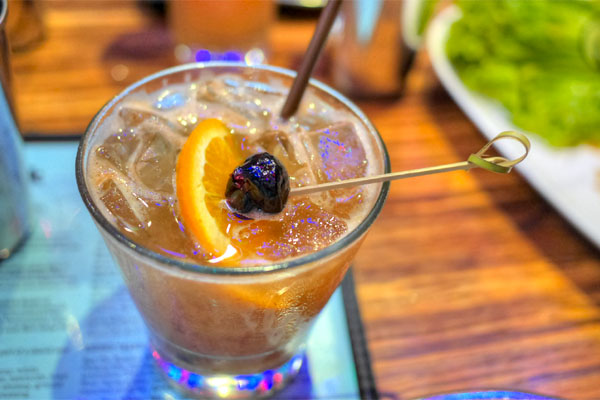 Tamarind Whiskey Sour [$9.00]
| Tamarind, fresh lime juice, palm sugar and bourbon on the rocks.
Since it was my first time here, I had to give Pok Pok's signature cocktail a go. It didn't let me down, conveying a wonderful sweet spice against a balance of tart citrus, all underscored by the boozy weight of bourbon. Definitely worth a try.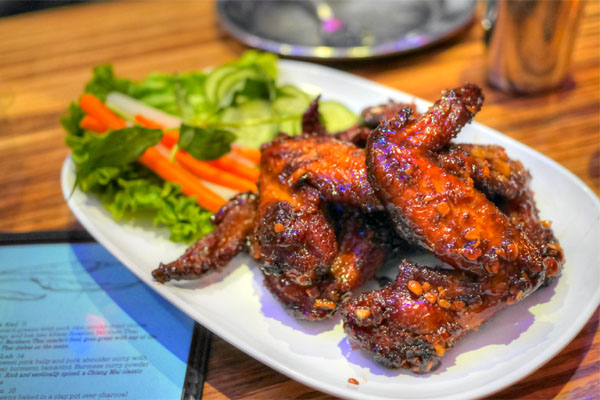 Ike's Vietnamese Fish Sauce Wings [$14.00]
| Half dozen fresh whole natural chicken wings marinated in fish sauce and sugar, deep fried, tossed in caramelized Phu Quoc fish sauce and garlic and served with Vietnamese table salad.
Our signature dish. Based on our daytime cook Ike's recipe from his home in Vietnam.
Naturally, we had to try the restaurant's much-talked-about wings, and it was quickly obvious why they've remained so popular throughout the years. They were largely the work of Ricker's first employee, Ich "Ike" Truong, and helped get Pok Pok off the ground in the early days. The wings were some of the best I've had: succulent and tender, with great crispy caramelized bits and a taste that perfectly commingled the inherent goodness of the chicken with just the right amount of sweetness and umami-laden funk of fish sauce. Accompanying the meat was a Vietnamese table salad--pickled carrots and daikon, cucumber, lettuce--that helped even out some of the strong flavors at play.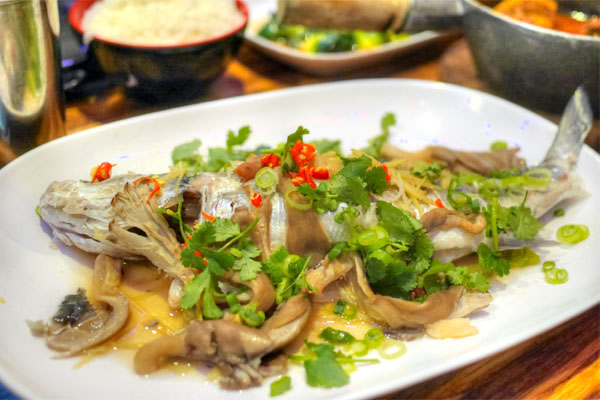 Plaa Neung Buai [$29.00]
| steamed branzino with salted plums
Next was one of the evening's specials, a steamed whole Mediterranean seabass that I found tender, flaky, and delightfully delicate tasting. There were some great herb-y aromatics going on here that really elevated the fish without overpowering it, and I was especially fond of the richness of the mushrooms, as well as the sharp pricks of heat provided by the bird's eye chili.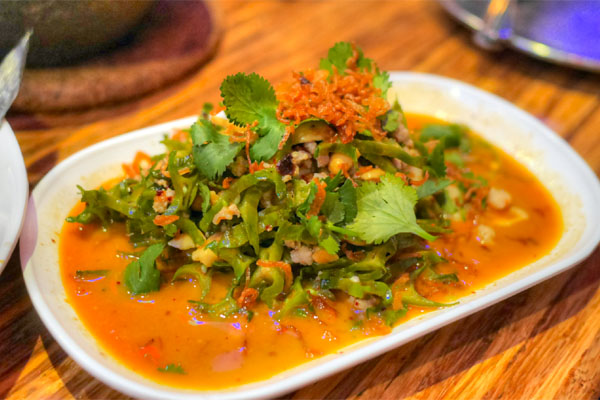 Yam Thua Plun [$12.00]
| wingbean "salad"
Another special brought us a plate of winged beans (
thawphu
), which I liked much more than I thought I would. The dish was super well-integrated and balanced, conveying some really elegant, yet bright and vivacious flavors, and was satisfying texturally as well.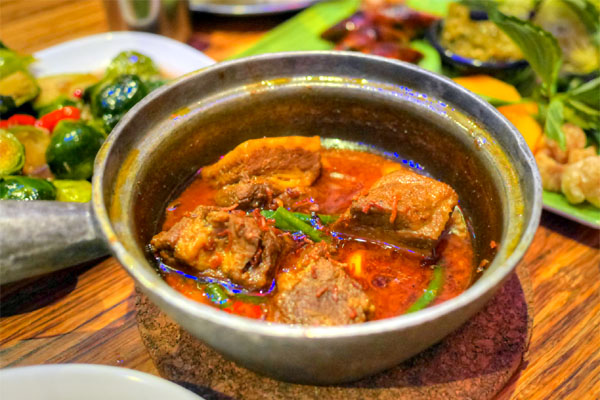 Kaeng Hang Leh [$14.00]
| Northern Thai sweet pork belly and pork shoulder curry with ginger, palm sugar, turmeric, tamarind, Burmese curry powder and pickled garlic.
Rich and exotically spiced, a Chiang Mai classic with Burmese origins.
A Northern Thai stew gave us gorgeous chunks of pork that recalled
hongshao rou
, an explosion of deep, sweet, and savory flavors over a balance of tender, fatty, gelatinous flesh. Comforting and utterly gratifying.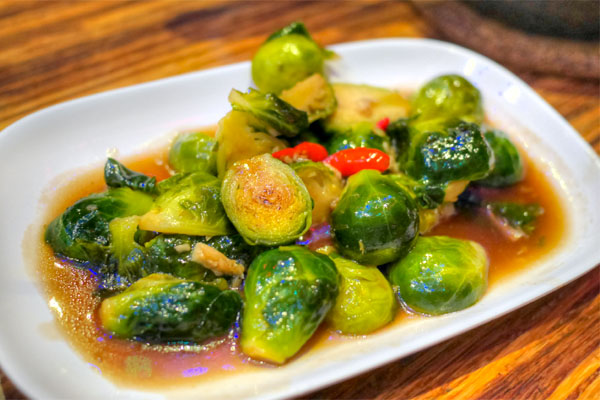 Phat Khanaeng [$9.00]
| Stir-fried brussels sprouts with Thai chilies, garlic, oyster sauce, soy sauce and fish sauce.
I'm quite the Brussels sprouts fiend, and this was certainly a worthwhile rendition of one of my favorite veggies. I was a big fan of the crunchy, satisfying bite on the sprouts, and how their astringency paired with the rich umami flavors present.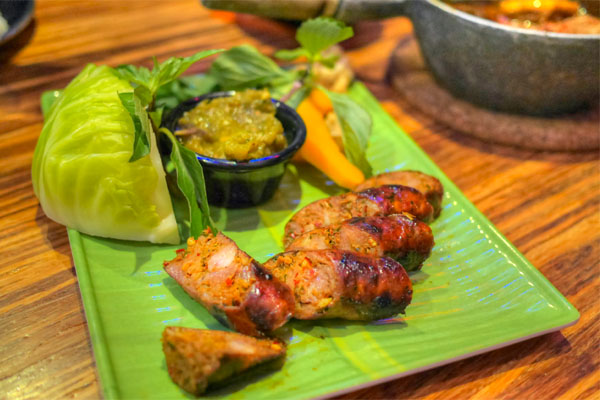 Sai Ua Samun Phrai [$14.00]
| Chiang Mai sausage with herbs, Burmese curry powder and aromatics. Charcoal grilled and served with Naam Phrik Num (spicy green chile dip), Khaep Muu (Thai pork rinds) and steamed crudites.
Rustic and spicy, should be eaten with sticky rice.
Sai uah
's one of my favorite types of tubed meat, and Ricker's was a classic presentation of the style: rustic, gritty, and just teeming with herbaceous, spicy notes that were amped up even more by the heat of the
nam phrik num
, all while the veggies strived to temper the experience.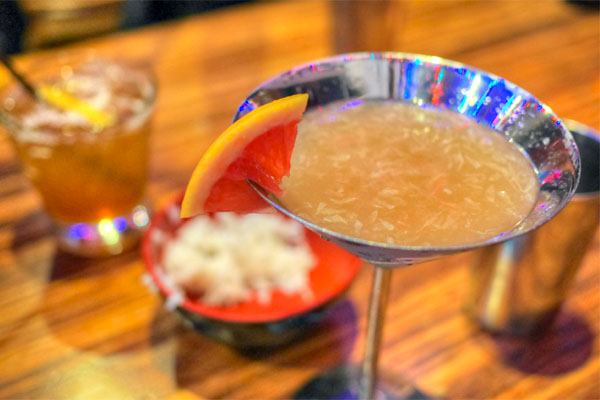 Hunny [$10.00]
| Fresh-squeezed grapefruit juice with lime. Som honey drinking vinegar and tequila.
Our next cocktail featured Ricker's Som drinking vinegar and was quite delicious, giving us a balance between jolts of tart citrus and an undercurrent of honeyed sweetness, the tequila adding just enough gravitas to the mix.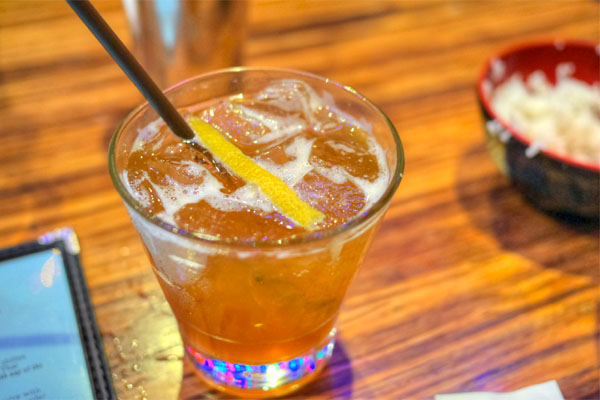 Lord Bergamot [$10.00]
| Smith Teas bergamot tea infused vodka. Som honey drinking vinegar, orange liqueur and soda on the rocks.
This next drink also incorporated drinking vinegar, and displayed some great tea-like aromatics that really enveloped the drink's base of honey and orange.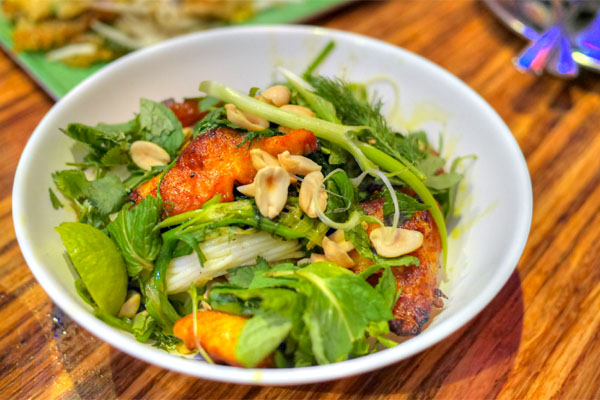 Cha Ca "La Vong" [$15.00]
| Catfish marinated in turmeric and sour rice, fried in turmeric oil with scallions and dill, served on rice vermicelli with peanuts, mint, cilantro and mam nem.
Our stab at the famous dish from La Vong Restaurant in Hanoi, Vietnam.
Ricker returns to Vietnam here with his take on the legendary namesake dish of Cha Ca La Vong restaurant. It was a surprise winner, and quite possibly the best catfish I'd ever tasted. The fish was perfect texturally, and showed off a mouthwatering depth and complexity to it that melded seamlessly with the vibrant, verdant flavors of the various greenery here, all while the rice noodles moderated the entire interaction. Great crunch from those peanuts, too.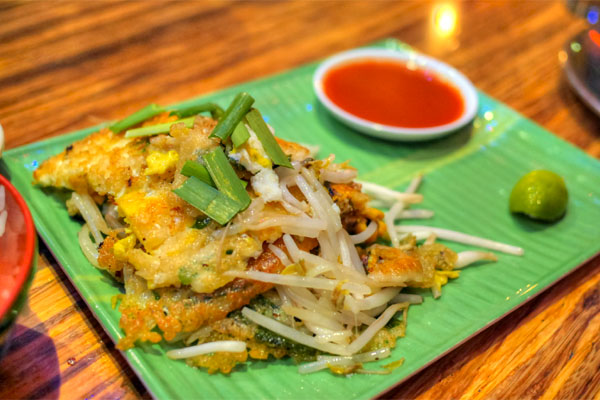 Hoi Thawt [$13.00]
| Crispy broken crepe with steamed fresh mussels, eggs, garlic, chives and bean sprouts, served with Shark Sri Racha sauce.
Thai street vendor's specialty, popular in night markets.
Yet another surprise hit of the night was the crepe, the dish showing off an almost hash brown-esque savor to it that really hit the spot, a perfect stage on which the brine of the mussels could really sing. Countering that was the lightness and crunch of the chives and sprouts, while the hot sauce added a fantastic bit of heat to complete the dish. Excellent--you can almost think of this as the best
banh xeo
that you've ever had.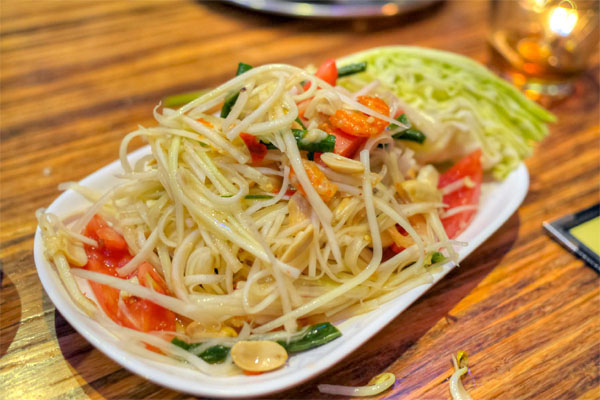 Papaya Pok Pok [$9.00]
| Spicy green papaya salad with tomatoes, long beans, Thai chili, lime juice, tamarind, fish sauce, garlic, palm sugar, dried shrimp and peanut, made to order in the pok pok (mortar and pestle).
Our namesake. Needs Sticky Rice!!
Our final savory was Pok Pok's signature
som tam
, a laudable execution of the classic that gave us a mélange of disparate textures and a flavor profile that brought together sour, sweet, and a creeping undertone of spice with the bright nuances of papaya, the dried shrimp adding just the right amount of funk to the fray.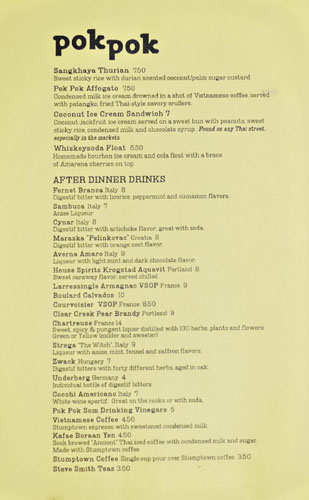 There are only a handful of desserts on offer at Pok Pok, which are joined by a surprisingly lengthy list of digestifs. Click for a larger version.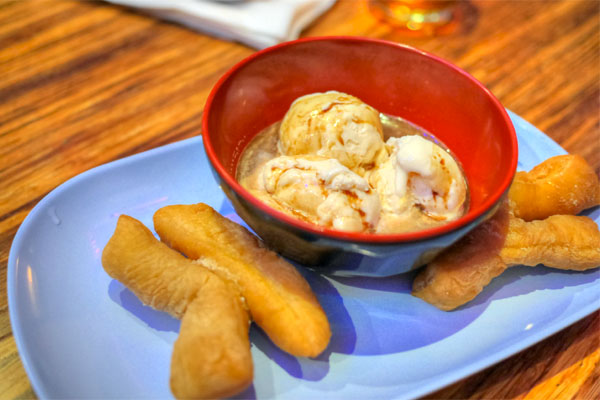 Pok Pok Affogato [$7.50]
| Condensed milk ice cream drowned in a shot of Vietnamese coffee, served with patangko, fried Thai-style savory crullers.
Ricker's
pathongko
were superb with their combination of sweet and savory flavors and crisp bite, and ate very similarly to Chinese style
youtiao
. I thoroughly enjoyed them alone, but the application of affogato added another layer of goodness to the dessert.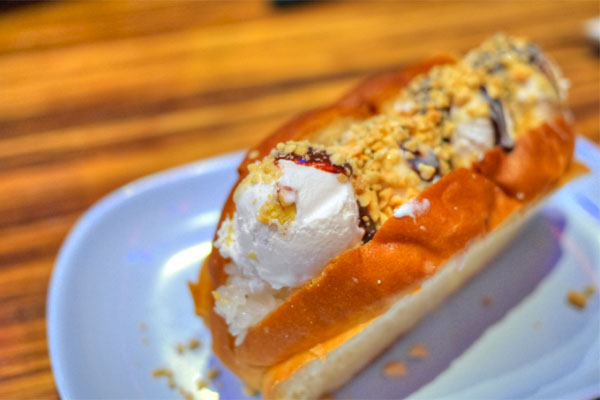 Coconut Ice Cream Sandwich [$7.00]
| Coconut-jackfruit ice cream served on a sweet bun with peanuts, sweet sticky rice, condensed milk and chocolate syrup.
Found on any Thai street, especially in the markets.
We had to end with Pok Pok's ice cream sandwich. What set this apart I think was the jackfruit, which imparted another facet of fruitiness to things that really permeated the dessert. Everything just came together nicely here in sort of a light-hearted, multifaceted sweetness accented by a few savory bits here and there.
Pok Pok was a great introduction to the Portland food scene, and just a great meal in general, one filled with bold, yet balanced flavors that nonetheless managed to convey a certain elegance and finesse that you might not typically associate with Thai cookery. I can see how Ricker's cooking is helping change the face of the cuisine in the States, giving diners a taste of dishes that really weren't represented before, and still aren't for the most part, at least with the dash of bravado you find here. Can't make it to Portland? Kris Yenbamroong's
Night+Market
is like Pok Pok's brother from another mother, and has the benefit of Kris' own unique take on the food to boot.