Pot Bar (Los Angeles, CA)
Pot Lobby Bar at The Line Hotel
3515 Wilshire Blvd, Los Angeles, CA 90005
213.368.3030
www.eatatpot.com
Tue 02/11/2014, 10:25p-11:55p
Regular readers of this blog will know that I don't generally report on bars, preferring to focus my efforts on restaurants and the occasional food event. However, when Matthew Biancaniello teams up with Roy Choi on a project, people tend to take notice, myself included. The two have partnered on the launch of Pot Bar, a new drinking spot set inside the lobby of The Line Hotel in Koreatown and the companion to Choi's forthcoming Pot, a hot pot-focused eatery. Choi is actually heading the entire culinary program at the property, which used to be known as the Wilshire (Plaza) Hotel, and before that, a Radisson. The Line opened up back in January, but the bar made its debut just recently on February 5th.

The Line is the work of the Sydell Group, the firm responsible for The NoMad in New York, as well as Ace Hotels in NYC and Palm Springs (though curiously not the outpost that just opened up across the street from
Alma
). They've completely updated the entire entrance lobby area, the whole space revamped by Sean Knibb, who also did
A-Frame
,
Sunny Spot
, and
Littlefork
. You have this, admittedly very neat maze of hard-edged banquettes and circular-yet-pentagonal booths at the front, while the bar, supposedly modeled after a high-end example typical of Seoul, resides in the back. The bar also takes on the pentagonal theme, and features various tchotchkes sprinkled about: plastic army men, bags of chips, Slim Jims, even a box full of Yeezy-esque shutter shades. Perhaps the most notable are the squirt guns, which I'm told will be used for a sort of "bottle service" wherein they'll be filled with booze.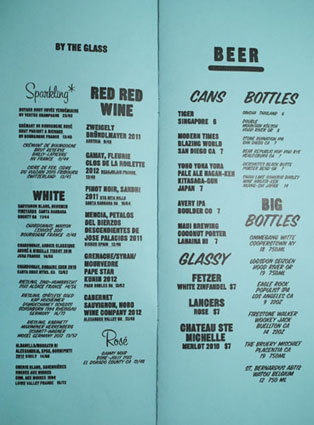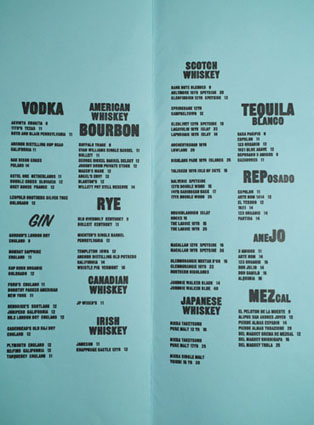 Now obviously, the headliners here are Matt Biancaniello's cocktails, which Choi pretty much allowed him free rein on. The first column lists the original creations, which are the sort of cutting-edge, unexpected, and often times whimsical types of drinks that Biancaniello's known for. However, they're also joined by his reimagined takes on cocktails ostensibly popular during the 1980's, and which, I've heard, are still hot in Seoul. If cocktails aren't your thing, there's a pretty good selection of beers as well, even Hite (this
is
K-Town after all), and the wine list isn't too shabby either, save for perhaps the Fetzer white zin (a wise choice if your Asian mom drops in, I guess). Rounding things out are a few sakes, shochus, and a nice array of high quality spirits if you're in the mood for something more basic. Click for larger versions.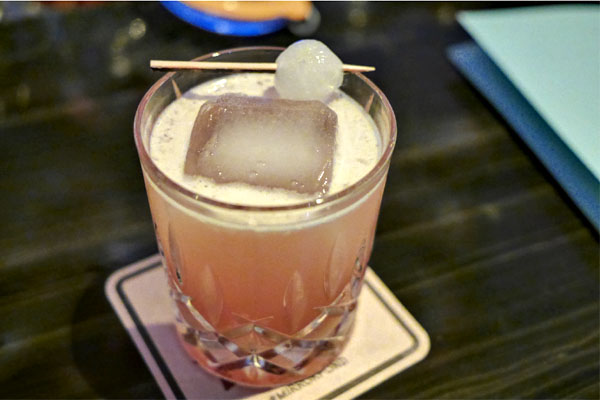 Soju - Curry [$13.00]
We began with a trio of soju-based cocktails, which Biancaniello is particularly proud of, and for good reason. Things got off to a very strong start with the curry version, which contains a homemade 21-spice blend acquired from a friend, Cabernet Franc pickling liquid, lemon, agave, and a cocktail onion on top. The curry essence here was pretty incredible in its complexity and intensity, giving us a savory, spicy, Southeast Asia-tinged, super aromatic quality that paired great with the pickle-y notes in the drink, all while a restrained undercurrent of sweetness brought it all together. Interestingly, my drinking companion even likened the sensation here to a pickleback (whiskey chased by pickle brine).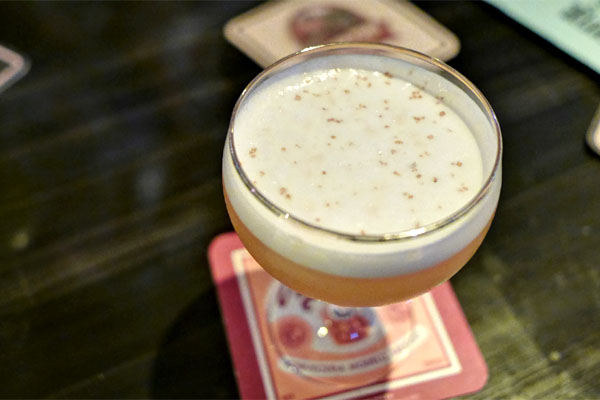 Soju - Kimchi [$13.00]
This next cocktail, meanwhile, might appeal to the kimchi lovers in the area, of which I suspect there are many. The most prototypical of Korean ingredients came with ghost pepper sea salt and custom-made durian bitters produced by
Drunken Crane
. The result was quite something, a delectable base of kimchi tartness balanced by a permeating bittersweetness in the drink (I believe from the use of Salers and Chareau), all finished by a garlicky sensation on the back end.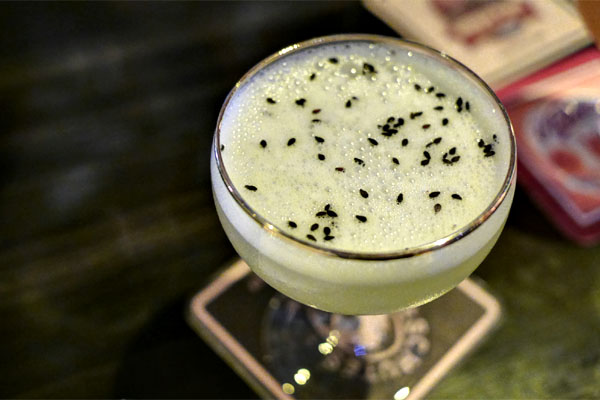 Soju - Natto [$13.00]
Last up in terms of the soju cocktails was the natto version, arguably the most daunting of the trio and comprising cucumber gin, agave, lime, and black sesame. I've never been a fan of the fermented soybean, but ended up really enjoying the drink. You get that funky, ferment-y depth you'd expect, but the use of cucumber here really tempered the heft of the ingredient, making for an eminently balanced, well integrated, easy going libation.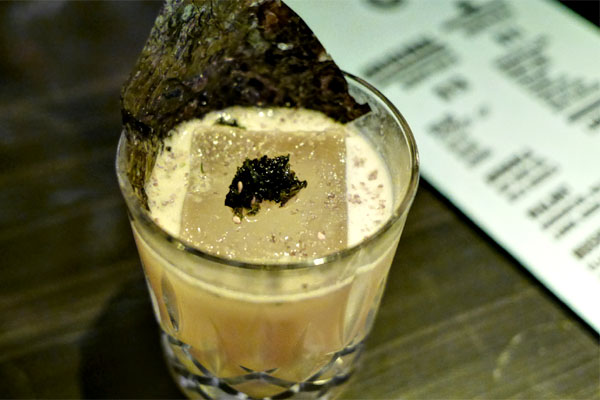 Uni [$13.00]
| 123 Tequila Reposado, Nori, Cumin
Here we come to the cocktail that I suspect will be the one that everybody's going to be talking about. It's a reworking of a drink that Biancaniello originally created for one of the
Ceviche Nights
over at
Mo-Chica
back in late 2012, and is made with Santa Barbara uni that's sous vide'd, puréed, then combined with cumin simple syrup, roasted nori, lemon, and the tequila. The drink perhaps best exemplifies what the bar program here is all about, and is probably much more subtle than you'd expect. Things lean toward sweet and spicy initially, but then the creamy, ocean-y nuances of the uni come through more toward the close, lingering long while moderated by the umami-rich relish of the seaweed, which permeates the entire cocktail and forms a natural complement to the roe.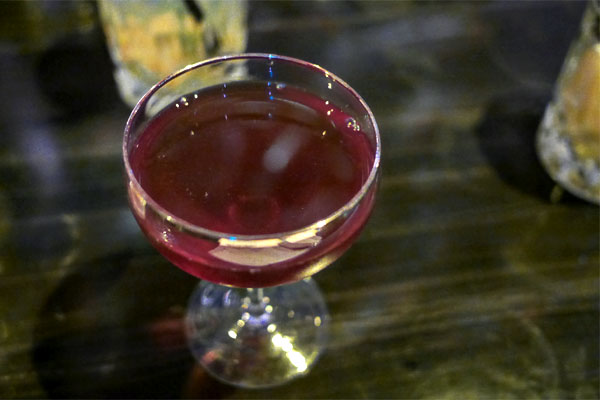 Mushroom [$13.00]
| Elijah Craig 12yr, Shitake, Cynar, Carpano Antica
Biancaniello's exploration of umami went even further in this cocktail, which can be likened to a version of Audrey Saunders' Little Italy, but with shiitakes. It's a drink that first appeared at the Library Bar, and one that makes great use of Cynar. The vegetal bittersweetness of the liqueur made itself known to great effect at first, but eventually gave way to a growing sensation of mushroom, a savoriness that just kept going and going.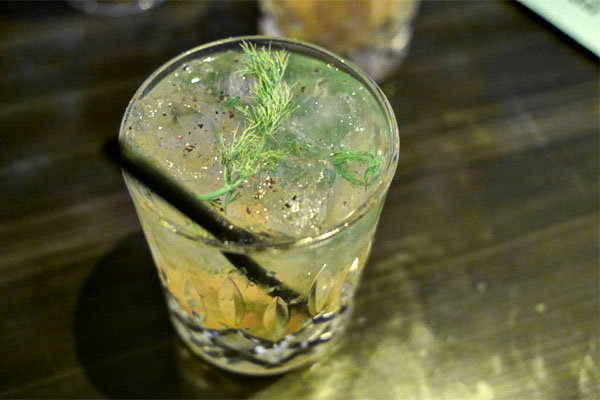 Mezcal & Tonic [$13.00]
| Pierde Almas Espadin
Mezcal seems to be the spirit
du jour
these days, and here it arrived accompanied by tonic and a mish-mash of dill, lime, olives, kumquats, and pearl onions. I appreciated how the inherent smokiness, the depth of the liquor was proudly conveyed, yet smartly complemented by the sweet, savory notes in the drink. I especially loved that dill, which provided an unexpected counterpoint that really sang with the mezcal.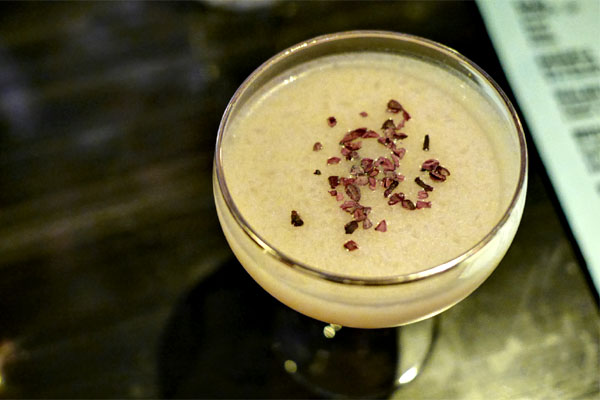 Walnut [$13.00]
| Benedictine, Walnut Oil, Lemon, Cacao Nibs
Bénédictine formed a superb base to this next cocktail, which I believe originally appeared at Library Bar under the name Nutty Monk. Talk about smooth and slinky, the base of liqueur seamlessly incorporated--an alluring concoction that played nutty, sweet, and bitter off each other admirably, the entire experience punctuated by the astringent crunch of cacao.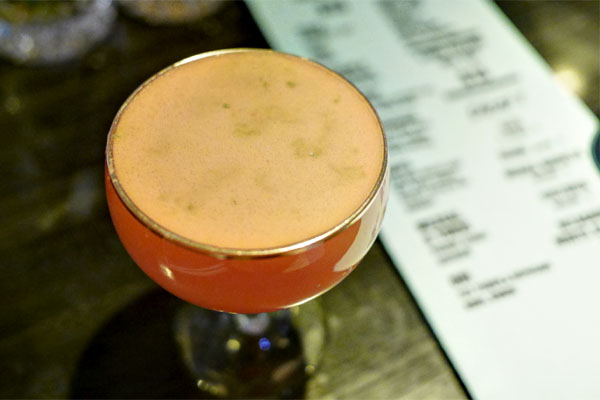 Hops [$13.00]
| Anchor Distilling Hop Head Vodka, Carrot
The last of Biancaniello's originals brought us one of the most approachable cocktails on the menu. A creamy, lush sort of drink, this one did a commendable job displaying the sweetness of the carrot against the hop notes present, all while some zesty, citrus-y notes overarched the entire experience, making for some great aromatics.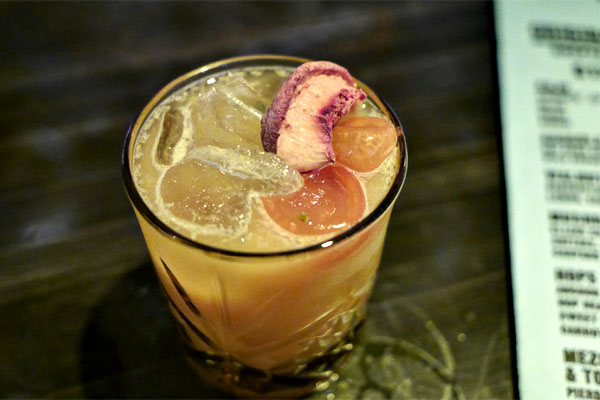 Fuzzy Navel [$11.00]
At this point, we transitioned to Biancaniello's revised takes on the cocktails of my childhood. A classic Fuzzy Navel is composed of peach schnapps mixed with OJ, but tonight's had peach and apricot liqueurs, passion fruit concentrate, candied and muddled Meiwa kumquats, lime, as well as dehydrated peach. It was easily the sweetest drink of the night, yet not cloyingly so, with an intoxicating nose of candied fruit and a creeping sugariness on the palate that reminded my drinking companion of a Fruit Roll-Up!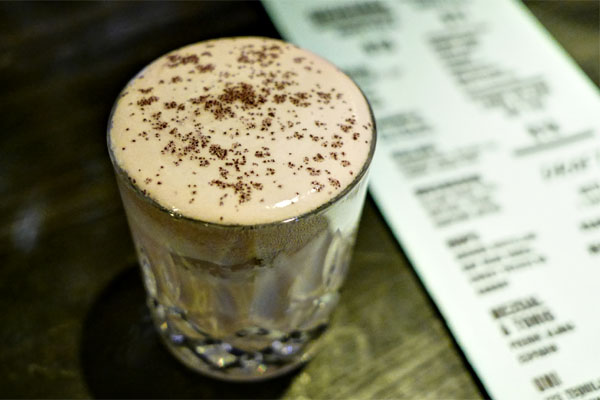 White Russian [$11.00]
Three ingredients comprise a traditional White Russian: vodka, cream, and your choice of coffee liqueur. Biancaniello, ever his creative self, instead incorporates a candy cap-infused vodka, cream, Kahlúa, Kahlúa foam, and grated espresso beans. This one was unquestionably the most dessert-y of our cocktails, showing off a wonderful aroma of coffee intermingled with deliciously sugary notes from the mushroom and just a hint of booze. We commented that this would be great as an ice cream.
Long Island Ice Tea [$13.00]
The Long Island is perhaps one of the most ratchet of cocktails, a particularly boozy concoction usually containing vodka, rum, tequila, and gin, along with triple sec. Biancaniello's interpretation brought us mezcal, aquavit, Smith & Cross rum, Batavia arrack, blood orange-infused CapRock gin, blood orange soda, and lemon, all finished with chunks of aloe vera on the bottom. The ingredients really came together better than they sound like they should, and I loved the anise-y flavors from the aquavit, which really accentuated the myriad of flavors going on here. Even better, though, was the aloe, which imparted a floral sort of sweetness to the drink and made for a fun time when sucked up through the thick boba straws. Intriguingly, I was told that this will eventually be served on tap.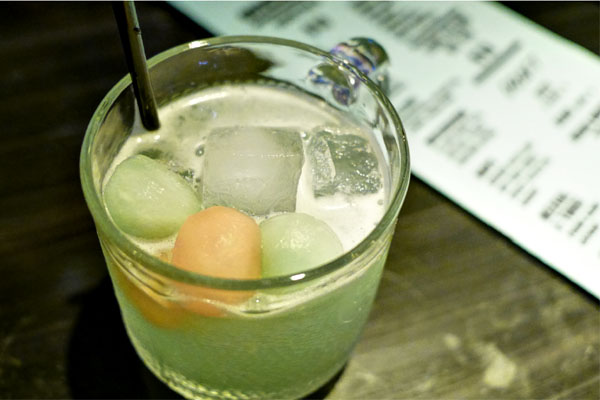 Midori Sour [$11.00]
We wrapped up our evening with Biancaniello's riff on the Midori Sour, which typically contains Midori muskmelon liqueur and some sort of sour mix. Instead, we had Midori (of course), along with vodka, lemon, lime, grapefruit, agave, yuzu, and green Chartreuse. Now, the classic drink is usually overly sweet, so I was a fan of how the Midori was really evened out by a palpable bit of sourness. I was also a fan of the serving vessel here, sort of a large beer mug type of thing, and interestingly, I'm hearing that this drink will eventually be served with flaming melon balls(!).
The drinks tonight were an unmitigated success, some of the best stuff that Biancaniello's put out thus far. Roy Choi wanted him to push things with the menu at Pot Bar, and he delivered in a big way, giving us robust, inventive cocktails with layered, multifaceted flavors that flitted and evolved on the palate. You had all the complexity, the nuances and subtleties, the unique combinations that Biancaniello's known for, but with a big dose of fun and whimsy that's really a perfect fit for this environment. There's no question that this is an absolutely must visit for all your cocktail enthusiasts out there.
But wait...there's more. In addition to the bakery-
cum
-cafe going in on the ground floor, as well as Pot proper, Choi is working on the veggie-focused Commissary upstairs, which will have its own garden. Biancaniello is probably going to be slanging his trademark farmer's market-style drinks there, and it'll likely be an even more intimate setting that'll allow for even more elevated cocktails. That'll be one to watch out for, and of course, he's still working on his own place somewhere on the western edges of the City where he can do his
omakase
-style tastings. More to come...