Barbershop Pop-Up (Los Angeles, CA) [2]
Barbershop Ristorante Pop-Up at The Farmer's Kitchen
1555 Vine St, Hollywood, CA 90028
424.272.5849
www.barbershop-ristorante.com
Sat 02/15/2014, 07:05p-09:30p
I think LA has largely gotten over its pop-up fascination with the passing of
LudoBites
, but certainly one of the most persistent examples over the past year or so has been Barbershop. It's the work of Chef Walter El Nagar, an Italian native who previously cooked at the likes of
Il Grano
,
Piccolo
, and
La Botte
. He started out in December 2012 at the
Il Covo/new A.O.C.
space, then transitioned to the now-shuttered La Petite Crêperie in Mar Vista (replete with guest chef
Morihiro Onodera
) before relocating to the
old
A.O.C.
space (with guest chef
Kevin Meehan
) for the third incarnation. Version 4.0 was supposed to be held at Axe, but had to move down the street to Local 1205; guest chefs there included
Ori Menashe
and Sergio Perera and Jacob Kear from
The Amalur Project
.
This fifth, most recent installment took El Nagar further east to The Farmer's Kitchen, located on the ground floor of the Sunset + Vine apartment complex. The series ran from January 22nd to February 15th, and for this iteration, the Chef was assisted in the kitchen by the Brazilian-born Fernando Darin, who's best known for his stint at Kitchen Table in Downtown (which closed before I could visit), as well as Aaron Ziegler, who's best known for his stint on the Graham Elliot-hosted reality cooking show
Covert Kitchens
(which lasted for all of one episode). Meanwhile, the Chef's wife, Alysia El Nagar, took charge in the front-of-the-house, while Guido Zwicker assumed the role of "curator," which I guess means that he's the money man-slash-marketing guru.

The typical Barbershop menu ran $95 for nine-courses, while drinks were a strictly BYOB affair (with no corkage). However, we had a variation of the longer Valentine's Day menu (even though we dined on Singles Awareness Day instead), which came in at $125. Click for a larger version.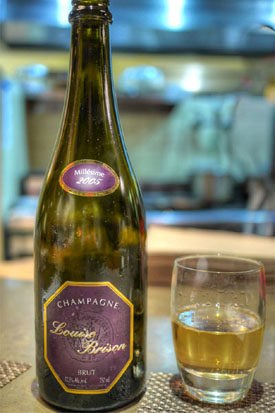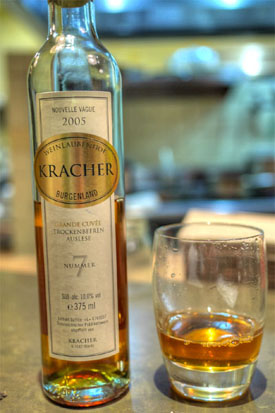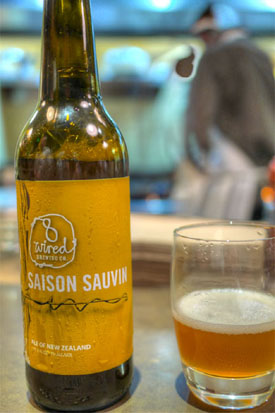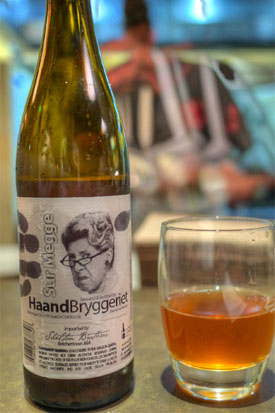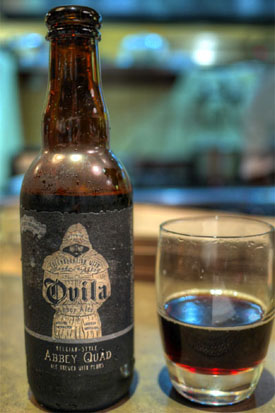 We, of course, took full advantage of the BYO policy and brought along a few bottles to share:
2005 Louise Brison Champagne Brut
,
2005 Alois Kracher Grande Cuvée TBA #7 Nouvelle Trockenbeerenauslese
,
Timmermans Lambicus Blanche
,
8 Wired Saison Sauvin
,
HaandBryggeriet Sur Megge
,
Beachwood 7
, and
Sierra Nevada Ovila Abbey Quad With Plums
.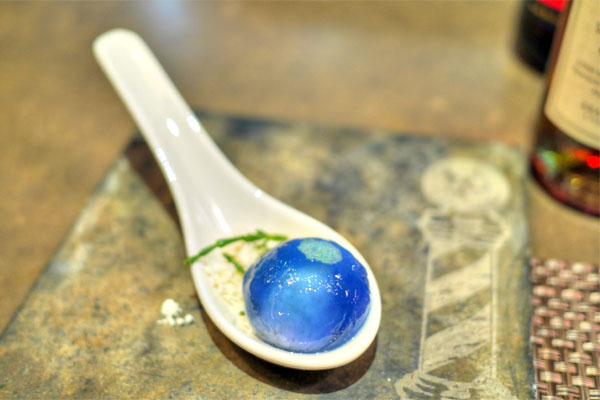 1: Oyster & Foie
Our amuse bouche brought us a lone Shigoku, encased in a sea water spherification, along with foie gras powder and sea bean. There was a very strong salinity to the course, too strong in fact, and it almost gave the sensation of downing straight saltwater. The oyster was a bit lost in the mix, and though the foie did help moderate things, I really wanted more of it.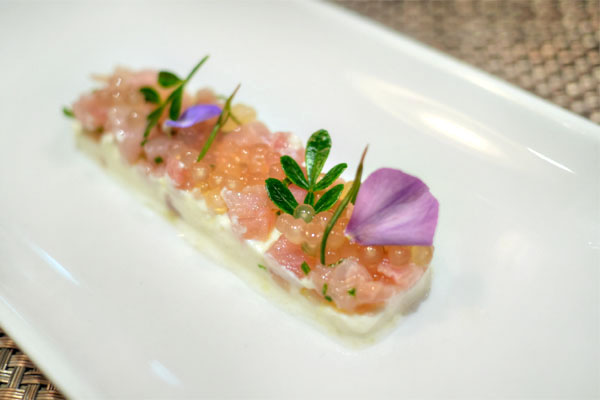 2: Buri & Uni
The next course lacked one of its headlining ingredients (I guess the uni wasn't of good enough quality), but still managed to work out rather well. The commingling of lush ricotta and fatty hamachi was an unexpected but effective combination, the creaminess of the cheese really melding seamlessly along with the fish. At the same time, I appreciated the pops of savoriness from the dashi tapioca, all while the seagrass and
kinome
(leaves of Szechwan pepper) imparted a great zestiness to the mix.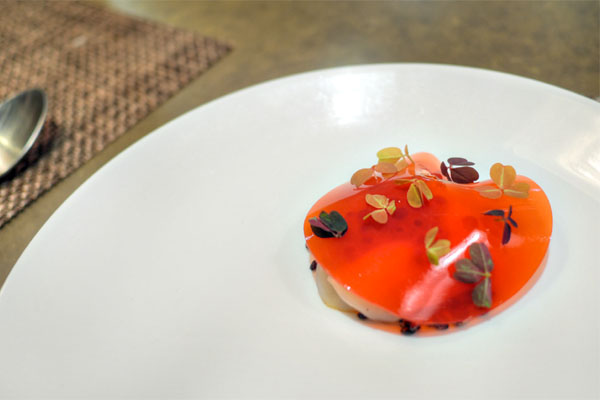 3: Venus Rice & Berries
A standout for me was this dish of Hokkaido scallop, salmon roe, and puffed
Nero Venere
rice, tarped with a sheet of raspberry gel and plum sorrel. I loved the savory crunch of the rice when taken against the clean, creamy scallops, all while the
ikura
imparted a delightful smoky character to things. If that wasn't enough, the raspberry gel gave the course a further textural complement, and provided a restrained, lingering sweetness that complemented the bivalves beautifully.

Our vantage point at the counter gave us a great view of all the action going on in the kitchen.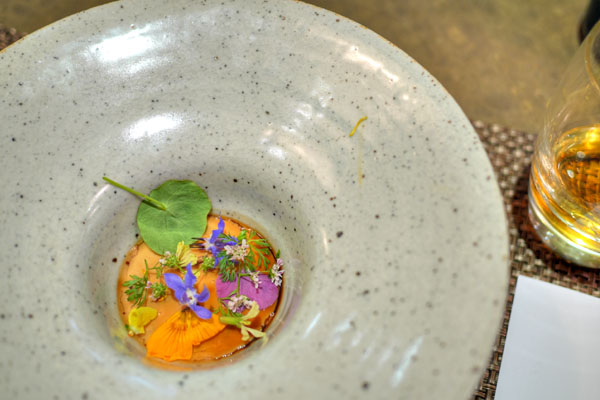 4: Foie Gras & Saba
Foie gras was made into a thick custard, drizzled with
saba
(grape must syrup), and dotted with coriander, borage, Sichuan pepper, and nasturtium, the presentation reminding me a bit of the "Ugly Bunch" dish at
Providence
. Looks aside, it was a delicious amalgamation, the hefty, livery sweetness of the foie working gorgeously against pin points of bright, vivacious piquancy, those herbaceous flavors really doing a wonderful job uplifting the palate.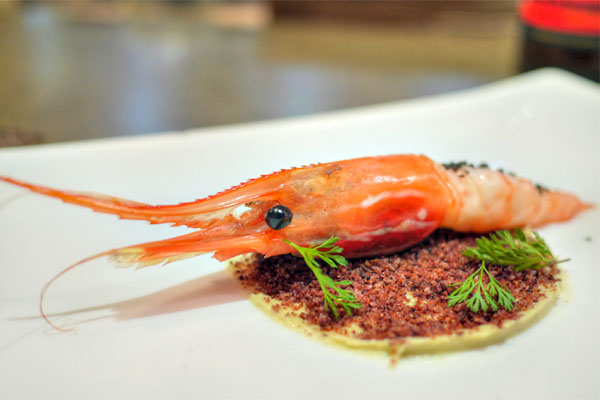 5: Prawn & Olive
A singular spot prawn was clean, crisp, and supple to the bite, its ocean-y savors a surprisingly effective pair to the accompaniments of cardoon, artichoke, and olive powder. Some very neat flavors going on here, with the light, yet somehow earthy nuances of the veggies evening out the brine of the shrimp super effectively.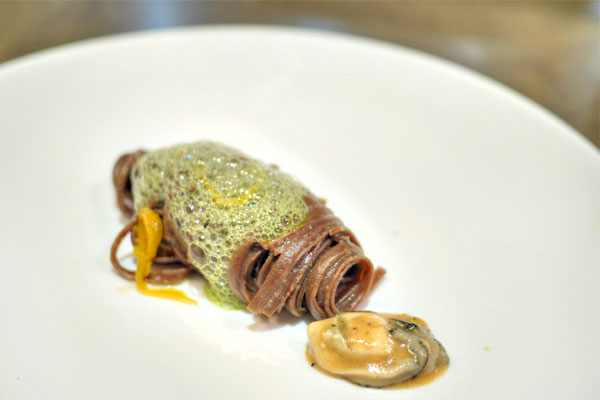 6: Ink & Lemon
A tangled roll of black garlic pasta came with lemon, chickweed, and oyster. There was a lovely texture on the pasta, and its taste was almost mushroom-y initially, but eventually led to more garlicky notes, ones smartly set off by the citrus-y flavors present.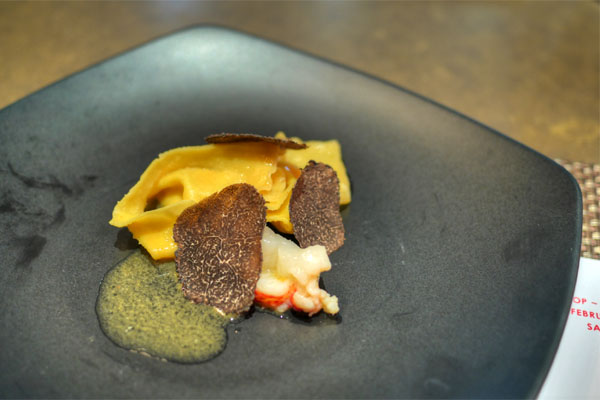 7: Lobster & Apple
Lobster arrived beautifully cooked, still snappy and crisp, its sweetness on vibrant display along with the sugary, buttery notes of the apple-stuffed ravioli(?), all while slices of truffle added an veil of deep, earthy flavors to the entire experience.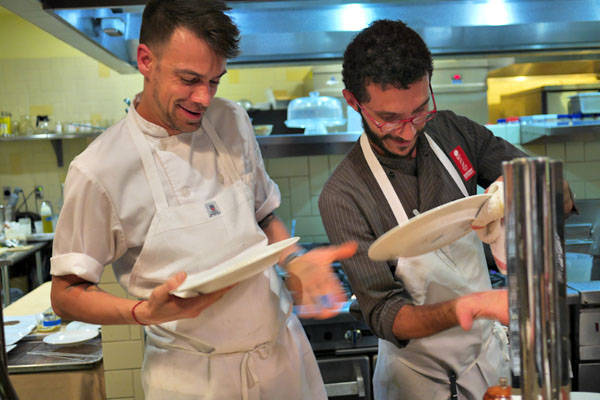 Fernando Darin joined Chef El Nagar in slapping the risotto into submission.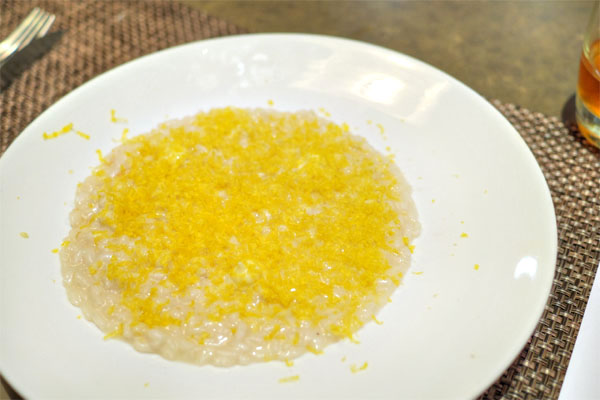 8: Lemon & Egg
The spanking paid off apparently, as the Acquerello Carnaroli risotto was one of my favorites this evening, and one of the most memorable preparations of the dish I've had. I'd never tasted a risotto quite like it before. You had smoked rice, Meyer lemon, and shavings of cured egg yolk on top. The interaction between the weighty yolk and tart lemon was masterful, and paired perfectly with the savory, slightly smoky, well-textured base of rice. This is one to get for sure.
Extra: Ibérico & Green Onion
Next up was a "bonus" course of
jamón ibérico de bellota
, and not just any
ibérico
, but the "secreto," a highly-desirable cut from behind the shoulder blade of the hog. Served here with shishito and green onion, it was one of the tastiest presentations of pork I've eaten in a long while. Cooked properly rare (and almost not looking like pork), it conveyed a wondrous texture along with a fantastic hammy depth of flavor, one that was faultlessly matched to the counterbalancing astringency of the greenery. Excellent.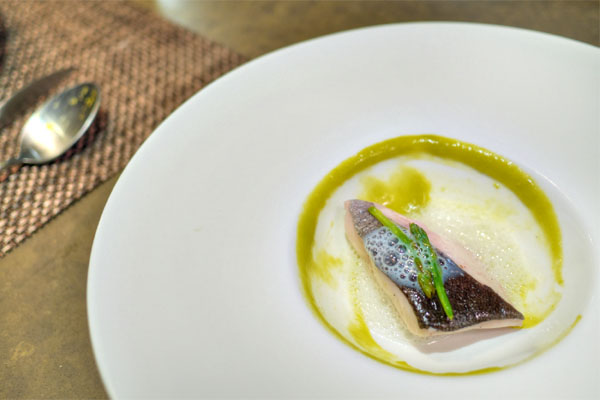 9: Cod & Chocolate
Cod, unfortunately, didn't work out quite so swimmingly. Texturally, it was almost disconcertingly gelatinous, and in terms of taste, there wasn't much to it, the fish seeming almost underseasoned. There was a slight bit of sweetness from the chocolate bubbles that helped, along with the saline notes from the sea beans and the asparagus, but that wasn't enough to salvage the dish.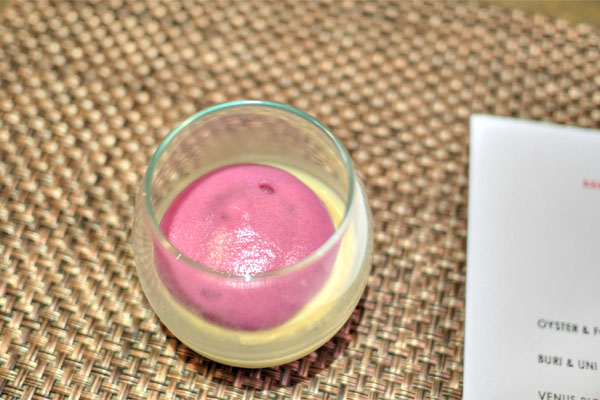 10: Ginger & Carrots
With the savories done with, an intermezzo of sorts brought out a ginger panna cotta underneath a dollop of purple carrot foam. I found the panna cotta creamy and surprisingly dense, but very effective, affording us a great new way to experience the classic combo of carrot and ginger.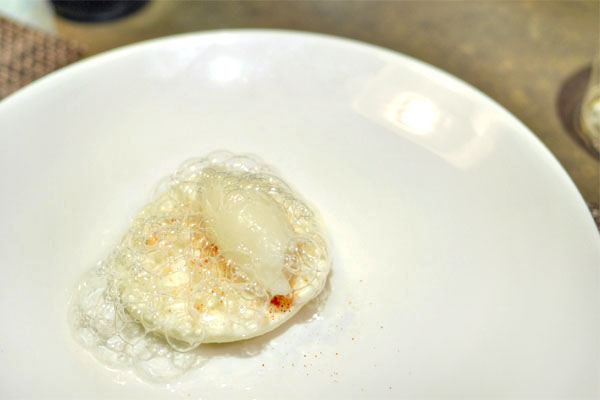 11: Frozen & Hot
Dessert proper comprised sweet lime sorbet, mascarpone, bergamot air, and cayenne pepper. It was a fun, yet smart course, a commixture of sweet and sour sensations and disparate textures, all finished with a delightful tinge of heat.
Based on our experience tonight, it's clear to me that El Nagar has upped his game in the year since I last dined with him. Save for the couple of misses on the menu, flavors were more robust, more nuanced, and there was a palpable confidence and focus in his cooking that really appealed to me. It's a style of Italian cookery that no one else has really attempted around these parts, and that is to be lauded. As for the Chef's next steps, it's my understanding that this was the last Barbershop pop-up, with the permanent
ristorante
coming to the Santa Monica area in the coming months, so be on the lookout for that.