The Bellwether (Studio City, CA)
The Bellwether Restaurant
13251 Ventura Blvd, Los Angeles, CA 91604
818.285.8184
www.thebellwetherla.com
Thu 02/01/2016, 08:30p-11:00p

The last time we caught up with Ted Hopson, the Chef was still running things over at
Lukshon
. However, he ended up leaving Sang Yoon's side in March 2014, and we were left wondering what his next step would be. Perhaps not surprisingly, he started working on his own place, teaming up with sister-in-law Ann-Marie Verdi, the former
FO
GM who cut her teeth at
Haven Gastropub
and its brewery offshoot in Pasadena. The Bellwether thus opened last August, dishing up seasonal-slash-modern American fare with Chef de Cuisine and LA native John Cho (
Commis
in Oakland,
Eveleigh
, Water Grill, Three Stone Hearth in Berkeley) managing the day-to-day.

If you recall, the former home of Olé Tapas Bar, Tournesol, and Portofino was supposed to turn into a Spacecraft-designed gastropub by the people behind Stout. However, that never came to pass, and instead the building's been redone for The Bellwether by the prolific Ana Henton, whose body of work encompasses
Love & Salt
,
Aestus
,
Ración
, Lukshon, Corkbar, and
BreadBar
. It's a clean-looking space that seats around 70, centered around an open kitchen of course. There's also an outdoor dining area that adds an additional two dozen-ish seats along Ventura.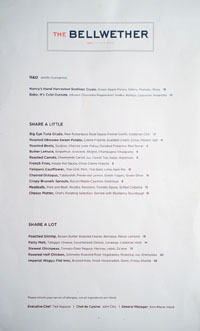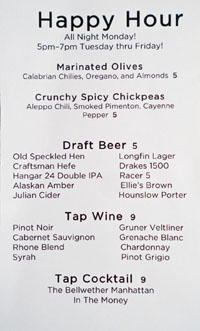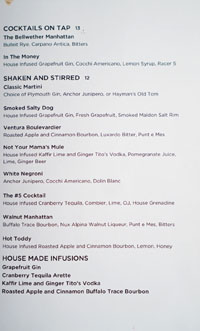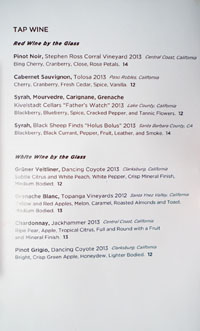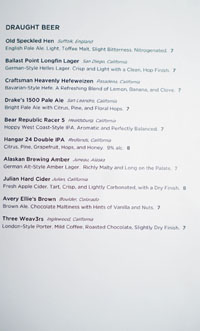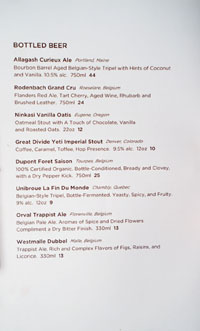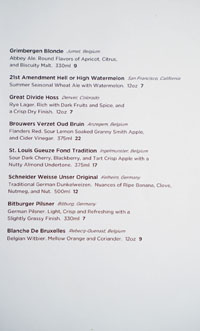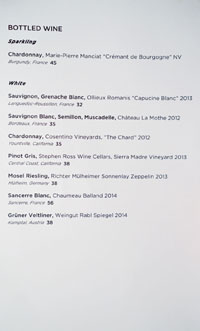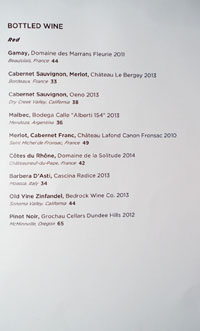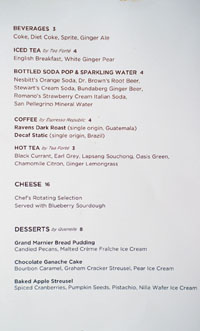 The Bellwether's menu could be described by some as Cal-eclectic, featuring share-focused plates in smaller and larger formats, plus an R&D section with some more experimental selections. To drink, Verdi's put together a classically-inspired cocktail list, complete with two on draft. There are also 10 beers and eight wines on tap, and a decent number more in bottles. Corkage is $20, though the organizer of the dinner was able to have the fee waived (of course we made sure to share generously with the staff). Click for larger versions.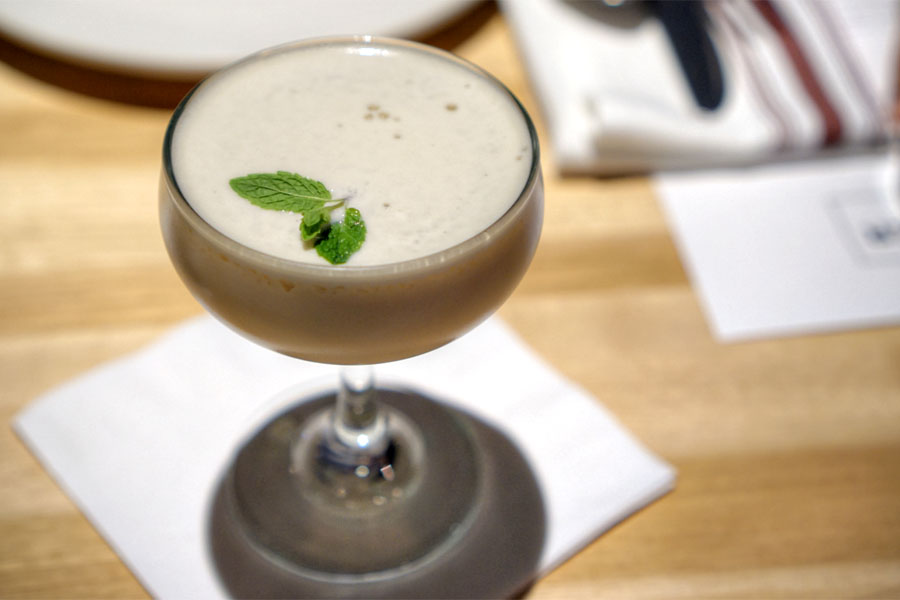 Baby, It's Cold Outside [$12.00]
| Infused Chocolate Peppermint Vodka, Baileys, Lazzaroni Amaretto
Our first cocktail was certainly appropriate given the chilly weather this evening. It delivered in more than just the name though, with massive amounts of sugary, spicy, minty flavors finished by the lushness of Baileys while the amaretto added a sweet nuttiness to the drink. Delish.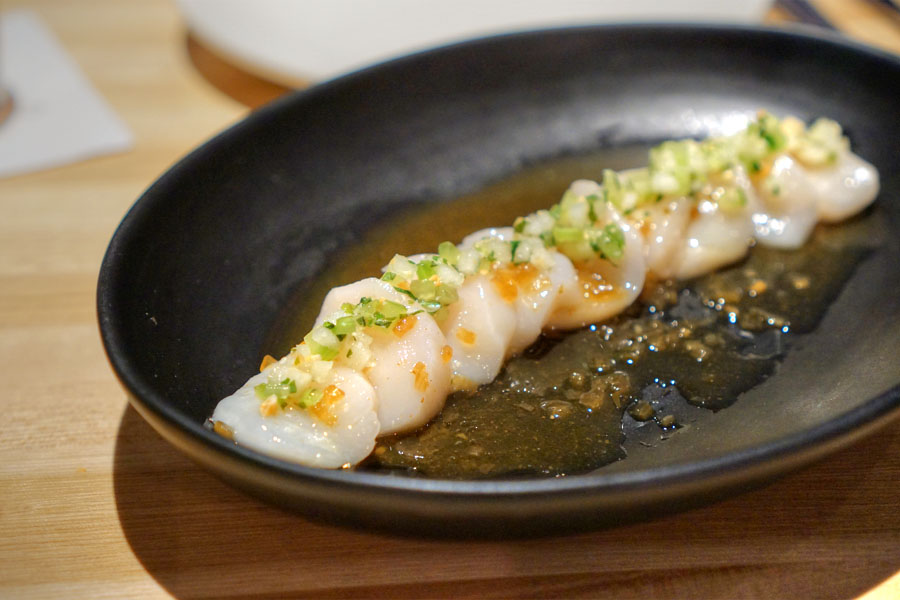 Nancy's Hand Harvested Scallops Crudo [$18.00]
| Green Apple Ponzu, Celery, Peanuts, Shiso
Scallops were clean, briny, beautifully-textured, a perfect pair to the tangy, savory, Asian-y punch of the ponzu. The sauce imparted a depth to the seafood, and I loved the additional brightness from the veggies and subtle salt from the peanuts. A strong first course.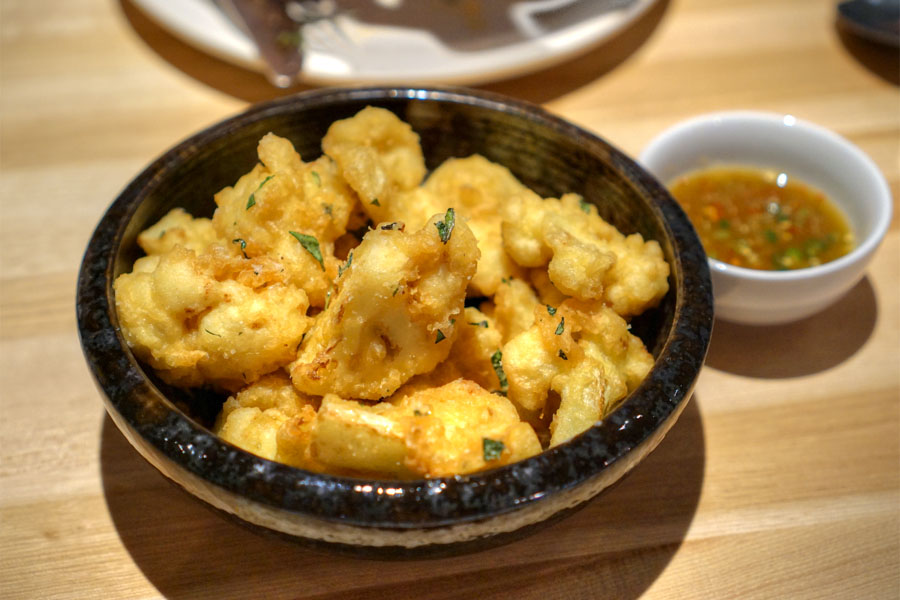 Tempura Cauliflower [$12.00]
| Thai Chili, Mint, Thai Basil, Lime, Nam Pla
Cauliflower was a must-get for me: crisp-yet-spongey, well-spiced, tasty little nuggets, tarted up by the funk of that fish sauce. A bit reminiscent of the version
Bryant Ng
once had at
The Spice Table
, actually.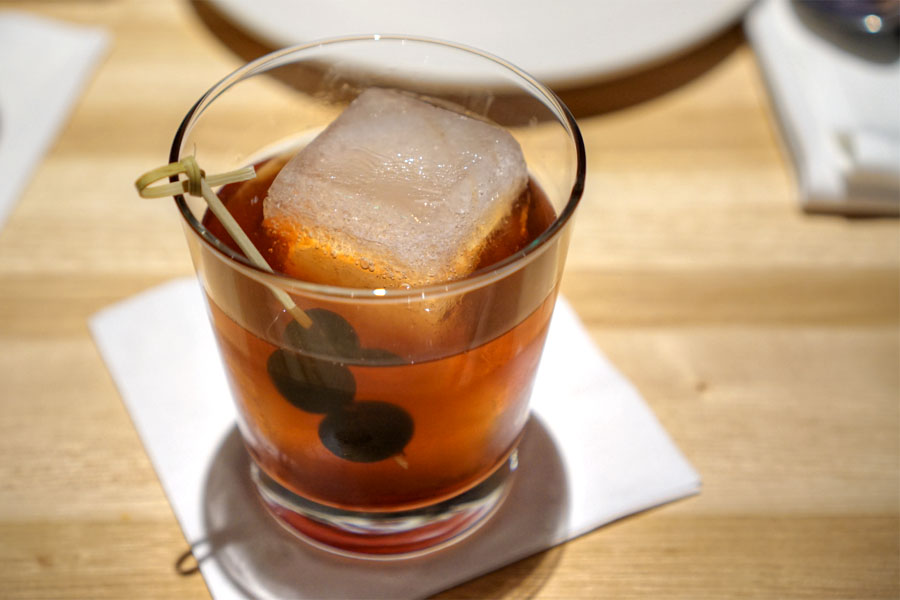 The Bellwether Manhattan [$13.00]
| Bulleit Rye, Carpano Antica, Bitters
The restaurant's signature Manhattan hit the right notes, a super smooth, easy-drinking presentation of boozy, bittersweet, spicy flavors. Really well-integrated.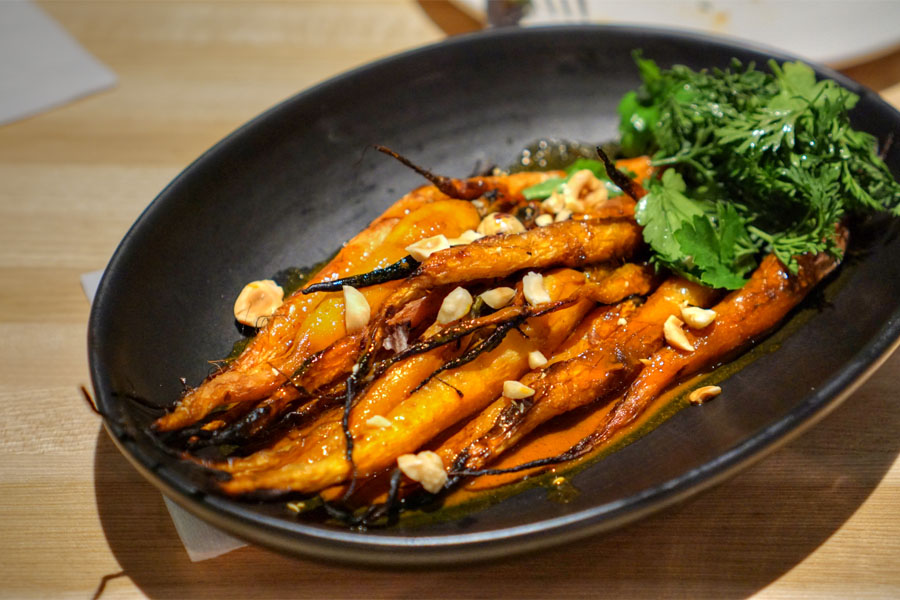 Roasted Carrots [$9.00]
| Chamomile Carrot Jus, Carrot Top Salad, Hazelnuts
Carrots were well-charred, their inherent sweetness augmented by chamomile while hazelnuts and greens provided a necessary counterpoint in the dish.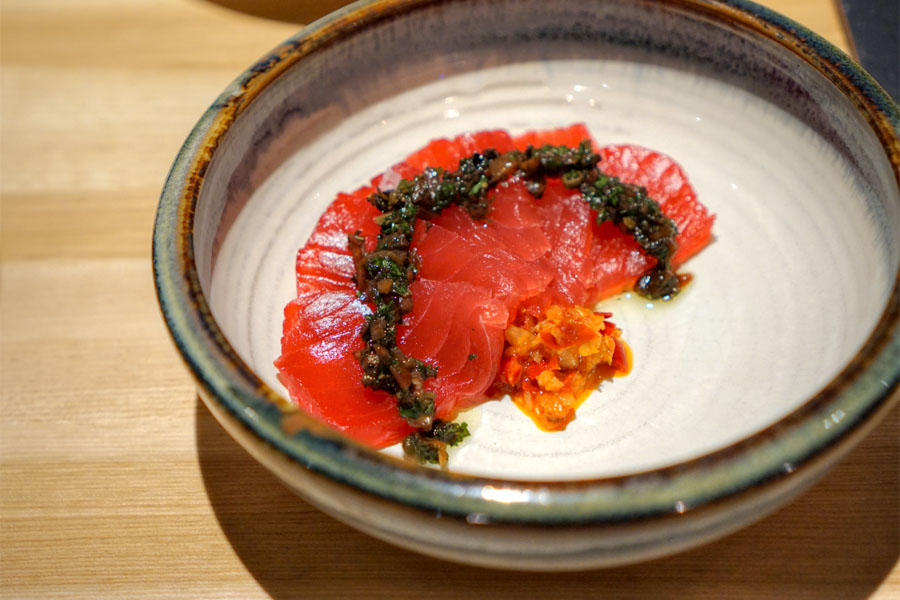 Big Eye Tuna [$13.00]
| Raw Puttanesca Style Sauce, Fennel Confit, Calabrian Chili
Tuna was sticky to the bite, with clean, lean flavors that matched flawlessly with the salty, spicy depth of its condiments. Pretty neat.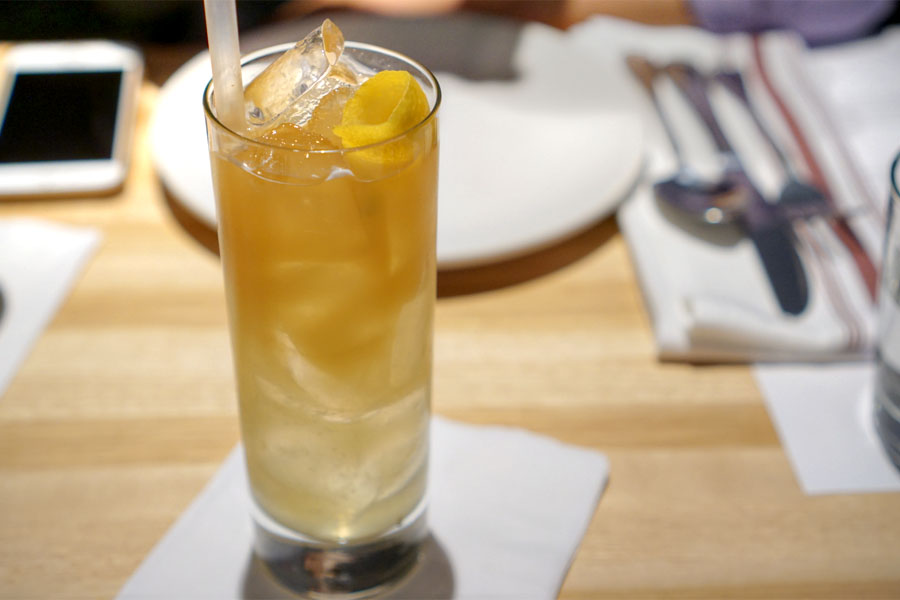 In The Money [$13.00]
| House Infused Grapefruit Gin, Cocchi Americano, Lemon Syrup, Racer 5
The second draught cocktail conveyed a floral, almost candied sweetness at first blush, tempered by lemon-y notes, while the finish gave up a welcomed bitterness thanks to the incorporation of the IPA.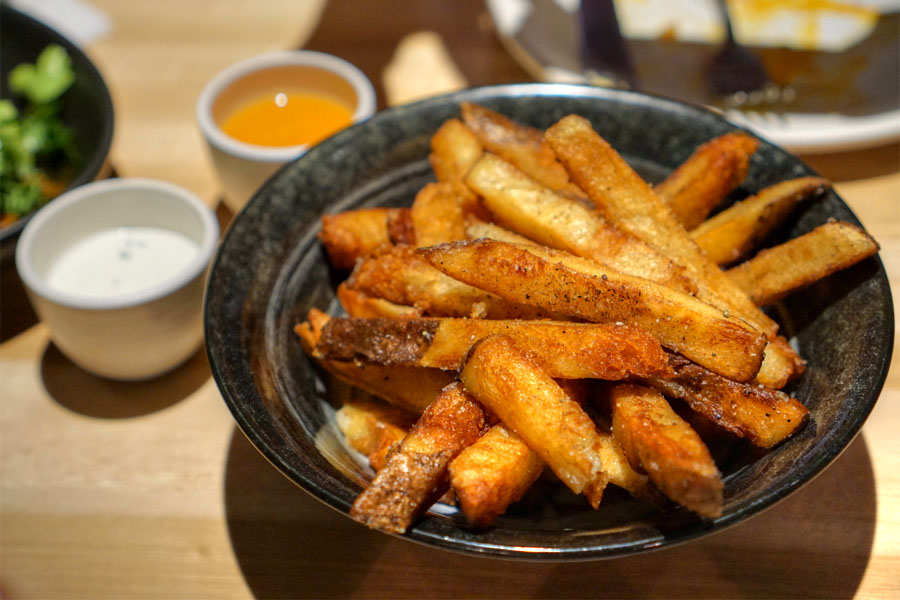 French Fries [$8.00]
| House Hot Sauce, Chive Crème Fraiche
Fries were particularly well-spiced, and definitely made sense with the herby crème fraîche and that tangy hot sauce especially.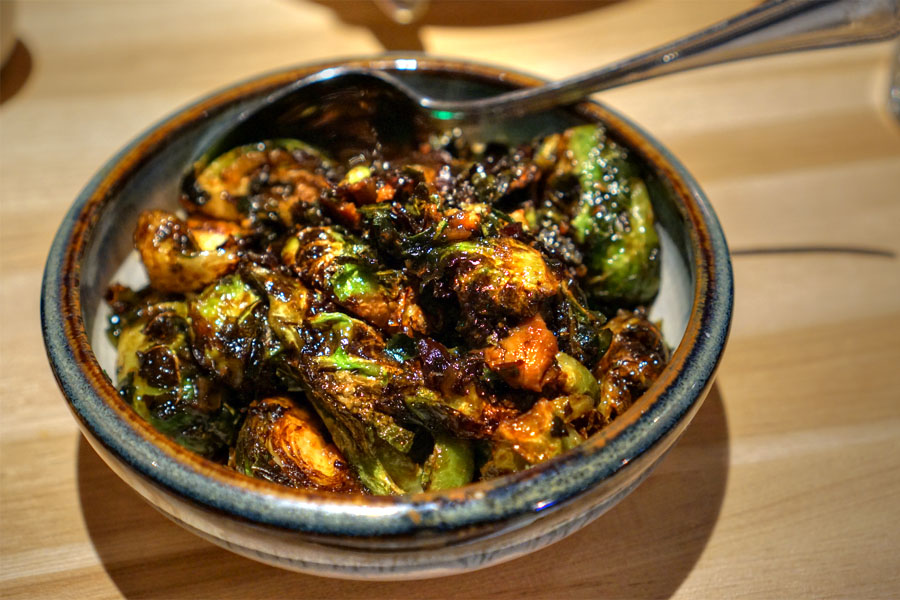 Crispy Brussels Sprouts [$8.00]
| Bacon-Maple-Cayenne Gastrique
Brussels arrived satisfyingly textured and thoroughly charred, dressed in a bevy of sweet, salty, sour flavors that made for a familiar, but effective complement to the veggie.
Walnut Manhattan [$12.00]
| Buffalo Trace Bourbon, Nux Alpina Walnut Liqueur, Punt e Mes, Bitters
The walnut-enhanced Manhattan was another strong take on the traditional cocktail thanks to its deeply aromatic, somewhat herbaceous, delightfully bittersweet flavors, layered over a smooth, silky presentation of bourbon.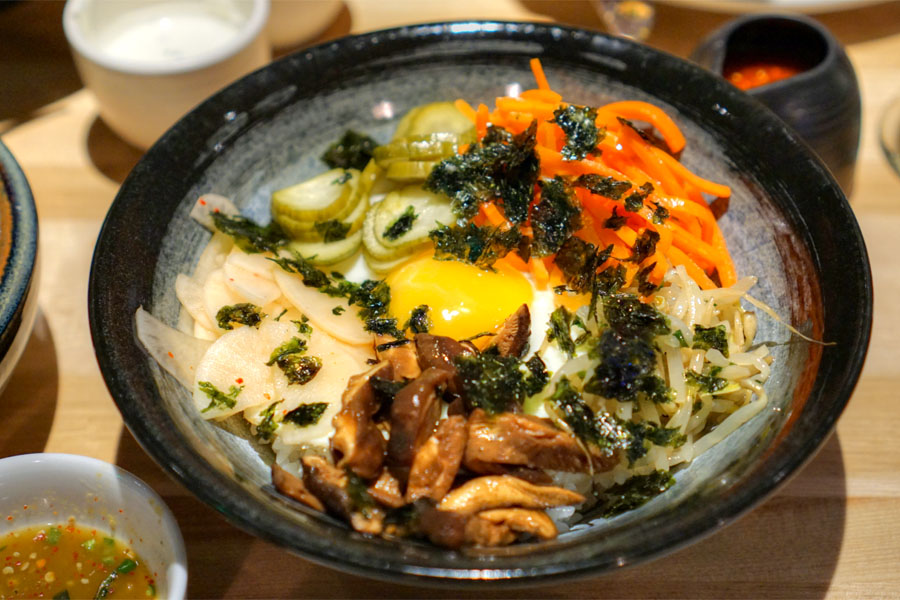 Bibimbap
The kitchen provided a few off-menu dishes that had been available for DineLA, the first of which was this take on
bibimbap
. Combining shiitake, bean sprout, carrot, pickled cucumber, radish, fried egg, and, of course,
gochujang
, it really did capture the rich, spicy, multifaceted goodness of the Korean staple. Yum.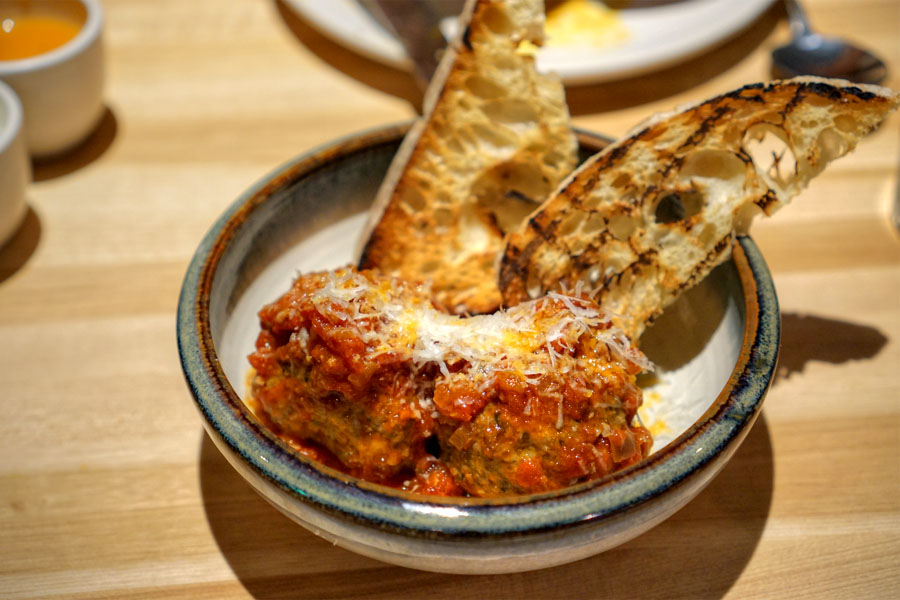 Meatballs [$16.00]
| Pork and Beef, Ricotta, Pecorino, Tomato Sauce, Grilled Ciabatta
Meatballs were hearty and herby, a couple of cozy bites well matched to classic accompaniments of tomato sauce and cheese.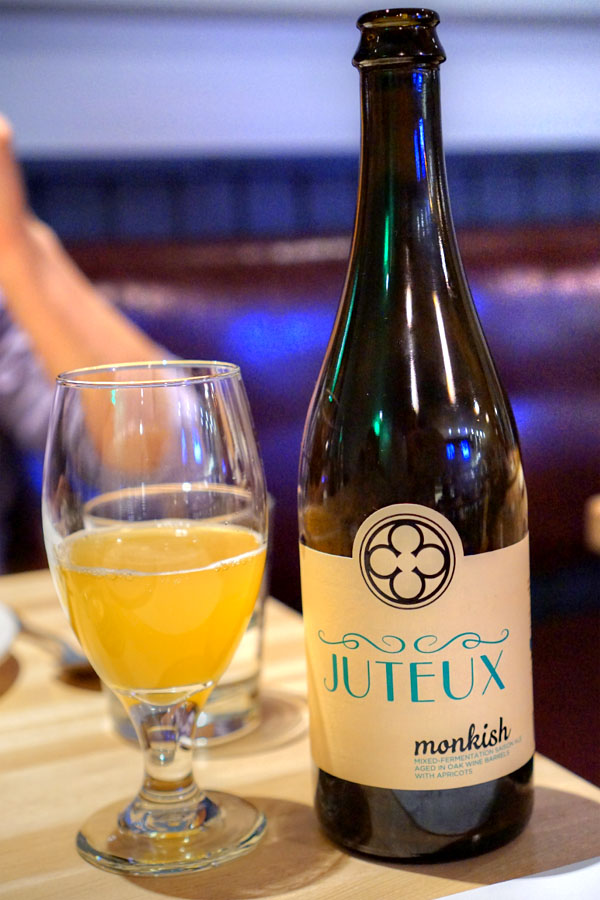 We got into some beer at this point, starting with the
2015 Monkish Juteux
, a saison aged in French oak wine barrels with apricots. It was a strong effort from the brewery, with a nose redolent of super tart, juicy apricot peel. In terms of taste, I found it earthy and funky initially, with rich stone fruit coming in later and lingering long and strong. I'd rate this just a notch below the likes of
West Ashley
or
Fou Foune
, which is a major accomplishment. I think this is the one that's going to really put Monkish on the map.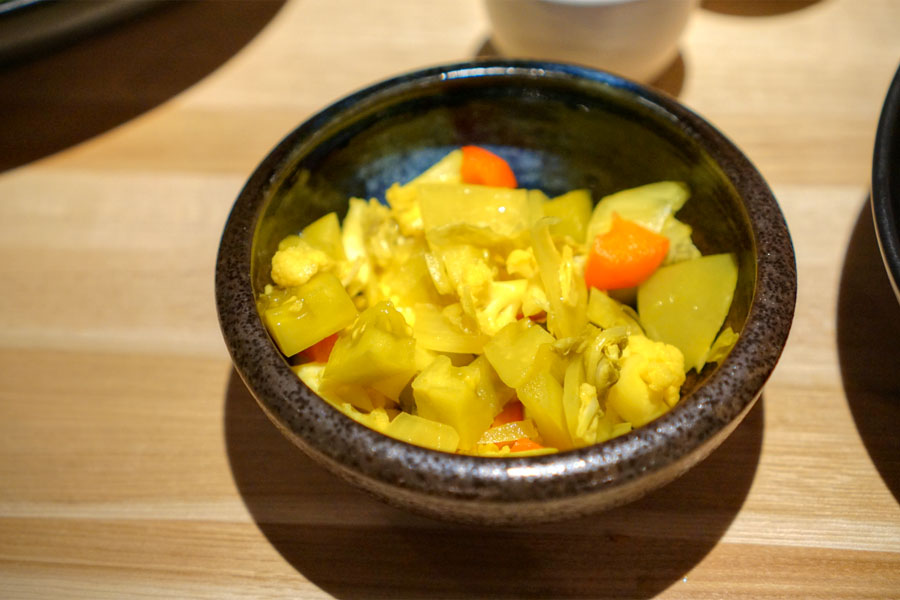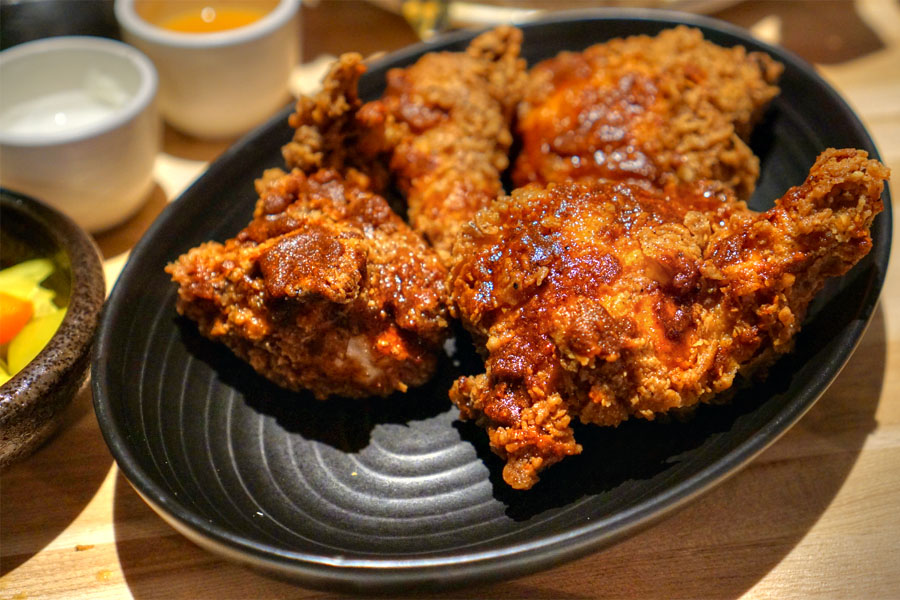 Nashville Hot Chicken [$15.00]
Mondays are fried chicken nights at The Bellwether, so we had to partake. Done in the Nashville hot style that seems to be all the rage these days, it was a compelling preparation: tender, juicy, crisp, and imbued with a delightful smoke and prickly spice. I appreciated the spicy-sour chow-chow on the side, too. Note, also, that the bird is available in a Coca Cola-bourbon sauce variant as well.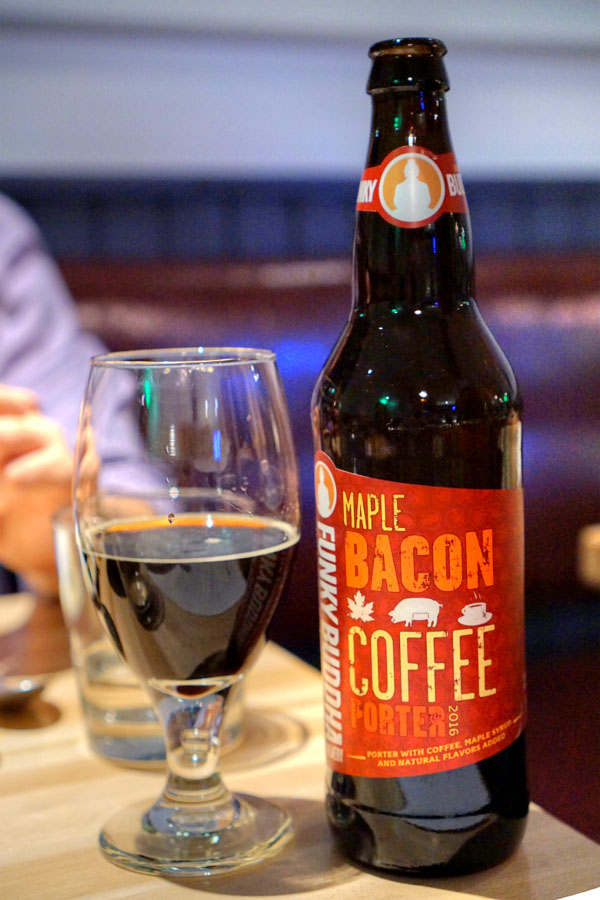 Next to imbibe came the much-bandied-about
2016 Funky Buddha Maple Bacon Coffee Porter
, which is exactly what it sounds like. We all pretty much likened it to a sort of liquid breakfast, with boatloads of sugary and smoky nuances underneath layers of coffee, roast, and malt. As smooth and as luscious as you'd expect.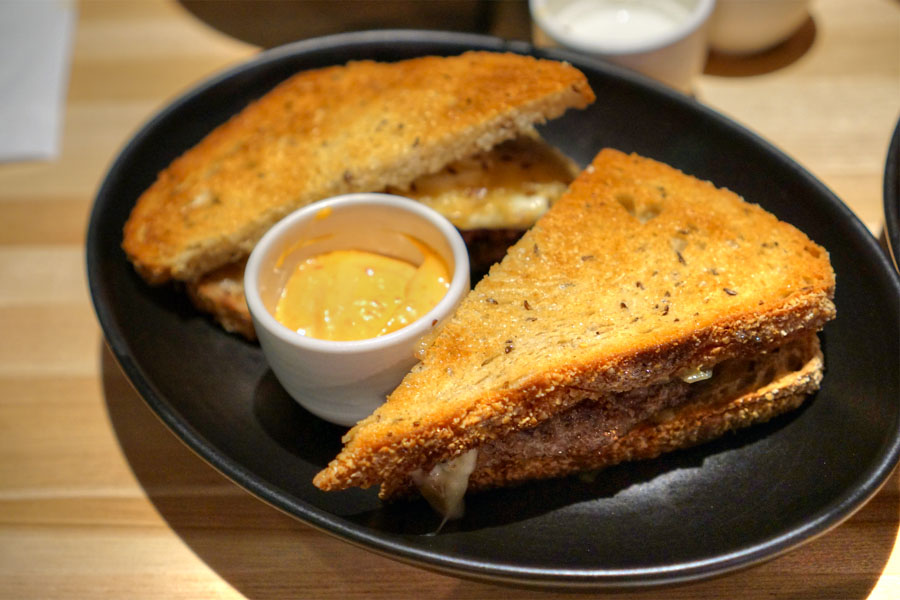 Patty Melt [$14.00]
| Taleggio Cheese, Caramelized Onions, Caraway, Calabrian Aioli
I generally have a hard time not getting the patty melt, and tonight was no exception. Think utterly meaty and cheesy at its core, with a smidge of sweetness from the onions while the caraway added a fennel-y spice to the experience.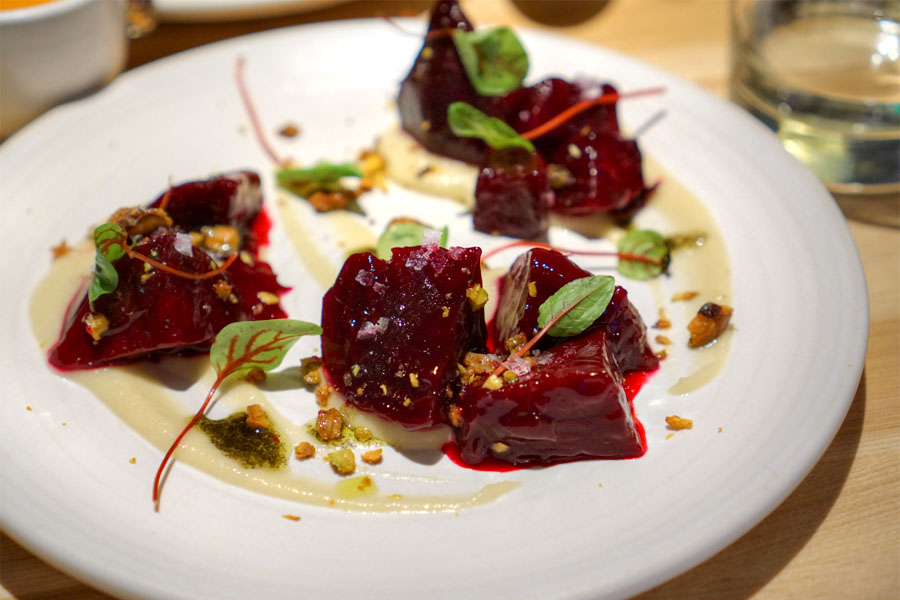 Roasted Beets [$9.00]
| Soubise, Charred Leek Pistou, Candied Pistachio, Red Sorrel
Beets were as deep and as sugary as one would expect, a bit much on their own for me, but mitigated fortunately by the onion, leek, and nutty bits of pistachio strewn about.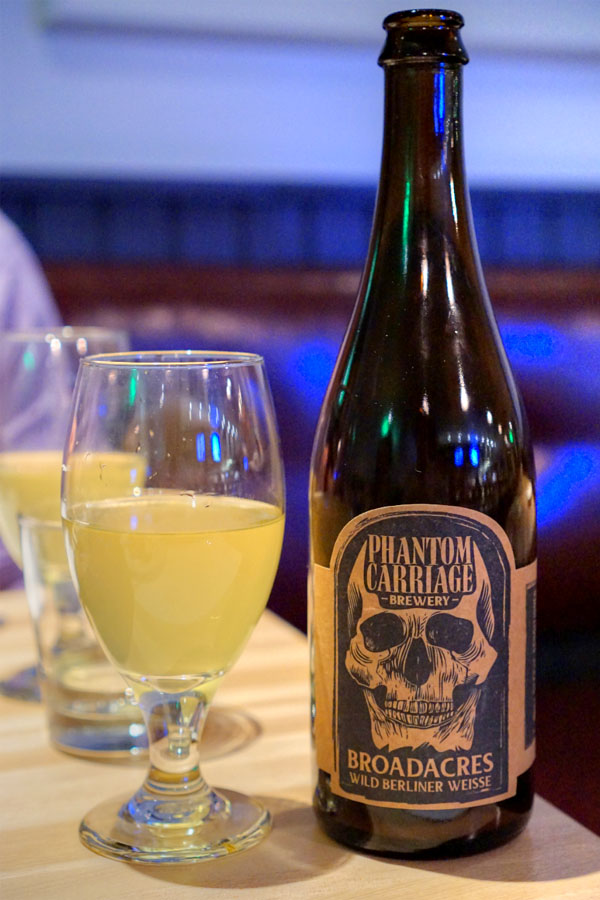 We had another stone fruit sour, this time a barrel-aged Berliner weisse with Masumoto fruit: the
2015 Phantom Carriage Broadacres with Peaches & Nectarines
. This one didn't quite reach the lofty levels of the Juteux, but was enjoyable nonetheless, smelling of sweet, fruity spice and tasting bright and puckering, with piquant peach and citrus throughout.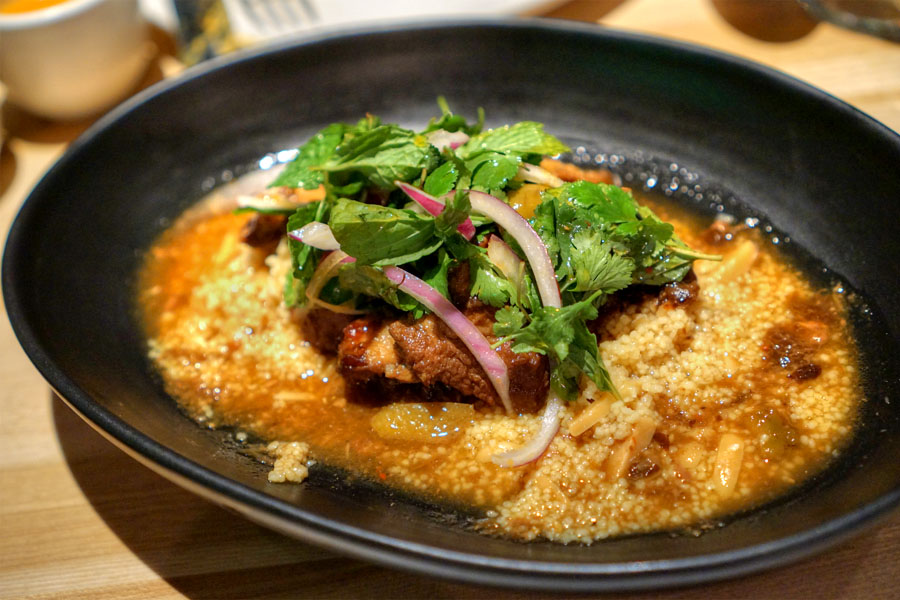 Lamb "Tagine"
Another DineLA special, this tagine-inspired dish comprised lamb with couscous, preserved lemon, prune, green olive, harissa, and an herb salad with lemon vinaigrette. It was a standout, with the super tender, superbly spiced meat meshing beautifully with the tart, herby flavors at play, the cilantro and pickled onion in particular.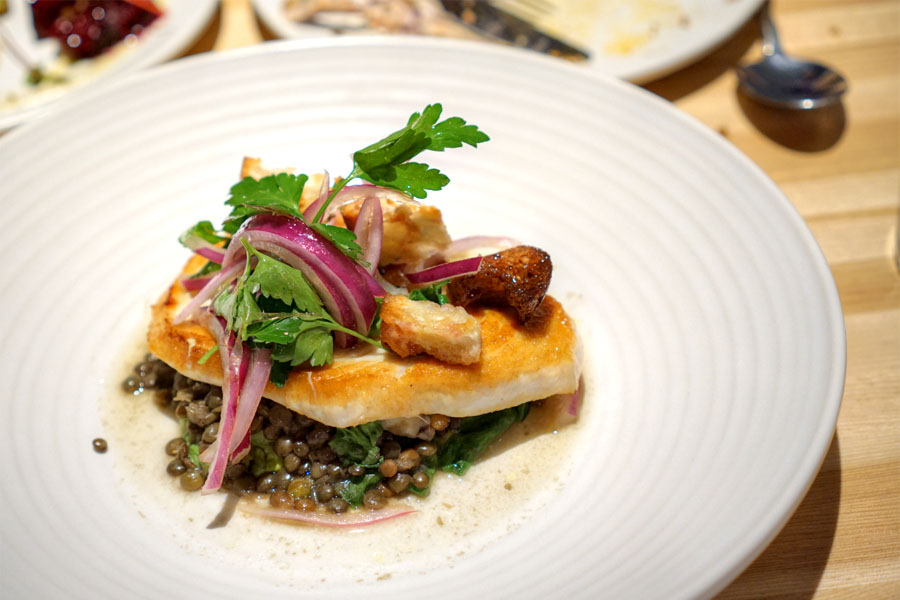 Swordfish
The final item from DineLA, the swordfish was accompanied by lentils, wilted escarole, and an olive oil- and vinaigrette-dressed winter panzanella salad. The fish hit the mark, all juicy and briny and meaty to the bite. For me the key was the lentil and how it evened out, grounded the dish. Big fan of the bright, zesty greens too.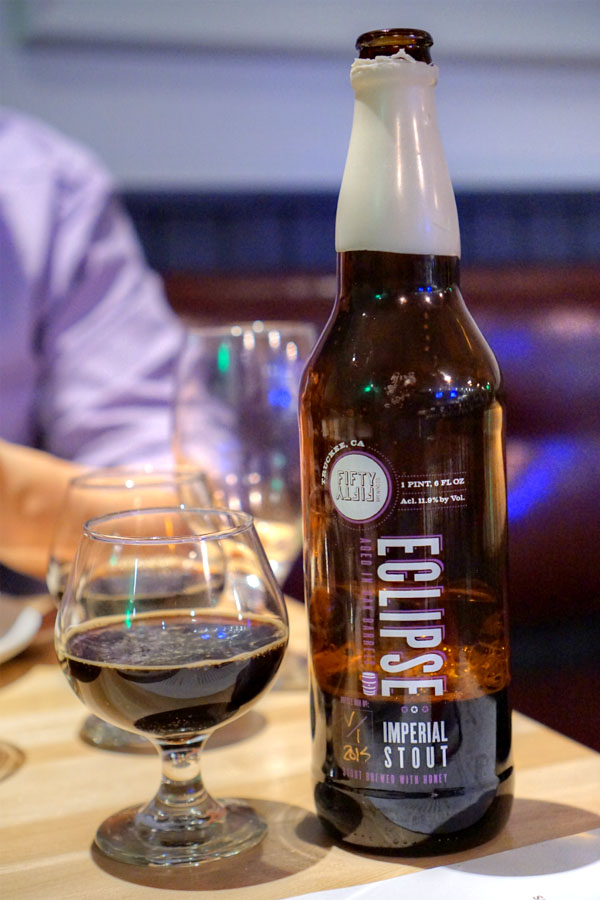 A bourbon barrel-aged stout with vanilla, the
2015 FiftyFifty Vanilla Eclipse
managed to be our heftiest beer of the night. Think boozy and tart, with plentiful notes of chocolate and vanilla in the aroma. The taste followed with more of the same, leading a couple of my dining companions to liken the beer to a "liquid Tootsie Roll."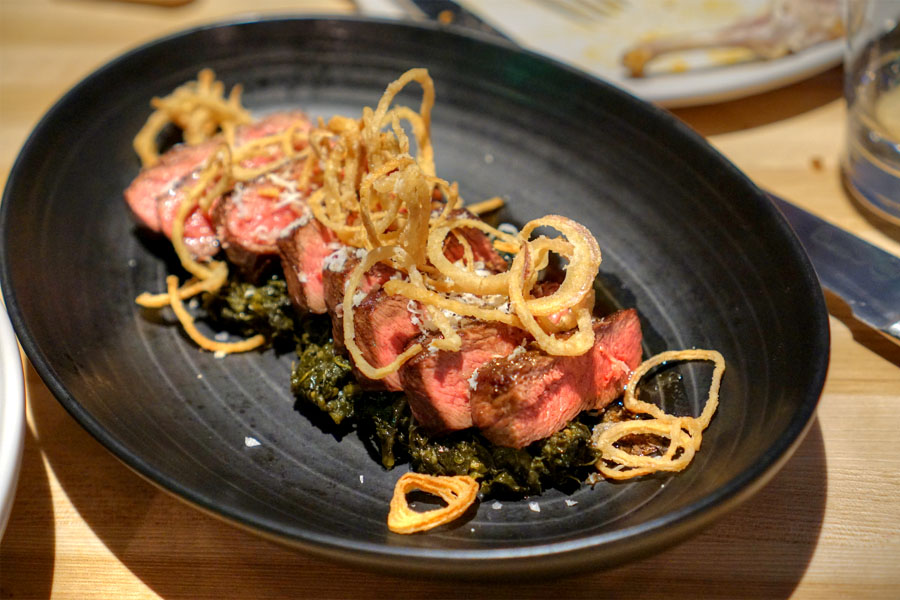 Imperial Wagyu Flat Iron [$26.00]
| Braised Kale, Fresh Horseradish, Demi, Crispy Shallot
Our final savory brought us a steak, a flavorful cut enhanced by the smoky savor and bitterness of long-cooked kale. My favorite thing here, though, was the horseradish, which added a sharp, focused burn that really lifted the dish.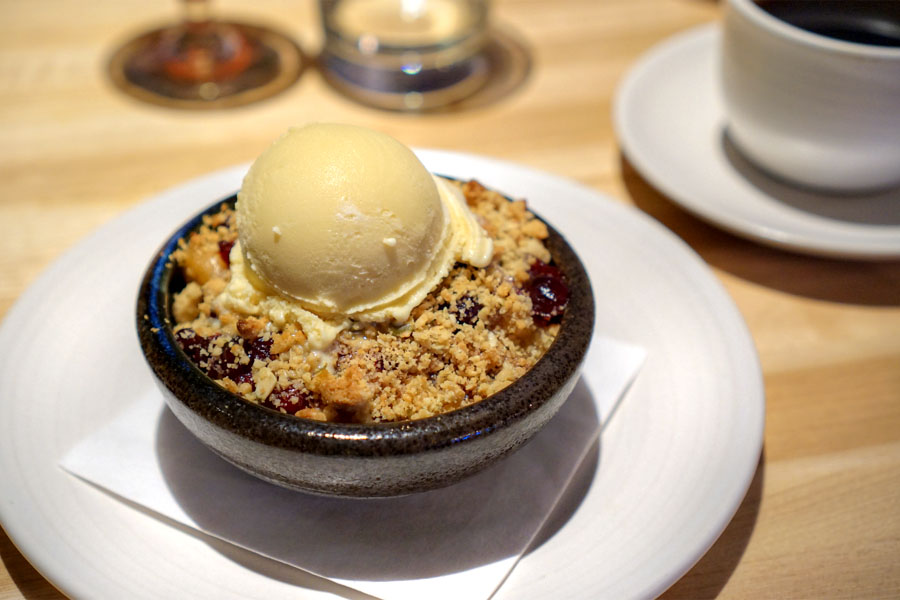 Baked Apple Streusel [$8.00]
| Spiced Cranberries, Pumpkin Seeds, Pistachio, Nilla Wafer Ice Cream
Time for the desserts, which are provided here by John Park's (Lukshon,
Fraiche
,
XIV
, Water Grill,
Providence
) Quenelle. The streusel was spot on with its rich apple nuances layered with sweet, fruity spice. A fine start.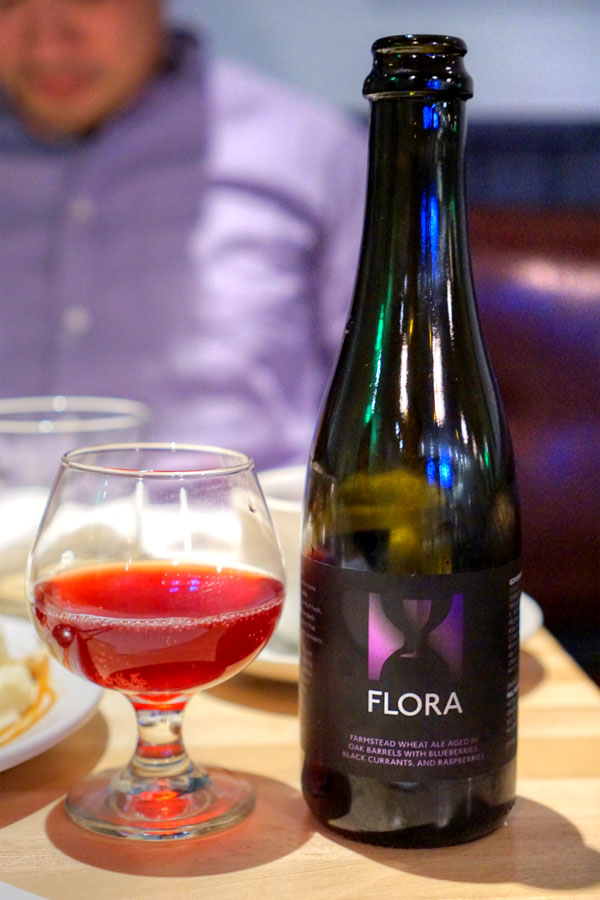 Our final beer was an oak wine barrel-aged farmhouse wheat ale, the
2015 Hill Farmstead Flora Blueberry/Black Currant/Raspberry
. I got a deep, saison-y funk on the nose, while taste-wise things went sharp and musty and uncommonly dry, with super bright, light berry flavors throughout.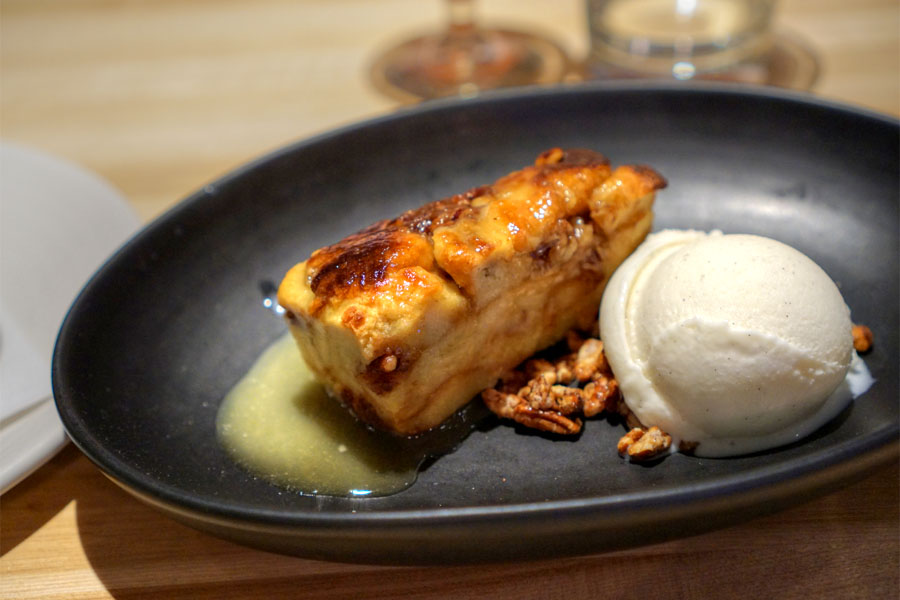 Grand Marnier Bread Pudding [$8.00]
| Candied Pecans, Malted Crème Fraîche Ice Cream
The bread pudding worked it out too, with plenty of sweet 'n' spicy flavors balanced out by the airiness of that ice cream.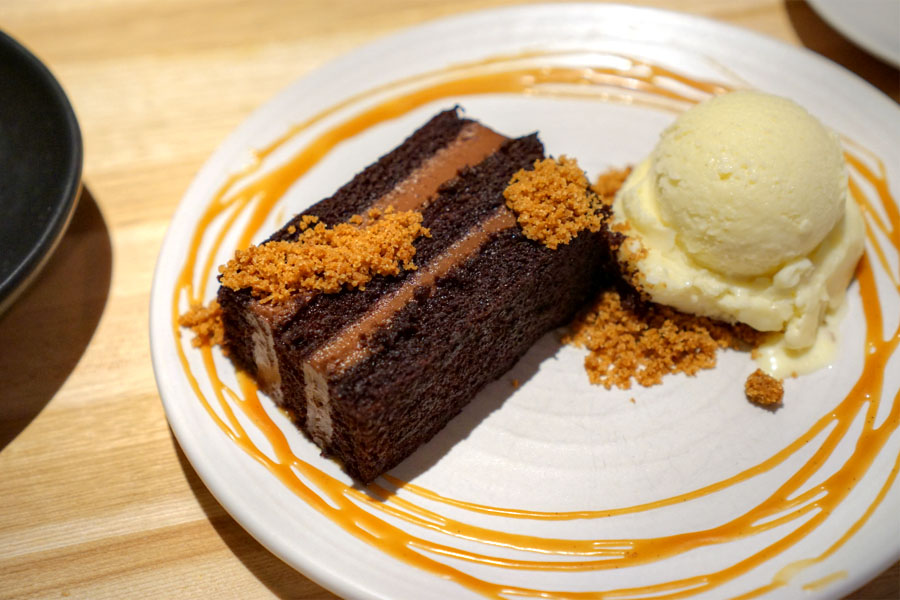 Chocolate Ganache Cake [$8.00]
| Bourbon Caramel, Graham Cracker Streusel, Pear Ice Cream
Last up was certainly the heaviest dessert of the bunch, a super rich, super dense chocolate cake that matched effortlessly with the fruity, juicy notes of the ice cream. Great crunch from that streusel, too.
Given Hopson's background, we were expecting some pretty great cooking from The Bellwether, and the kitchen didn't disappoint. The menu lists a lot of the usual tropes, but the food is executed with the sort of precision that you'd expect from someone who ran the show at Lukshon. I couldn't fault the cocktails either, nor the service. A strong addition to the SFV's (and LA's) dining scene, and one that'll hopefully stick around for a long while.