Ahgassi Gopchang (Los Angeles, CA)
Ahgassi Gopchang Korean BBQ Restaurant
3744 W 6th St, Los Angeles, CA 90005
213.249.9678
www.678us.com
Wed 02/03/2016, 06:10p-8:30p

A KBBQ place that I'd been wanting to try for a while now is Ahgassi Gopchang, which means, more or less, "young lady intestines" in Korean. As the unfortunate translation would imply, the place bills itself as an entrails specialist. The restaurant is actually part of the
Kang Hodong Baekjeong
family, and debuted back in May 2013.

Ahgassi isn't quite as large as KHB, but features a similar sort of vibe, with a particularly petite ventilation system in place.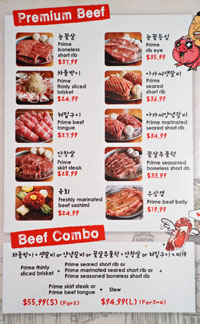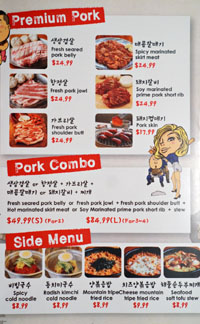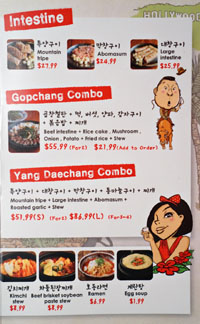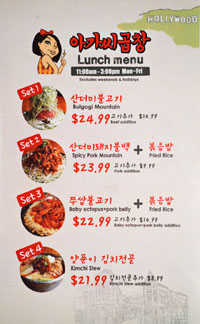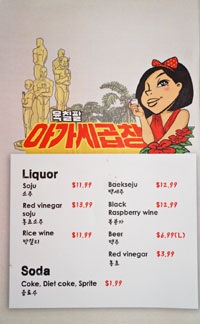 As for the menu, there are but three cuts of gut, joined by a complete beef and pork selection, with combos available of course. You'll also find appropriate sides and stews and such, as well as a handful of lunch specials. Drink-wise, there's not much to speak of, just the usual suspects, but corkage was available at $15. Click for larger versions.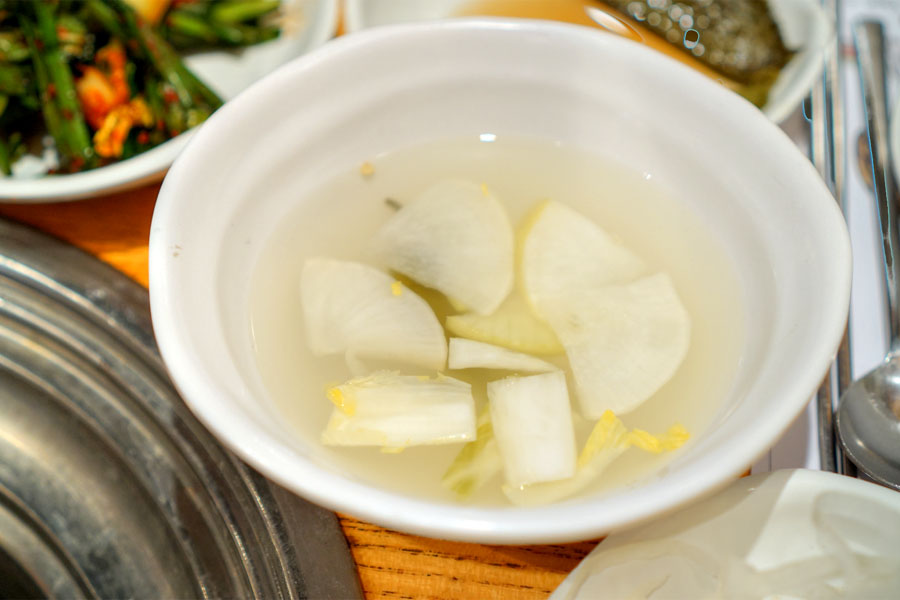 Watery
dongchimi
was properly refreshing.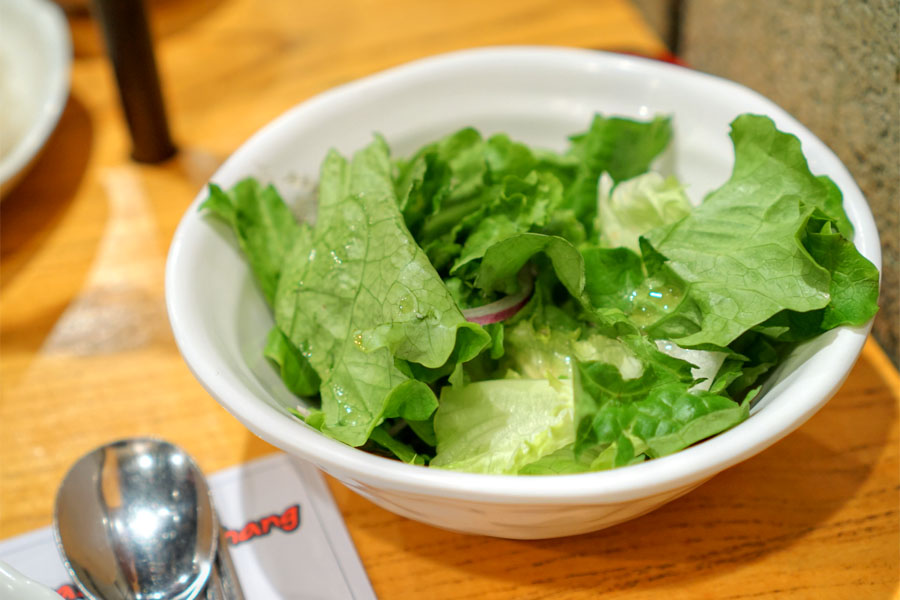 The requisite salad was on the sparse side, but did its job.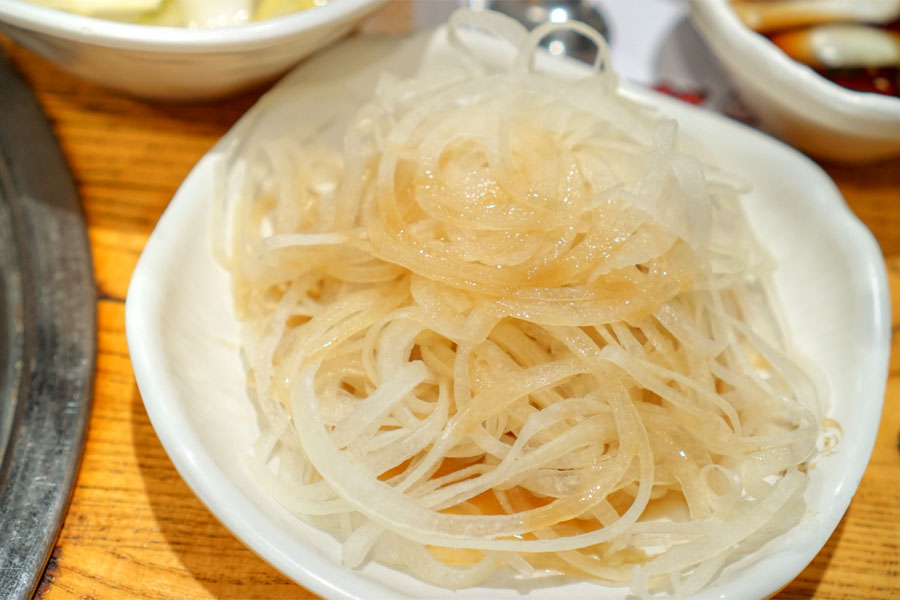 A plate of shaved onions provided a kick of astringency when called upon.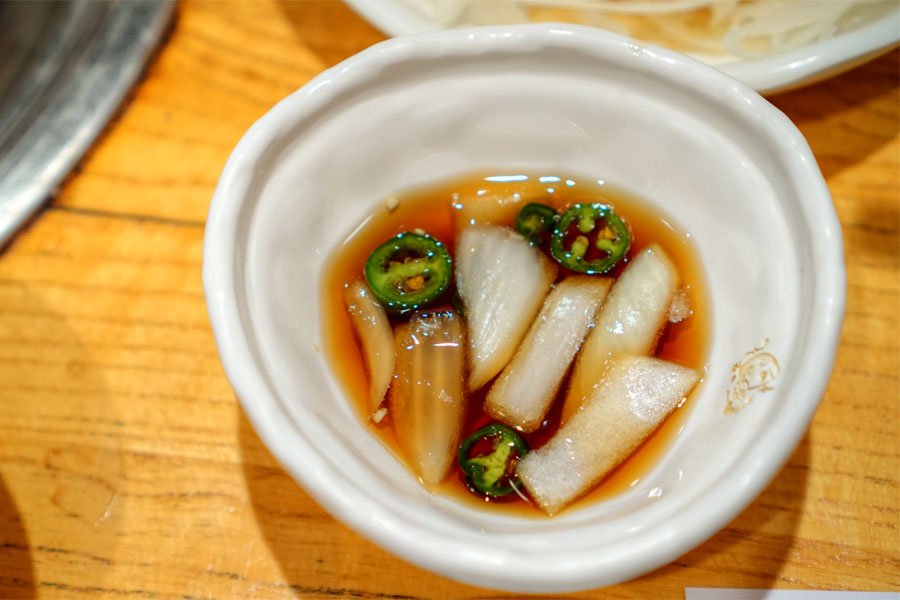 The ubiquitous "chadol sauce," with its shards of onion and jalapeño.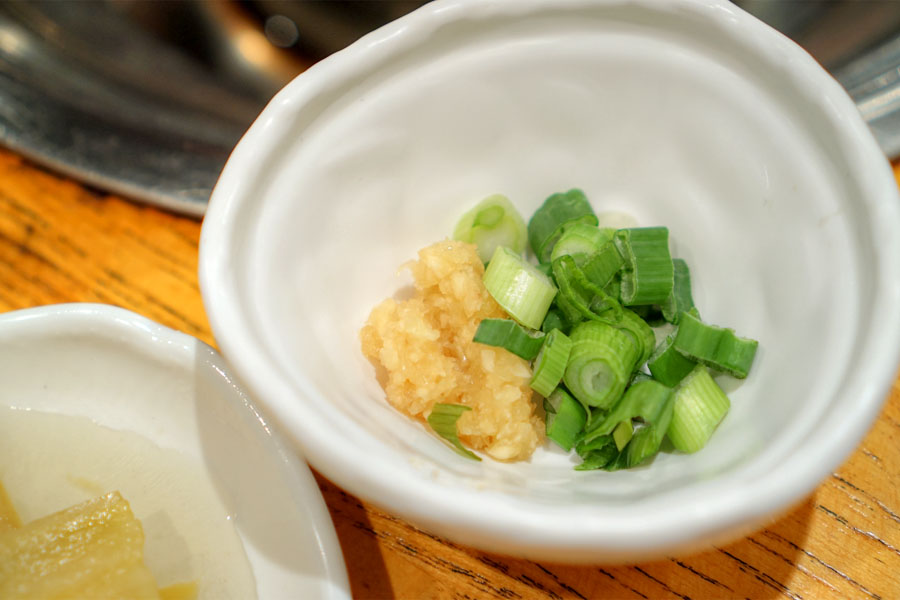 We were instructed to augment the above sauce with garlic and scallion.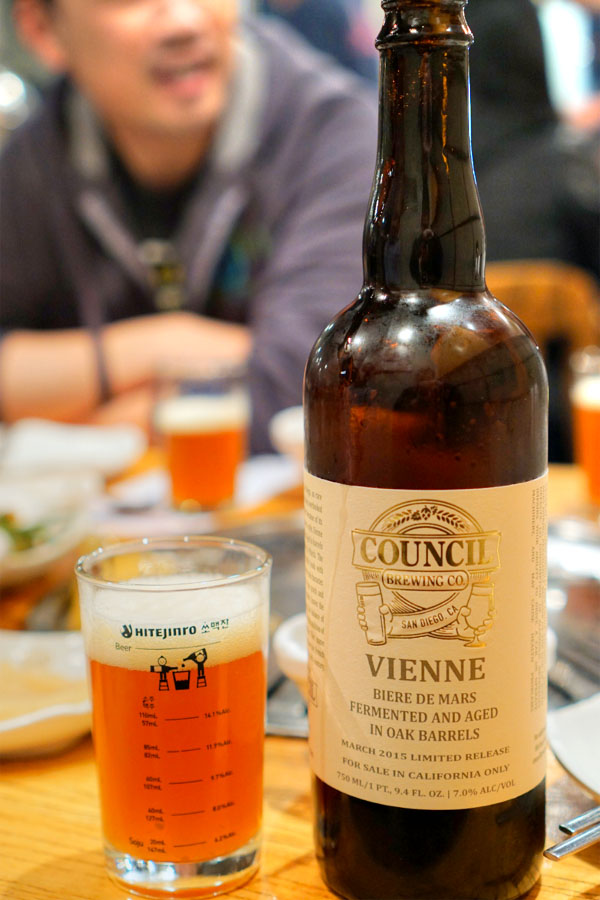 We definitely made use of the corkage policy. Our first beer was the
2015 Council Vienne
, a
biere de mars
fermented with
Brettanomyces
and
Lactobacillus
, aged in oak barrels for four-and-a-half months, then blended with the brewery's bourbon barrel-aged quad and house sour before bottling. Deliciously rich, aromatic notes of ripe stone fruit and yeast on the nose. On the tongue the beer was effervescent, with a sweet fruited malt character leading to a dry, earthy finish. Really nice, and quite possibly the best effort yet from Council.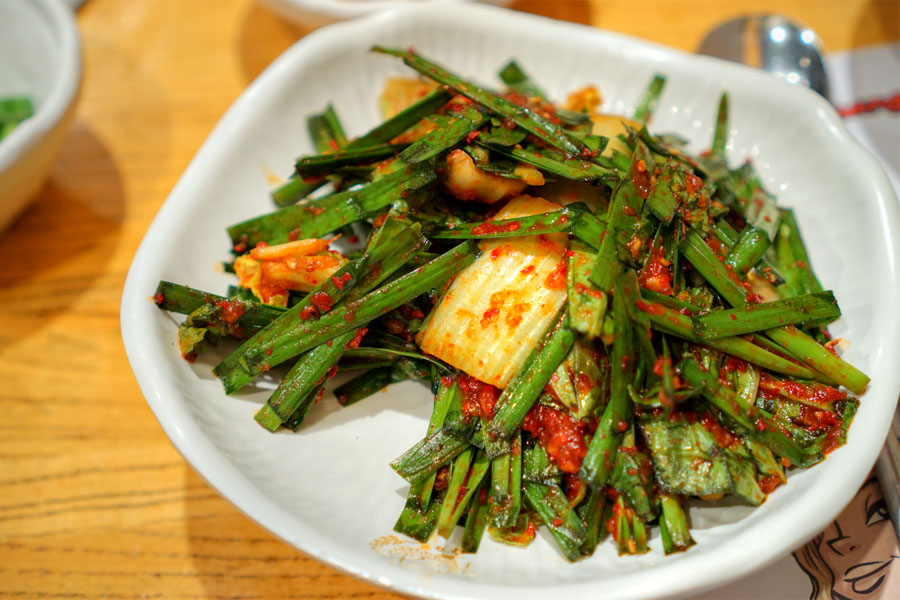 Buchu muchim
showed off a great zestiness from the chives.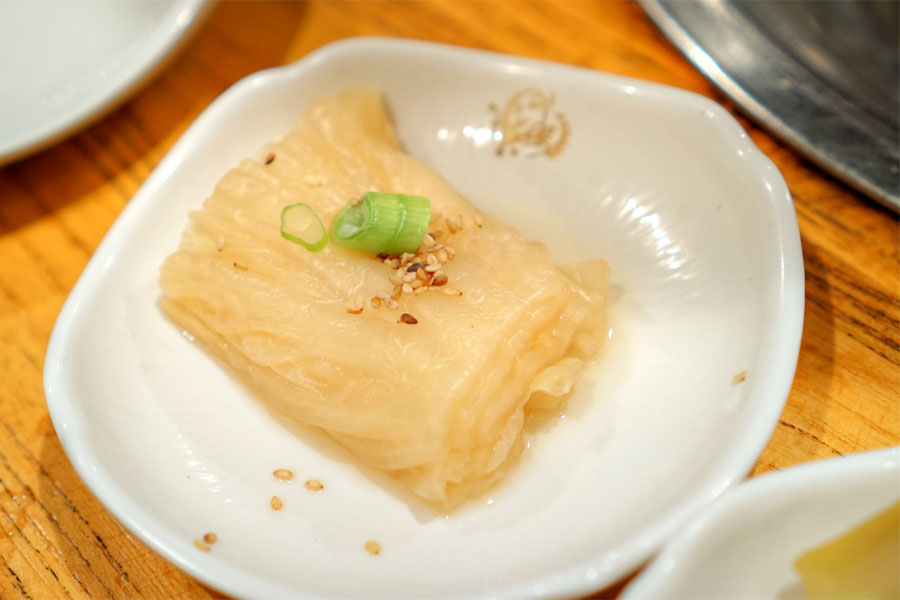 Baek kimchi
was tasty, with just enough crunch and acidity.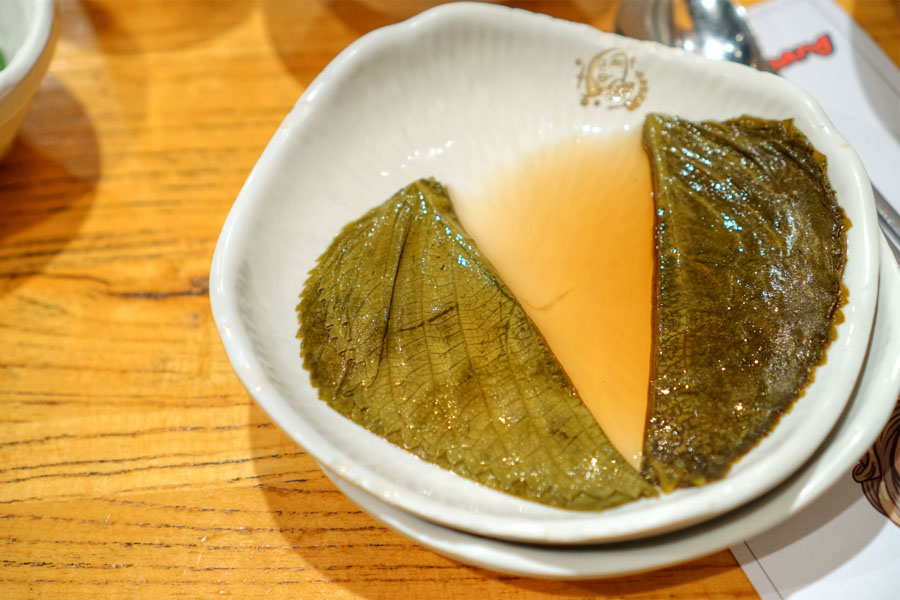 Marinated
gaenip
(perilla), if you like.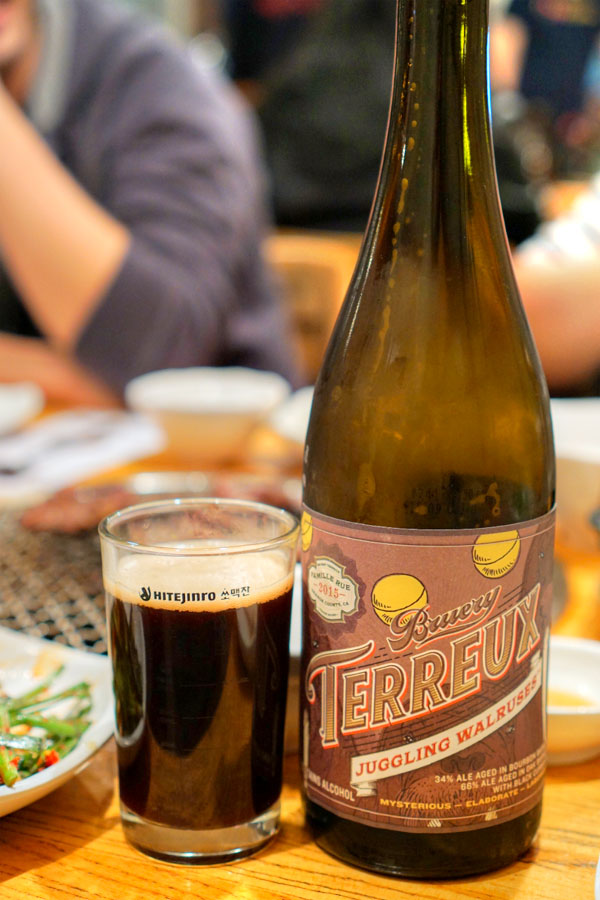 The
2015 Bruery Terreux Juggling Walruses
was a sour stout--a third aged in bourbon barrels and the rest aged in wine barrels--with black currants added. Smelled of sweet dark fruit and spice and slight roast, while the taste followed, revealing more sugary fruit, malt, and oak, with a distinct finish redolent of brown sugar.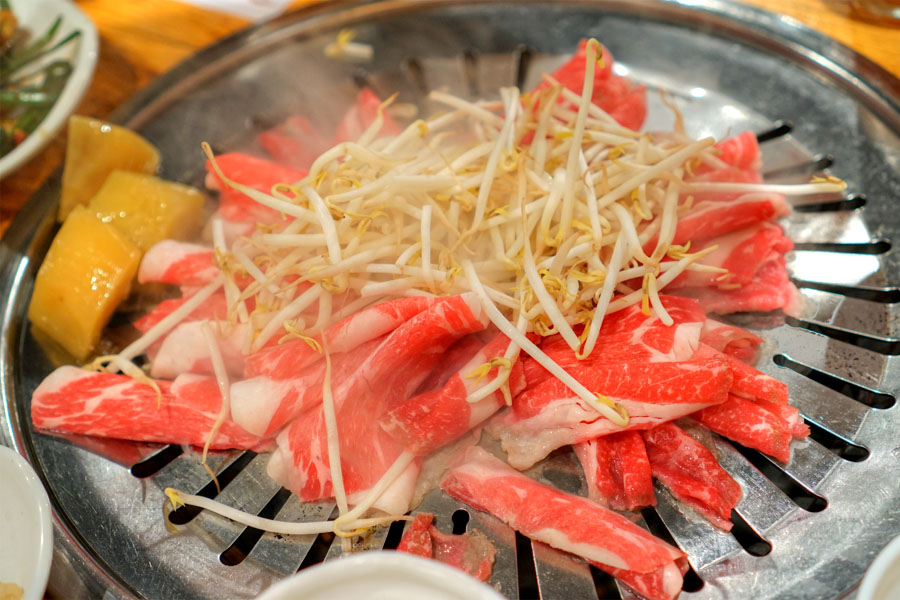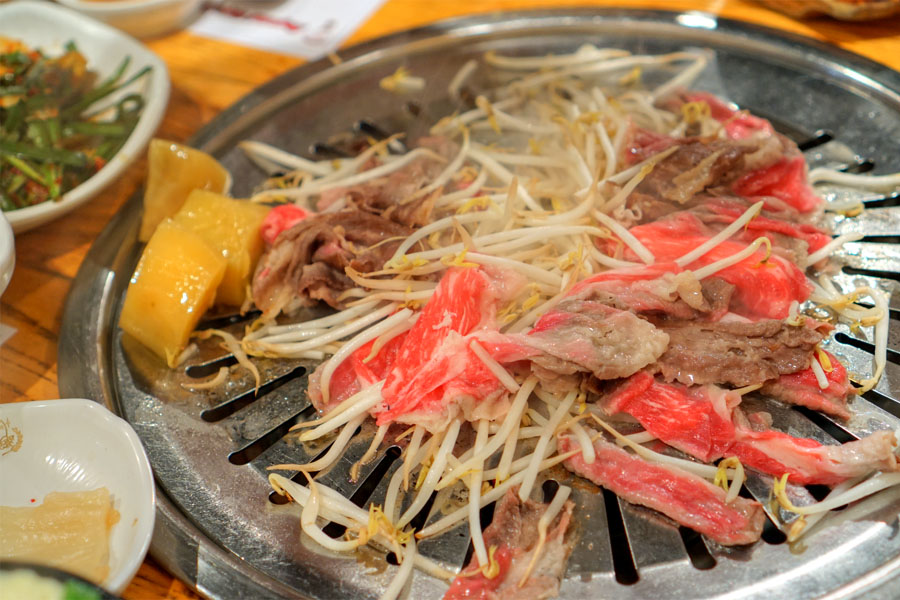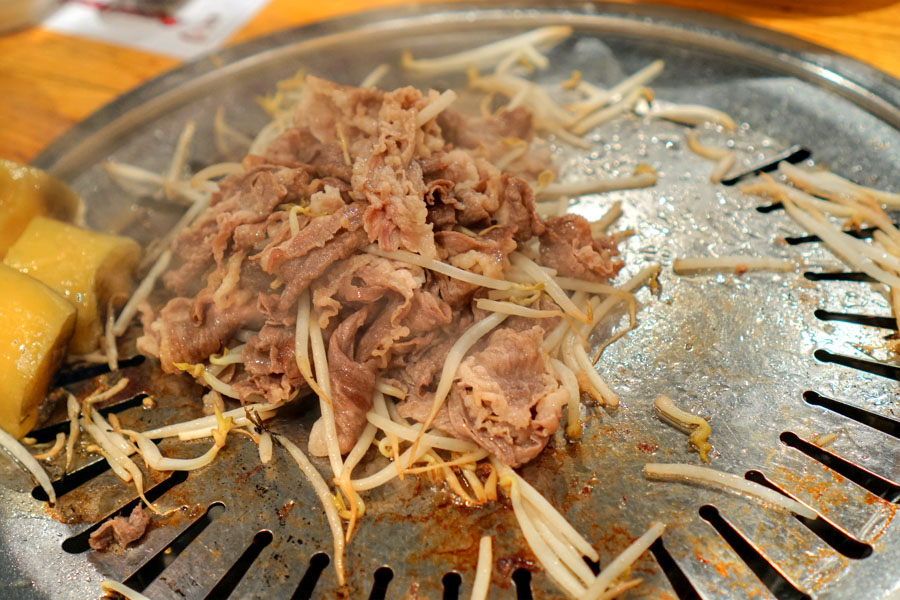 We ordered a small
Beef Combo [$55.99]
to start, and first to arrive at the table was, unsurprisingly, the
chadol baegi
. It was actually one of the better briskets I've had: tender, juicy, with a really satisfying smokiness. I definitely appreciated the additional crunch and lightness provided by the mung bean sprouts, too.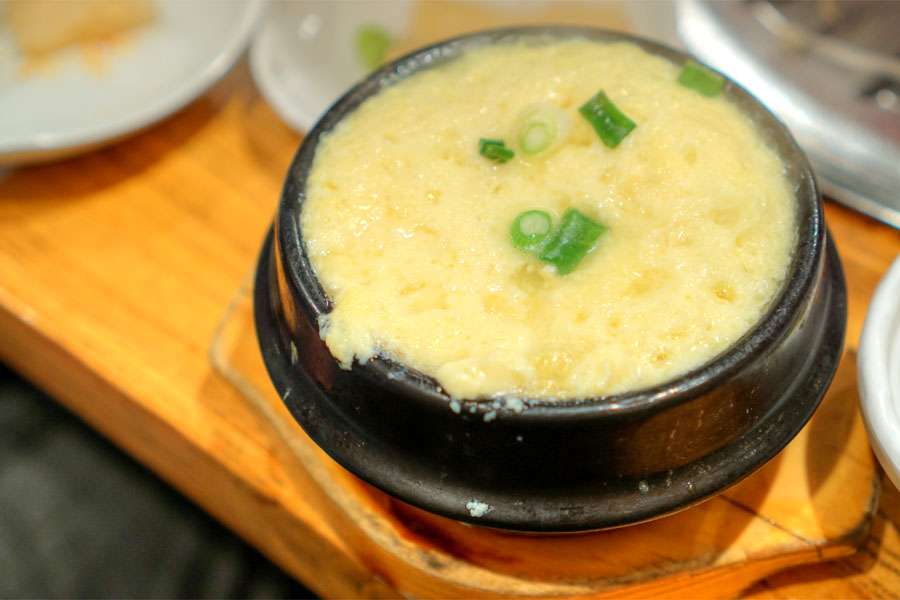 The
gyeran jjim
was also a standout, fluffy to the bite, but with a particularly deep, savory quality to it.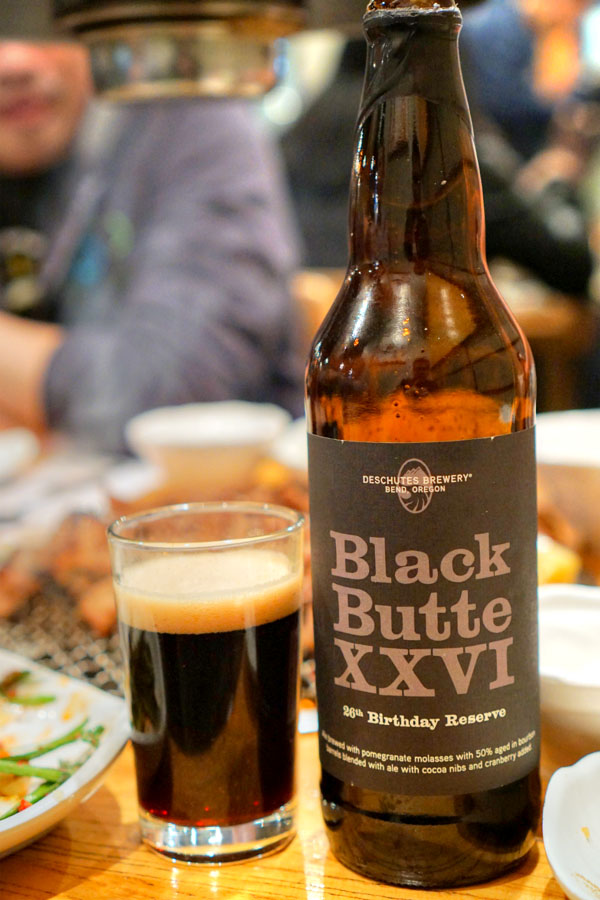 Created for the brewery's 26th birthday, the
2014 Deschutes Black Butte XXVI
was an imperial porter brewed with pomegranate molasses, partially aged in bourbon barrels, with cacao nibs and cranberries added. The beer gave up a bouquet of tart brown sugar and chocolate, while the taste comprised sweet, fruity notes commingled with cocoa and complemented by molasses richness on the finish.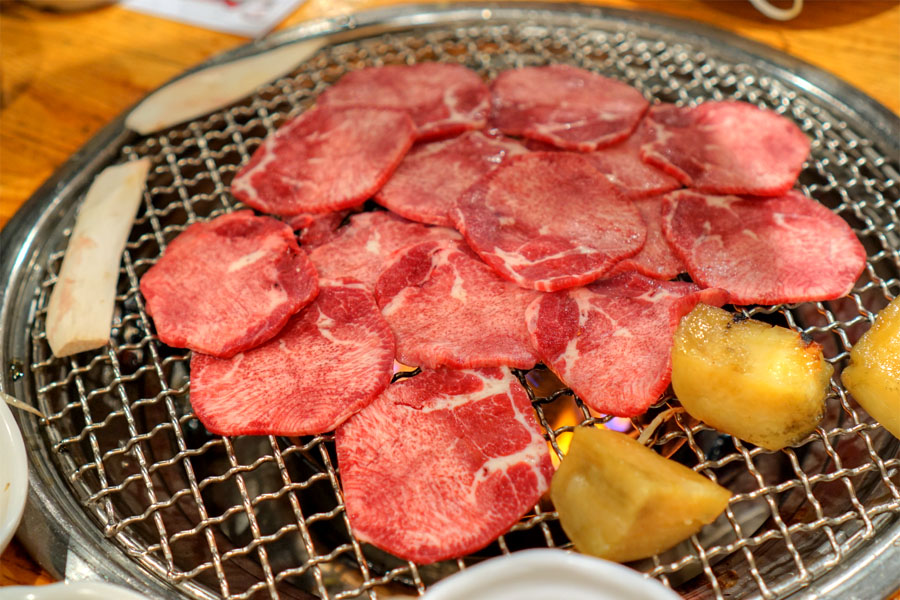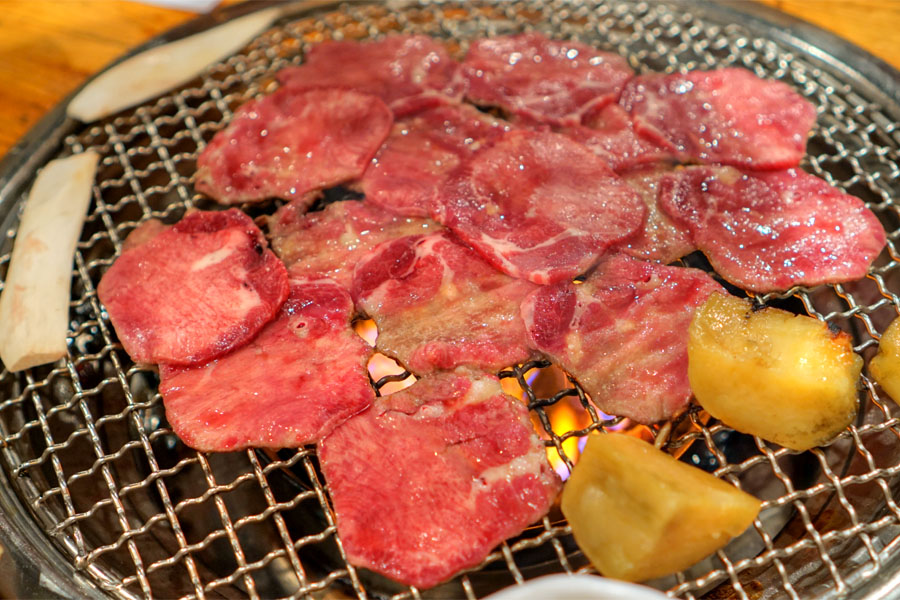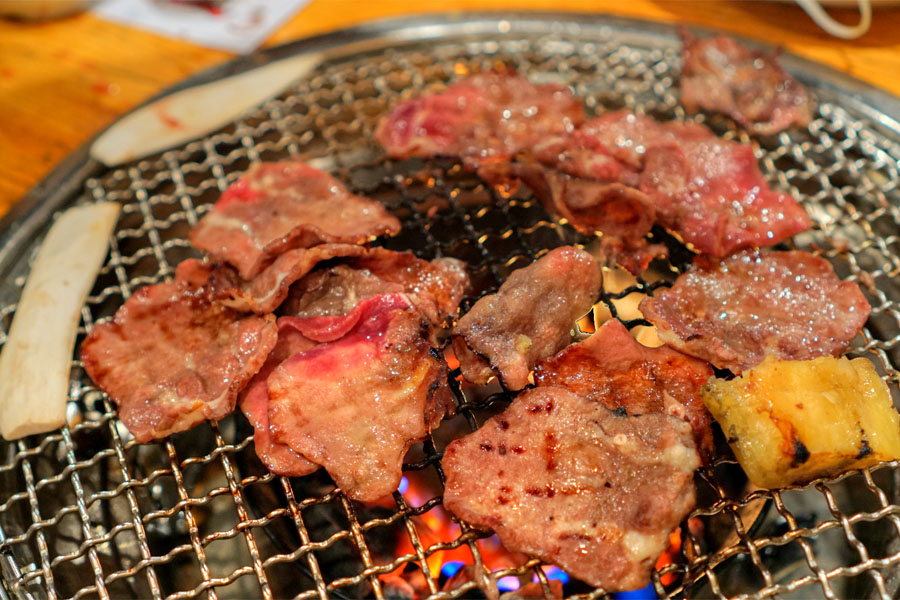 Hyeo mit gui
was a winner as well, the tongue cooking up beefy and charred, with a great chew to it.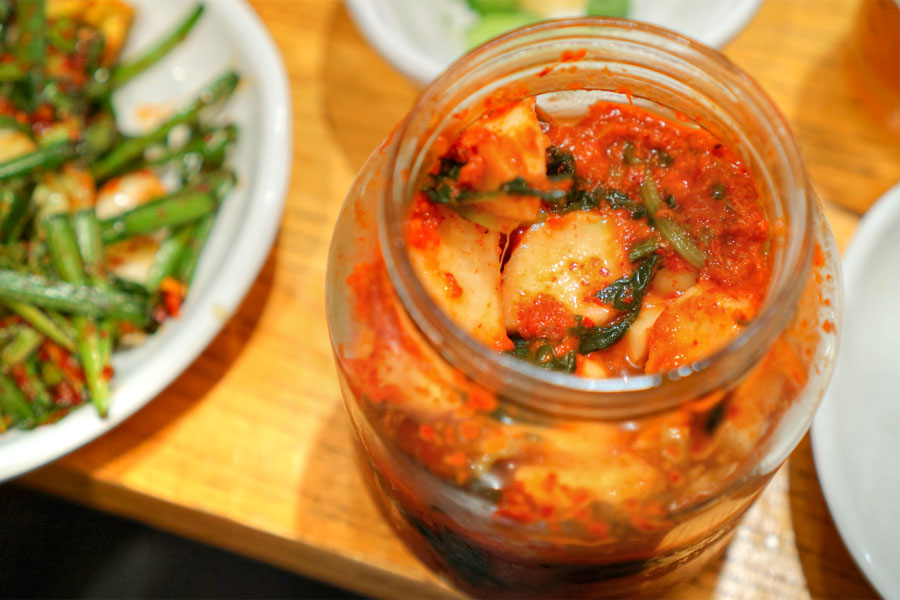 Homemade
altari kimchi
that one of my dining companions brought was a treat, showing off that perfect combination of pungent spice and crunchy-yet-supple textures.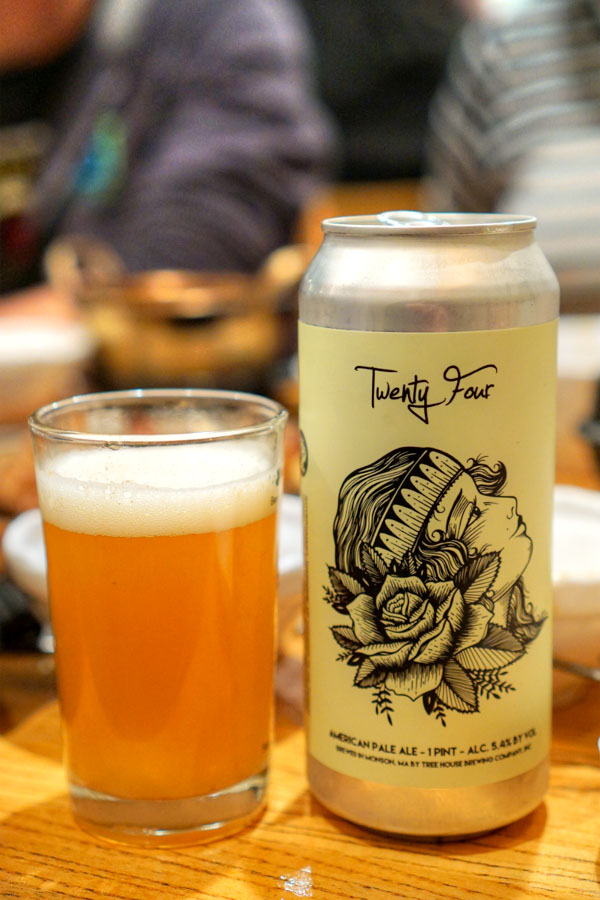 Next to drink was the
2016 Tree House Curiosity Twenty Four
, an American-style pale ale hopped with Columbus and Citra. I really enjoyed this one, with its wonderfully hoppy, floral aromatics and palate of hoppy bitterness meshed with softly fruity, citrus notes.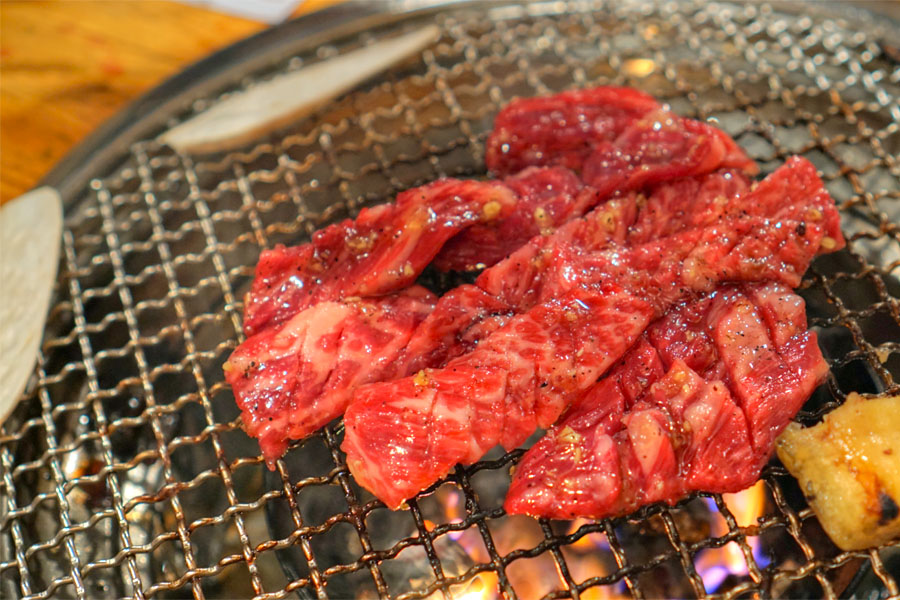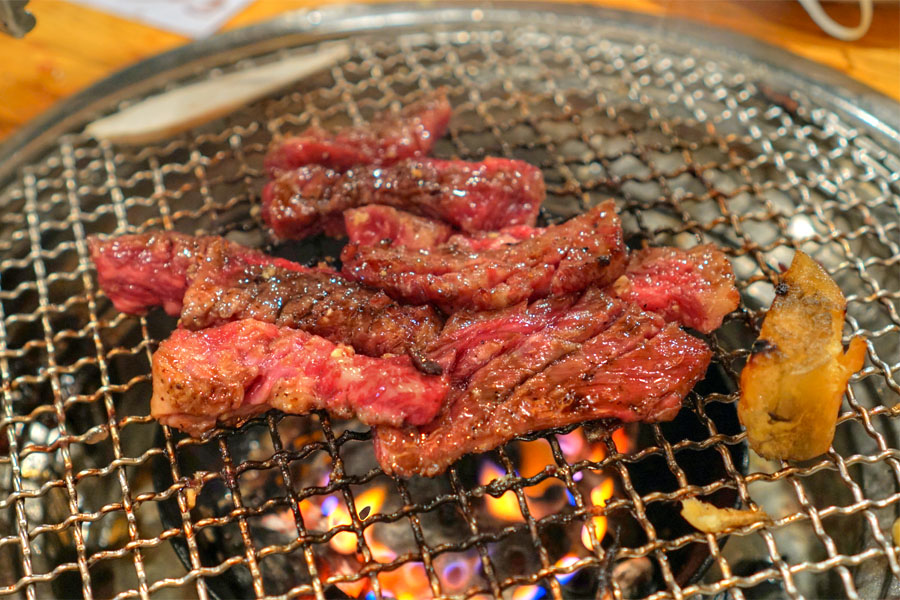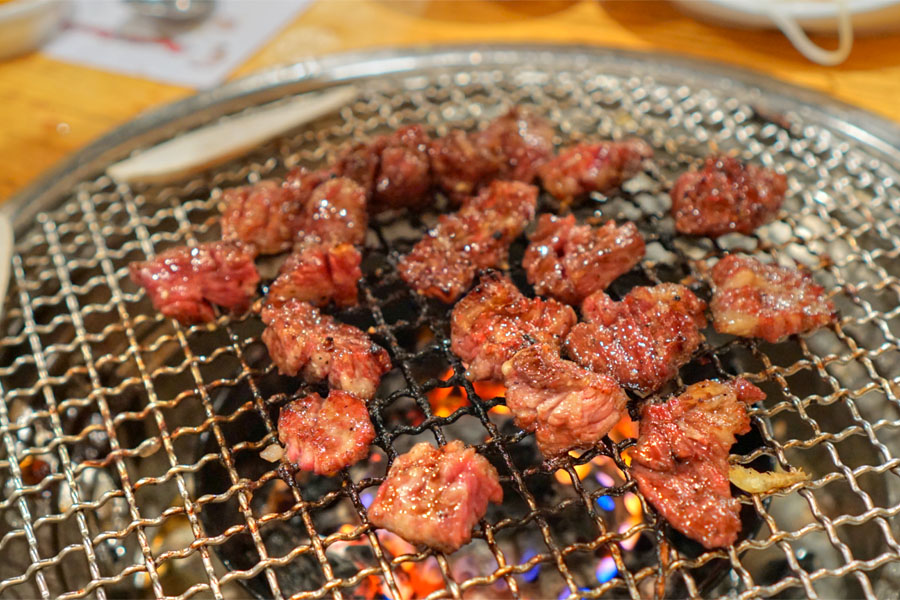 Our final item from the beef combo was the
jumulleok
, a super tender, flavorful cut that was certainly tasty, though a touch sweet for some at the table.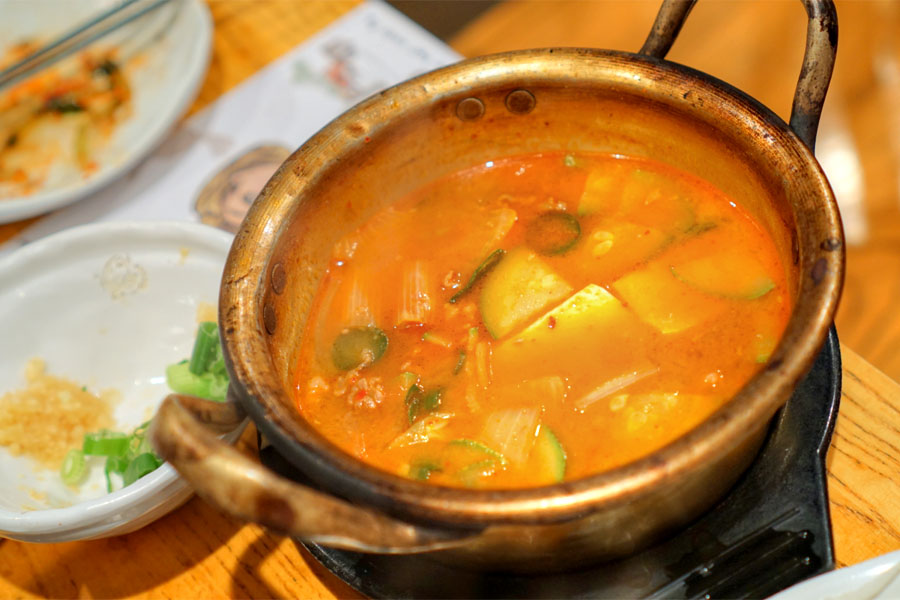 Doenjang jjigae
was a proper rendition, the earthiness of the soy bean well-tempered by all the veggies and tofu present.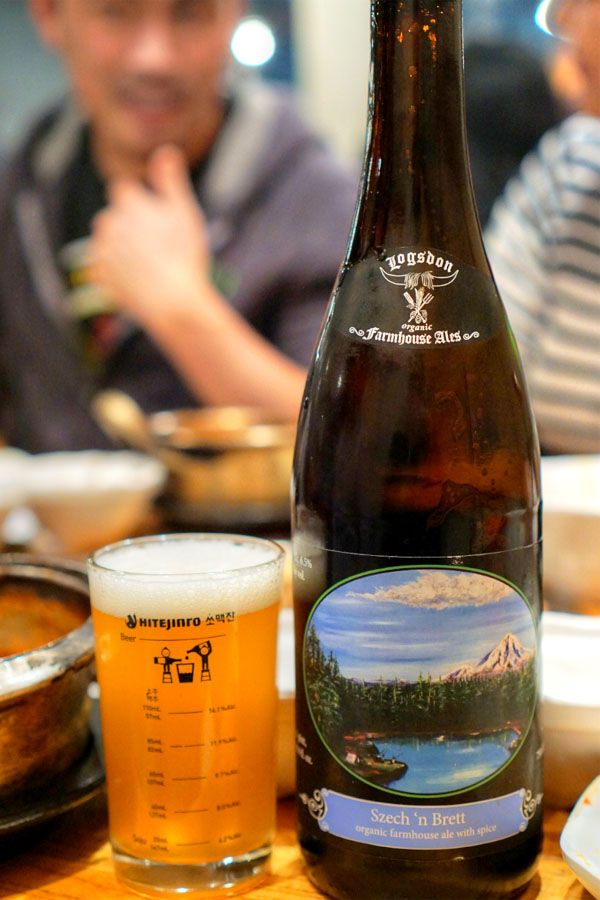 The
2015 Logsdon Szech 'n Brett
is a relatively new addition to the brewery's line-up, a session-style Brett saison spiced with Szechuan pepper. I quite enjoyed the beer, especially its delectable aromas of sweet, ripe pear. In terms of taste, think fruity and soft, with a mild Brettiness finished by subtle hits of spice.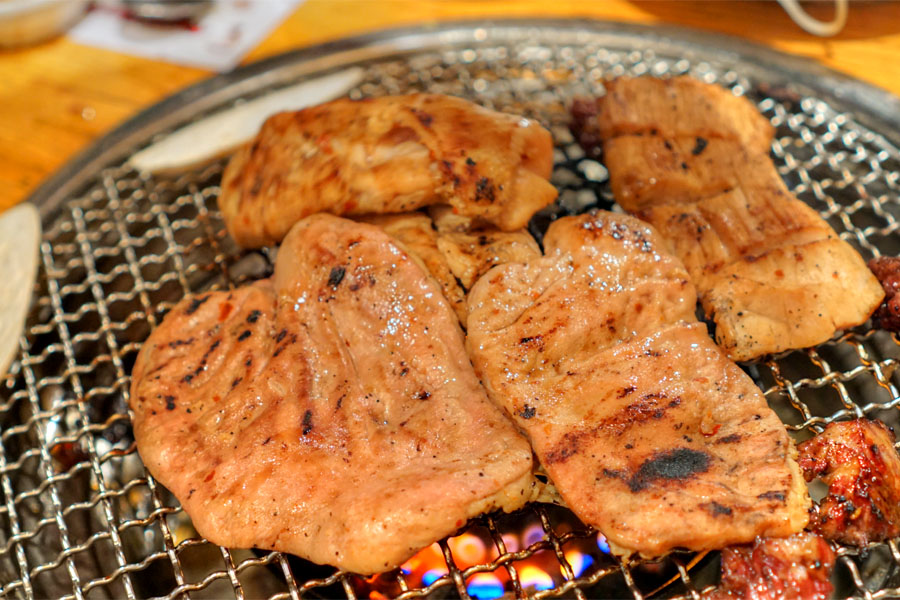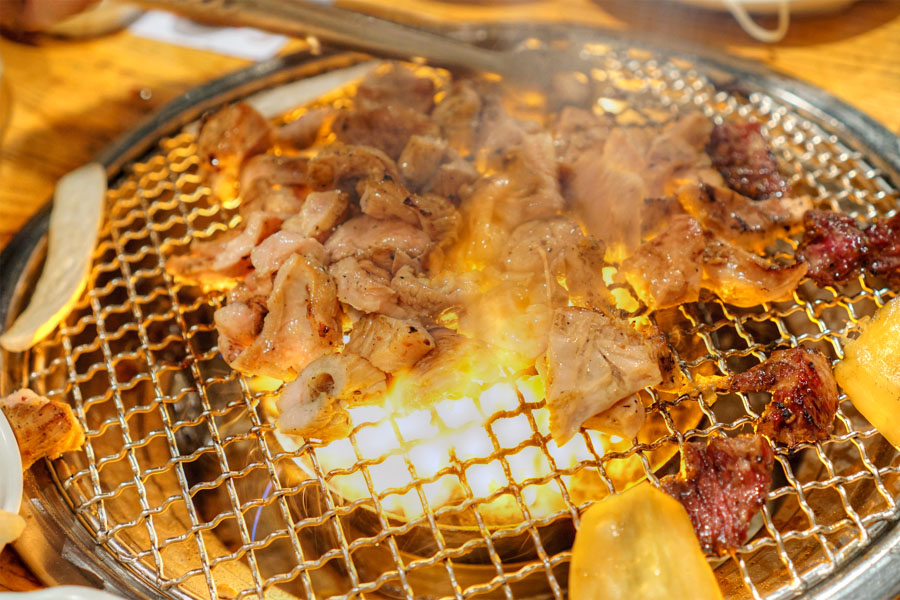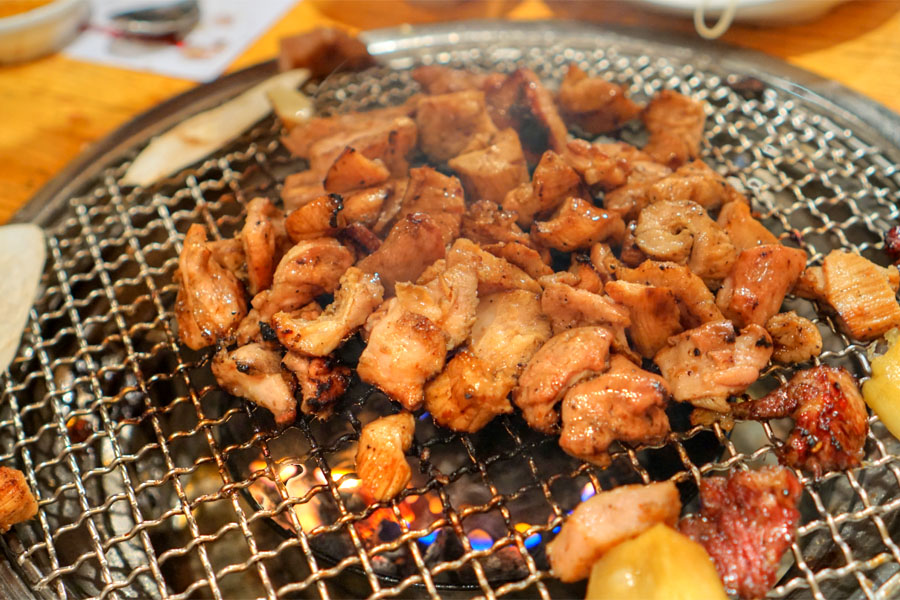 Given where we were, we had to try some innards, and thus ordered a small
Yang Daechang Combo [$51.99]
. Two cuts of meat arrived simultaneously. In the front was the
yang gui
, which conveyed a sort of sweet funk to it along with a good charring and a bit of snappiness to the bite. The
makchang gui
, meanwhile, was perhaps a bit chewier, with a slightly more intense flavor profile.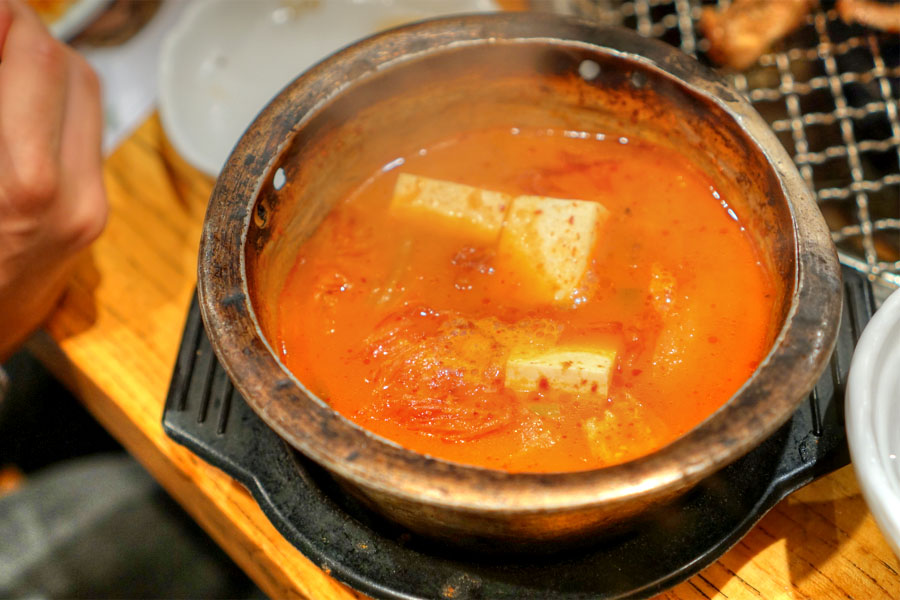 A prototypical preparation of
kimchi jjigae
was included in the combo.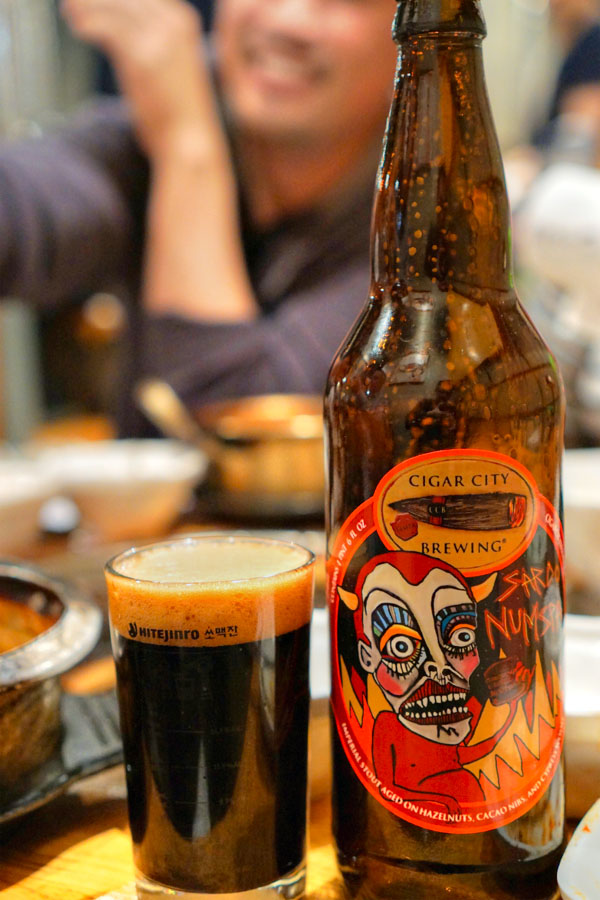 The
2015 Cigar City Sardo Numspa
was our final beer, an imperial stout brewed with roasted hazelnuts, two types of cacao nibs, and Indonesian vanilla, then rested on cypress wood. Smelled of rich brown sugar and chocolate, with a woodiness underlying. Taste brought more chocolate, joined by vanilla and hints of hazelnut, with the cypress again peeking through. This was ostensibly inspired by Devil's Food cake, and I could definitely see where they were going.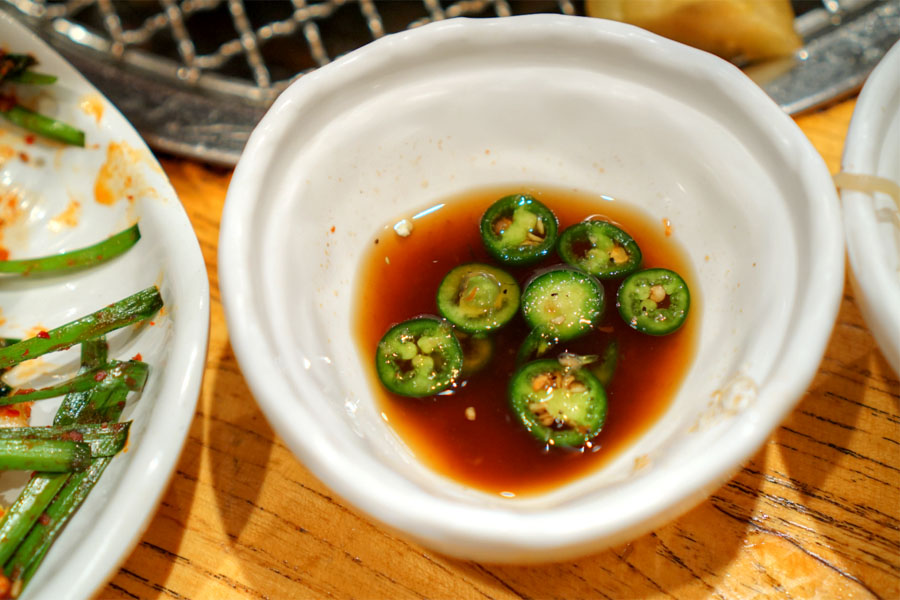 A special sauce was brought out for the
gopchang
, this one sweet 'n' spicy.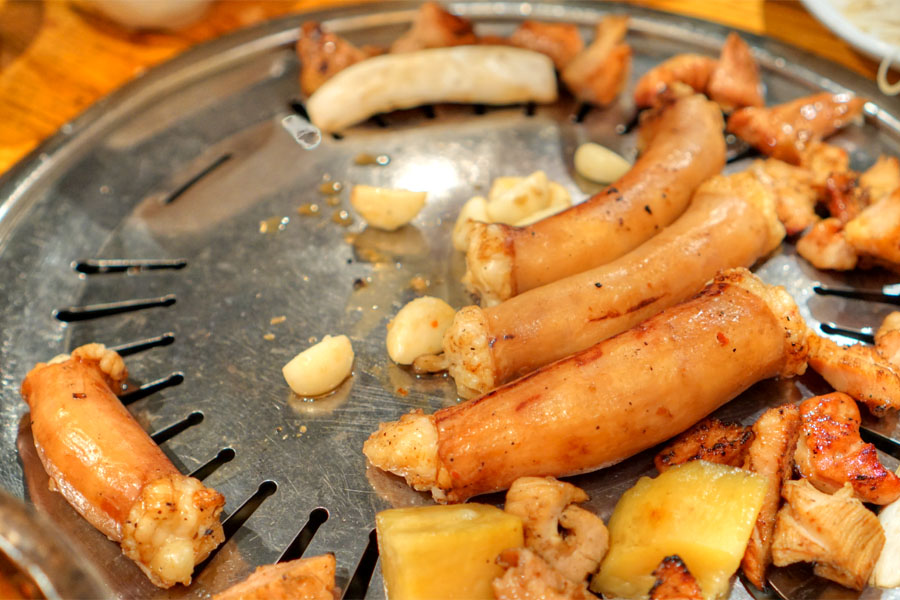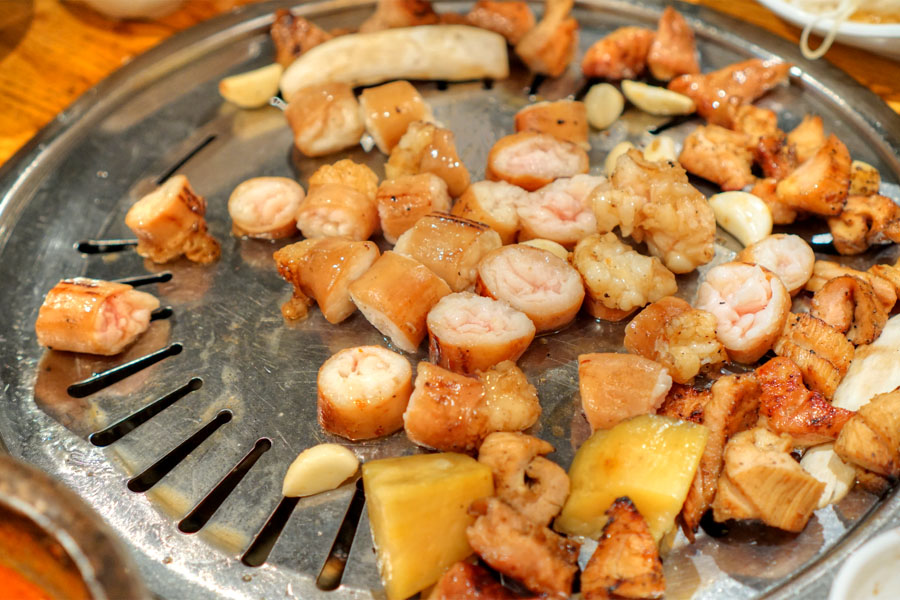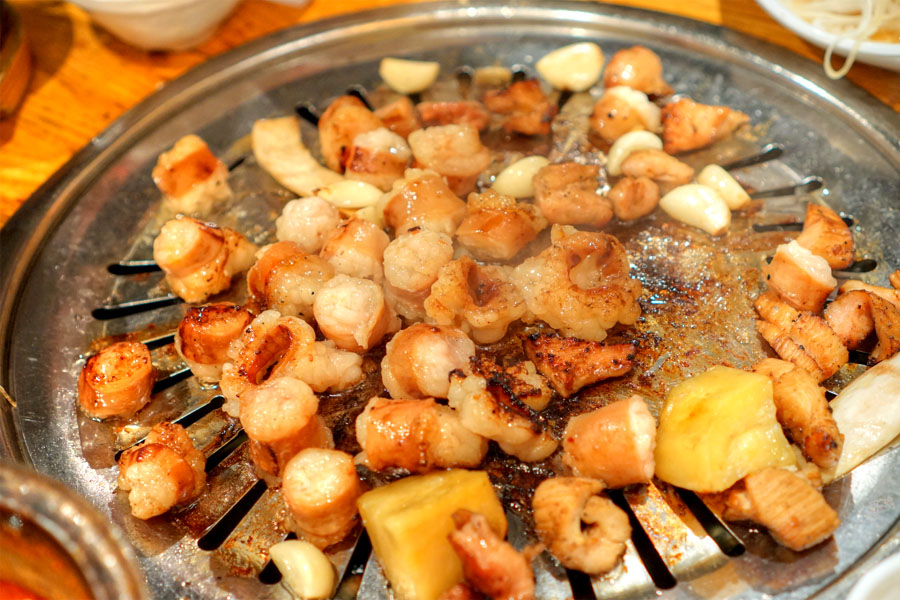 Last up was the
daechang gui
, a sweet, fatty, chewy, well-charred presentation of large intestine.
I'm generally not a huge fan of
gopchang
to begin with, but they do it proper here. The rest of the meat was right up there as well in terms of quality, and service was commendable by K-Town standards too. Another one to add to your KBBQ short list.