Yangji Gamjatang (Los Angeles, CA)
Yangji Gamjatang Restaurant
3470 W 6th St, Los Angeles, CA 90020
213.388.1105
yangjigamjatang.eat24hour.com
Sat 02/27/2016, 06:50p-08:50p
A request for an early dinner in Koreatown brought us to soup specialist Yangji Gamjatang, a reincarnation of the old Yang Gi Seolleongtang (
yangji
refers to beef brisket, a key ingredient in
seolleongtang
). It's the work of Tony Lee and Ki-Yang Lee, who opened the original restaurant back in 1985 at the current site of Shabu Me LA at Vermont and 7th (think Kobawoo House). That location shuttered circa 2011 because of increasing rents, but was brought back to life at this new address in January 2014; they renamed the place due to its proximity to Sun Nong Dan, which also prides itself on
seolleongtang
. Apparently there was also an outpost in Buena Park, but that's since shuttered as well.
Yangji takes over the old Al Bae Ne spot. Not too much has been done with the space, though fortunately they've gotten rid of the former restaurant's green walls.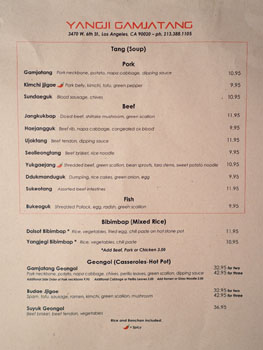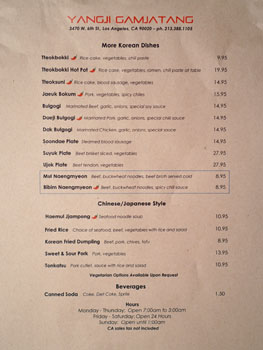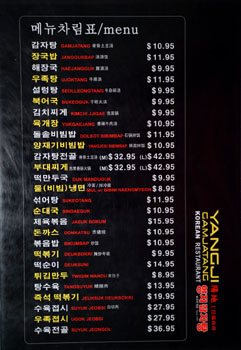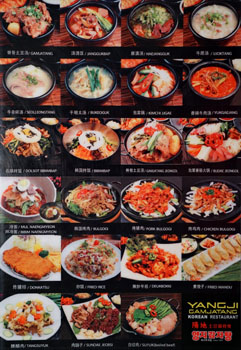 Unsurprisingly, the
gamjatang
and other meaty soups headline the menu here, joined by larger
jeongol
, other sundry Korean staples, as well as a separate
junghwa yori
section (perhaps a nod to the Korean-Chinese cuisine of its predecessor). Click for larger versions.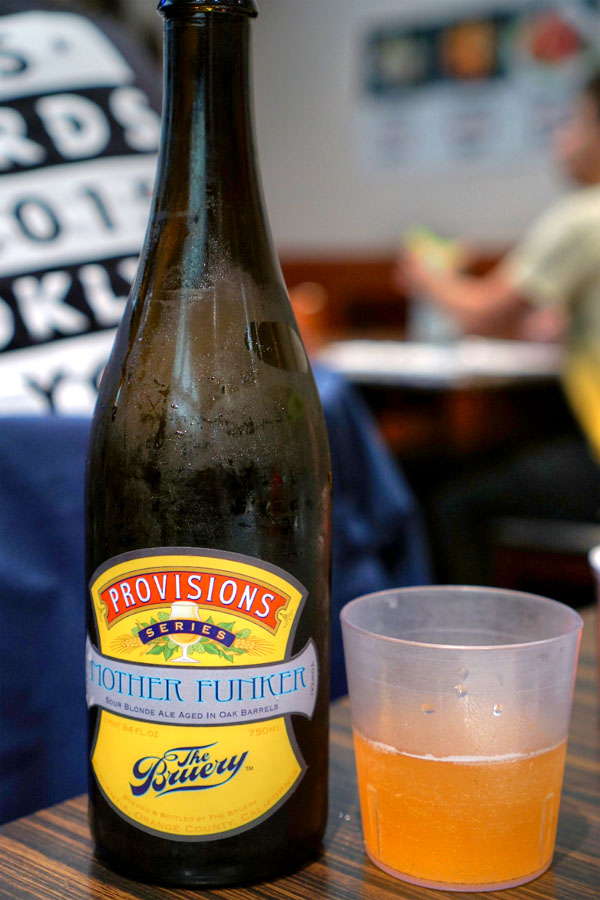 Yangji has a liberal BYOB policy, so we made sure to make use of it. Our first bottle was the
2012 The Bruery Provisions Series: Mother Funker
, a sour blonde ale aged for several years in oak barrels previously used to hold Chardonnay. It was perhaps the most puckering beer I've had from the brewery, with a super tart, almost acidic nose and a taste that went unabashedly vinous, vinegary, and acetic. Bracing to be sure.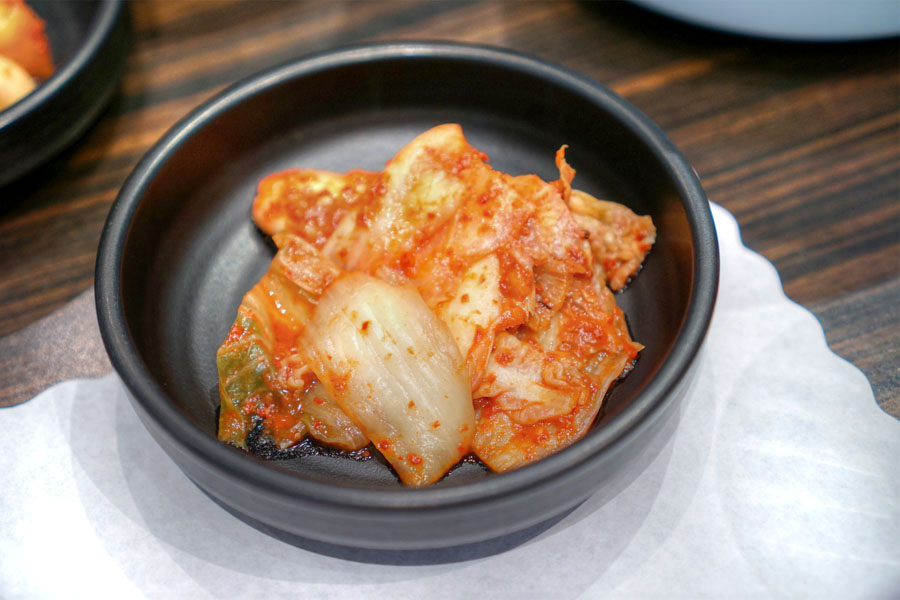 The
baechu kimchi
was about par for the course, but did its job.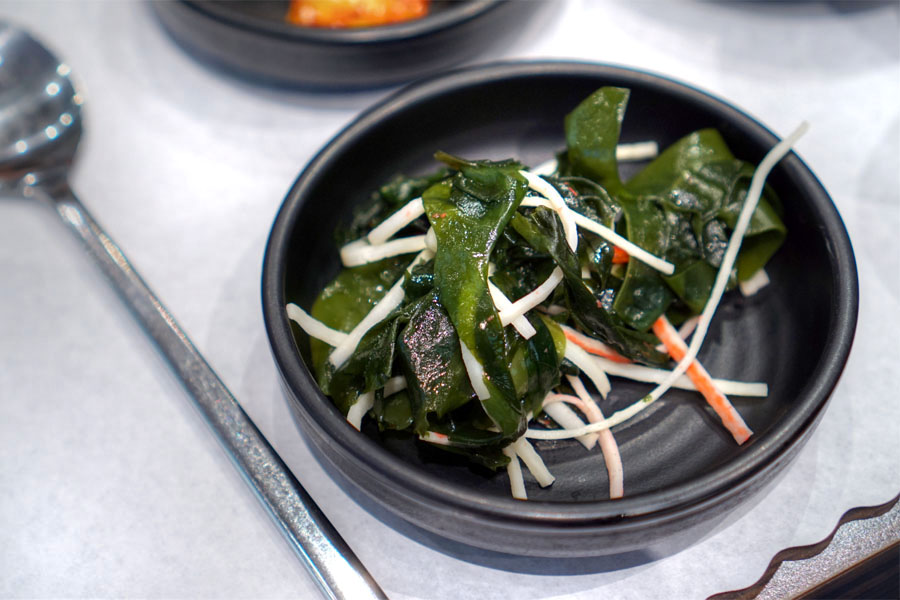 More interesting was the
miyeok muchim
, the seaweed showing off its characteristic umami flavors.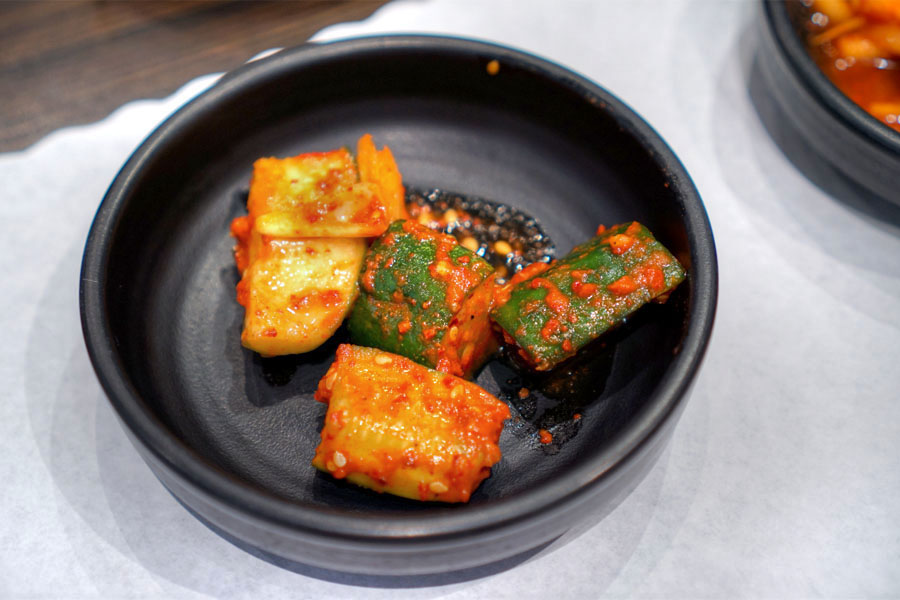 Crunchy
oi kimchi
married the coolness of cucumber with the tingling heat of chili.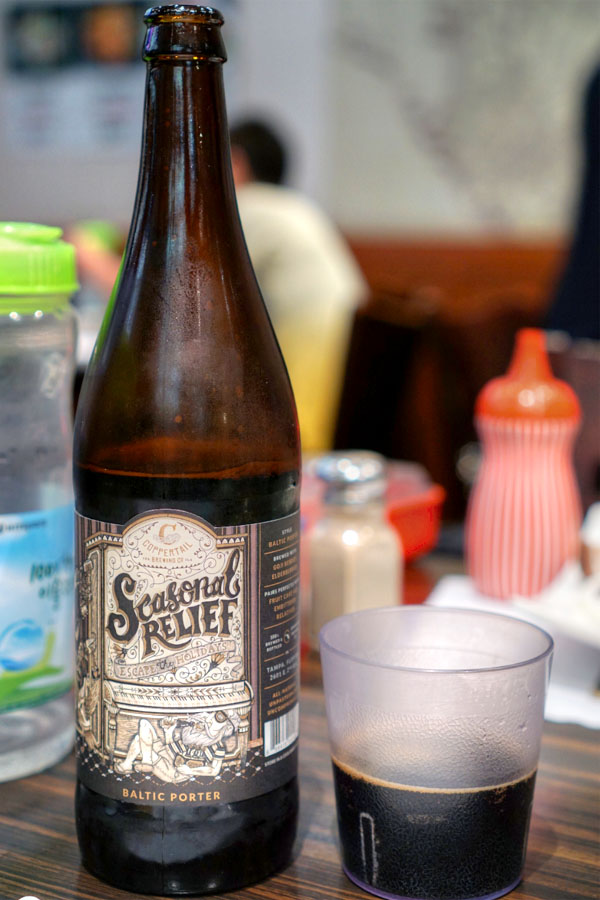 Next to drink was a Baltic porter with gojiberries and elderberries, the
2015 Coppertail Seasonal Relief
. I got aromas of dark fruit and roast, along with flavors of chocolatey malt, roast, and licorice, with light fruity notes on top.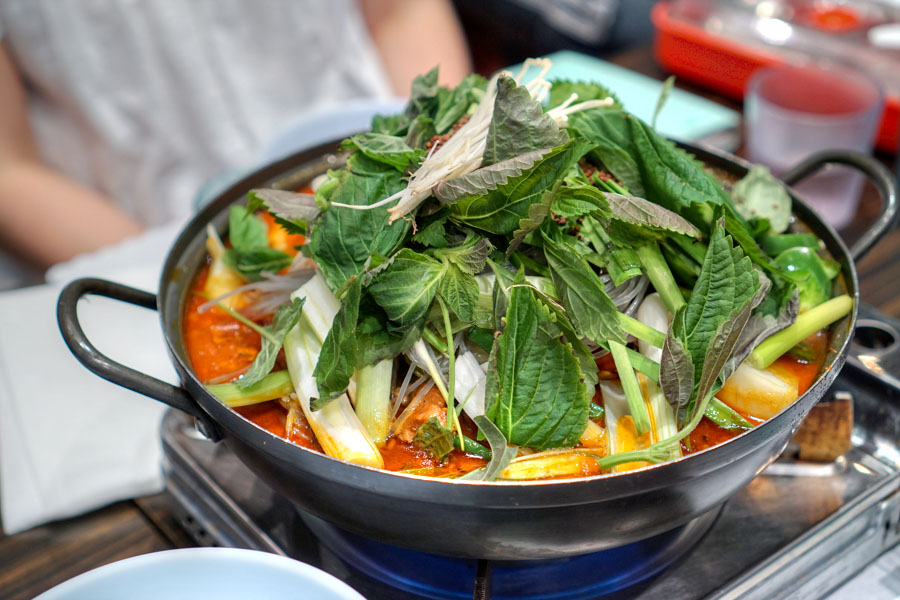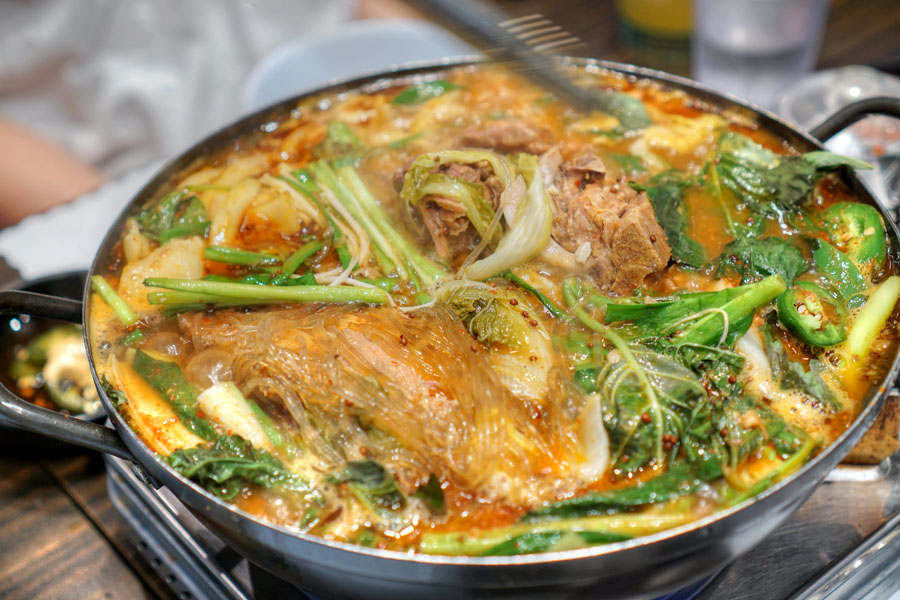 Gamjatang Geongol [$32.95]
| Pork neckbone, potato, napa cabbage, chives, perilla leaves, green scallion, dipping sauce
Yangji's namesake
gamjatang
was a winner, with the super tender, flavorful pork and hearty potato making for a cozy, comforting base. Meanwhile, I loved the brightness and crunch imparted by the various veggies, while cellophane noodles provided additional dimension to the dish. A must order, obviously.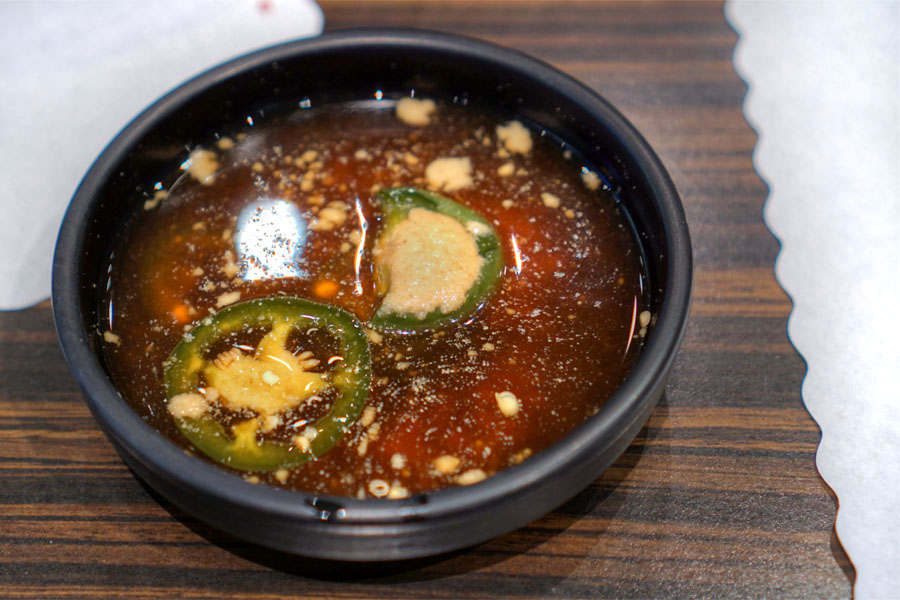 The
gamjatang
was accompanied by a sweet dipping sauce with mustard and jalapeño, but I felt that it was largely unneeded given the robustness of the meat itself.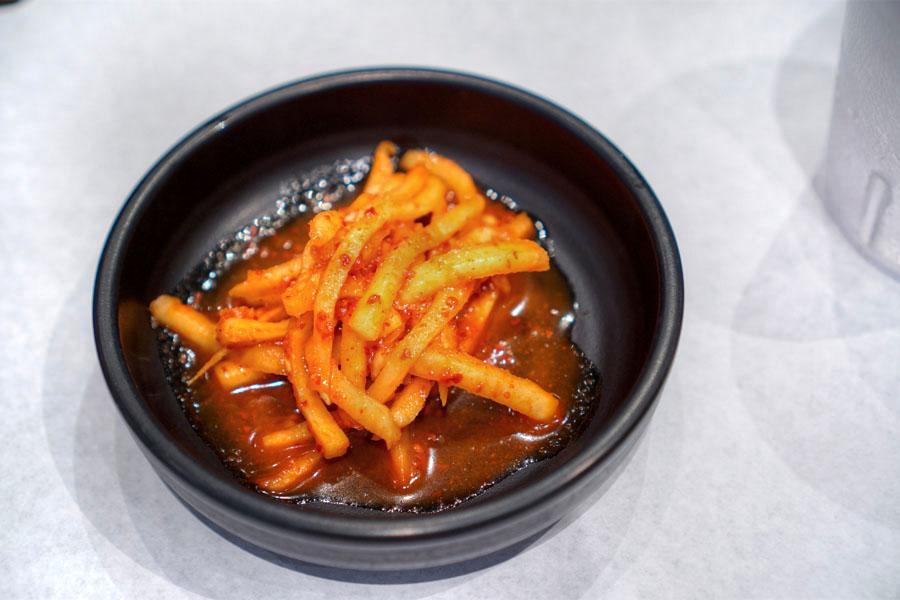 Musaengchae
did a nice job displaying the spicy crunch of shredded radish.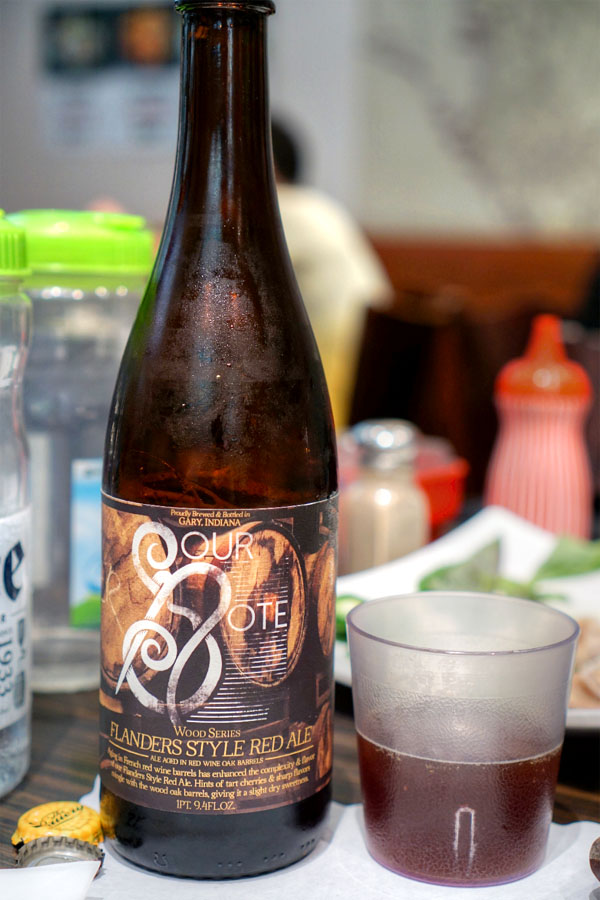 The
2015 18th Street Sour Note: Flanders Style Red Ale - Wood Series
was a sour ale aged in French red wine oak barrels. Nose was dark, funky, and distinctly vinous and acidic, while the taste brought a sweet, richer, oakier flavor profile, with caramel notes offset by a persistent cherried tartness.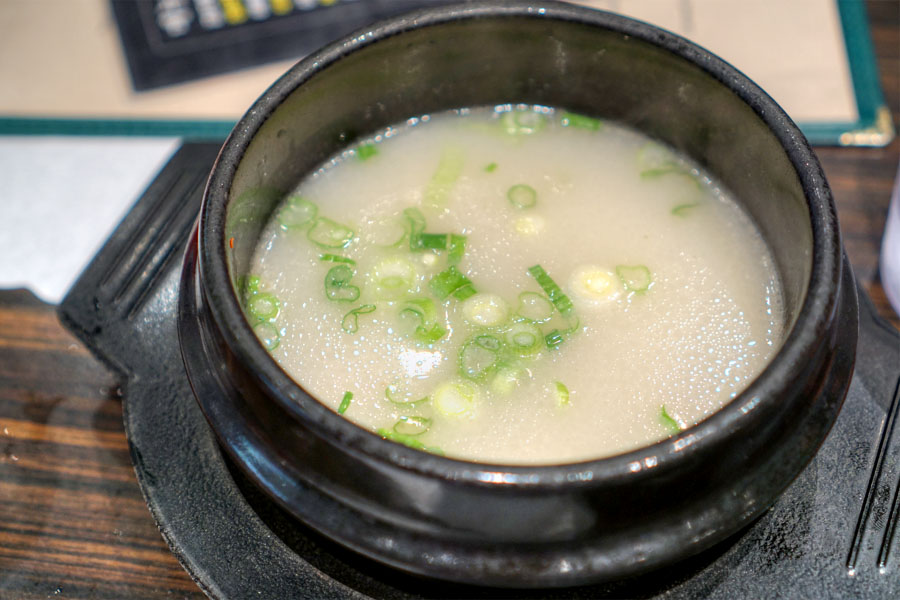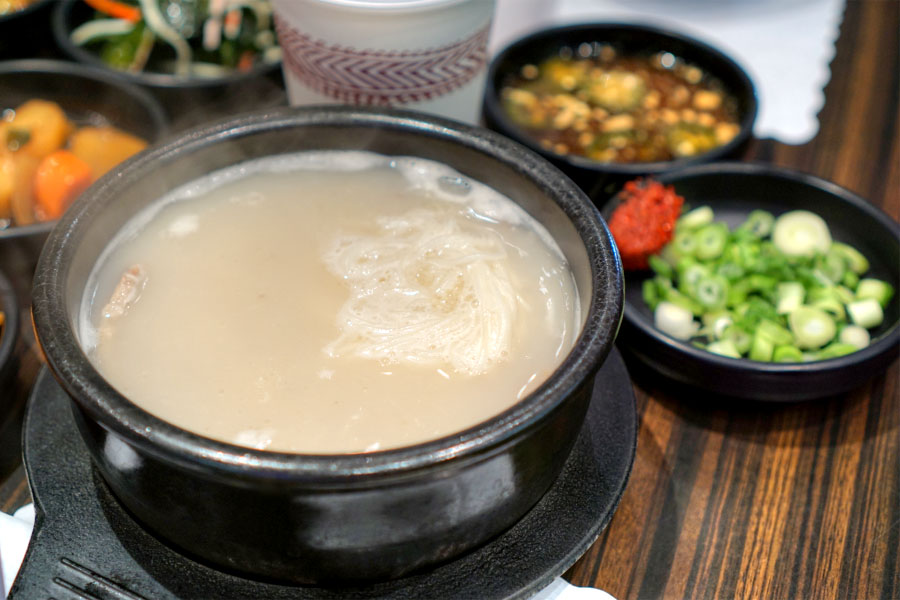 Seolleongtang [$9.95]
| Beef brisket, rice noodle
Yangji's other signature dish, the
seolleongtang
, was a standout as well with its super tender, flavorful cuts of brisket and rich, salty, comforting broth, perked up by the zestiness of green onion.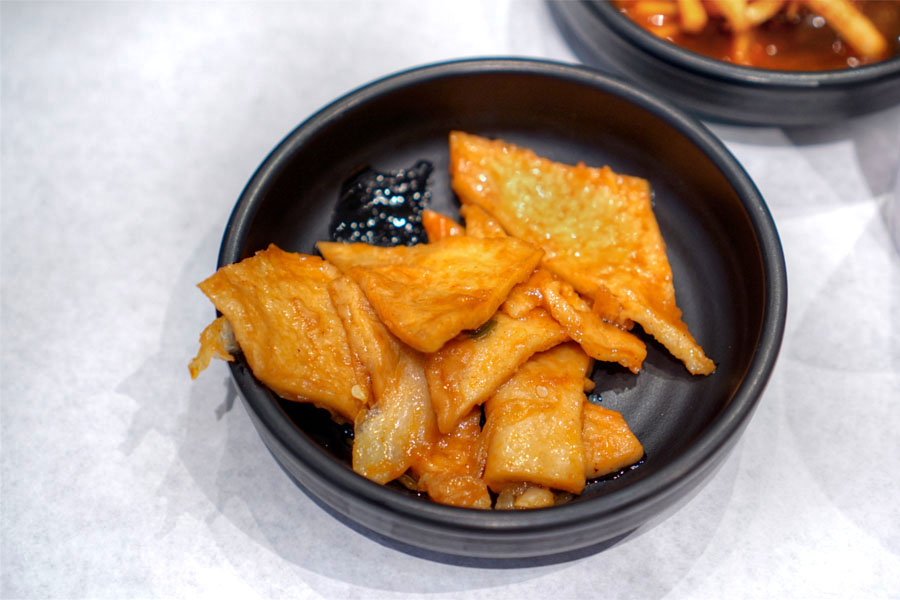 Eomuk bokkeum
, or fish cake, came out soft and savory.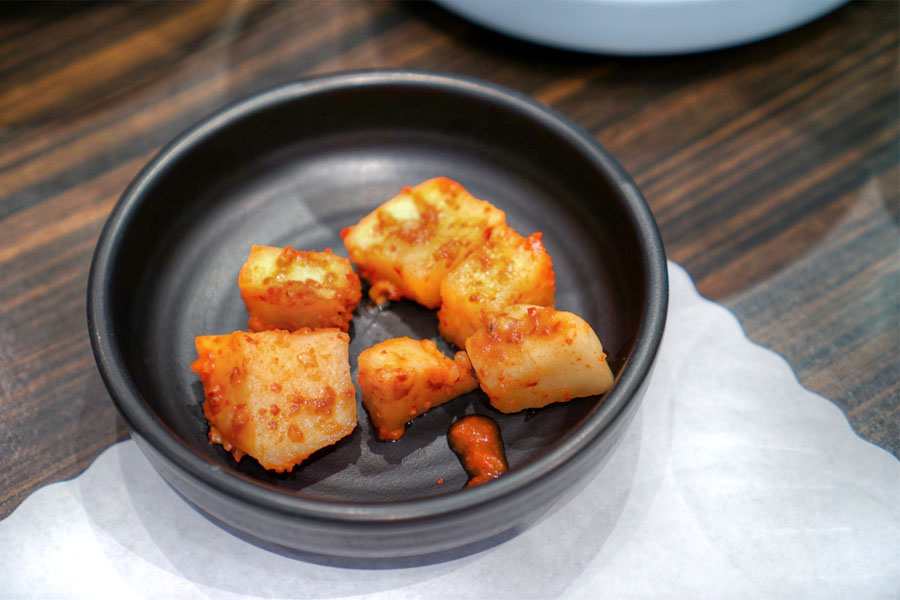 Kkakdugi
showed off the trademark crunchiness of
mu
(Korean radish).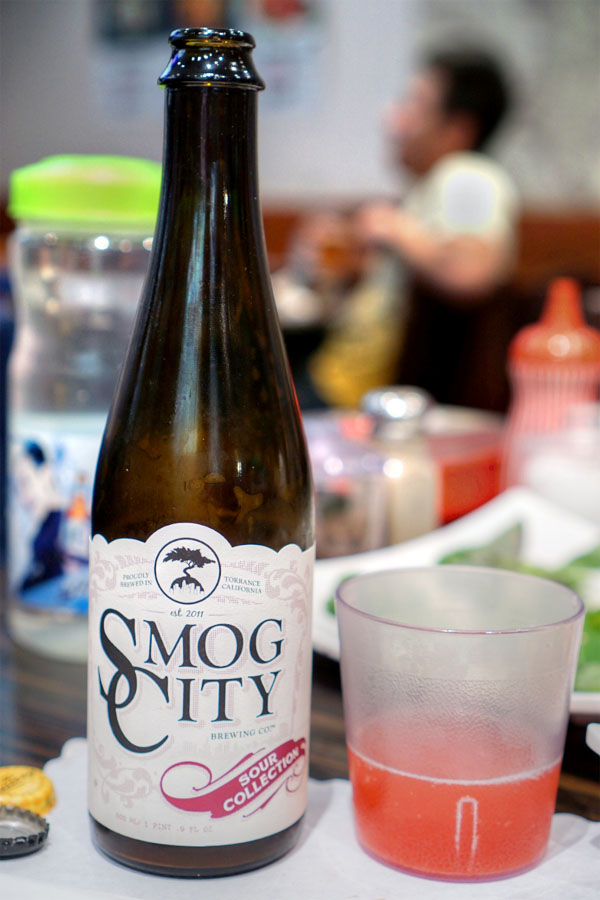 A sour blonde with raspberry and boysenberry added, the
2016 Smog City Snugglebug
was my favorite beer of the night. Super aromatic nose teeming with juicy, jammy fruit; palate brought more berry flavor countered by a restrained, elegant tartness. I'd had the beer on tap before, and I have to say that it was much better from the bottle.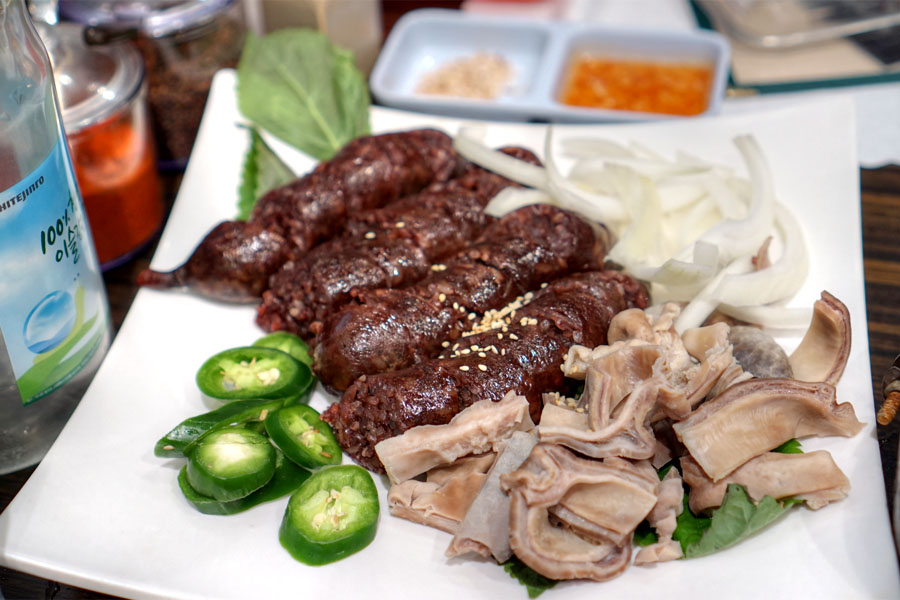 Soondae Plate [$14.95]
| Steamed blood sausage
Soondae
was a delicate, easy-easting preparation, with a particularly light, almost "fluffy" texture to the sausage thanks to the incorporation of
dangmyeon
. Tasty alone, but even better with a dab of the included condiments.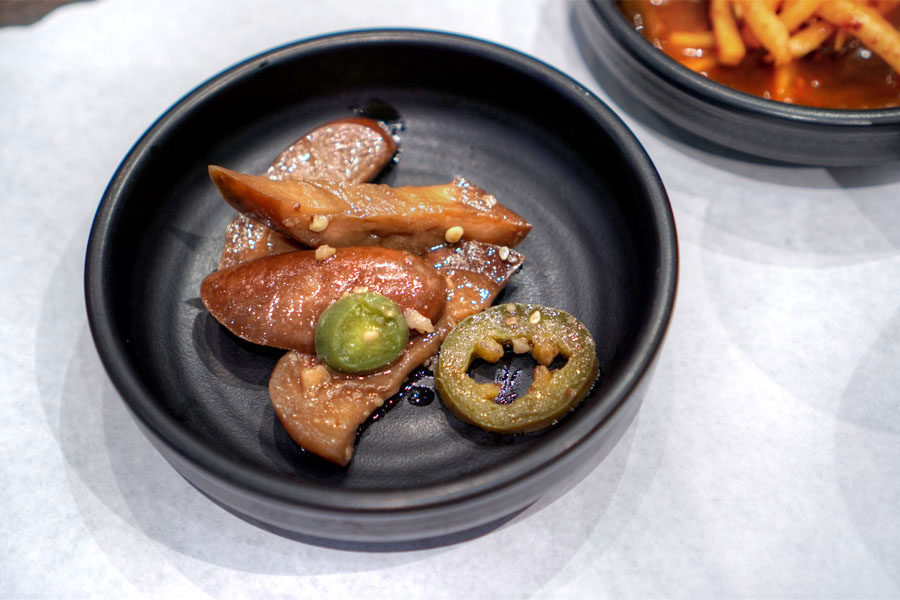 Gaji namul
was a relatively uncommon sight, with the smokiness of eggplant well conveyed.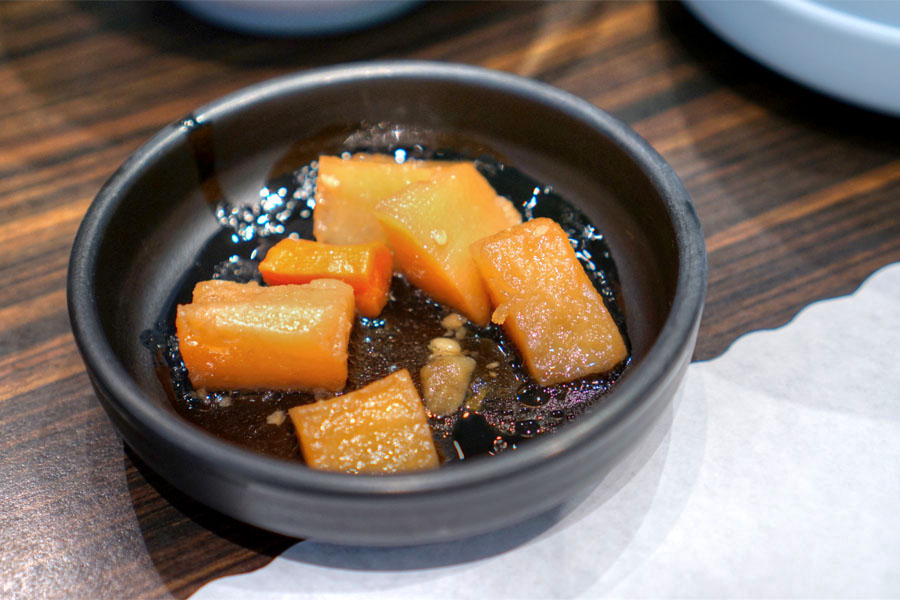 The
gamjajorim
was one of my favorite sides, the hearty chunks of potato imbued with a deep savoriness.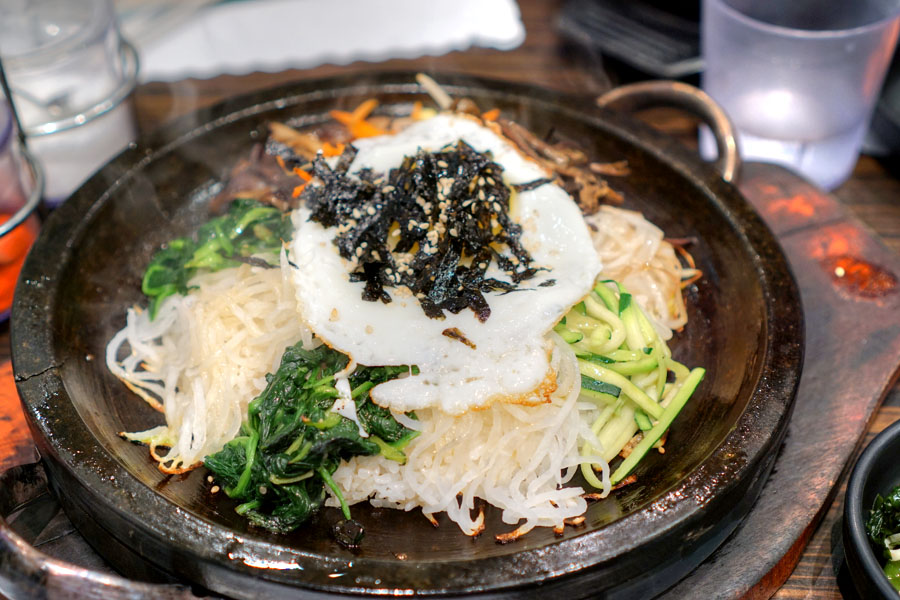 Dolsot Bibimbap [$11.95]
| Rice, vegetables, fried egg, chili paste on hot stone pot
The
bibimbap
was the crunchiest I've had, with the stone pot really making for some great
nurungji
. Flavors were classic, with a delightful
gochujang
-powered heat, and I appreciated all the textures present as well.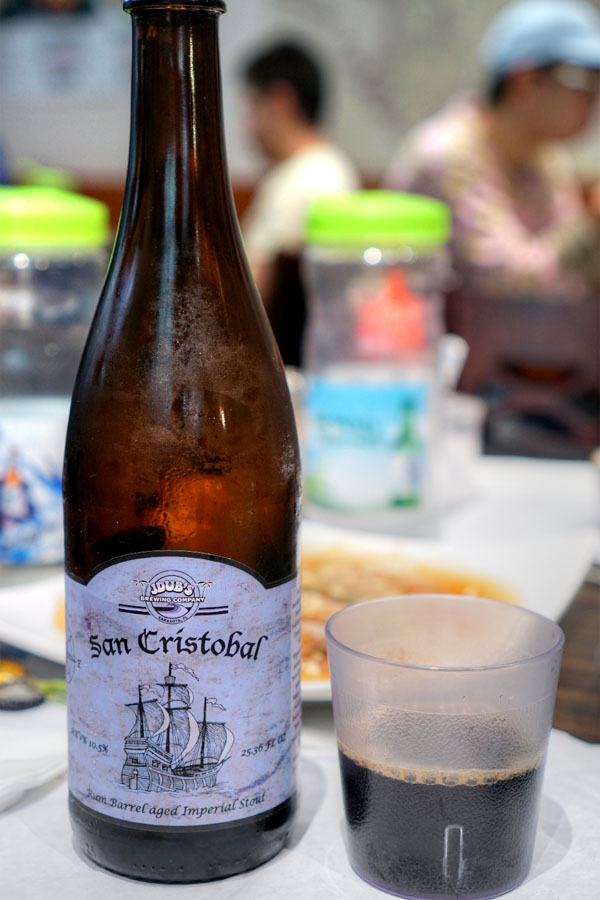 Our final beer was the
2015 JDub's San Cristobal
, an imperial stout aged four months on fourth-use Siesta Key spiced rum barrels, with puréed cherries added. It was really quite lovely, smelling of dark cherry fruit and rich malt, while the taste brought more malt, coffee-tinged roast, and fruit, along with rum-fueled spice.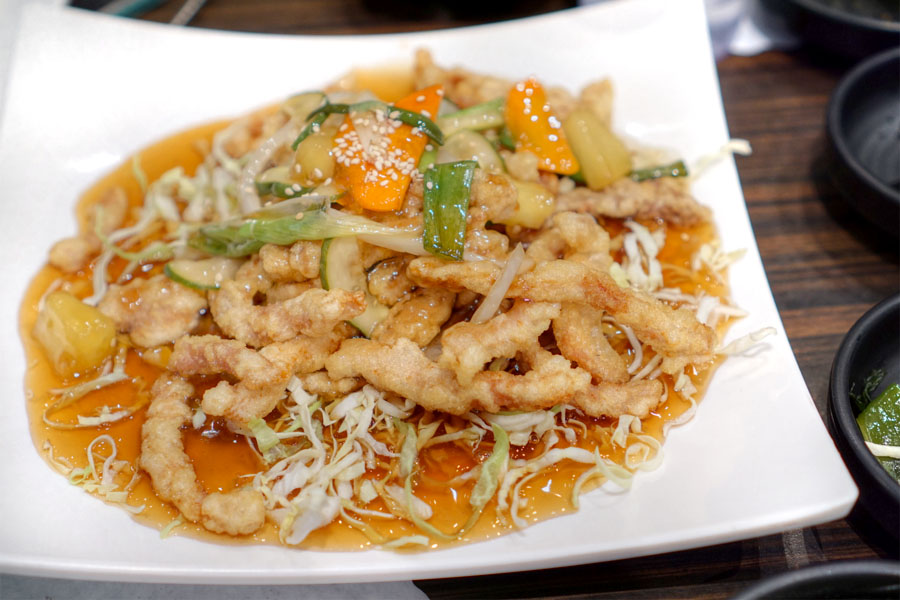 Sweet & Sour Pork [$13.95]
| Pork, vegetables
At this point, we moved into some of Yangji's Korean-Chinese dishes. The
tangsuyuk
was a commendable version, light yet crisp to the bite, with a fine balance of sweet 'n' sour.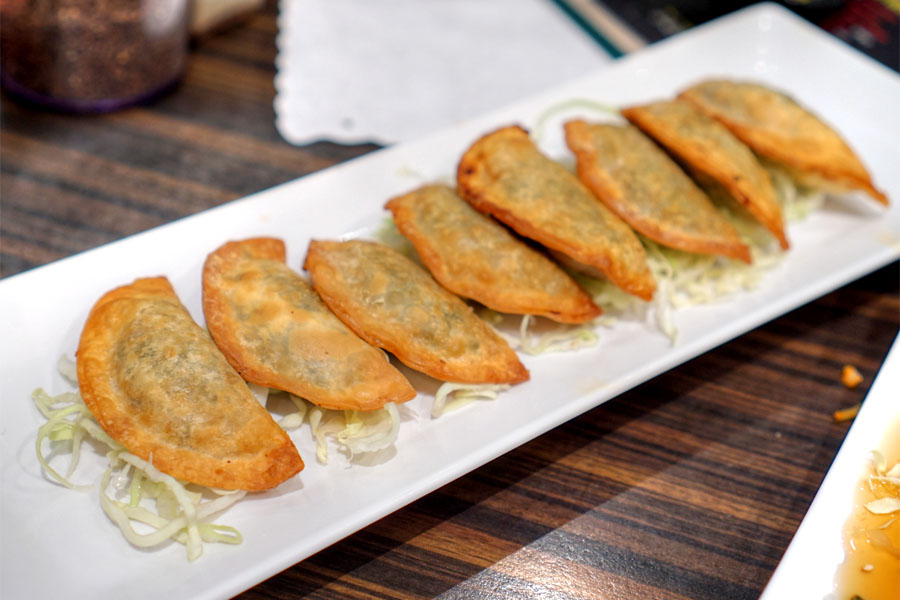 Korean Fried Dumpling [$8.95]
| Beef, pork, chives, tofu
Twigim mandu
were delish: super crunchy and imbued with a great herbiness from the chives.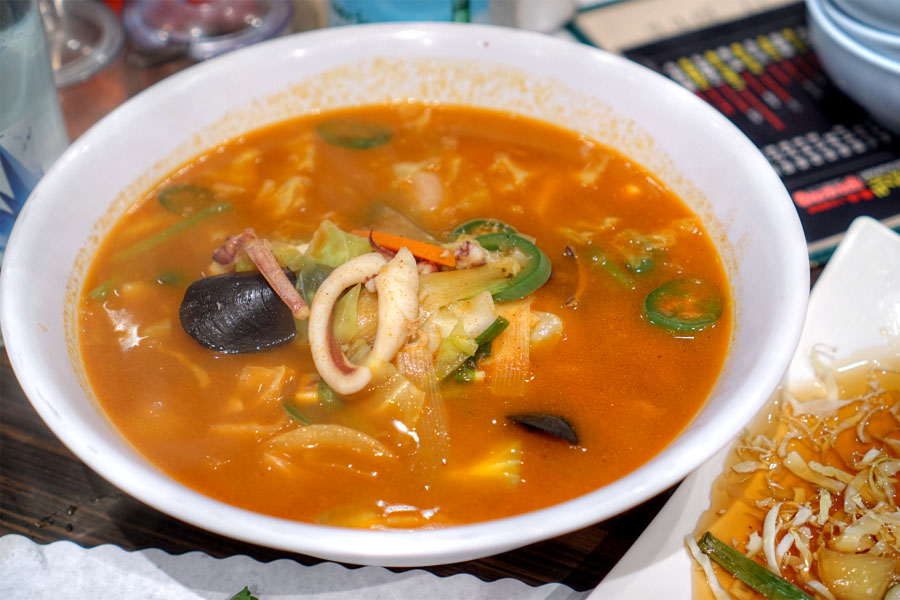 Haemul Jjampong [$10.95]
| Seafood noodle soup
Lastly, the
jjamppong
was also well-constructed, with a snug, homey spiciness that meshed perfectly with the rich, heady brine of the soup. Great textures, too.
I think we all left really satisfied by Yangji. The food was pretty much spot on across the board, while the service was as friendly as I've heard. Given its hours, the restaurant is known as a late-night, drunk-food, hangover-curing sort of place, but I have to say that the cooking is strong enough to warrant a visit for a proper dinner. A great little K-Town gem.