Duello (Los Angeles, CA)
Duello Restaurant
449 S Hewitt St, Los Angeles, CA 90013
424.433.3000
www.duellodtla.com
Wed 06/12/2019, 08:00p-10:10p
[Note: Duello looks to have closed up for good as of late July, so I suppose this post will just be for historical curiosity.]

One of the more shocking shutters of recent times has got to be that of
Simone
. Helmed by Jessica Largey (of
Manresa
fame), the Arts District spot opened on September 20th last year, but never seemed to hit its stride. After apparent mismanagement on the part of leadership, Largey left the restaurant in March, and Simone closed up shop at the start of April. However, all was not lost, and the place re-opened as the more casual Duello (which was previously the name of the bar in front) on May 18th. Running the kitchen now is former Chef de Cuisine Jason Beberman. As I stated in my Simone post, he's "
a New Yorker who was last serving as Director of Culinary Operations for Alex Stupak's Empellon. Before that, he cooked at numerous NYC spots including Miller's Tavern, Dressler, Diner, Gramercy Tavern, Marlow & Sons, Veritas, and Geoffrey Zakarian's Town.
"

Not too much has changed in the bar area, but the back dining room was still in the process of being remodeled this evening. There's also a new patio right in front.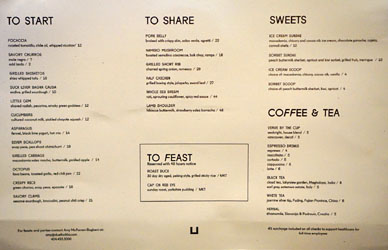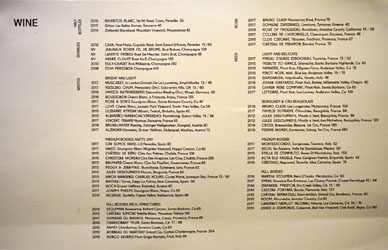 Menu-wise, Duello sports more approachable fare compared to its predecessor, which probably makes sense, at least for now. On the beverage side of things, cocktails by barman Iain McPherson are still in place (thankfully), and of course you also get some beers and a decent wine list. Click for larger versions.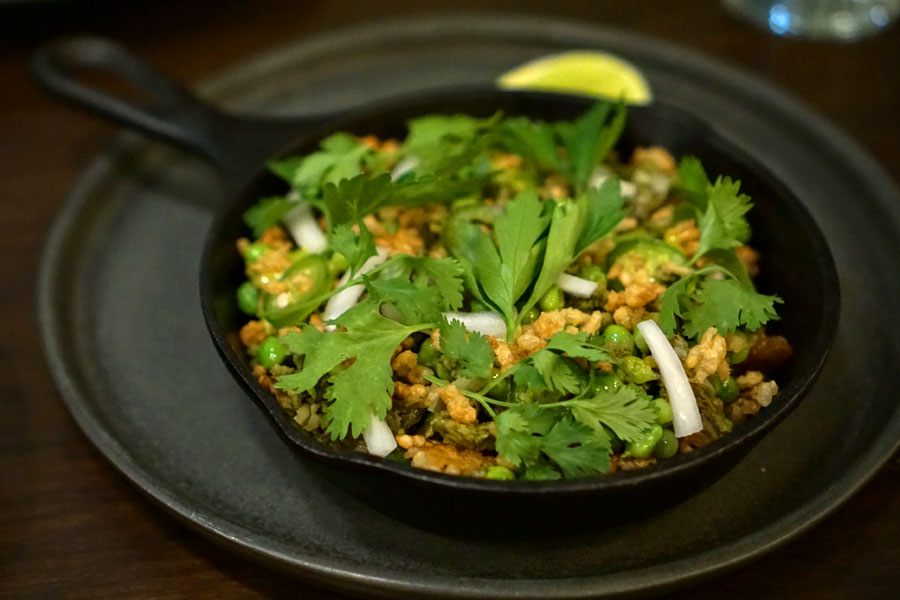 Crispy Rice [$16.00]
| green chorizo, snap peas, epazote
The meal got off to a promising start with my favorite dish of the evening. The rice was indeed as crunchy as advertised, and worked great as a foil to the steady, unobtrusive heat from the chorizo. Peas imparted a welcomed sweetness to the dish, while the
epazote
showed off some delightfully minty notes.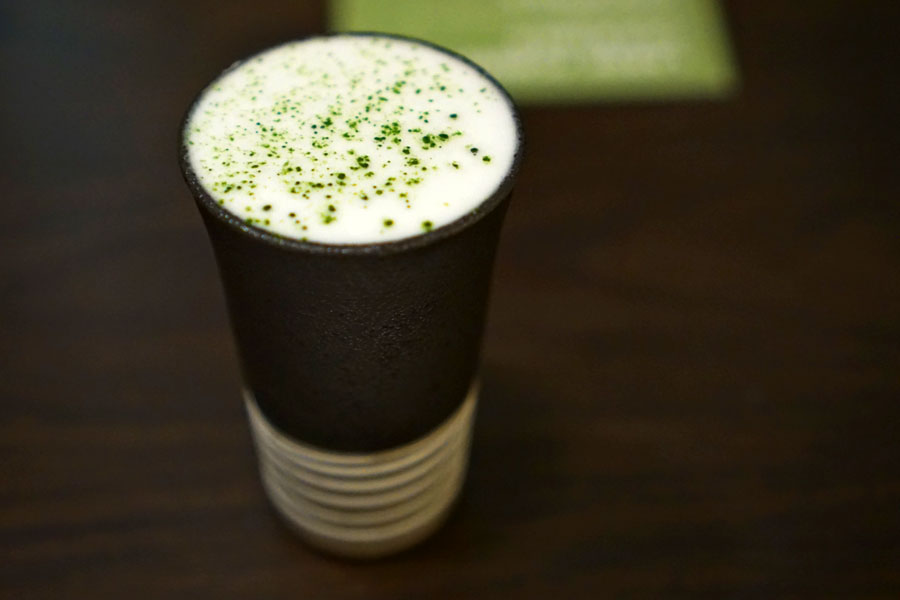 Fuzz Lord [$15.00]
| jamaican rum, cachaca, kiwi, whites, matcha
Our first cocktail was a definite winner. I found it eggy and citrus-forward at first, but it also had a palpably astringent quality layered over a base of fruit, all while the back end gave up an almost briny sensation. Really interesting.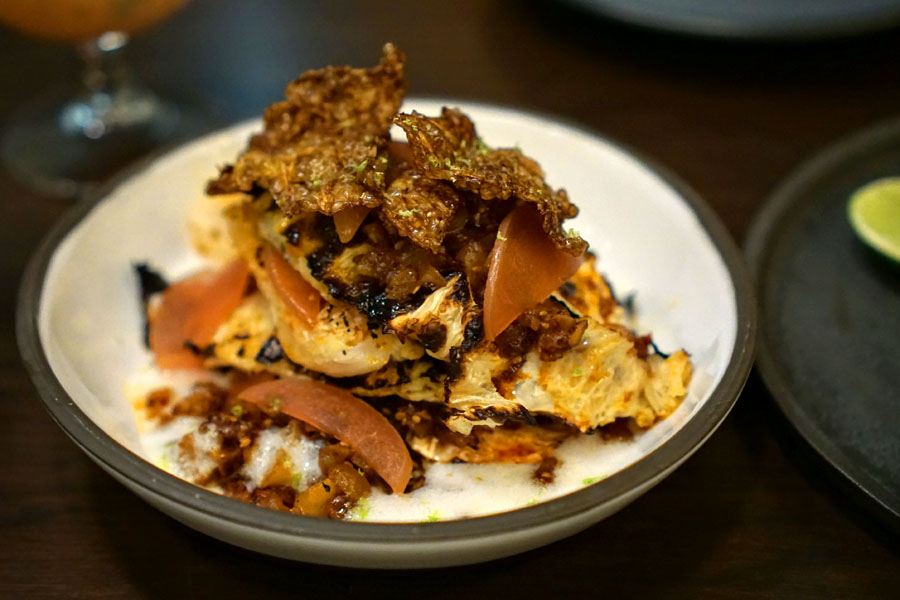 Grilled Cabbage [$14.00]
| macadamia salsa macha, buttermilk, pickled apple
I'm a fan of cabbage, though here I found its bitterness and char a bit too strong. The
salsa macha
imparted a pervasive, creeping heat to the dish, though it veered overly nutty for my liking. At the same time, the pickles offered up a contrasting element, but I think even more acidity was called for.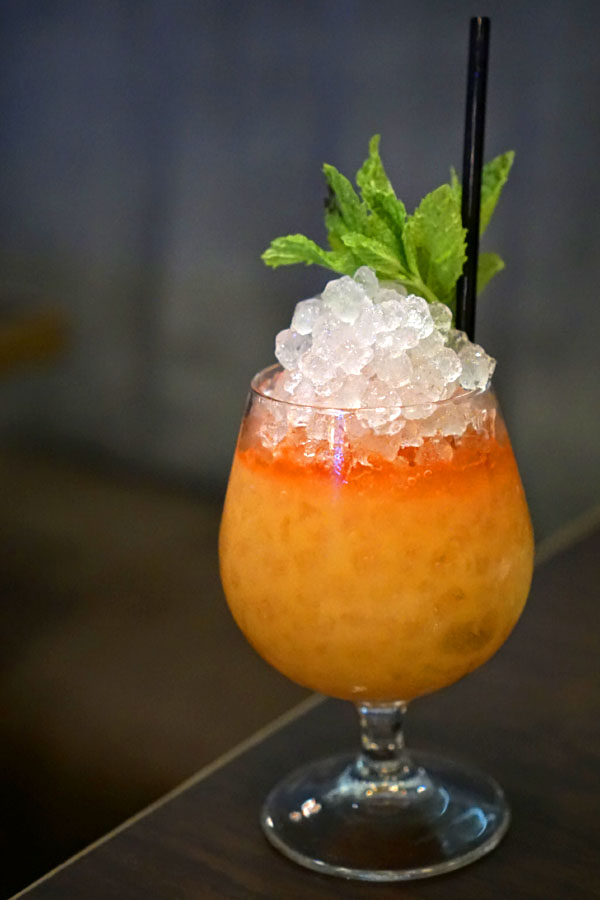 Astro Zombie [$15.00]
| mexican rum, overproof rum, arrack, guava, passionfruit, almond, lime, absinthe
Next to imbibe was a commendable take on the classic Zombie cocktail. I got boatloads of tropical fruit up front, which then led to sweet, nutty notes, while the back end really showed off the anise-y nature of absinthe.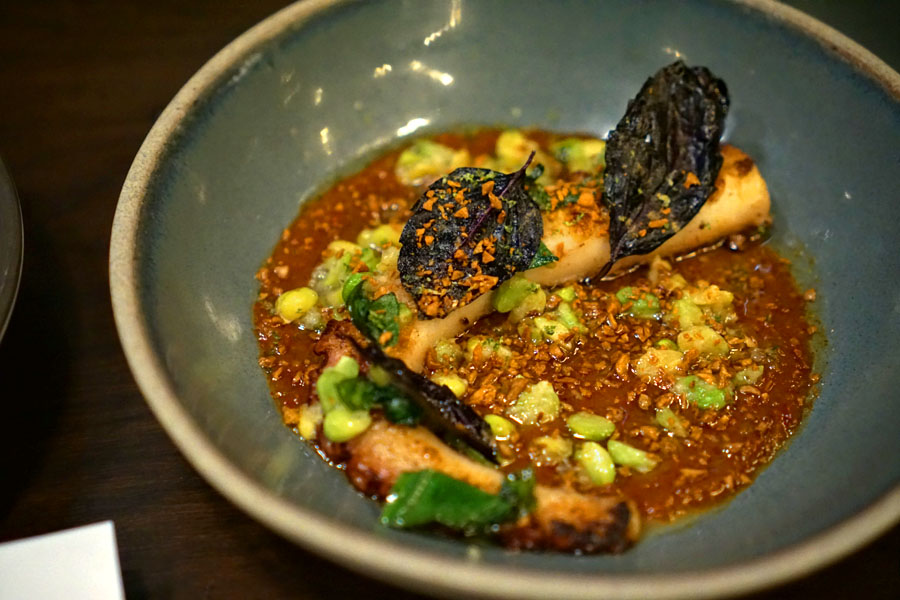 Octopus [$22.00]
| fava beans, toasted garlic, red chili jam
Octo was super supple, with a good amount of sear and smoke to it as well. I was a fan of the chili jam too, which had a pretty intriguing combination of bitter, spicy, and savory flavors that really showcased a good amount of depth. The favas, meanwhile, worked hard to lighten up the dish.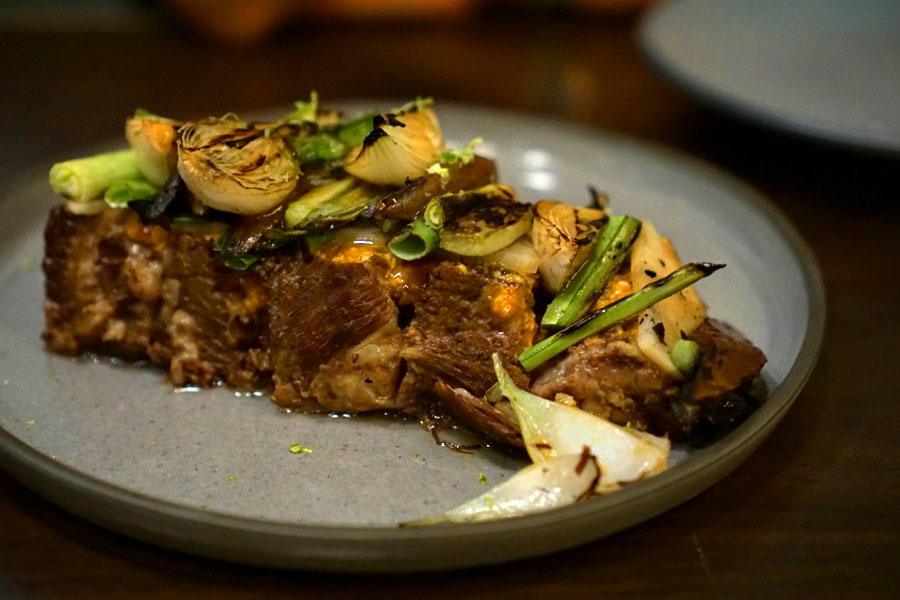 Grilled Short Rib [$29.00]
| charred spring onion, romesco
Short rib ate tender, and had this super beefy, almost funky quality to it. I really appreciated the counterpoint provided by the charred veggies, but the romesco went in an overly nutty direction, and didn't really mesh all that well with the meat; in fact, the combination was slightly disconcerting.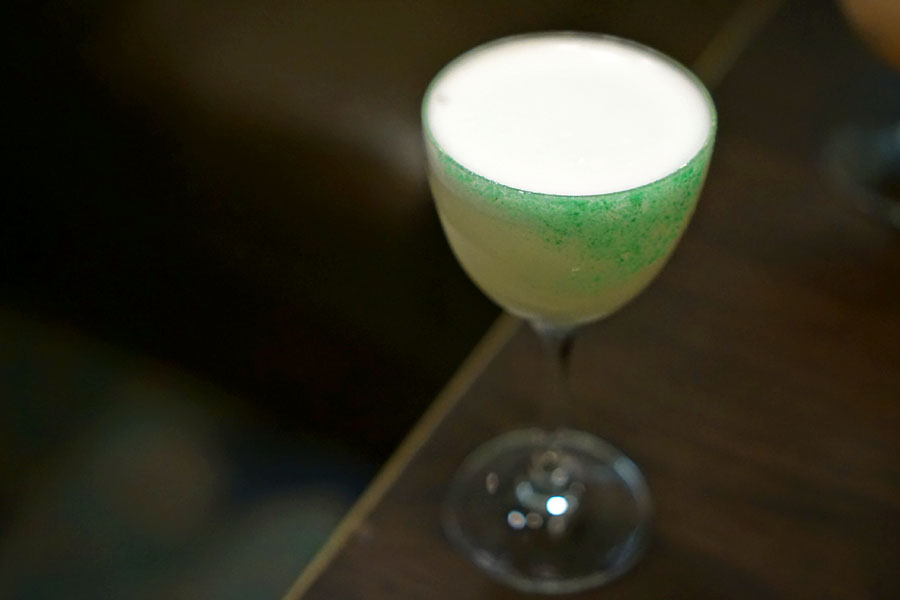 Juno [$15.00]
| mezcal, yuzu liqueur, creme de peche, whites, lemon, absinthe sherbet
Here was yet another worthwhile cocktail. This one had lots of stone fruit at the start, which then led to contrasting nutty, anise-y notes, with layers of astringency and sourness on top. Nice!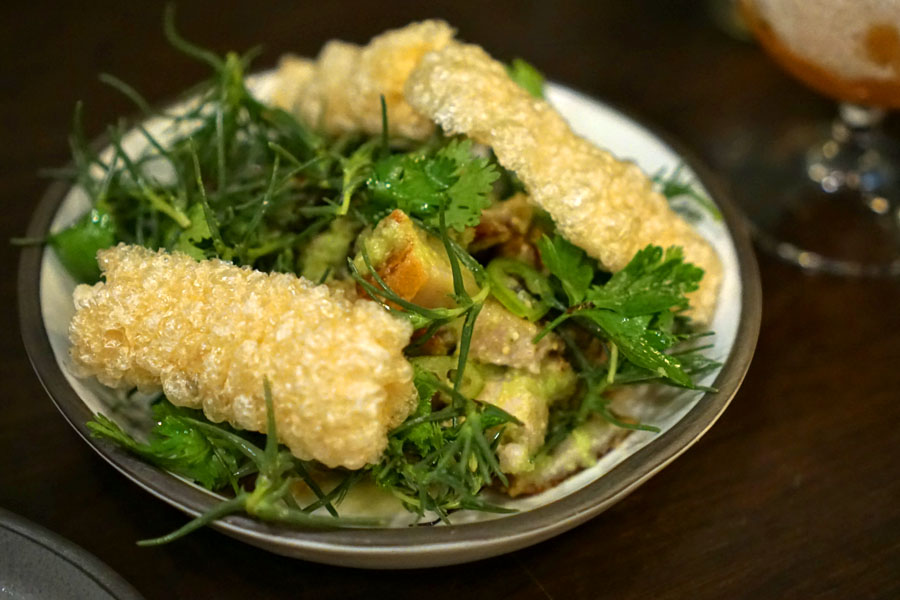 Pork Belly [$22.00]
| braised with crispy skin, salsa verde, agretti
In our final savory, pork belly had this intense, almost earthy character to it, and really needed the salsa and super zesty
agretti
for balance. The skin here was indeed crispy, though the meat itself could've certainly stood to be juicier, more tender. In the end, the dish just didn't come together as well as I'd hoped it would.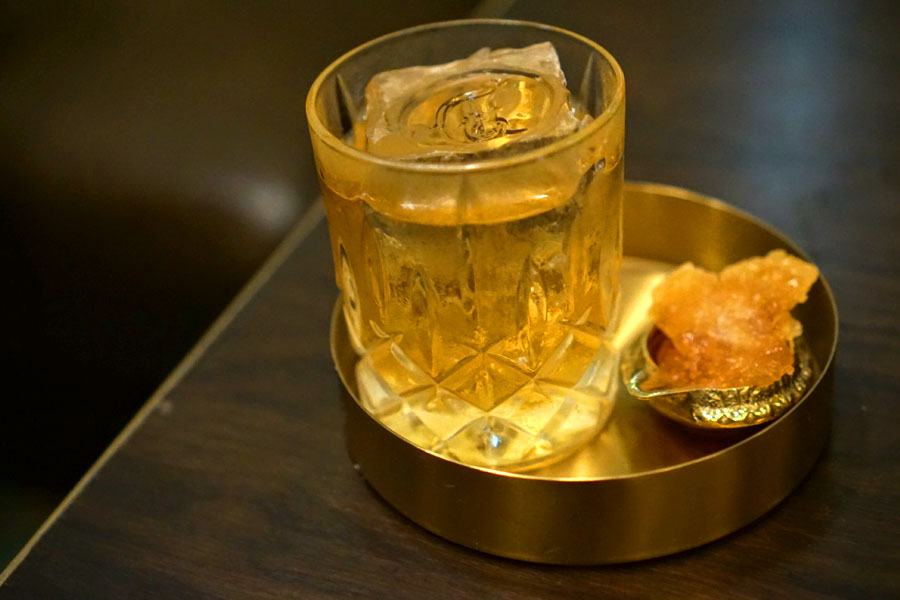 Golden Age [$14.00]
| japanese whiskey, lemongrass, saffron liqueur, curacao, yuzu ginger
The evening's last cocktail displayed lots of ginger up front, leading to sour, acerbic notes from the lemongrass-saffron combo, while there was almost this fruity backing to the drink that I quite appreciated.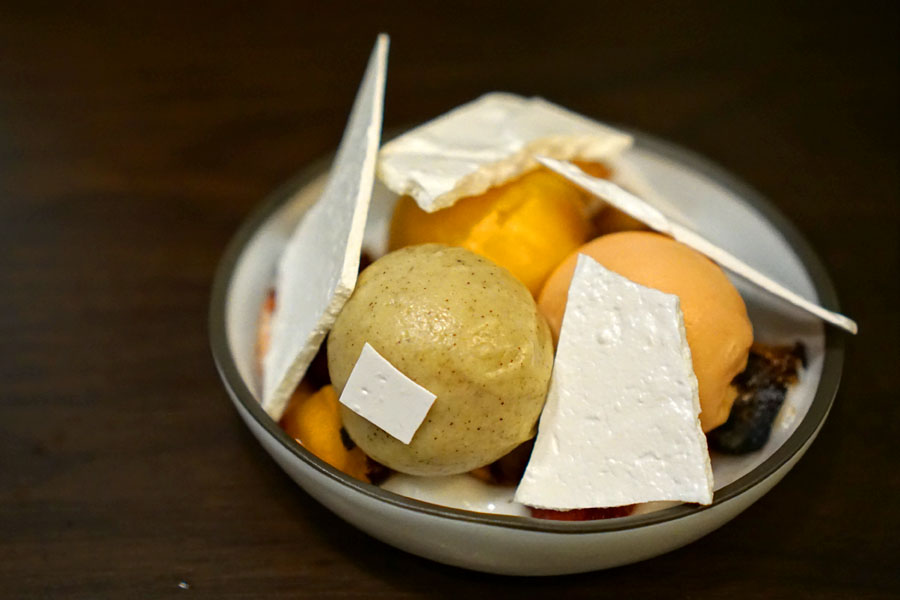 Sorbet Sundae [$10.00]
| peach buttermilk sherbet, apricot and kiwi sorbet, grilled fruit, meringue
Dessert duties were handled by a trio of sorbets. The sherbet was delish, blending tasty peach flavors with the lactic nature of buttermilk. And speaking of stone fruit, the apricot sorbet was also on point, giving up tons of true-to-life flavors. My favorite was the kiwi, which I found super intense and really quite unique. The meringues, meanwhile, moderated the strong flavors present and provided some textural contrast. There was also what I believe was this coconut-y, yogurt-y cream present at the bottom of the bowl, which I didn't mind.
I was sort of bummed that Simone closed so suddenly (I didn't even get to try the chef's counter), but I'm glad that they were able to bounce back relatively quickly. The cocktails we had were pretty great, and Duello is actually worth visiting just for the drinks. The cooking, though, was a bit uneven, but there is some promise here, and I do hope that the team has a chance to improve.