Simone (Los Angeles, CA)
Simone Restaurant
449 S Hewitt St, Los Angeles, CA 90013
424.433.3000
www.simoneartsdistrict.com
Fri 10/12/2018, 08:00p-12:15a

The Arts District landed another notable eatery with the debut of Simone on September 20th. Named after singer Nina Simone, the restaurant serves up plant-focused Cal-cuisine fare and comes to us from Chef/Owner Jessica Largey, who's most known for her work at David Kinch's seminal Manresa up in Los Gatos. Joining Largey on the team is Managing Partner Bruno Bagbeni, who started his FOH career in New York but also spent time at Fig & Olive,
Fraiche
, and Bastide (with
Alain Giraud
) here in LA. Director Joe Russo (of the recent
Avengers: Infinity War
, among others) is an investor as well, as is comedian Joel McHale (
The Soup
,
Community
).
About the Chef
: Largey hails from Fillmore, a small agricultural town in California's Ventura County. She grew up surrounded by plenty of farmland, and, influenced by both her mom and grandmother, began cooking at the age of 5, apparently starting with a dish of scrambled eggs. After high school, she enrolled at the California School of Culinary Arts in Pasadena, and was able to land an internship at Michael Cimarusti's widely-lauded
Providence
in 2005, when she was 19. She continued to work at Providence following culinary school, and stayed there until she left to
stage
at Heston Blumenthal's celebrated restaurant The Fat Duck in England in December 2007. Largey returned to LA in January 2008 and became opening chef at LAMILL Coffee, which had a menu created by the Providence team; she was there until May that year. It was also in May 2008 that she met
David Kinch
for the first time. Kinch was in town for a
5x5 Chef's Collaborative
dinner at Providence (I was actually there that fateful night), and she was assigned to assist him with his mussel dish. She kept in touch with Kinch, and eventually secured a
stage
at Manresa that fall. In July 2008, Largey became a
poissonnier
at the storied
Bastide
in West Hollywood, which was run by Paul Shoemaker at the time (another Providence alum).
She left Bastide in December that year, and started working as a chef de partie at Manresa in March 2009. In March 2011, she was promoted to sous, while CdC status was achieved in May 2012. Largey received a number of accolades during this period, including: StarChefs' San Francisco Bay Area Rising Stars (May 2013), Zagat's 30 Under 30 in the Bay Area (July 2013), James Beard's Rising Star Chef of the Year nominee (March 2014), and
San Francisco Chronicle
's Rising Star Chefs (March 2014). She was able to win Rising Star Chef of the Year in May 2015, but would leave Manresa shortly after (replaced by Mitch Lienhard of
Saison
). She took some time off to travel, then returned to cooking in February 2016 as a rotating guest chef at Rich Melman's Intro in Chicago. Following the completion of her residency that May, she relocated to Los Angeles and started planning for Simone. She also did a number of pop-ups while working on the restaurant: at Simbal in August 2016, at Plant Food + Wine in March 2017, at
Winsome
in July 2017, and at
Esters
in February 2018. Recently, in May, Largey was deemed one of
Robb Report
's "7 Best Young Chefs in America."
Chef de Cuisine duties at Simone are handled by Jason Beberman, a New Yorker who was last serving as Director of Culinary Operations for Alex Stupak's Empellon. Before that, he cooked at numerous NYC spots including Miller's Tavern, Dressler, Diner, Gramercy Tavern, Marlow & Sons, Veritas, and Geoffrey Zakarian's Town. Meanwhile, native Angeleno Crystal Espinoza is Simone's Sous Chef; we last saw her over at
Knead & Co
and
Union
with Bruce Kalman.



Simone is housed in a 1920s-era building next to Urth Caffé, one supposedly used as a photography studio for the past 35 years and which has been redone by local firm
Deirdre Doherty Interiors
. Up front is Duello, a moody 25-seater bar, and beyond that are the open kitchen and its concomitant six-seater walnut chef's counter, while the 75-seat main dining room is situated in the rear. The overall vibe is sort of opulent-industrial, hard-soft, and ostensibly takes some inspiration from the Art Deco movement. There are also two private dining rooms: one for up to a dozen guests (where we sat) and another for two dozen.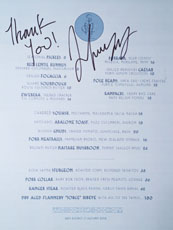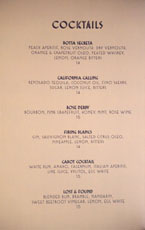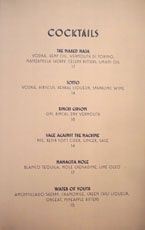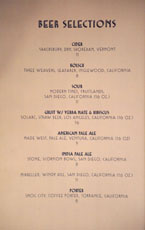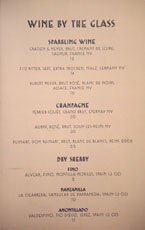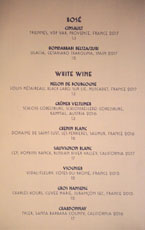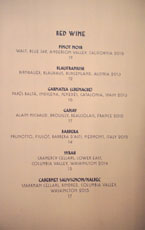 Above we see Simone's menu, which features a particular focus on vegetables. Note that, in lieu of ordering à la carte, we had the Chef build a menu for us, priced at $100 a head. Also shown is the beverage list, with its cocktails, beer, and wines by the glass. The cocktails deserve special attention, and are the work of Bar Director Iain McPherson (owner of Panda & Sons, Hoot The Redeemer, and Nauticus in Edinburgh), who was personally recruited by Russo while the director was in Scotland helping his daughter get settled in at St. Andrew's. His drinks are based on the history of the Arts District, divided into four eras: Wine Influenced, Citrus Led, Artist Inspired, and Current Times. There are 16 cocktails in total, though apparently only 12 are available in the dining room; for the remaining four you'll have to visit Duello I guess (at Duello you'll also get to see the fancier, illustrated cocktail list). Click for larger versions.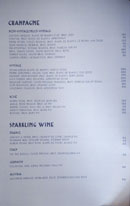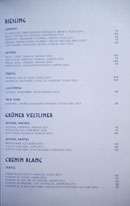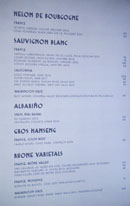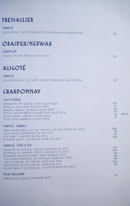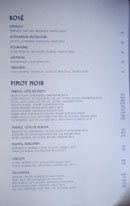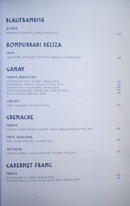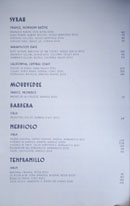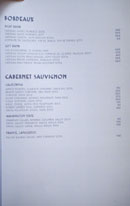 Next we have the full wine list, which is fairly extensive and features some somewhat esoteric selections, with a focus on the Old World. It's all managed by Beverage Director Jordan Egan, a Chicago native who previously worked for The NoMad in New York, Chi-town's Boka Restaurant Group, and Ria at the Waldorf Astoria Chicago. Click for larger versions.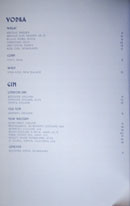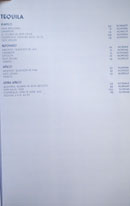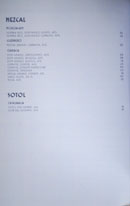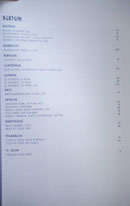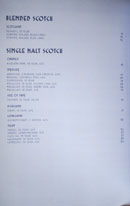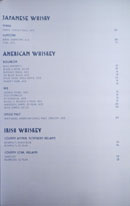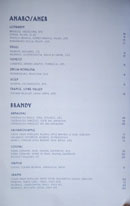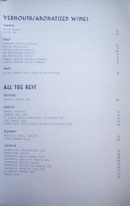 Egan is also in charge of Simone/Duello's selection of spirits. Click for larger versions.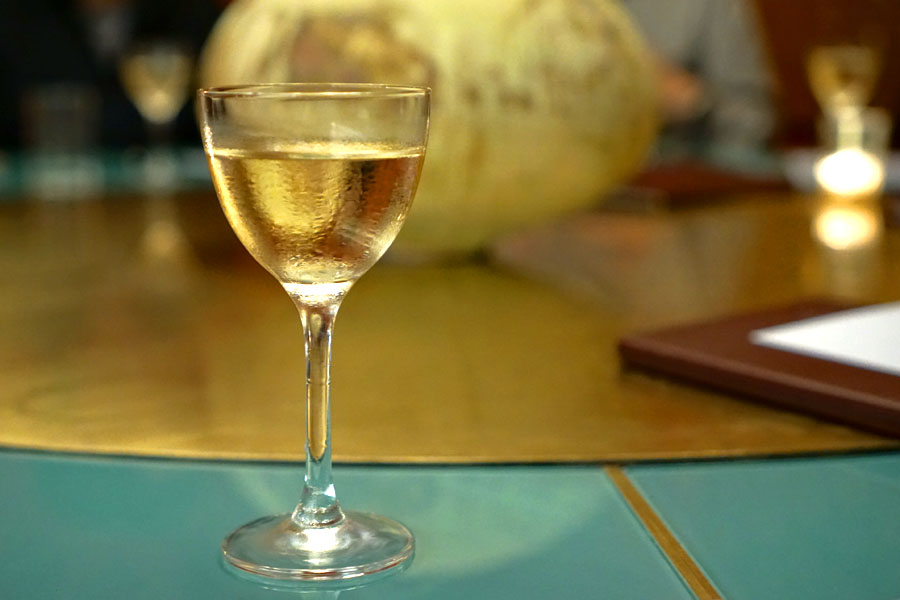 After being seated, we were presented with complimentary glasses of
Fitz-Ritter, Sekt, Extra Trocken, Pfalz, Germany NV
. The wine smelled of fresh fruit with a hint of toastiness, while taste-wise, I got more toast, acidity, light fruit, and an unexpected touch of savoriness. A fitting apéritif.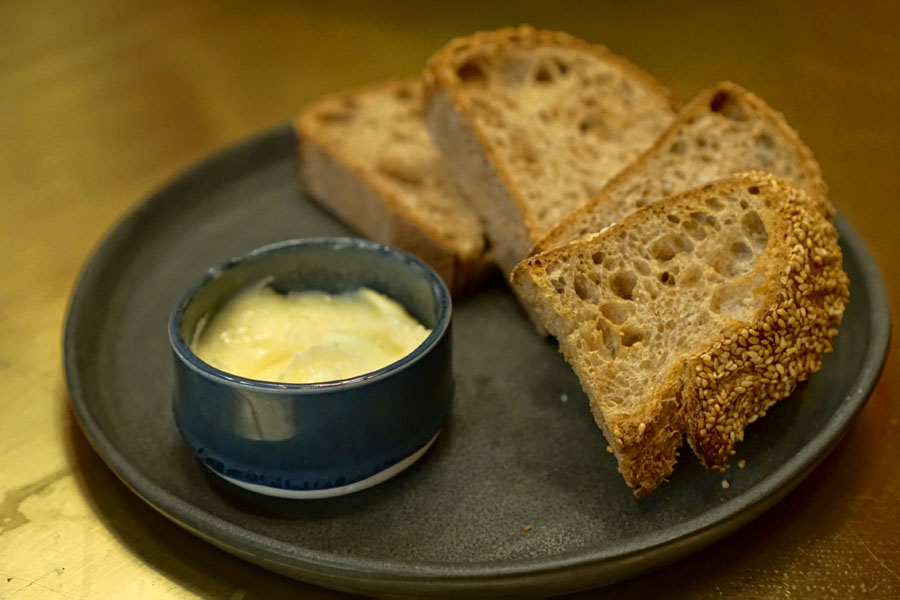 Sesame Sourdough, House Cultured Butter [$10.00]
The bread was superb. Delightfully crusty, it showcased the nuttiness of the sesame up front, while the tanginess inherent in sourdough was evident later on. The butter was also on point, and when paired with the bread, the combination recalled what I'll describe as smoky popcorn.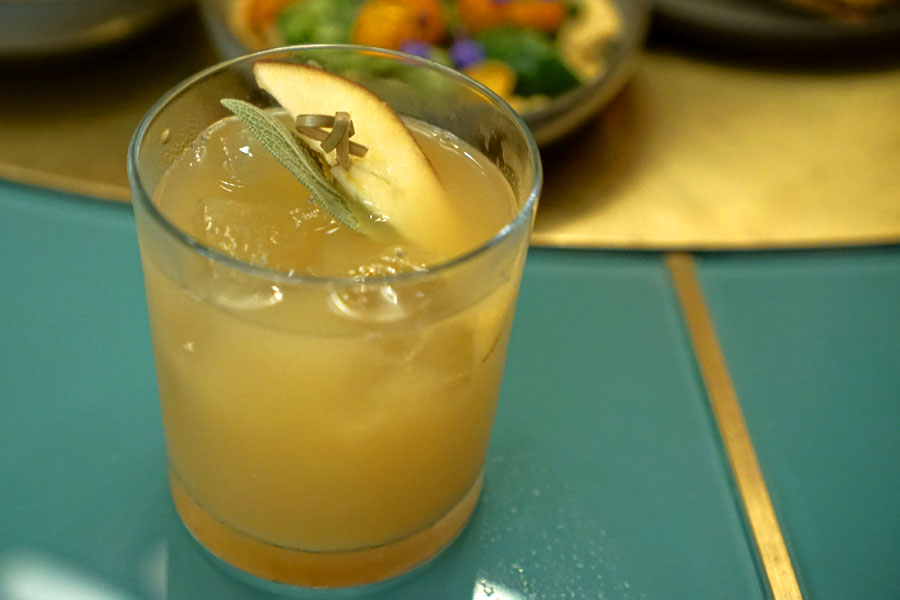 Sage Against the Machine [$14.00]
| Rye, Kefir Soft Cider, Ginger, Sage
I appreciate a punny cocktail name, so I naturally felt inclined to begin here. The drink smelled great, displaying lots of fresh, juicy apple. Taste-wise, I got a definite bitterness at first, one that led to a mixture of sweet fruit and rye booziness, punctuated by traces of aromatic sage.
Seasonal Pickles [$8.00]
The pickle plate had six varieties on offer. My favorites were the potatoes (I don't think I'd ever had 'em pickled before), the okra (the pickling process seemed to temper its mucilaginous character), and the hot, tangy radishes.
Red Lentil Hummus, Smashed Cucumbers, Nasturtium [$8.00] + Grilled Focaccia [$8.00]
I found the hummus pleasantly nutty, with a refreshing brightness from the various veggies, though I could've used a touch more acidity to really give the dish some oomph. It was a perfect pairing with the sheer smokiness of the accompanying focaccia.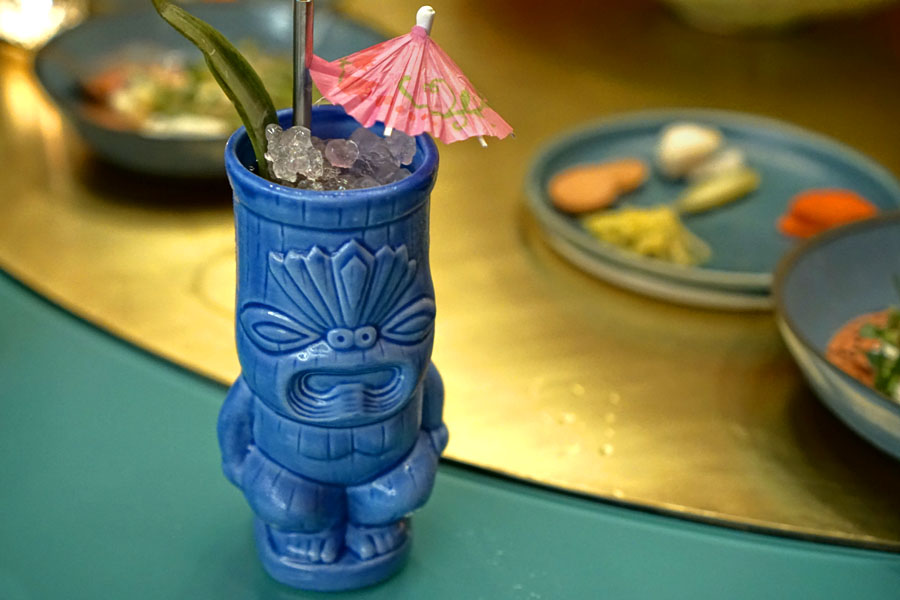 Firing Blancs [$14.00]
| Gin, Sauvignon Blanc, Salted Citrus Oleo, Pineapple, Lemon, Bitters
Given the vessel it was served in, I have to assume that this next cocktail was meant to be tiki-inspired. It certainly tasted the part, giving up loads of tropical fruit flavors layered over just a smidgen of botanicals. Soft and easy.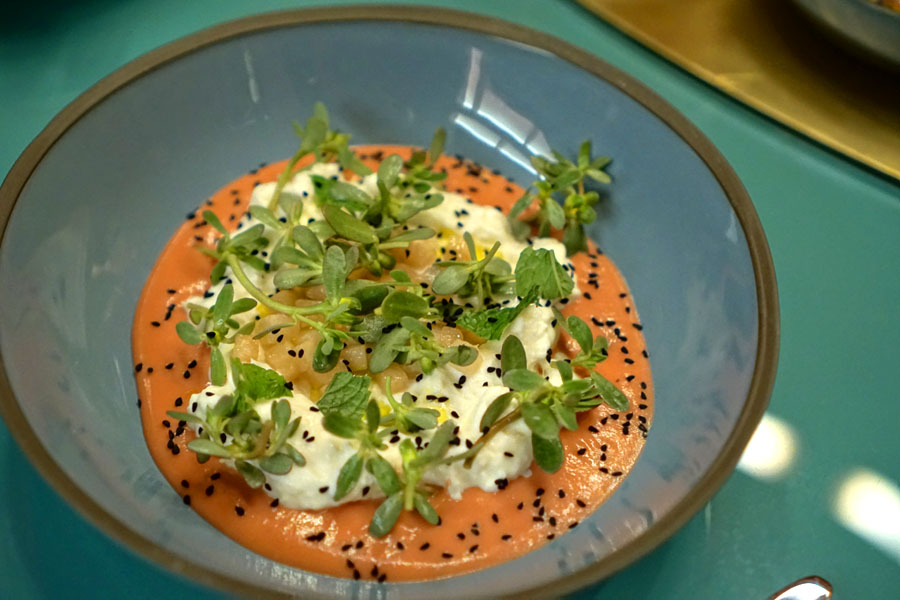 Burrata, Plum Confit, Nigella, Purslane, Mint [$16.00]
Burrata arrived as lush and luscious as I wanted, its richness matching up well with the tartness of plum. What was key, though, was the herbaceousness of the purslane and mint here, not to mention the pinch of spice from the nigella seeds.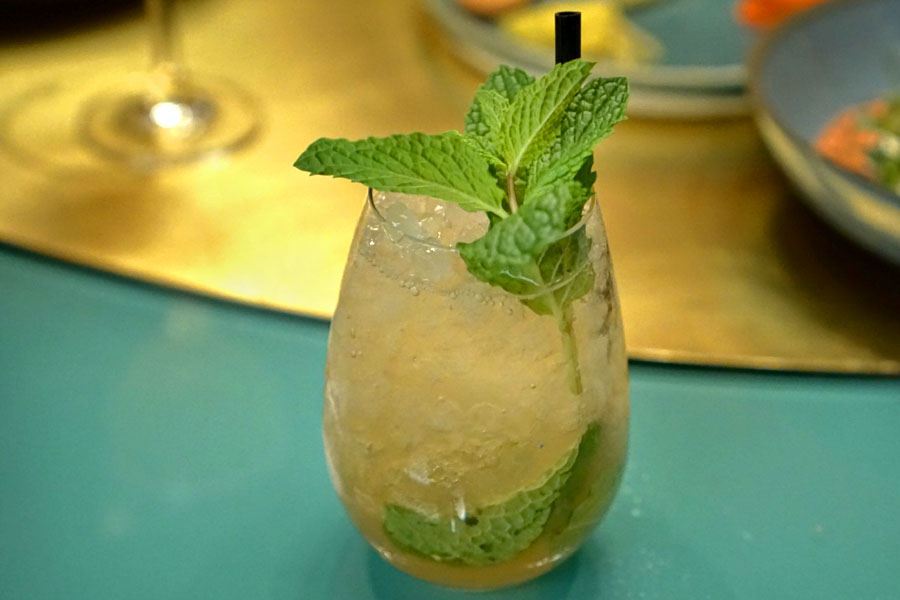 Rose Derby [$15.00]
| Bourbon, Pink Grapefruit, Honey, Mint, Rose Wine
This was another easy-drinking cocktail, one featuring a balance between floral and honeyed flavors, all backed by the heft of bourbon and accented by refreshing notes of mint.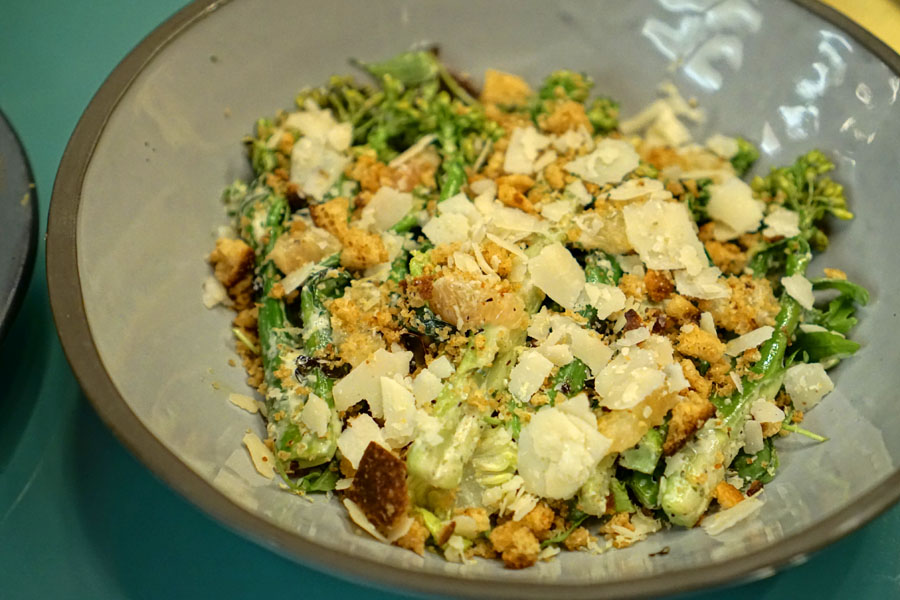 Grilled Brassicas Caesar, Torn Lemon Croutons [$15.00]
The Chef's take on the classic Caesar worked it out. I was a fan of the bitterness and crunch and smoke present in the salad, augmented by the salt from the cheese and contrasted by the juicy, tangy nature of the included citrus.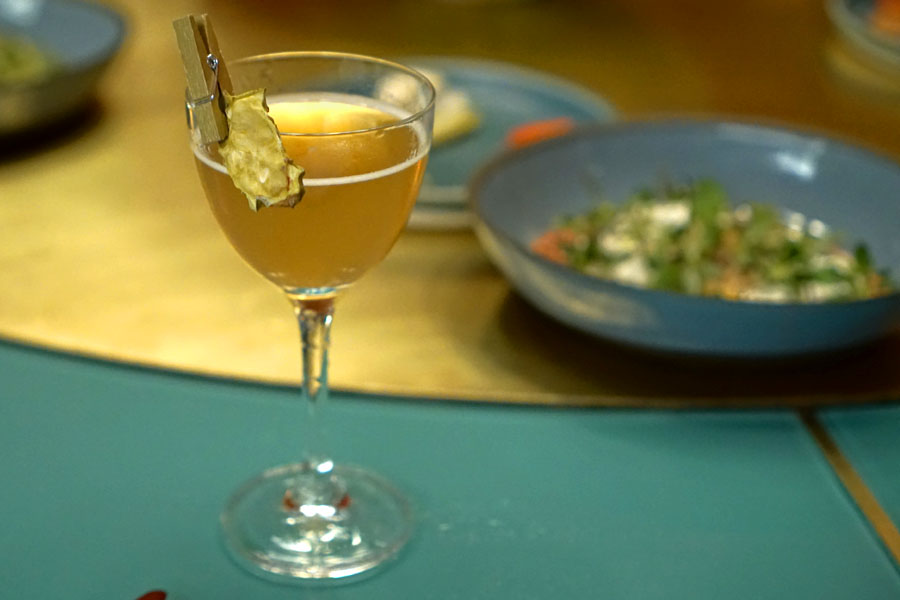 Water of Youth [$15.00]
| Amontillado Sherry, Chamomile, Green Chili Liqueur, Orgeat, Pineapple Bitters
This was likely my favorite of the cocktails. Aromatic nose brimming with fruity notes and the nuttiness of sherry. The palate, meanwhile, was sweet and tart, with appealing notes of leather, nuts, and oak, all joined by an oxidative character.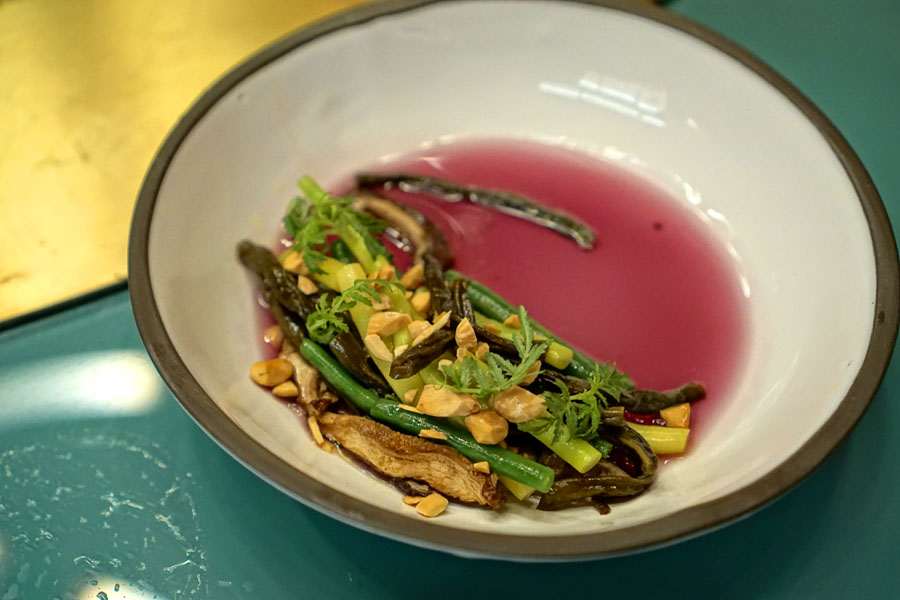 Pole Beans, Urfa Chili Creme Fraiche, Purple Tomatillo, Almond [$15.00]
A variation on the classic dish of green beans amandine was interesting. The beans had an almost "leathery" texture that I was sort of ambivalent about--I think I would've preferred 'em firmer, crisper. Taste-wise, I definitely got a zippiness from the tomatillo broth, a nutty crunch from those almonds, and a healthy dose of umami courtesy of the included shiitakes, but the urfas didn't register particularly strongly. Overall, I just felt that there was something missing here.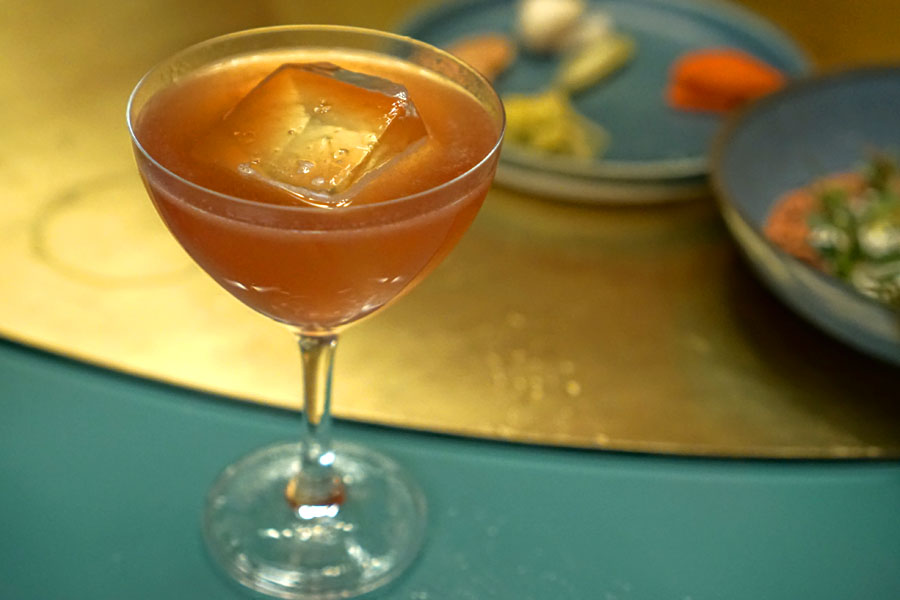 Botta Secreta [$14.00]
| Peach Aperitif, Rose Vermouth, Dry Vermouth, Orange & Grapefruit Oleo, Peated Whiskey, Lemon, Orange Bitters
I quite enjoyed this next cocktail as well. It had powerful aromas of smoky, vegetal peat combined with a sherry-like element. In terms of taste, I got more of that peated whiskey, balanced by a plethora of sweet, fruity flavors that actually made the drink surprisingly soft and smooth.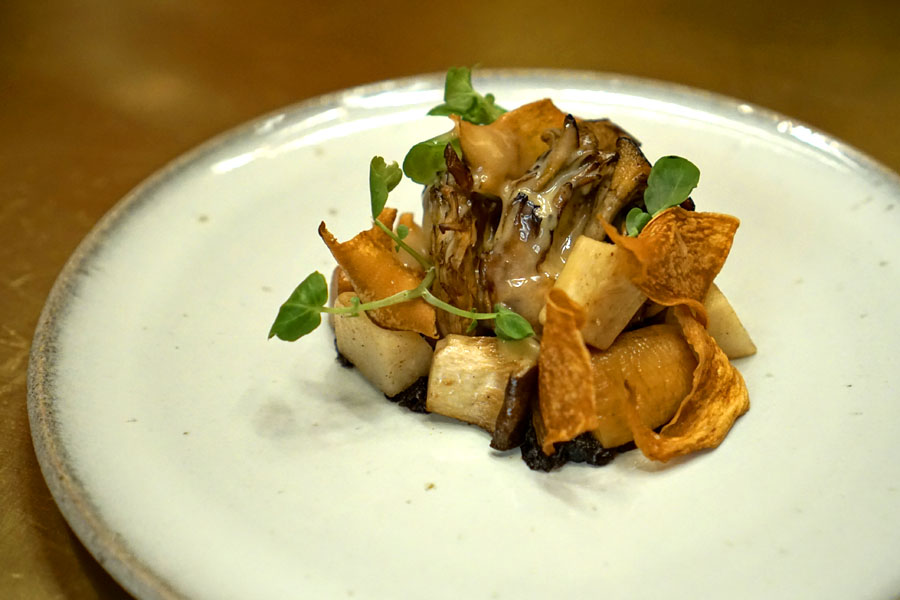 Brown Butter Maitake Mushroom, Turnip, Shallot-Miso [$24.00]
Meaty chunks of hen of the woods showed off plenty of savory, earthy flavors that were kicked up a notch by the included miso. Turnip served as a counterpoint, though I feel like some more herbaceousness or acidity could've been incorporated to help lift the dish.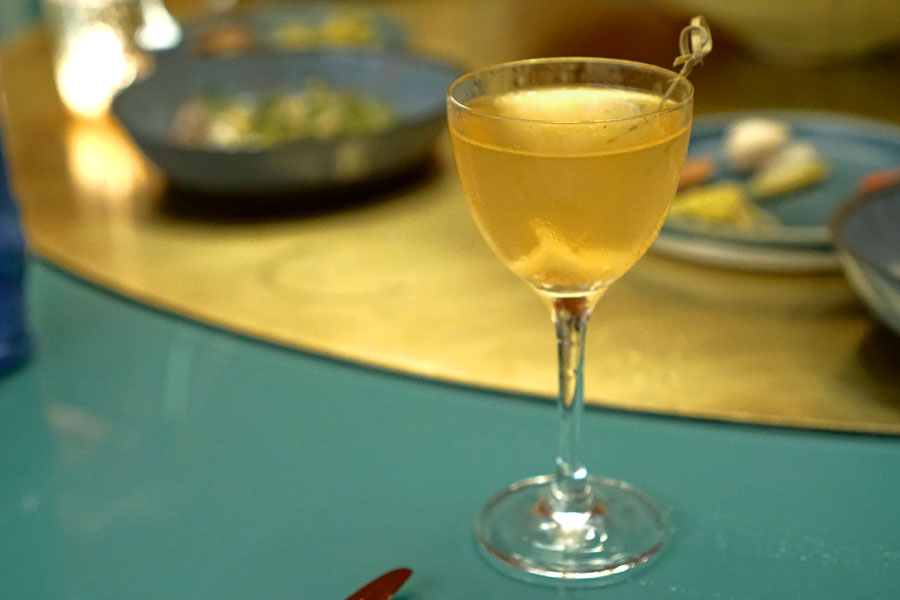 Kimchi Gibson [$18.00]
| Gin, Kimchi, Dry Vermouth
This was a fun little cocktail, ostensibly inspired by artist Po Kim. Its nose was surprisingly light on the advertised kimchi. Taste-wise, I got more of the botanical nature of the gin at first, but this quickly transitioned to a growing, kimchi-fueled spice that was pretty neat.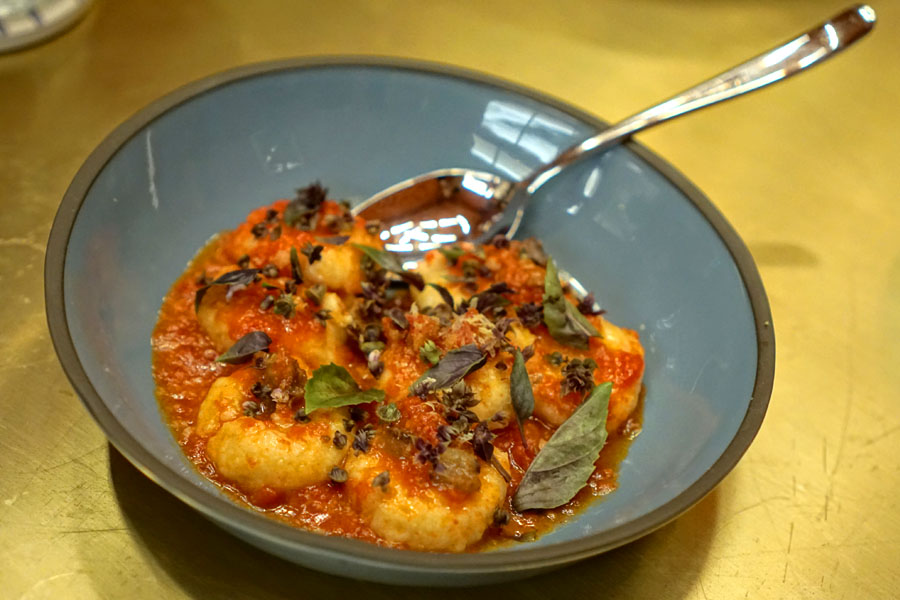 Ricotta Gnudi, Grated Tomato, Guanciale, Basil [$20.00]
The gnudi were uncommonly creamy and lush, and matched up swimmingly with the salty pork and tangy tomato, all while the basil served as a well-placed accent.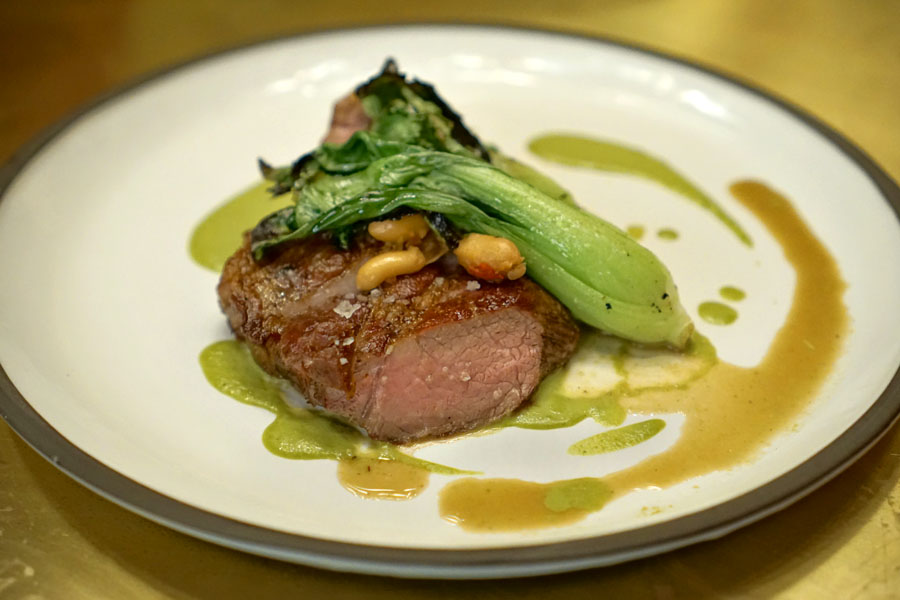 Pork Collar, Baby Bok Choy, Braised Fresh Peanuts, Lovage [$36.00]
Pork collar displayed a lovely smokiness, and the richness of the meat matched up beautifully with the bright, crunchy shards of bok choy present. I didn't mind the peanuts either.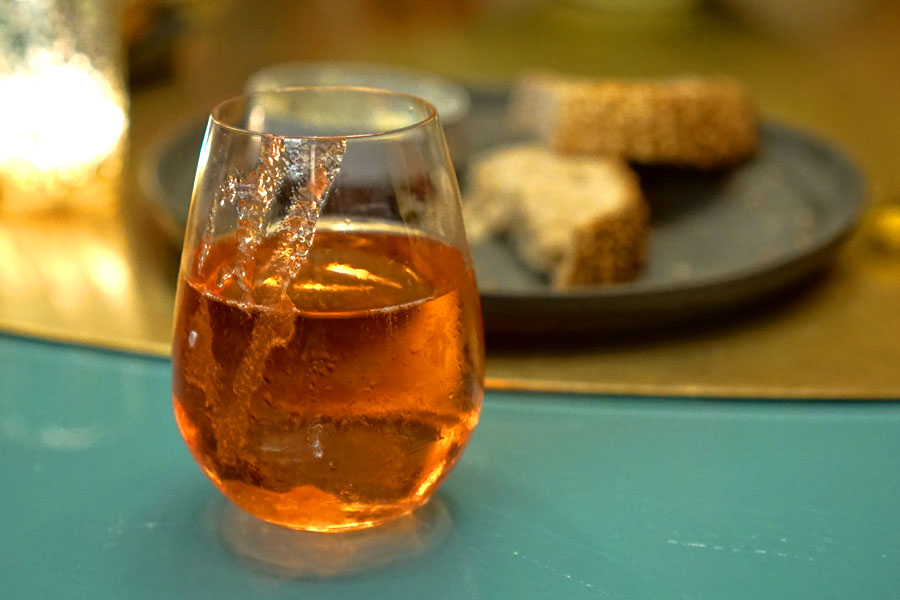 Totto [$14.00]
| Vodka, Hibiscus, Herbal Liqueur, Sparkling Wine
Here came another quaffable cocktail, one featuring a bevy of sweet, floral notes alongside a crucial counterbalancing bitterness. And if you're wondering about the stuff smeared on the glass, that's some "rose paint" (keep in mind this is a Georgia O'Keeffe-inspired libation).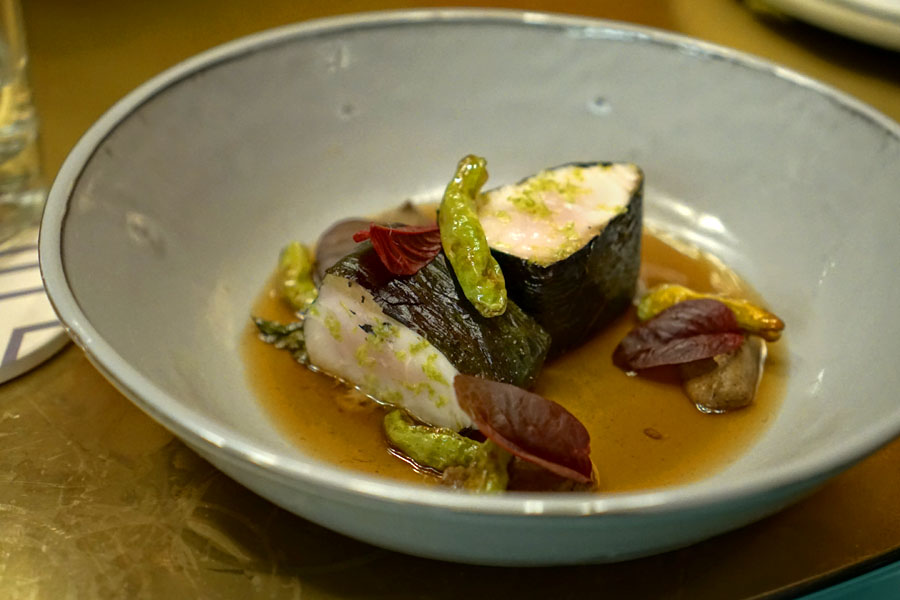 Hoja Santa Sturgeon, Roasted Corn, Blistered Shishitos [$38.00]
Sturgeon arrived soft but meaty, its delicate-yet-savory flavors inextricably married to the tangy, spicy nuances of its
yerba santa
wrapper. Shishitos added an extra kick to the dish, and the sauce an additional point of interest. Quite nice.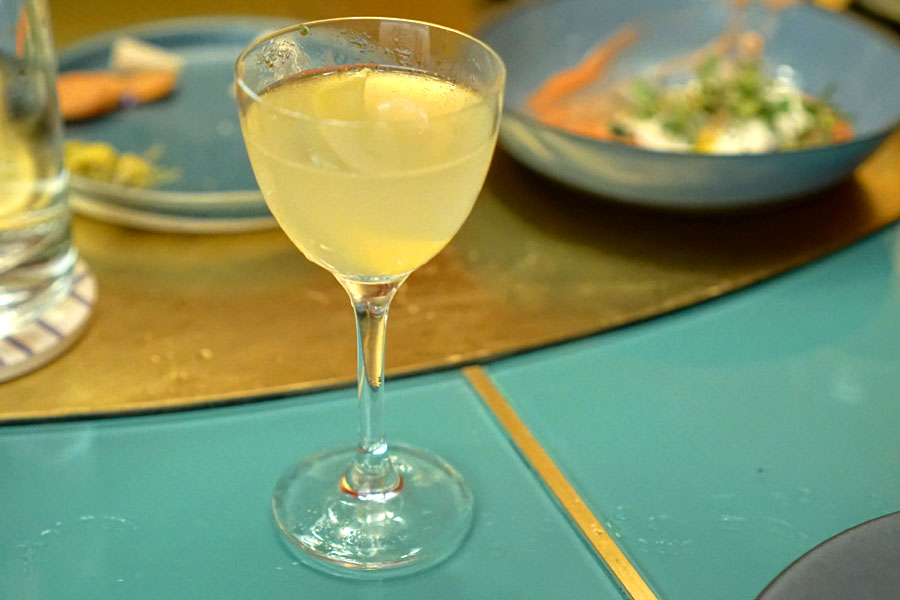 California Calling [$14.00]
| Reposado Tequila, Coconut Oil, Fino Sherry, Sugar, Lemon Juice, Bitters
This cocktail had loads of coconut on the nose, and the taste followed, giving up more coconut and citrus (tanning lotion?) on top of some sherried notes and just a trace of tequila.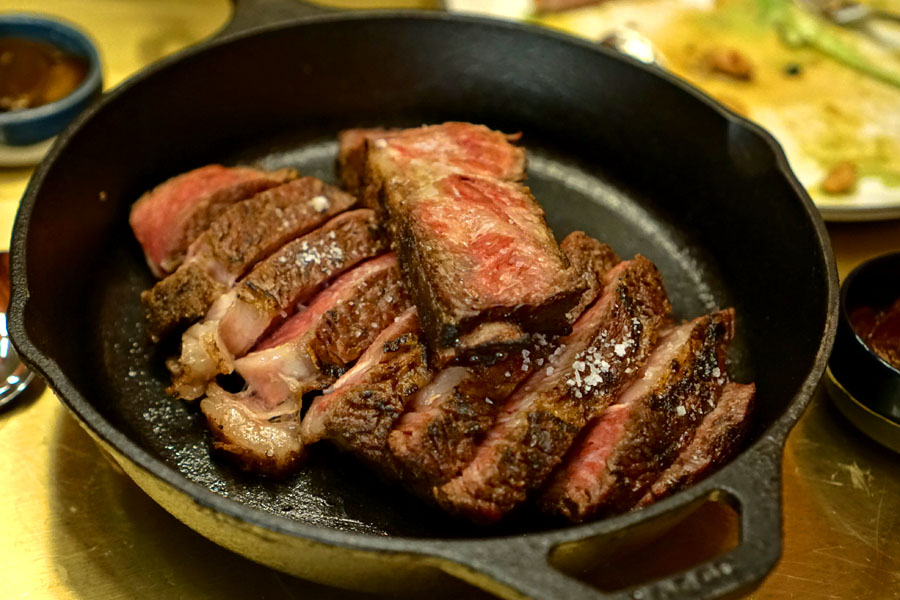 Dry Aged Flannery "Jorge" Ribeye with All of the Things... [$180.00]
Tonight's
pièce de résistance
was this impressive-looking bone-in rib eye from celebrated NorCal purveyor Bryan Flannery. The meat came well-seared, and had that rich, concentrated, unmistakable dry-aged flavor and funk that I was looking for.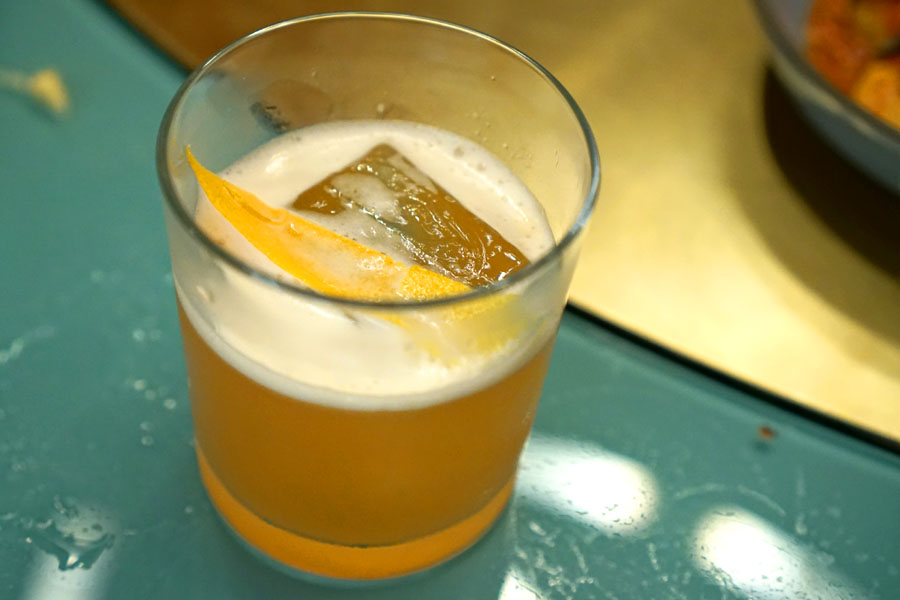 Cabot Cocktail [$15.00]
| White Rum, Amaro, Falernum, Italian Aperitif, Lime Juice, Xylitol, Egg White
Eggy and citrusy on the nose, the Cabot went down smooth, but had a decidedly bittersweet edge to keep things interesting.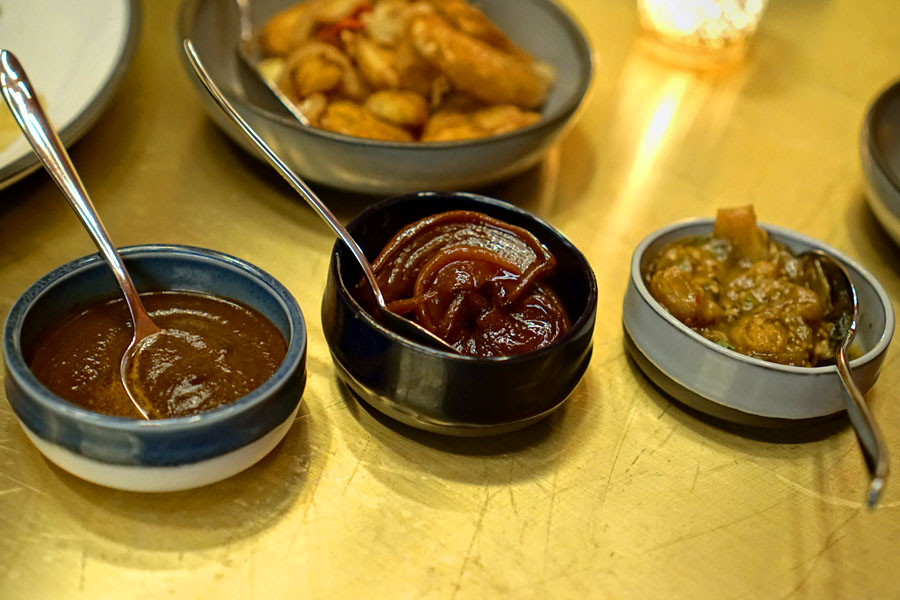 The steak above came with numerous accoutrements, including a super smoky 'n' spicy mole negro, beef stock-braised rutabaga, and tomatillo jam.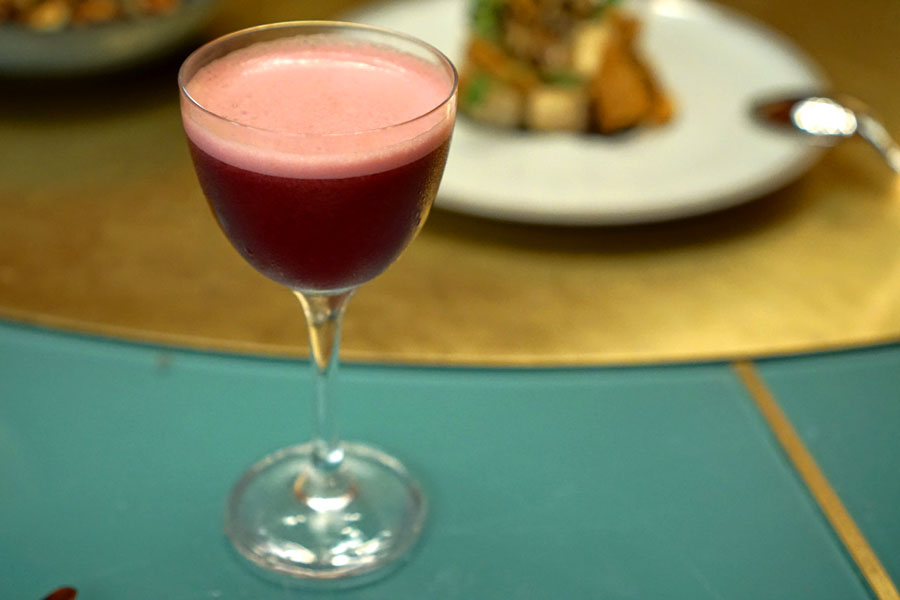 Lost & Found [$15.00]
| Blended Rum, Bramble, Mandarin, Sweet Beetroot Vinegar, Lemon, Egg White
This red-wine-tinted cocktail smelled strongly of dark berry fruit, while its taste displayed more of the beet, along with citrus and plenty of bitter, astringent notes.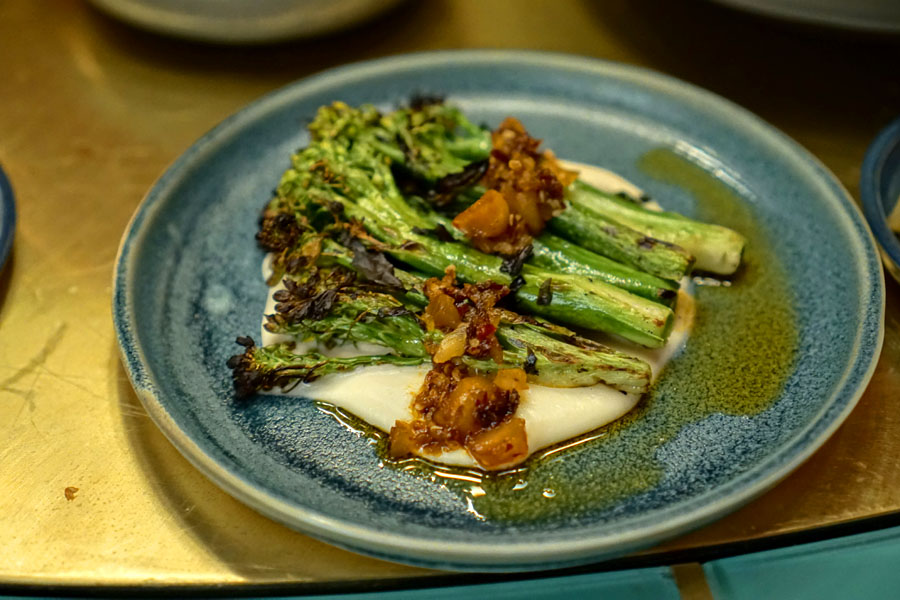 Another side dish was this grilled broccolini with celery root and macadamia nut
salsa macha
. I really enjoyed the bitterness and crunch of the vegetable here, and how it matched up with all the spicy, nutty, and creamy elements present.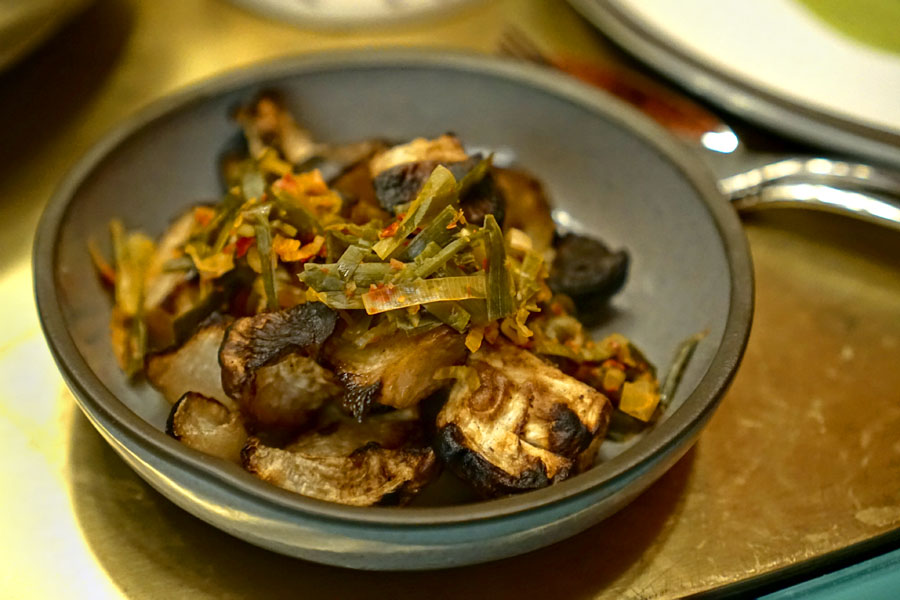 Smoky black radish was served with garlic chive kimchi and pear.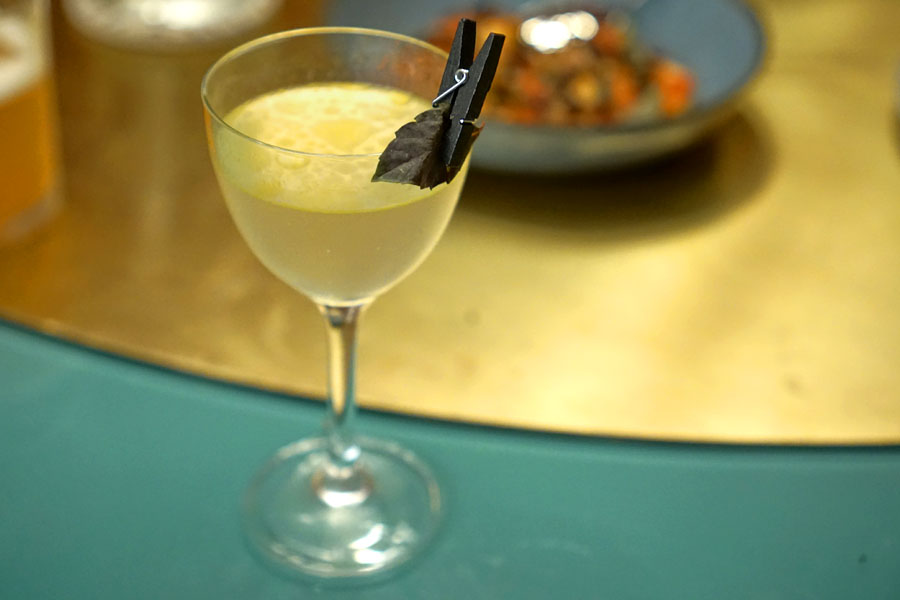 The Naked Maja [$17.00]
| Vodka, Hemp Oil, Vermouth di Torino, Manzanilla Sherry, Celery Bitters, Umami Oil
Named after Francisco Goya's painting of the same name, this cocktail had an aroma of celery mixed with something I found reminiscent of curry. Its palate was on the boozier side, with again more celery, more curry, and a very oily finish from what I'm assuming was the umami oil.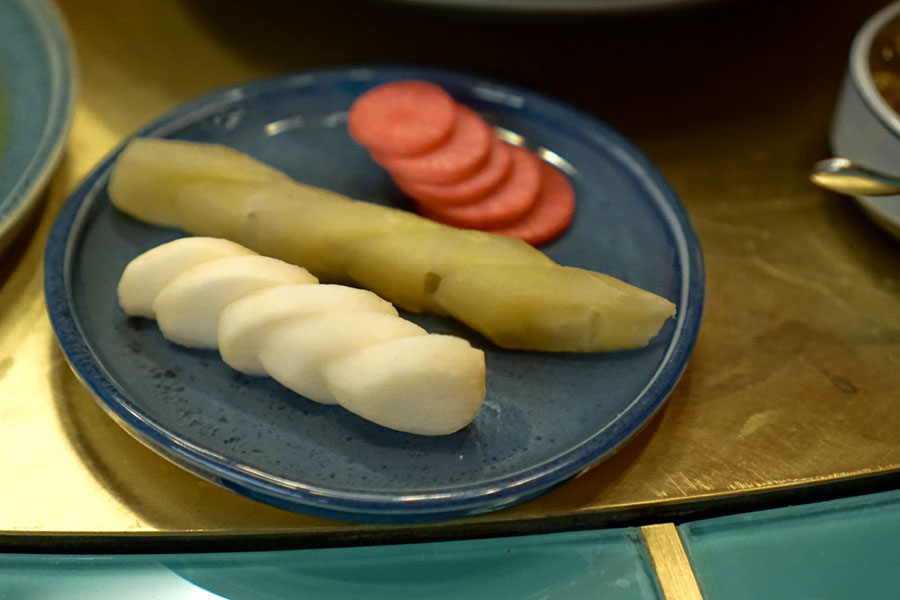 Here we had pickled radish, fermented celtuce, and passion fruit-fermented turnip in the back.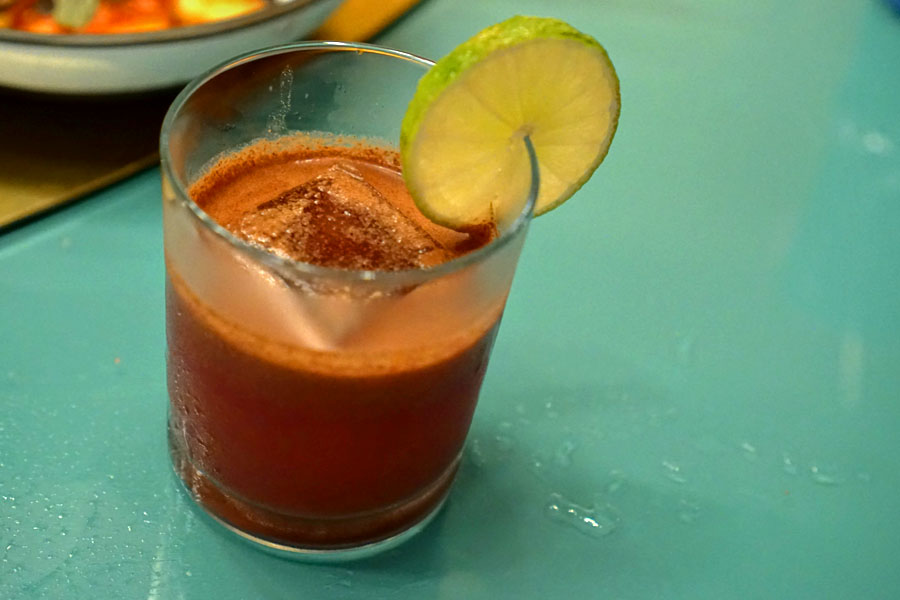 Mamacita Mole [$17.00]
| Blanco Tequila, Mole Grenadine, Lime Oleo
The evening's final cocktail was a thick, viscous concoction, one with loads of sweet spice and chocolate and a pinch of lime acidity for contrast.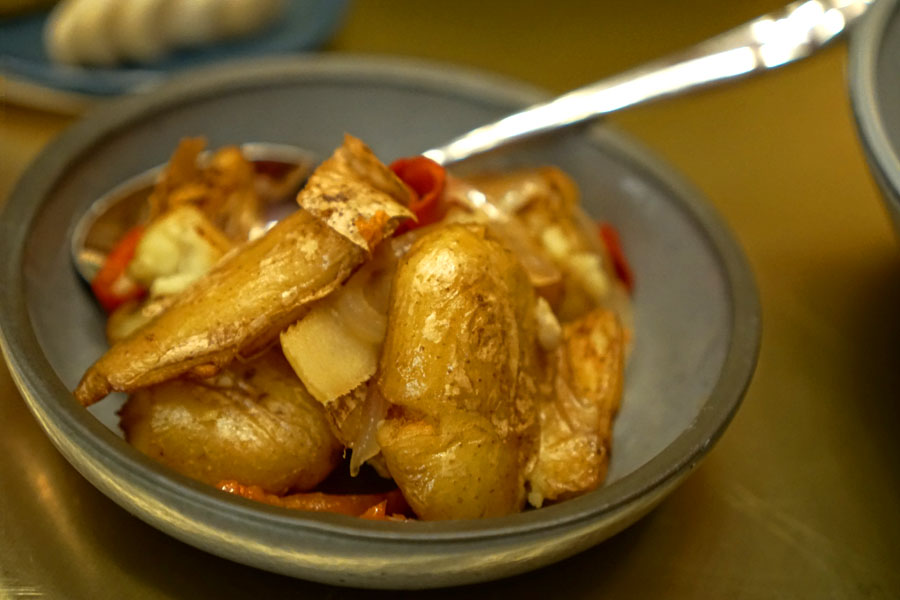 Here we had more of the Chef's pickled potatoes, but this time in fried form.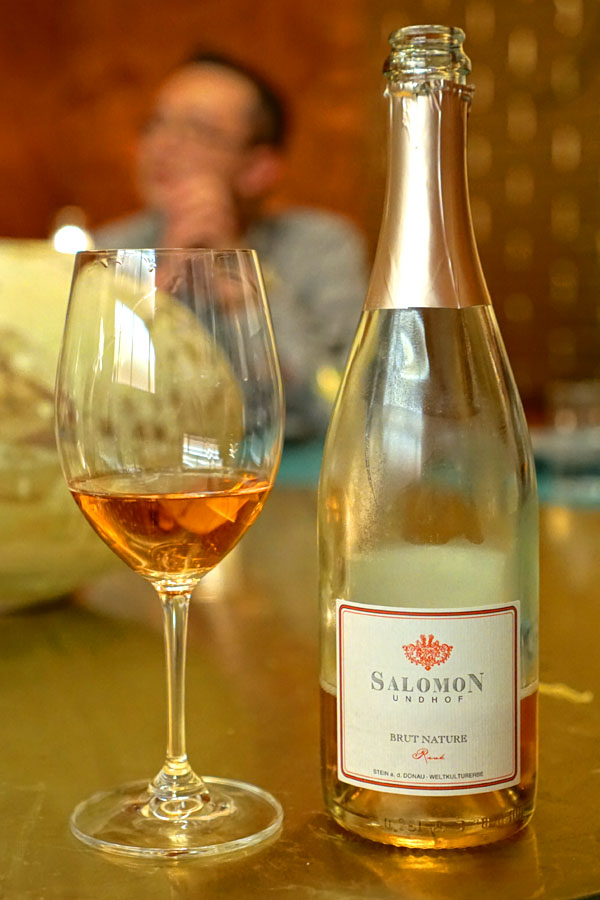 We moved into some wine at this point, specifically the
Salomon Undhof, Ultra Brut, Rosé, Österreichischer 2012 [$60]
. The sparkling rosé had a nose that was surprisingly funky, savory, and saline, with the expected berry notes taking a back seat. On the palate, it went in a similar direction, showcasing meaty, earthy, dry flavors intertwined with just enough fruit.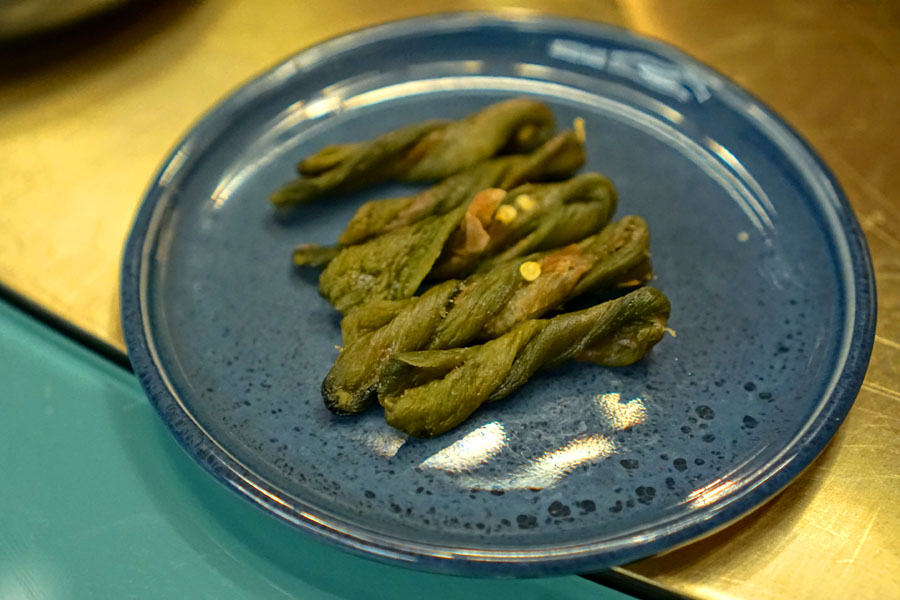 Here was pickled cucumber with
ume
. Think sour, vegetal, and slightly acerbic.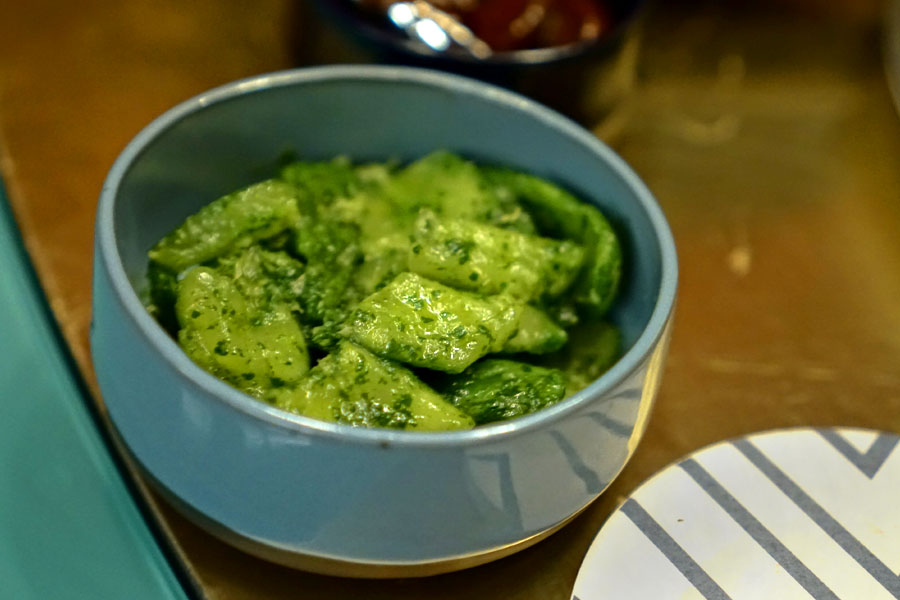 The smashed cucumbers with nasturtium pesto had a brightness and crunch that worked as an offset to the steak above. Curiously, it also had a bit of heat to it that made me think of wasabi.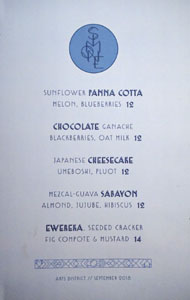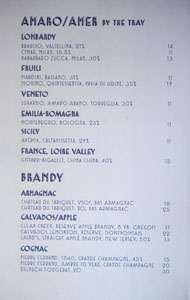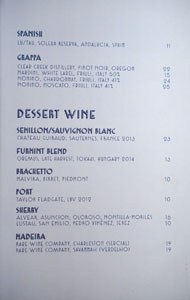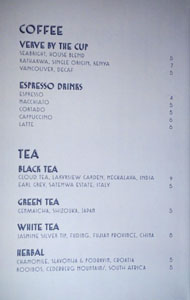 Dessert comes courtesy of Pastry Chef Nina Subhas, a New Jersey native who was last at Roberta's in Brooklyn, and Eleven Madison Park before that. Click for larger versions.
Mezcal-Guava Sabayon, Almond, Jujube, Hibiscus [$12.00]
Our first dessert featured a lemony
Torta de Santiago
(a sort of almond cake), along with a refreshingly fruity jujube-hibiscus sorbet and a pleasantly boozy mezcal-guava sabayon. Great nuttiness from the candied pecans as well.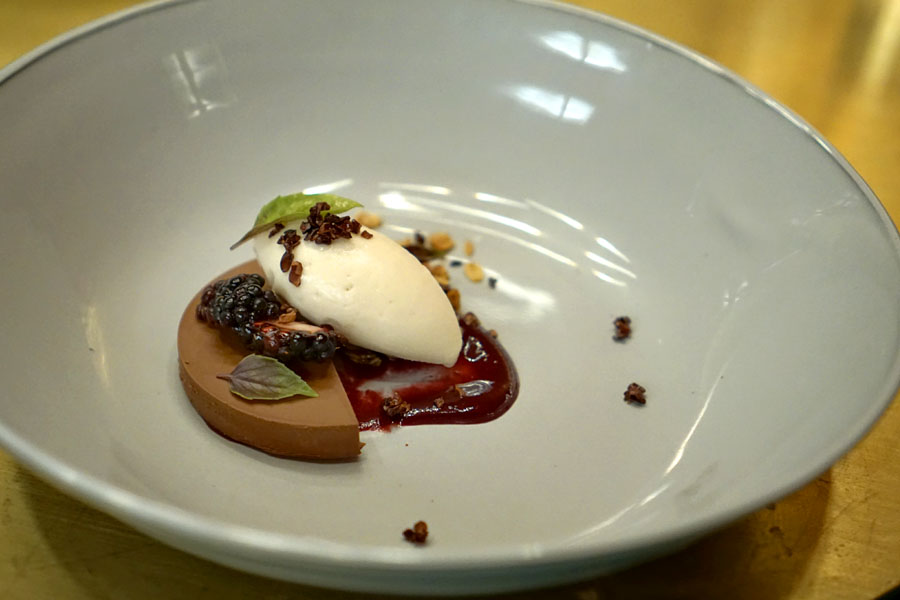 Chocolate Ganache, Blackberries, Oat Milk [$12.00]
The chocolate dessert delivered too, and had some lovely tart, herbaceous flavors to pair with the bittersweet ganache.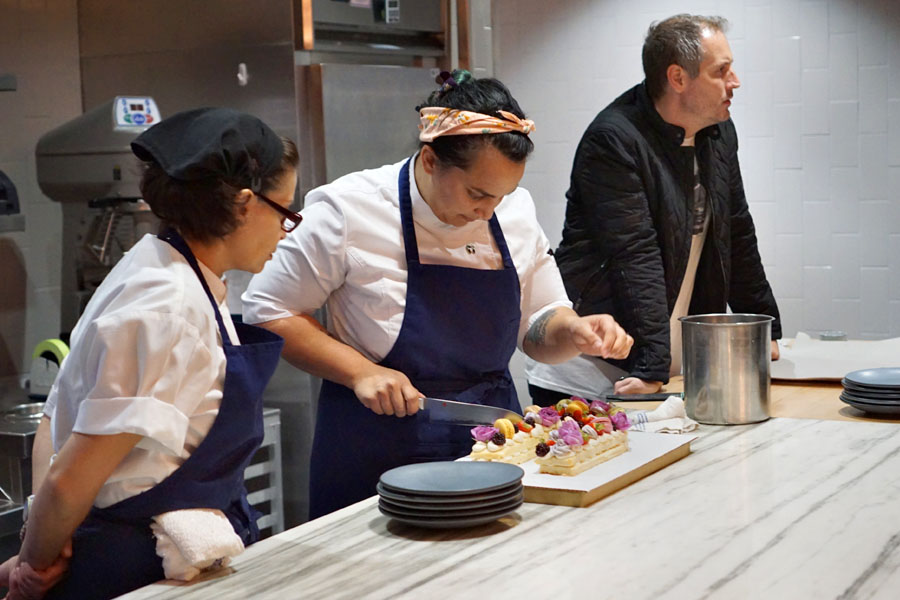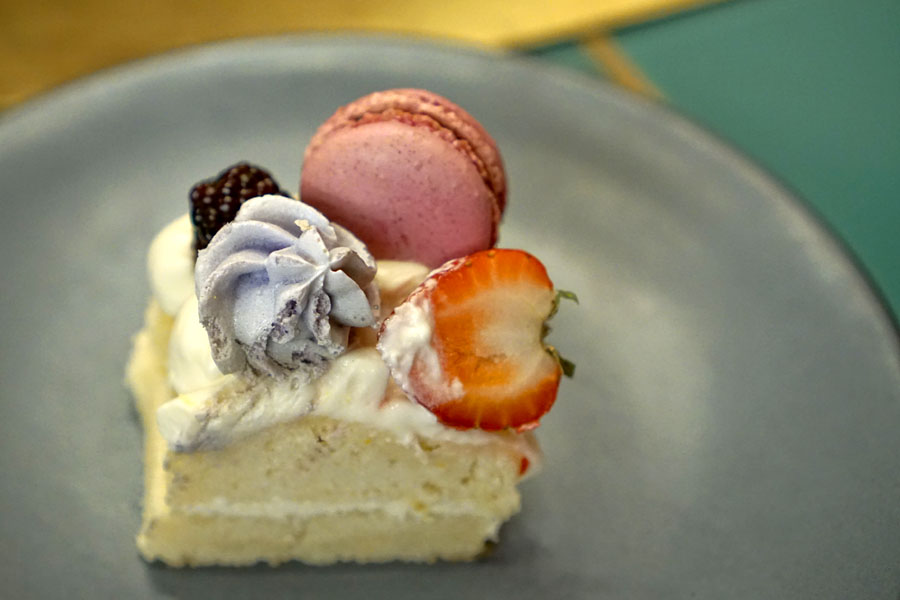 Since this was a birthday dinner, one of my dining companions prepared a lemon cake with lemon cream cheese frosting and "all of the things" on top. It was an impressive-looking creation that was rather tasty to boot.
I'm glad to have Largey back in action here in LA once again, and it was fun to see her eclectic take on Cal cuisine, which was very inspired at times. On the other hand, I felt that she was holding back in a number of the dishes we were served. They seemed a bit tentative, a bit restrained. It's still early on, and the kitchen seems like it's still finding its footing, thus there's more to come I feel. In addition, the Chef and company are planning to launch their six-seat, kitchen-facing chef's counter in the coming months. This is where the team will reportedly serve special long-form tasting menus, so I'll be on the lookout for that.