Phantom Canyon Brewing Co (Colorado Springs, CO)
Phantom Canyon Brewing Co
2 E Pikes Peak Ave, Colorado Springs, CO 80903
719.635.2800
www.phantomcanyon.com
Sat 01/06/2007, 09:20p-10:30p
On this particularly occasion, a coworker and I had just flown in and were looking for somewhere to eat close to the hotel; Phantom Canyon was one of the few places still open. It's a popular restaurant with my coworkers since it serves up competent, easily accessible fare at reasonable prices in a casual, fun brewery atmosphere. Phantom Canyon is not exactly considered fine dining in my book but it does provide good, though not necessarily great, food that nearly everyone can enjoy. No wonder it's one of the most popular restaurants in the Springs.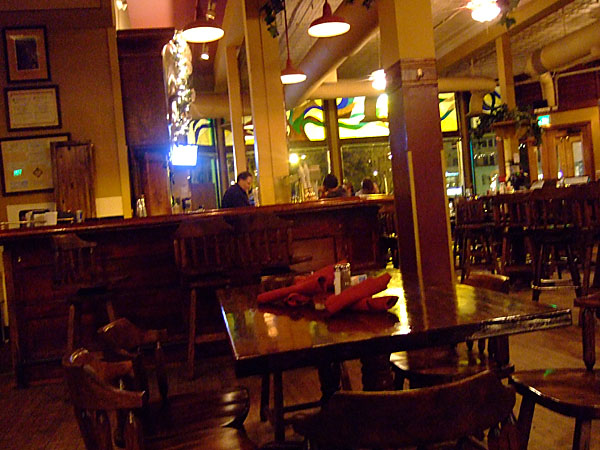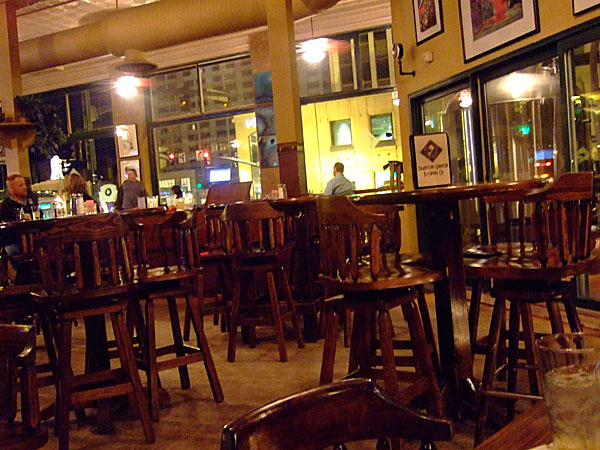 I was surprised to find the place so empty at 10:00 on a Saturday night; there were some rather loud patrons at the bar but that was about the extent of it. Where do people in this town go at night? Perhaps the pool hall upstairs was more packed.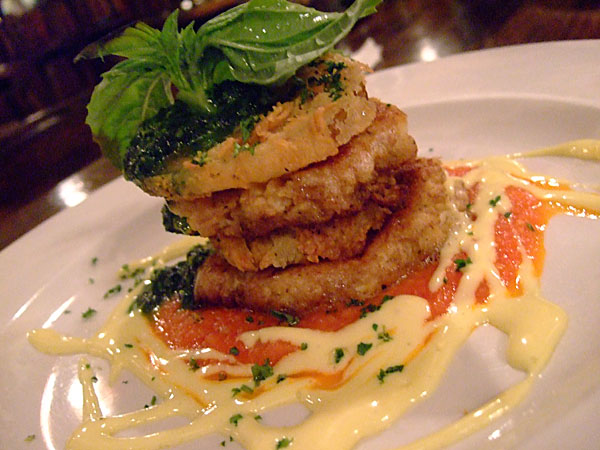 Backfin Crab Cakes: Fried Green Tomatoes, Cilantro Pesto, Key Lime Aioli
No, these are not stacked onion rings. After having those at Gulfstream in Newport Beach, I am often left disappointed with crab cakes. However that was not the case here: good amount of crab, not too much filler, nicely battered and fried. The green tomatoes provided a nice contrast and the sauces were aptly paired. I had this with Phantom Canyon's Railyard Ale, an amber ale with a light head and a smooth, malty finish.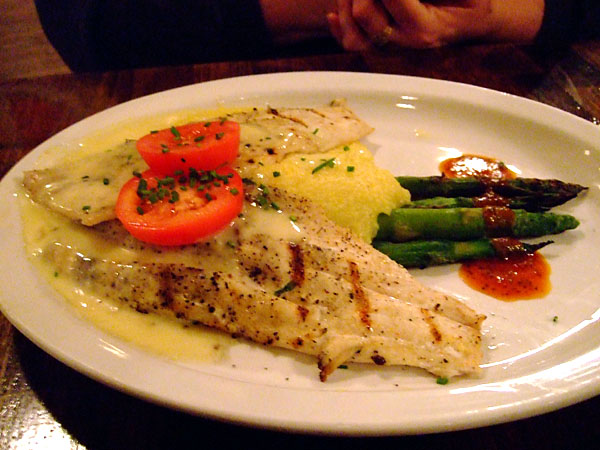 Grilled Rainbow Trout: Honey Chive Beurre Blanc, Mascarpone Polenta, Giant Asparagus
I'm used to my trout being much pinker in color. This looked a bit overcooked to me, though I was told by my dining companion that it was quite good.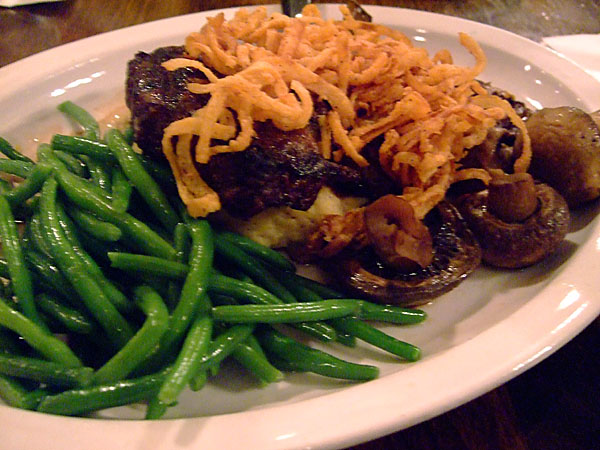 Chargrilled Ribeye Steak: Pale Ale Button Mushrooms, Yukon Mashed Potatoes, Cayenne Onions
This was a decently prepared steak, a cut above what you'd get at a chain like TGI Friday's, but definitely not in the same league as a Morton's or Ruth's Chris. It was fattier and chewier than I like, which is pretty typical of most rib eye cuts. I guess that's why I stick with filets most of the time. The mashed potatoes and green beans were deftly prepared, though the mushrooms tasted too strongly of pale ale for my liking.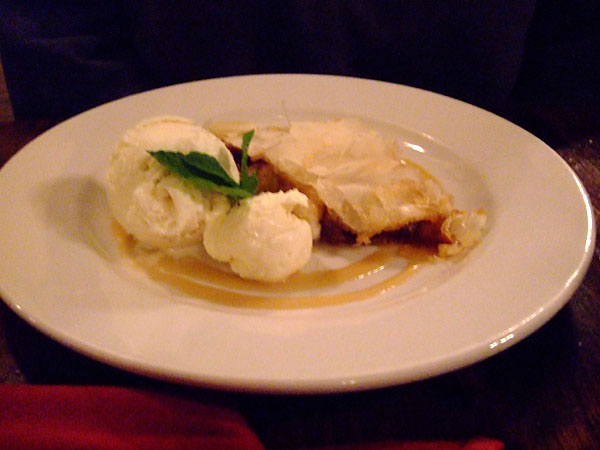 Apple Strudel: Vanilla Bean Ice Cream
Again, I didn't taste this dish, but was told that it was delicious.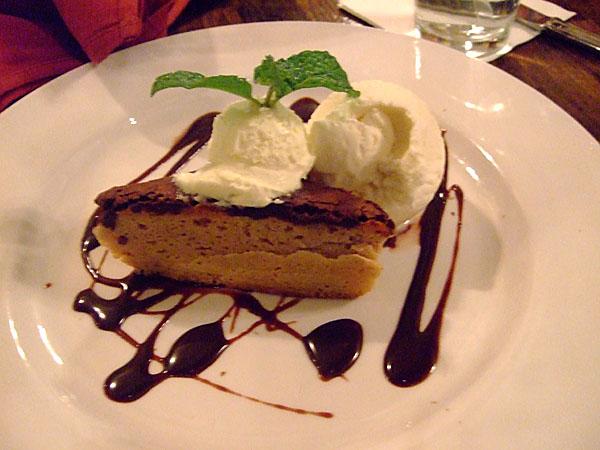 Black and Tan Brownie: Vanilla Bean Ice Cream and Chocolate Sauce
Very nice. The ice cream went well with the taste and texture of the brownie.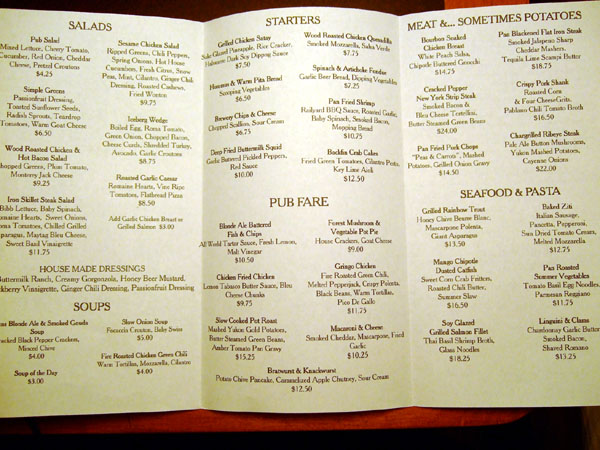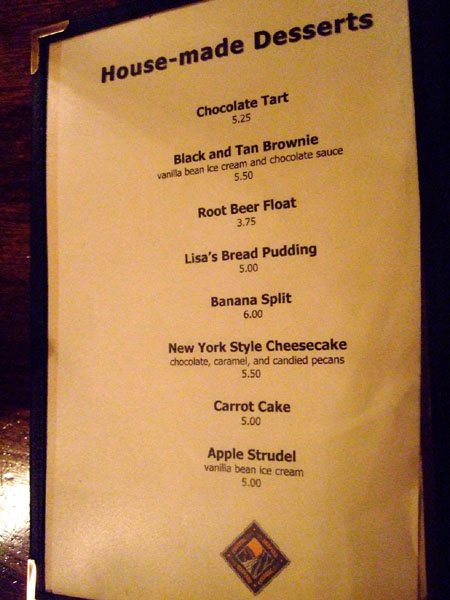 Here we have the dinner (click for larger version) and dessert menus.