Charlie Palmer at Bloomingdale's (Costa Mesa, CA)
Charlie Palmer at Bloomingdale's
3333 Bristol St, Costa Mesa, CA 92626
714.352.2525
www.charliepalmer.com/bloomingdale/home.html
Sat 06/21/2008, 06:10p-10:10p
Best known for Aureole restaurant in New York, this eponymous eatery at Bloomingdale's is, to my knowledge, Charlie Palmer's first foray into the Southern California dining scene. As such, given Charlie's stature as a celebrity chef, it was only a matter of time before we had to give the place a shot. We wisely waited a few weeks after opening, but perhaps we didn't wait long enough...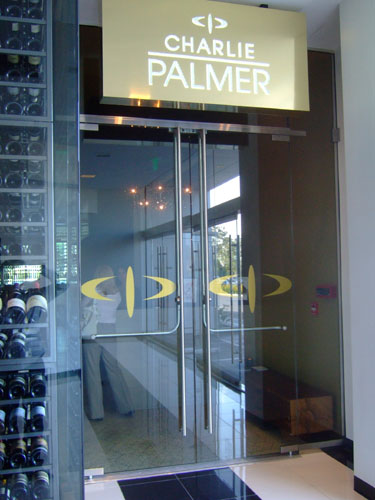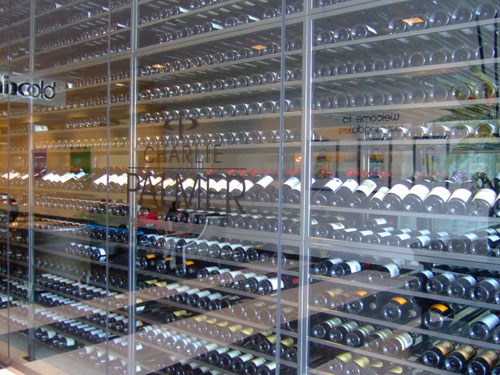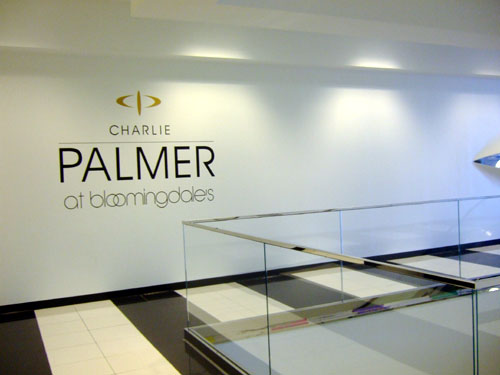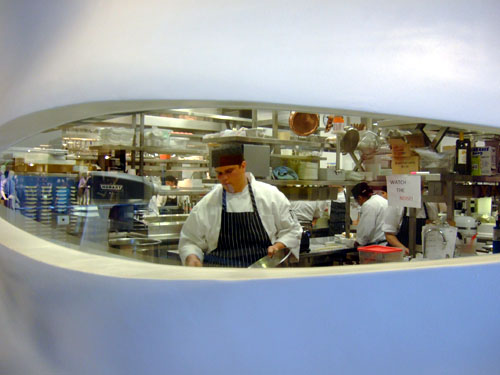 We were doing some light shopping at Bloomingdale's before dinner, so we entered via the restaurant's back entry. A portion of cellar is proudly displayed through glass, though I have to wonder if the constant light exposure wouldn't be detrimental to the wine. Meanwhile, a slit in the wall gives potential diners a peek into the kitchen.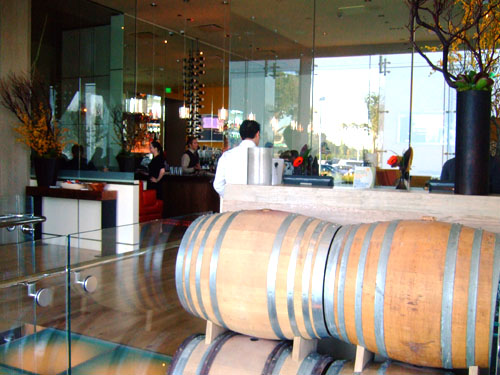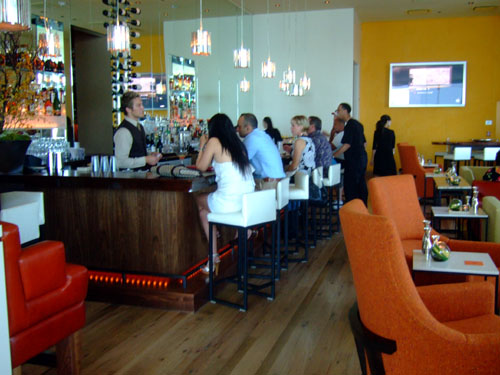 Once we made our way to the restaurant's proper entrance, we were greeted by a rather impressive entry. There is a small walkway, suspended over what appears to be a wine cellar, which leads into the bar/lounge area, and subsequently the main dining room.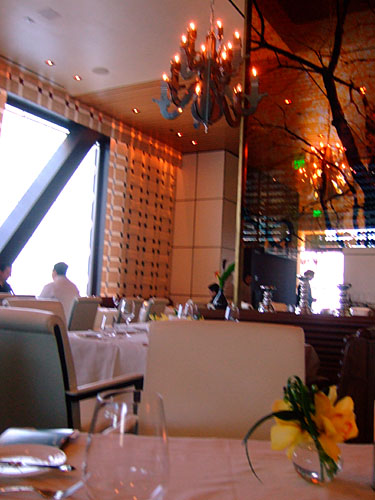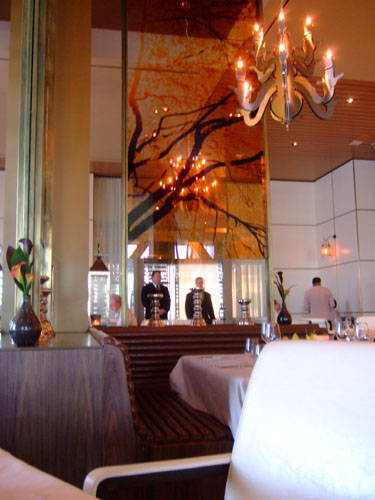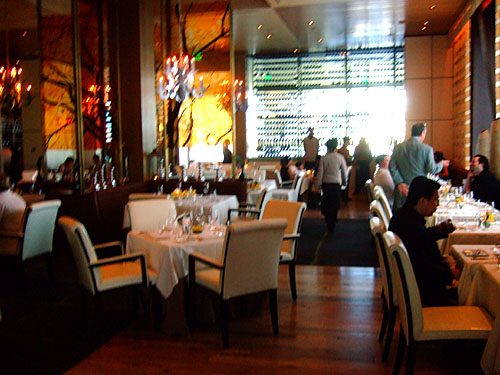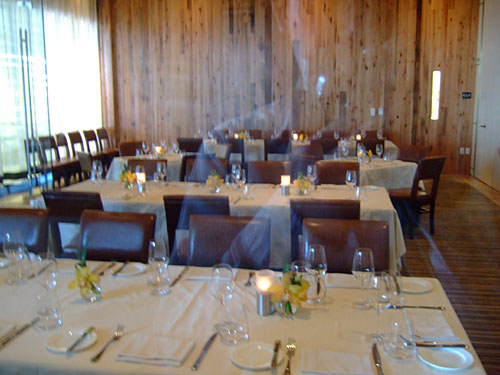 I was actually quite impressed with the decor. It was perhaps a bit eclectic, with light surfaces comingled with dark wood, contemporary flourishes versus traditional touches, minimalism blended with gilded ornamentation.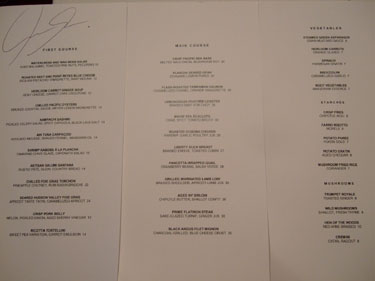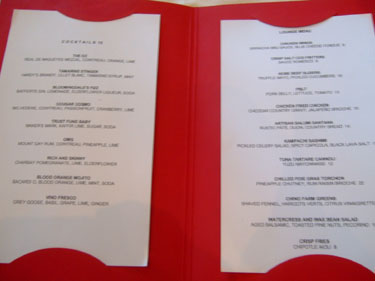 On the left is the menu, signed by Executive Chef Amar Santana. The menu is evenly divided into appetizers (of which we tried almost every one), entrées (which we didn't have at all), and sides. On the right is the cocktail and bar menu. Click for larger versions.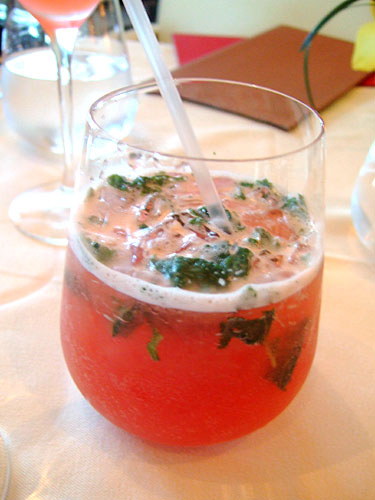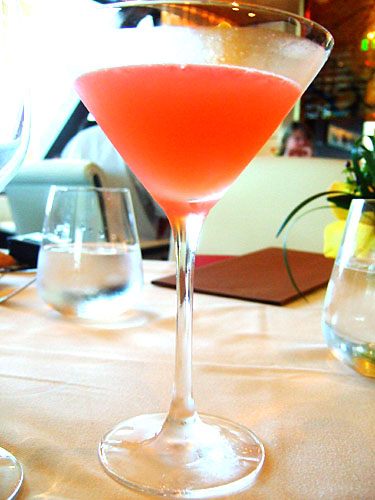 Two cocktails were had to start. First was a Blood Orange Mojito [$12.00] made with Bacardi O, Blood Orange, Lime, Mint, and Soda. The tartness was a bit lacking, and the mint wasn't apparent enough. Next time I'll stick with the standard incarnation. Next was the OMG [$12.00] with Mount Gay Rum, Cointreau, Pineapple, and Lime. This was far too sweet, bordering on "girly" actually.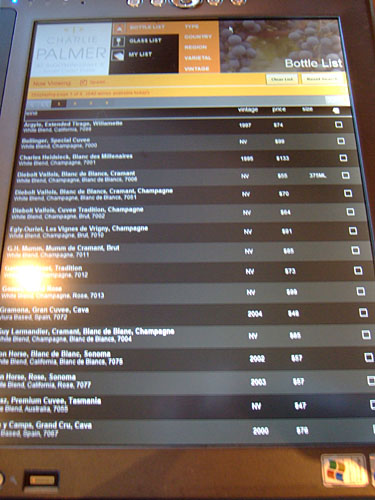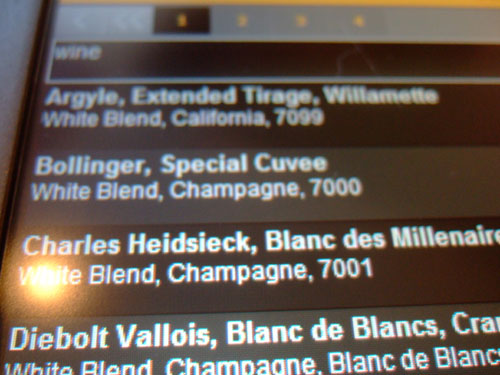 The wine list was definitely worth noting. It was the first time I'd seen an electronic list presented on a tablet computer. Neat, but a bit cumbersome to navigate. For the Luddites, a traditional paper copy was available as well.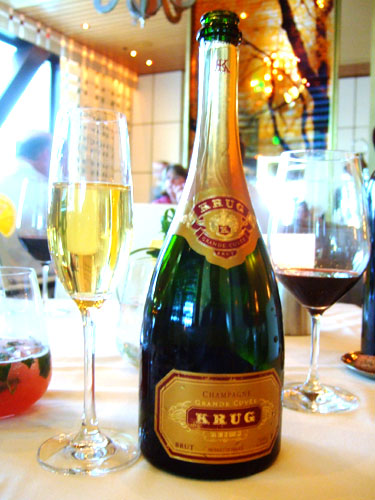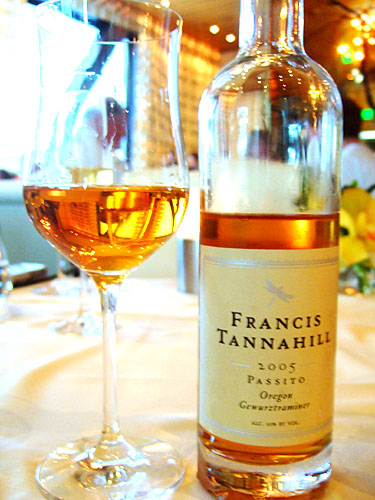 We enjoyed three bottles of wine with the meal, the Krug and Shafer coming from my personal cellar:
NV Krug Champagne Grande Cuvée [$76.27] - This was almost a carbon copy of the 1990 Krug Brut I had at Sushi Sasabune earlier in the year, which wasn't surprising given that the Champagnes were of similar age. Hints of citrus and honey lead into enormous amounts of toast and yeast on a ridiculously lingering finish. If you haven't tasted old Champagne before, definitely give it a try; it's a unique experience to say the least, almost like an old Chardonnay. If bubbly from 1990 tasted like this, I can only imagine what my Dom Perignons from the 70's must be like!
1998 Shafer Cabernet Sauvignon Hillside Select [$168.07] - 1998 was tough year in Napa, but the Shafer Hillside is arguably the top effort of the vintage and surprised both my dining companion and I. Upon first taste, we noted dark fruit, currant, cassis, and plum. Intense to say the least! After a while, the wine began to exhibit strong hints of tobacco, spice, and minerals. Soft tannins, heavy weight with a viscous mouthfeel, leading to a long finish. Very nice.
2005 Francis Tannahill Gewürztraminer Passito [$55.00] - From Willamette Valley, Oregon. This Gewürz was sweet, but balanced with acidity. It exhibited typical floral and lychee notes, along with a hint of spice and pepper. Sweet, but not overly so.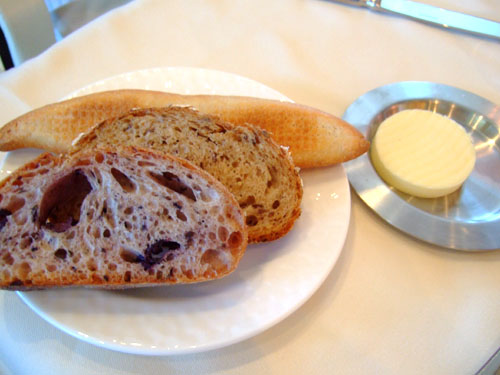 Three types of bread were on offer: olive, whole wheat, and baguette (my favorite).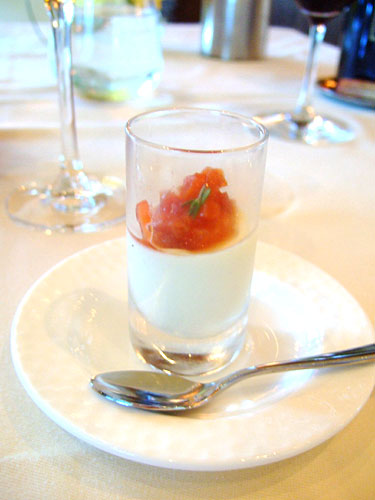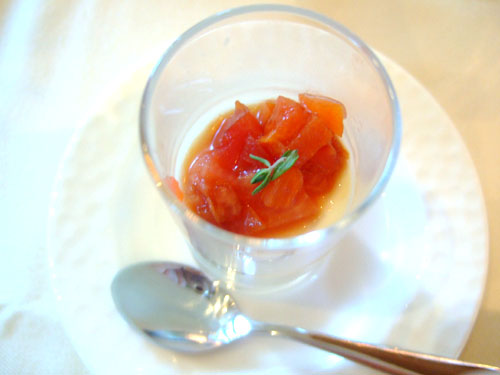 Amuse Bouche: Bleu Cheese Custard with Stone Fruit
The dinner started off strong. The custard was surprisingly mild, smooth, and subtly sweet, and set off the slightly tart stone fruit quite well. Very nice.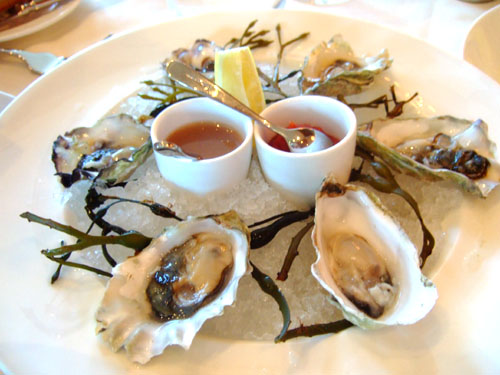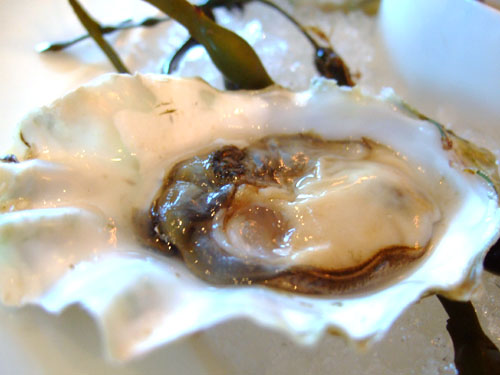 Chilled Pacific Oysters [$14.00]
Smoked Cocktail Sauce, Meyer Lemon Mignonette. This was a very typical presentation. Nothing wrong with that per se, but I would've liked to have seen more done to the oysters, which were a bit lacking in zest.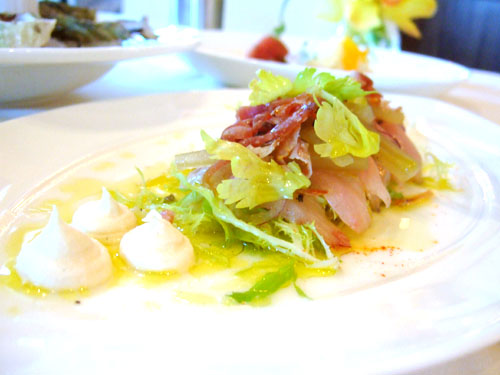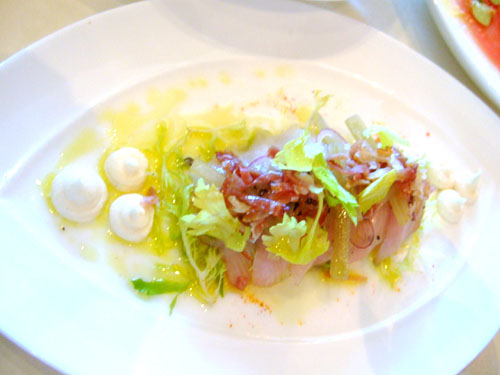 Kampachi Sashimi [$13.00]
Pickled Celery Salad, Spicy Capicola, Black Lava Salt. Put simply, there was far too much going on with this dish. The combination of a heavy oil, capicola, and copious amounts of the lava salt left the natural flavor of the fish nearly completely neutralized. The kampachi should've taken center stage here, but instead was pushed aside by what should have been supporting ingredients. Take this one off the menu!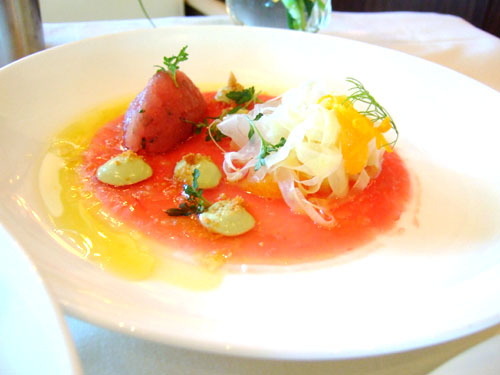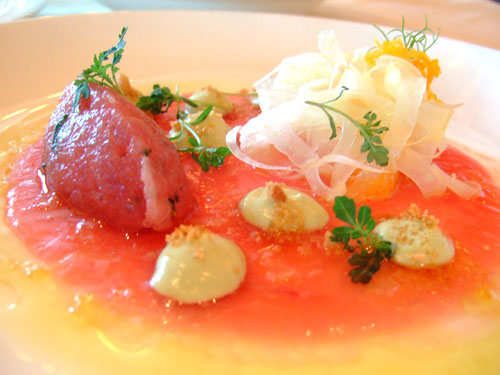 Ahi Tuna Carpaccio [$14.00]
Avocado Mousse, Shaved Fennel, Mandarin Oil. For this tuna, I could almost repeat verbatim my comments for the dish above. This one just
looks
contrived. Again, we find the fish just drowning in a pool of oil, while the other ingredients do nothing to draw out the flavor of the tuna. We have quite a mess here.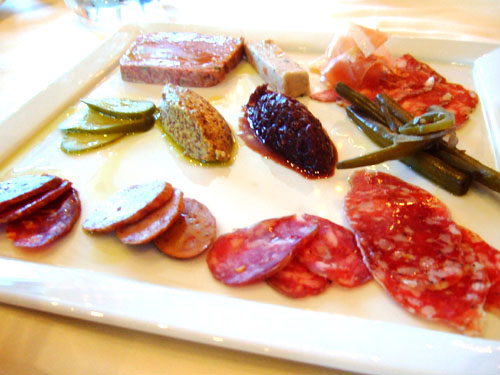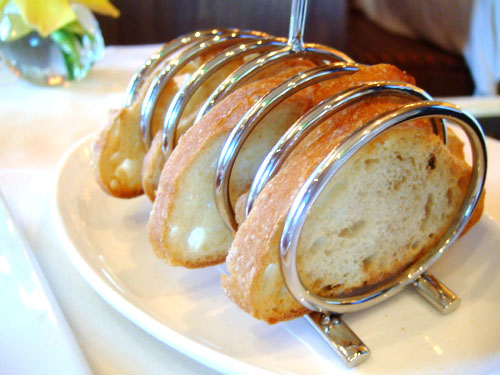 Artisan Salumi Santana [$14.00]
Rustic Páté, Andouille, Summer Sausages, Prosciutto, Dijon Mustard, Green Beans, Pickles, Country Bread. We thought this to be a rather large spread for an appetizer portion. In any case, I found most of the meats tasty though not exceptional. My favorite items were actually the pâtés.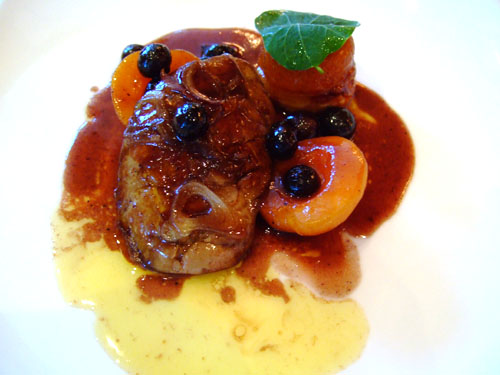 Seared Hudson Valley Foie Gras [$24.00]
Apricot Tarte Tatin, Caramelized Apricot. This was a decent preparation of foie, though the liver wasn't as soft or as flavorful was the best versions. I also felt the apricots were a tad overly sweet. This was the first course we paired with the Francis Tannahill, and the wine stood up quite well.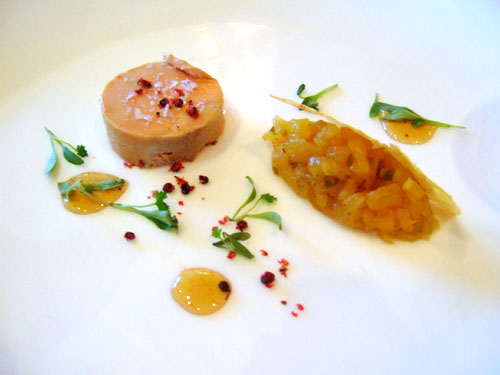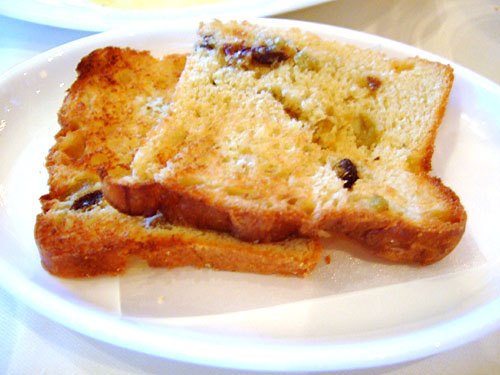 Chilled Foie Gras Torchon [$22.00]
Pineapple Chutney, Rum Raisin Brioche. One of the stronger dishes of the night. The terrine had the right texture and the foie's lingering flavor was cleverly drawn out by the pineapple. Clearly not at
French Laundry
levels, but a good effort.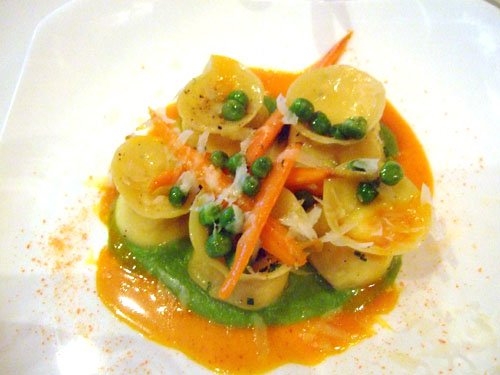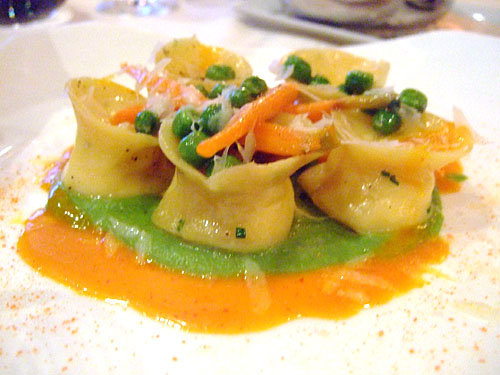 Ricotta Tortellini [$14.00]
Sweet Pea Variation, Carrot Emulsion. The combination of flavors and textures here all just seemed a bit unrefined, with the peas and carrots not really melding well with the tortellini. Inoffensive but unimpressive.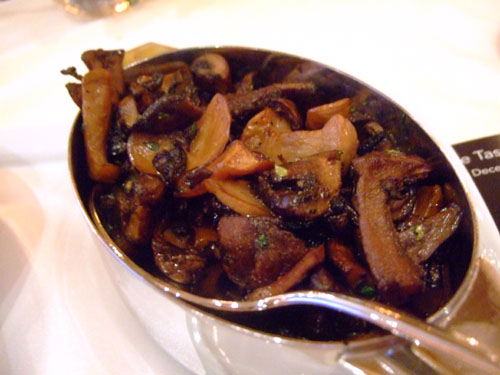 Wild Mushrooms [$8.00]
Shallot, Fresh Thyme. This was a decent mix of mushrooms, reasonably prepared. It seemed like something one would order at a steakhouse and was definitely the stronger of the two mushroom sides we ordered.
Farro Risotto [$9.00]
Morels. Farro is a type of wheat that I've begun to see more and more on restaurant menus, often as a substitute for risotto. One of my first encounters with it was at
Joël Robuchon
in Las Vegas. Compared to that presentation, this was much grittier, much rougher in style. Nevertheless, it complemented the morels nicely and was pleasant to eat.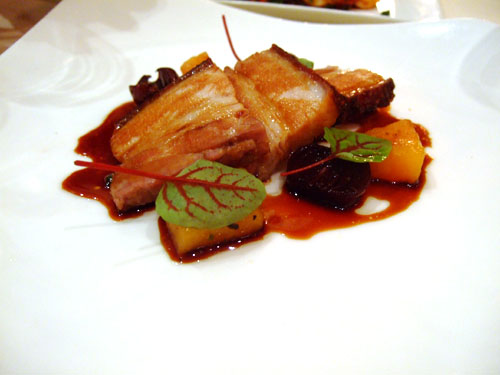 Crisp Pork Belly [$13.00]
Melon, Pickled Onion, Aged Sherry Vinegar. The pork itself was decent, though perhaps a bit overdone, and not very fatty. I did enjoy the crispness of the skin however. The melon and sherry vinegar I could've done without.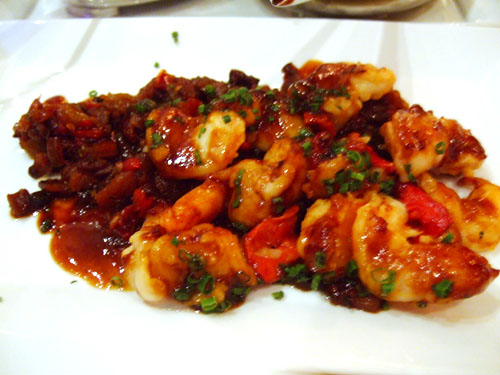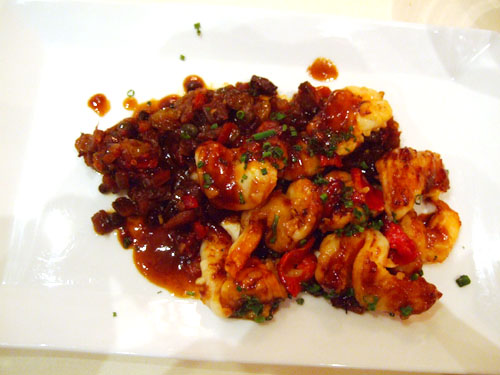 Shrimp Kabobs À La Plancha [$15.00]
Tamarind Chive Glaze, Caponata Salad. The shrimp actually came presented on skewers, which the server removed, thus dropping the shrimp onto the plate. I found that the tamarind sauce here did a good job of masking the shrimp's natural flavor. Not great.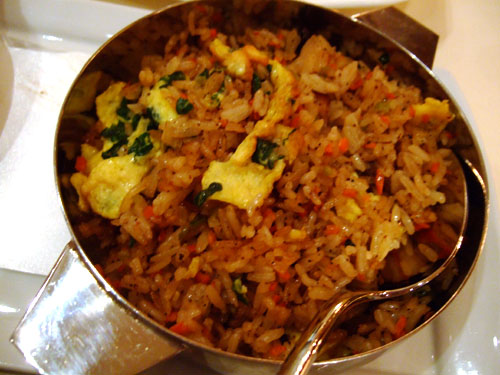 Mushroom Fried Rice [$7.00]
Coriander. This reminded me of my mother's fried rice after sitting in the fridge for about a day: a bit lacking in flavor, and tough in texture. Also, despite being "mushroom" fried rice, I had a difficult time discerning any.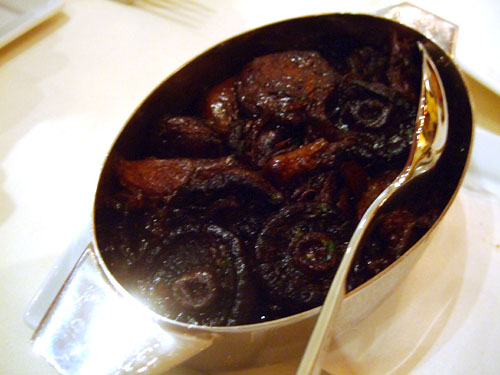 Cremini [$8.00]
Oxtail Ragout. Ridiculously salty, with the oxtail doing a fine job of destroying any of the mushroom's distinct flavor. I needed to drink plenty of water with this.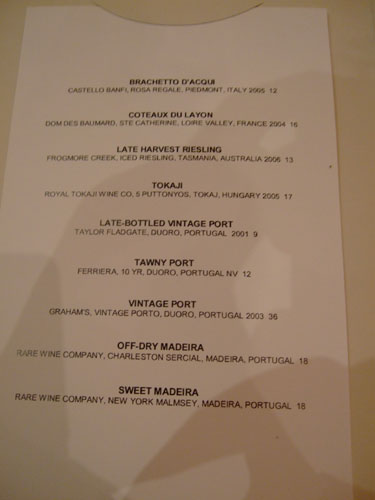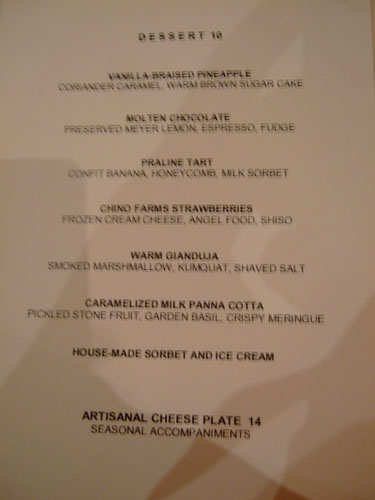 With the savory courses not going so well, we were counting on dessert to bring things to a strong close. Click for larger versions.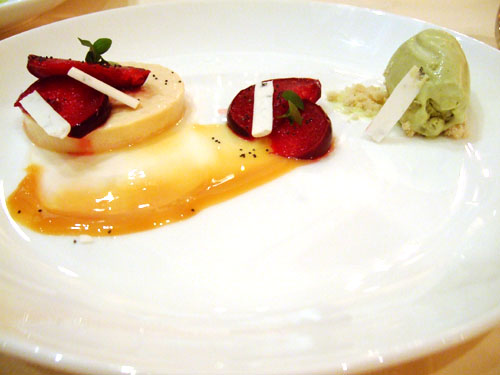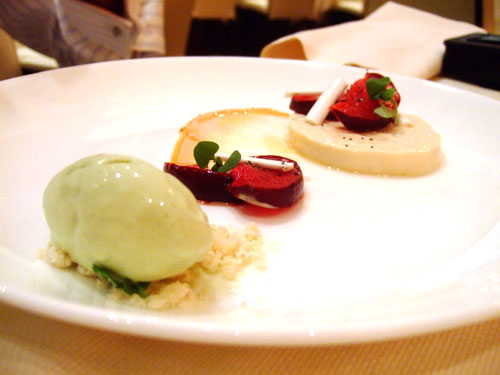 Caramelized Milk Panna Cotta [$10.00]
Pickled Stone Fruit, Garden Basil, Crispy Meringue. The stone fruit did a great job of matching the mildness of the panna cotta while the basil ice cream added a unique twist to this dish. The crispy meringue, meanwhile, added a well-placed textural contrast. Lovely.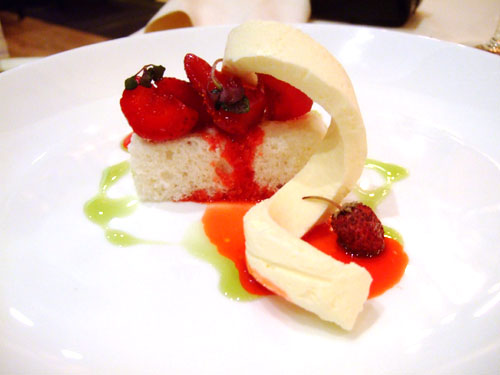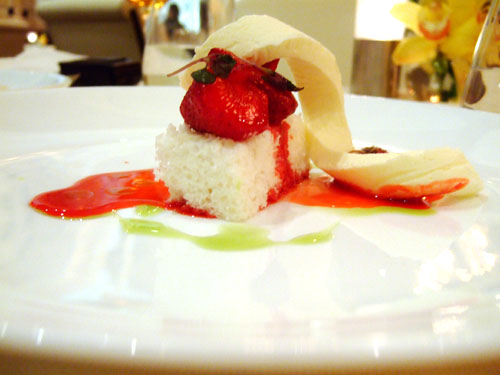 Chino Farms Strawberries [$10.00]
Frozen Cream Cheese, Angel Food, Shiso. The cool creaminess of the cream cheese really did a great job in setting off the sweetness of the strawberry/cake combination. The addition of shiso here worked very well in my opinion.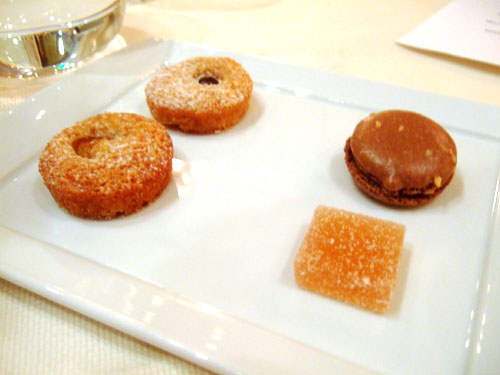 Mignardises
Chocolate macaron, stonefruit gelée, blueberry and peach tarts. A pretty standard assortment of mignardises closed out the meal.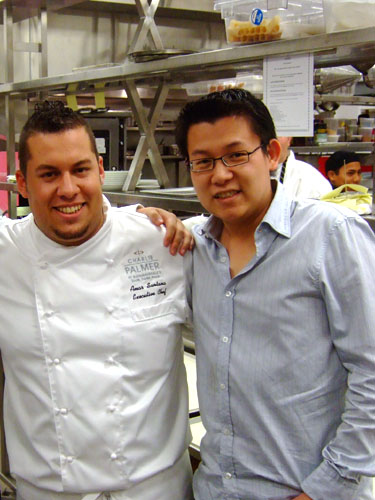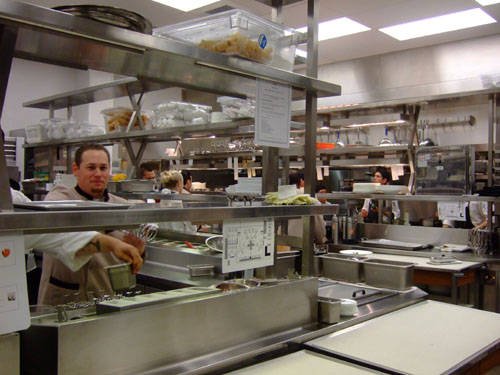 After the dinner, we briefly toured the kitchen and met with Executive Chef Amar Santana, former sous chef from Aureole.
Quite simply, this was a letdown. In general, the flavors were far too blunt, far too monolithic, and far too clumsy. The ingredients really need to speak for themselves, but instead, what were supposed to be accoutrements became the foci of the dishes. Where's the subtlety, the finesse? I expected much more from Mr. Palmer, and at this point, this restaurant clearly does not live up to his name nor the hype.