Gyu-Kaku (Huntington Beach, CA)
Gyu-Kaku
7862 Warner Ave, Huntington Beach, CA 92647
714.842.8333
www.gyu-kaku.com
Tue 06/03/2008, 05:50p-07:15p
Gyu-Kaku is a "yakiniku," or "grilled meat," restaurant where diners cook meat over a gas or charcoal grill. Yakiniku is thus quite similar to the world-famous Korean BBQ, and in fact, is thought to have originated from Korean immigrants in the Kansai area of Japan during the post-war era. In fact, Korean dishes such as nameul and bibimbap are often served alongside the meat. The bibimbap, as it turns out, is what drew us to Gyu-Kaku. Ever since having an amazing bibimbap at Gokoku-Tei restaurant in the Keio Plaza Hotel Tokyo, I've been searching for a comparable experience here in the States.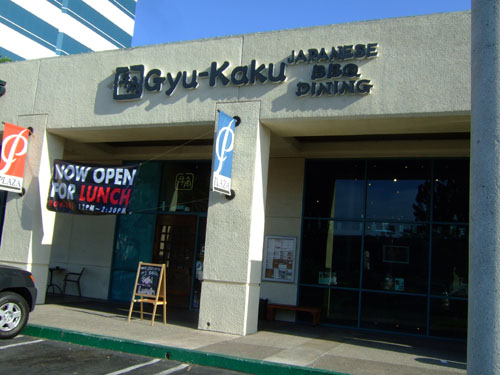 Located near the Comerica Bank tower in Huntington Beach, the restaurant's exterior is rather nondescript.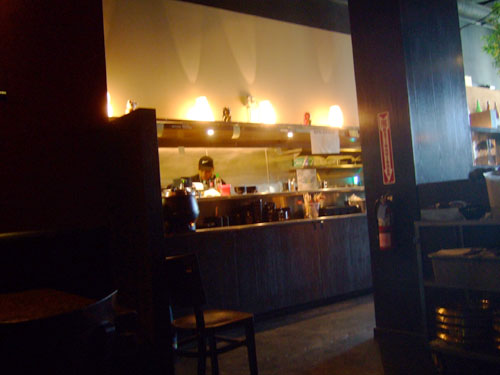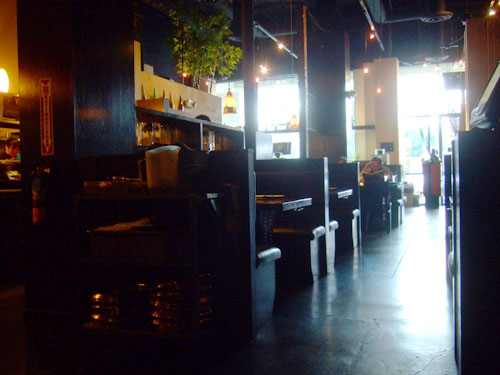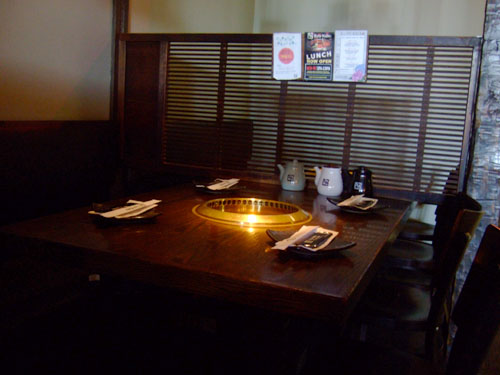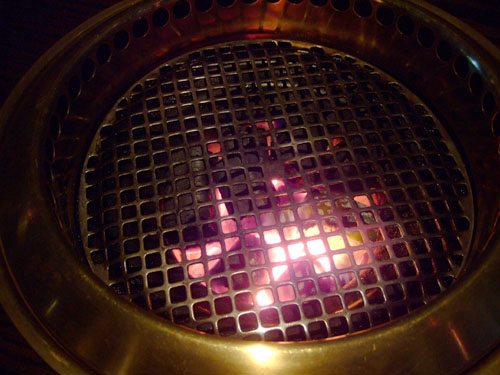 The interior looks better, with lots of dark wood and dim lighting. Each table has a grill in the center burning Binchotan charcoal, a traditional Japanese charcoal made from ubame oak. Fortunately, the grills are designed in such a way that smoke isn't really a problem.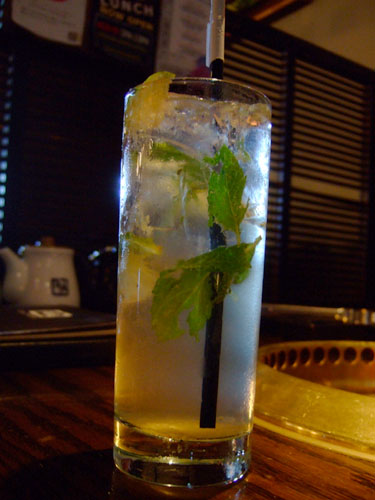 Once again, I started with a mojito, this time made with shochu, mint, lime, and Sprite. I think this was my first time having a shochu-based mojito, and it was quite delicious actually, with the shochu providing a softer flavor than the typical white rum.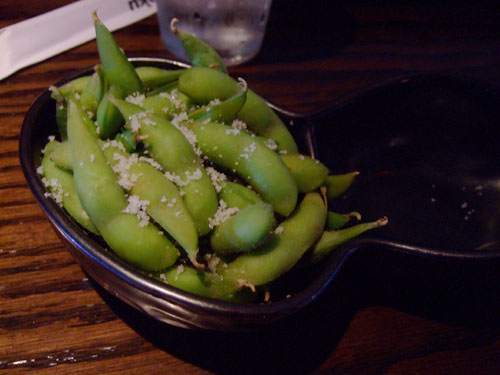 Edamame
In addition to the bibimbap, we ordered a set course menu (the "Geisha" for $68), which kicked off with edamame. Topped with salt, these were quite tasty, though they could've been crisper.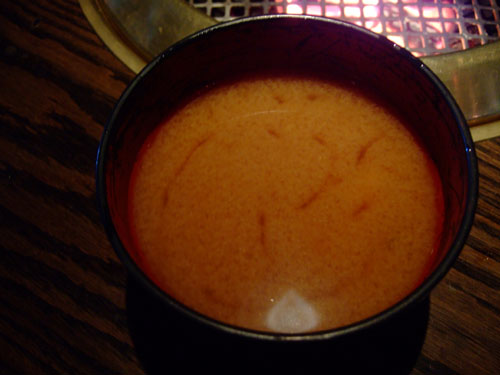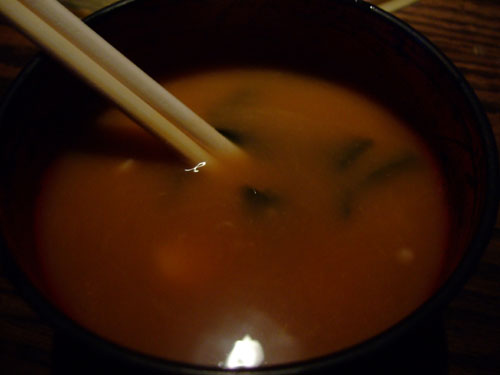 Miso Soup
A miso soup was next. Filled with wakame seaweed and tofu, it wasn't anything special, but wasn't bad at all either.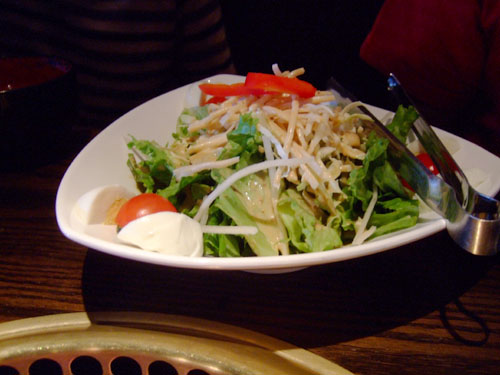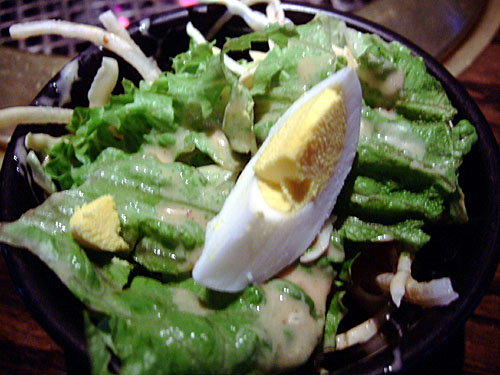 Gyu-Kaku Salad
Lettuce, shredded Cabbage, Daikon Radish, Red Bell Peppers, Cucumbers, Cherry Tomatoes, Egg with Miso-Mustard dressing. Surprisingly good, the tart dressing did a fine job of tying together and complementing the fresh flavor and refreshing crunch of the veggies.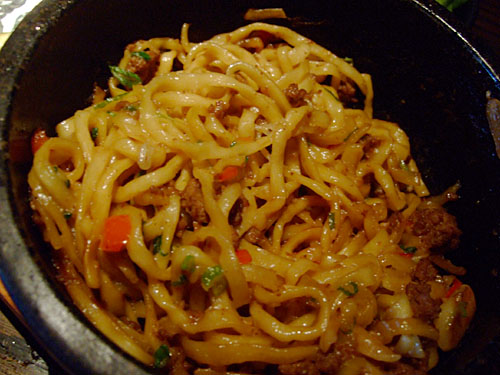 Garlic Fried Noodles
Okinawan Noodles pan-fried in Garlic Chicken sauce. I'm not sure what exactly was Okinawan about these noodles, but I liked them. The noodles themselves had only a slightly garlicky flavor, and the various ingredients mixed in added some well-placed contrast.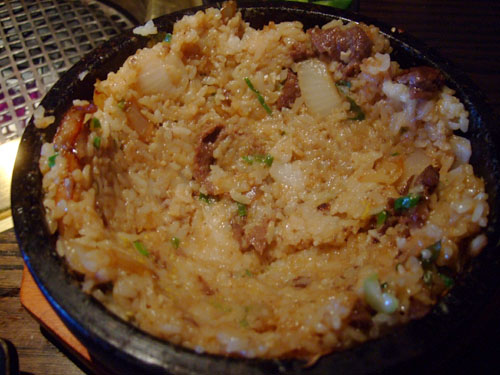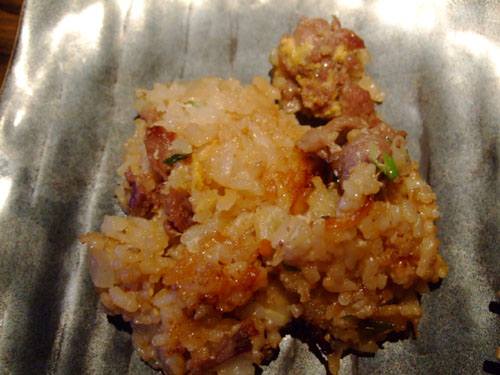 Sukiyaki Bibimba [$7.95]
Beef, Onions & Rice, Sukiyaki style; we also requested that an egg be added. So this was what we were here for. Being done in a "sukiyaki" style, I suspect that the typical sukiyaki ingredients of soy, sugar, and mirin were used in the preparation of this bibimbap, and indeed, the dish did have a subtle sweetness to it. This was also served in the "dolsot" style, which meant that a sizzling stone pot was used, thus ensuring that the rice touching the sides was cooked to a delectable golden crispy brown. So how did it fare? Overall, this was a solid version of bibimbap. The various ingredients melded well enough together, and the addition of hot chili sauce further elevated the dish. However, that being said, the rice was still a bit monolithic here, thus preventing the ingredients from harmonizing as well as they could have. Good, but still not as good as Japan.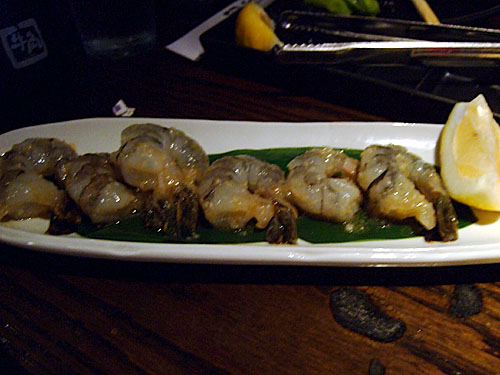 Shrimp Garlic (6pc)
Marinated in a Garlic sauce (Fresh Garlic Paste, White Soy Sauce, Sesame Oil). Garlic and shrimp is almost always a winning combination and here was no exception, with the shrimp's mild flavor providing a perfect canvas for the garlic marinade.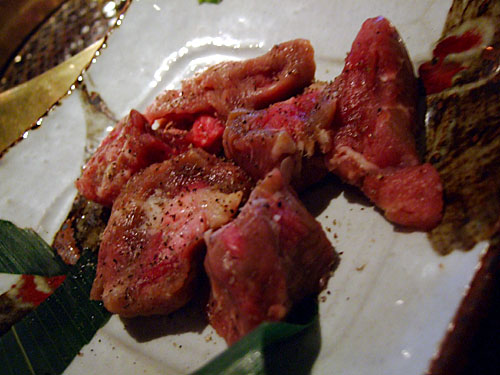 Filet Mignon Ponzu (3.5oz)
21-day aged Angus Tenderloin, Ponzu, Salt and Pepper. The filet didn't have that much flavor on its own, so I really appreciated the addition of ponzu, salt, and pepper. Though the meat was quite tender, I wish we would've cooked it a bit rarer.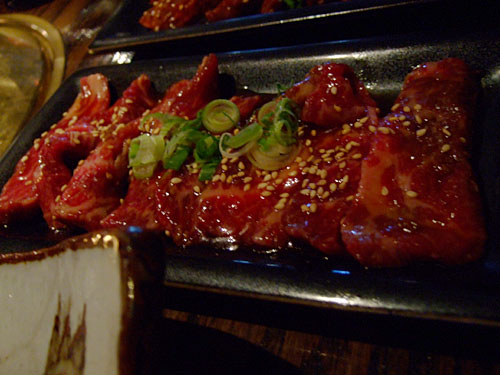 Kalbi Short Rib Tare (3.5oz)
21-day aged Angus Short Rib, Tare Sweet Soy (Soy Sauce, Fruit Juice, Roasted Garlic), Sesame, Scallion. Kalbi, or galbi, which means "rib" in Korean, is perhaps the most famous staple of Korean BBQ. Typically served on the bone (but not in this instance), kalbi is typically marinated in a mixture of Korean soy sauce (ganjang), garlic, and sugar. Given that, one of my dining companions (who happens to be Korean) said that this wasn't marinated that well. I thought it was decent, but I have had better at Korean BBQ establishments.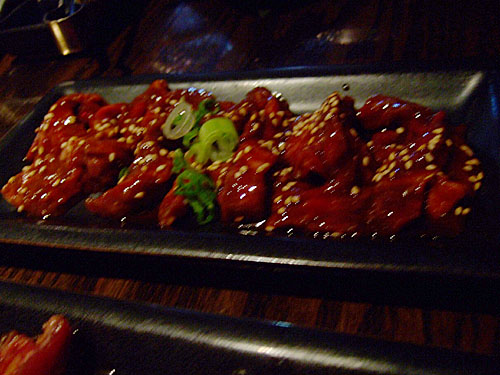 Harami Skirt Steak Miso (3.5oz)
21-day aged Angus Skirt Steak, Miso (Red Miso Soy Bean Paste, Sugar), Sesame, Scallion. Harami, or skirt steak, is a cut from the underside of the cow. It's generally considered flavorful but a bit tough, but I didn't think texture was a problem here. The red miso, or akamiso, is one of the most commonly used varieties of miso along with white miso (shiromiso). Together with sugar, it added a mildly sweet flavor to the meat.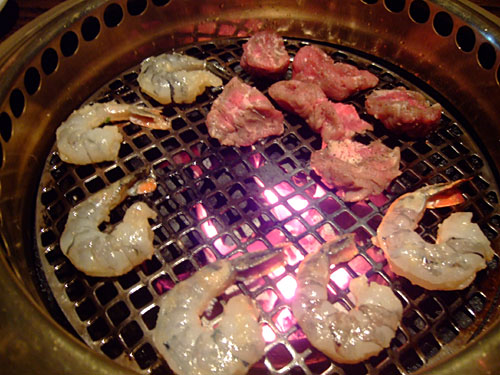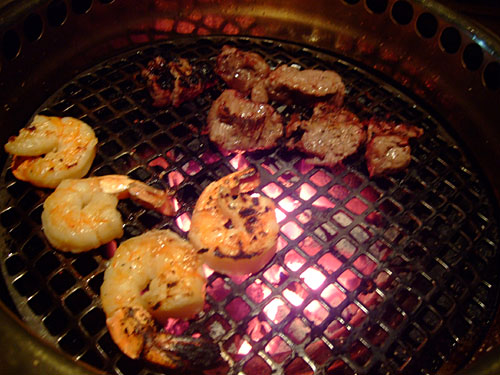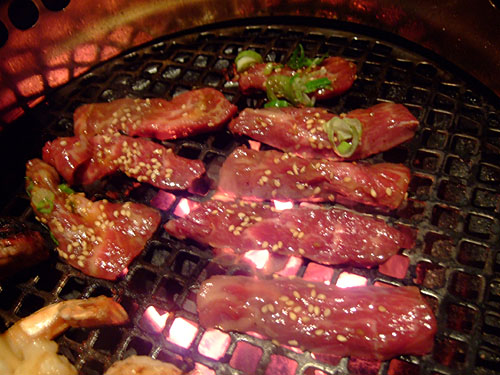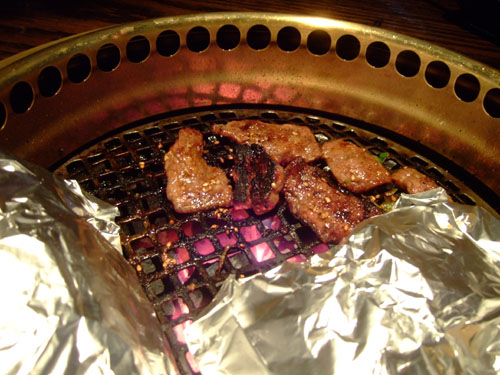 Above we see the various ingredients being cooked. We first grilled the shrimp and filet, then the kalbi, the harami, and finally the vegetables.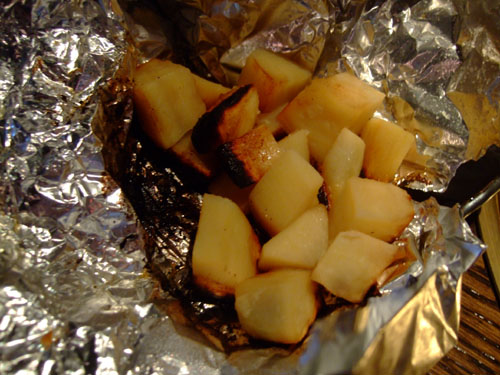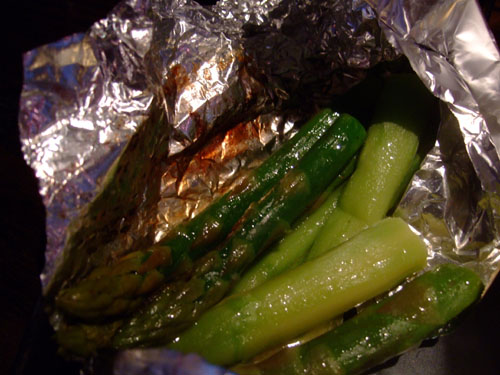 Japanese Sweet Potato & Asparagus
Unfortunately, no one knew how long to steam the veggies (afterwards, we asked our server and she said two minutes, we must've done ten!), so they ended up overcooked and burnt.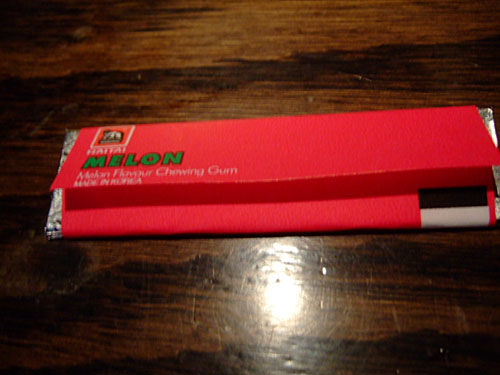 Haitai Melon Chewing Gum
The menu stated that we were supposed to get a dessert of Smores or Banana Chocolate Ice Cream. I don't know if they simply forgot (we certainly did), but we never received any dessert. Instead, we closed out dinner with this delightful melon-flavored chewing gun from Korea.
All in all, I had a fun time at Gyu-Kaku. By no means was I blown away, but the food was decent enough and cooking my own meat does lend a strange sense of satisfaction. As for the reason we came here in the first place, the bibimbap, I must say that although tasty, it still fell short. I'm beginning to think that I'll never find a preparation here in the US that will stand up to the version I experienced in Japan. My kingdom for a good bibimbap!