Gordon Ramsay at The London (West Hollywood, CA)
Gordon Ramsay at The London
1020 N San Vicente Blvd, West Hollywood, CA 90069
310.358.7788
www.gordonramsay.com/gratthelondonwh/
Tue 05/27/2008, 08:05p-12:35a
Opening night at Gordon Ramsay, and the man, the legend himself isn't even here. Nor is the winner of Ramsay's
Hell's Kitchen
TV series. In fact, not many people at all are here, no press, not many customers; in fact, the staff seems to outnumber everyone else. Where's the fanfare, the pomp, the circumstance? If they were aiming for a soft opening, they certainly met that mark.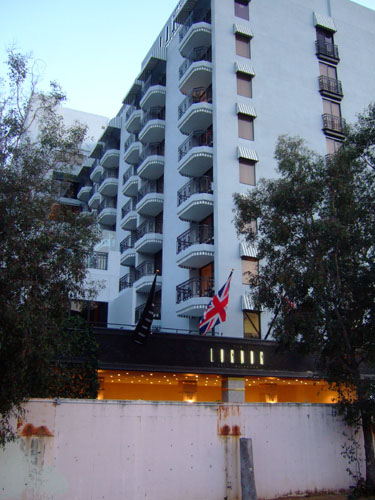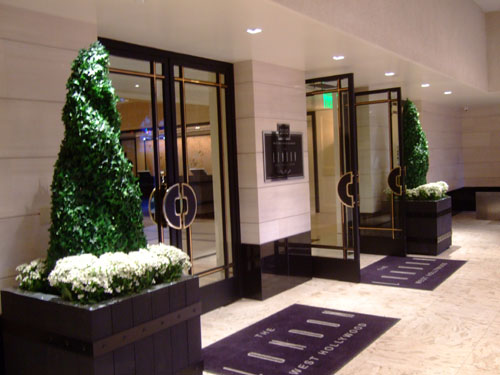 As the name suggests, Gordon Ramsay at The London is located in the new London West Hollywood. Formerly known as the Bel Age, the hotel is located just steps from the hustle and bustle of the Sunset Strip. Although the building isn't much to look at from outside, things do get better as you approach the main entrance.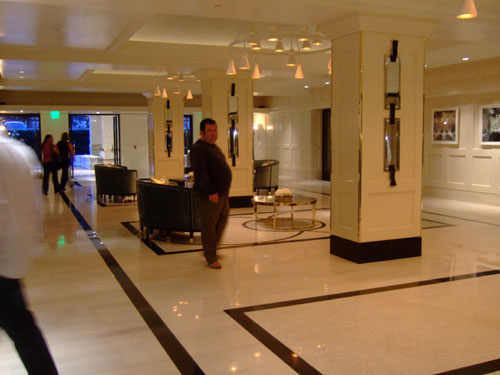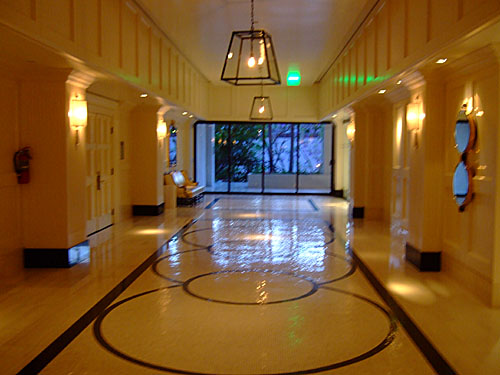 The black and white theme continues in the lobby.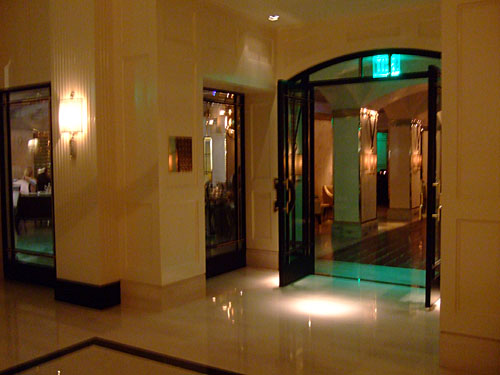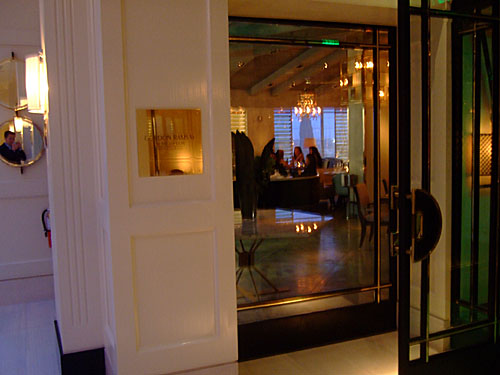 The restaurant is fairly inconspicuous, and in fact, it took us a few minutes to find the place.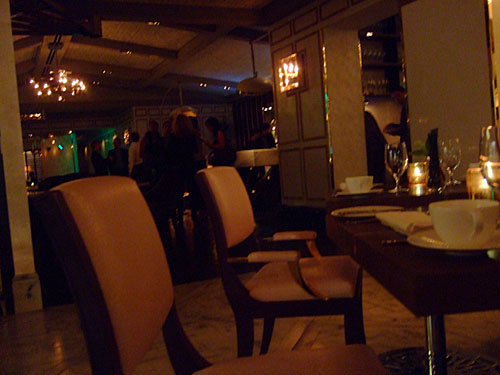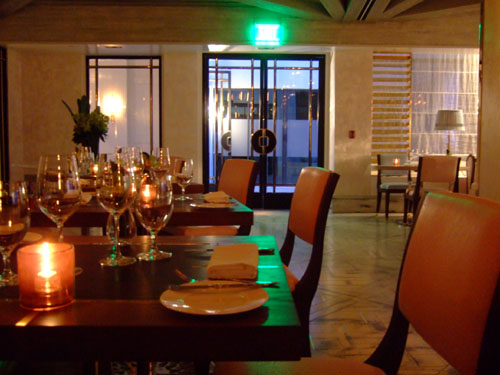 Two main dining rooms seat around 110 guests in total. These rooms flank a bar and lounge area. The decor is dim, chic, almost lounge-ish in fact, with large, comfy sofas and chairs. I could see it as a good place to get drinks.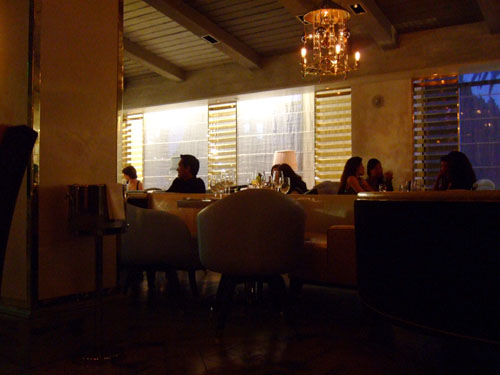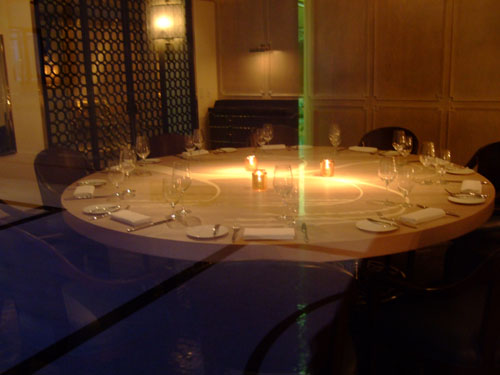 Also available are five private dining rooms, seating up to ten guests each (right photo).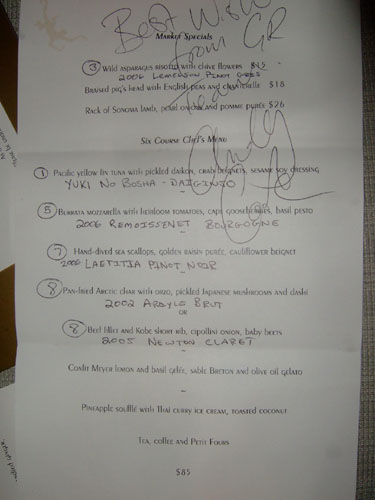 I'd describe the cuisine as contemporary French with Asian and Californian twists. Compared to the London or even New York menu, the food here is definitely less complex, more laid back. Apparently, there is also a sushi menu, but we weren't able to locate it on this particular night. Ordering can either be done à la carte or via the Chef's Menu. If going à la carte, our server recommended 3-4 courses per person. Given the small size of each dish, I can't imagine how anyone would be full on only 3-4 items. We went with the Chef's Menu, but disappointingly, the courses were straight from the standard menu. In hindsight, we should've ordered one of every item on the menu. Click for larger versions.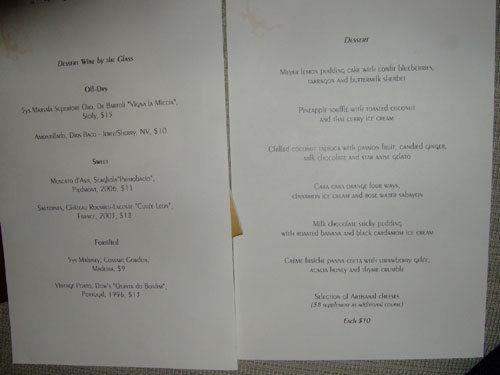 Here we see the dessert menu, with a number of fairly interesting selections. Click for a larger version.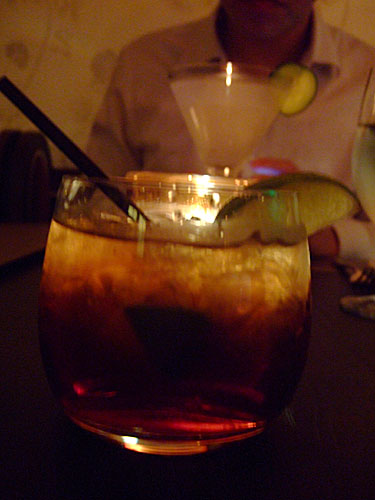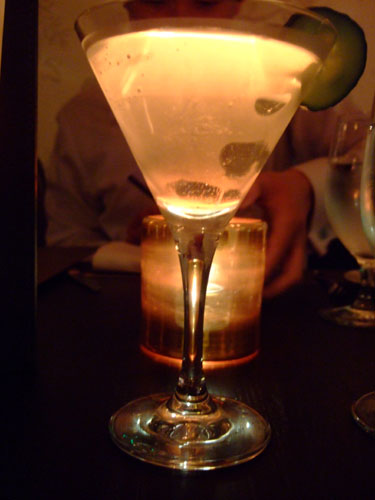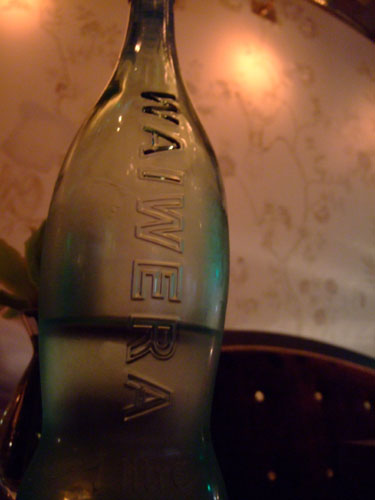 Naturally, I wanted to start with a mojito, but was told that the restaurant was fresh out of mint. I ordered a Cuba Libre instead (the last time I did this was at
Patina
). My dining companion ordered a cucumber martini, which was made from Square One Cucumber Vodka (strong nose of cucumber, leading to more cucumber on the palate initially, before finishing with a strong alcoholic burn). For water, we were asked if we'd like still or sparkling (tap was not mentioned as an option), and choosing still, received a pricey bottle of Waiwera water from New Zealand.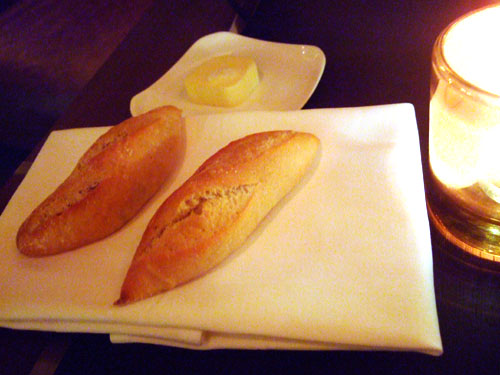 White baguettes were the only type of bread on offer. The bread was tasty enough, but I would've liked more variety. The butter was quite rich, and, when eaten with the baguette, reminded me of buttered popcorn.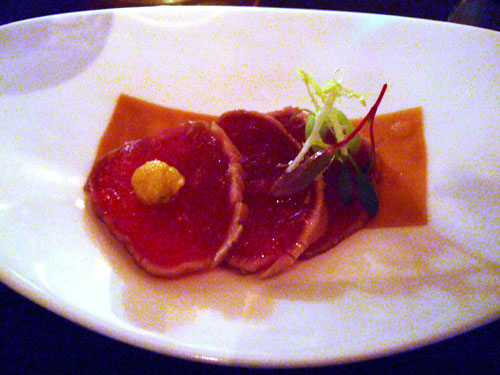 1: Pacific yellow fin tuna with pickled daikon, crab beignets, sesame soy dressing
Junmai Ginjo Sake, Yuki No Bosha
The tuna was quite delicious, clean in taste, lean in texture, and went beautifully with the tiny (too tiny) crab beignet, lime-marinated cucumber, and micro-greens. Wrapping a piece in the soy- and balsamic-marinated daikon strip also produced a wonderful result. The paired sake had a super-intense nose of stone fruit and strawberries; the flavors continued on the palate, and the sake had a very heavy weight and viscous mouthfeel. Quite different and much sweeter than most other sakes I've had.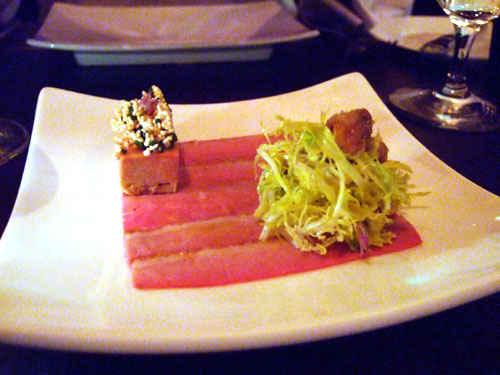 Supplement: Apple-cured duck breast and crispy tongue, foie gras with amaranth
Riesling, Hugel et Fils, Alsace, France, 2005
This was my first time with duck tongue, and it was the best part of the dish. The foie gras terrine was a fine example, and the addition of amaranth grain added a nice textural contrast. Its sweetness linked well with the duck meat, which otherwise was nothing special. The Riesling was fairly dry, crisp, with a heavier weight than I expected; a simple wine.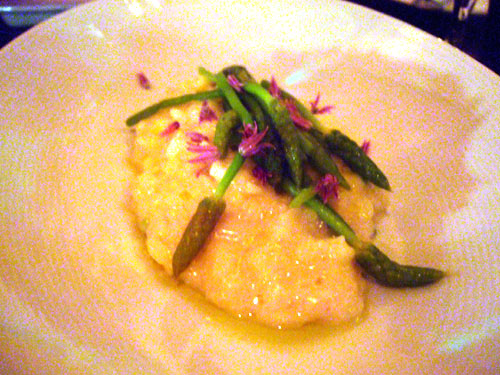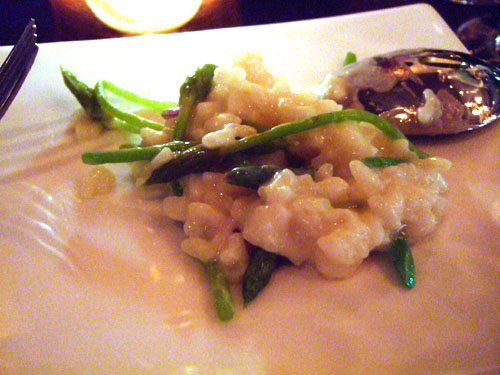 Supplement: Wild asparagus risotto with chive flowers
Pinot Gris, Lemelson Tikka's Run, Willamette Valley, Oregon, 2006
Laced with Mascarpone and Parmesan, the risotto was perhaps the cheesiest example I'd ever had (compared to, let's say,
Valentino
). The asparagus and chive were excellent complements that provided a respite from the richness of the risotto. This was my favorite dish of the night, something I could just eat a big bowl of and be satisfied!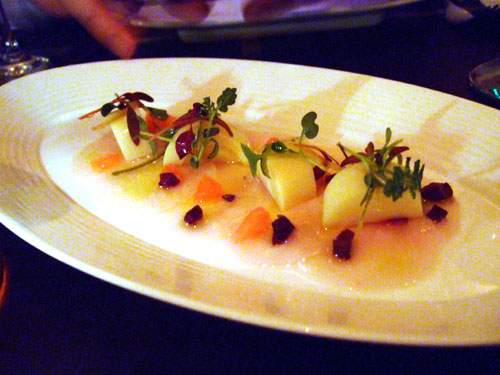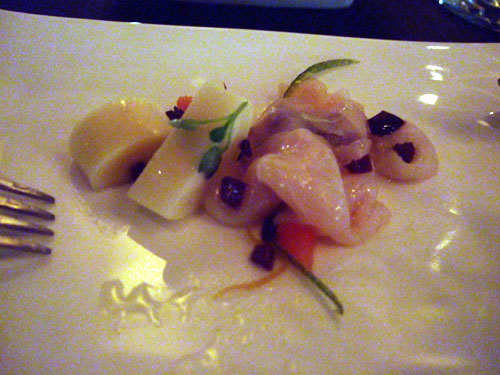 Supplement: Swordfish carpaccio with heart of palm, grapefruit and yuzu vinaigrette
Sauvignon Blanc, Bernardus, Monterey, California, 2006
This was my first time having swordfish in a carpaccio style. I found that the fish actually had a very mild taste on its own. Thus, it was overpowered flavor-wise by the citrus and consistency-wise by the heart of palm, resulting in a one-dimensional dish. I really wanted the fish itself to come more to the forefront.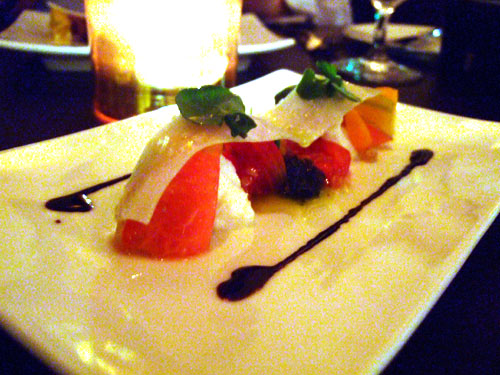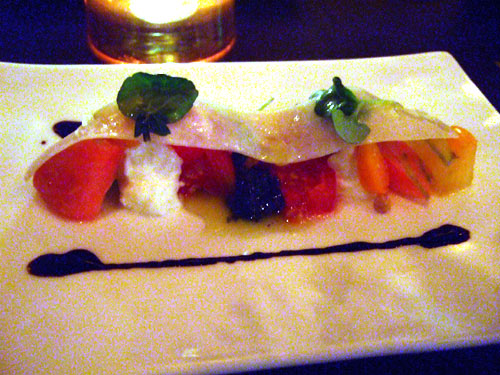 2: Burrata mozzarella with heirloom tomatoes, cape gooseberries, basil pesto
Bourgogne Blanc, Remoissenet Père et Fils, France, 2006
This was sort of like a fancied up version of an Insalata Caprese, so taste-wise, everything worked quite well together. I would've preferred a firmer texture on both the Burrata and the tomato however. The dish was paired with a white Burgundy, which I found rather mild for the region, smooth, easy, with soft minerals and clean fruit flavors.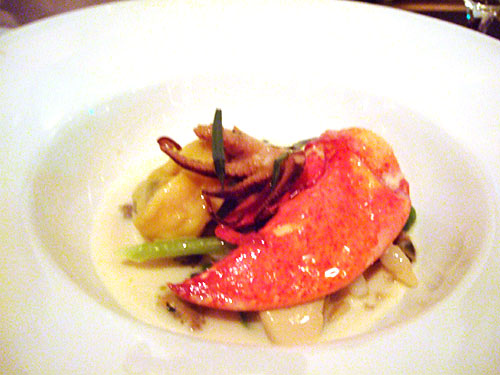 Supplement: Cassoulet of seafood, king prawn tortellini and garbanzo beans
Vouvray, Domaine des Aubuisières, France, 2007
The types of seafood were scallop, geoduck, periwinkle clam, squid, and lobster, all in a cream sauce. Though not very inventive, all the seafood was tasty, though such small pieces left me wanting more. The Vouvray (Chenin Blanc) was nicely balanced, medium weight, dry but not overly so, with hints of stone fruit. It didn't get in the way of all the seafood flavors.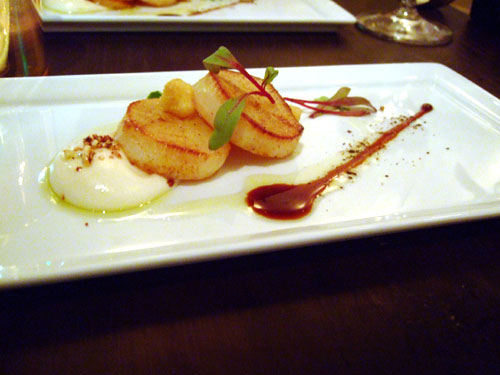 3: Hand-dived sea scallops, cauliflower purée and sherry vinegar reduction
Pinot Noir, Laetitia, Arroyo Grande Valley, California, 2006
The scallops here were delightful, with a nice consistency and sweet flavor that paired well with sherry vinegar, but that could've easily stood alone. The use of the Pinot was a bit interesting, but the smoky sweetness of the scallops made sure the wine didn't overpower. The wine itself was fairly typical of the varietal; good but nothing special.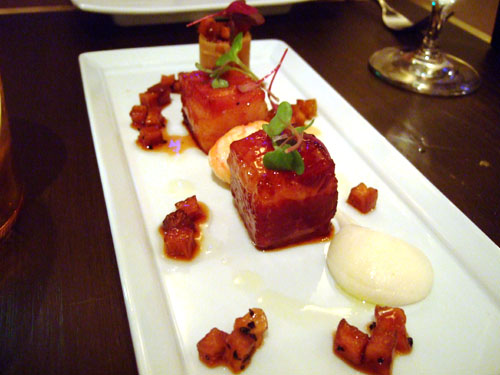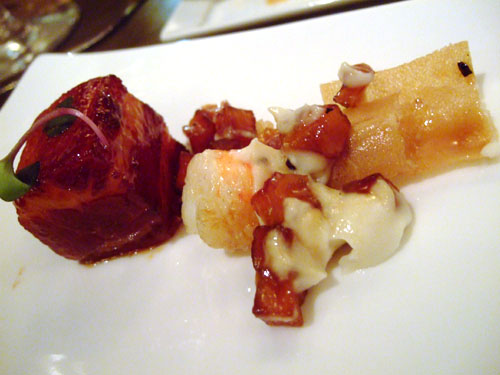 Supplement: Smoked pork belly with roasted Scottish langoustine, celeriac and apple
Columella, Sadie Family, Swartland, South Africa, 2003
Lovely texture on the pork, though I thought the sauce was a bit too sweet. I enjoyed the langoustine very much so, but am left wondering exactly how it's supposed to pair with the pork. The wine, from South Africa, was a mix of Syrah and Mourvèdre. It had lots of fruit, as well as spice, with a medium-heavy weight; it stood up to the pork belly just fine.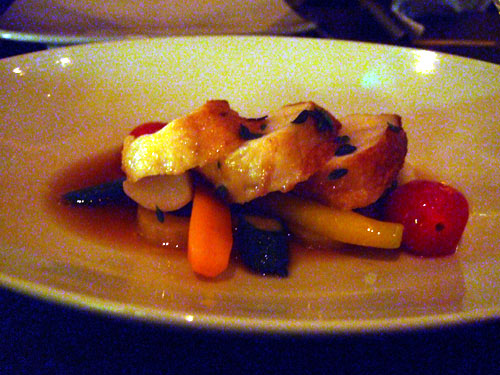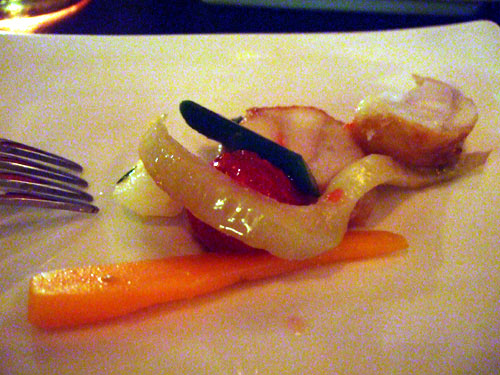 Supplement: Monkfish with crispy chicken skin, lemon thyme consommé
Barbera d'Alba, Giacomo Brezza & Figli, Piedmont, Italy, 2005
The monkfish was quite firm and meaty, though not that bold in flavor by itself. Rather, the chicken skin added most of the dish's savoriness, while the consommé and vegetables added a touch of tartness. I think this might have been my first time drinking Barbera, an Italian red varietal from Piedmont. I didn't think it was particularly unique, but sort of like a Barbaresco. Pairing a strong red with fish usually doesn't work, but the strong flavor of the monkfish/chicken combo made it bearable.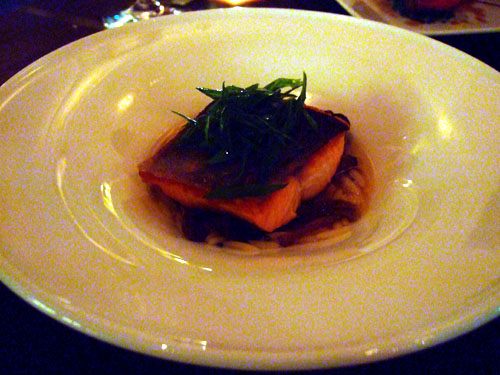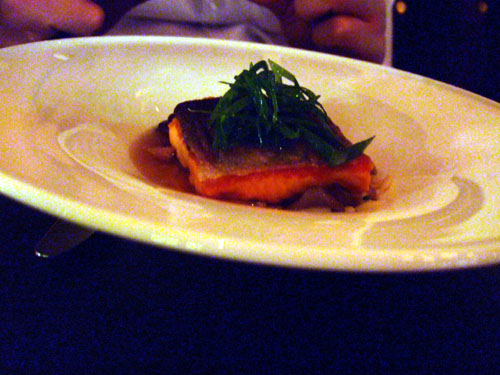 4a: Pan-fried Arctic char with orzo, pickled Japanese mushrooms and dashi
Brut, Argyle, Willamette Valley, Oregon, 2002
Arctic char is related to salmon and trout, and thus eating it was a similar experience. The fish had a firm flesh that was extremely flavorful, like a good salmon, while the skin was great as well. This was one of the strongest dishes of the night for me. Pairing the char with a sparkling wine was refreshing. The Argyle was easy-drinking and light, with a subtle, fruity sweetness and mild acidity.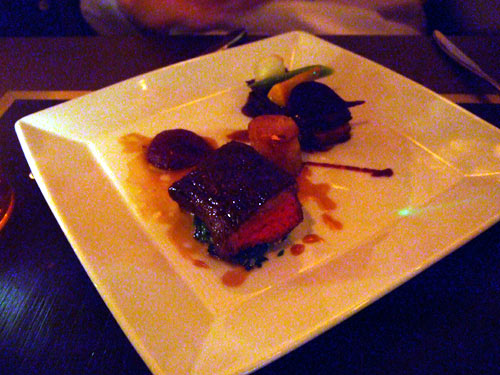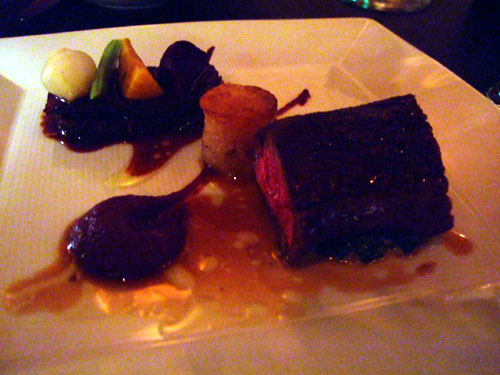 4b: Beef filet and Kobe short rib, cipollini onion, baby beets
Claret, Newton, Napa Valley, California, 2005
The filet itself was well-cooked, with a pleasing texture, but was oversauced. The short rib was decent, but forgettable. Overall, I expected more from this dish. The wine pairing was a claret, a Bordeaux-style blend of Merlot, Cabernet Sauvignon, Cabernet Franc, and Petit Verdot. It went well-enough with the beef, but like the beef, it was not especially memorable.
5: Confit Meyer lemon and basil gelée, sablé Breton and olive oil gelato
The combination of olive oil, lemon, and basil was interesting, though I wasn't completely sold. I did really enjoy the sablé Breton (like a cookie) crumbles here though.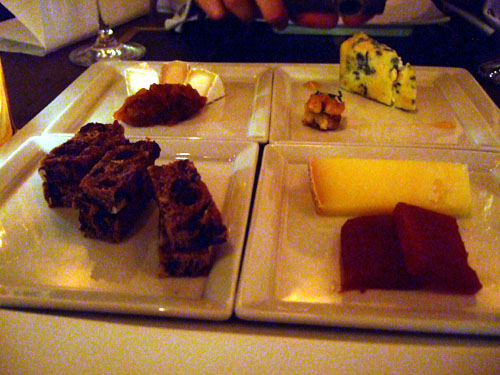 Supplement: Cheese plate
Three types of cheese were presented: Petit Marcel (a goat's cheese from Pugs Leap, creamy and subtly sweet, my favorite of the trio), an unknown bleu (strong and sharp, with typical bleu cheese flavors), and a Gruyère (a hard cow's milk, mildly salty). The included fruit and nut toast was one of the better examples I've had.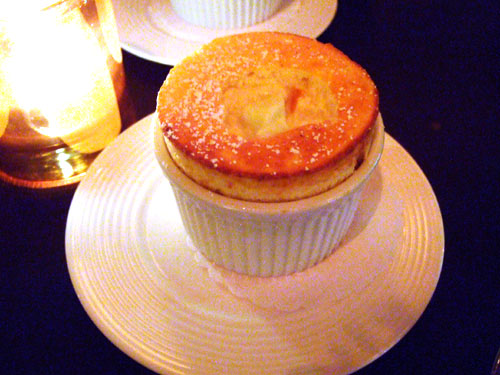 6: Pineapple soufflé with Thai curry ice cream, toasted coconut
Sauternes, Château Roûmieu-Lacoste "Cuvée Leon", France, 2003
Though not particularly evocative of Thai curry, the ice cream added some much needed contrast to an otherwise unspectacular soufflé. Coconut and pineapple make for a safe, albeit a bit boring, flavor combination.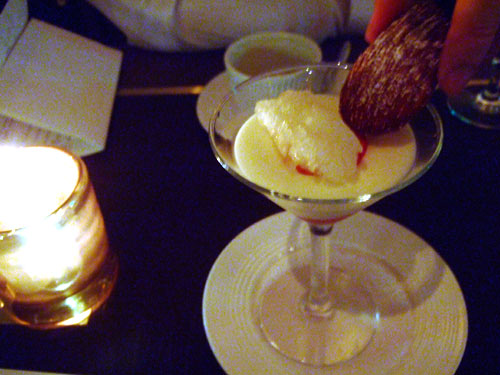 Supplement: Crème Fraîche panna cotta with strawberry gelée, acacia honey and thyme crumble
I preferred this supplementary dessert to the soufflé. I didn't detect much crème fraîche, but the strawberry gelée was a refreshing end to the meal. Good, but nothing that distinctive.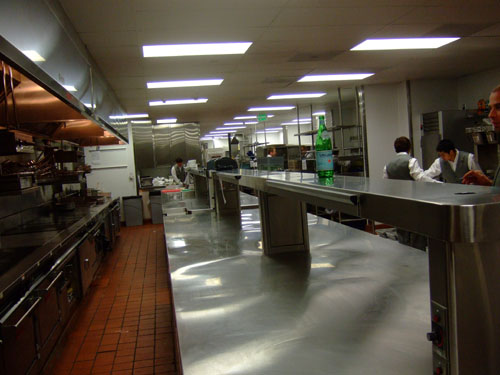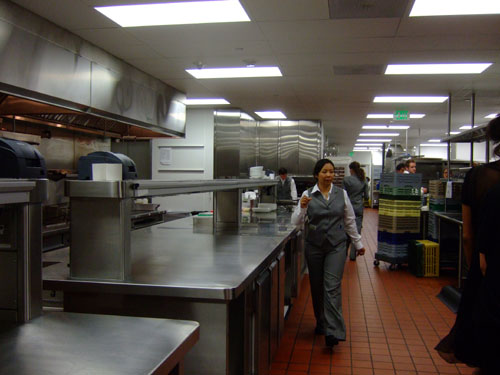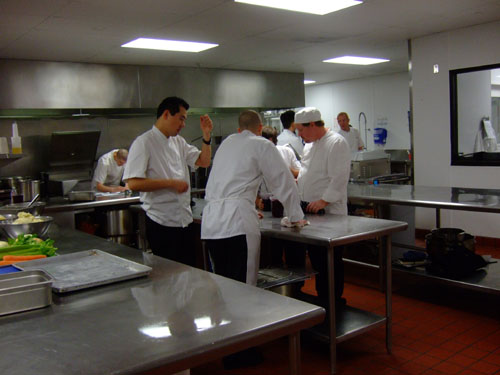 After the meal, we were given a tour of the kitchen. What struck me most was how large the kitchen seemed. When we asked our tour guide about the winner of
Hell's Kitchen
, he told us that the winner hadn't started working yet, and that the person wouldn't be an executive chef in charge of the entire kitchen, but more of a sous chef. That's a bit of a relief, as I'm not sure if any of this season's contestants are up to the daunting task of being a head chef (I still have money on Petrozza though!).
I enjoyed my time at Gordon Ramsay, but the place needs to do better in order to live up to its name. It was opening night, sure, but I didn't experience a two-star, or even one-star, Michelin meal. The restaurant has potential, but changes are needed. My suggestions:
• Make the portions larger. Unless you're a runway model or merely anorexic, the recommendation of eating only 3-4 courses and being completely satiated seems almost ludicrous. I had the equivalent of 10 courses and could've eaten a Double-Double afterwards.
• Rationalize the menu. Make fewer courses, but make each more complex and more luxurious. It's Gordon Ramsay; give me my truffles and caviar!
• Charge more. Prices seem far too low, especially when compared to the London and New York restaurants. I feel as though the restaurant is aiming for mass appeal rather than haute cuisine. This will go hand-in-hand with the previous suggestion.
Overall, Gordon Ramsay at The London needs to figure out what it wants to be. Right now, it appears as though the restaurant is aiming for actors, scenesters, and poseurs as the target clientele, making concessions to the detriment of true connoisseurs. There are plenty of other places in West Hollywood for that. Chef Ramsay, please don't continue down that path, lest the place turn into a subject for your other TV show:
Kitchen Nightmares
.