Mimosa Grill (Charlotte, NC)
Mimosa Grill
327 S Tryon St, Charlotte, NC 28202
704.343.0700
www.mimosagrill.com
Sun 06/08/2008, 07:55p-09:00p
Opened in 1995, Mimosa Grill describes itself as a fine dining establishment with Southern flair. The restaurant focuses on using regionally grown, seasonal ingredients in what they call a "farm-to-plate" style. Given the limited number of restaurants open on Sunday, Mimosa Grill was a natural choice for my first meal ever in Charlotte.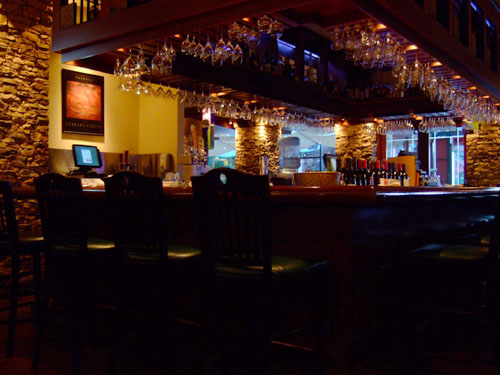 Located in the Wachovia Atrium in Uptown Charlotte, Mimosa Grill is a rather expansive restaurant with seating for well over 100 patrons. The decor is dark, with plenty of wood and a touch of rusticity, and wouldn't seem out of place at a Claim Jumper. I sat at a table near the bar, which provided me a good view of Game 2 of the Lakers/Celtics finals going on that night (Celtics won 108 to 102).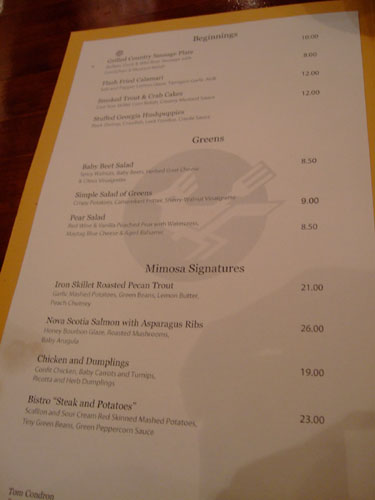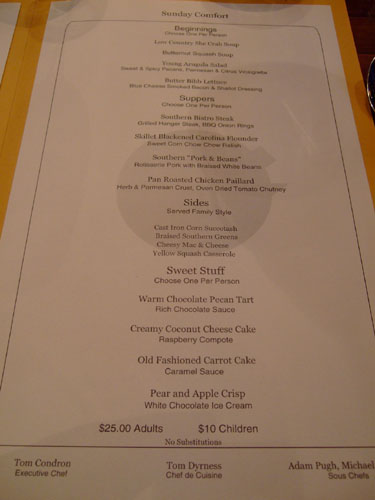 The menu I was presented with was much smaller than I expected. Perhaps it was an abbreviated menu given that it was Sunday? In any case, an interesting thing of note is the "Sunday Comfort" 3-course prix fix dinner. At only $25, it's a pretty good bargain. Click for larger versions.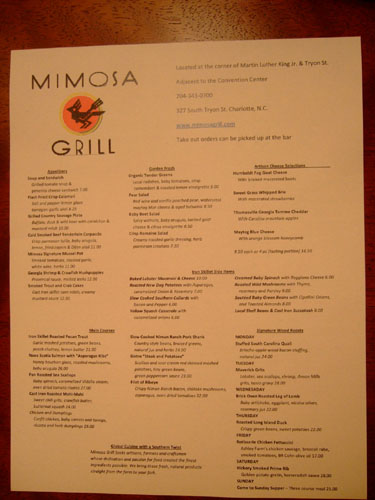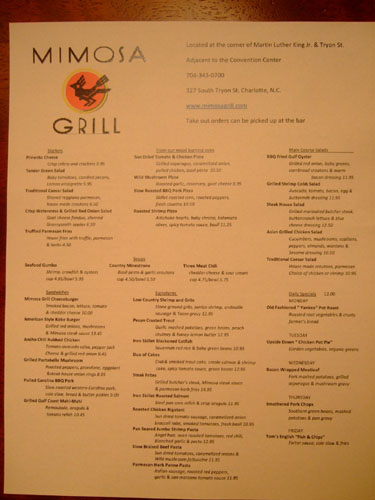 Here we have the take-out menu, with a much larger number of items than above. With this expanded selection, I could see Mimosa Grill being a good lunch place. Click for larger versions.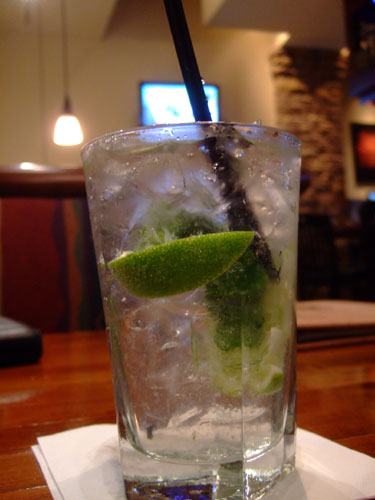 I had to start with a mojito [$7.00], of course. This was actually a very good rendition, well balanced, with neither the rum, sugar, nor mint dominating.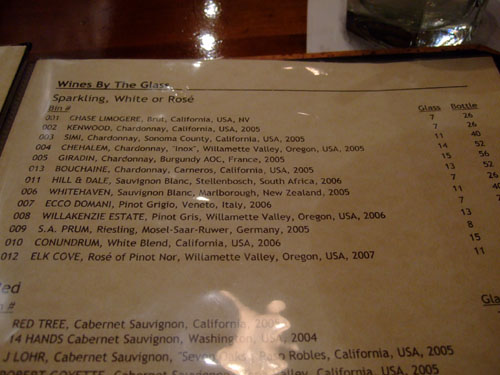 Here we see the wines by the glass on offer, representing a fairly wide spectrum of wines from around the world. Click for larger versions.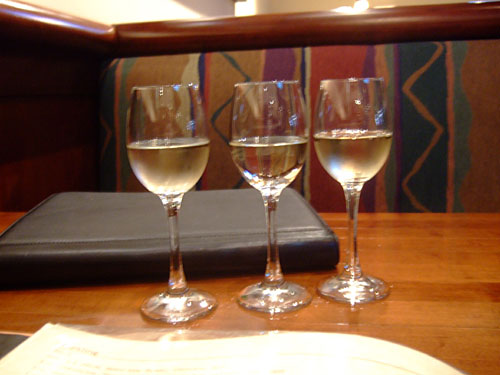 However, I decided to go with one of three wine flights offered, the "Crisp and Clean" [$13.00], comprised of the following:
• Whitehaven, Sauvignon Blanc, Marlborough, New Zealand, 2005 - Lemony and a bit peppery, with medium weight, just what one would expect from a Kiwi Sauvignon Blanc.
• S.A. Prum, Riesling, Mosel-Saar-Ruwer, Germany, 2005 - A very typical German Riesling, dry but not too much so, with straightforward citrus and stone fruit notes.
• Conundrum, White Blend, California, USA, 2006 - A sweet, floral blend of Sauvignon Blanc, Muscat Canelli, Chardonnay and Viognier, with a touch of acidity. Very easy drinking.
The other flights are "Big Reds" (2 California Cabs and a Merlot) and "Chardonnay in 3 Styles" (Burgundy, Oregon, California).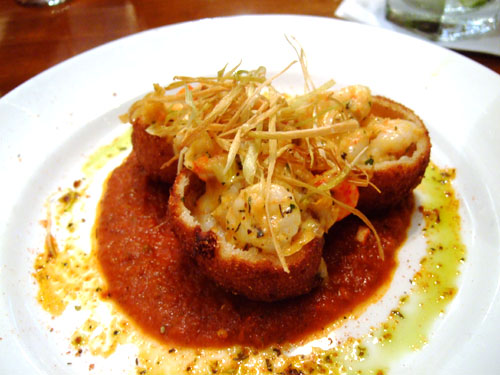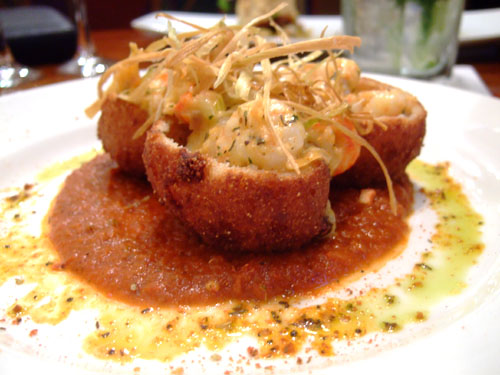 Stuffed Georgia Hushpuppies [$12.00]
Rock Shrimp, Crawfish, Leek Fondue, Creole Sauce. This was actually my first time having hushpuppies, which are small, deep fried pieces of cornmeal. A typical Southern food, hushpuppies are usually eaten with catfish, seafood, or barbecue. Here, they were hollowed out to serve as bowls for the shrimp, not exactly a traditional preparation. This combination worked well enough, though I felt the strong Creole sauce tended to overpower the more delicate flavors of the shrimp. After having this, I now need to sample some real authentic hushpuppies!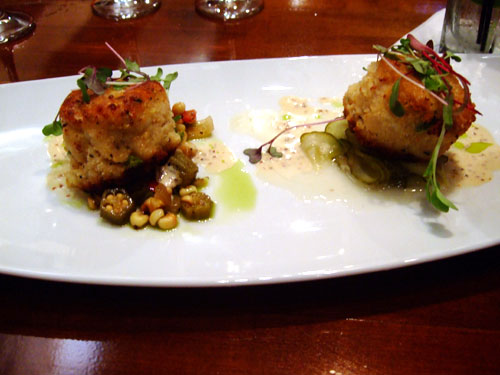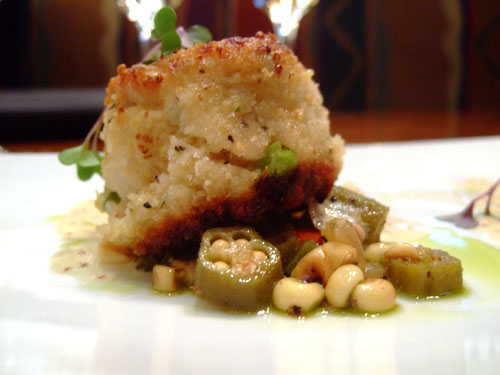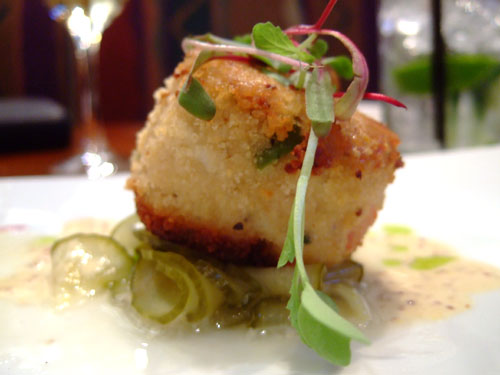 Smoked Trout & Crab Cakes [$12.00]
Cast Iron Skillet Corn Relish, Creamy Mustard Sauce. Often times I feel that crab cakes have too much breading and are light on the actual crab. Fortunately that wasn't the case here, with the cakes striking a decent balance between the crab and the filler (they could certainly do better, however). Interestingly, I didn't detect much trout. The cakes came served in two sauces: a corn and okra relish (liked the corn but didn't care for the okra) and a mustard sauce with pickles (way too tart in my opinion).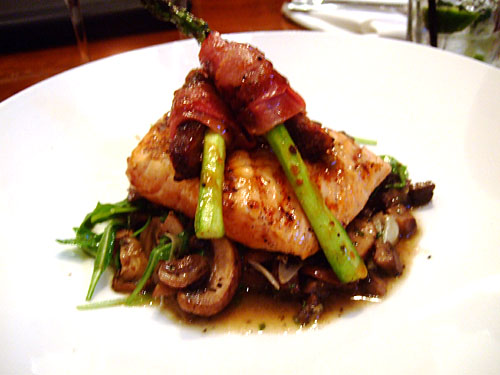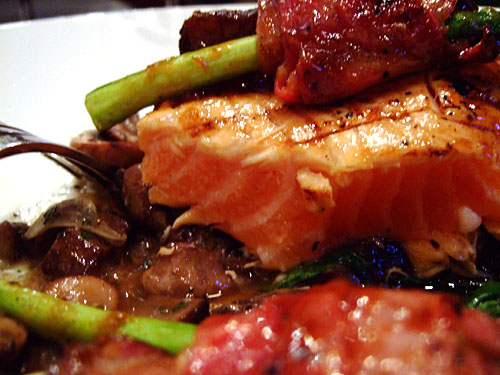 Nova Scotia Salmon with Asparagus Ribs [$26.00]
Honey Bourbon Glaze, Roasted Mushrooms, Baby Arugula. I requested the salmon be done rare, which turned out to be a mistake. Having the fish cooked through would have been a much better choice. In any case, I felt that the Bourbon glaze was far too strong, and tended to drown out any salmon flavor. The asparagus "ribs" and the mushrooms were tasty, though rather salty.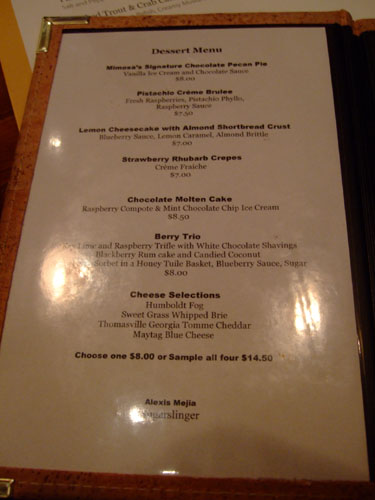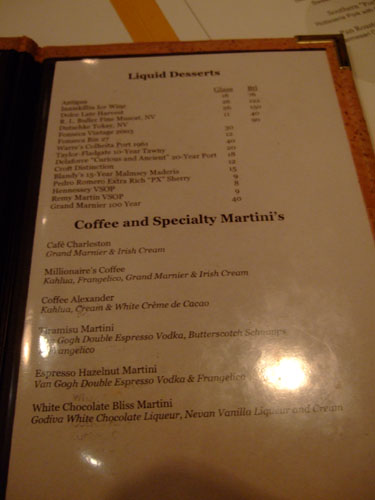 The dessert and after-dinner drinks selection. Click for larger versions.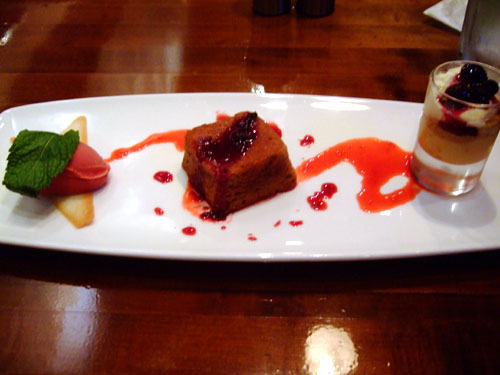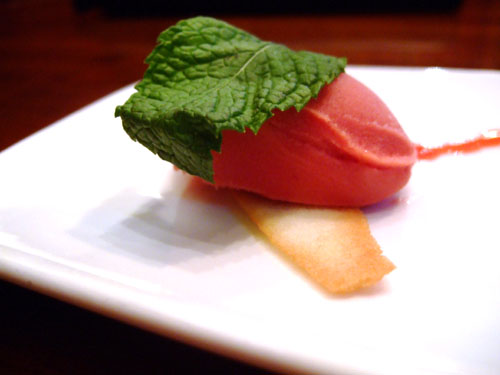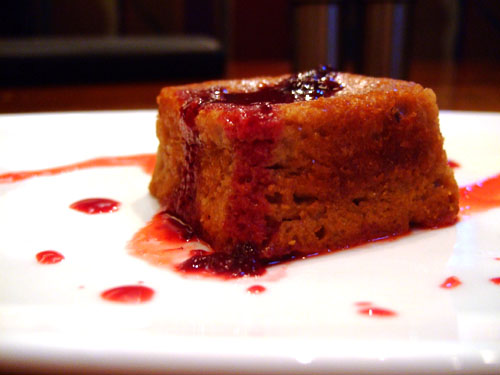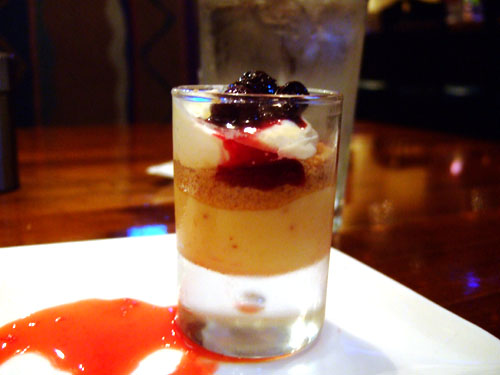 Berry Trio [$8.00]
Key Lime and Raspberry Trifle with White Chocolate Shavings; Blackberry Rum Cake and Candied Coconut; Sorbet in a Honey Tuile Basket, Blueberry Sauce, Sugar. The sorbet was nice enough, tart and refreshing, and the addition of the tuile added a nice textural contrast. The rum cake was a bit gruff I thought, though it certainly wasn't bad. The trifle was my favorite item of the trio, with the creaminess of the custard well balanced by the blueberry.
Overall, I found the flavors here to be a bit blunt, lacking in finesse and sharpness so to speak. Though certainly not bad, the food here left me feeling that something was missing. I'm certainly willing to give Mimosa Grill another try, but for now I'll leave the place to the suits at Wachovia.