Urasawa (Beverly Hills, CA) [2]
Urasawa
218 N Rodeo Dr, Beverly Hills, CA 90210
310.247.8939
www.gayot.com/restaurants/features/urasawa.html (review, restaurant has no web site)
Thu 05/29/2008, 07:10p-11:35p
This was actually my second visit to Urasawa. For the report from my first visit, please click here.
The first thing you'll notice about Urasawa is that the place is a bit secretive; it's almost as if you have to be "in the know" to go.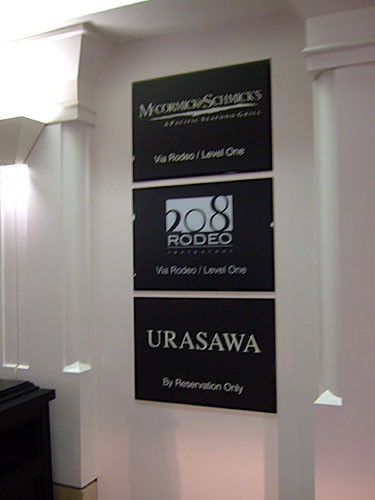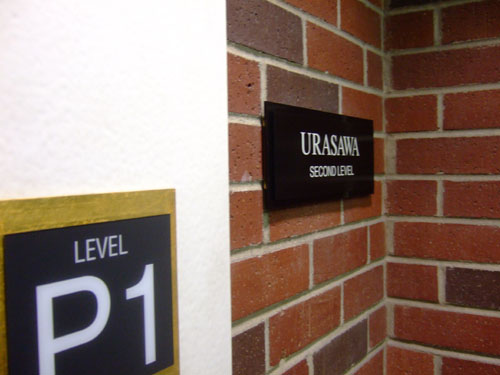 As you exit your vehicle in the underground parking garage off Dayton Way, you see three signs advertising the trio of eateries at Two Rodeo, while a small placard next to the elevator directs you to the second level. And yes, they're serious about the "By Reservation Only;" a couple of women who tried to walk in during our last meal were turned away.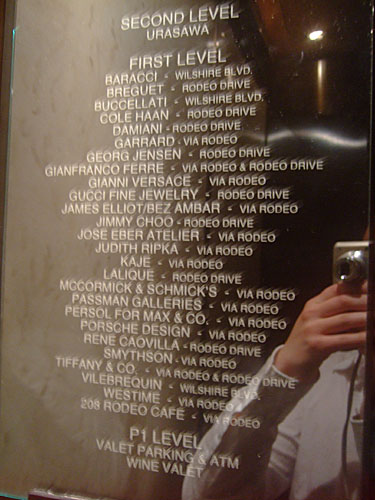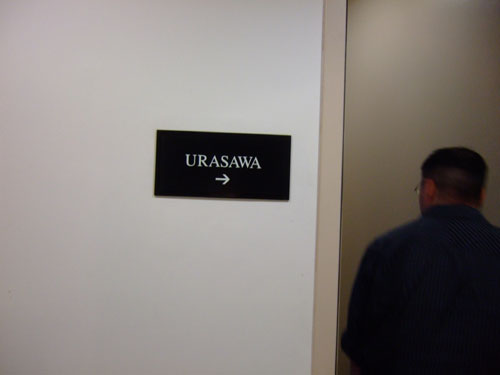 Once in the elevator, you notice how Urasawa occupies the entire second level, above a myriad of prestigious retailers. Once the elevator door
behind you
opens, another placard points you in the right direction (this was absent on our last visit and we actually went the wrong way!).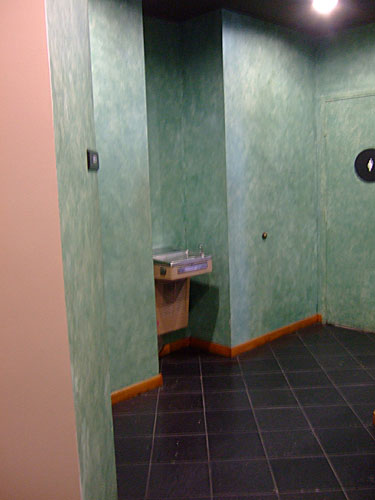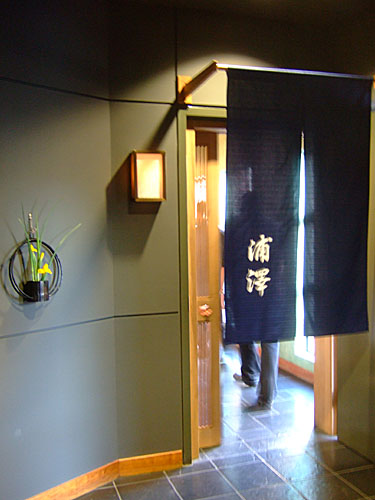 The green walls may be a bit disconcerting (hopefully they'll be gone in the upcoming remodel of the restaurant). But tread on, and you'll eventually come to the entrance. Things begin to look up.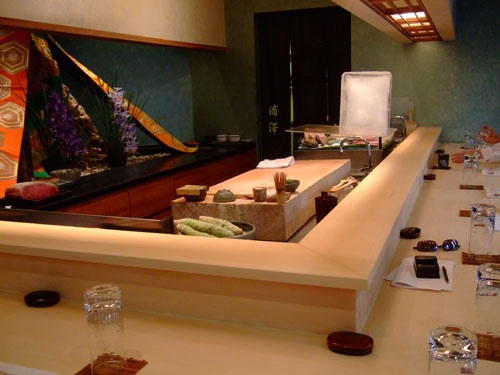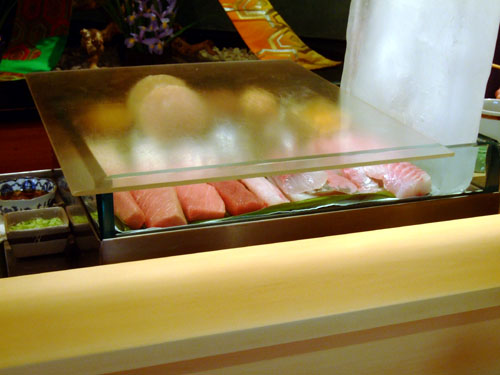 An L-shaped bar greets diners. It seats three on one side and six on another. For the best view, try to snag a corner seat, that is, unless you want a view of Urasawa-san's case of goodies.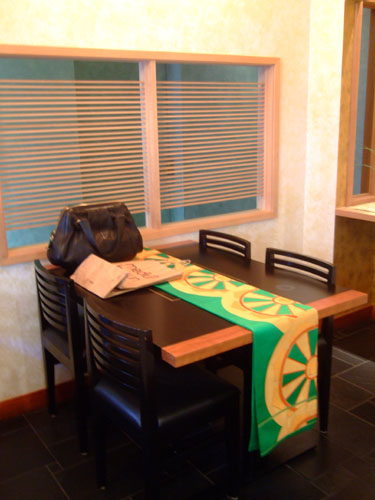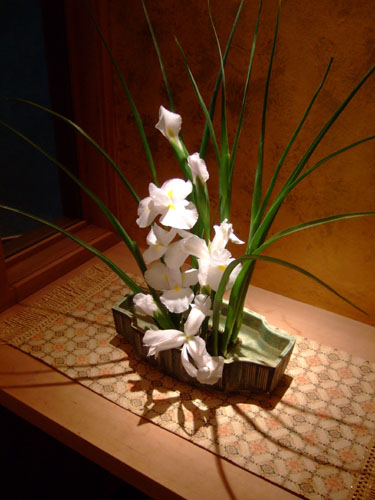 There is also a lone table of four, while is rarely occupied. To get the full Urasawa experience, sitting at the bar is the only way to go. Flower selection and arrangements are all done personally by Urasawa-san.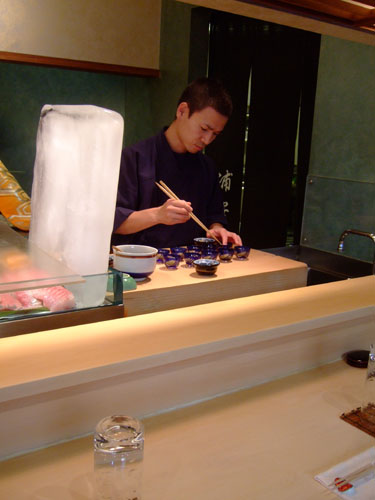 An apprentice almost always works alongside Urasawa-san (in fact, Urasawa-san was in the same spot when Masa Takayama ran the old Ginza Sushi-Ko). On our last visit, it was a young man named Sung. When we inquired about his whereabouts, we were told that he was sent to work at
French Laundry
! The new apprentice is Urasawa-san's brother-in-law, Ken.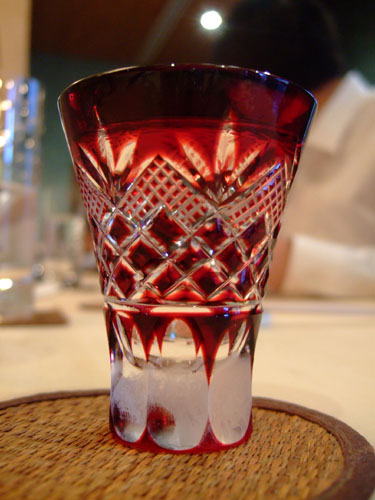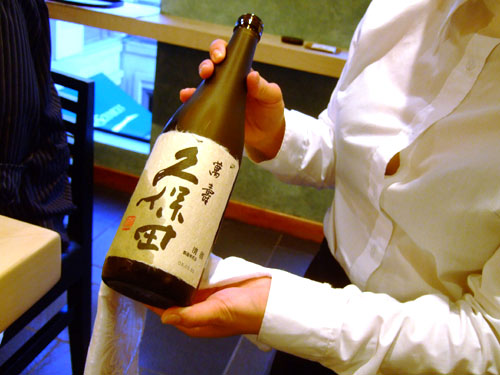 We wanted to start the meal with some sake. It was at Urasawa where we first had Kubota Manjyu, so we thought it fitting to return to our old friend. Interestingly enough, we were provided red kiriko glasses instead of blue like last time. When I inquired as to why, we were told that they always serve Kubota in red-colored glasses.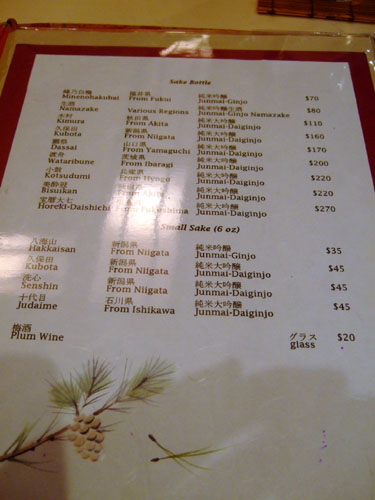 Another reason we went with Kubota was that we were completely unfamiliar with most the other selections. And amazingly, Kubota was actually one of
lower priced
sakes on the menu. Click for a larger version.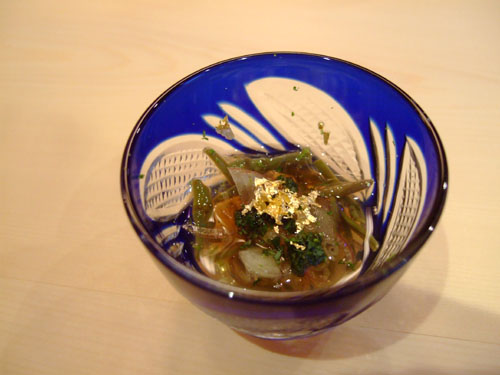 1. Junsai
- Called "water shield" in English, junsai is a summer delicacy in Japan. The plant is a member of the water lily family, and grows in clusters sometimes large enough to cover large bodies of water, hence the name. The most prized part of junsai is the slippery, gelatinous layer that covers young sprouts. Here, it was mixed with summer vegetables, shrimp, vinegar, scallions, and gold flake and was taken as a shot. The junsai had a slimy, slick texture that made the dish slide easily down my throat. Taste-wise, I was reminded of bitter vegetables, eventually giving way to a sweet brininess.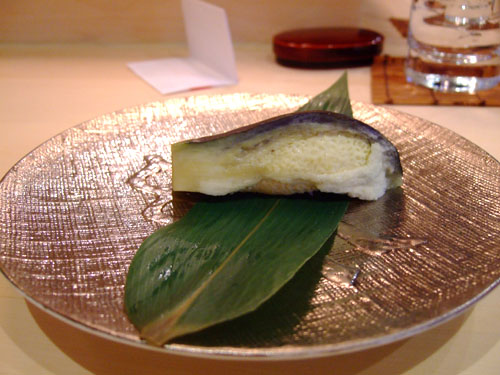 2. Nasu
- Japanese eggplant from Osaka. The nasu had a softer, spongier texture than I expected from eggplant. Furthermore, it had a slightly sweet taste, which is in contrast to the bitterness I thought it would have. We were instructed to dip it in soy, and the eggplant gladly soaked up the sauce.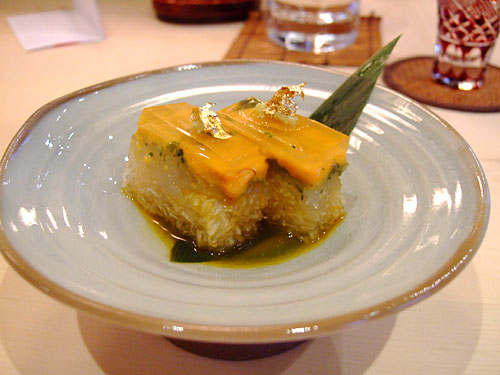 3. Yamaimo Nikogori
- "Nikogori" refers to gelatins extracted from cooked fish. Here, it was prepared with grated yamaimo mountain potato, shiroebi from Toyama, uni, shiso, and topped with wasabi and gold. The yamaimo, in concert with the uni, gave the dish a soft, mucilaginous texture that proved interesting in the mouth. The flavor was light on uni, but instead, the shrimp came to the fore first, which then led to hints of shiso on the lingering finish. Very complex.
4. Hotaruika
- From Toyama, with ginger and soy. We were told to eat these in one bite and chase with sake. Upon chewing, I experienced a burst of brininess in my mouth, which then turned into bitterness. Once sake was added, the strong flavor of the squid was tempered, giving way to a slight sweetness.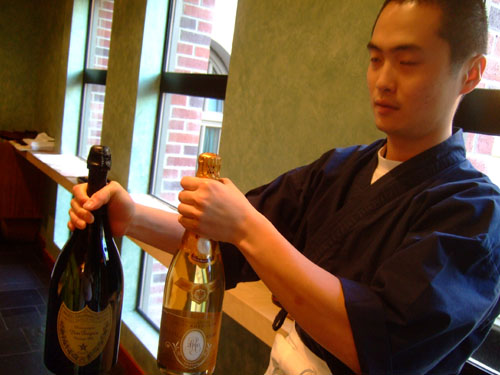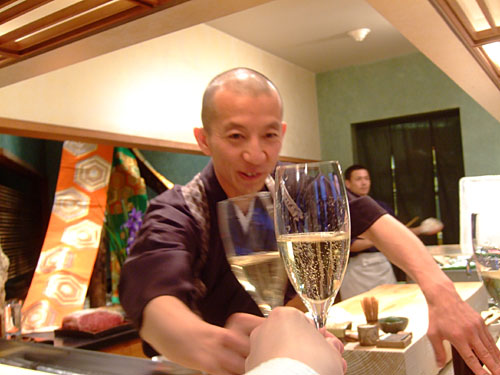 At this point, the sake was mostly gone and we decided to pop the Champagne, just in time for the sashimi! Our first selection was a magnum of 1999 Moët & Chandon Dom Perignon Brut. It was a prototypical example of Dom: sharp, with mineral and citrus flavors dominating over a base of toast. The Dom Perignon was followed up by a bottle of 2000 Louis Roederer Cristal Brut. The Cristal was nuttier and fruitier on the nose compared to the Dom, and was considerably sweeter on the palate; overall I preferred it. Naturally, we also gave Urasawa-san a glass. As a side note, Urasawa-san is quite the wine lover himself; I've heard he enjoys big name reds and his ears definitely perked up when we were talking about my DRC!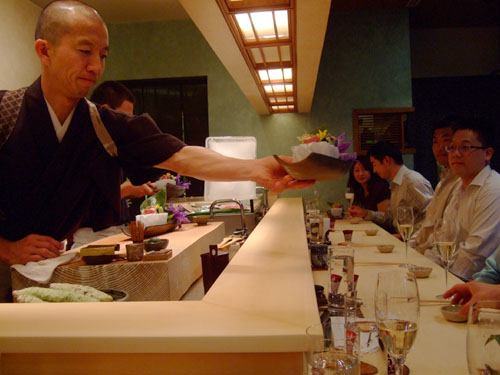 Here, Urasawa-san serves the sashimi course, presented in a hand-carved block of ice.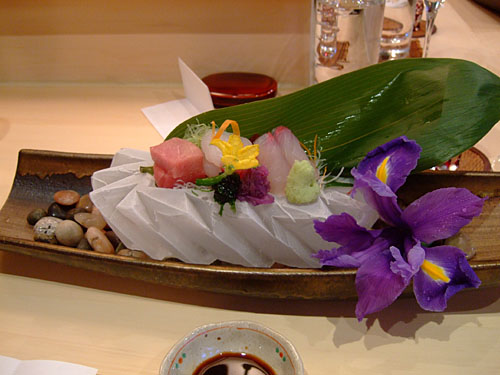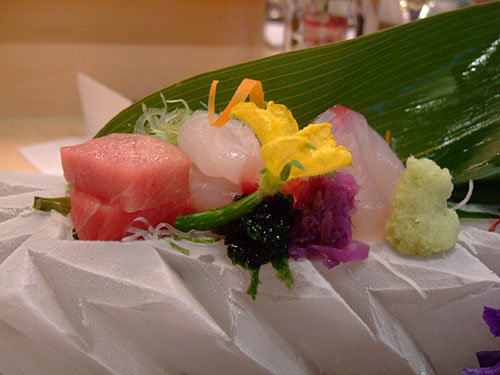 5. Sashimi
- Toro from Spain, tai from Kyushu, and buri from Toyama, garnished with grated white daikon, grated green daikon, cucumber flower, seaweed, red cabbage, and wasabi. The toro was a fairly light example, with the richness and oiliness only coming to the forefront upon mastication. Meanwhile, the tai was very mild, and I actually preferred it sans soy, to really let the flavor of the fish stand out; it was my favorite of the triplet. The buri was extremely clean and crisp, and less fatty than your typical hamachi.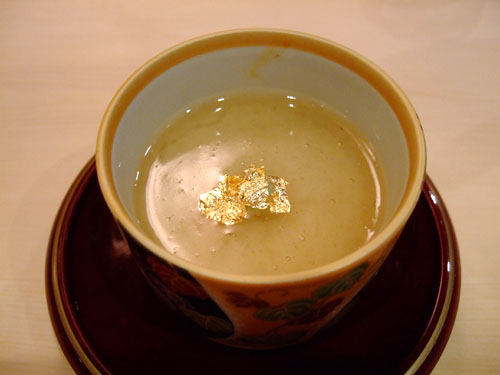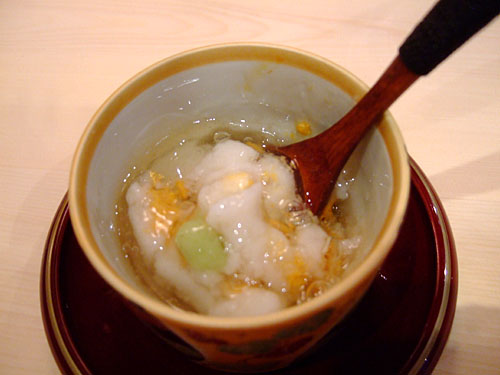 6. Yamaimo "Chawanmushi"
- There is a proper term for this dish, but unfortunately I don't remember it. In any case, the steamed yamaimo here was served with uni, tai, ebi, eel, and gingko, all topped once again with gold. We were told to mix everything together before consuming. Another very complex dish, the potentially dominant flavor of uni was tempered by the yamaimo, which resulted in a harmonious interplay of flavors and textures. One of the stronger dishes of the night.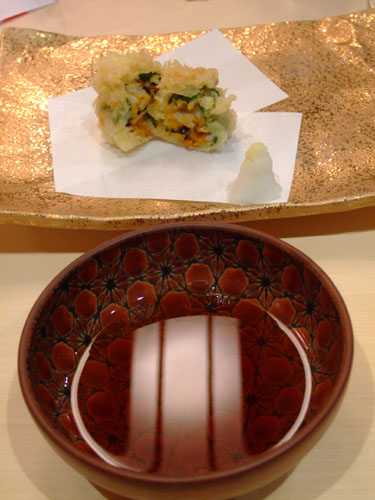 7. Ebi Tempura
- A tempura of shrimp, along with uni, shiso, and black truffle. I ate one piece plain and one bathed in tentsuyu sauce and daikon oroshi. Perhaps the best tempura I've ever had, there was a clear base of shrimp, while the shiso and uni elevated the dish. I would've liked the truffle essence to have been stronger however.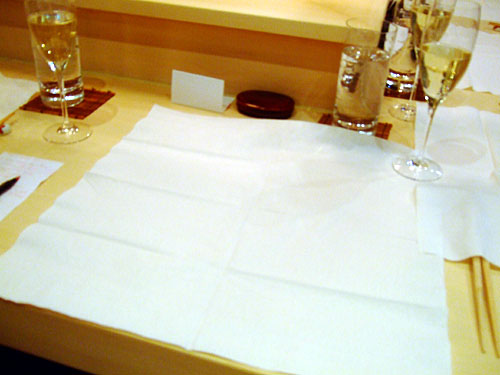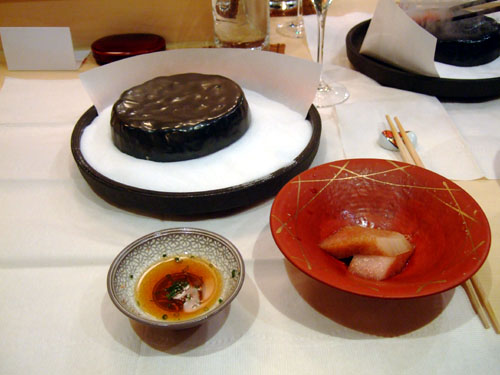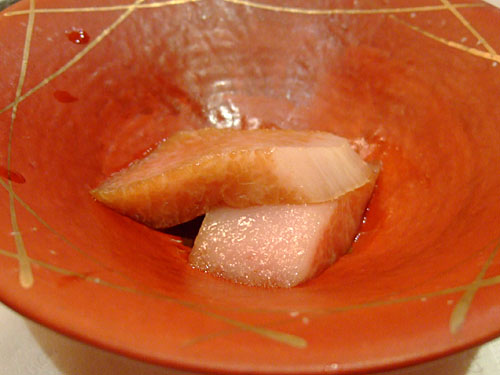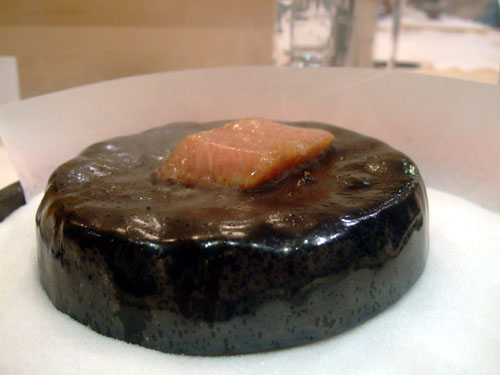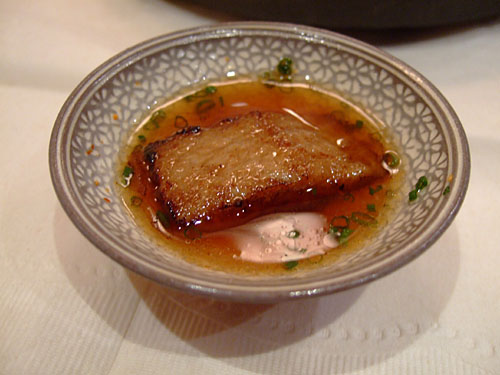 8. Seared Toro
- Before this dish was served, napkins were laid on the bar to protect the surface from the splattering of oil from the fish. This was a fitting precaution, as an intense, rich, oily essence of toro filled the air as soon as the fish was placed on the hot stone. Afterwards, we could see how the oil had stained the Cypress; there was a clean line between the bare wood and the napkin-covered portion. This was perhaps the oiliest example of toro I've ever eaten, so fatty, so unctuous, so melt-in-your-mouth! This literally disintegrated in my mouth; and the slightly charred surface made it even better. A highlight of the night.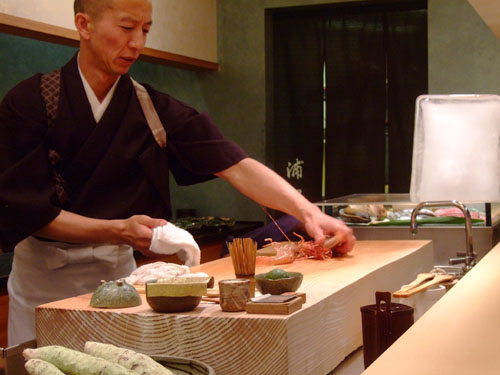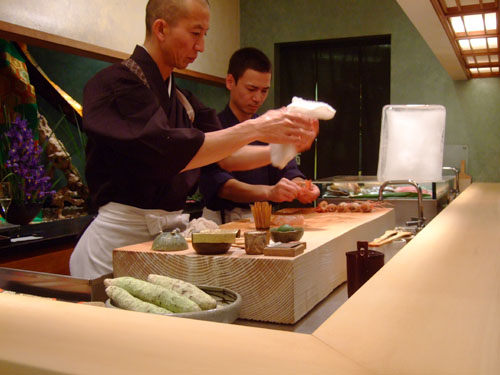 Here we see Urasawa-san prepping the still live and moving amaebi for the next course.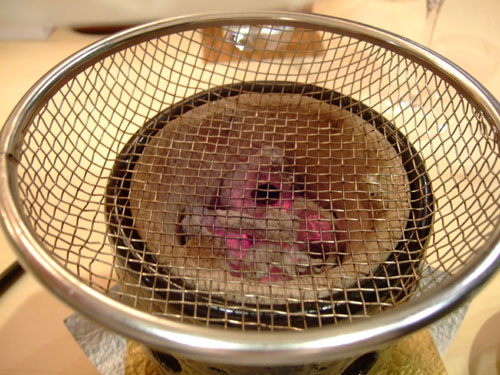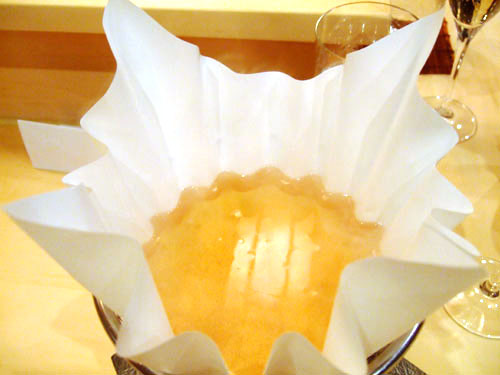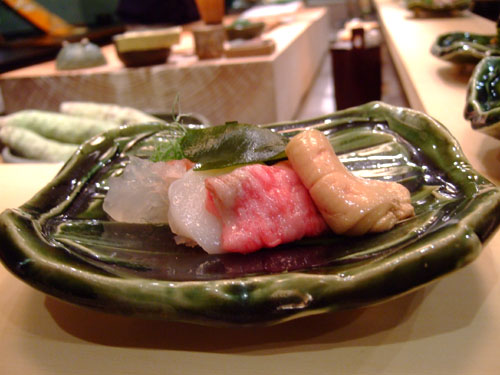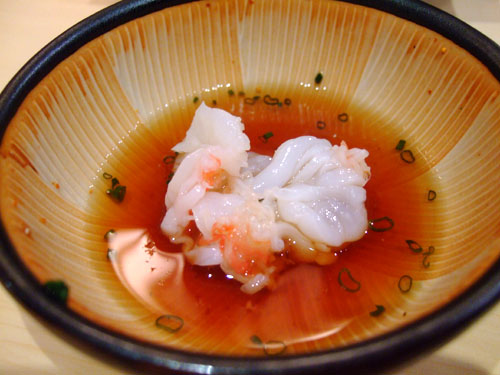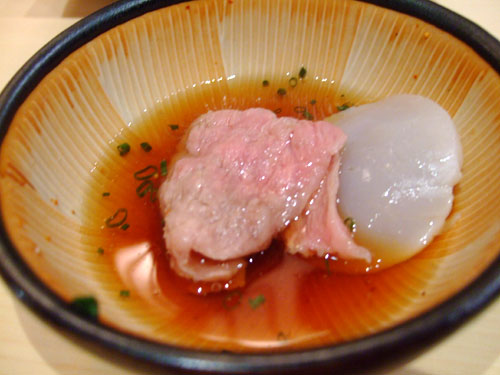 9. Shabu Shabu
- Expectations were high, as this shabu shabu was one of our favorite courses on our last visit. This time, the ingredients were the amaebi from above, hotate, Wagyu beef from Hokkaido, and foie gras. The various items were actually cooked for us. First in was the foie, since it would take the longest to cook. The shrimp went in next, and was only submerged for a few seconds; the resultant flesh was perfectly cooked and delicious. Next, the beef and scallop went in together for a brief dip. Again, although both could've been eaten raw, cooking them ever so slightly made them arguably even better. Finally, it was time for the foie gras to come out. The resultant liver had a slightly rubbery texture and incredibly mild flavor that was completely unlike any other foie I'd ever eaten. It was fantastic, along with the rest of the course.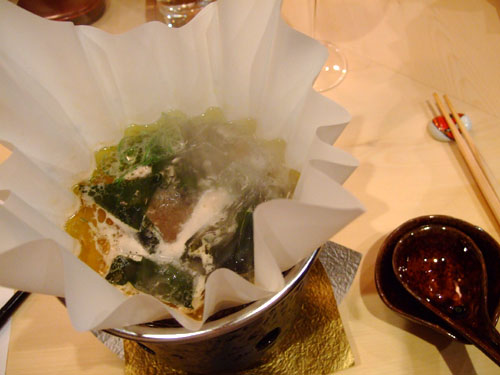 10. Kombu Broth
- After we finished, we all drank the resulting kombu (kelp) broth. It was delectable and quite heartwarming, though rather hot.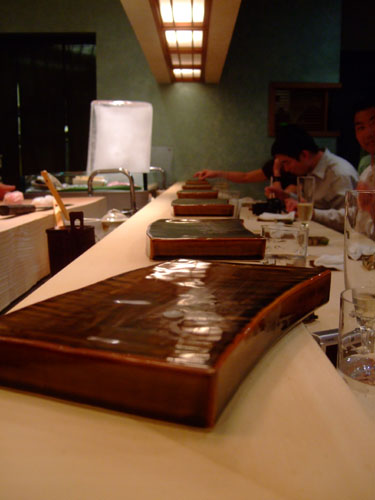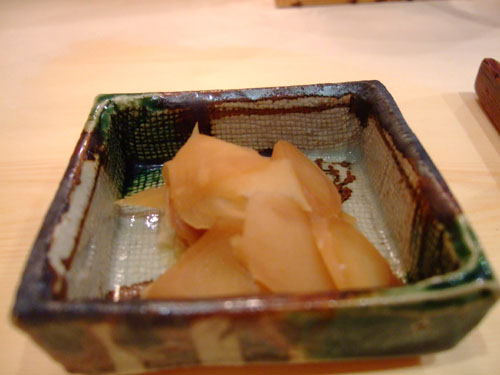 At this point, the familiar wooden platforms were brought out, along with some gari (ginger pickled in sugar and vinegar; note that it lacks the artificial pink color found in most gari). This meant it was time for the gauntlet of sushi to begin!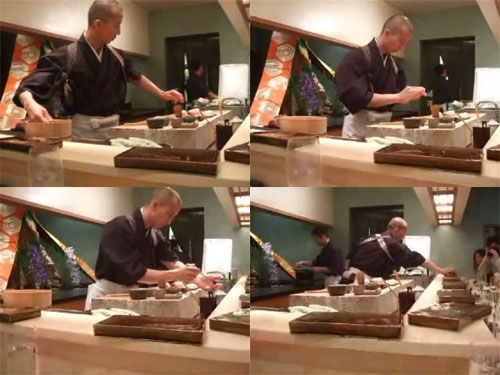 VIDEO: See the master in action. Click on the photo above for a video clip of Urasawa-san constructing toro nigiri. A
kevinEats
first!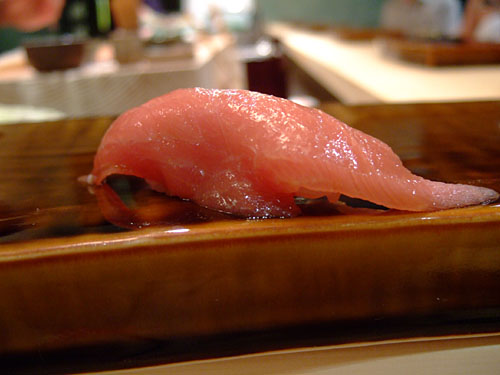 11. Toro
- Very, very nice. This was a quintessential example of toro, smooth, rich, and oily (but not as much as the seared toro above). It is rather pointless at these rarified levels, but if pressed, I will still have to give a slight edge to the $30/piece toro at
Kyubey
however.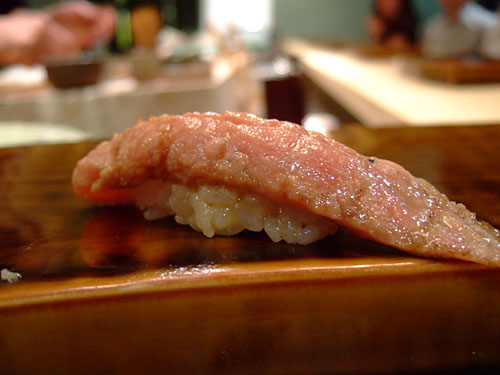 12. Seared Toro
- The slight cooking seemed to tenderize the meat even more. Brushed with soy and yuzu, the meat just breaks apart on your tongue. Excellent.
13. Buri
- Based on looks alone, I initially mistook this wild yellowtail for kanpachi. I actually preferred this preparation to the sashimi above. This was so much more refined than the yellowtail you typically find at sushi restaurants in the US (see
I Love Sushi
).
14. Tai
- Compared to the sashimi version above, this had a tougher, crisper texture, which some preferred. The addition of yuzu elevated the fish to another level. Delicious.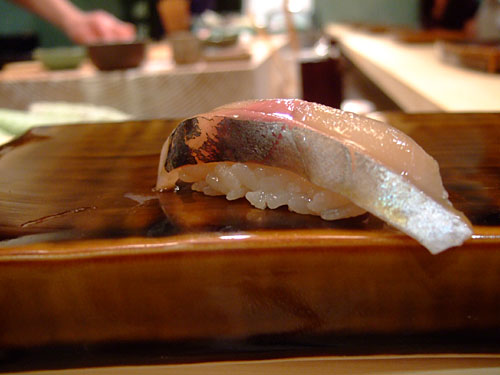 15. Aji
- Spanish mackerel from Kyushu. All of the signature mackerel flavor was here, but without any harsh fishiness that can often time overpower the fish. I'd say this was at least comparable in taste to the famed Seki aji, which I had at
Go's Mart
.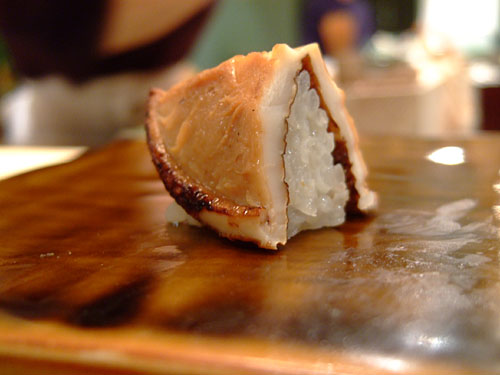 16. Shiitake
- On my last visit, I was surprised by the sight of shiitake nigiri, but was glad to see it here again. This preparation really brings out the character of shiitake, its earthiness, its smokiness, and even a bit of bitterness. Urasawa is the only restaurant I've seen attempt something like this.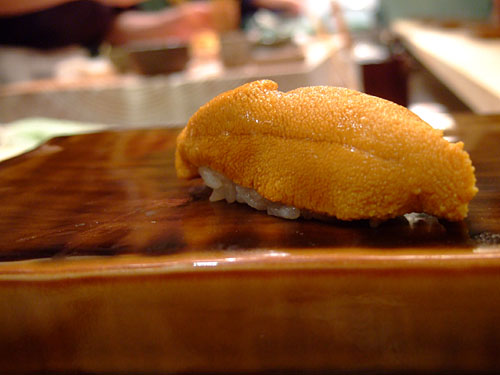 17. Uni
- From Santa Barbara. I was once told that good uni should look like a cat's tongue. If that's true, then this was some really good uni! Actually, it was just really good anyway. It's also interesting to note that the uni was not served in the typical gunkan-maki style (wrapped in nori).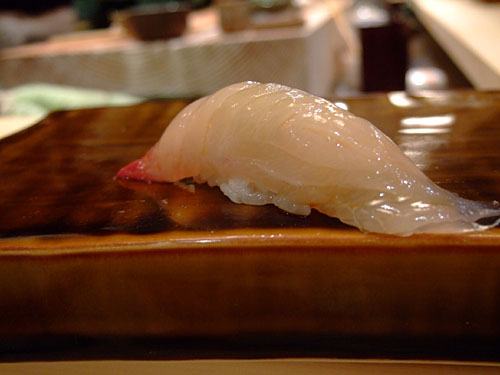 18. Shima Aji
- Striped jack or yellowjack. Wonderful. So subtle, yet so complex, it's almost indescribable. If pressed, I might have to say that this was the strongest fish of the night, significantly better than the version I had at
Kyubey
.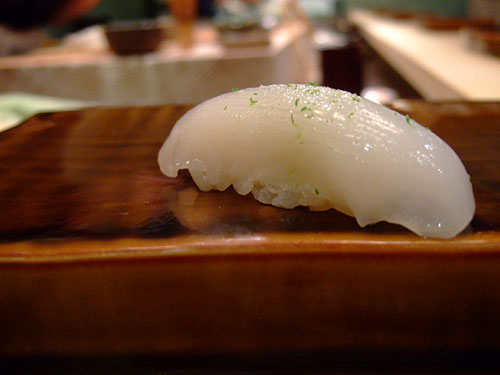 19. Ika
- Ika itself doesn't have a strong flavor, so the addition of salt and yuzu really added a nice kick to an otherwise monolithic taste. Perfect consistency too, firm, yet giving way to a rich creaminess.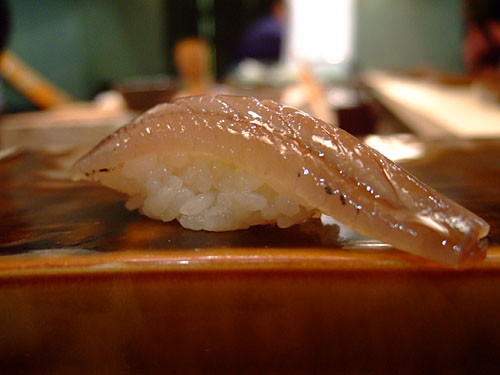 20. Kohada
- Gizzard shad with yuzu, wasabi, and soy. Kohada is related to mackerel, and thus has a somewhat reminiscent flavor. Compared to the aji, it was milder in flavor yet oilier. Nice.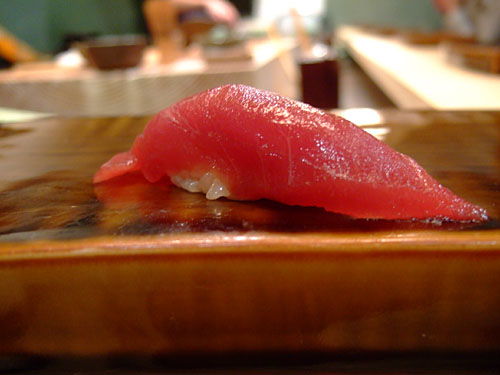 21. Maguro
- A fine example of standard tuna, with an absolutely beautiful ruby color. This was more flavorful than most, but even so, was overshadowed by some of the bolder fishes here. Perhaps we should've eaten this before the toro.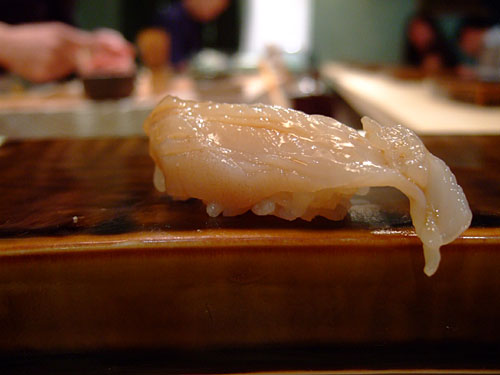 22. Mirugai
- This was geoduck with wasabi, soy, and yuzu. A very firm texture gave way to an intensely briny flavor backed by a subtle sweetness.
23. Awabi
- Like the mirugai above, this was quite firm, but not as crisp. Nice, but the awabi I had at
Go's Mart
is still the strongest to date.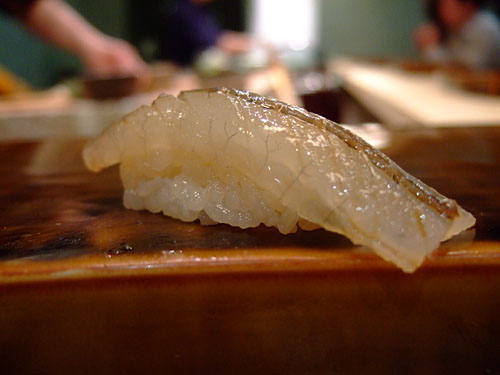 24. Sayori
- Unfortunately, Urasawa-san didn't twist the needlefish into an intricate design like he did on our last visit. Nevertheless, the fish was still superb. For me, this was one of the top pieces of nigiri.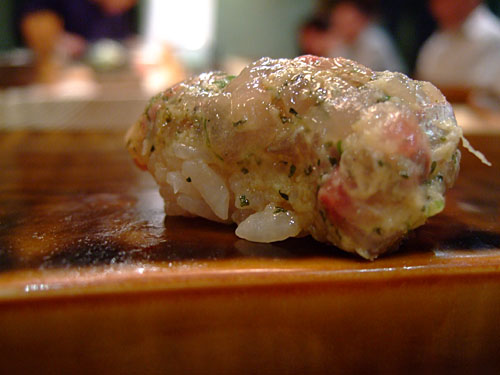 25. Minced Aji
- This was chopped Spanish mackerel mixed with shiso, Kyoto miso, ginger, and scallion. I thought this was fantastic, with the aji taste yielding to a mild sweetness, which was then overcome by the tang of scallion. I can't imagine many other places other than Urasawa attempting this.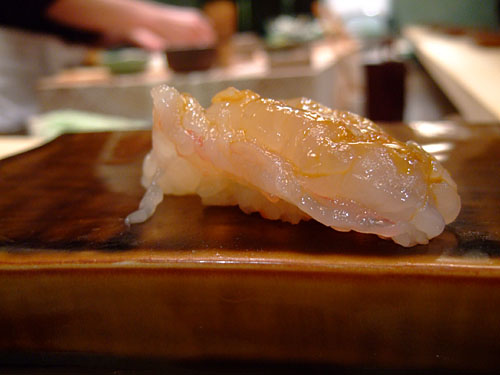 26. Amaebi
- Sweet shrimp garnished with shrimp brain and soy sauce. As I chewed, an initially crisp texture turned into something much creamier, while the brains gave the shrimp a slightly metallic twist on top of a prototypical sweetness.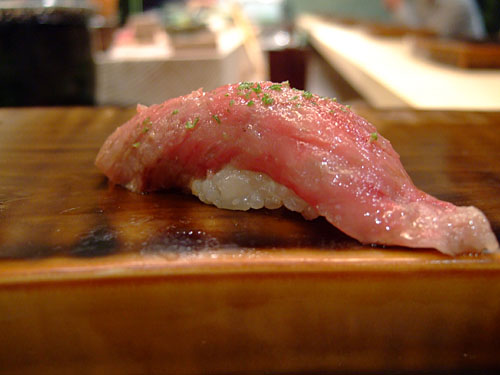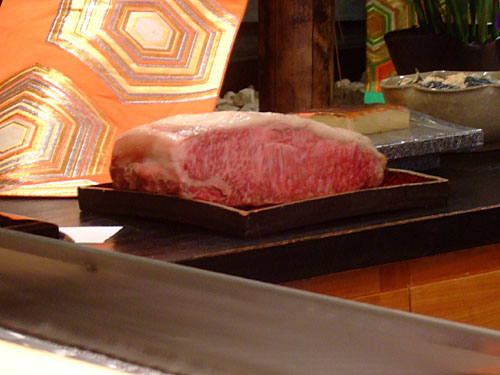 27. Wagyu
- Sushi made from the same Hokkaido beef above, topped with yuzu and soy. Urasawa-san smoked the beef for about 10 seconds before serving. One of my dining companions exclaimed that he wanted to eat "a big platter" of the stuff! I'd tend to agree. Beef doesn't get much better than this.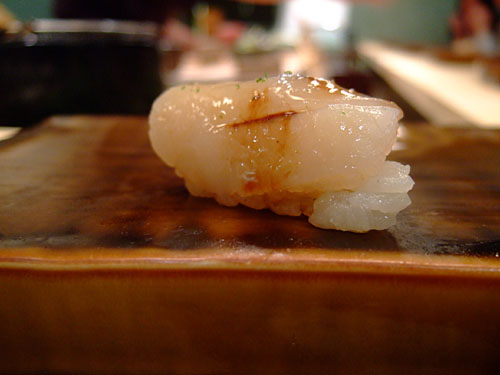 28. Hotate
- Scallop topped with yuzu and a sauce Urasawa-san jokingly referred to as "chocolate sauce." (I almost believed him too!) The yuzu gave the scallop a nice tartness that added a contrast to the otherwise mild flesh.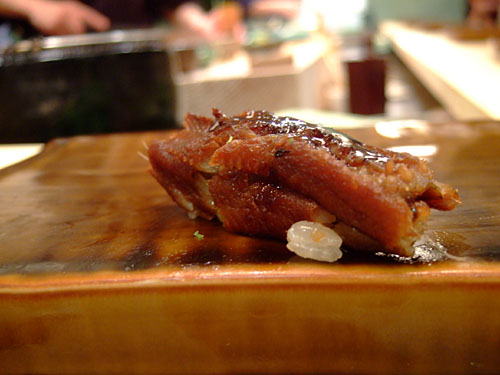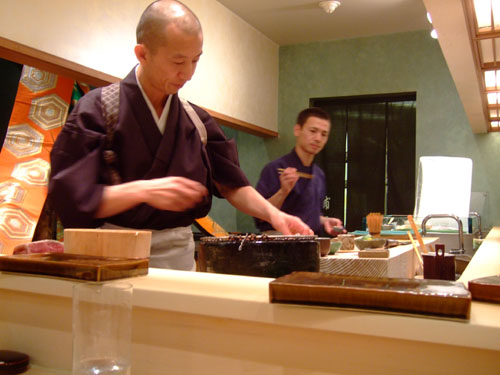 29. Anago
- Sea eel garnished with the same sauce used in the hotate above. Also added was yuzu and kinome (leaves of Szechwan pepper). Compared to the unagi we typically get, this was leaner, with a slightly cleaner flavor. In the right photo, we can see Urasawa-san cooking the eel on skewers.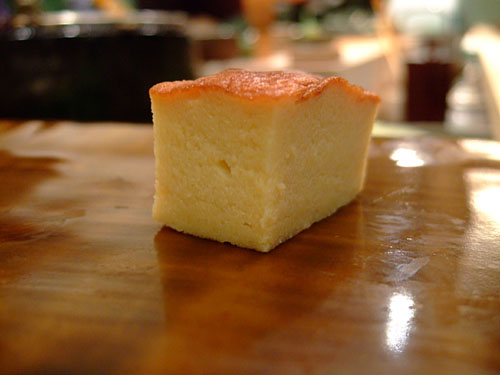 30. Tamago
- Unlike most versions, the tamago here was closer to a sponge cake than egg. Quite sweet and dense. Nice, but my favorite tamago is still at
Natori
.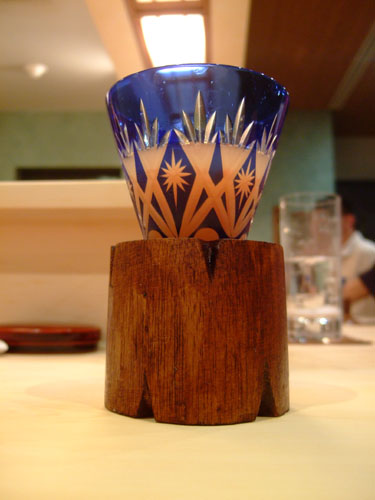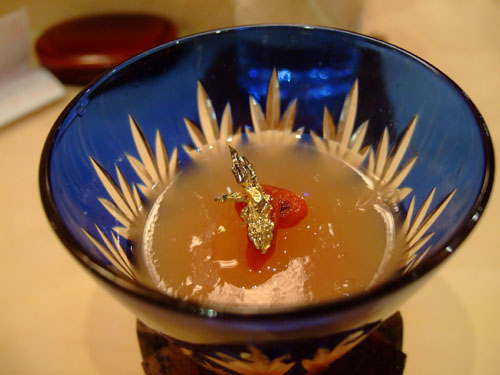 31. Grapefruit Geleé
- With goji berry, gold leaf, and more grapefruit. A great palate cleanser, the geleé itself was quite good, but eating it along with the grapefruit at the bottom made it even better. This dessert really gave me a taste of the true essence of grapefruit. Absolutely lovely.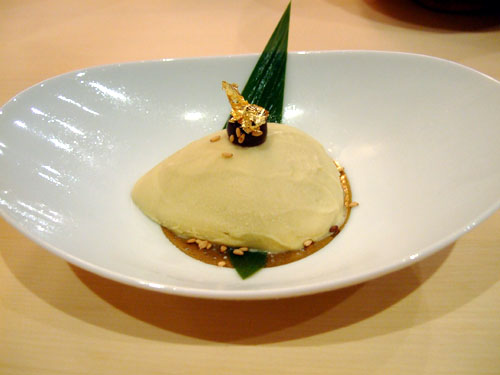 32. Goma Aisu Kurimu
- I'm generally not a huge fan of sesame ice cream, but this was something else. The sesame flavor was strong, but didn't overpower. Eating it with the red bean and sesame seeds resulted in a very mature flavor that was simply marvellous.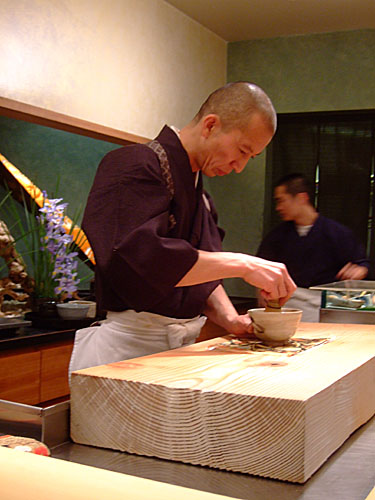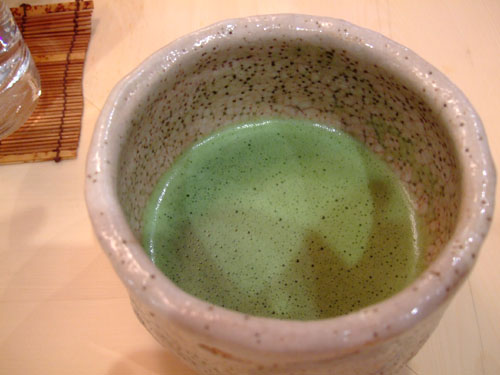 33. Matcha
- Matcha is a powdered green tea often used in Japanese tea ceremonies. In fact, drinking this reminded me of such a ceremony I participated in on a trip to Japan. The tea itself was a bit gritty, with a lean bitterness.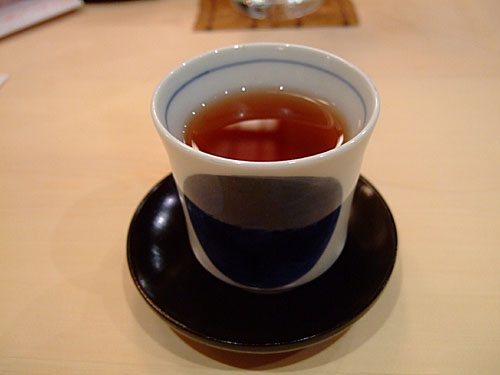 34. Hojicha
- A roasted green tea, hojicha is less astringent due to the loss of catechin in the roasting process. I thought this was excellent, and must have drank about four cups. One of my dining companions, who normally doesn't drink tea, drank eight! Our cups kept getting refilled as we chatted with Urasawa-san at the conclusion of our meal.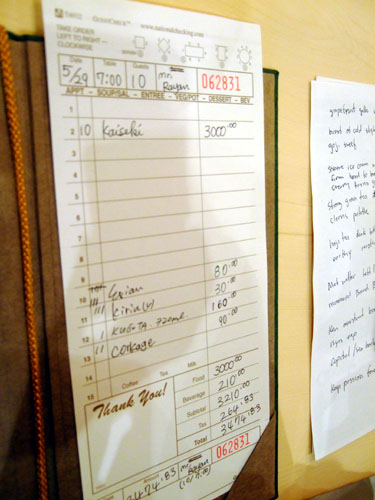 Not counting the Romanée-Conti induced shocker at
Napa Rose
, this was the highest bill we'd ever encountered. However, the record for highest
per person
still rests with
Joël Robuchon
in Las Vegas (on a side note, Urasawa-san mentioned that, due to sky-high food costs, Joël Robuchon was in fact losing about $1 million a year!).
At the end of the night, we took a group photo to mark this very special occasion.
As an interesting side note, I was discussing my recent trip to Japan and mentioned that I'd visited Kyoto. Urasawa-san asked me if I went to any restaurants there, and of course, I responded with
Kaji
. Well, it turns out that Urasawa-san actually knows Kaji-san! They once worked together at a restaurant in Kyoto. Small world!
Quite simply, this was one of those "epic" meals that I occasionally get to enjoy. Actually, it was much more than a meal; it was an experience like no other. Where else can you find a chef that incorporates so much of himself into each dish he creates? The pride, effort, and passion Urasawa-san puts in his food, is palpable. When we asked about opening another restaurant, Urasawa-san responded that he would never do so. Quality couldn't possibly be maintained, and for him, it's the quality, the caliber of the food that is king. Serving ten people a night is enough for him, and he hopes to do so for another 25 years. Truly, dining here is about more than the food, it's about experiencing the very essence of one chef's livelihood. Coming into this meal, I was afraid I'd be let down, since the bar was set
so high
. I'm happy to report that that wasn't the case; Urasawa-san's brilliance still shined through and true: Hiro's still got it!