CUT (Beverly Hills, CA) [2]
CUT
9500 Wilshire Blvd, Beverly Hills, CA 90212
310.276.8500
www.wolfgangpuck.com/restaurants/finedining/cut/beverlyhills/
Sat 08/16/2008, 05:40p-07:55p
On my
first post about CUT
, I gave a brief overview of the decor. So with that out of the way, we'll get straight into the vittles (also check out
CUT Las Vegas
).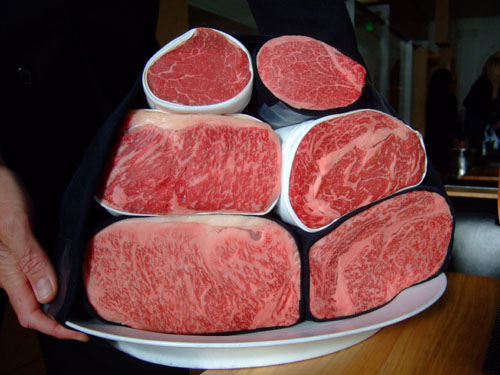 A meal at CUT always begins with a tableside presentation of meat. Here, we see filet mignon, New York, and rib eye, with the American steaks draped in white and Japanese cuts in black. Note how much more marbling the Japanese steaks have, and also how the marbling is actually finer and more integrated into the meat.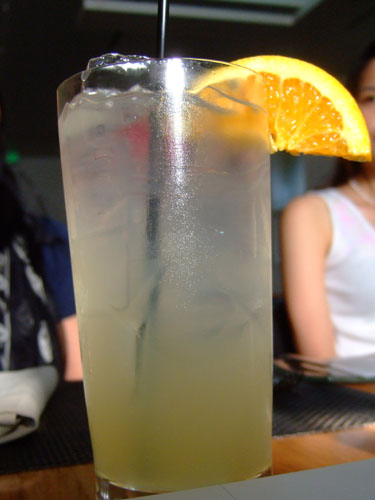 I had a great mojito last time I was here, so I decided to mix it up this time with a Tom Collins. A sweeter example than normal, it was nevertheless quite delicious.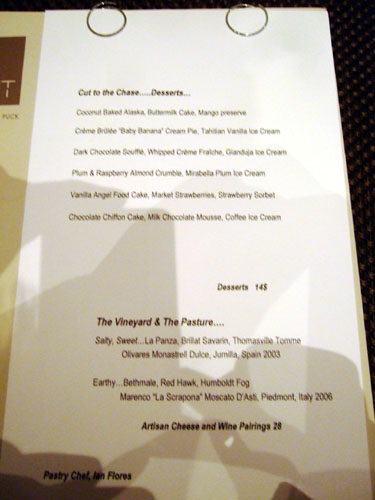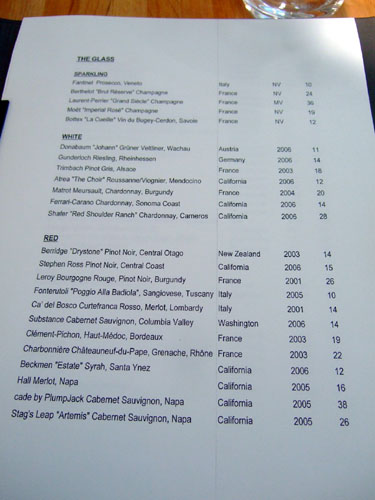 Aside from a few minor additions, the menu hadn't really changed from my last visit, which is a bit unfortunate. I understand there's not much one can do with the steaks, but how about changing up the apps? We also have the dessert menu and wine by the glass list shown. Click for larger versions.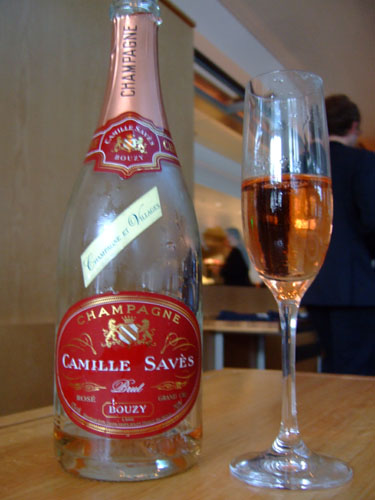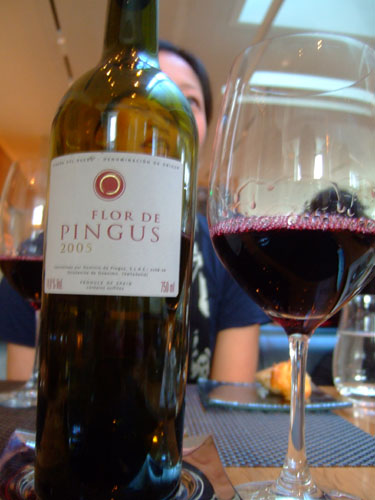 However, we decided to eschew the by the glass list and went for a couple bottles:
NV Camille Savès Champagne Brut Rosé [$110.00] - I always like to start with a sparkler, so I decided to go with something new that I hadn't tried before. The Camille Savès was fruitier than most of its kind, but at the same time refreshingly dry with a tinge of minerality and mild acidity. Very easy to drink, this went over well with everyone, including those in my party who normally don't like Champagne.
2005 Dominio Pingus Flor de Pingus [$140.00] - A Tempranillo from Ribera del Duero, Spain. Blackberry, chocolate, and earth dominate here. Quite drinkable now but may improve with a bit of age. This stood up nicely to the steak.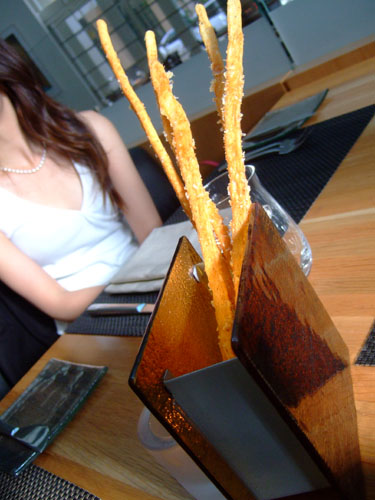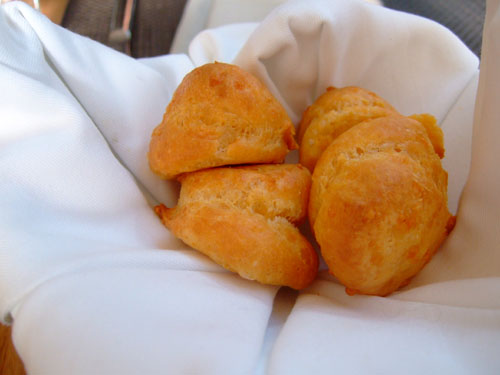 As before, we started with some breadsticks and some fantastic, still-hot gougères.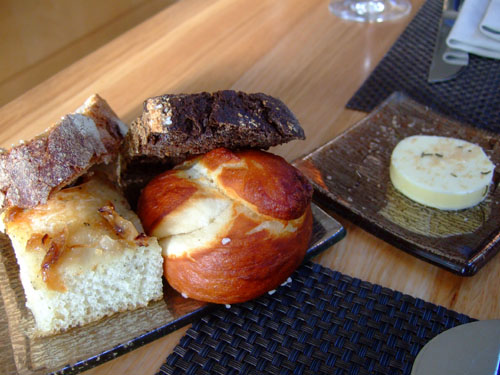 Four types of bread were offered: pumpernickel, whole wheat, pretzel (my favorite), and onion focaccia. All except the whole wheat were present on my last visit.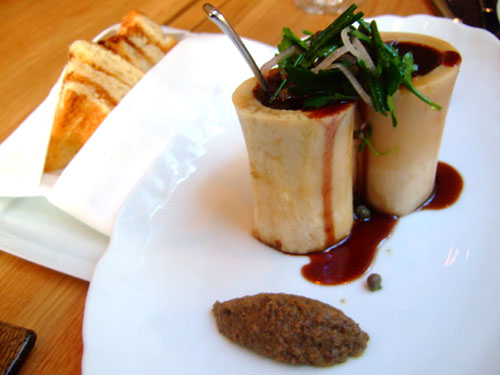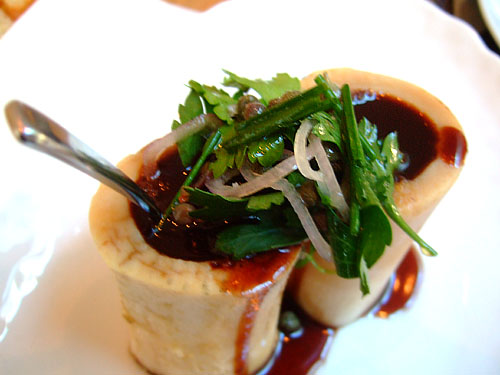 Bone Marrow Flan, Mushroom Marmalade, Parsley Salad [$17.00]
I was originally planning to go with the steak sashimi, but our server recommended this instead. Served in the bone, the flan wasn't anything particularly unique; it was like a hot beef crème brûlée. Everybody seems to rave about this dish, but I don't get it.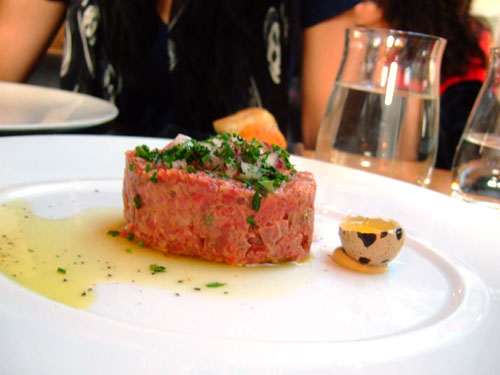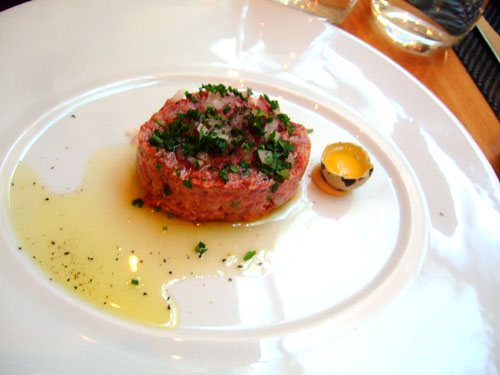 Prime Sirloin "Steak Tartare", Herb Aioli, Mustard [$22.00]
I had this on my last visit, and once again, it did not disappoint. I enjoyed the meat by itself, but the minced sirloin formed the perfect canvas for the tanginess of the aioli and mustard. Still one of the best steak tartares around in my opinion.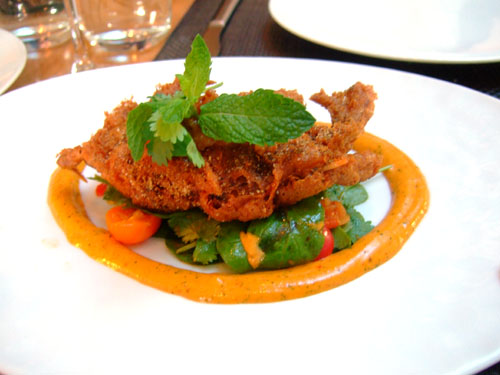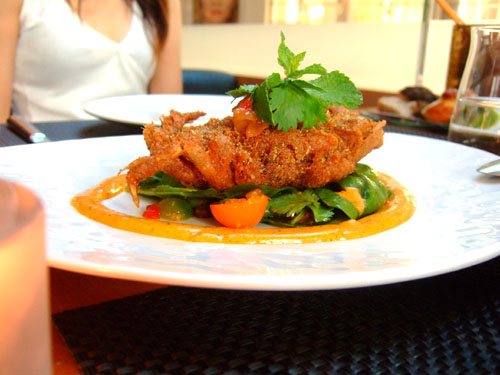 Tempura Chesapeake Bay Soft Shell Crab, Peperonata, Lemon-Fennel Chutney, Harissa Aioli [$26.00]
My last soft shell crab experience at
Joe's
was a disappointment, so I was wary of ordering it again here. Fortunately, this was a much better preparation, with a nice crispy texture and more substantial portions of actual meat. The harissa was a nice accoutrement to the crab as well. I'm still not sold on the whole concept of soft shell crab though.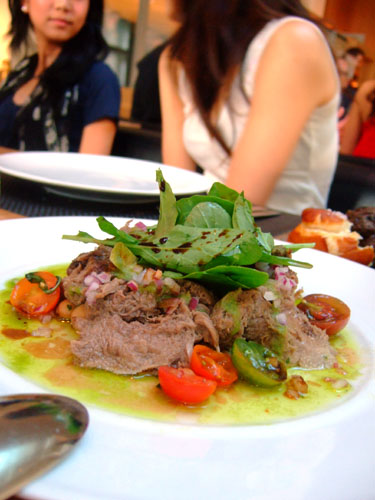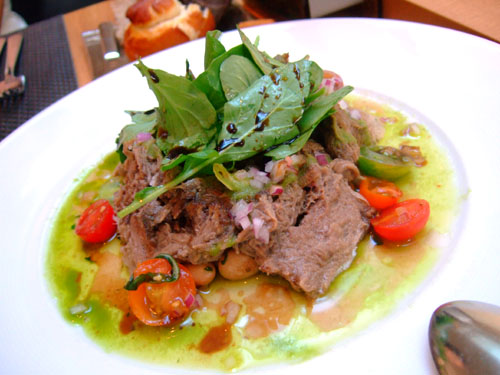 Warm Veal Tongue, Marinated Artichokes, Cannellini Beans, "Salsa Verde" [$16.00]
This was the surprise of the night. Tongue doesn't necessarily sound appetizing to most, but here it was actually very good. Served cold, the meat was quite tender and had a nice "beefy" flavor to it, which was set off nicely by the "salsa verde."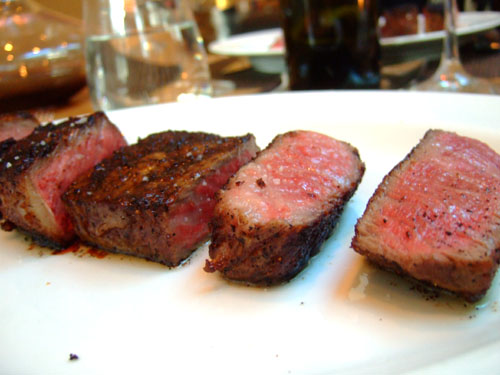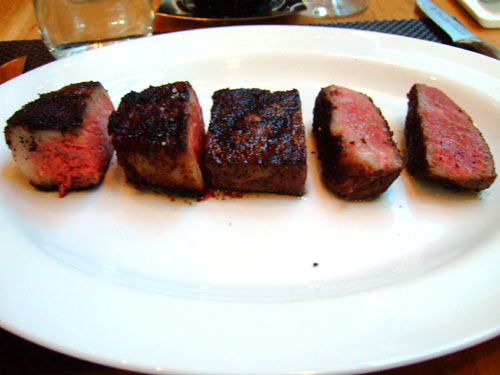 For $130, CUT now offers a New York steak sampler on the menu, consisting of 2 oz of Japanese Wagyu, 4 oz of American Wagyu, and 4 oz of dry aged. If you run the calculations based of the menu prices for the three steaks, it turns out that the sampler is a rather poor value:
$120 / (6 oz/2 oz) + $75 / (8 oz/4 oz) + $59 / (14 oz/4 oz) = $40.00 + $37.50 + $16.86 = $94.36
So you're basically paying $130 for $94.36 worth of steak; it's thus more cost effective to order the steaks separately and split them. So like last time, we decided to construct our own sampler, made up of all four types of New York, as well as the Japanese filet thrown in for good measure. All steaks were ordered medium rare, the optimal temperature in my opinion.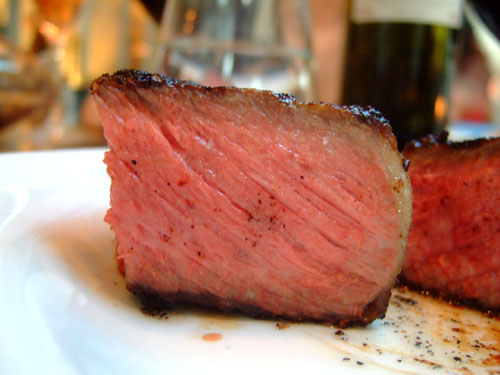 U.S.D.A. Prime, Illinois Corn Fed, Aged 21 Days, Bone In New York Sirloin 20 Oz [$56.00]
This is your standard wet-aged steak that you would find at a typical high-end chain steakhouse. Actually, I'd venture to say that it's quite a bit better than what you'd get at Ruth's/Morton's/Fleming's. I'd be very happy just with this, but it was overshadowed by some of the other cuts.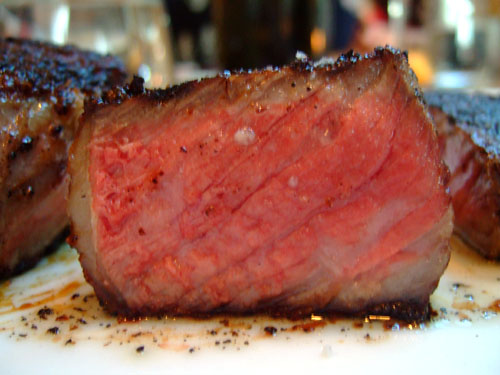 U.S.D.A. Prime, Nebraska Corn Fed, Dry Aged 35 Days, New York Sirloin 14 Oz [$59.00]
Dry aging is basically a process of controlled rotting that concentrates the flavor of the meat. The result is a richer, beefier taste compared to the cut above, but at a higher cost since much of the meat must be thrown away. Note the increased marbling as well.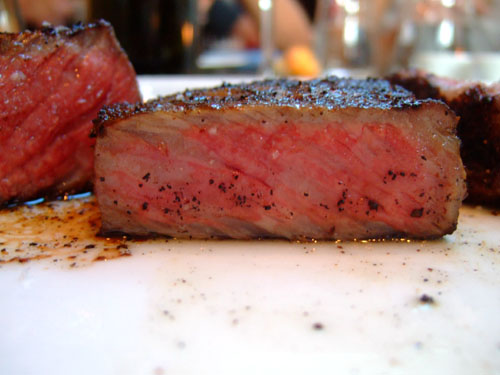 American Wagyu / Angus "Kobe Style" Beef From Snake River Farms, Idaho, New York Sirloin 8 Oz [$75.00]
Upgrading to the American Wagyu results in a big jump in price as well as marbling. A lot of people find this to be a happy medium between a standard steak and the over-the-top Japanese varieties. However, I actually preferred the texture of the steaks above and thus, found this to be the weakest steak of the quintet. This was surprising, as it was not the case on my last visit.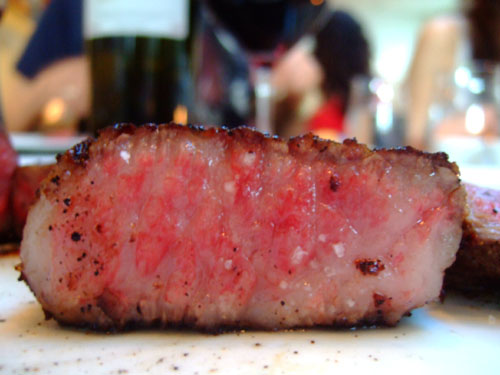 True Japanese 100% Wagyu Beef From Saga Prefecture, Kyushu, Japan, New York Sirloin 6 Oz [$120.00]
Now here's what we came for. Note the incredible amount of marbling in the meat, resulting in a somewhat gelatinous texture to the steak. The grain of the meat also looks quite different, being less "directional." Ridiculously tender, the steak oozes juices as you chew the meat. It's truly a steak unlike any other. One of my dining companions, who'd never tasted true Wagyu before, literally described the experience as "orgasmic."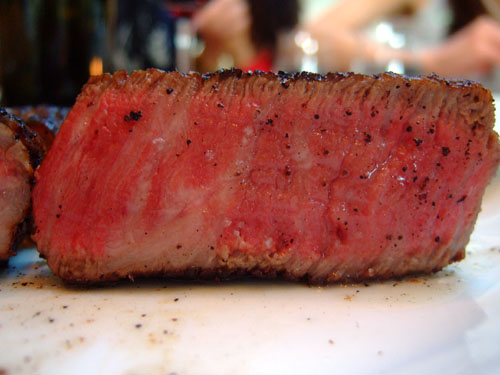 True Japanese 100% Wagyu Beef From Saga Prefecture, Kyushu, Japan, Filet Mignon 6 Oz [$130.00]
Last time, we added on a Japanese rib eye, which kicked up the marbling a further notch. This time, we had the filet, which was a bit less fatty than the New York, but still amazing. In fact, I actually preferred this slightly less unctuous cut, as it was a bit more tender as well.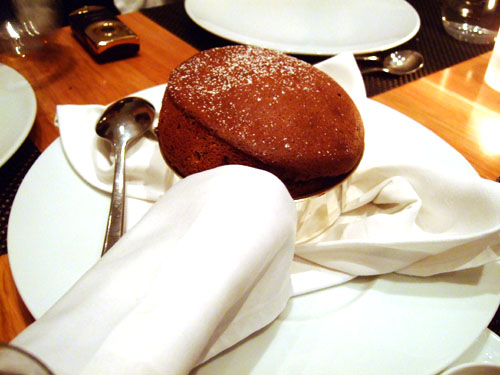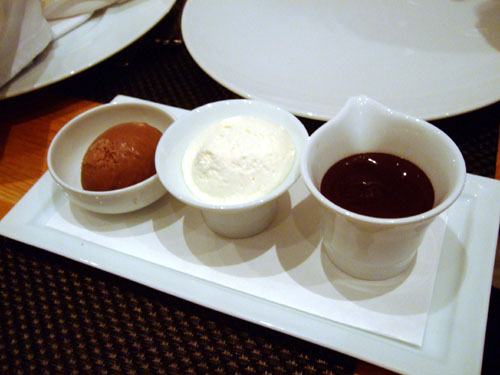 Dark Chocolate Soufflé, Whipped Crème Fraîche, Gianduja Ice Cream [$14.00]
We ordered the soufflé on our last visit as well, and this version was nearly identical. Gianduja is a sweet chocolate containing about 50% hazelnut, while the ice cream here of the same name originates in Switzerland. I'm not typically a fan of soufflés, but I did enjoy this. It was light, fluffy, and the trio of accoutrements served their roles well.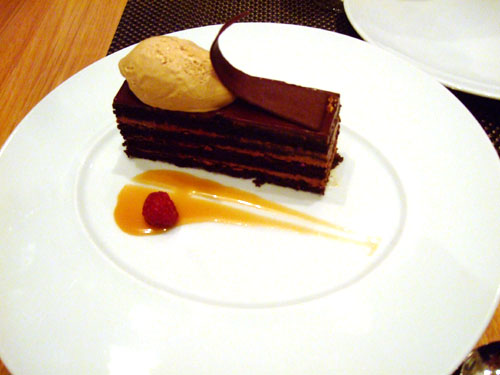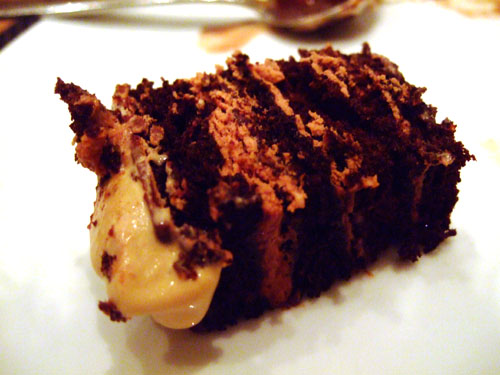 Chocolate Chiffon Cake, Milk Chocolate Mousse, Coffee Ice Cream [$14.00]
Though similar in appearance to the Chocolate Pudding Cake we had last time, this dessert was actually much lighter. A chiffon cake is a very light, sponge-like cake. These layers, when alternated between the milk chocolate mousse, provided a very pleasing texture to the dessert. The coffee ice cream, meanwhile, proved to be a great complement.
Though not quite as stellar as last time, CUT once again delivers. My only real quibble would be for some more variety in the appetizer portion of the menu; keep the steaks the same! Nevertheless, for my uninitiated dining companions, CUT opened their eyes to what a steak could be (Ruth's Chris will never seem quite as good anymore). And as for me, CUT simply reaffirmed its position at the top of the steakhouse hierarchy.