Capo (Santa Monica, CA)
Capo
1810 Ocean Ave, Santa Monica, CA 90401
310.394.5550
www.caporestaurant.com
Wed 08/13/2008, 07:45p-10:45p
Located on Ocean Avenue near the beach, Capo is housed in a rather nondescript gray building, almost like it's trying to remain a bit hidden. Valet parking is provided right in front.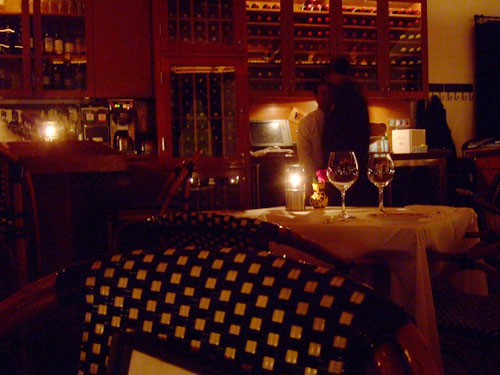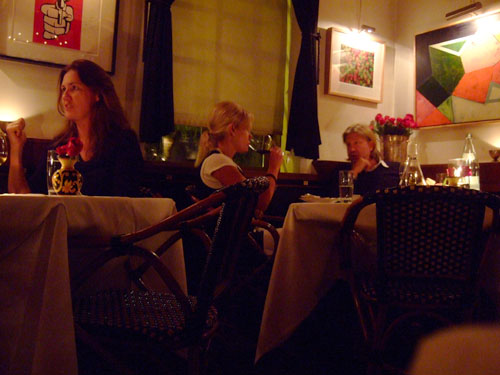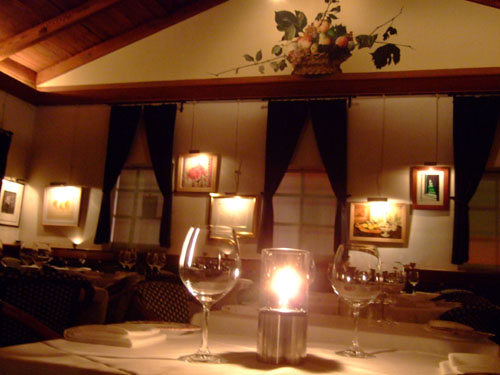 Behind two sets of black curtains, the interior is dimly lit, with lots of wood and some interesting art pieces adorning the walls. The overall effect is warm and welcoming. The bar occupies nearly an entire side of the room, while a wood-burning oven sits in one corner.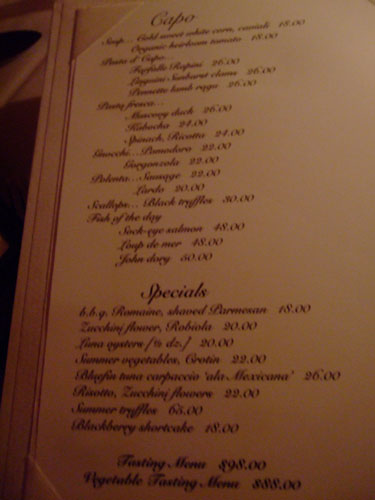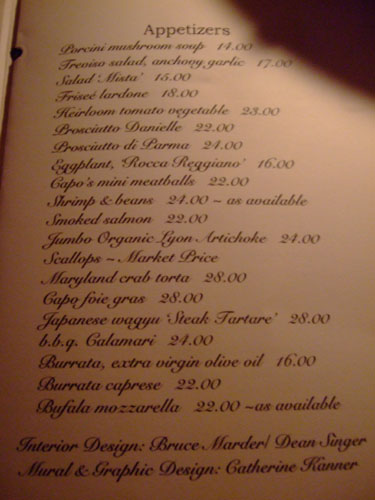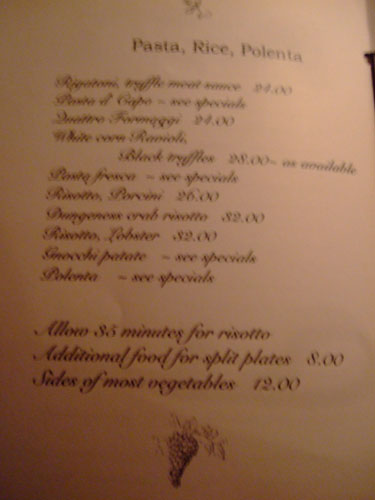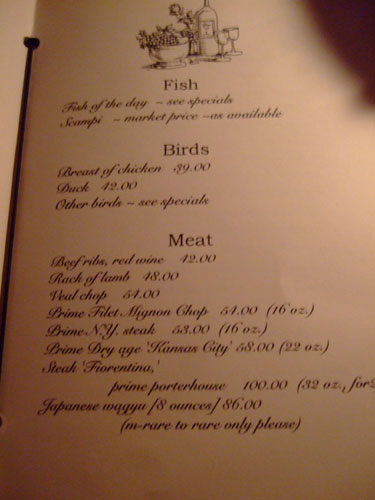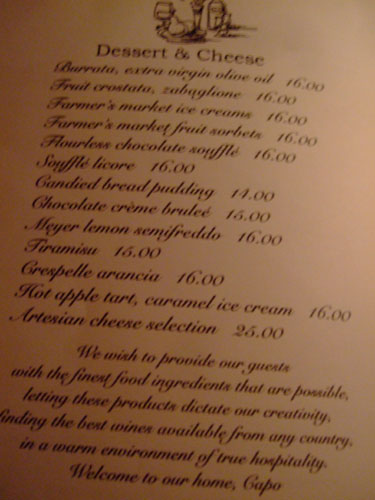 I apologize for the bluriness, as a lone candle was about all I had to work with in terms of lighting. Capo presents a surprisingly large breadth of menu items, along with surprisingly high prices. Given that, we chose to do the eight-course Tasting Menu [$98.00], comprised of specials as well as standard menu items. Interestingly, given my party of three, we were presented with basically a three-way tandem tasting menu, which meant each of us got to try a large number of items. I would've appreciated more details on the various menu items though, as simply listing "Duck" doesn't tell me much. Click for larger versions.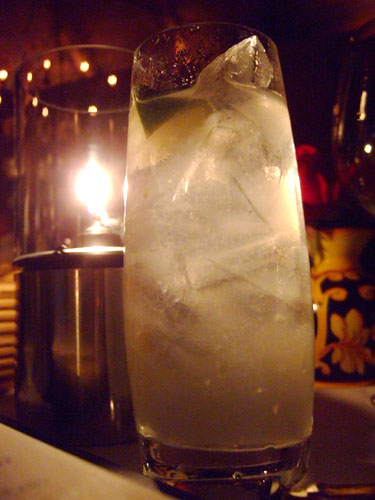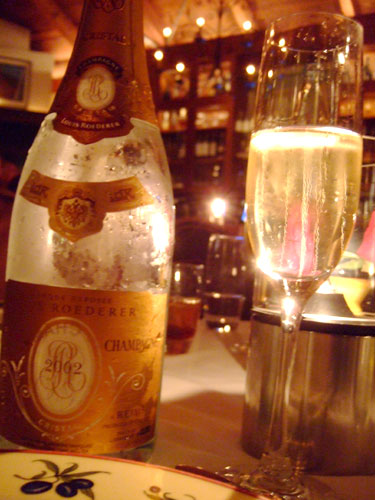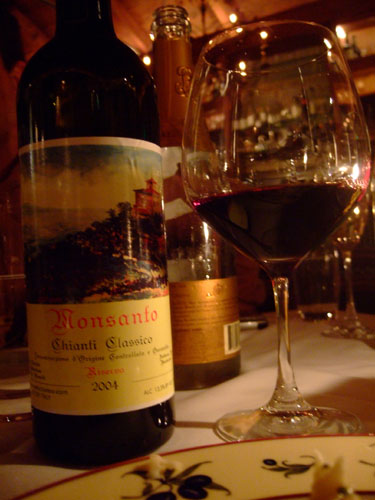 Capo didn't have any mint in the house, so my usual mojito wasn't an option. Thus, I went to my backup choice as of late, a Tom Collins [$11.00], which turned out to be arguably the best I've had, with just the perfect combination of sweet and sour. For the meal, we went with two bottles of wine:
2002 Louis Roederer Champagne Cristal Brut [$188.50] - From my personal cellar. Great nose, very floral and aromatic, with a bit of toast. Fantastic bubbles. Not as smooth or creamy as my favorite, the 2000 vintage, but very good and very drinkable, even at its relatively young age.
2004 Castello di Monsanto Chianti Classico Riserva [$70.00] - Initial notes of cherry, chocolate, and graphite lead to hints of spice, bolstered by substantial acidity and a bit of heat on the finish. Firm, but not overpowering tannins that will likely temper down with bottle age. Quite nice.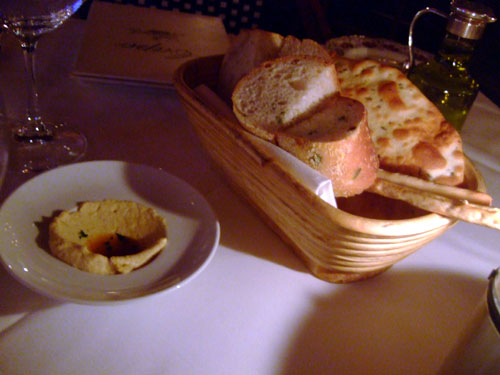 A few types of bread were offered, with my favorite being the crispy flatbread. The dip (not sure what it was, reminded me of hummus though) was delicious, but the breads stood on their own.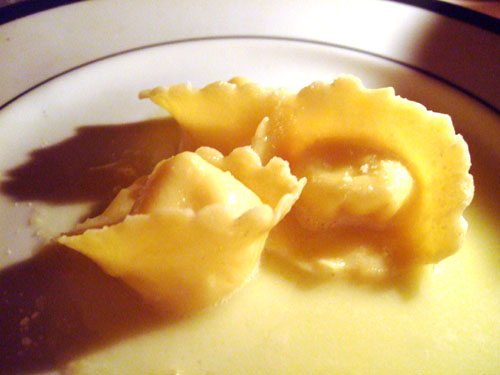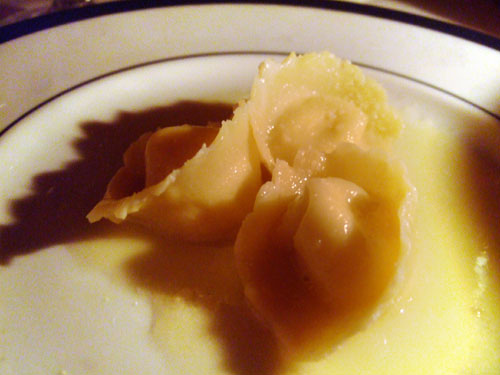 1a: Quattro Formaggi Ravioli
"Quattro Formaggi" means "four cheese," so I wonder what the four were. Tasty, and very cheesy, but fairly typical.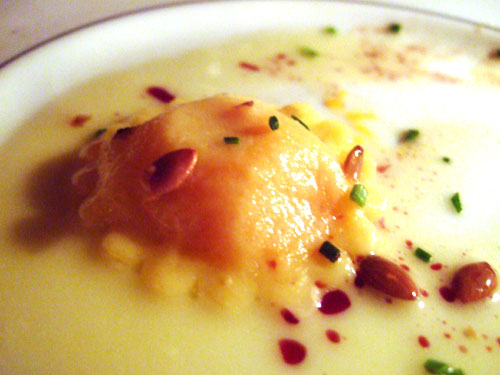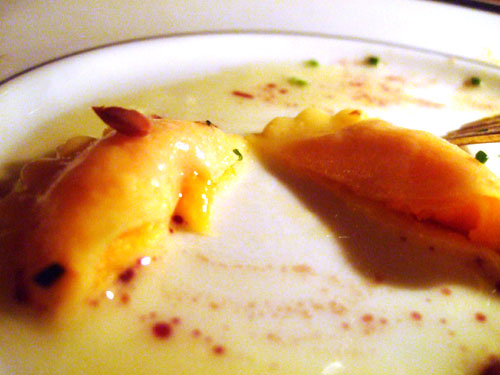 1b: Kabocha Ravioli
Kabocha is a Japanese variety of winter squash with a very sweet flavor. It was actually too much so for me in this instance, as the sweetness tended to dominate all the other flavors of the ravioli.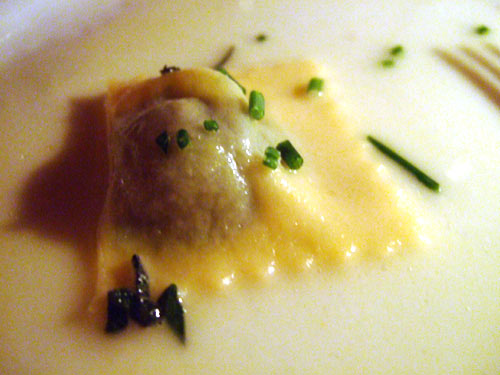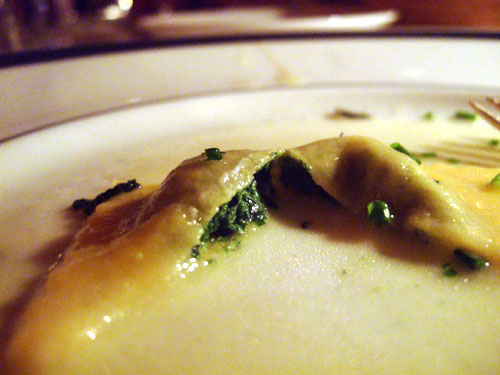 1c: Spinach and Ricotta Ravioli
My favorite of the ravioli trio, the spinach worked beautifully with the ricotta's slightly sweet, nutty flavor.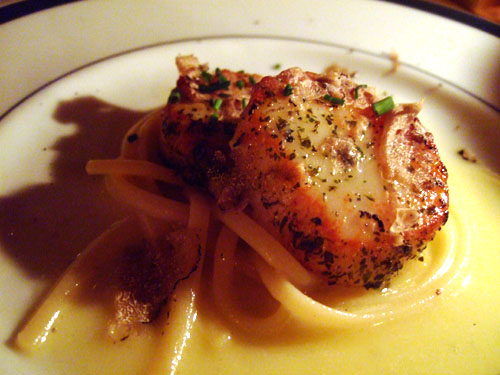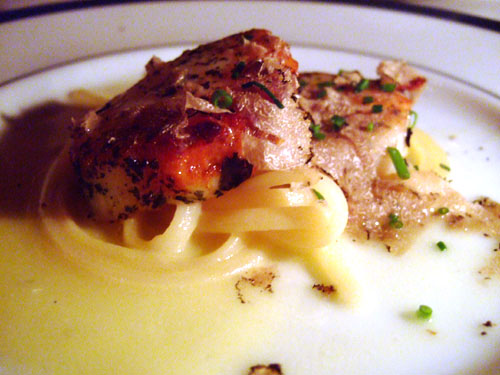 2a: Scallops, Black Truffles, Linguine
A great dish. The scallops were cooked superbly, with a slightly charred outside giving way to a soft, creamy interior, all the while maintaining the scallop's mild flavor. To this canvas, the truffle then added just the right amount of gravity and earthiness.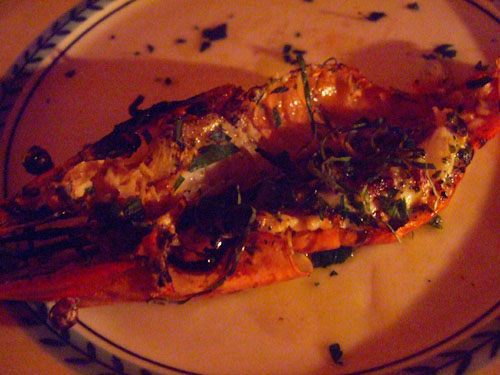 2b: Grilled Scampi
I only got to try a small piece of this, but found it outstanding. The flesh was lightly cooked, and quite soft, almost creamy, with a touch of char. It sort of reminded me of the grilled shrimp I had at
Go's Mart
.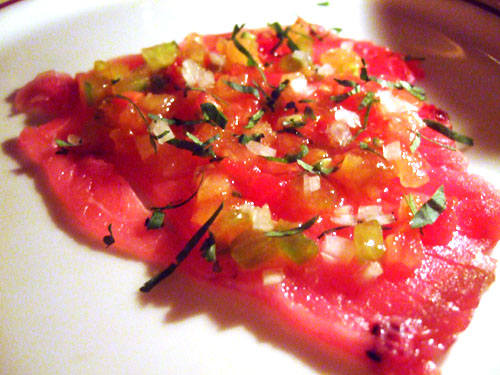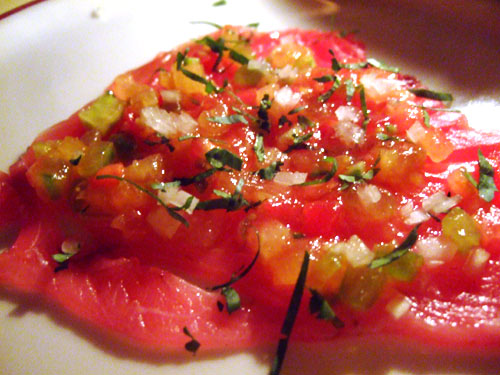 2c: Bluefin Tuna Carpaccio "à la Mexicana"
Chopped tomato, onion, and chiles, lime juice, cilantro. The tuna provided a perfect canvas on which the topping, basically a pico de gallo, made itself known. It's mild, yet tart and sour taste melded wonderfully with the fish. One of the best carpaccios I've ever had.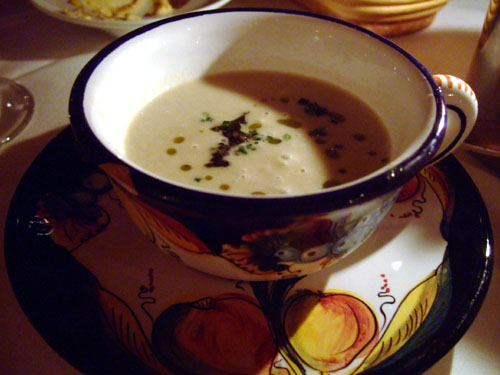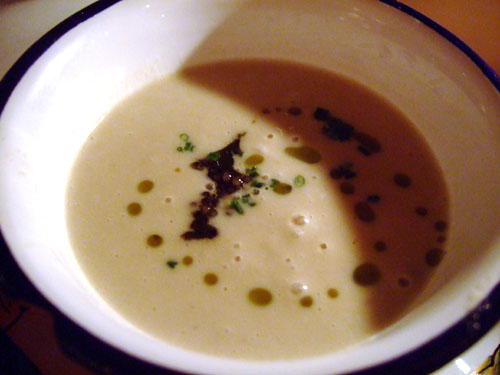 3: Cold Sweet White Corn Soup, Caviali
A very cool and refreshing soup, the subtle sweetness of the corn soup was well tempered by the salty tang of the caviar.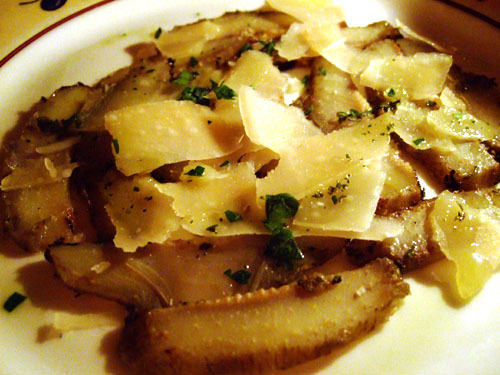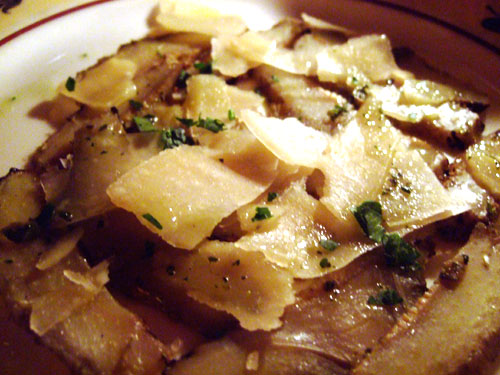 4a: Shaved Artichokes with Parmigiano-Reggiano
Cut thin, the artichoke had a very pleasing texture and a mild flavor. The Parmigiano-Reggiano was a bit strong for me though, as it tended to dominate the artichoke.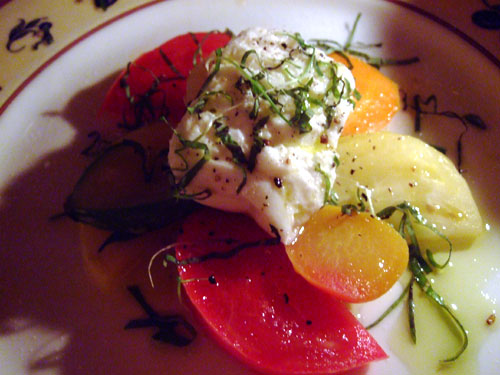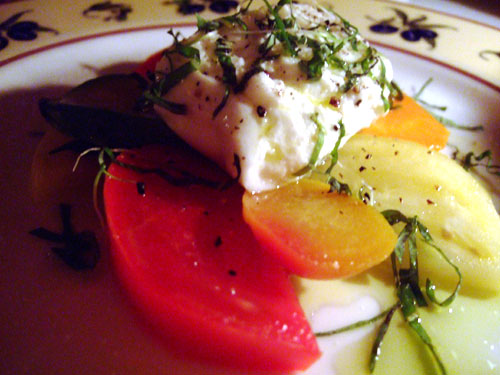 4b: Burrata Caprese
Organic Heirloom Tomato with Burrata. Another take on the classic insalata caprese. The soft, creamy burrata formed a great contrast with the firm, hearty consistency of the tomato, while the basil, olive oil, and pepper tied everything together.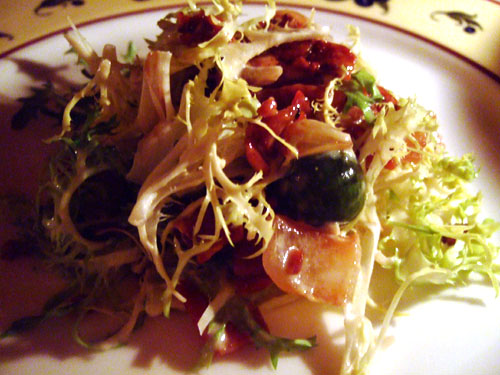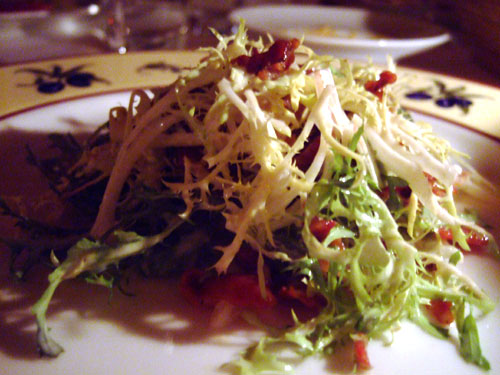 4c: Frisée Lardone Salad
Lardons are small pieces of fatty bacon from the belly of the pig. Here, carefully applied, the crispy morsels provided an amazingly savory flavor that served as a fantastic foil to the salad's vegetable base.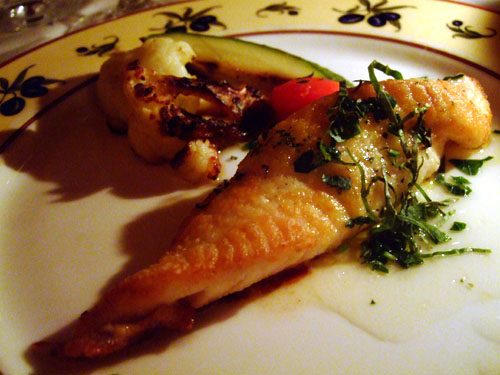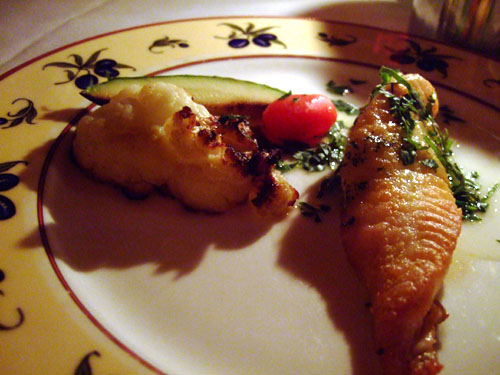 5a: John Dory
I believe this was only my second time having John Dory at a restaurant; the first was at
Providence
. On that ocassion, I found it a bit boring, but here, I thought the fish was very nicely done, with a mild flavor and semi-firm texture. I'm still not a huge fan of John Dory though.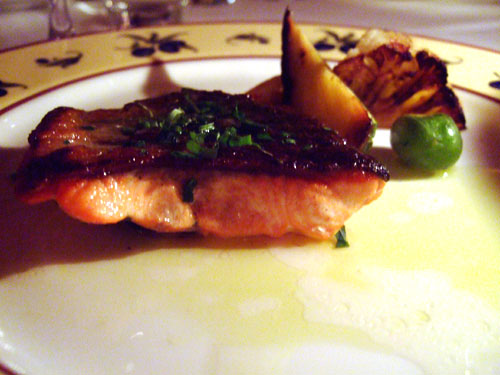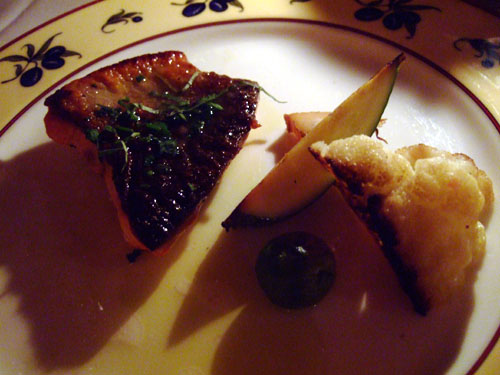 5b: Sockeye Salmon
Much more flavorful than I'm accustomed to, this was one of the best pieces of cooked salmon I'd ever tasted. I normally don't eat the skin of the fish, but the crunch of the skin here was amazing and added a smoky twist to the sockeye.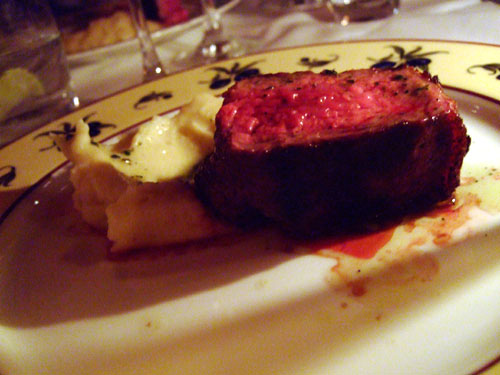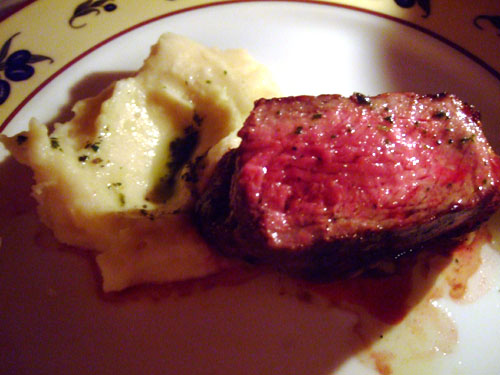 6: Prime NY Steak with Mashed Potatoes
Wow, I really didn't expect much from this dish, but the steak managed to be incredibly flavorful, with a fantastic, succulent consistency to boot. This was really better than the steak at most steakhouses, save for
CUT
. The mashed potatoes were fairly ordinary however.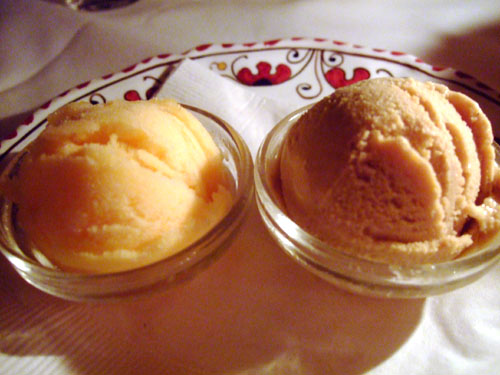 7: Ice Cream & Sorbet
A range of ice creams and sorbets signaled the end of the savory courses. Pictured above are a cantelope ice cream and coffee ice cream. We also had vanilla ice cream, mango sorbet, and lemon sorbet. All were quite delicious and each really let the flavor of its base ingredient shine through.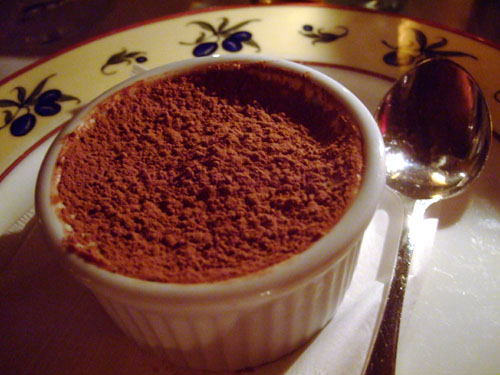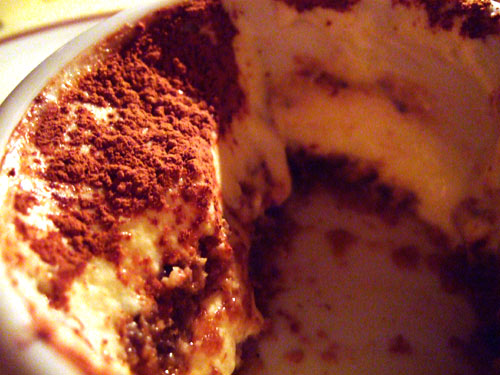 8a: Tiramisu
Tiramisu is of course one of the most popular Italian desserts, one that is found in nearly every Italian eatery, and many non-Italian ones as well. This was one of the better versions I've had, as the zabaglione custard wasn't overly sweet. One of my dining companions almost gagged on the cocoa powder though, as there was so much sprinkled on top!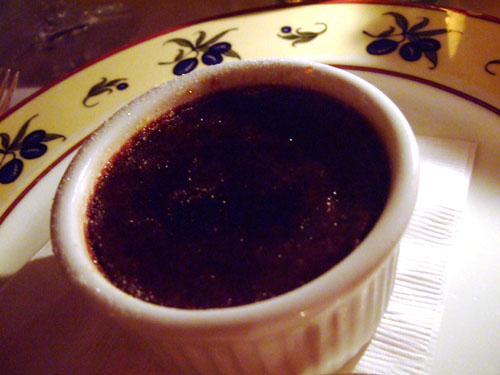 8b: Chocolate Crème Brûlée
Crème brûlée is a French dessert consisting of a cool custard base topped with a layer of hard caramel. The version here was a competent preparation, enhanced with chocolate.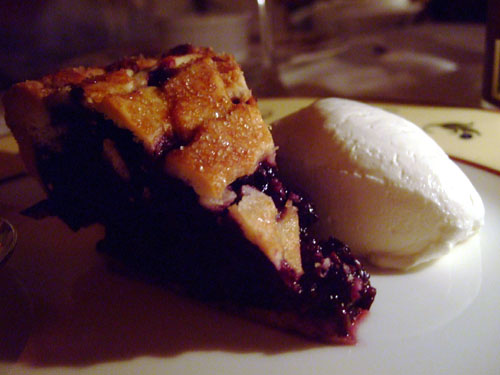 8c: Blueberry Pie, Crème Fraîche
Next for dessert, we turn to an American classic: blueberry pie. My favorite dessert of the trio, the pie was sweet but not overly so, with the whipped crème fraîche serving as a nice balance in flavor to the blueberries.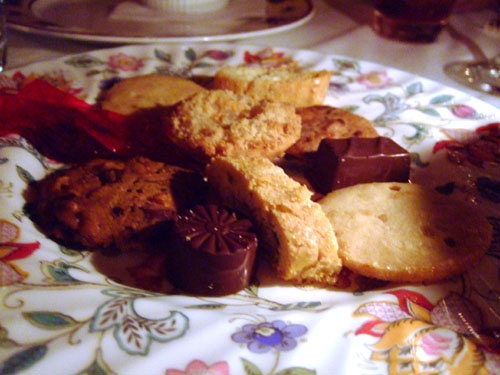 Mignardises
A plate of cookies, chocolates, and biscoti closed out the meal.
I didn't know exactly what to expect with Capo, but I'm glad to report that this was some of the best Italian I'd ever had (the only place comparable would be
Valentino
). One of the common complaints I've heard is that prices are high, perhaps unjustifiably high, and they are indeed. Given that, I do think the tasting menu is the way to go. Get past the sticker shock, and you'll enjoy superb, fresh, authentic Italian fare in a rustic but charming setting.