CUT (Beverly Hills, CA)
CUT
9500 Wilshire Blvd, Beverly Hills, CA 90212
310.276.8500
www.wolfgangpuck.com/restaurants/finedining/cut/beverlyhills/
Sat 08/11/2007, 05:40p-07:55p
CUT is a place that I've wanted to try ever since it opened last year. Steak and Wolfgang Puck - how could you not love it? I'm not sure what took us so long. Perhaps it was that reservations are fairly difficult to secure, hence the 5:40 start to the meal. Actually, we could only get a 5:30 seating, which we almost missed due to traffic since CUT only holds reservations for 15 minutes.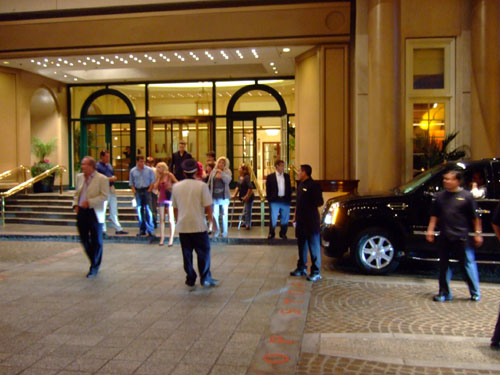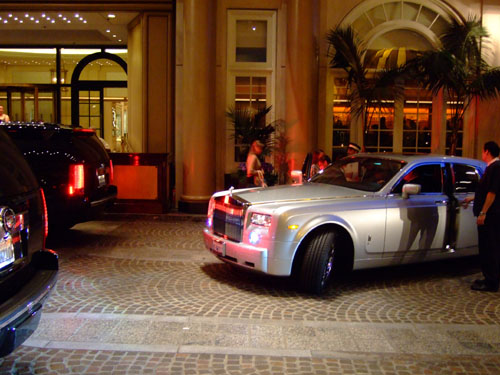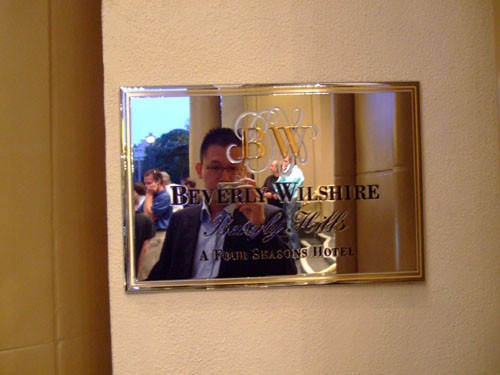 CUT is housed in the Beverly Wilshire hotel, which is now run by the Four Seasons. I would like to say that we arrived in the Rolls (the third we saw that day, along with four Astons, three Bentleys, three Ferraris, and a horde of new S-Classes), but then I'd be lying. Actually, we may have been in the least expensive car there; that's how you know you're in Beverly Hills.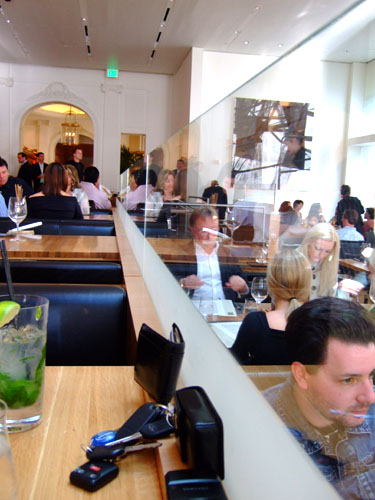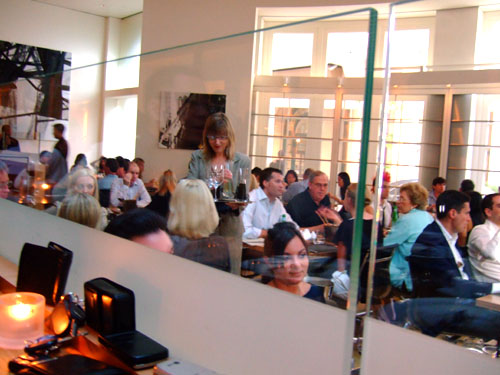 The dining room is bright, airy, and modern. A glass divider separates two rows of extremely spacious booths, while the rest of the room contains a couple dozen tables.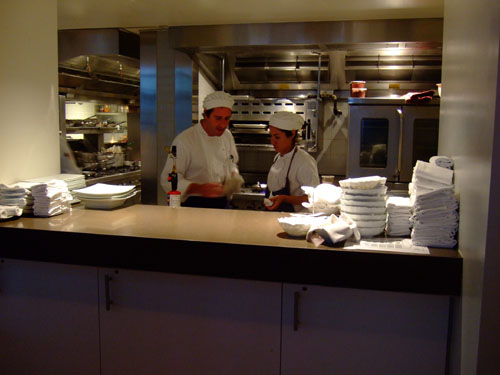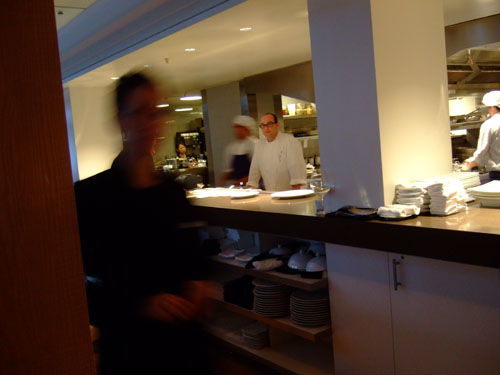 The open kitchen runs almost the entire length of the dining room.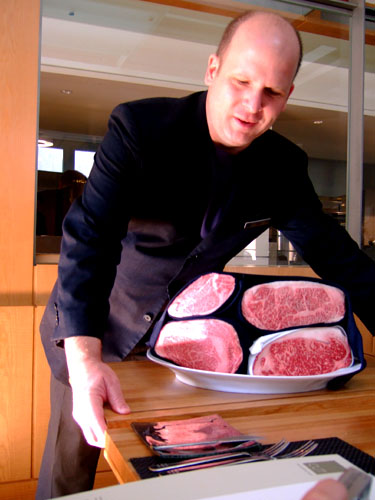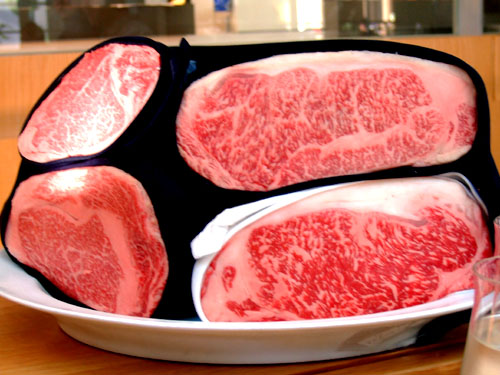 I loved the pomp and circumstance surrounding the presentation of the meat. Here, our server Dan shows us Japanese cuts of filet, rib eye, and New York, along with a Snake River Farms New York (in white). Note how much more marbling the Japanese New York has compared to its American counterpart.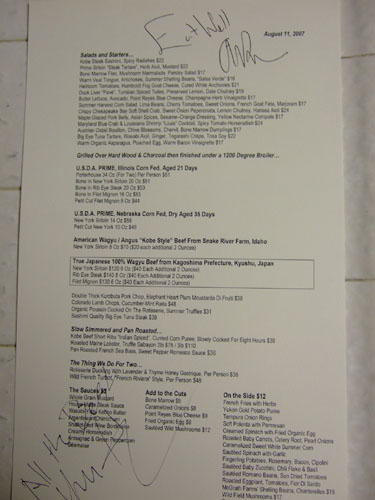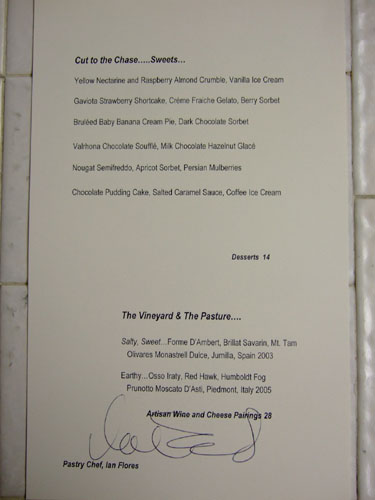 The dinner menu is fairly straightforward but presents the diner with a myriad of options (steaks, sauces, add-ons, sides). Note the signature of Executive Chef Lee Hefter. Hefter is also the head chef at
Spago
, and often travels in between the two on a given night (they're only 0.2 miles apart). We didn't see him at our last trip to Spago (he was at CUT tending to S. Irene Virbila apparently), but were lucky enough to catch him this time right as he was heading out the door. We also got the signatures of Chef de Cuisine Ari Rosenson and Pastry Chef Ian Flores. Click for larger versions.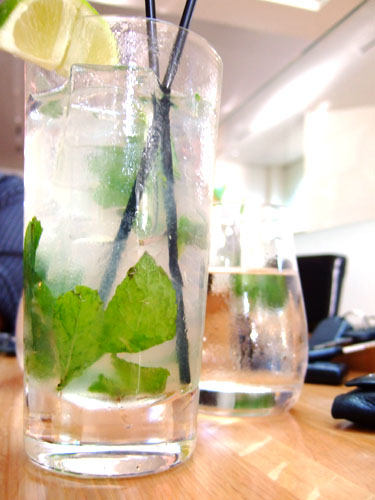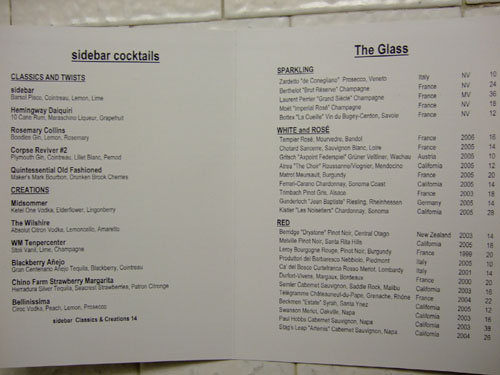 My signature mojito was well prepared, though not quite as good as I had at Spago. Click for a larger version of the drinks and wine by the glass menu.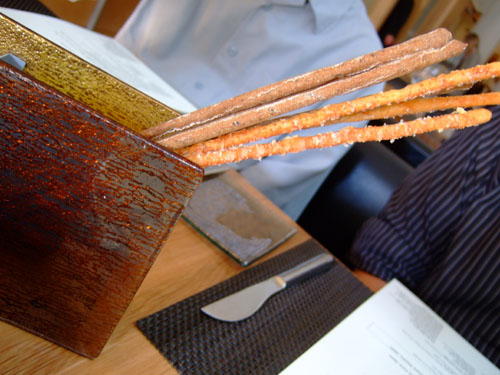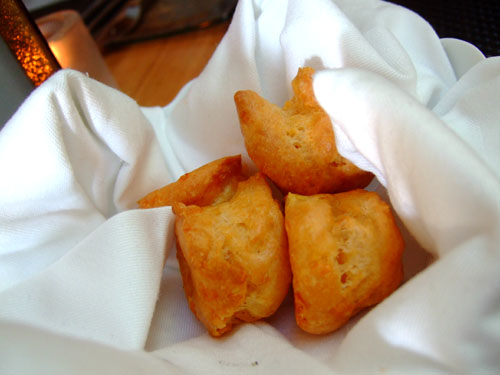 We started with some very tasty bread sticks and even tastier cheesy puffs.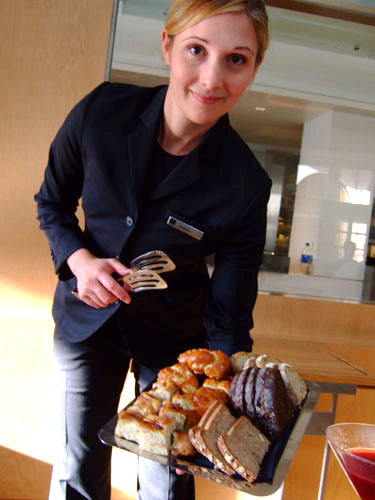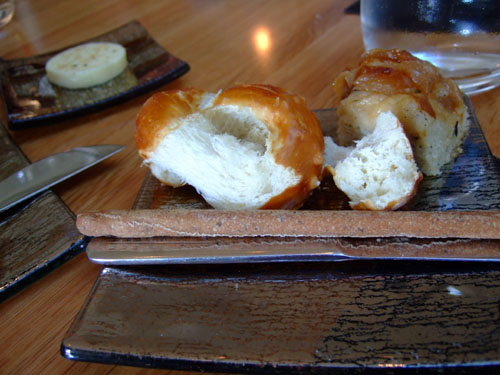 Five varieties of bread were offered: focaccia (my favorite), pretzel, pumpernickel, hazelnut, and sourdough.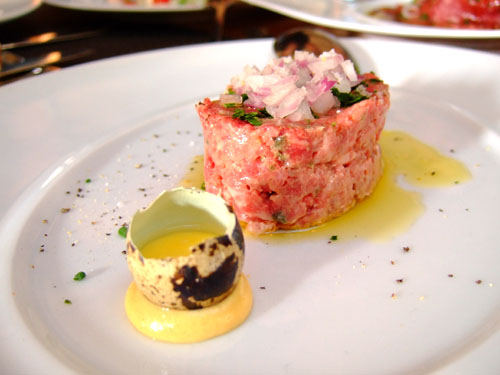 Prime Sirloin "Steak Tartare"
Herb Aioli, Mustard. A slightly contemporized version of a classic, with traditional accoutrements of onion, mustard, and egg. Probably the second best beef tartare I've had, behind
Kevin Taylor
. I kept going back and forth as to whether I liked this or the tuna tartare better.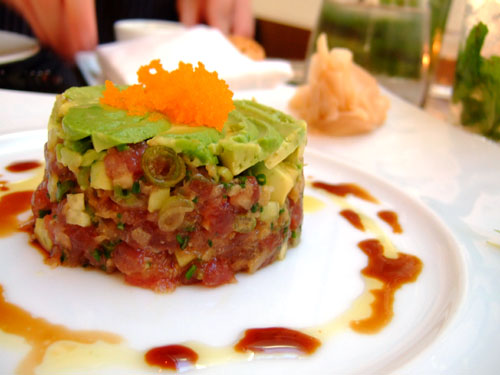 Big Eye Tuna Tartare
Wasabi Aioli, Ginger, Togarashi Crisps, Tosa Soy. I've had so many tuna tartares that the dish has become almost a bit clichéd. Fortunately, I'm happy to report that, quite surprisingly, this was an excellent preparation, very nicely flavored and augmented by the avocado and onion.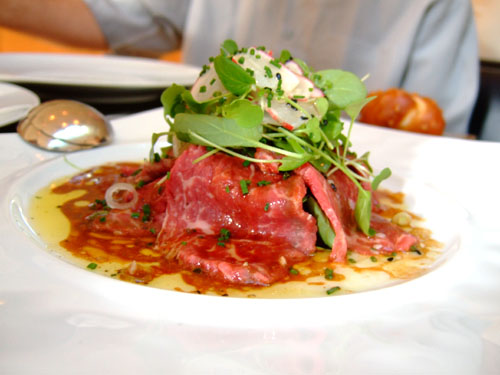 Kobe Steak Sashimi
Spicy Radishes. My favorite appetizer of the night, with rich, tender, beef foiled by slightly bitter greens and radishes. Superb.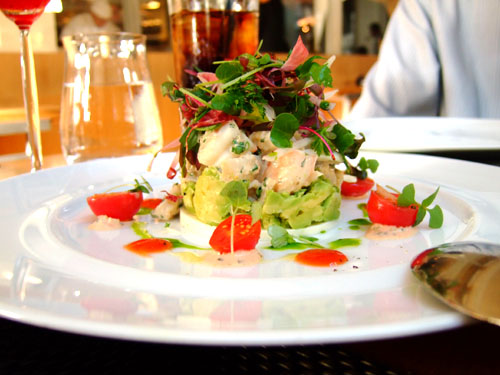 Maryland Blue Crab & Louisiana Shrimp "Louis" Cocktail
Spicy Tomato-Horseradish. This was probably the weakest of the appetizers, but was by no means bad. I can't fault the quality of the ingredients, but the flavors just seemed a tad muddled to me.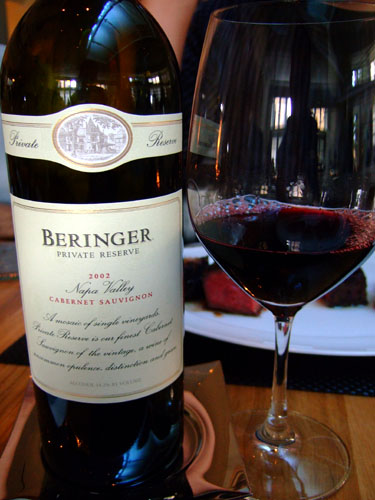 2002 Beringer Private Reserve Napa Cabernet Sauvignon. I thought this was a well-balanced wine that exhibited classic cabernet notes and stood up well to the profound richness of the meats. To quote eminent wine critic Robert Parker:
"94 points: The 2002 Cabernet Sauvignon Private Reserve may not equal the fabulous concentration and intensity of the 2001, but it's not far off the mark. It is a fruit-forward, softer, more flamboyant, already seductive effort displaying gorgeous notes of chocolaty creme de cassis, some spicy, high-quality, toasty oak, a rich, plush, savory, expansive mid-palate, and a long, heady finish with elevated glycerin and plenty of sweet tannin and fruit. This wine is delicious yet promises to age gorgeously for 15-20 years. Ed Sbragia compares it to the 1992 which, by the way, is drinking superbly in 2005, but is one of those rare vintages that has never gone through a closed period. It's always a fascinating education to taste through these component parts, but the resulting blend that Ed Sbragia puts together, the extraordinary Private Reserve, is one of the great Cabernet Sauvignons of California and he has fashioned a succession of beauties since 1991. In fact, there are two gorgeous ones in the market, the profound 2001 and the flamboyant, exotic 2002."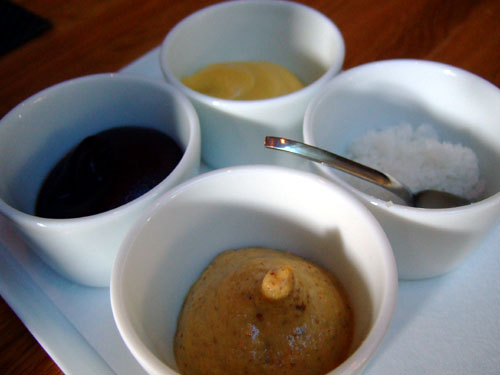 Four types of sauces were brought out with the steaks: fleur de sel, spicy mustard, violet mustard, and Dijon mustard. In additional, we added a Whole Grain Mustard sauce for $2 (not pictured). I'm not a fan of saucing steaks, so they were used very carefully. The pairings were good enough but the steaks easily stood on their own.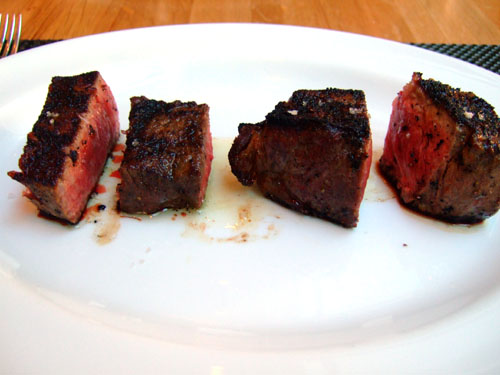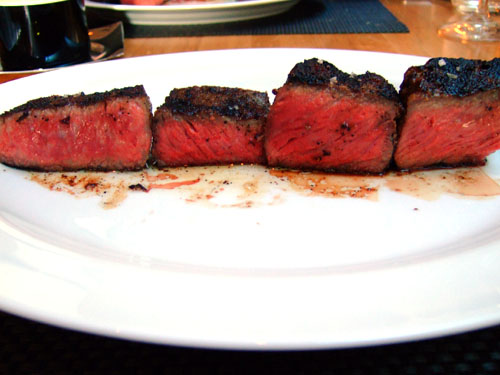 CUT offers four grades of beef: Japanese, Snake River, dry aged, and wet aged (in decreasing order of price and richness, and as shown above). This being our first trip to the restaurant, we wanted to try all of them, so we ordered New York cuts of all the types (since it was the only cut available in all four grades). Our server suggested that the beef be cut and served as a tasting of sorts. We then added a Japanese rib eye for good measure at the end. All steaks were cooked medium rare as per Dan's recommendation (which was spot on in my opinion). I included the prices per ounce below as an interesting point of reference.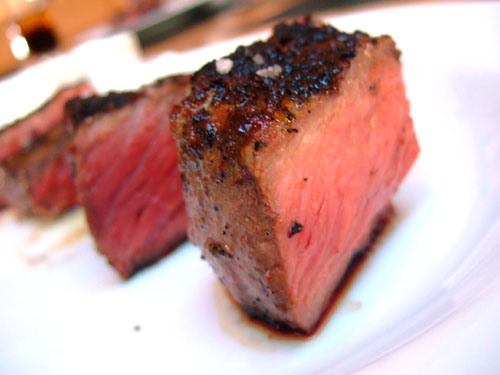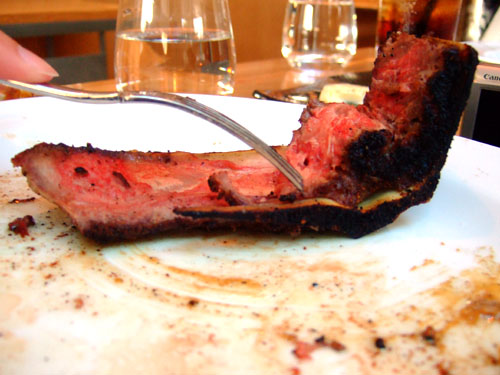 U.S.D.A. PRIME, Illinois Corn Fed, Aged 21 Days
Bone In New York Sirloin 20 Oz ($2.55/oz). This is your standard wet-aged steak that you'd find at your typical high-end steakhouse (e.g. Morton's). Nothing wrong with it (in fact it was very good and only suffered in comparison), but it was outshone by its peers this night.
U.S.D.A. PRIME, Nebraska Corn Fed, Dry Aged 35 Days
New York Sirloin 14 Oz ($4.14/oz). Dry aging results in large amounts of meat being thrown away, hence the increased price. It's basically a process of controlled rotting that concentrates the meat's flavor. The result is a bolder, beefier taste that we all preferred to the wet-aged. I didn't note any huge differences in texture or mouthfeel however.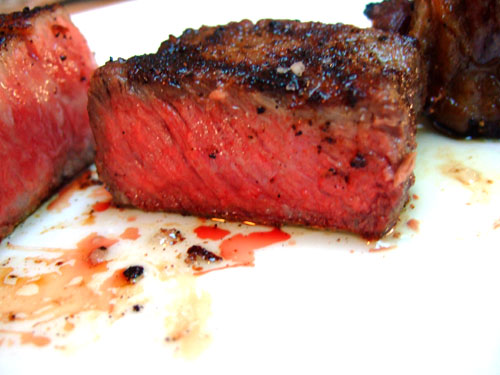 American Wagyu / Angus "Kobe Style" Beef From Snake River Farm, Idaho
New York Sirloin 8 Oz ($8.75/oz). Stepping up to the Snake River results in a big jump in price as well as richness, tenderness, and fattiness. This is a nice medium between your standard steak and your Japanese variety. If I had to eat a large amount of meat, I'd probably go with either this or the dry aged.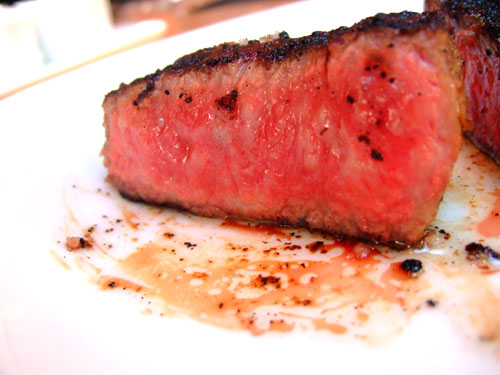 True Japanese 100% Wagyu Beef from Kagoshima Prefecture, Kyushu, Japan
New York Sirloin 6 Oz ($20/oz). Now we get to the real deal. Marbling is kicked up a notch, which is evident in the photo above. The beef is almost gelatinous in nature, and bounces and jiggles when tapped with a fork. To me, there's a night and day difference between a standard steak and this. The one downside is that the meat's richness means that it's extremely heavy and filling. I'd probably want to limit myself to about 5 ounces.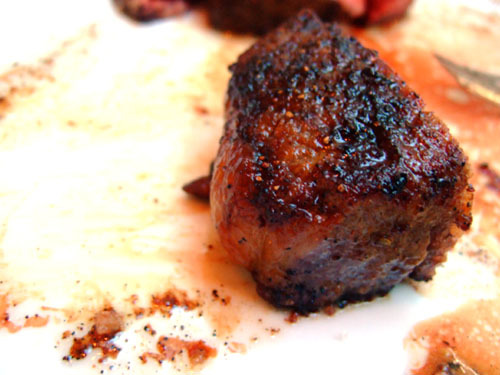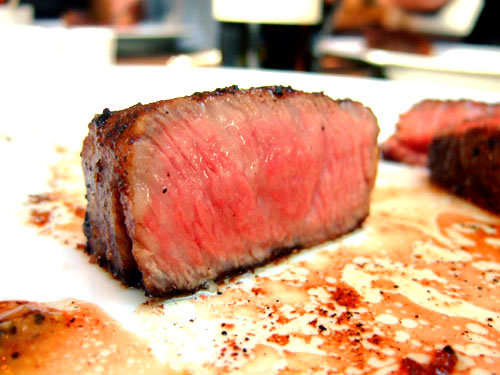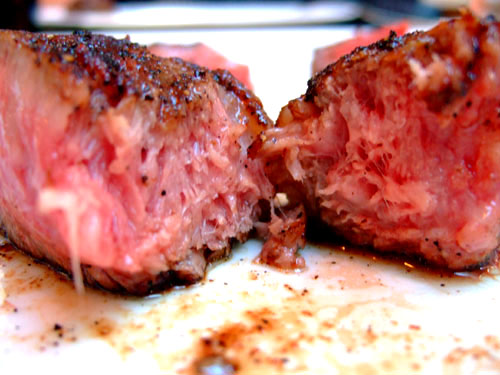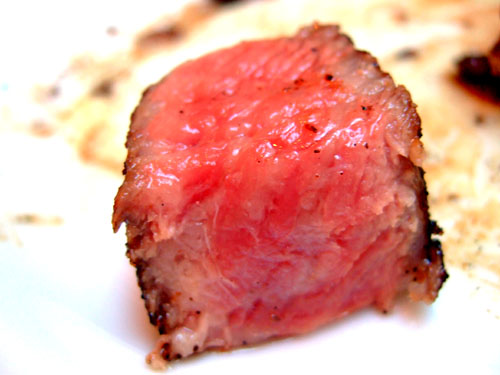 True Japanese 100% Wagyu Beef from Kagoshima Prefecture, Kyushu, Japan
Rib Eye Steak 8 oz ($17.5/oz). We had the rib eye after having a bit of all the New Yorks. It was actually quite similar to the Japanese New York, but perhaps even a bit fattier. I'm not usually a fan of rib eyes, but this (along with it's New York counterpart) was probably the best piece of steak I've ever had. They were both simply wonderful.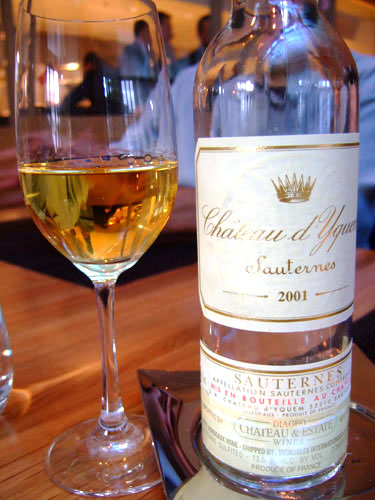 2001 Château d'Yquem Sauternes. Ah finally, a chance to try the legendary 2001 d'Yquem. We've worked our way through the Guirauds, the Rieussecs, even the Suduirauts, but now it was time for the grand daddy of them all, the one and only
Premier Cru Supérieur
. This was a great Sauternes, perhaps even the best I've had. However, I did not think it was head and shoulders above the rest of the field. Yes, maybe we drank it too young; your cries of infanticide are heard. But in any case, Mr. Parker states:
"100 points: There are 10,000 cases of this perfect sweet white Bordeaux. The 2001 Yquem reveals a hint of green in its light gold color. While somewhat reticent aromatically, with airing, it offers up honeyed tropical fruit, orange marmalade, pineapple, sweet creme brulee, and buttered nut-like scents. In the mouth, it is full-bodied with gorgeously refreshing acidity as well as massive concentration and unctuosity. Everything is uplifted and given laser-like focus by refreshing acidity. This large-scaled, youthful Yquem appears set to take its place among the most legendary vintages of the past, and will age effortlessly for 75+ years. Anticipated maturity: 2010-2100+."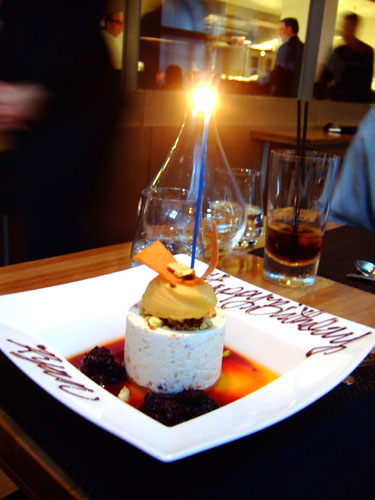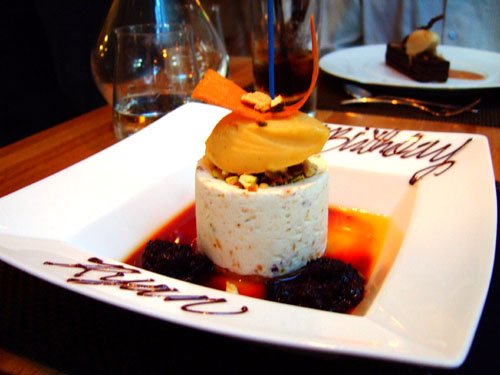 Nougat Semifreddo
Apricot Sorbet, Persian Mulberries. Done up in full birthday regalia, this was probably my favorite dessert. The semifreddo was quite rich and heavy, but was complemented nicely by the crunchy nougat and apricot sorbet.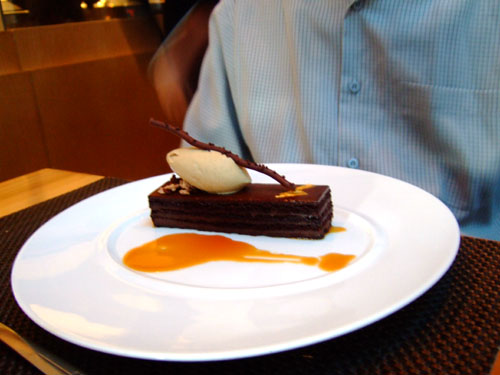 Chocolate Pudding Cake
Salted Caramel Sauce, Coffee Ice Cream. The description of this seemed a bit boring to me but this dessert was surprisingly good. The ice cream provided a sharp contrast to the dense, rich cake.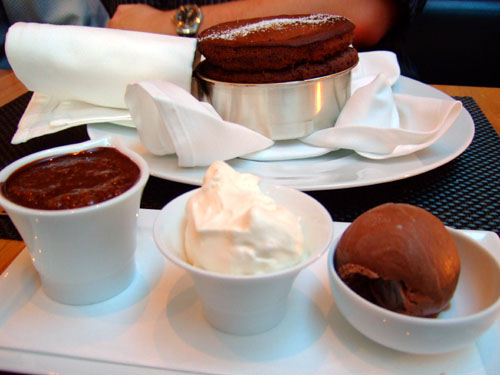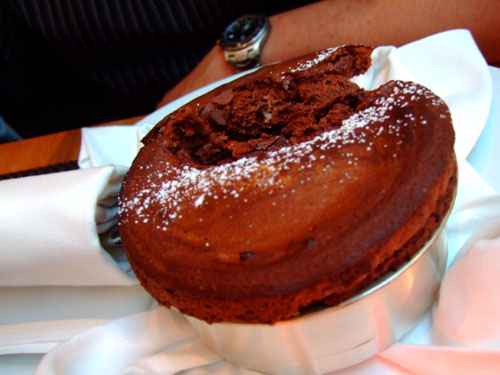 Valrhona Chocolate Soufflé
Milk Chocolate Hazelnut Glacé. I'm not a huge fan of soufflés; but with that said, this was a pretty good example, not too heavy, a bit fluffy, and served with some nice accompaniments.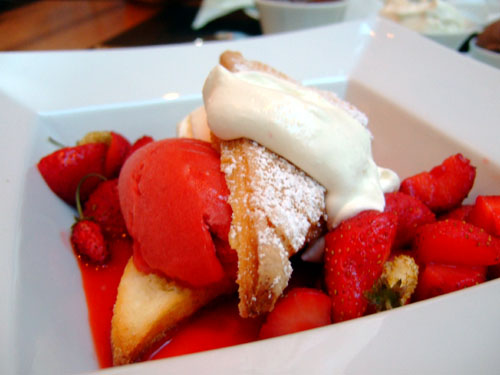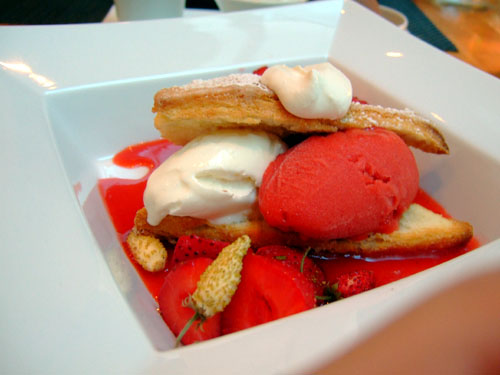 Gaviota Strawberry Shortcake
Crème Fraiche Gelato, Berry Sorbet. I really enjoyed this modern take on a classic dessert. Amazing texture with the shortcake, and the interplay between the mild gelato and tart sorbet really worked.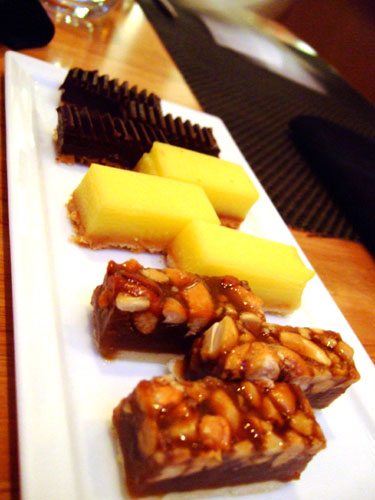 The meal ended with three mignardises: chocolate & Jack Daniels, yuzu, and caramel nut.
I can unequivocally say that this is the best steakhouse I've ever been to. If you're a steak lover like me, CUT is a place that you can't afford to miss (even if you can't afford the Japanese Wagyu).