Blanca (Newport Beach, CA)
Blanca
3420 Via Oporto, Newport Beach, CA 92663
949.673.0414
www.blancanewport.com
Fri 08/01/2008, 09:30p-11:35p
Billed as a Spanish-Italian restaurant, Blanca is located on the waterfront of Newport Harbor in Lido Marina Village. Blanca focuses on the preparation of crudo ("raw" in Italian and Spanish), Italian sliced raw fish paired with a variety of garnishes including olive oil, sea salt, citrus juice, and vinegar. What brought us to Blanca wasn't the crudo per se, but Executive Chef Nicholas Weber, who hails from the famed
Patina
group of restaurants. Prior to Blanca, Weber worked at Pinot Bistro in LA, Pinot Brasserie in Las Vegas,
Catal
at Disneyland (where he was executive chef), and Pinot Provence in OC.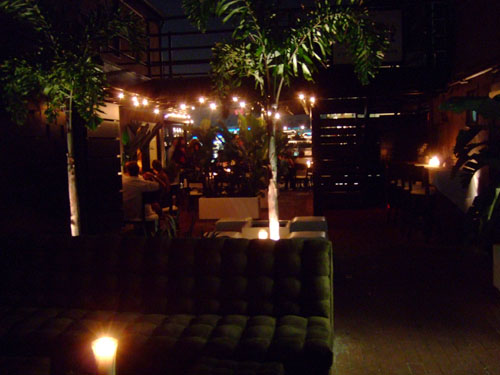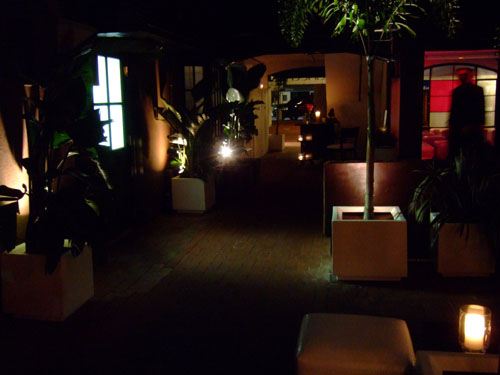 Upon entering, you're greeted with a dark lounge-ish patio area, which connects the restaurant's three distinct rooms (including two bars). Blanca can seat up to 150 diners.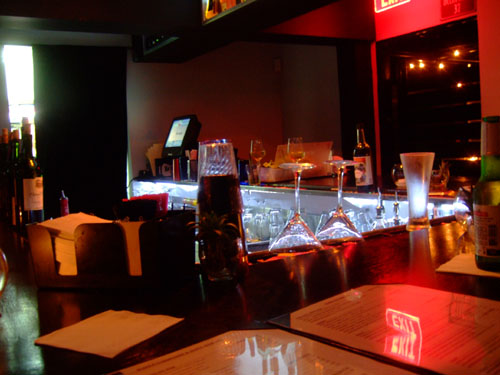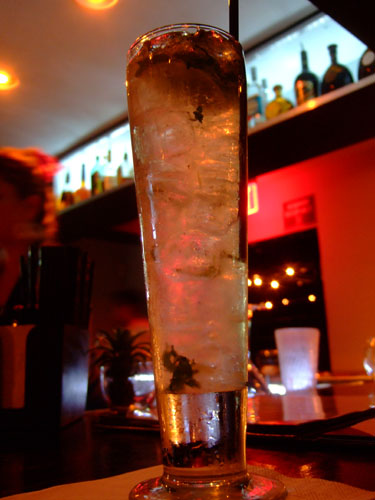 When we arrived, our table wasn't quite ready, so we took a seat at one of the bars, where I ordered my signature mojito [$8.00], which turned out to be surprisingly good and well-balanced.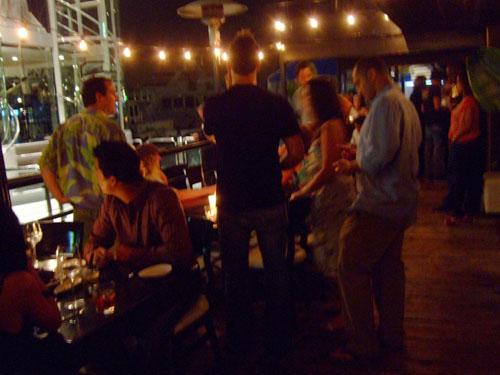 From my seat at the bar, I had a good view of the multitude of drunken partygoers disembarking from their booze cruises, though I must admit that I've been in their shoes before, at this exact location in fact...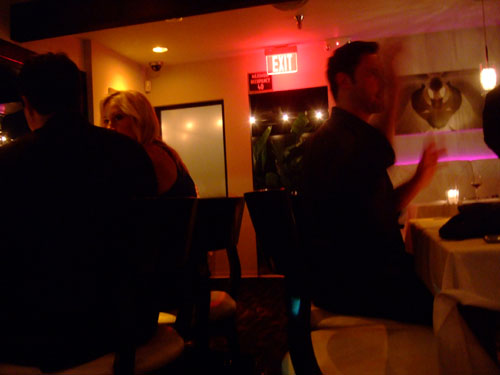 Dimly lit, the dining room is awash in white, set off by dark woods. We were seated in a booth flanking the wall.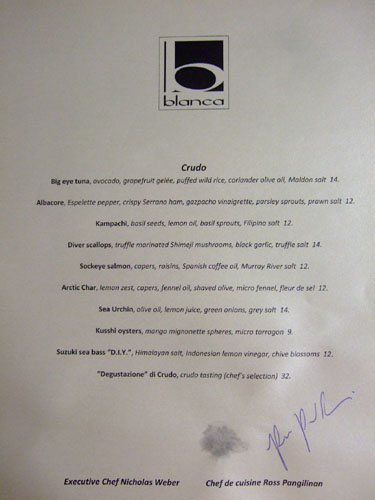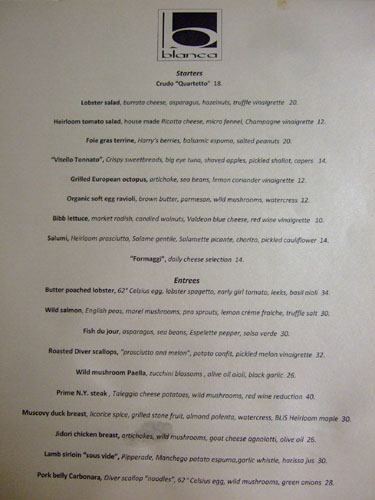 Since Blanca prides itself on crudo, it's not surprising that an entire page is devoted to it. In fact, we managed to try every one, save for the uni, which the restaurant had run out of. Rounding out the carte is an interesting selection of appetizers and main courses. Executive Chef Nicholas Weber was absent this particular night, so the menu was signed by Chef de Cuisine Ross Pangilinan instead. Click for larger versions.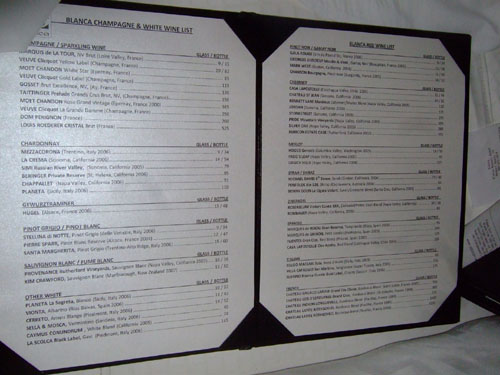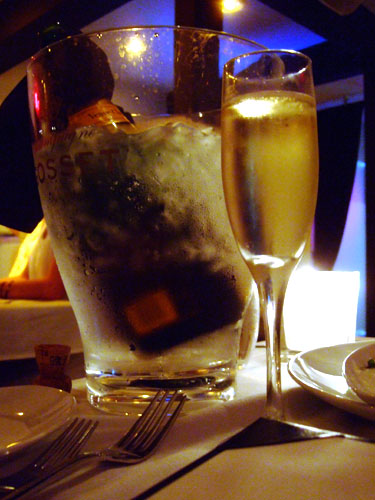 On the wine list, prices range from reasonable to slightly obscene ($4,200 for the '00 Lafite, which you can get for $1,500 a bottle), while markups are around 4x retail for the lower-end bottles. We were in the mood for something sparkling, so we ordered the Veuve Cliquot Yellow Label [$82.00].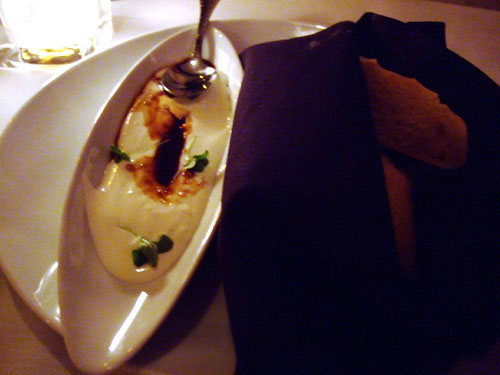 The bread was nothing special, but its dip, a mixture of ricotta and balsamic, was.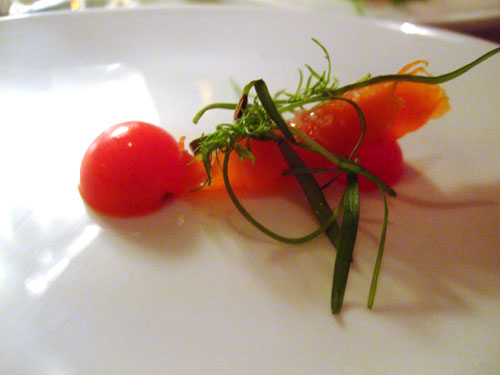 Amuse Bouche: Cured Sockeye Salmon Belly
Lemon olive oil vinaigrette, micro fennel, baby tomato. I thought the tomato was too dominant here, as I barely tasted any salmon. Rather bland actually.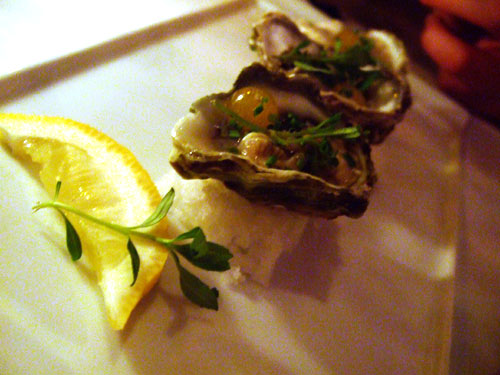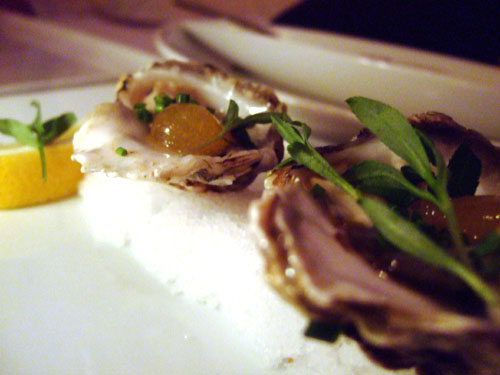 Kusshi oysters [$9.00]
Mango mignonette spheres, micro tarragon. The oysters themselves, which reminded me a bit of Kumamotos, were decent though nothing spectacular; they had a clean, but indistinctive taste. The mango added a touch of sweetness that unfortunately, didn't quite work with me.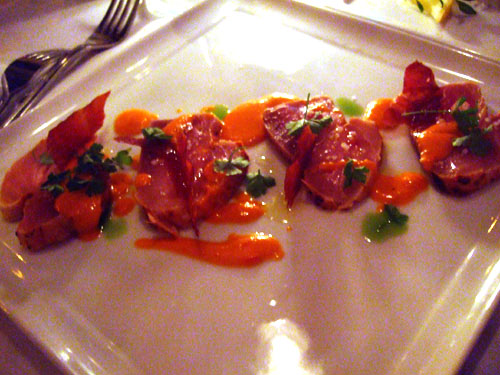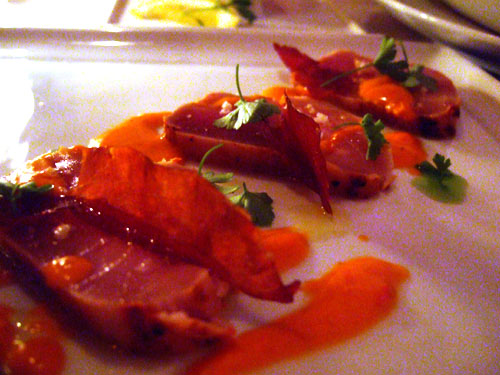 Albacore [$12.00]
Espelette pepper, crispy Serrano ham, gazpacho vinaigrette, parsley sprouts, prawn salt. Quite nice. I enjoyed the texture and flavor contrast provided by the ham, and the gazpacho vinaigrette provided a wonderful complement to the fish's mild flavor.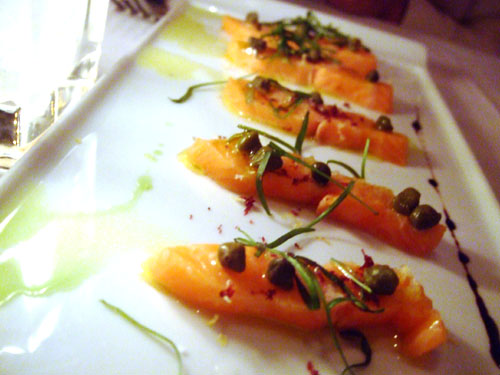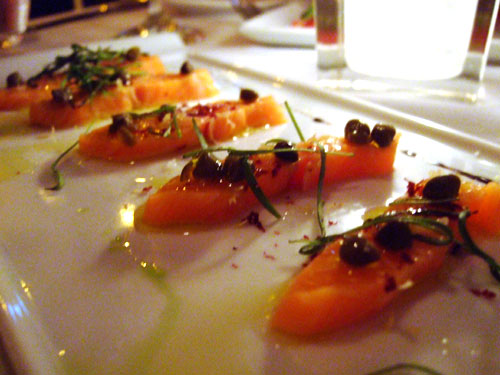 Artic Char [$12.00]
Lemon zest, capers, fennel oil, shaved olive, micro fennel, fleur de sel. The weakest of the crudos in my opinion, as the capers totally dominated the flavors here. The fish itself, by comparison, was rendered almost tasteless.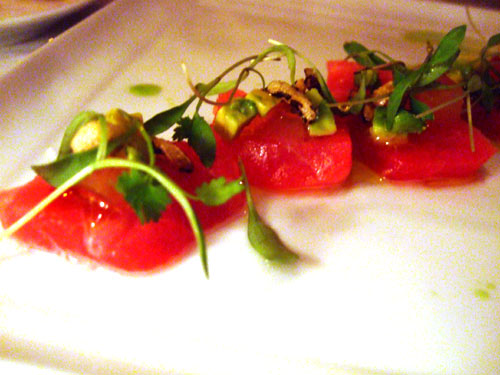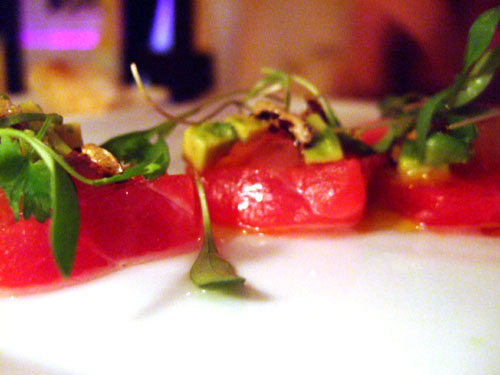 Big eye tuna [$14.00]
Avocado, grapefruit gelée, puffed wild rice, coriander olive oil, Maldon salt. The mild, smooth tuna paired with the crispy puffed rice formed a perfect textural combination, while the coriander the grapefruit rounded out the flavors. I'd never had anything quite like it before. The best dish of the night for me.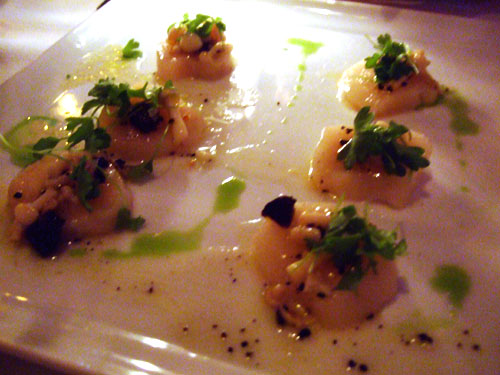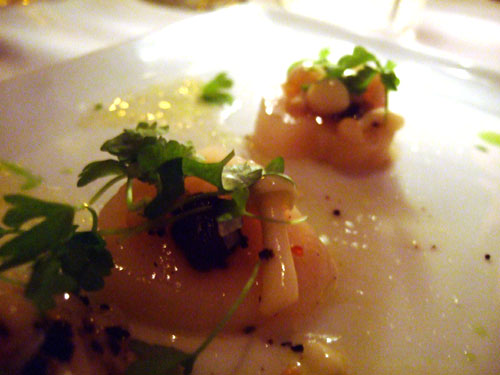 Diver scallops [$14.00]
Truffle marinated Shimeiji mushrooms, black garlic, truffle salt. The combination of truffle and scallop usually works well, and this was no exception, with the truffle's pungent aroma proving to be a perfect foil to the subtleness of scallop. Meanwhile, the Shimeijis also provided an amazing contrast in texture. Almost as good as the tuna above.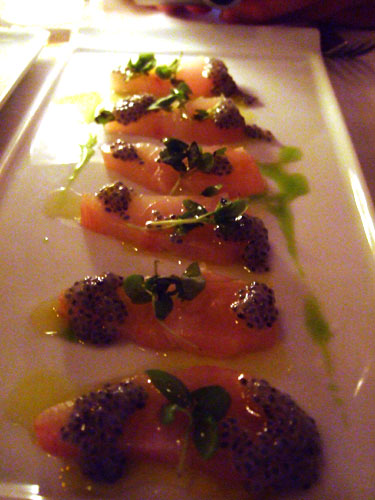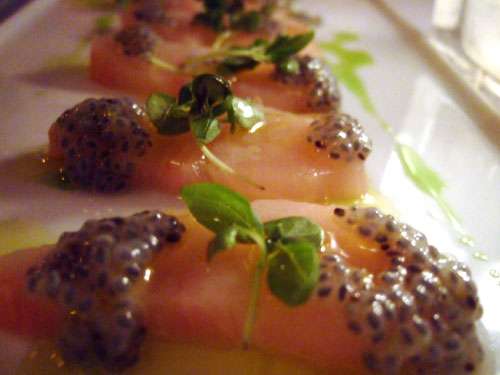 Kampachi [$12.00]
Basil seeds, lemon oil, basil sprouts, Filipino salt. The kampachi itself was quite delicious on its own, while the addition of basil added an interesting flavor complement. A solid dish, though perhaps overshadowed by the two preceding ones.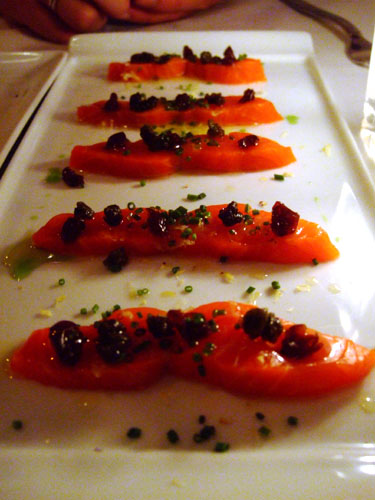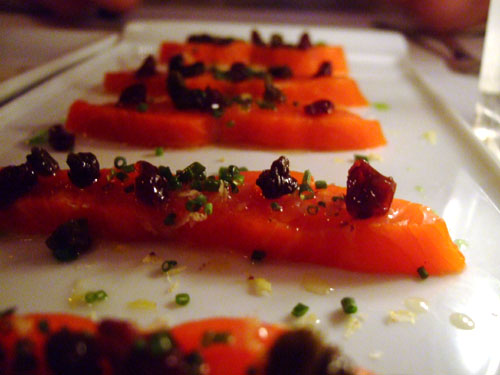 Sockeye salmon [$12.00]
Capers, raisins, Spanish coffee oil, Murray River salt. The raisins were clearly the center of attention here. I was a bit skeptical initially, but the sweetness of the raisins actually matched fairly well with the mild, clean taste of the sockeye.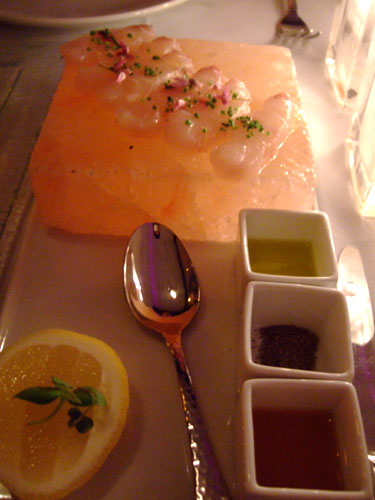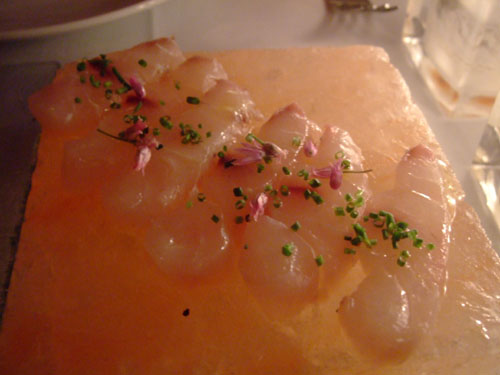 Suzuki sea bass "D.I.Y." [$12.00]
Himalayan salt, Indonesian lemon vinegar, chive blossoms. This was only my second time having suzuki (the other time was at
Natori
in Tokyo). The "D.I.Y." refers to the various dips that one is supposed to apply to the fish. I found them unnecessary, and actually a bit overpowering. The fish was good by itself, mild, with pleasing mouth feel and texture.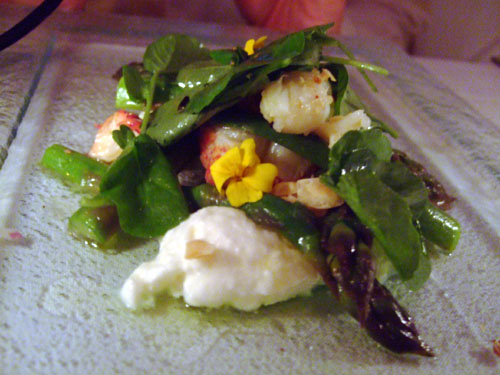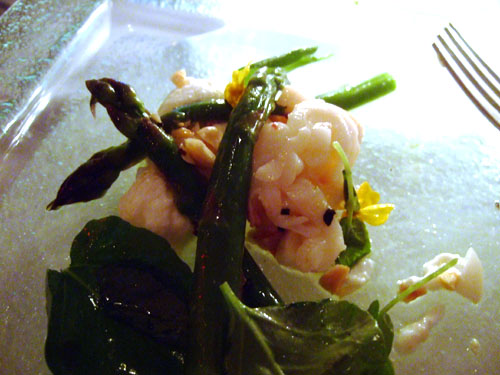 Lobster salad [$20.00]
Burrata cheese, asparagus, hazelnuts, truffle vinaigrette. I'm almost always up for a good lobster salad, and this was a decent example of such. The lobster itself had a fresh taste and consistency, and I really enjoyed the asparagus and how it provided a bit of bitterness to set of the sweetness of the lobster, but the burrata was less impressive than some other versions I've had.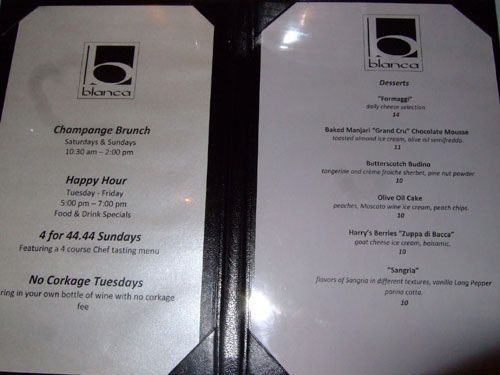 A small selection of interesting desserts was offered; they were all appealing to me, which is a bit of a rarity. Click for a larger version.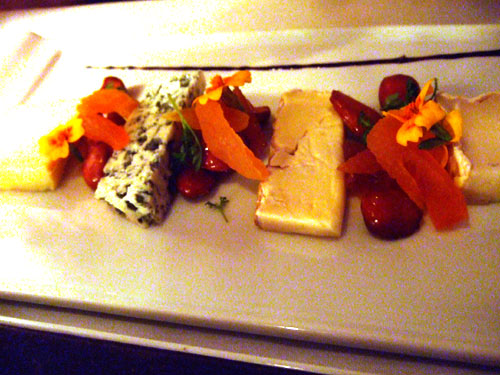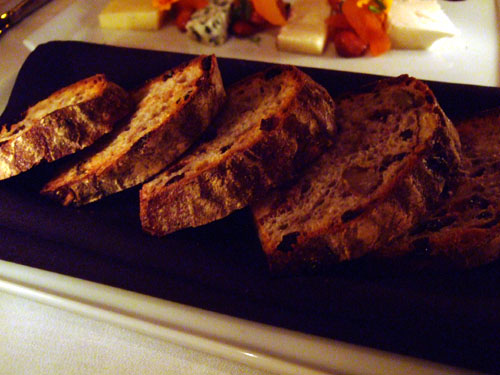 "Formaggi" [$14.00]
A nice quartet of cheese with some fascinating accoutrements. If I recall correctly, the cheeses were Saint-André (a Brie-like French triple cream cow's milk cheese with a soft, creamy texture), Boucher Blue (an soft, rich, relatively mild cow's milk bleu), Taleggio (a mild washed rind Italian cow's milk cheese), and Vacherin Mont d'Or (a Swiss cow's milk washed rind cheese with a very soft, creamy texture). My favorite was the Vacherin, which reminded me a bit of camembert.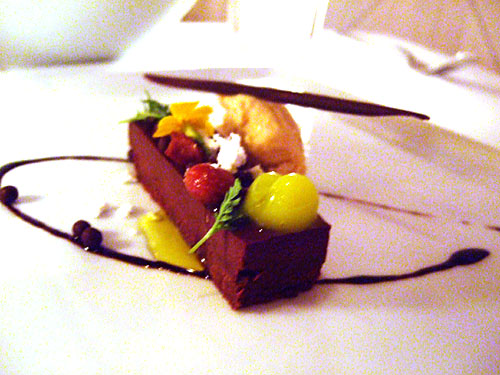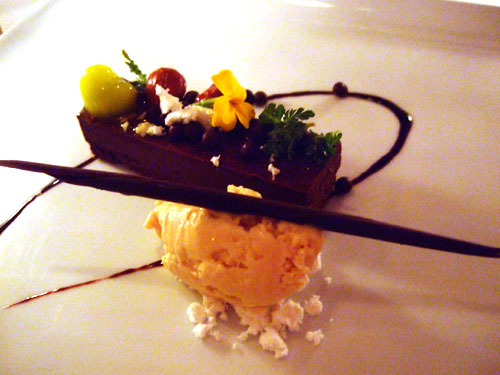 Baked Manjari "Grand Cru" Chocolate Mousse [$11.00]
Toasted almond ice cream, olive oil semifreddo. The chocolate, by Valrhona and from Madagascar apparently, had a great texture and a taste that was actually very complex. Perhaps the best chocolate mousse I've tasted. The almond ice cream further elevated the dish. Excellent.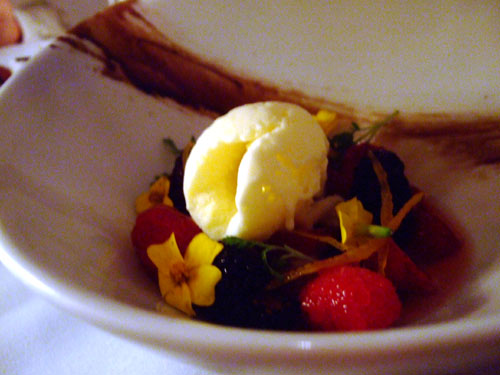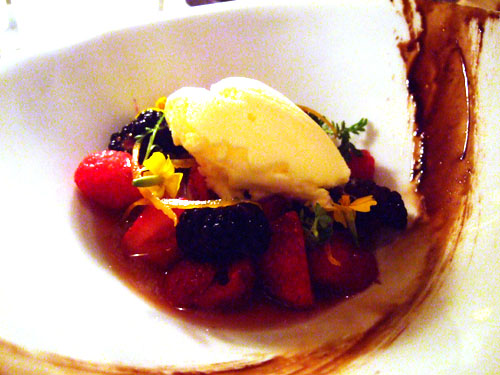 Harry's Berries "Zuppa di Bacca" [$10.00]
Goat cheese ice cream, balsamic. Berries? Big deal right? Wrong. These were some of the best strawberries, raspberries, and blackberries I'd ever tasted. Kudos to Harry's Berries, a local purveyor from Oxnard. To top things off, the tanginess of the goat cheese ice cream went superbly with the berries. Fantastic.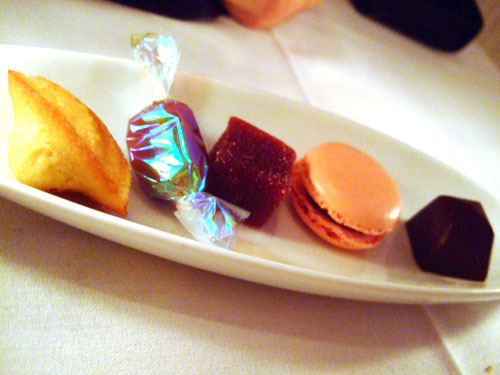 Mignardises to close out the meal: madeline, butterscotch caramel, strawberry gelée, strawberry macaron, and chocolate truffle.
So how did Blanca stack up? Fairly well. For crudo, there were definite winners (tuna, scallops) and losers (char), but for the most part, I enjoyed them. Surprisingly, the standouts were the desserts; the mousse and berries were right up there with the best I've had. I would've liked to have tried more of the non-crudo courses, but I don't really have any serious complaints about the food. In fact, my biggest complaint concerns the clientele, which I'll describe kindly as your typical Newport crowd, more into the scene than the food. Hopefully Nick doesn't let them get the best of him, as this place does have potential.