Joe's Restaurant (Los Angeles, CA)
Joe's Restaurant
1023 Abbot Kinney Blvd, Los Angeles, CA 90291
310.399.5811
www.joesrestaurant.com
Sat 08/09/2008, 08:35p-10:50p
Joe's had been on my culinary radar ever since it's garnering of a 1-star Michelin rating, so I decided it was finally time to give it a go.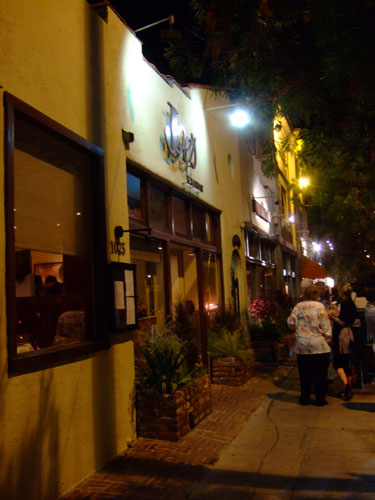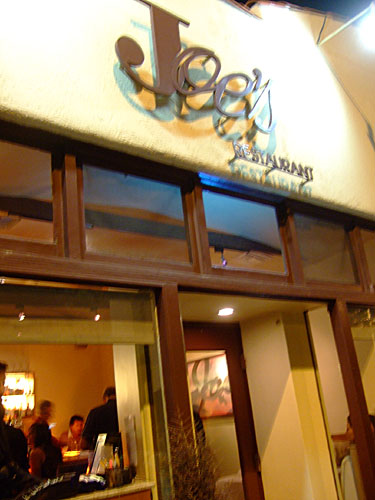 Located on Abbot Kinney, Venice's main thoroughfare, Joe's may not stand out to the casual observer. I discovered that it's actually located right next to Primitivo Wine Bistro, another place I'd wanted to try. Valet parking is provided in the back.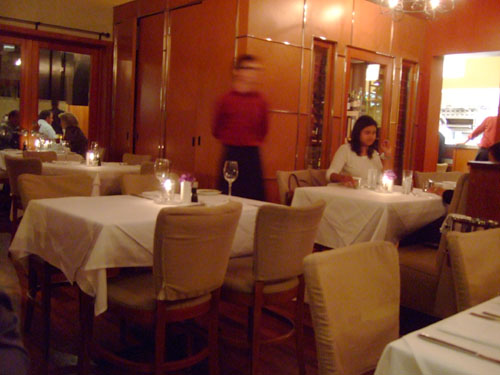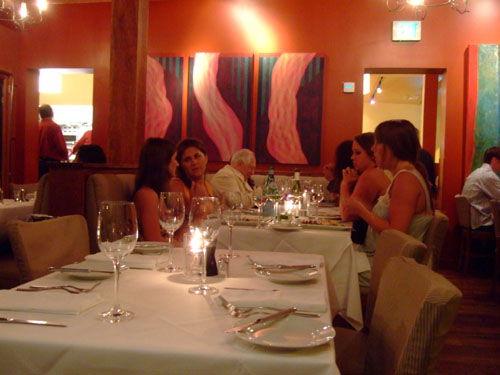 Done in warm shades of wood and soft pastels, Joe's is a relatively compact restaurant, consisting of the main dining room shown above, a bar area, as well as an outdoor patio. The wine cellar takes up a good portion of the dining room (as seen in the photo on the left).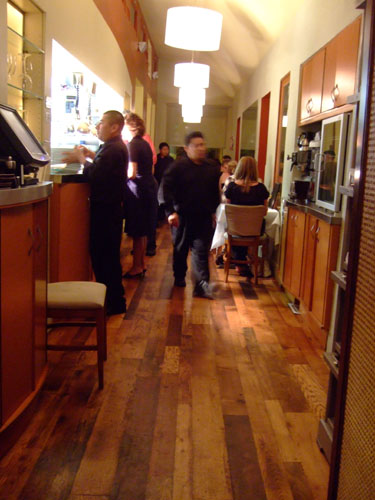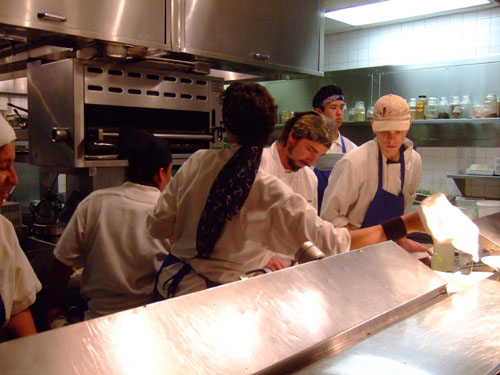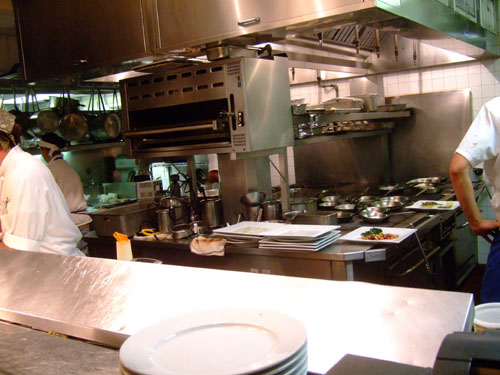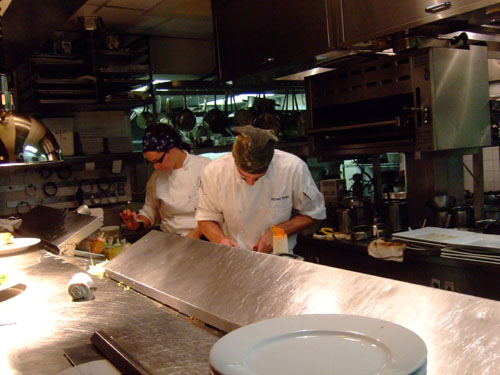 A glimpse of the bustling kitchen.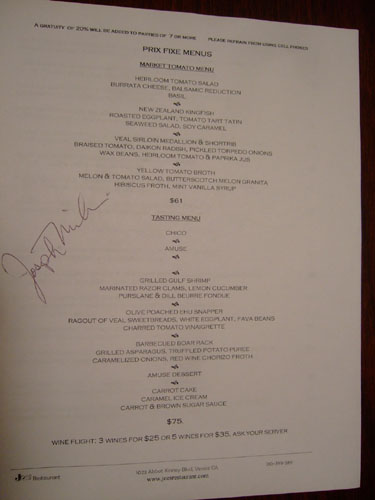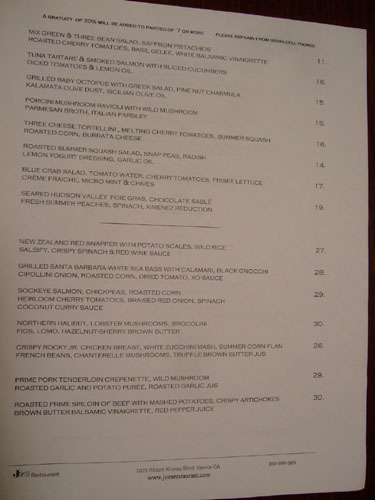 In addition to à la carte appetizers and entrées, Joe's offers two prix fix menus: a Market Tomato Menu [$61.00] and a Tasting Menu [$75.00]. We tried both, and also added on a flight of three wines for $25. Note signature of Executive Chef/Owner Joseph Miller. Click for larger versions.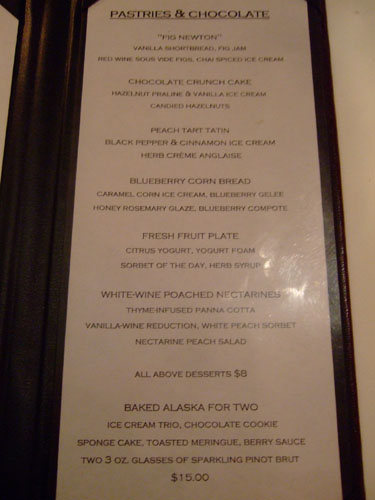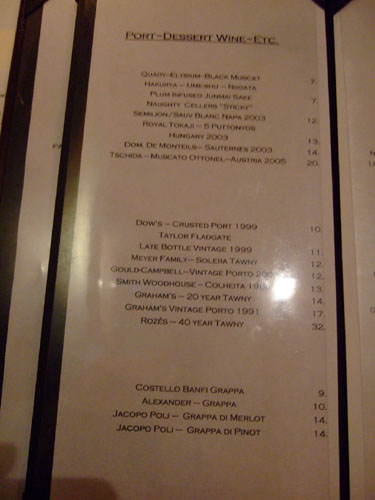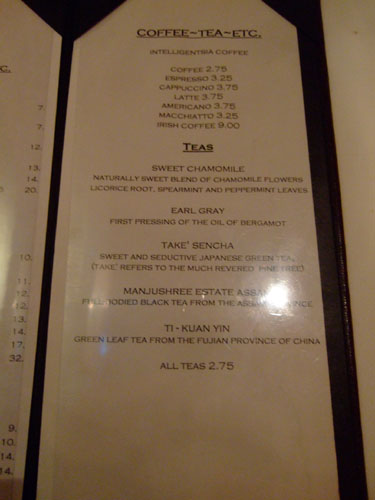 A selection of cheese, desserts, and after-dinners drinks is offered. We ended up pairing a couple of sweet wines with our desserts. In hindsight, we should've tried the cheese selection (note the Saint Andre, which I had recently at
Blanca
). Click for larger versions.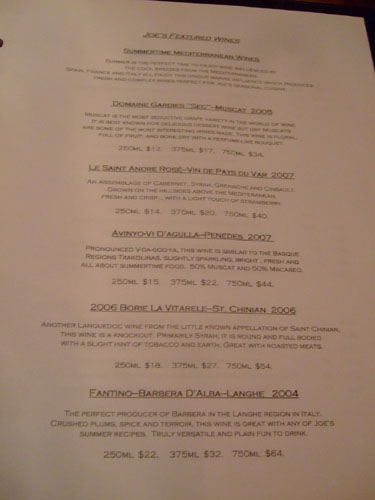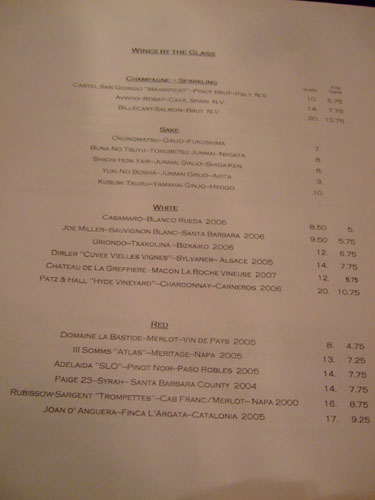 A small but well-chosen wine by the glass list rounds out the menu. I appreciated the offering of 3oz tasting portions. Click for larger versions.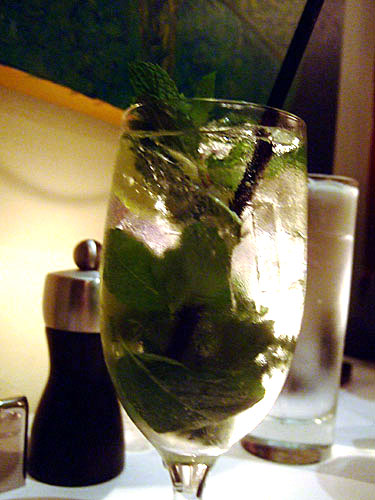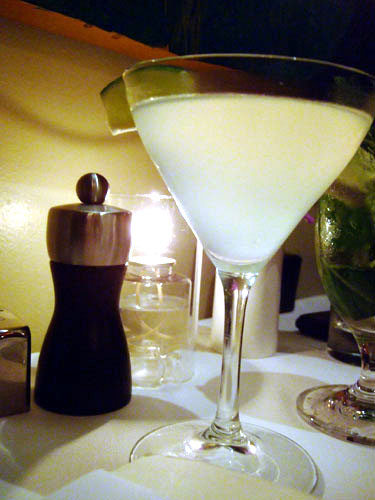 I, of course, ordered a mojito [$12.00] to start. Unfortunately I thought it was too strong, and too sweet, way off balance. My dining companion's cucumber gimlet made with Square One Cucumber [$10.00] fared much better, with just a subtle hint of cucumber tying the drink together.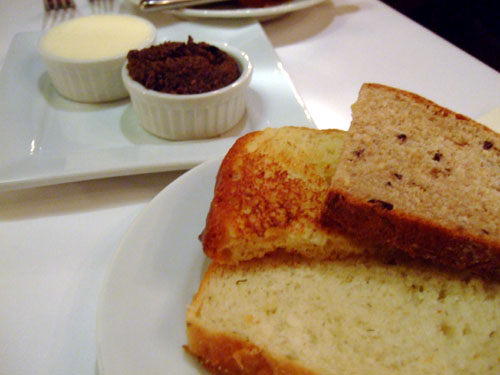 Three types of bread were on offer: olive, onion, and brioche. Surprisingly, I didn't care for any of them, as I found the flavors dull and textures rough. Olive tapenade and a sweet butter were provided along with the bread.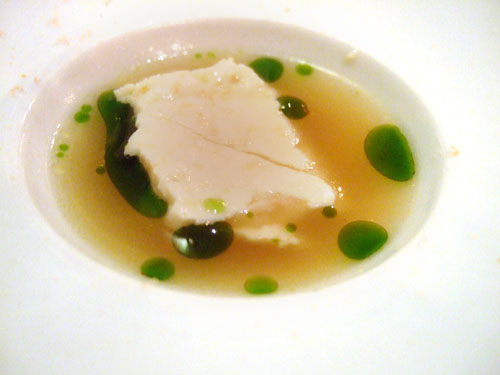 Amuse Bouche 1: Tofu, Dashi Broth
Dashi broth is a fundamental part of Japanese cooking, and is made from boiling kombu (kelp) and kezurikatsuo (bonito shavings). It is the basis for miso soup and many Japanese noodle broths. Thus, the pairing here was a pretty natural one, with the broth's savory flavor highlighting and complementing the tofu.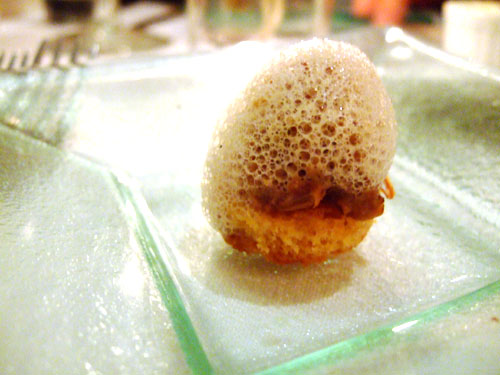 Amuse Bouche 2: Braised Rabbit, Brioche, Corn Foam
The braising of the rabbit gave it an intensely rich, succulent flavor that could've easily been mistaken for beef. The corn essence was a bit weak here though; and the textural contrast between the softness of the rabbit and the tough brioche was actually a bit jarring.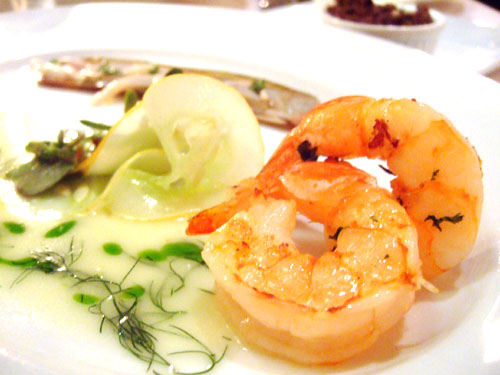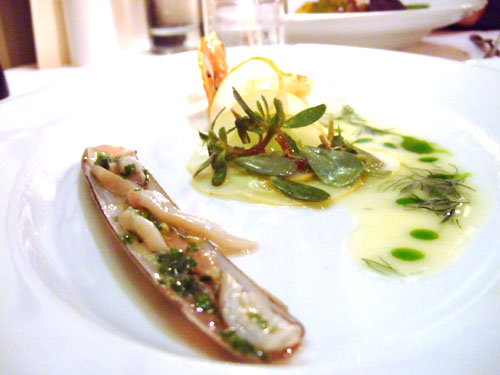 1a: Grilled Gulf Shrimp
Le Saint Andre Rosé, Vin de Pays du Var, 2007
Marinated Razor Clams, Lemon Cucumber Purslane & Dill Beurre Fondue. The shrimp were excellent; great texture, and lightly flavored to draw out their natural flavor. The razor clams, though done well, were a tease; I wanted something more substantial, like what I had at
I Love Sushi
, the only other place I've had it. Rosé tends to get a bad rap, but both my dining companion and I quite enjoyed the Saint Andre presented here, an amalgam of Cabernet Sauvignon, Syrah, Grenache, and Cinsault. Very light, crisp, with just the right amount of fruity sweetness; an easy wine to drink and like.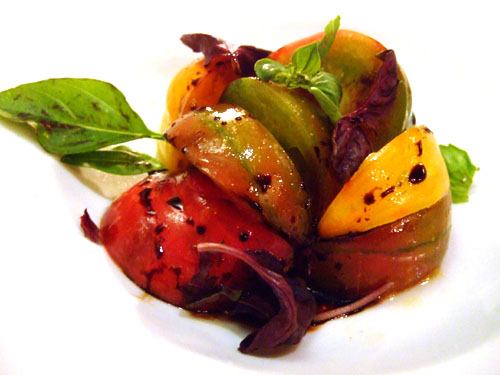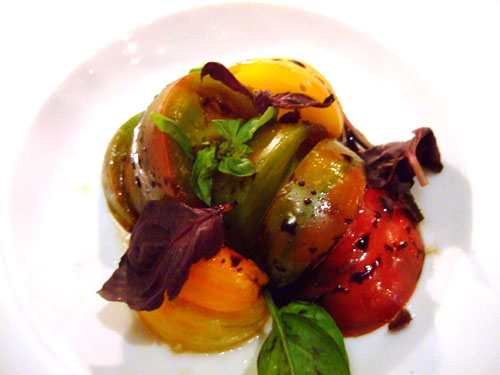 1b: Heirloom Tomato Salad
Le Saint Andre Rosé, Vin de Pays du Var, 2007
Burrata Cheese, Balsamic Reduction, Basil. Tomato, basil, cheese? Sounds like a recipe for insalata caprese to me. The burrata was quite nice, buy my favorite part of the dish were the tomatoes, which had a fantastic, firm, meaty texture and subtlety sweet taste that played well with the tart balsamic dressing.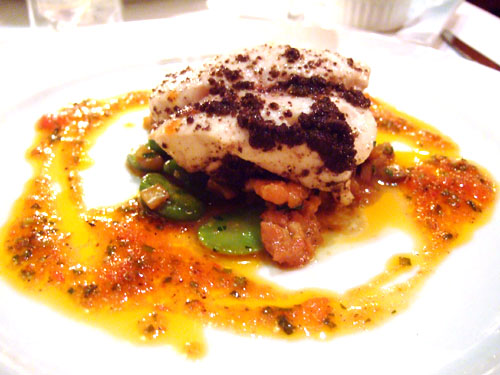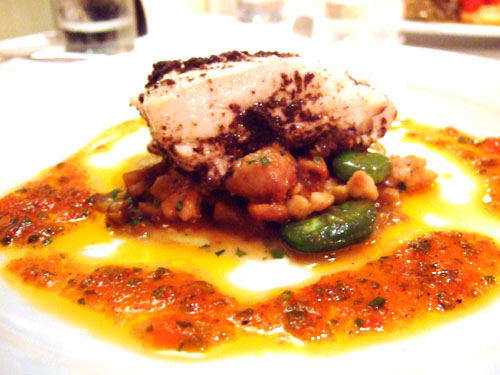 2a: Olive Poached Ehu Snapper
Adelaida "SLO", Pinot Noir, Paso Robles, 2005
Ragout of Veal Sweetbreads, White Eggplant, Fava Beans, Charred Tomato Vinaigrette. The snapper's texture was a bit soft for me, while the olive tended to mask the flavor of the fish. It reminded me of the snapper I had at
Patina
. In terms of texture, I much prefer the style I had at places such as
Michael Mina
and
Napa Rose
. The paired ragout was a bit strong for my tastes, though the fava beans did find favor with me.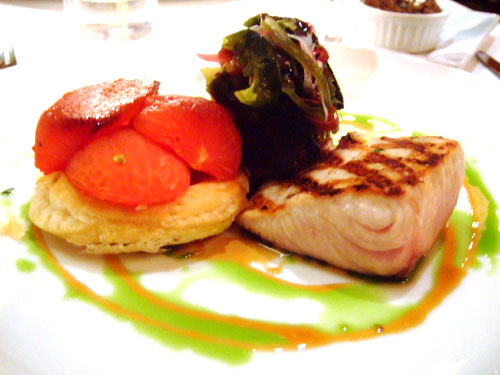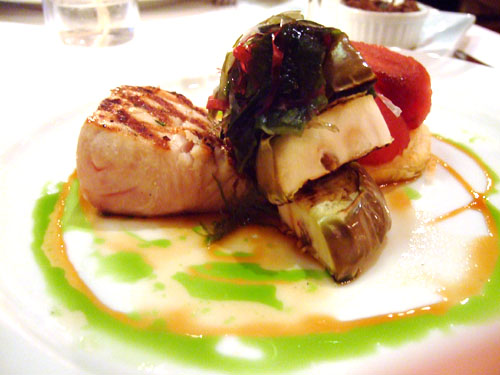 2b: New Zealand Kingfish
Adelaida "SLO", Pinot Noir, Paso Robles, 2005
Roasted Eggplant, Tomato Tart Tatin, Seaweed Salad, Soy Caramel. The problem with kingfish is that it can refer to a number of species, and unfortunately I don't know what this particular one was. In any case, it was quite tasty, with a firm, flaky texture, and a rich, briny taste. The eggplant worked well here, though I didn't particularly care for the tomato tart tatin.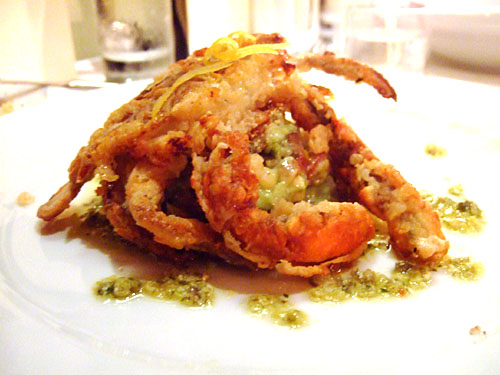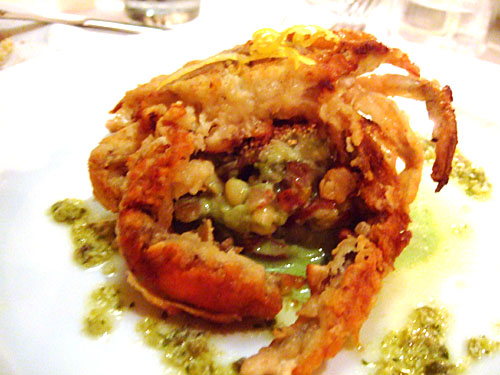 Special: Louisiana Soft Shell Crab [$17.00]
III Somms "Atlas," Meritage, Napa, 2005 [$7.25]
Pork Belly Hash, Fried Green Tomatoes, Gribiche Sauce. I believe this was actually my first experience with Gribiche, a sauce typically prepared as a dressing for fish or poultry made with eggs, oil, vinegar, capers, shallots, parsley, and other seasonings. As for the crab itself, I was left unimpressed. Biting into the crab, I got a lot of oil, and some mush, but seemingly very little crab meat. The weakest course of the night for me.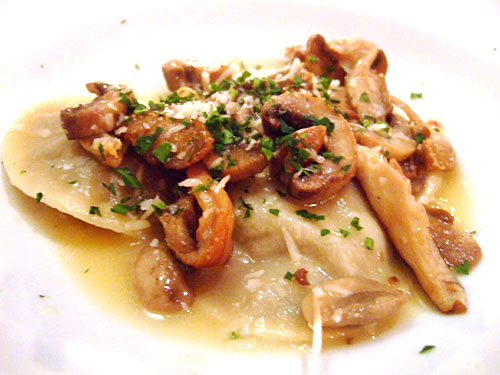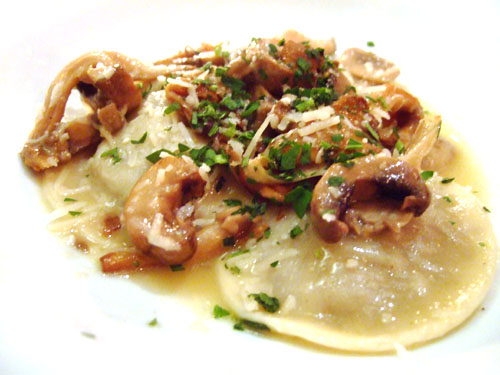 Supplement: Porcini Mushroom Ravioli [$15.00]
III Somms "Atlas," Meritage, Napa, 2005 [$7.25]
With Wild Mushroom, Parmesan Broth, Italian Parsley. Mushroom ravioli is almost always a safe, but delicious choice, and that was indeed the case here. The porcinis' nutty, earthy flavor was a fitting complement to the Parmesan broth.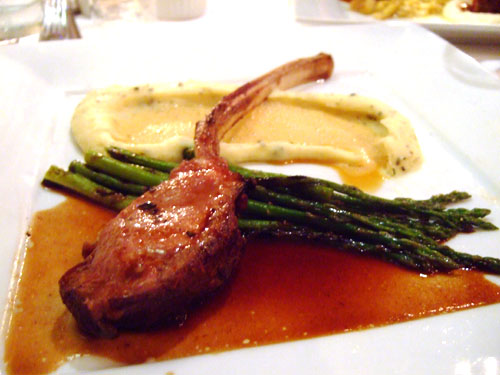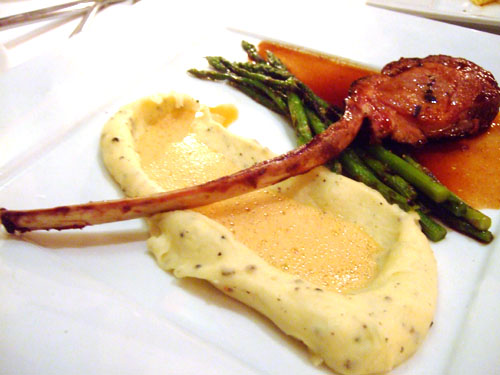 3a: Barbecued Boar Rack
Joan d'Anguera, Finca L'Argata, Catalonia, 2005
Grilled Asparagus, Truffled Potato Puree, Caramelized Onions, Red Wine Chorizo Froth. In all my culinary adventures, I don't think I'd ever come across boar before. Boar, of course, is the wild ancestor of the domesticated pig, and thus shares some commonalities. It did have a slightly tougher complexion and stronger taste though, almost getting some characteristics of beef or lamb I thought. Quite good.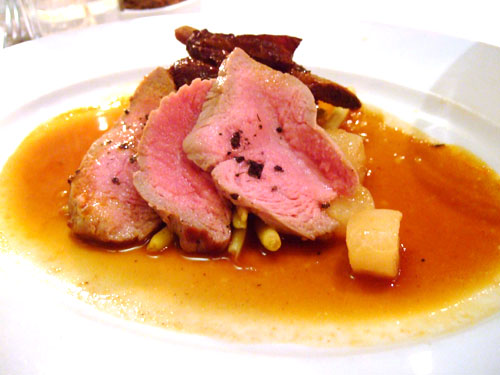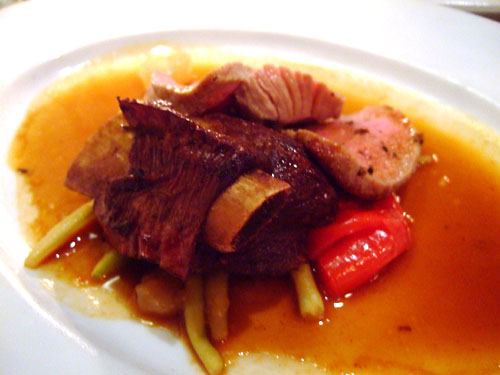 3b: Veal Sirloin Medallion & Shortrib
Joan d'Anguera, Finca L'Argata, Catalonia, 2005
Braised Tomato, Daikon Radish, Pickled Torpedo Onions, Wax Beans, Heirloom Tomato & Paprika Jus. This was one of the best preparations of veal I've ever had, though I still wasn't that impressed. The sirloin was a bit nondescript, and the braised shortrib was pretty much like its beef counterpart. I guess I just don't understand the fascination with veal, as I find it rather lacking in flavor (was not impressed with it at either
Cyrus
or
Patina
) and distinctiveness.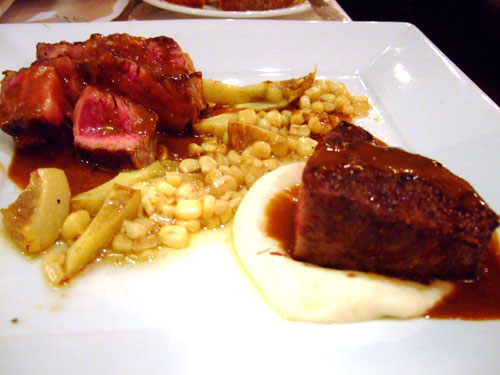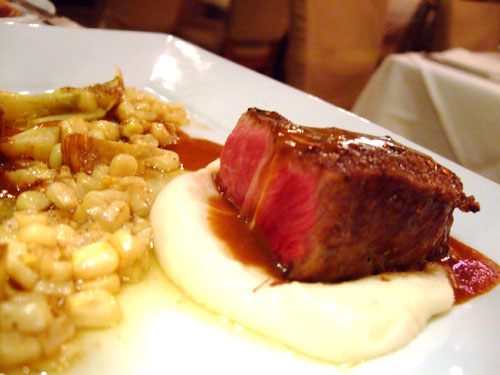 Special: Wagyu Beef [$50.00]
Joan d'Anguera, Finca L'Argata, Catalonia, 2005
With Artichokes, Wild Mushrooms, Roasted Corn/Garlic Mash, Blackberry Peppercorn Sauce. I was afraid the sauce would overpower the meat (à la
Picasso
), but fortunately that wasn't the case here. Being Australian Wagyu, it didn't stand up in texture to the genuine Japanese variety (see
CUT
), though it was still quite tender, and very flavorful. I still could've done without all the accoutrements though.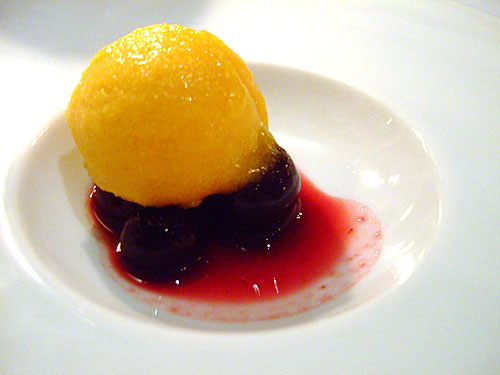 Dessert Amuse Bouche: Mango Sorbet, Blueberry Compote
A palate cleanser before dessert. Pairing the cool, milder sweetness of the mango with the much richer, viscous blueberry worked well here.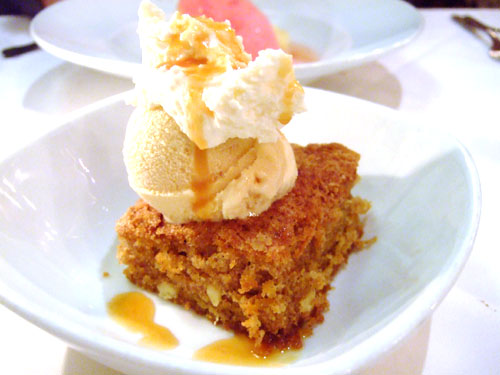 4a: Carrot Cake
Naughty Cellars, "Sticky," Semillon/Sauvignon Blanc, Napa, 2003 [$12.00]
Caramel Ice Cream, Carrot & Brown Sugar Sauce. Simple, but effective. Perhaps the best carrot cake I've ever had, and how can you not like caramel ice cream? Unfortunately the sweetness of this dish, along with the wine, sort of overpowered the tomato dessert below.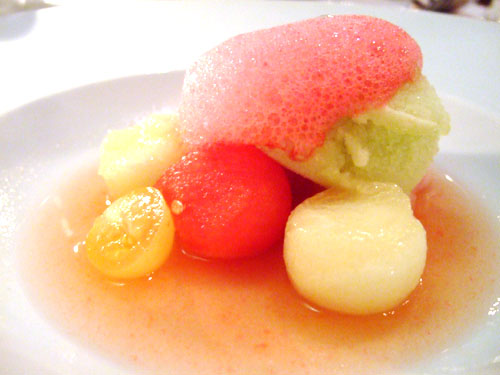 4b: Yellow Tomato Broth
Tschida, Muscato Ottonel, Austria, 2005 [$20.00]
Melon & Tomato Salad, Butterscotch Melon Granita, Hibiscus Froth, Mint Vanilla Syrup. I should've eaten this first, as some of its subtlety was lost after having the carrot cake. The sweetness of the fruit was well tempered by the slight tartness of the tomato soup. Very light and refreshing, and a great way to end the meal.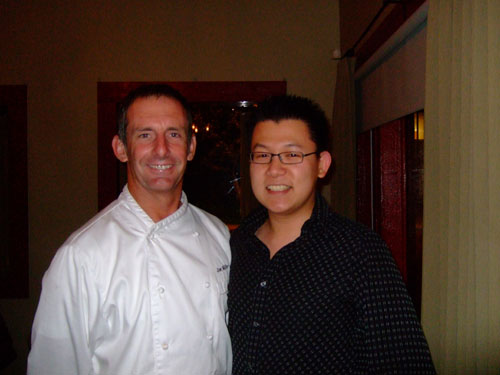 During the course of the meal, Joe came out to chat a bit, sign menus, and snap some photos. He seemed like an affable character, very comfortable in entertaining his patrons.
I came into Joe's not knowing exactly what to expect, but I'm happy to report that Joe's succeeds in providing great food in a casual setting. The food is unpretentious, but effective, and doesn't stray too far from its roots. Chef Miller has definitely earned his star.