The Red Grape (Sonoma, CA)
The Red Grape
529 1st St W, Sonoma, CA 95476
707.996.4103
www.theredgrape.com
Wed 08/20/2008, 06:35p-08:20p
The Red Grape focuses on New Haven-style pizza (pizza with a super thin crispy crust baked in stone-lined ovens at very high temperatures) topped with local ingredients. I was brought here for a casual pre-wedding friends and family dinner.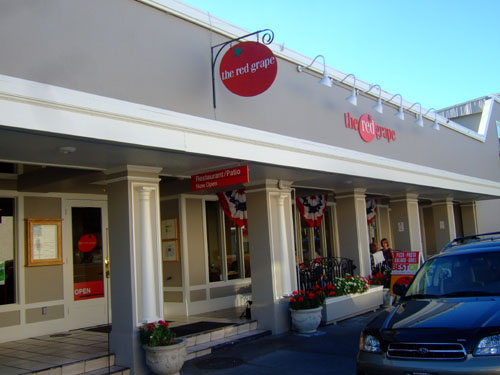 The Red Grape is located in a quaint-looking building just steps from the historic Sonoma Plaza.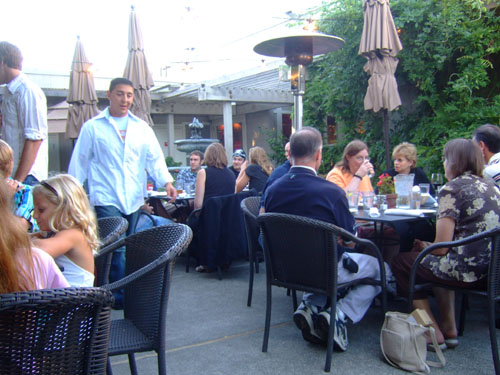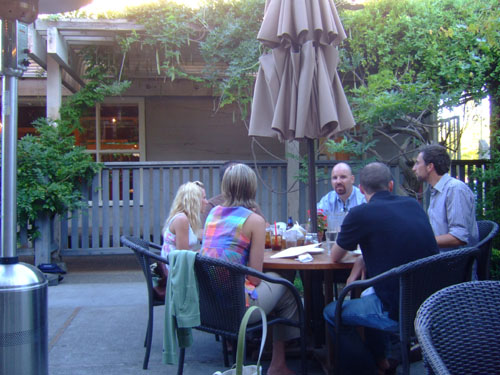 Though The Red Grape offers plenty of indoor seating, the wedding party was seated in the restaurant's outdoor patio area.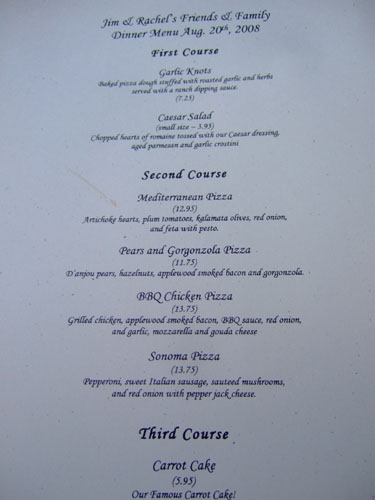 The restaurant offers a wide selection of pizzas, but the group menu was much more limited in scope unfortunately. Click for a larger version.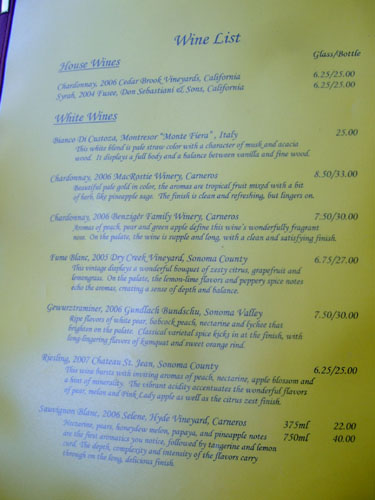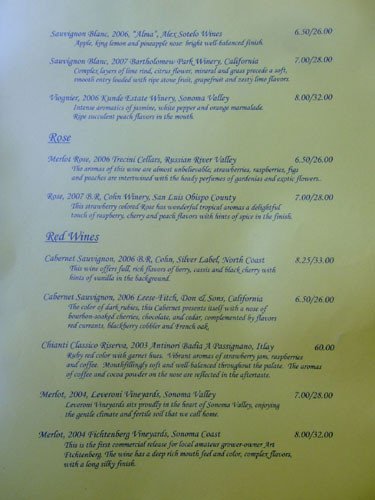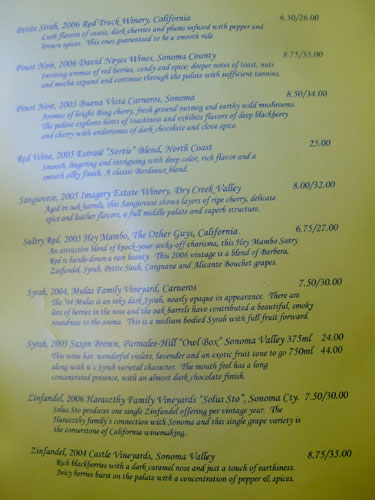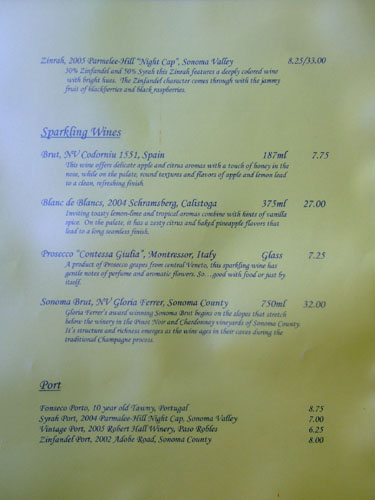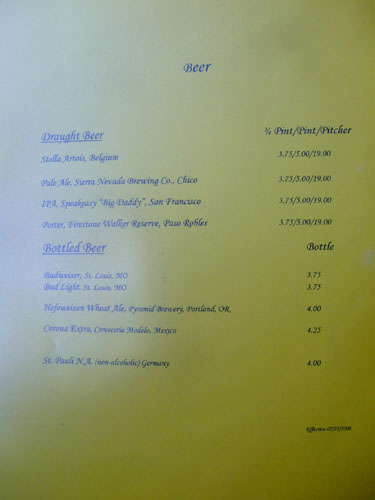 The Red Grape's wine list is quite nice, and focuses on local producers. To start, I had a glass of Prosecco "Contessa Giulia", Montressor, Italy [$7.25], an easy-drinking, light, floral and fruity sparkler. Next, to go with my pizza, I chose a Rosé, 2007 B.R. Cohn Winery, San Luis Obispo County [$7.00]. The wine is produced in a Rhone style, and contains Syrah, Grenache, and Mourvèdre. A rather sweet wine, I noted tons of stone fruit leading to a long, spicy finish with a bit of heat. Click for larger versions.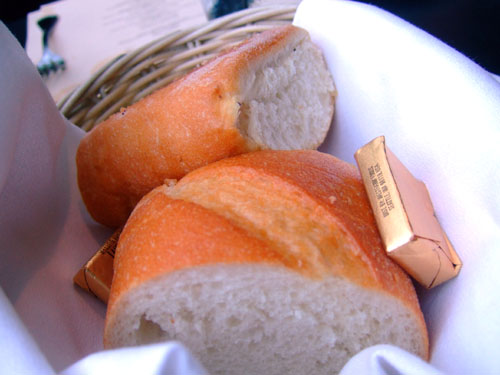 The bread was a huge disappointment. Stale, cold, and boring, it was left untouched for good reason.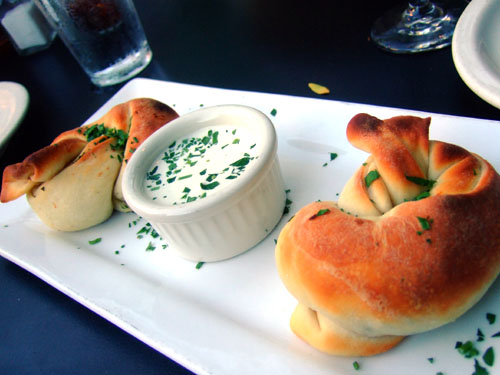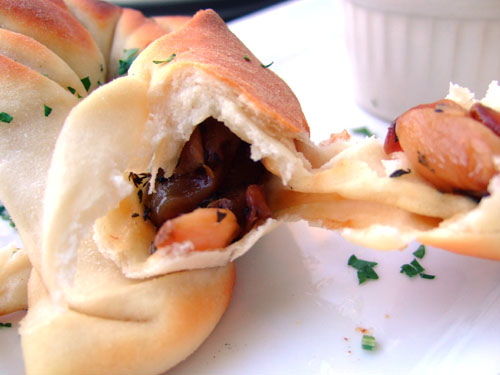 Garlic Knots [$7.25]
Baked pizza dough stuffed with roasted garlic and herbs served with a ranch dipping sauce. I loved the texture of the knots, but eaten by themselves, they were a bit too garlicky for me. Fortunately the ranch did a good job preventing the garlic from becoming overwhelming.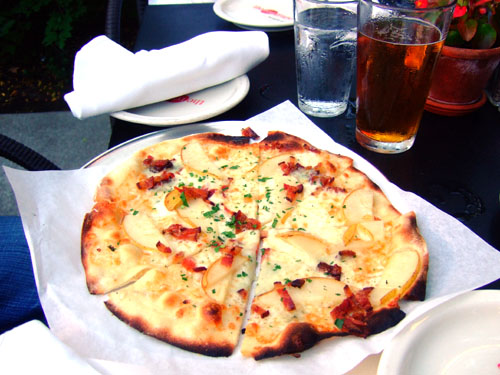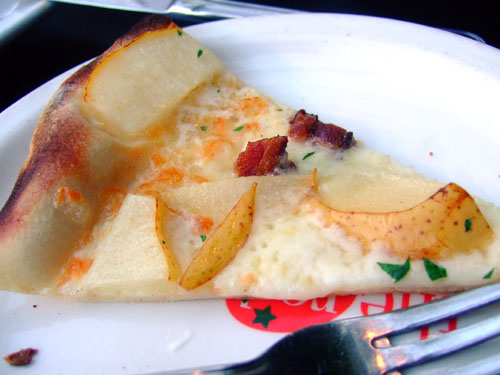 Pears and Gorgonzola Pizza [$11.75]
D'anjou pears, hazelnuts, applewood smoked bacon and gorgonzola. Gorgonzola is an Italian blue cheese which is usually quite salty and strong in flavor. Paired with the bacon, the pizza had considerable saltiness, but the pears countered that with a tart sweetness. This balance and contrast made the pizza work for me.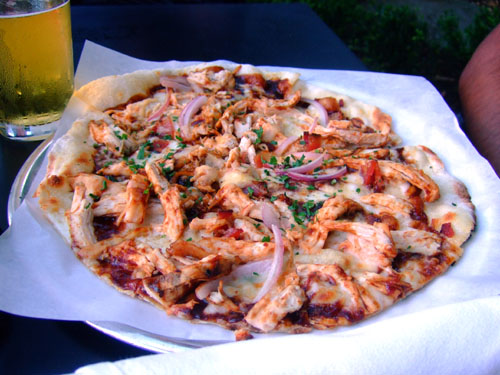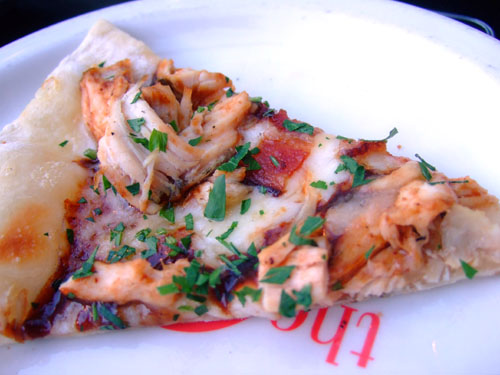 BBQ Chicken Pizza [$13.75]
Grilled chicken, applewood smoked bacon, BBQ sauce, red onion, garlic, mozzarella and gouda cheese. Though very tender, the chicken was perhaps a bit too sweet, but I did enjoy the flavor pairing provided by the bacon and onion. One of my dining companions compared this to California Pizza Kitchen's version, but not quite as good.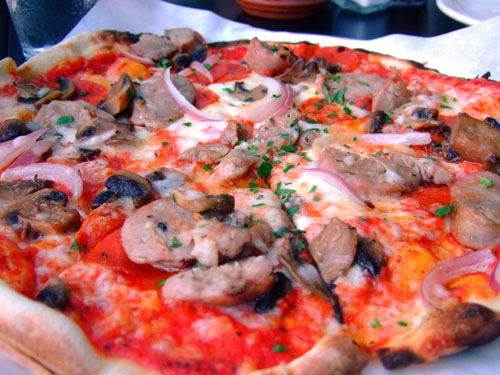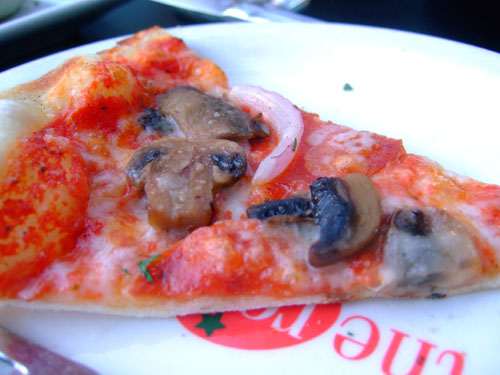 Sonoma Pizza [$13.75]
Pepperoni, sweet Italian sausage, sautéed mushrooms, and red onion with pepper jack cheese. This was the pizza I ordered for myself. The slight sweetness of the sausage eaten with the mushroom and onion really worked for me. My favorite pizza of the night.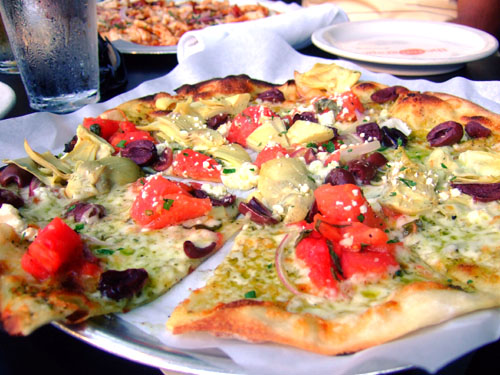 Mediterranean Pizza [$12.95]
Artichoke hearts, plum tomatoes, kalamata olives, red onion, and feta with pesto. One of my dining companions ordered this but unfortunately I didn't get to try a slice.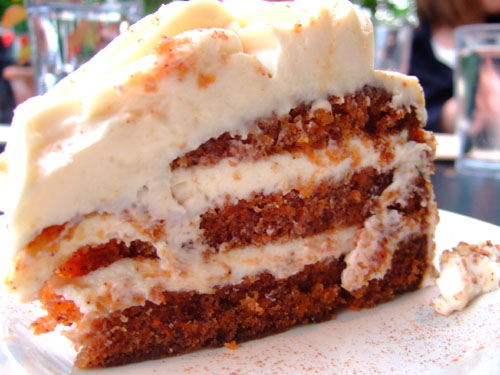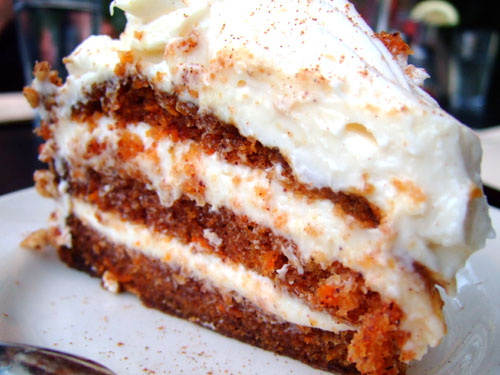 Carrot Cake [$5.95]
One of my issues with carrot cakes is that they can be excessively sweet, mostly due to the frosting. Fortunately, that wasn't the case here, as the frosting was delightfully light and didn't overpower the cake portion itself. One of the best carrot cakes I've had, though not as good as the one I had recently at
Joe's
.
I'm a big fan of thin, crispy crusts and thus the pizzas here appealed to me in that sense. One problem I noticed though is that the pizzas tended to get soggy quickly if not eaten. Overall however, I liked The Red Grape; the various pizzas offered seem interesting to me, and if I lived in Sonoma, I'd probably come here often to try all the varieties!