Manresa (Los Gatos, CA)
Manresa
320 Village Ln, Los Gatos, CA 95030
408.354.4330
www.manresarestaurant.com
Sat 11/22/2008, 05:30p-07:15p
I had two dinners in the Bay Area. For the first, I chose
Coi
in San Francisco. For the second, I ventured further south, to a restaurant nestled in the foothills of the Santa Cruz Mountains: Manresa, a showcase for Chef/Proprietor David Kinch's French- and Spanish-influenced contemporary California cuisine. I'd been interested in paying Manresa a visit for at least a couple of years, so would the place live up to my admittedly high expectations?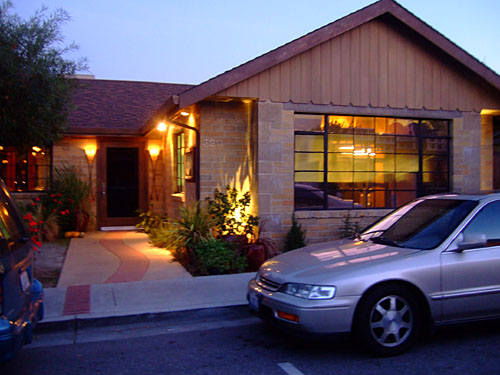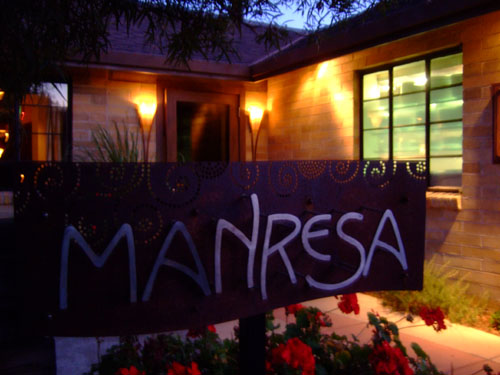 Manresa is located in Los Gatos' quaint downtown area, surrounded by a smattering of chic, upscale businesses. In its former life, the building was known as the Village House, a landmark tea room and restaurant.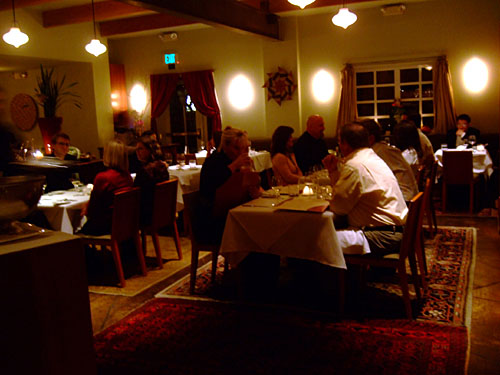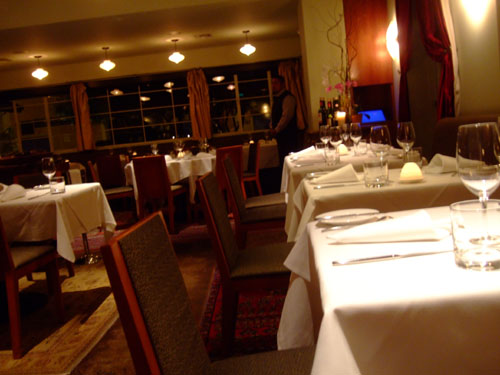 The main dining room is luxurious yet inviting, while retaining a casual California vibe that matches the residential theme of the restaurant.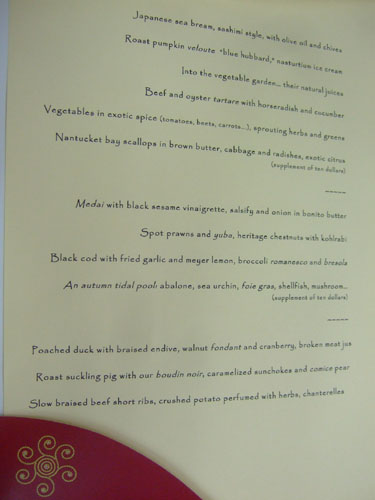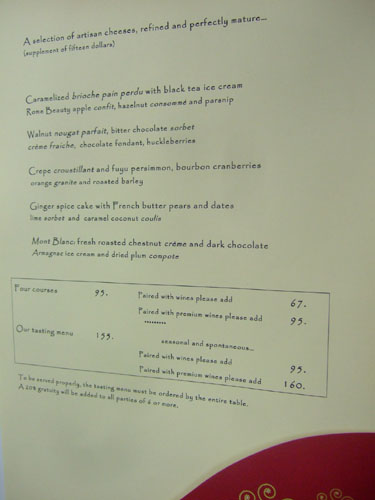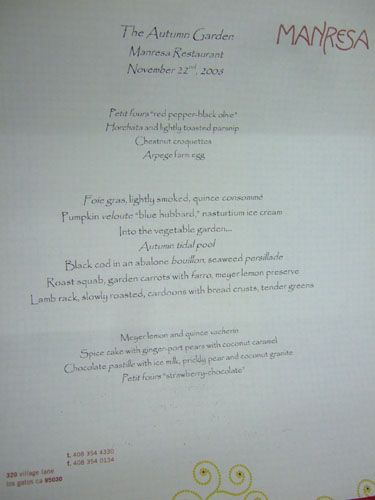 Diners are presented with two options: a four-course prix fix, or roughly 15-course tasting menu. We, of course, opted for the tasting at $155 per person. Since the tasting menu is not presented on the standard menu, we requested a typed out copy of the night's dishes (third photo). Click for larger versions.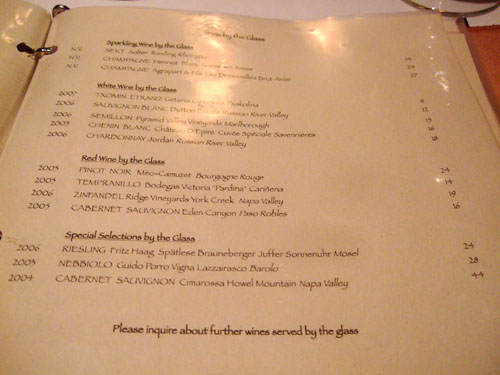 Here we see the wines by the glass list. Click for a larger version. I had:
NV Sekt, Solter Riesling Rheingau [$14.00] - I liked this sparkler, with its delicious citrus and apple nose, with like flavors on the palate. A tiny bit sweet, and very drinkable.
2005 Chenin Blanc, Château D'Epire Cuvée Spéciale Savennières [$16.00] - A light, refreshing wine, with lots of lemon on the nose, leading to a dry, minerally finish. Nice.
2005 Tempranillo, Bodegas Victoria "Pardina" Cariñena [$14.00] - Lots of smoke and spice on this one initially, leading to more subtle expressions of cherry and minerals. A bit tight, perhaps it'd benefit from some more bottle time. Good, not great.
Domaine de Durban Muscat de Beaumes-de-Venise [$10.00] - Unfortunately I forgot the vintage here, but I found this surprisingly light for a dessert wine. Quite good, with a lovely nose of apple and flowers, leading to plenty of honey and raisin on the palate.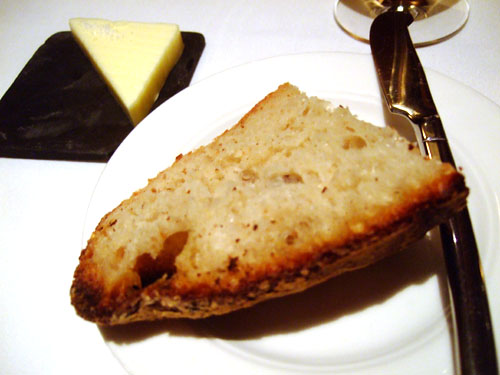 One type of bread was offered: a homemade levain bread served with unsalted butter, topped with salt. The bread had a soft center, bound by an extremely flaky, smoky crust, which left a huge mess of crumbs on the table!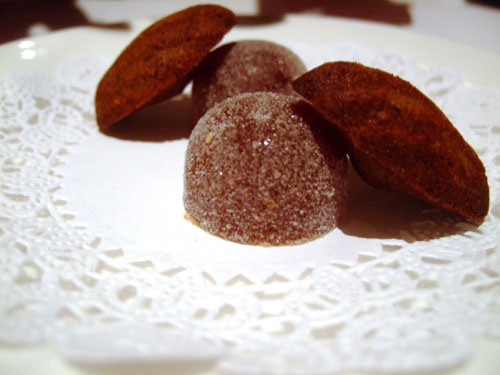 Petit Fours 1: "Red Pepper-Black Olive"
We started with roasted red pepper gelées and black olive madeleines. The gelées were nicely dense and chewy, but the madeleines really stole the show, with their warm, rich centers surrounded by slightly tough exteriors. I could eat them all day.
Amuse Bouche 1: Horchata and Lightly Toasted Parsnip
The horchata was topped with tonka bean, which had a lovely spice and chocolate aroma that worked wonderfully with the horchata's milky sweet spiciness. Very good.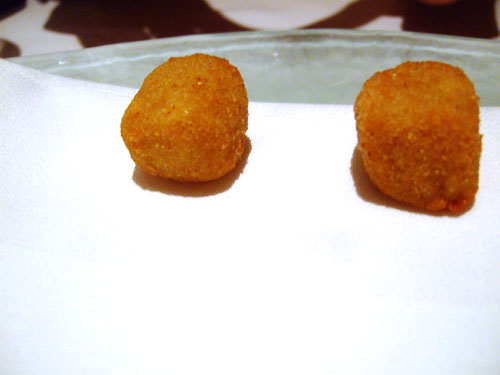 Amuse Bouche 2: Chestnut Croquettes
Our server described these as "crumeskis(?)," a term I'm not familiar with, and told us to eat them in one bite. The croquettes had a warm liquid chestnut and foie gras center, which made a delightful pop in my mouth when masticated. Amazingly, they had a slightly liqueur-like finish.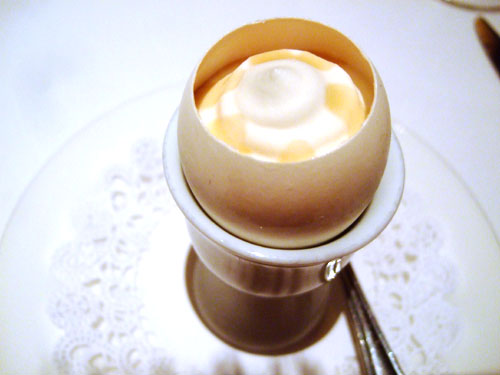 Amuse Bouche 3: Arpege Farm Egg
The "Arpege" is a reference to restaurant L'Arpège in Paris and its owner Alain Passard, who ostensibly invented the dish. Kinch's version was topped with sherry vinaigrette and maple syrup, and was wonderful. The first thing I noted was a cool, refreshing, slightly sweet creaminess, followed by the warm runniness of the egg yolk, then followed by a sharp saltiness.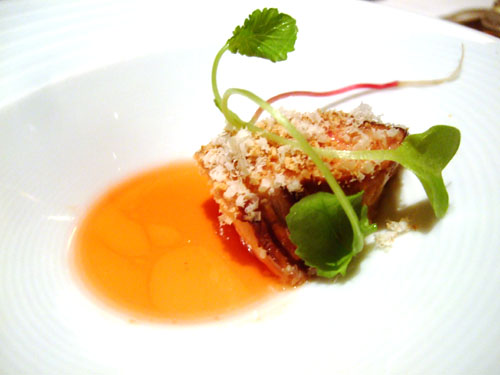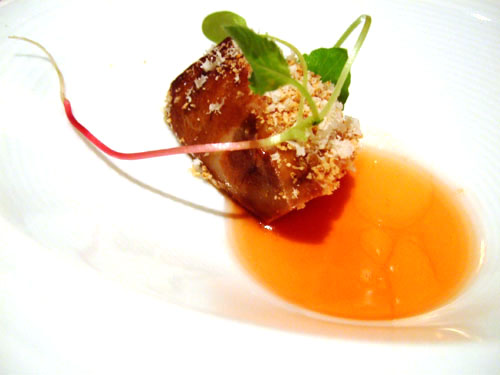 1: Foie Gras, Lightly Smoked, Quince Consommé
Very interesting texture on this one. The foie was, in a sense, halfway between a terrine and a seared preparation. The smokiness imparted to the foie during its cooking nicely balanced the sweetness of the quince, which otherwise would've been overwhelming. One of the better versions of foie gras I've had.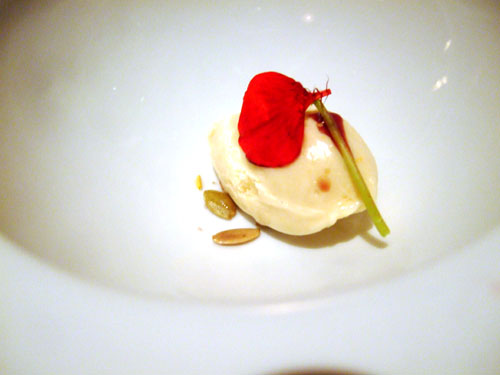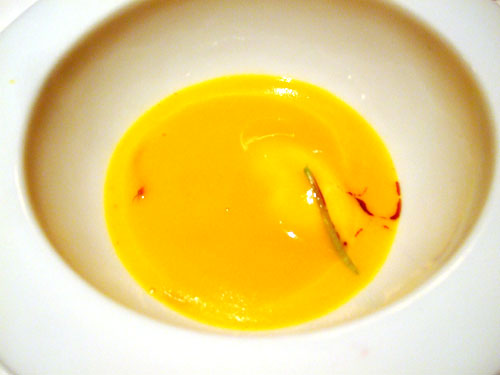 2: Roast Pumpkin Velouté "Blue Hubbard," Nasturtium Ice Cream
This reminded me a bit of the squash soup I had at
Coi
the previous night. Fortunately, it wasn't quite as sweet, and had a lovely temperature contrast thanks to the nasturtium ice cream. Surprisingly, the velouté didn't really draw attention to itself as I was expecting.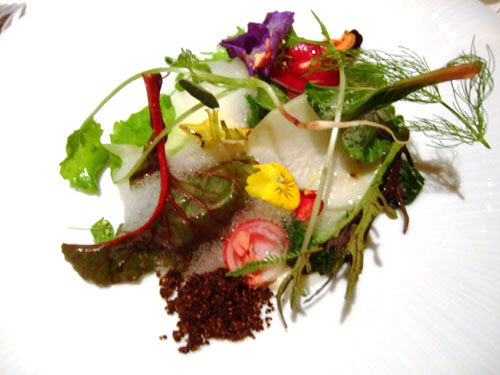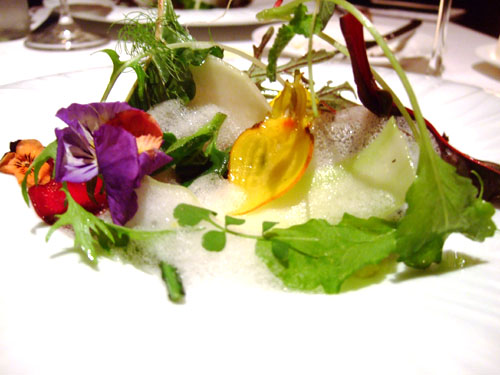 3: Into the Vegetable Garden...Their Natural Juices
Kinch is well-known for his pursuit of top notch ingredients, especially vegetables. This has led to a partnership with Cynthia Sandberg's biodynamic Love Apple Farm, where all of the restaurant's vegetables are grown. A corollary to
Coi's
"Garden, Late Fall" course, this dish is a seasonally-changing staple of Manresa's menu, and more than any other, is Kinch's heart on a plate. I don't know all the shoots, flowers, roots and seeds that were used here, but my favorite item was the potato. It was a fascinating study in contrasting textures and flavors, heightened by the "dirt" of dehydrated chicory root.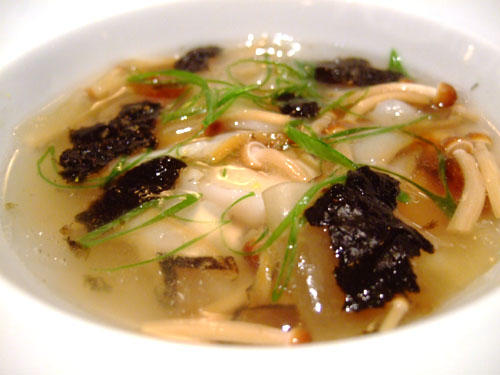 4: An Autumn Tidal Pool, Abalone, Sea Urchin, Foie Gras, Shellfish, Mushroom
The foie gras, along with the mushroom, lent an overarching richness to the soup, not unlike the shabu shabu broth at
Urasawa
. The other ingredients, specifically the uni and the abalone, were mild on their own, but together, they formed a cohesive dish that really captured the very essence of the sea. Inhaling the various aromas here was like taking a deep breath next to the ocean.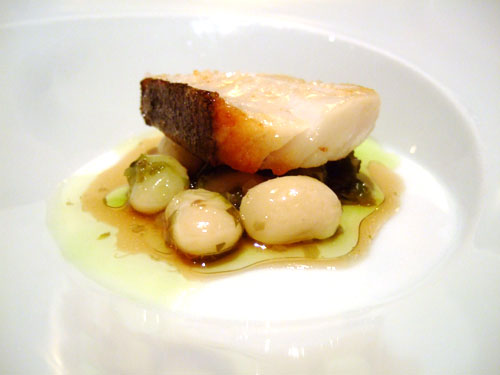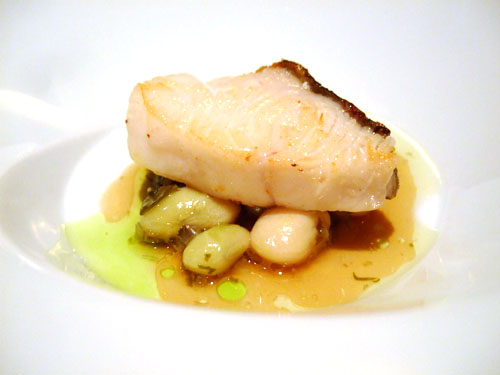 5: Black Cod in an Abalone Bouillon, Seaweed Persillade
I'm not a huge fan of cod, but quite enjoyed this course. It had a fantastic lingering saltiness that complemented the rich unctuousness of the fish. I still wasn't in love with the soft, spongy consistency of the cod, but the rest of the dish easily made up for it, especially the beans, which formed a great texture contrast.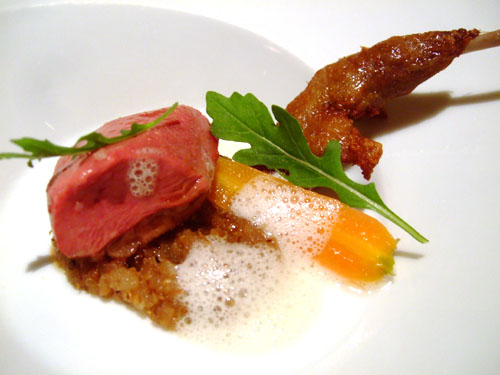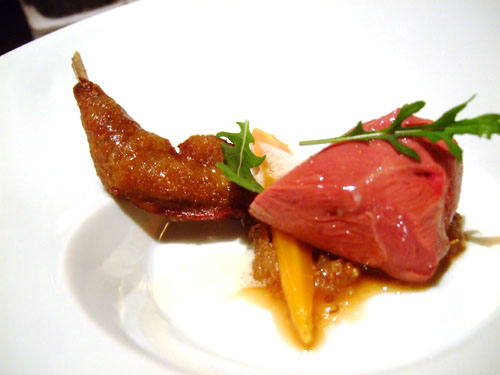 6: Roasted Squab, Garden Carrots with Farro, Meyer Lemon Preserve
I wasn't enthralled with the texture of the breast piece, which was a bit tougher and rarer than I would've liked. I much preferred the leg portion, which was much richer, oilier, and more flavorful. The carrot was useful in cutting the heftiness of the bird, while the farro added a sweet "stuffing"-like taste to the dish.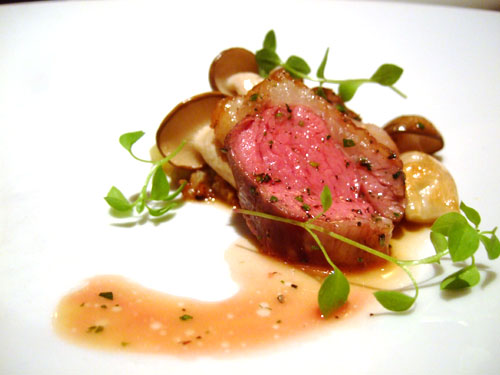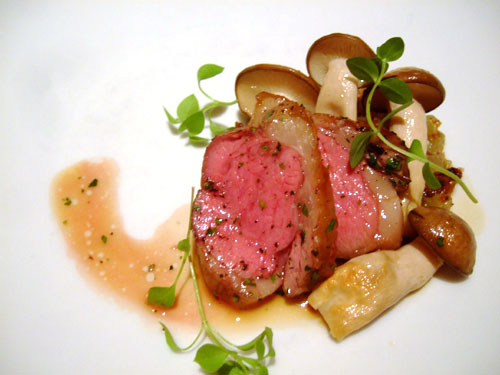 7: Lamb Rack, Slowly Roasted, Cardoons with Bread Crusts, Tender Greens
This was a wonderful preparation of lamb. The meat itself was surprisingly light, and thus benefitted from the gravity provided by the very apparent layers of fat. I much enjoyed the addition of beech (shimeji) mushrooms, and the amalgam of cardoons and bread crusts reminded me, amazingly, of corned beef hash!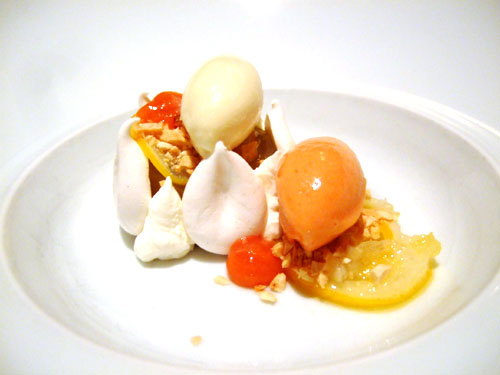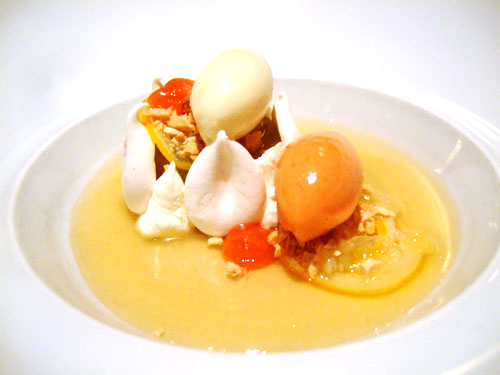 8: Meyer Lemon and Quince Vacherin
There was a lot going on here. Underneath everything was a layer of gelée and a hard cookie-like base, which, together with the meringues formed a delectable contrast with the quince and lemon sorbets. As mentioned by my dining companion, the combination of the dessert's pastry base and gelée resulted in a taste not unlike Fruit Loops! The use of candied kumquats was reminiscent of the Hawaiian Bread Pudding I had recently at
Ford's Filling Station
, and added nicely to the dish's key sweet/sour interplay.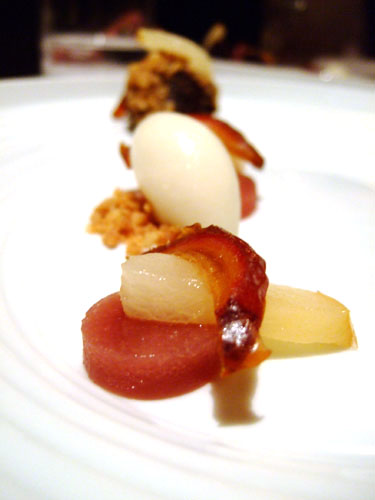 9: Spice Cake with Ginger-Port Pears with Coconut Caramel
A heavier dessert than the preceding one, the cinnamon spice to the fruit was key; otherwise it would've been too one-dimensional. Meanwhile, the lime sorbet added a much needed bracing tartness to cut the sweetness of the dessert, and the chocolate cake had a bit of mintiness to it as well.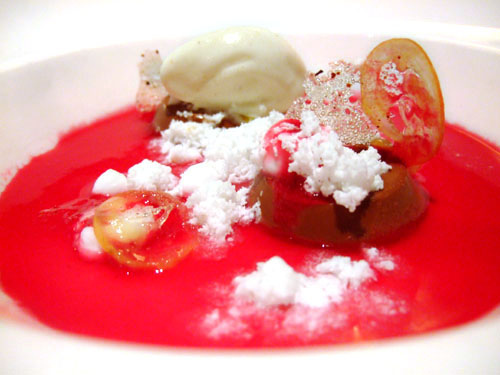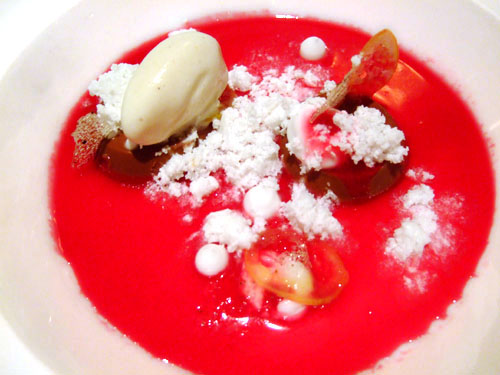 10: Chocolate Pastille with Ice Milk, Prickly Pear and Coconut Granité
The "pastilles" were actually delightful lumps of chocolate crème, with a gentle sweetness that was deftly set off by the ardent crimson sea of tart prickly pear bouillon. The coldness of the granité and ice milk further bolstered the dish. My favorite of the three desserts.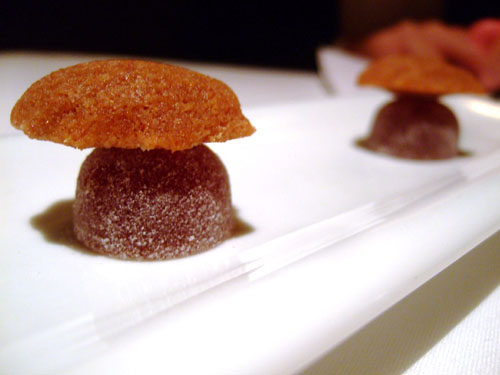 Petit Fours 2: "Strawberry-Chocolate"
The meal began with petit fours, and with petit fours it should end: here, we had strawberry gelées and chocolate madeleines. Unfortunately, they weren't as strong as the starters, with the strawberry completely dominating the flavor of the chocolate.
Going in, I had heard mixed reviews about Manresa, and I was concerned about the restaurant not being "creative" enough. I'm happy to report that my fears were unfounded, and that Manresa actually exceeded my expectations. Kinch manages to innovate in his own way, based on an unwavering respect for ingredients, unflinching technique, and just a dash of fancy: proof that progression doesn't have to be flashy.