Mizuna (Denver, CO)
Mizuna
225 E 7th Ave, Denver, CO 80203
303.832.4778
www.mizunadenver.com
Thu 11/13/2008, 07:20p-09:20p
My business travels occasionally bring me to Denver, and being the foodie that I am, the first thing I ask when entering a new locale is: "Where are the best places to eat?" Mizuna had been the answer to that question before, but due to logistical issues, I'd never made it out to try the place. I wanted to come here on my last visit, but ended up at
Kevin Taylor
instead (which actually turned out quite good). In any case, I was determined to try Mizuna this time.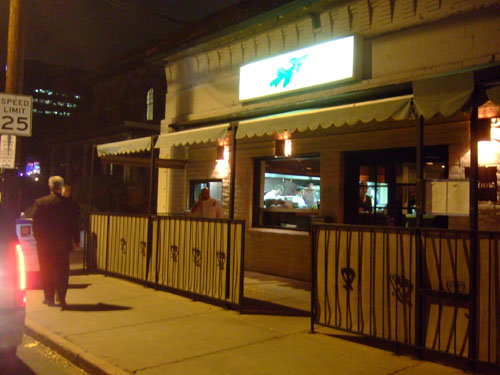 Located in the heart of the Governor's Park, Mizuna's exterior is modest and inconspicuous; I drove by without even noticing. Though there is valet service, street parking shouldn't be too hard to find.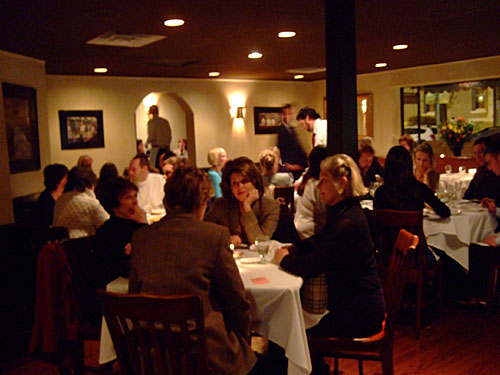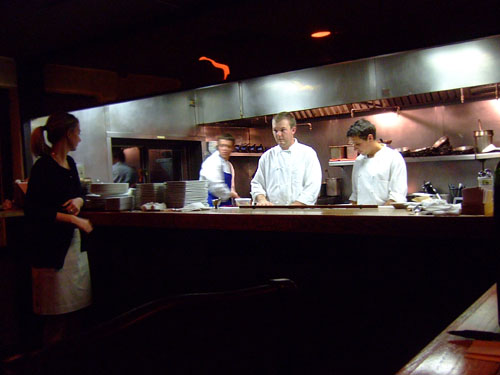 Mizuna's main dining room is intimate, warm, and inviting, with seating for around 40 guests; there is also a small private dining room available. The restaurant had run out of tables for the night, so I sat at the bar, which gave me a perfect vantage point to view the open kitchen.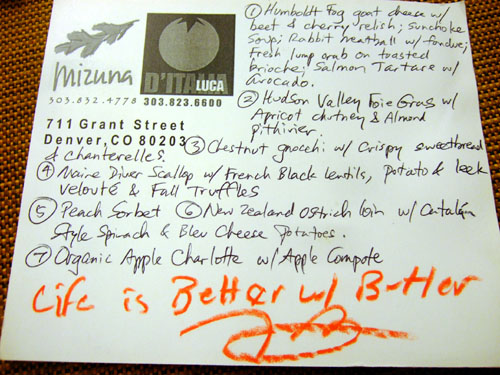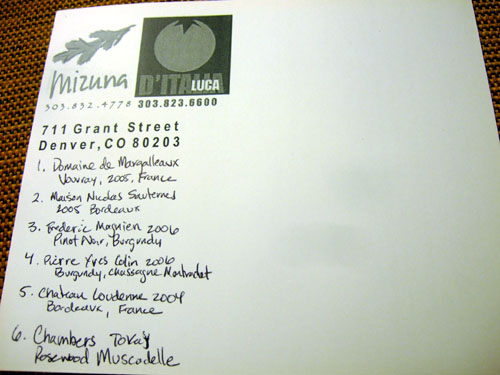 I opted for the Tasting Menu at $85, or $130 with wine. The menu is not set, so I had the restaurant write out the courses and wine pairings, signed by Chef/Owner Frank Bonanno. Click for larger versions.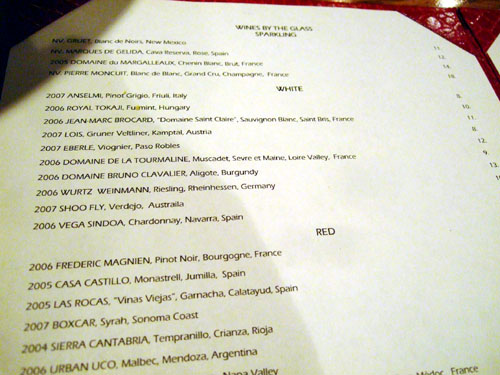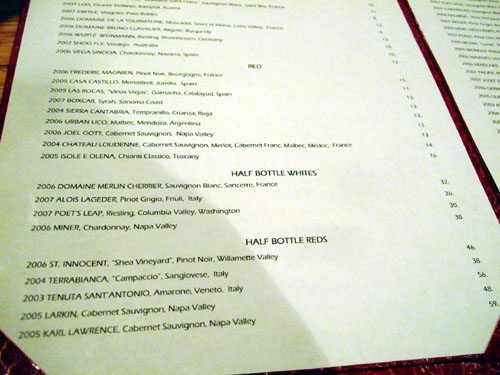 The list of wines available by the glass and half-bottle are shown above. Click for larger versions.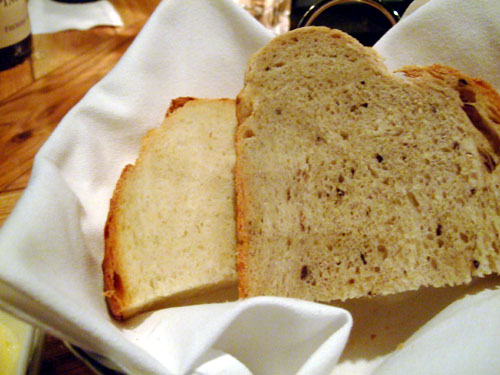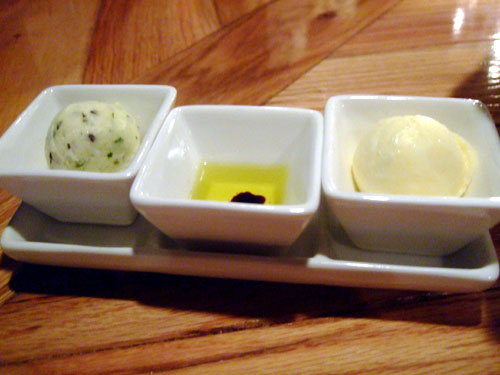 Two types of home-made bread were available, a regular white and a Kalamata olive. Both were quite good, with the Kalamata being much more subtle than similar olive breads I've had. To accompany the bread was a trio of herbed butter, olive oil with balsamic, and regular butter.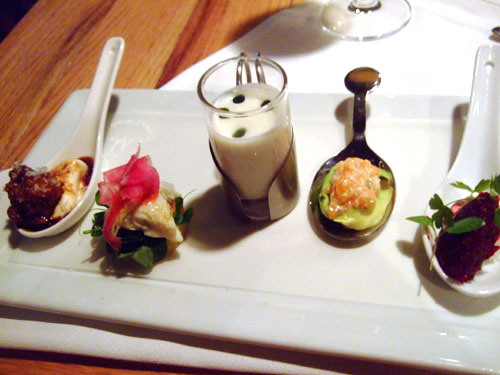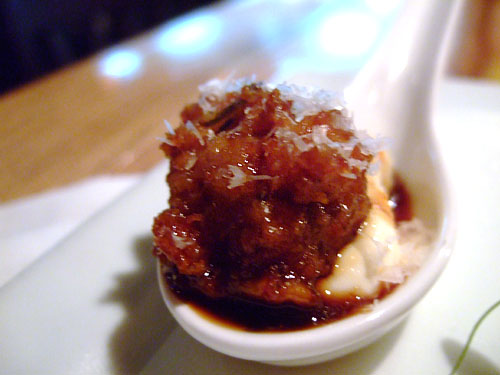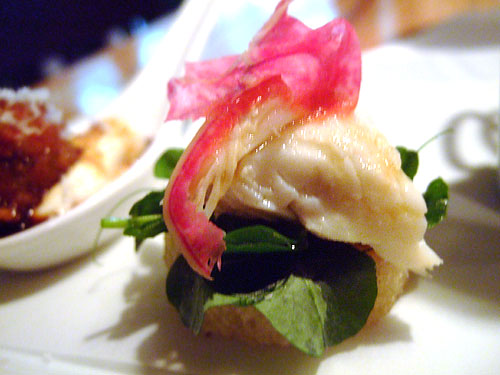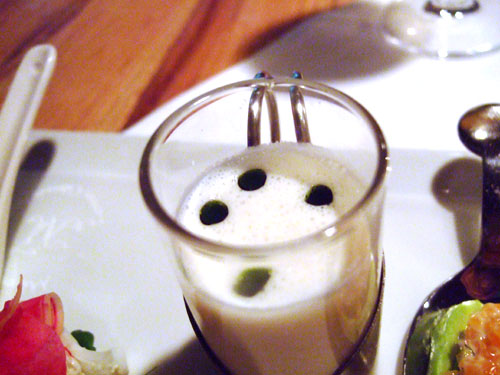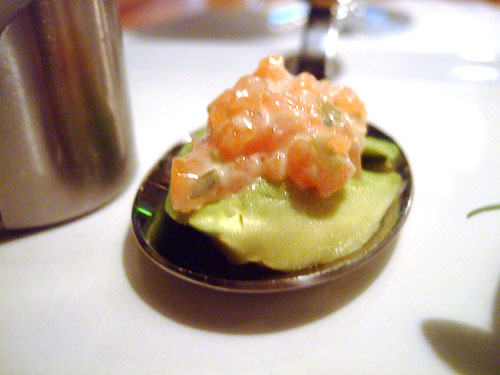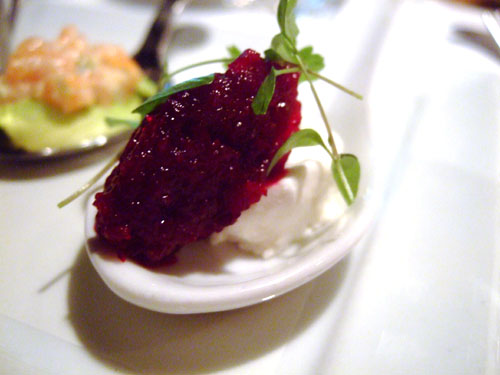 1: Amuse Bouche Assortment
2005 Domaine du Margalleau Vouvray Brut, Loire Valley, France
We began with a quintet of amuse bouches, each one made by one of the five chefs in the kitchen. From left to right:
Rabbit Meatball with Fondue - I would've preferred the meatball to have been a bit more uniform in texture, as I found it rather "chunky." Nevertheless, I quite enjoyed its flavor, finding the accompanying sauce superfluous.
Fresh Lump Crab on Toasted Brioche - This was my favorite of the set, with the delicious, delicate flesh of the crab offset wonderfully by the crispness of the brioche, while the greens and watermelon added further complexity to the dish.
Sunchoke Soup - A rich, hearty soup, this tasted almost of potato. It actually reminded me very much of the sunchoke soup I had at XIV recently. Delicious.
Salmon Tartare with Avocado - Unfortunately, the salmon flavor was largely lost here, with the avocado completely dominating.
Humboldt Fog Goat Cheese with Beet and Cherry Relish - I'm quite a fan of Humboldt Fog cheese, and found its light, mild flavor nicely complemented by the sweet relish.
The wine pairing was a sparkling Vouvray, made from Chenin Blanc, and was a great way to start things off. The wine was lovely, sweeter than its Champagne counterpart I'd say, with a bit less fizz.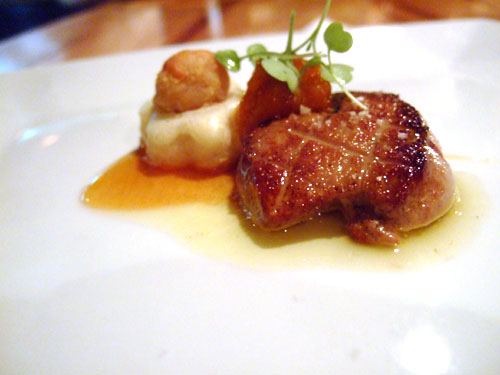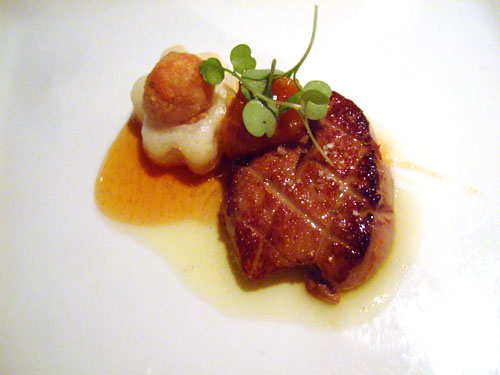 2: Hudson Valley Foie Gras
2005 Maison Nicolas Sauternes, Bordeaux, France
With Apricot Chutney and Almond Pithivier. I much prefer my foie gras in a terrine style, as I find the seared presentations too sweet more often than not. This was the case here, though given that limitation, it faired pretty well. The almond pithivier, a type of puff pastry, did an admirable job in tempering the foie's sweetness. It reminded me a bit of the foie gras I had at
Marché Moderne
. As expected, the wine pairing was a Sauternes; the Maison Nicolas was a fairly typical example, showing the expected flavors of honey and stone fruit, with low acidity.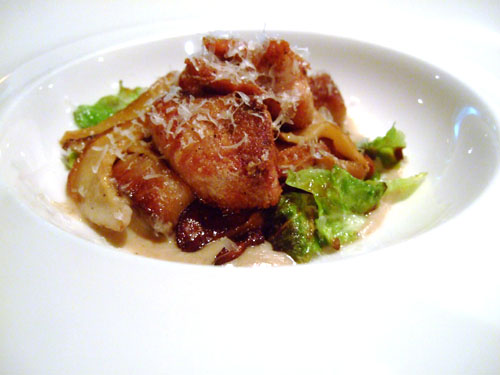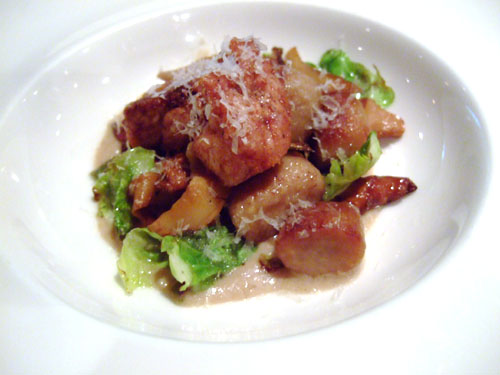 3: Chestnut Gnocchi
2006 Frédéric Magnien Bourgogne, Burgundy, France
With Crispy Sweetbreads, Chanterelles and Brussels Sprouts. The gnocchi was actually fairly nondescript; the real star here was the sweetbreads, with their slightly tough exteriors hiding luscious centers of intensely flavored goodness. The chanterelles and sprouts were also excellent in their supporting roles in this wonderful preparation of sweetbreads. The wine, a red Burgundy, was nothing special by itself, but paired beautifully with the food.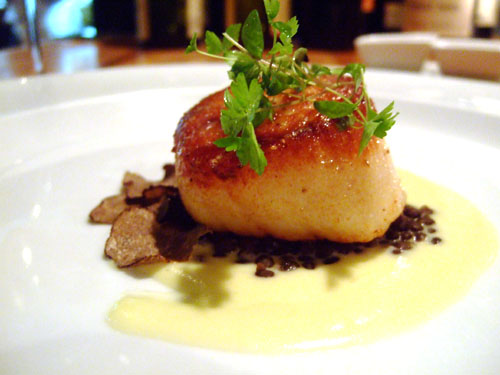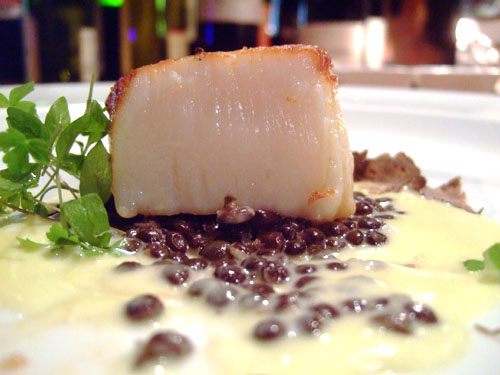 4: Maine Diver Scallop
2006 Pierre-Yves Colin-Morey Chassagne-Montrachet 1er Cru, Burgundy, France
With French Black Lentils, Potato and Leek Velouté and Fall Truffles. Truffles are always a nice touch, but it was the lentils that made all the difference in the world. I don't think I've ever had lentils paired with scallop, but here they added a simply fantastic contrast both in terms of taste and texture. The large mollusk itself was superbly cooked as well, and this combination, along with the velouté, was quite simply, one of the best preparations of scallop I've ever had. The paired wine was a light, crisp white Burgundy that provided an excellent foil to the dish with its slightly fruity, mineral-tinged flavor.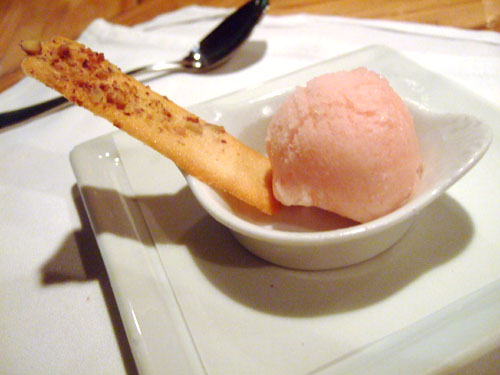 5: Peach Sorbet with Pecan Lavash
In preparation for the main course, a palate cleanser, or intermezzo, of home-made sorbet was presented. It had a mouth-watering, wonderfully intense flavor of peach that went nicely with the pecan cracker.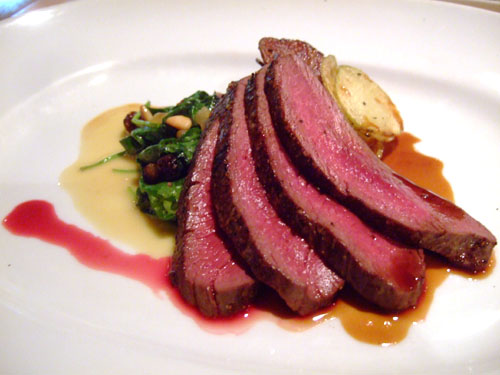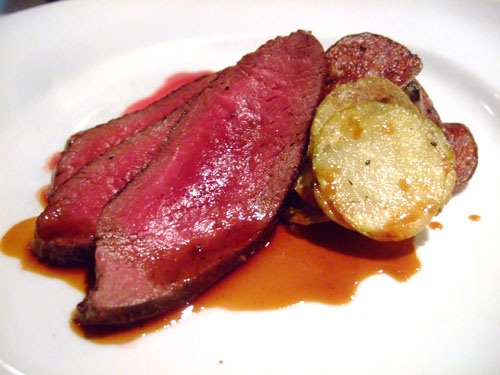 6: New Zealand Ostrich Loin
2004 Château Loudenne, Médoc, Bordeaux, France
With Catalan Style Spinach and Bleu Cheese Potatoes. This was only my second time having ostrich; interestingly, the first was also in Colorado, many years ago, at a place called
The Warehouse
in Colorado Springs. The meat, similar to an amalgam of beef, duck, and venison, was very tasty by itself, lean, yet tender and flavorful. However, the spinach salad that came with the bird was too sweet with its mixture of apple, pine nuts, and raisins, while the potato "chips" had a far too overpowering flavor of cheese. The ostrich went well enough with the paired Bordeaux, which I felt was surprisingly light, almost Burgundian in nature in fact.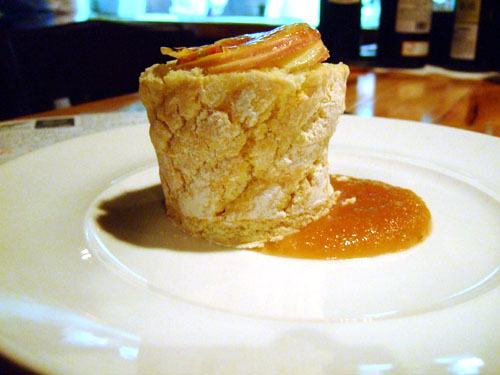 7: Apple Charlotte
NV Chambers Muscadelle (Tokay) Rosewood Vineyards, Rutherglen, Victoria, Australia
Lady Finger Cake, Apple Bavarian, Apple Compote. This was my first time having a charlotte, a type of dessert in which custard (apple Bavarian here) is used to fill a bread or cake (lady fingers in this case) mold. The result was fantastic, with a perfect interplay of creamy and firm textures, all over a base of subtle apple flavor. The only fault was the compote, which was in my opinion, too strong for the delicate nature of the dish.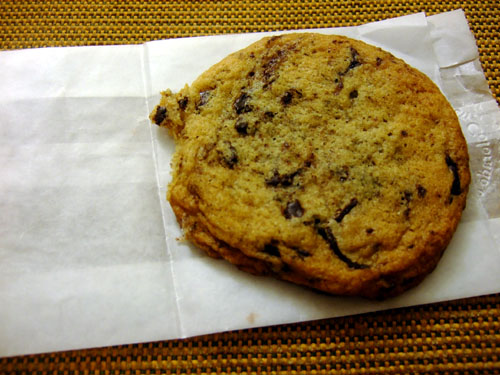 I had to drive down to Colorado Springs after the meal, so I was given a cookie for the road. Being quite full, I ended up eating it for breakfast the following day. Very nice.
I had a lovely time at Mizuna. Though the restaurant looks like a typical neighborhood type of place, the chefs here really do create some fantastic cuisine. I didn't agree with some of the preparations, but at the same time, there were some truly great dishes as well (the scallop, the sweetbreads). People say that Mizuna is the best restaurant in Denver; I can believe it.