Totoraku (Los Angeles, CA)
Totoraku
10610 W Pico Blvd, Los Angeles, CA 90064
www.yelp.com/biz/totoraku-los-angeles (Yelp, restaurant has no web site)
Fri 11/07/2008, 07:45p-12:00a
Ah, Totoraku, a.k.a. "secret beef restaurant," a.k.a. Teriyaki House Pico, I'd heard so much about you for the past few years, but now my time has finally come. Actually, the place isn't really a secret any more. Perhaps it was years ago, but with the advent of the Internet, the cat's out of the bag. Totoraku even has its own Yelp page for crying out loud! But even if the place isn't secret per se, it's still damn tough to get in to. You basically have to go with someone who has an existing relationship with the Chef/Owner, Kaz Oyama.
This particular dinner was kindly set up by a professor of mine, who'd been to Totoraku many a time before. We'd organized a large party, 12 people in total, including a number of people from the Los Angeles foodie community, including: Aaron of
Food Destination
, Caroline of
Caroline on Crack
, Fiona of
Gourmet Pigs
, Ore of
Potential Gold
, Ryan of
Tangmeister
, and Will of
FoodDigger
.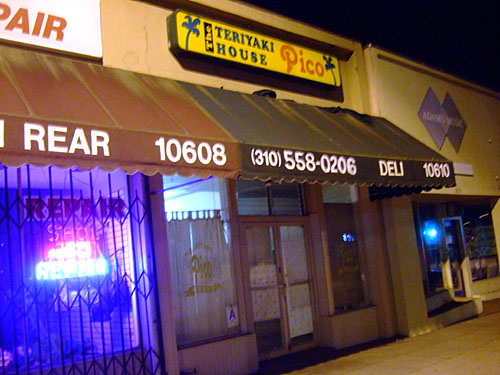 Totoraku's exterior is completely nondescript, for a reason. The phone number listed is incorrect, and seems to belong to a guy named Rodney T Williams, a real estate attorney in LA. Knock on the locked door, and Oyama-san's wife will answer, only letting you in if you have a reservation for the night. The operation is small, staffed solely by Oyama-san, his wife, his daughter-in-law, and a dishwasher.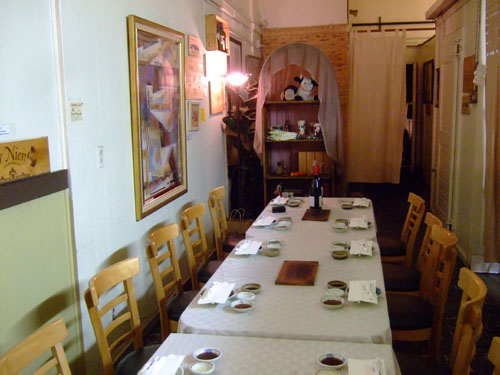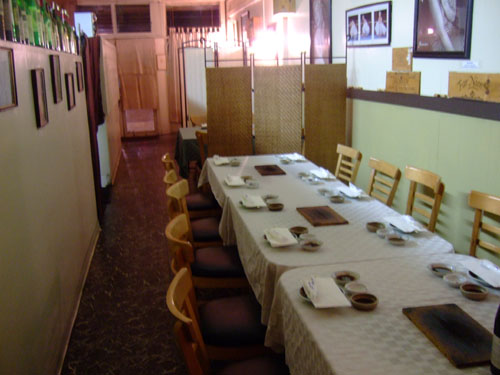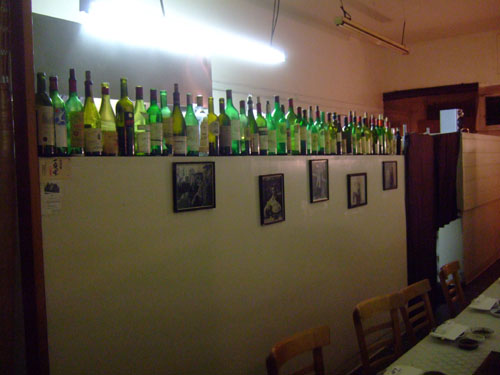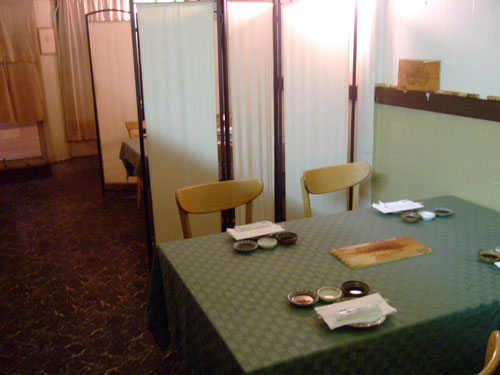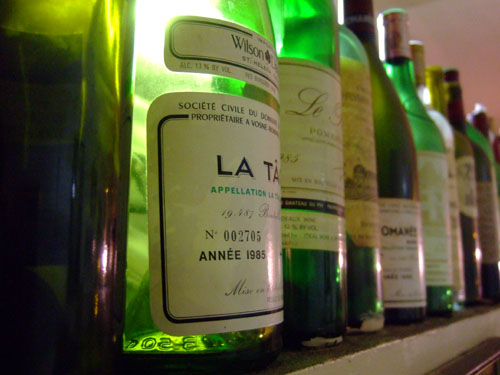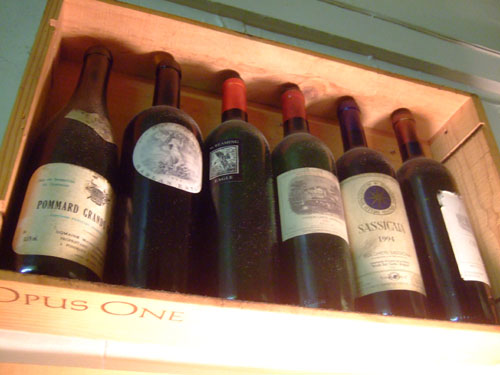 The interior continues the trend, which to me adds to the mystique. The room is divided in half; one half is the kitchen, while the other houses five tables of four. Some eclectic artwork adorns the walls, but the most striking design element is the collection of wine bottles dotting the space, hinting at Oyama-san's love of fine wine. I wonder if some of what we brought would be worthy of a spot? As a bonus, we spotted
Masi Oka
from
Heroes
dining with a female companion (a date perhaps?)!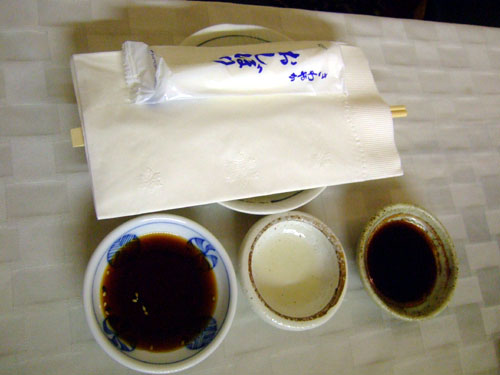 A trio of dipping sauces was provided. I believe they were a light soy, lemon juice, and a sweet tare sauce. However, the meat was good enough to render them pretty much unnecessary.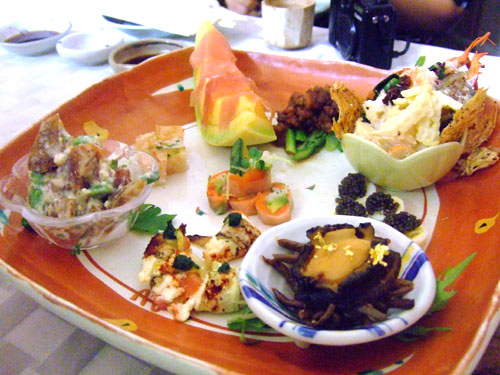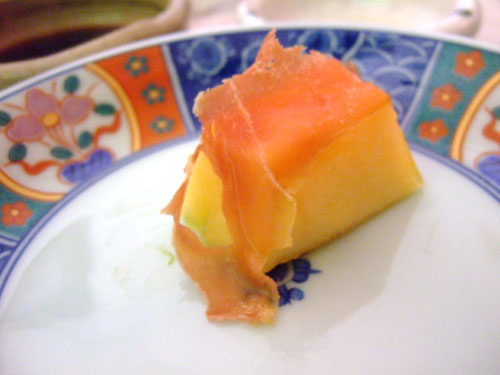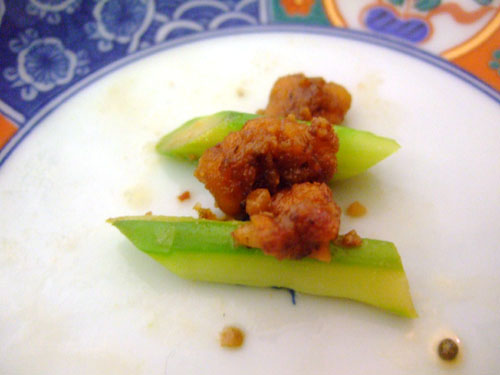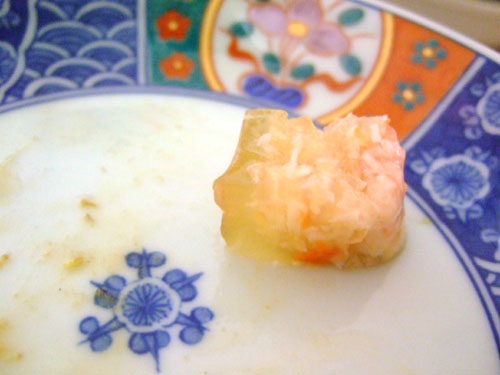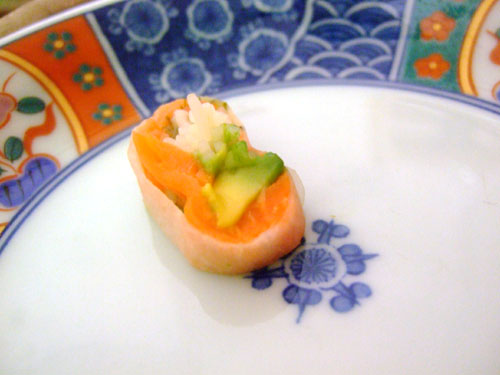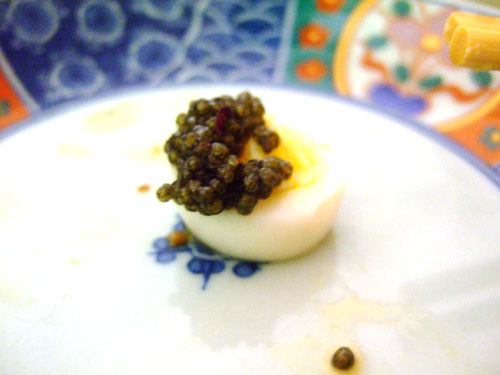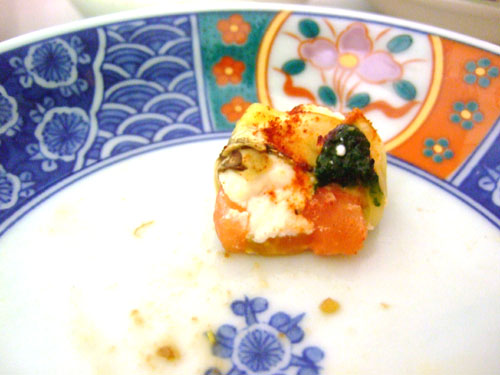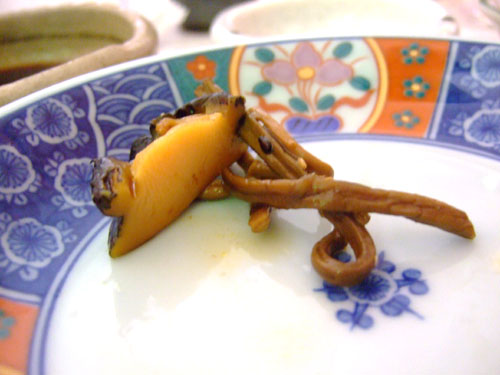 1: Amuse Bouche Assortment
Our meal began with an appealing selection of nine appetizers, to be shared amongst four people:
Cantaloupe and Prosciutto - I'm not usually a huge fan of sweet and savory pairings, but this was surprisingly good. I think it benefited from the ham's relatively light texture and flavor, which really allowed the fruit to come to the fore.
Asparagus and Walnuts - These weren't ordinary walnuts; they appeared to have been marinated in some sort of sweet sauce, which made them stand in stark contrast to the delicate asparagus.
Lobster Salad - This was my favorite item on the plate. The lobster's flesh had a great snap to it and the flavor was extraordinarily clean and crisp, going well with the other elements in the dish.
King Crab Gelée - This was interesting. The crab itself was quite nice, while the gelatin acted as a sort of glue that bound the pieces together.
Sockeye Salmon - Salmon stuffed with avocado and sprouts. What's not to like here? I just wished the piece were bigger!
Hard Boiled Quail Egg with Caviar - Egg and egg, a winning combination. The key here was how the briny tang of caviar penetrated the subtle rich creaminess of the egg.
Japanese Persimmon Salad - This was almost like a "potato salad"-type presentation, with the persimmon acting as a softer, sweeter version of potato.
Momotaro Tomato and Ricotta Cheese - This combination of tomato and cheese made me think of pizza!
Steamed Abalone - The abalone had a very nice texture, not at all tough, with a fine flavor. It was served with zenmai (also known as Japanese royal fern), a type of sansai, or mountain vegetable, and topped with gold flake.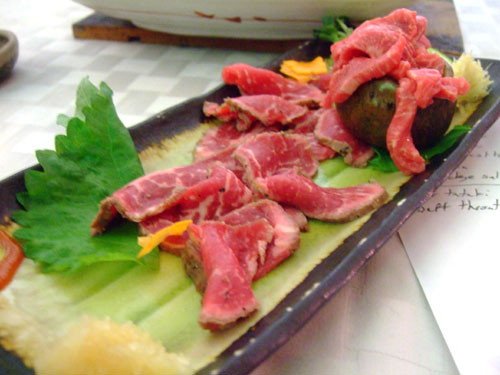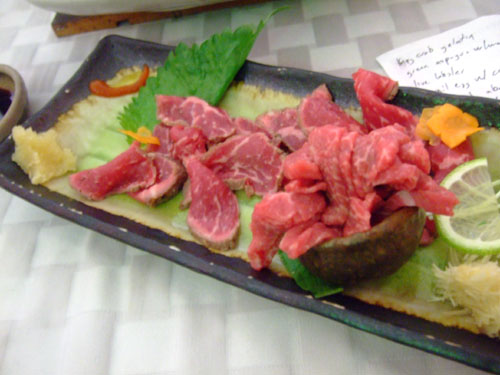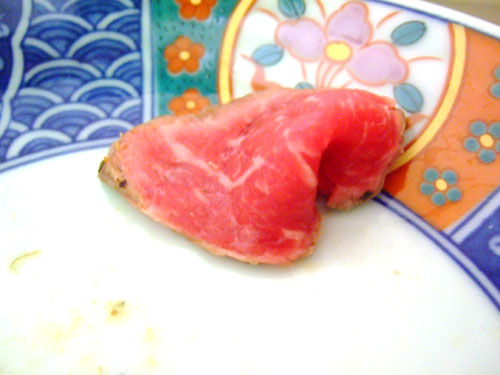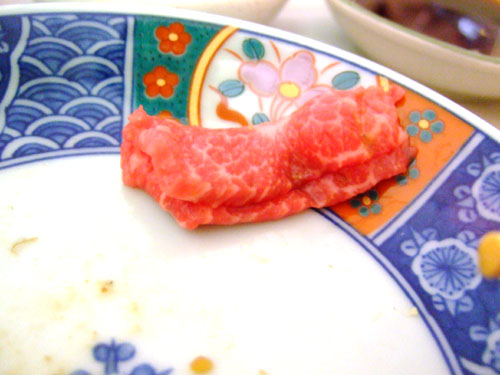 2: Beef Tataki & Beef Throat Sashimi
Next was a duo of barely cooked beef. I tried the beef tataki first. The light searing of the meat gave the exterior a slightly charred, tougher texture that went beautifully with the interior. Pairing this with the provided ginger proved to be an excellent combination. The beef throat, on the other hand, had a bit of a crunch to it, and reminded me of the
horse neck sashimi
I had in Japan. We were told that it takes one and a half cows to come up with one plate. This was more about the texture than the flavor; very unique and quite nice!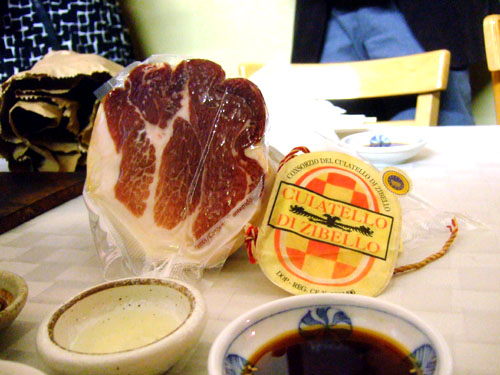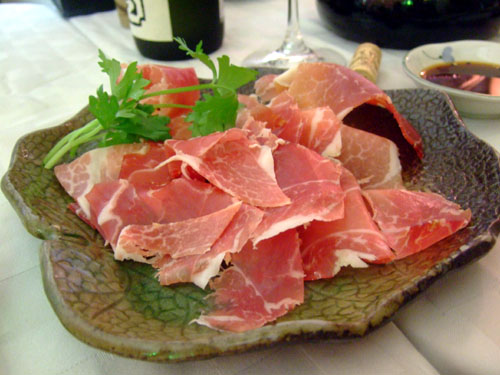 Supplement: Culatello di Zibello Della Consorzio
This next course was not part of the normal meal, but instead brought by Ore. Aged 22 months, the culatello was a type of prosciutto, but more refined and made without the bone. It was from Zibello, a commune of the Province of Parma having DOP (
Denominazione di Origine Protetta
) status. It was simply fantastic, I'd say the best ham I'd ever tasted in fact, with its slightly sweet flavor over a base of delicate saltiness, and its perfect marriage of lean and fat. Meraviglioso!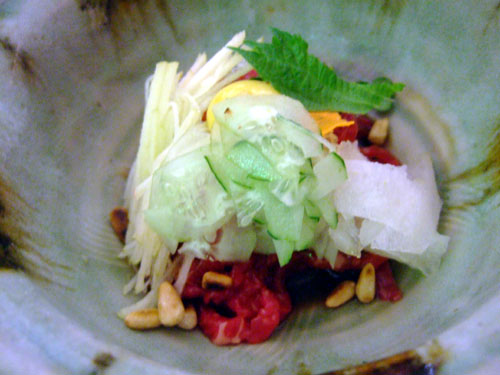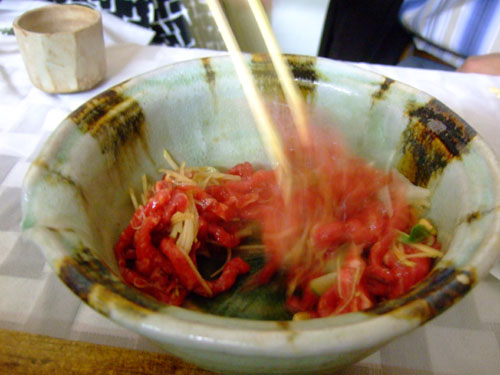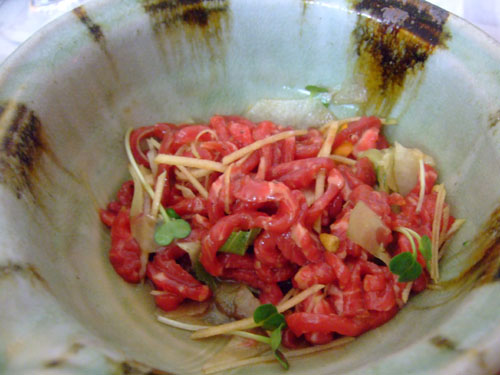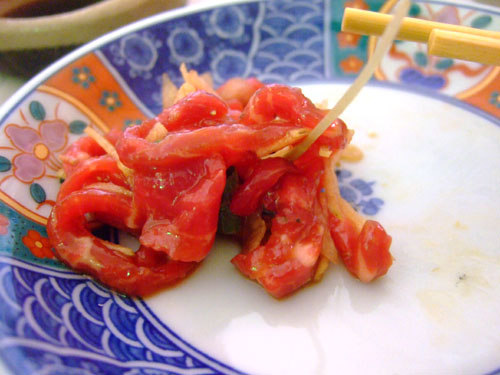 3: Beef Tartare
The tartare was basically a version of the Korean dish
yukhoe
. I'm not sure what the cut of beef used here was, but the accoutrements were raw egg yolk, daikon, cucumber, pine nuts, and what I believe was
yamaimo
(Japanese mountain yam). In any case, Aaron, being the youngest member of our table, had the honors of mixing the various ingredients into a delicious amalgam. The beef here did not stand out per se; rather, it provided a solid footing to demonstrate the complex, multi-layered flavors of the dish's other components. Most "Western" style tartares suddenly seem blunt compared to this. In fact, Aaron and I both thought that this was reminiscent of a Chinese dish of cold jellyfish salad. Fantastic!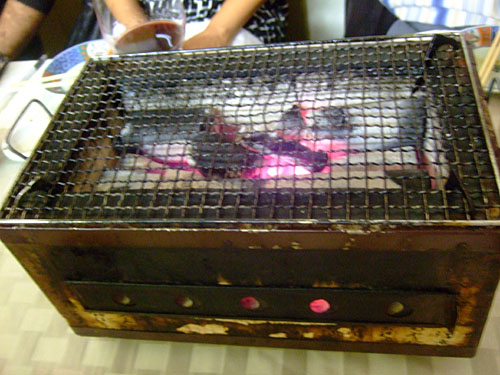 Once the grills were brought out, we knew it was time for the gauntlet of barbecued meats to begin. I was told that they burned
binchotan
, a traditional Japanese charcoal made from
ubame
oak.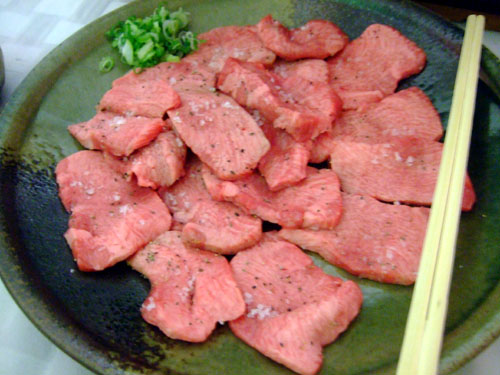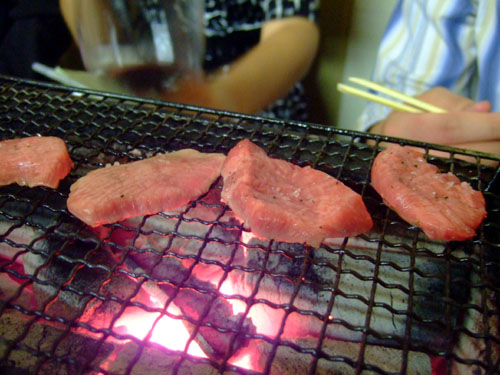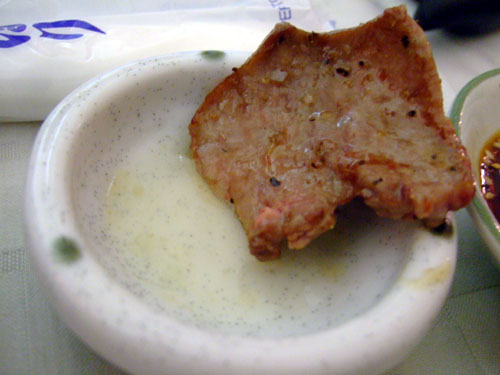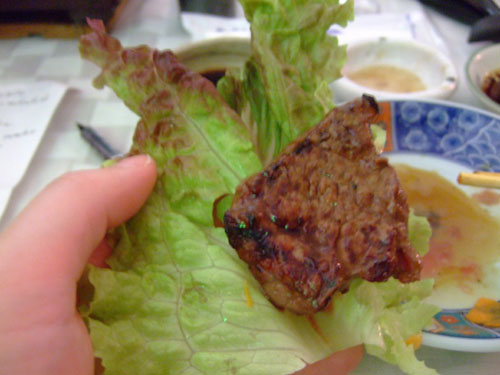 4: Beef Tongue
I had my first experience with tongue not too long ago, at
Tsuruhashi
in Fountain Valley. I found the tongue surprisingly tasty there, and I'm happy to report that the tongue here was even better. It was less rubbery and even more tender, while being more flavorful. The meat at Tsuruhashi was a bit chewy, but that wasn't a problem here; it was as luxurious as tongue can be. Simply lovely.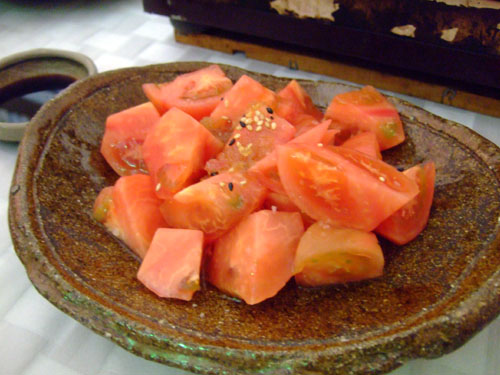 5: Crudités
As a break from all the meat, we were provided with a selection of vegetables, which helped cut the richness of the beef. First was a bowl of lettuce, carrots, and cucumber, all served with a spicy/sweet miso dip. Next, we had Momotaro tomatoes. Named after a Japanese folk hero, Momotaros are one of the most popular varieties in Japan, with a subtle sweetness backed up with a tangy zest.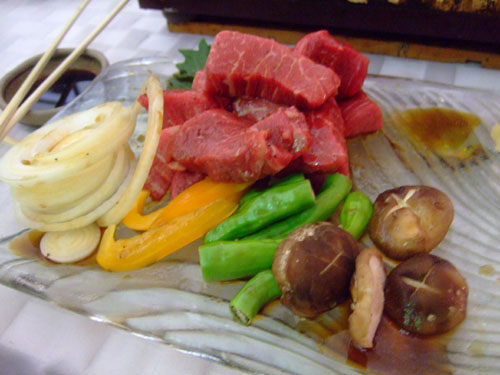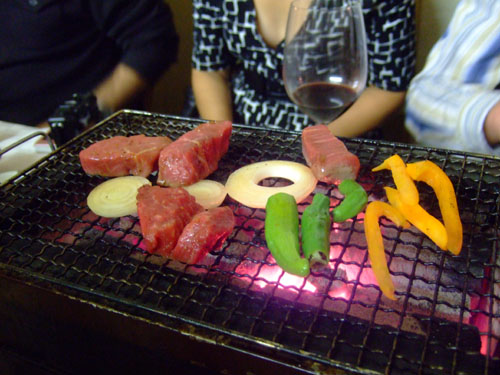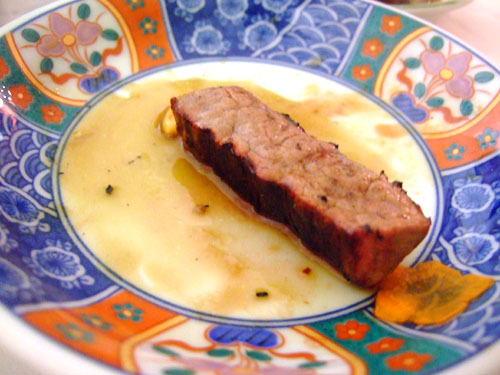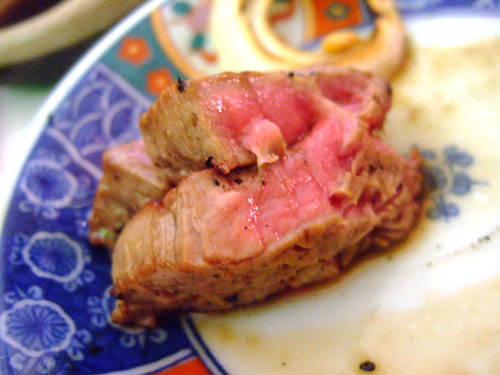 6: Filet Mignon
Next up were slices of filet mignon with an assortment of veggies: onions, bell peppers, mushrooms (shiitakes I believe), and peppers. Cooked rare, the meat was tender as you'd expect, but also surprisingly flavorsome as well. Given its relatively low fat content, the beef wasn't too heavy and was a great way to kick things off. The quality of meat wouldn't seem out of place at a fine steakhouse.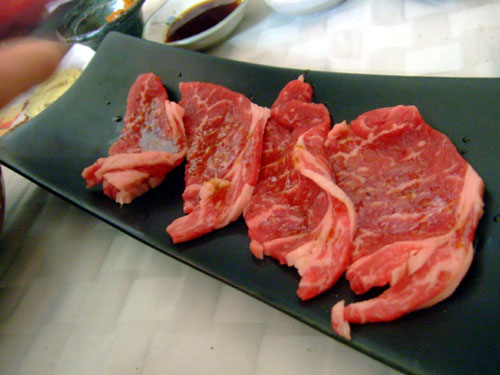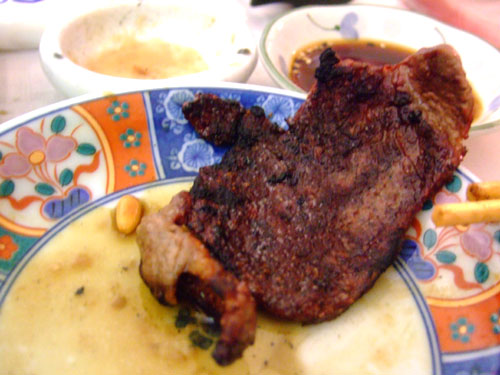 7: Inside Rib Eye
Compared to the filet, the inside rib eye was richer, fattier, and noticeably stronger in taste. Its marinade successfully complemented the meat's flavor while not overpowering it. I would've liked to have seen the cuts a bit thicker though, to give them more bite.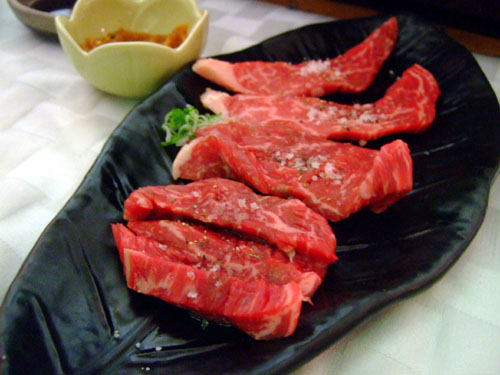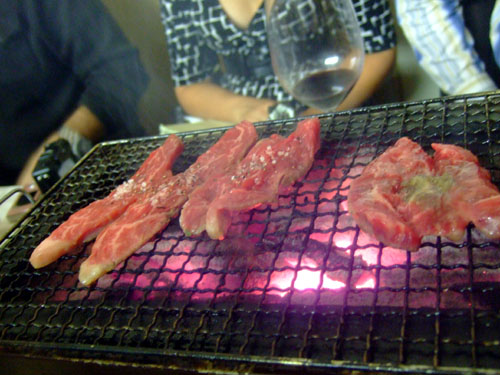 8: Outside Rib Eye
Also known as rib eye cap, I think this might have been even more unctuous and succulent than the inside rib eye. Meanwhile, the salt and pepper topping did a nice job of heightening the beef's natural flavor. Though both were superb, I'd have to give the edge to the outside over the inside rib eye.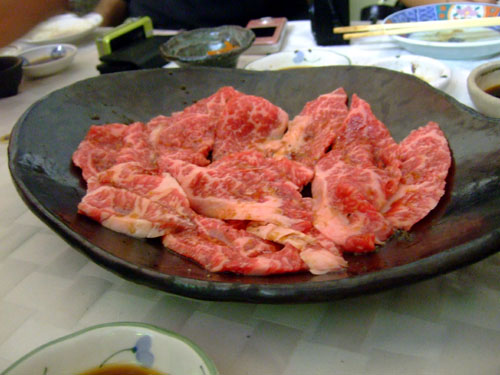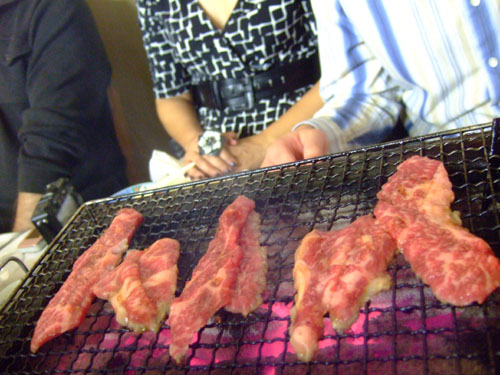 9: Short Rib
This was basically the Japanese take on Korean galbi short ribs. In Korean preparations, the meat is usually very thoroughly marinated. However, here, the meat was of such high caliber that such a thing was largely unnecessary. This was arguably the richest of all the meats, and though galbi can be a bit tough and chewy at times, this was just as tender as any of the other cuts we had.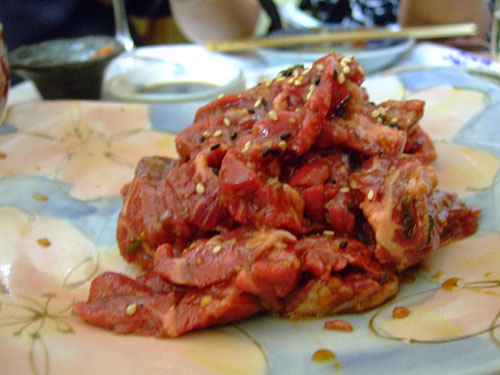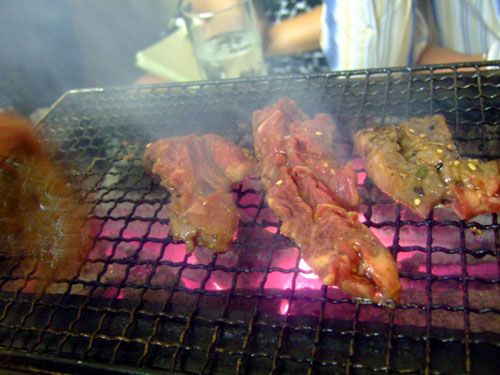 10: Skirt Steak
The skirt steak is a cut from the underbelly of the cow. Traditionally, it's known to be a flavorful, but tough cut of meat. Fortunately, Oyama-san worked his magic here and I didn't find it to be tough at all, though it was less fatty than most of the other meats we sampled.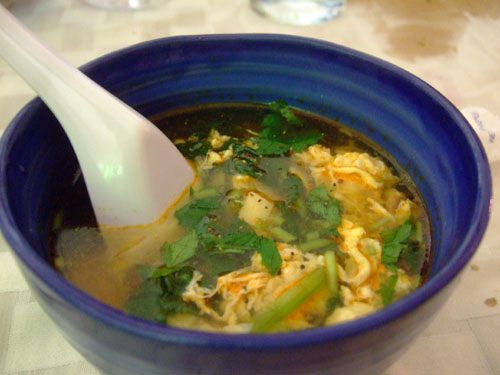 11: Kuppa Soup
This was basically a spicy rice soup, derived from the Korean
gukbap
, which literally means "soup with rice." Pleasantly piquant and not too heavy, it was a fitting close to the savory courses.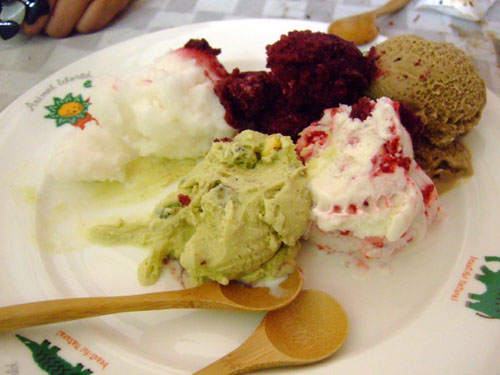 12: Selection of Ice Creams and Sorbets
Usually, each person picks one flavor to try, but this time, each table of four got one scoop each of the five varieties offered: pistachio ice cream, lychee sorbet, blueberry sorbet, coffee ice cream, and white chocolate/raspberry ice cream. They were all quite interesting in their own way, but I'd probably say that I liked the pistachio and lychee the best.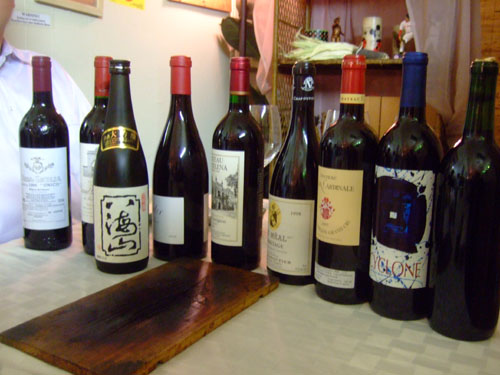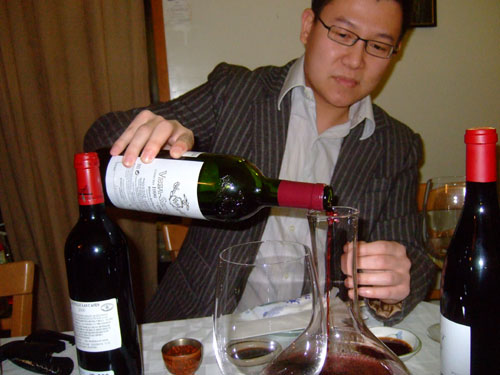 Oyama-san is known to be quite the wine connoisseur, and indeed, guests are expected to share their wines with him. I believe we offered him the Kistler, Único, and Léoville (which he thought was good, but a bit young). Some of the wines benefited from decanting, and in the photo on the right, the first one I opened to let breathe was the Único. There is no corkage charge.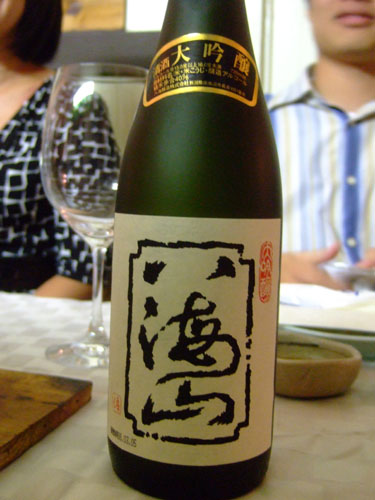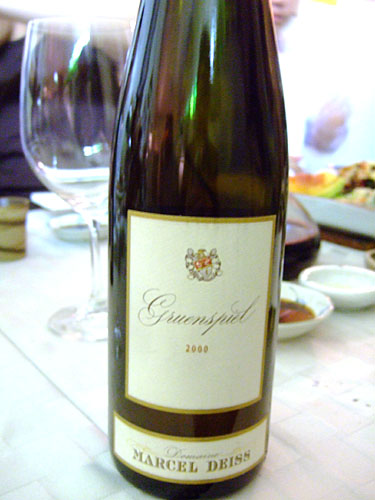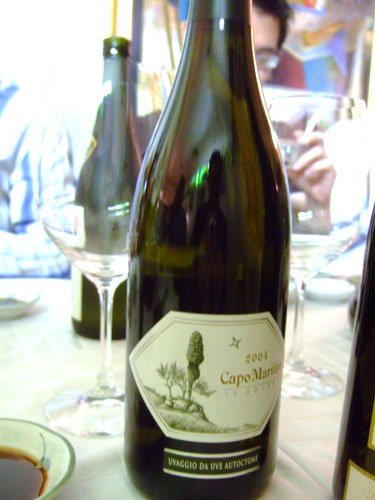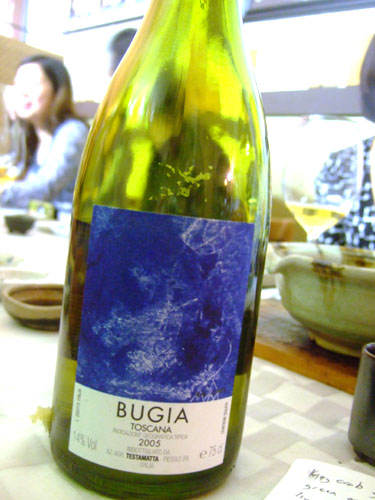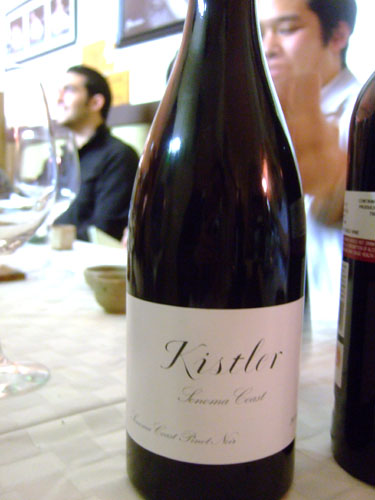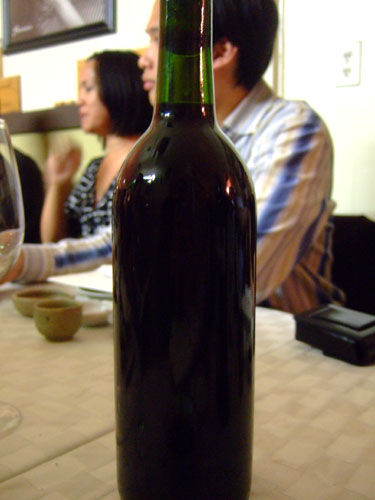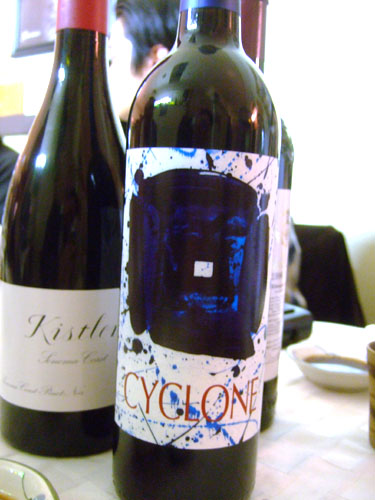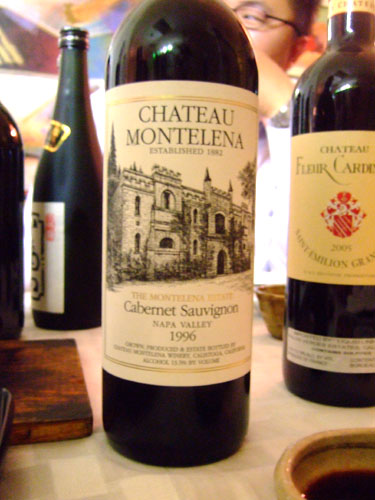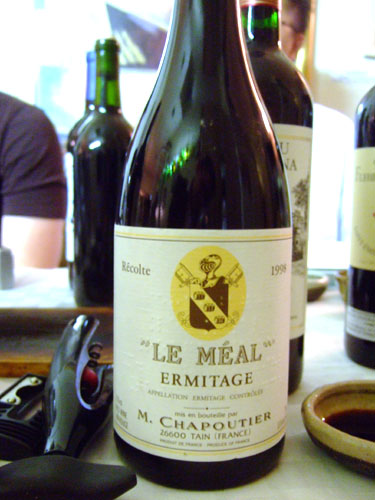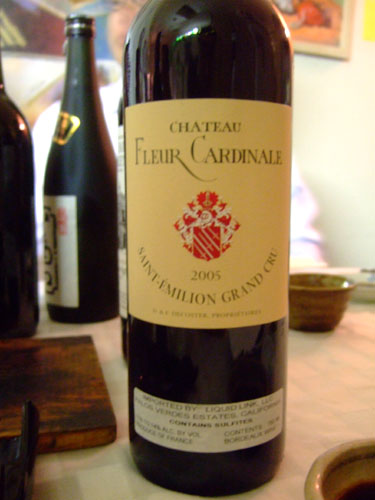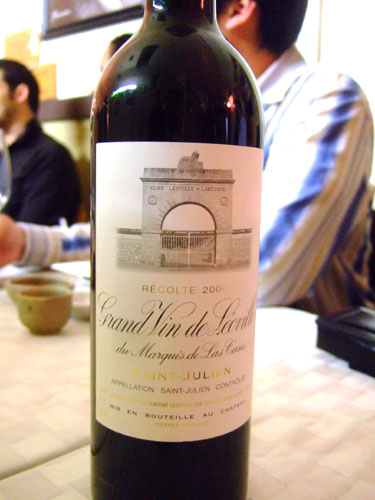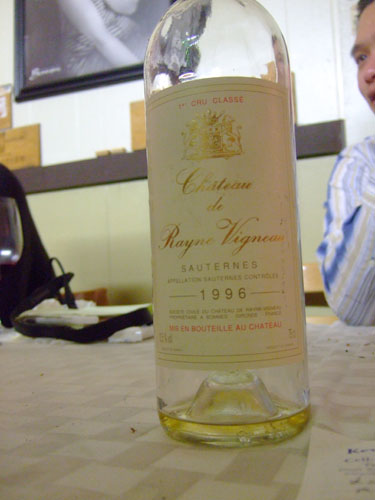 A full recounting of the wines we had follows:
Hakkaisan Daiginjo Sake - We kicked things off with some sake. This was my second experience with the Hakkaisan. I had picked up a bottle of this on my trip to Japan earlier in the year, and I found it to be arguably the best sake I've tasted, exceedingly smooth, with multiple layers of fruity and floral notes. Unfortunately, this one's tough to find here in the States.
2000 Marcel Deiss Gruenspiel, Alsace, France - A mixture of Riesling, Pinot Gris, and Gewürztraminer, this one was almost dessert-like in sweetness. Yet at the same time, the sweetness was balanced with just a tinge of acidity, and there were plenty of citrus and stone fruit accents to go around. Finishes smooth and long.
2004 Jermann Vinnaioli Capo Martino, Venezia Giulia, Italy - This was a fascinating blend of Malvasia, Picolit, Ribolla, and Tocai grapes. I'm not sure I've had any of those varietals alone, let alone in a blend. It was a much drier wine compared to the preceding Gruenspiel, with far less fruit but considerably more spice. Quite nice overall.
2005 Bibi Graetz Bugia Bianco, Toscana, Italy - The Bugia is made from Ansonica (a.k.a. Inzolia), an Italian varietal that I have no experience with. Nevertheless, I found it very fascinating and quite liked it, noting hints of lemon and peach, with a bit of oak, in a complex amalgam. Very interesting!
2006 Kistler Pinot Noir, Sonoma Coast, California - This was a table favorite. Loads of light, juicy red fruit hit you first, followed by a bit of heat, leading to a smooth, lingering finish.
2005 Sangiovese - This was a home-brew Sangiovese made by Fiona. I was told the wine was made three years ago, and it was drinking quite well indeed. The wine was fairly spicy, yet soft and smooth. Good job Fiona!
2006 State Lane Cellars Cabernet-Merlot Cyclone, Yountville, California - Cyclone is an unfined and unfiltered blend of Cabernet Sauvignon, Merlot, and Petit Verdot, aged in French oak. The taste was prototypical meritage. Perhaps this could've benefited from some more time in the bottle.
1996 Chateau Montelena Cabernet Sauvignon The Montelena Estate, Napa Valley, California - In contrast to the Cyclone, this one was ready to drink. I remember an intoxicating nose of dark berry and currant, with the fruit continuing all the way into the finish. Very delicious and well-balanced.
1996 Bodegas Vega-Sicilia Único, Ribera del Duero, Spain - This was my first time experiencing Único, which many regard as Spain's most famous wine. It's a Tempranillo blend that really opened up with decanting, showing bits of chocolate and berry, with a refreshing spiciness. Very complex, and very good.
1998 M. Chapoutier Ermitage Le Méal, Northern Rhône, France - A Syrah-based wine, the Chapoutier was earthy, oaky, with a bit of red fruit thrown in. Quite unique amongst the red wines we had that night, I rather liked it.
2005 Château Fleur Cardinale, St. Émilion, France - This had a much more closed nose compared to the Léoville, and really benefited from its decanting. After a while, the wine demonstrated surprisingly soft tannins and notes of cassis and chocolate. Quite drinkable now, but probably better with age.
2000 Château Léoville Las Cases, St. Julien, France - A rich, lush wine, this was packed with cassis and dark berry, with a nice bit of minerality to boot. Delicious now, but as Oyama-san mentioned, this would likely be even better with a few more years in the bottle.
1996 Château de Rayne-Vigneau, Sauternes, France - A Sémillon-Sauvignon Blanc blend, this had some nice acidity to balance its intense, honeyed sweetness and loads of stone fruit and citrus. It was arguably overwhelming compared to the delicate flavors of the ice cream we ate with it.
When all was said and done, the total cost for this one-of-a-kind experience was $180, all-inclusive. This is pricey for yakiniku, but the cost can't distract from the fact that it was also the best yakiniku (and arguably the best barbequed meat) I've ever had. The beef was simply marvelous, so flavorful, so tender, yet without the overt fattiness of Wagyu. Oyama-san won't reveal the source of his meat, only saying that it's "custom" beef from right here in the United States.
Totoraku definitely isn't an everyday place; rather, eating here is an occasion all by itself. At the end of the evening, I did receive Oyama-san's business card, which, in theory, means I can now make a reservation for myself. I can't wait to test it out!