Leatherby's Cafe Rouge (Costa Mesa, CA) [2]
Leatherby's Cafe Rouge
615 Town Center Dr, Costa Mesa, CA 92626
714-429-7640
www.patinagroup.com/cafeRouge/
Sun 10/26/2008, 06:45p-08:50p
On my
last visit
, I wrote that Leatherby's was a "restaurant still trying to find its own identity." That was 13 months ago, and unfortunately the restaurant has still not found its way. In that span, Leatherby's has gone through a number of head chefs, with each trying, and failing, to find a formula that works. Enter Don Schoenburg, a self-described "fixer," brought in to turn things around. Prior to Leatherby's, Schoenburg was Executive Chef at Tradition by Pascal, a well-regarded French eatery in Newport. In our discussions with the Chef, he talked about his deep understanding of the Orange County palate (vis-à-vis Los Angeles), and it was obvious to us that he had a keen eye on the business side of things as well, even claiming to know the exact costs of the ingredients on our plates!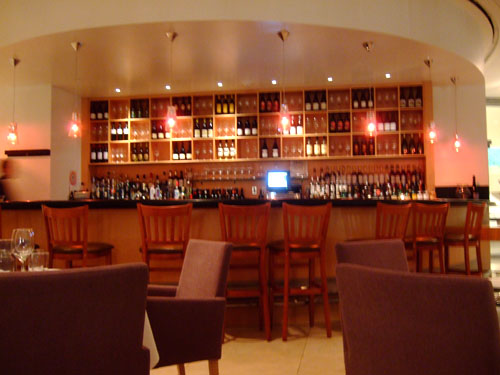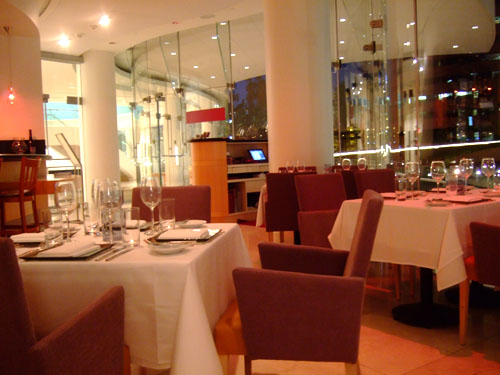 Chef Schoenburg informed us that the Leatherby's space would undergo a dramatic remodeling in the near future. The area shown above will be converted into a lounge, with totally updated furnishings and new lighting. To go along with this, a happy hour and wine bar concept will be instituted.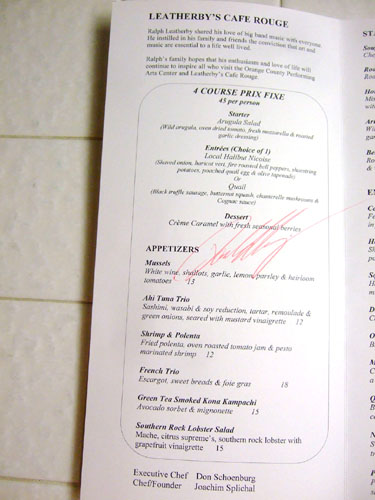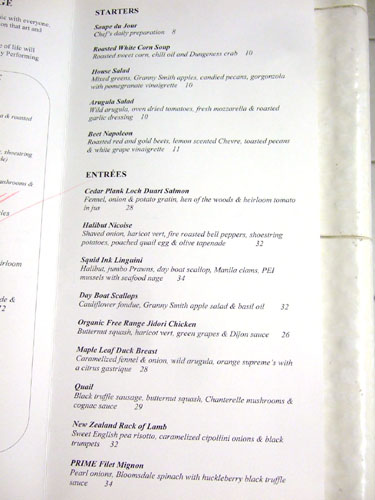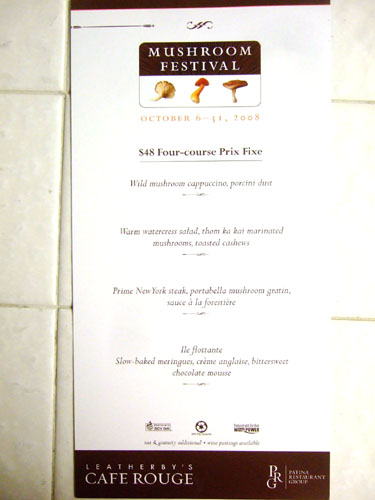 The menus turned out to be fairly similar to what we encountered last time. We decided to try the Four-course Prix Fixe [$45.00] and the seasonal Mushroom Festival Four-course Prix Fixe [$48.00], while supplementing with two courses. Click for larger versions.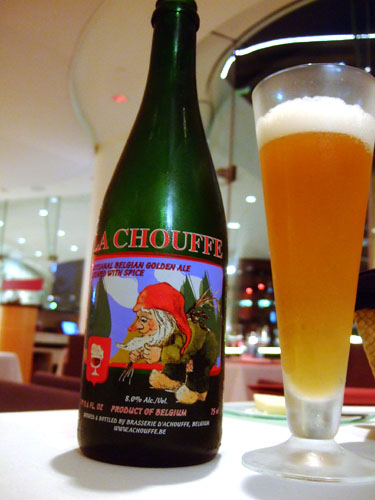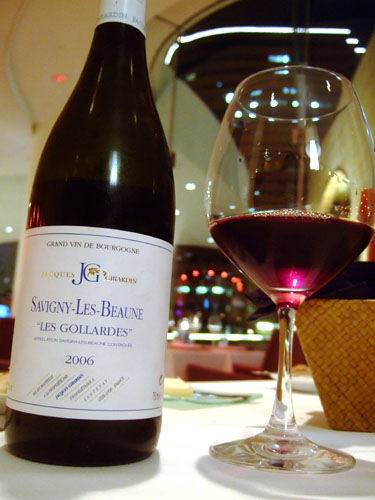 We started the meal off with a beer, the fantastic La Chouffe pale ale from Brasserie d'Achouffe [$36.00]. Brasserie d'Achouffe, founded in 1982, is a relatively new Belgian brewery located in Achouffe, and this was my first time having any of their beers. La Chouffe is an unfiltered blonde beer, refermented in the bottle as well as the keg. It was one of the best beers I'd ever tasted, with strong fruity notes that hit you initially, followed up with a light spiciness and mild hoppiness. Superb! We then moved on to a red wine, the Jacques Girardin Les Gollardes, Savigny Les Beaune, 2006 [$77.00]. The wine was extremely light, both in color and body, with loads of light red fruit on the nose, followed by a bit of cherry and smoke on the palate. Finally, we were treated to complementary glasses of Alvear, Pedro Ximénez, Montilla-Moriles, Solera 1927, an intensely sweet sherry that held its own against the desserts.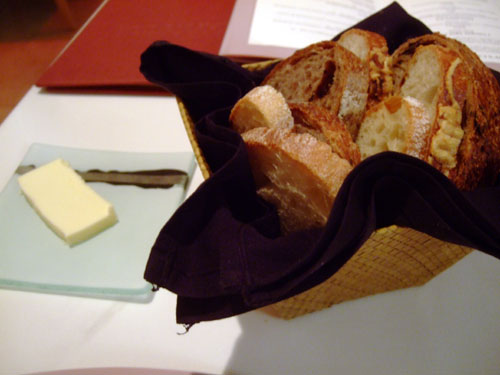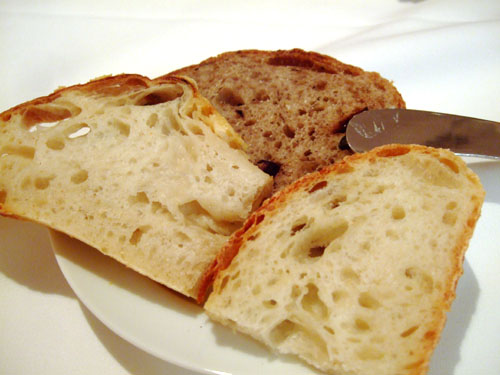 Surprisingly, the bread selection was exactly the same as before: baguette, cheese, and olive, with my favorite once again being the cheese.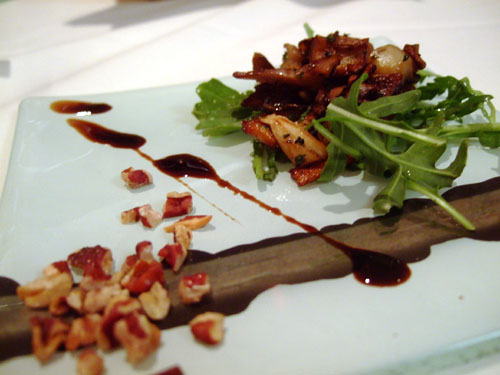 1a: Mushroom Terrine
Balsamic reduction, toasted pecan. Though described as a "terrine" by our server, the mushrooms seemed merely sautéed to me. In any case, the natural flavor of the mushrooms was nicely accentuated by the bitterness of arugula and tartness of balsamic, while the pecans added an intriguing textural contrast.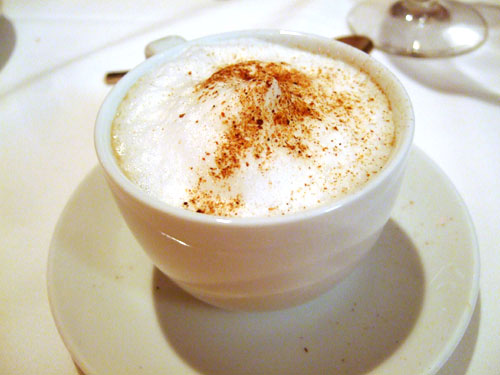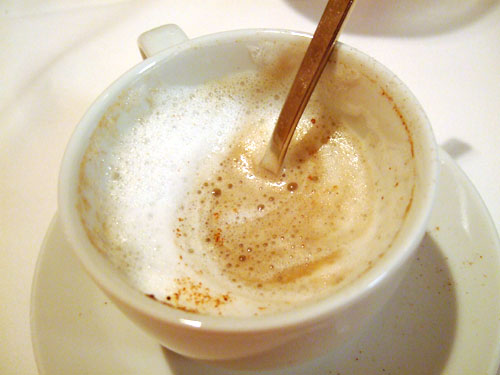 1b: Wild Mushroom Cappuccino
Porcini dust. This was basically a mushroom soup, looking like a convincing copy of cappuccino. It was a rich, hearty stock that really showcased the earthy flavor of mushroom. The creamy, frothy texture was an added bonus.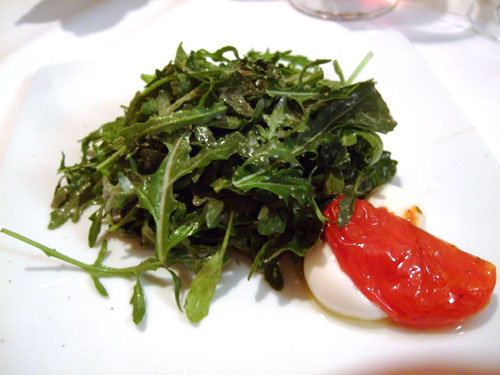 2a: Arugula Salad
Wild arugula, oven dried tomato, fresh mozzarella and roasted garlic dressing. Eaten alone, the arugula provided a strangely satisfying bitterness that easily held its own against the garlic dressing. The key here, though, was to eat the mozzarella and tomato with the greens and note their flavor against the arugula's background of bitterness, almost like a slightly twisted insalata caprese.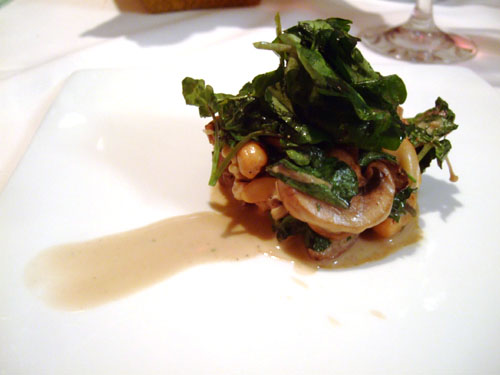 2b: Warm Watercress Salad
Thom ka kai marinated mushrooms, toasted cashews. Thom ka kai, or tom kha gai, is a Thai hot and sour soup made with coconut milk, lemon grass, and chicken. It definitely gave the mushrooms a unique Thai tinge, which I rather liked, and which went well with the watercress' own unique tang. I would've preferred the cashews a bit crisper though.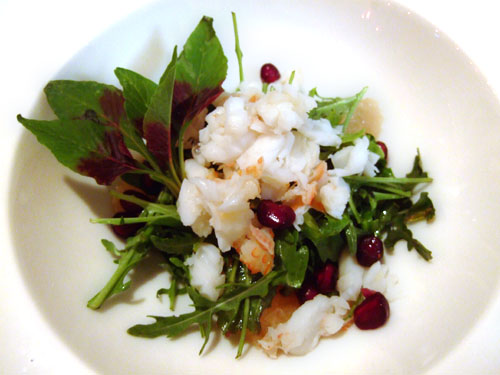 Supplement 1: Southern Rock Lobster Salad [$15.00]
Mache, citrus supremes, grapefruit vinaigrette. The sweetness of the mache base paired well with the sweetness of lobster, but this combination was lost in the other flavors of the dish. The citrus, vinaigrette, and pomegranate seeds all resulted in a sourness that hid the natural flavor of the lobster, which should've been the star here.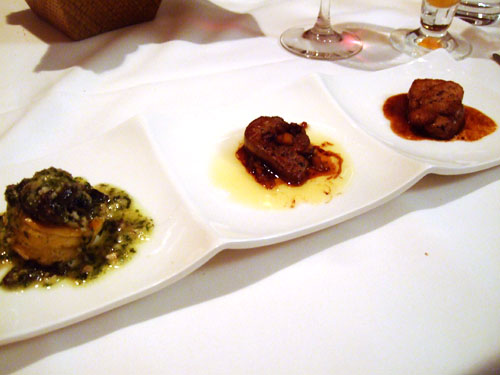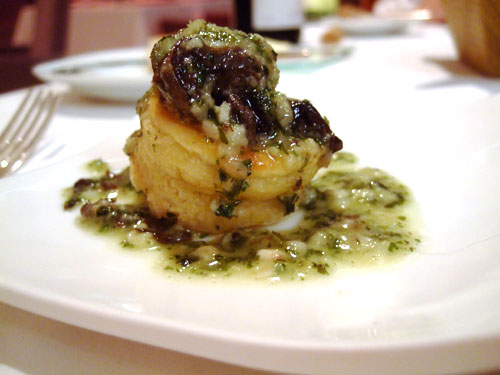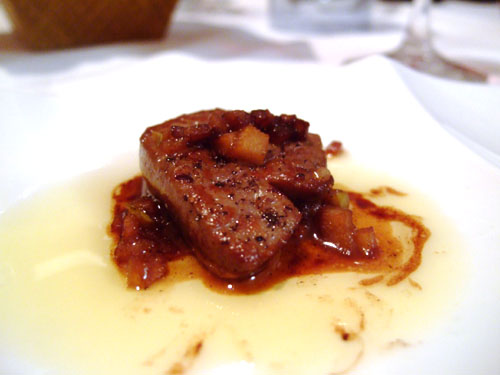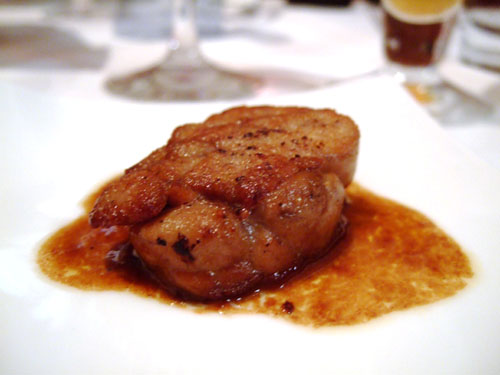 Supplement 2: French Trio [$18.00]
Escargot, sweetbreads and foie gras. The escargot was my favorite item in this troika. It was a traditional Bourguignon presentation, cooked in garlic butter, and served atop a delightful puffy pastry. The foie gras, meanwhile, was a typical preparation and a bit too sweet for me. Finally, the sweetbreads had a nicely cooked, golden brown exterior that gave way to a richly flavored, slightly gamey interior; overall it was quite nice.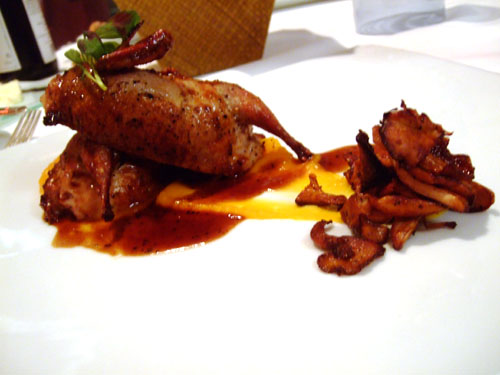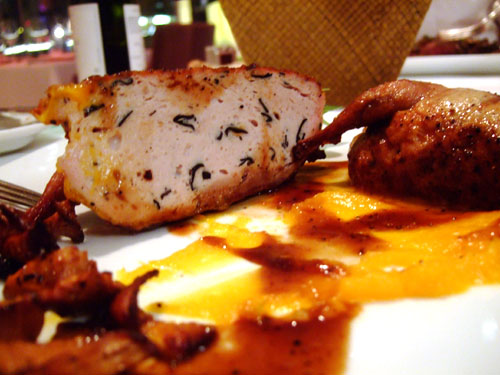 3a: Quail
Black truffle sausage, butternut squash, chanterelle mushrooms and Cognac sauce. The was easily one of the best preparations of "quail" I'd ever had. I use quotes as this wasn't really quail, but a quail shell stuffed with a truffled sausage made of chicken. It was quickly apparent that this wasn't a typical bird, once I saw that it was basically a large lump of meat, no bones, no entrails, with wings and legs attached. The sausage had a spongy textural a bit reminiscent of meatloaf, and was simply marvelous, especially when eaten with the quail's crisp skin. I was impressed at how well-integrated the sausage was; it was tough to determine where the sausage ended and quail began! The accompanying chanterelles were a nice touch, but the butternut squash purée was completely redundant.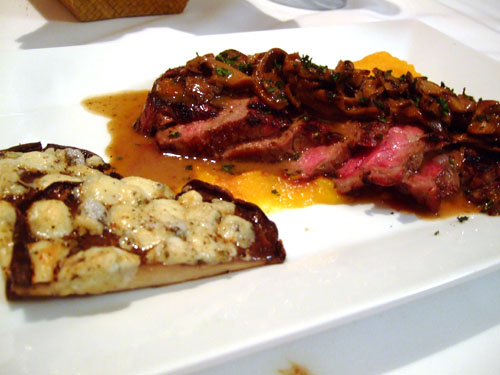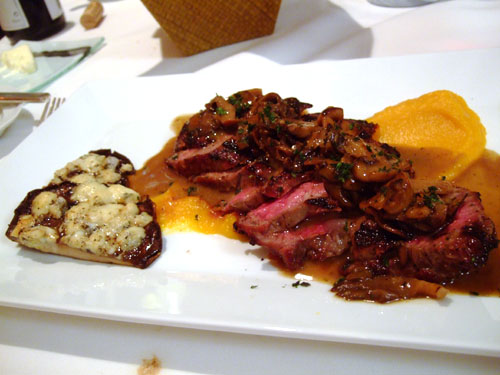 3b: Prime New York Steak
Portobello mushroom gratin, sauce à la forestière. The gratin was interesting, basically a cheesy layer on top of a portobello mushroom. Forestière sauce is a rich, mildly sweet brown sauce made with mushrooms and beef stock. Here, it added a lot to the beef, which otherwise would've been quite boring. The beef itself was nice enough, but paled in comparison to the Wagyu steaks I've had at places such as
CUT
. Again, as with the previous dish, I didn't care for the butternut squash.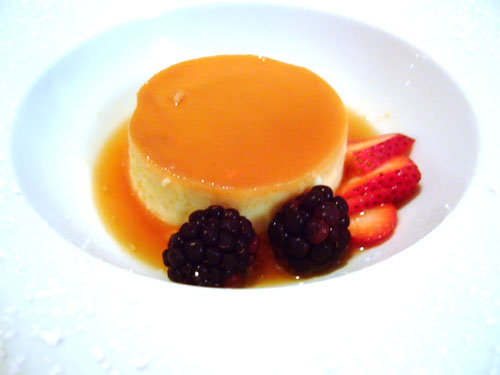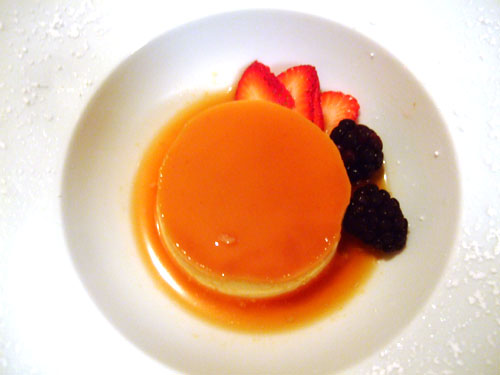 4a: Crème Caramel with Fresh Seasonal Berries
Crème Caramel, or simply flan, is a custard dessert with a layer of soft caramel on top. The custard portion was nicely dense, rich, and very sweet, while the berries added a contrasting tartness. A delicious dessert, but nothing groundbreaking.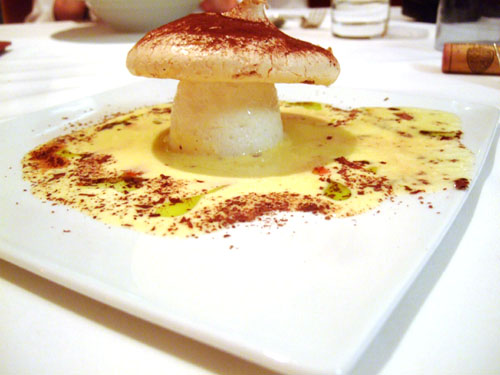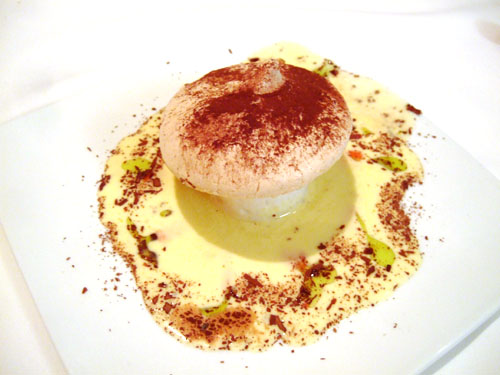 4b: Ile Flottante
Slow-baked meringues, crème anglaise, bittersweet chocolate mousse. This, on the other hand, was much more interesting. "Ile Flottante" is French for "floating island," or a dessert consisting of an "island" of meringue floating in a "sea" of crème anglaise. The meringue consisted of both the light, airy uncooked variety (the "stem" of the mushroom) and the classic dry cookie-like version (the "cap"). Both preparations were quite mild, and benefitted from the surrounding ocean of sweet crème française.
Though not as strong as
last time
, this meal at Leatherby's was nevertheless quite enjoyable. In fact, I still think it's one of the best restaurants in Orange County. It is thus unfortunate to see the place in such a constant state of flux, which I've heard blamed on things such as an odd location and lack of marketing. I don't think the food is a problem. New Executive Chef Schoenburg has a reputation for turning places around, so it's my hope that he can work his magic here at Leatherby's.