Ford's Filling Station (Culver City, CA)
Ford's Filling Station
9531 Culver Blvd, Culver City, CA 90232
310.202.1470
www.fordsfillingstation.net
Wed 11/12/2008, 08:00p-11:20p
Ford's Filling Station describes itself as a "gastro pub," focusing mainly on modern American food, with some international flair thrown in for good measure. The restaurant is helmed by Chef/Owner Benjamin Ford, son of actor Harrison Ford. Ford honed his skills at such LA establishments as Opus and Campanile (as well as the iconic California cuisine eatery Chez Panisse) before opening his Filling Station, where he focuses on uncomplicated cuisine backed by high-quality, locally-sourced ingredients.
Rather than experiencing Ford's regular menu, we were here for a special suckling pig dinner, as featured on Andrew Zimmern's show
Bizarre Foods
. The pig is available by special request only, and requires 10 days advance notice. This meal was sponsored entirely by
FoodDigger
, a burgeoning online food community. Joining me were fellow bloggers Aaron of
Food Destination
, Fiona of
Gourmet Pigs
, H.C. of
L.A. and O.C. Foodventures
, Ila of
I Nom Things
, Javier of
Teenage Glutster
, Matt of
Dig Lounge
, Matt of
Mattatouille
, and last but not least, Sarah of
The Delicious Life
and
Tastespotting
.
Situated along a row of restaurants, Ford's is surprisingly inconspicuous. I actually passed by it without even knowing.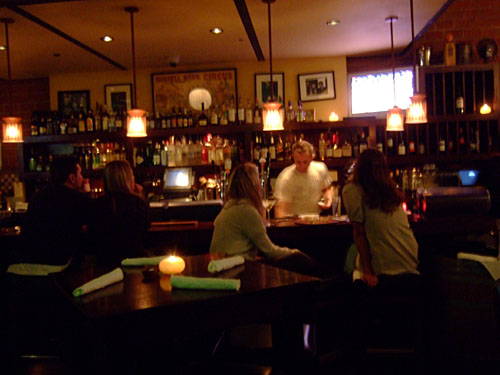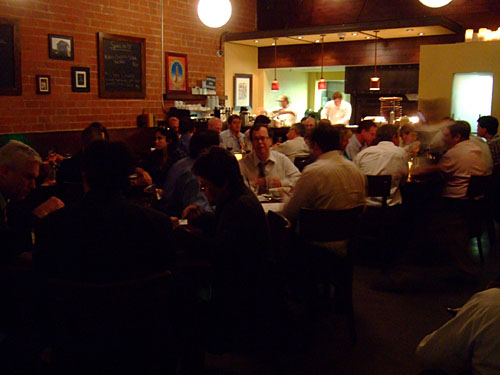 The bustling main dining room features lots of dark wood, exposed brick, and concrete, giving the space a quasi-industrial feel. Nevertheless, the room is casual and comfortable, if a bit loud.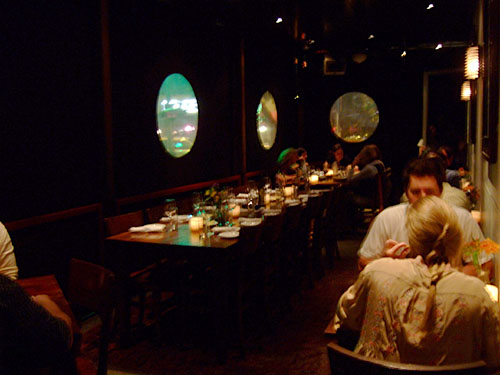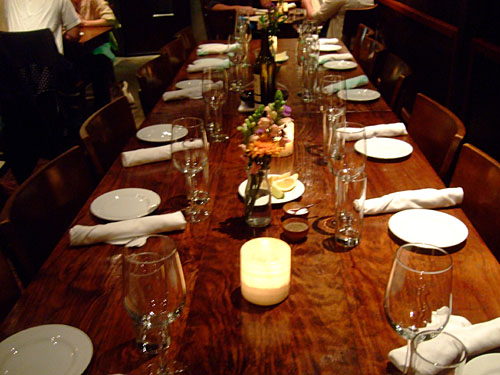 We were seated off to the side in the covered patio. A smaller room, the vibe here is much more relaxed.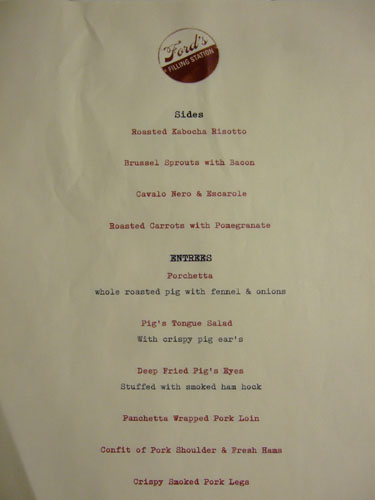 Knowing that none of us would remember everything we had, I requested a special copy of the night's menu. Click for a larger version.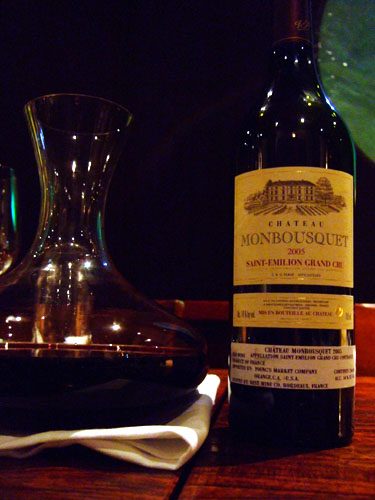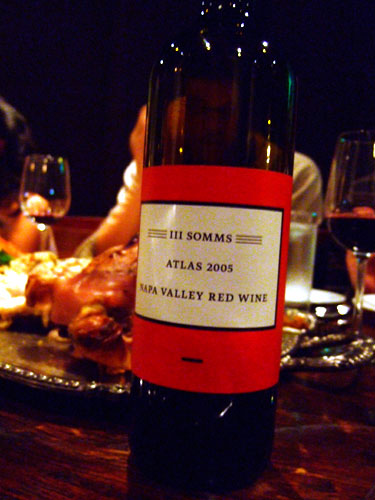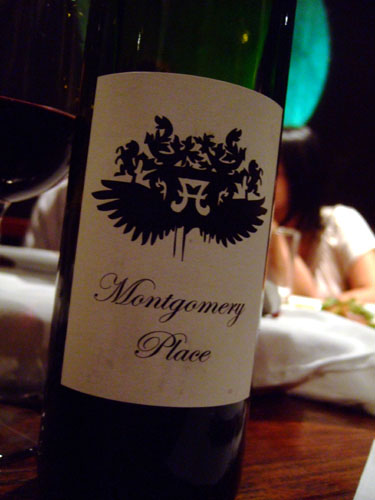 We paired three wines with the pork:
2005 Château Monbousquet St. Émilion [from the personal cellar of Will from FoodDigger] - Soft and delicate, the Monbousquet demonstrated subtle notes of dark berry, cassis, and smoke. Very balanced and delicious, the wine would perhaps benefit from some more time in the bottle.
2005 III Somms Atlas Napa Valley [$52.00] - This was a primarily Cabernet Franc blend, and tasted of a spicy mix of dark fruit, currant, and chocolate, leading to a slightly hot finish. A bit blunt.
2007 Montgomery Place Napa Valley Red Wine [$64.00] - Another Cabernet Franc-dominated blend, the Montgomery showed similar characteristics to the III Somms, but had more refined tannins and a more subtle finish, with a touch more minerality.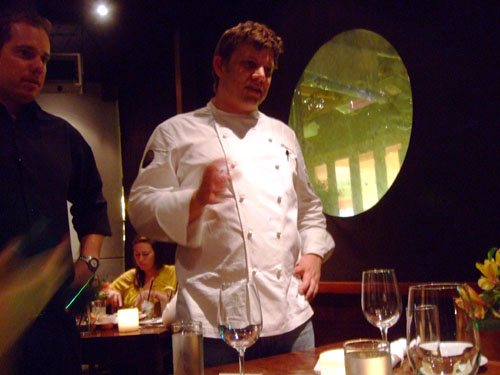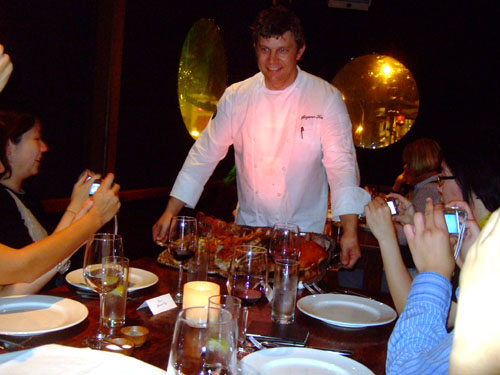 Chef Ford first came out at the beginning of the meal to give us a quick introduction of what would go down. Later, he proudly presented the platter of pork to us.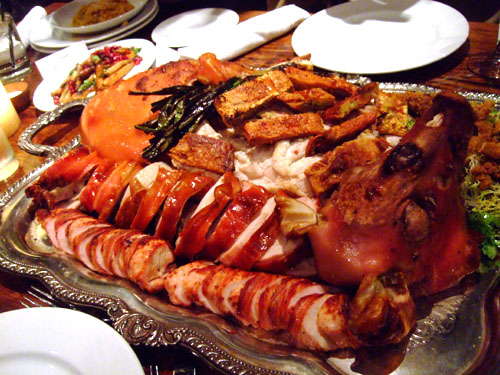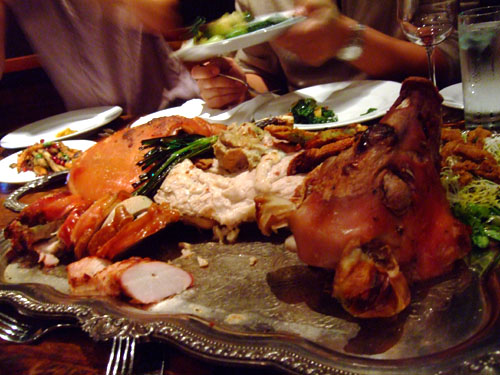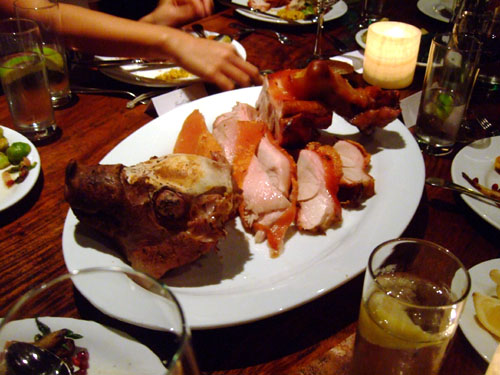 Served on a gleaming silver platter, the suckling pig was an impressive sight to behold.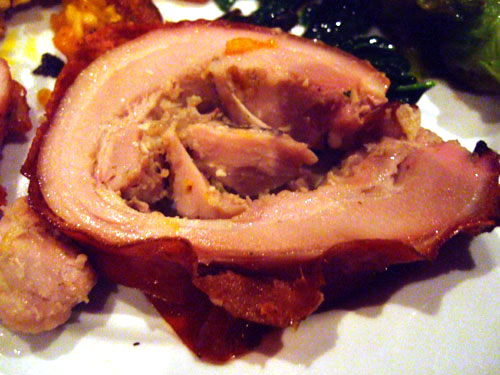 Pig 1: Porchetta
Porchetta is sort of a rolled, stuffed preparation of pork, done here with fennel and onions. It had a delightful taste, a base of pork, but augmented with the other ingredients. The skin was especially nice. Texture-wise, this was somewhere between the confit and the legs.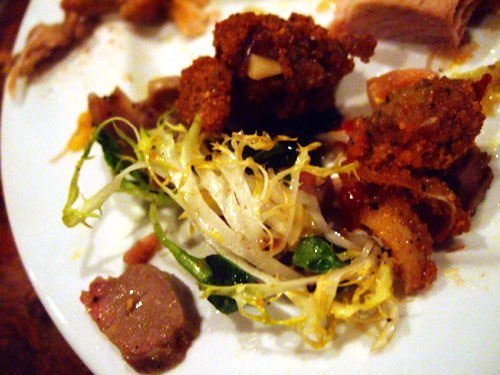 Pig 2: Pig's Tongue Salad
Formed over a base of frisée, the salad also came with crispy pig ears. I didn't particularly care for the tongue (which was cold and slightly metallic-tasting), though I did enjoy the crispy ears.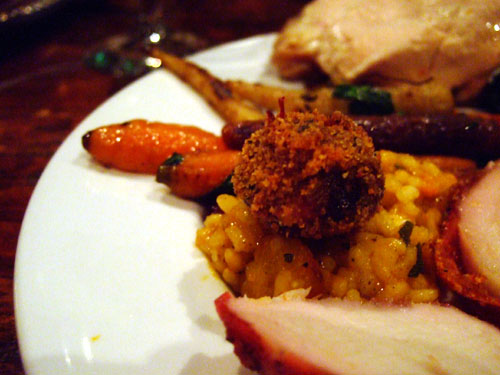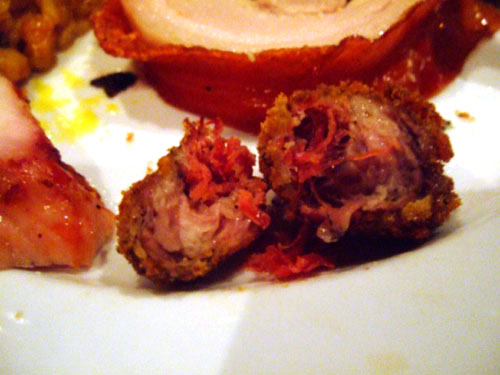 Pig 3: Deep Fried Pig's Eyes
I think this may have been my first time having eyes. Here, they were stuffed with smoked ham hock, which gave them a slightly chewy texture. Otherwise, the eyes were totally inoffensive, almost tasting like chicken.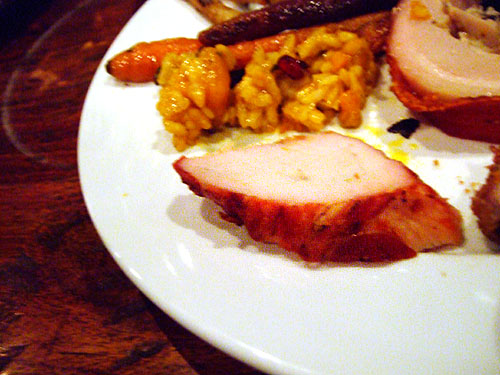 Pig 4: Panchetta Wrapped Pork Loin
The meat itself here was a bit monolithic, and so the key was the panchetta (cured pork belly) wrapper, which lent the pork a delectable contrasting savoriness. Quite nice.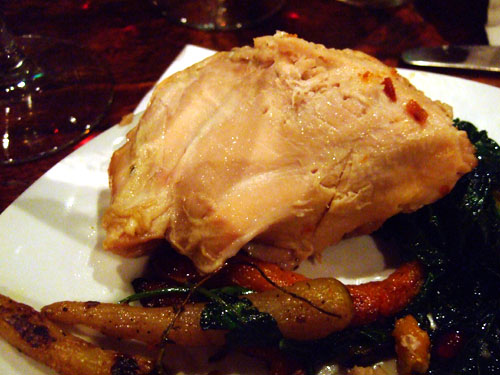 Pig 5: Confit of Pork Shoulder & Fresh Hams
This was what we were most looking forward to, and it did not disappoint. The confit preparation left the pork incredibly tender to the point of breaking apart, and imbued the meat with an immense depth of flavor. So juicy, so succulent, this was some of the best pork I've ever had.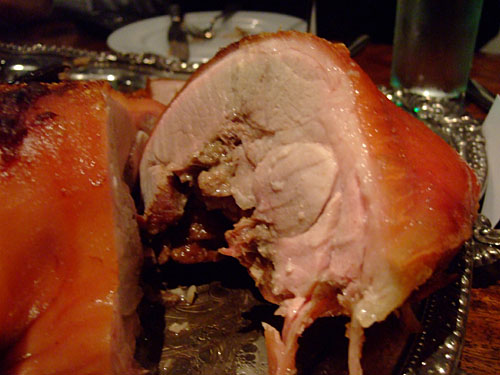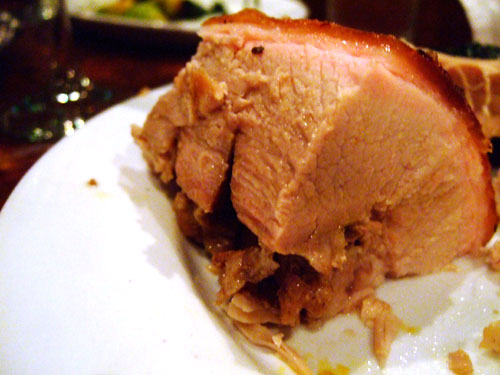 Pig 6: Crispy Smoked Pork Legs
This lacked the tenderness of the confit, and was a bit too tough for my tastes. It was perhaps the most intensely-flavored of all the variations, with strong, smoky notes over a base of pork.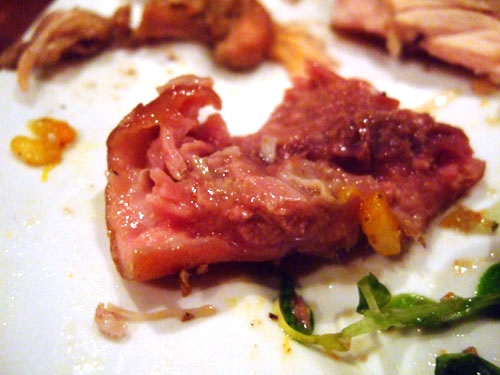 Pig 7: Pork Cheek
Chef Ford made sure to tell us about the pork cheek on the head of the pig. Very rich and very fatty, it was perhaps a touch too intense for me.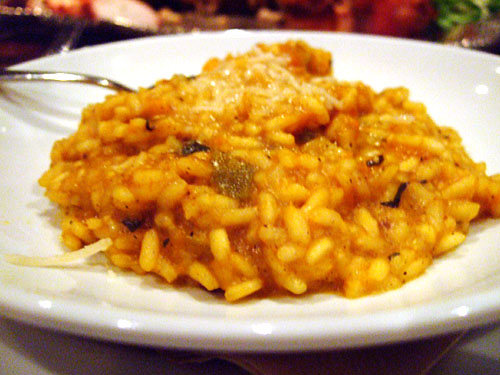 Side 1: Roasted Kabocha Risotto
Kabocha is a type of Japanese winter squash, known for its sweet flavor. Here, I felt the sweetness was too much for the risotto, and was all I could focus on with this dish.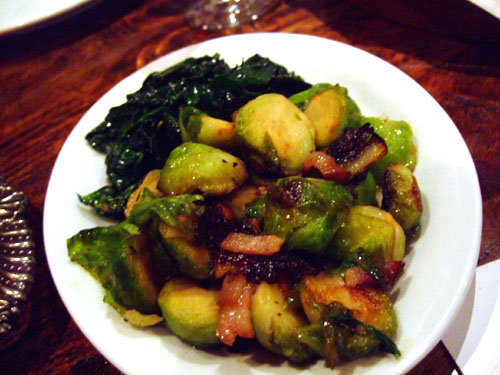 Side 2: Brussels Sprouts with Bacon / Cavalo Nero & Escarole
The Brussels sprouts were some of the best I've had, with their subtle nutty flavor accented by the salty tang of bacon. Fantastic. Also on the plate were kale and endive, which both had a very pleasing bitterness.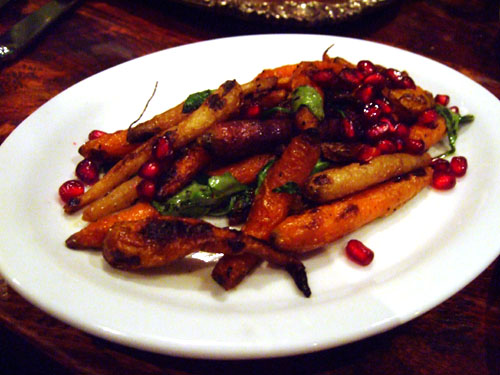 Side 3: Roasted Carrots with Pomegranate
The carrots had a natural sweetness that was further elevated by the pomegranate. I would've preferred them a bit crisper though.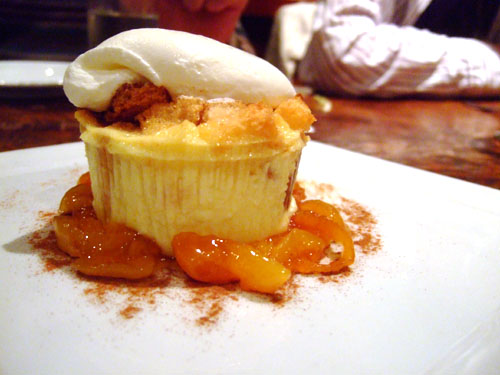 Dessert 1: Hawaiian Bread Pudding
After coming close to a pork coma, this light, fruity dessert was extremely appealing. The candied kumquats(?) provided a great contrasting sourness and I enjoyed their tough, chewy texture.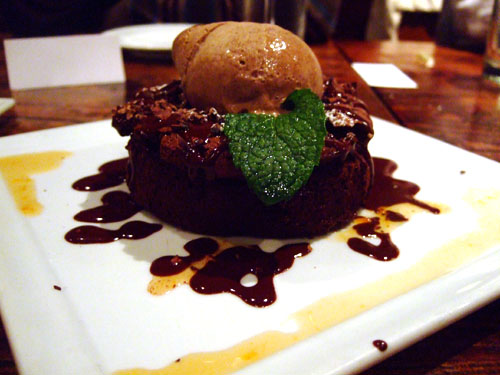 Dessert 2: Walnut Torte
Chocolate cake topped with ice cream is always a winning combination. Not particularly creative, but tasty indeed. The small bits of hard chocolate were a nice touch.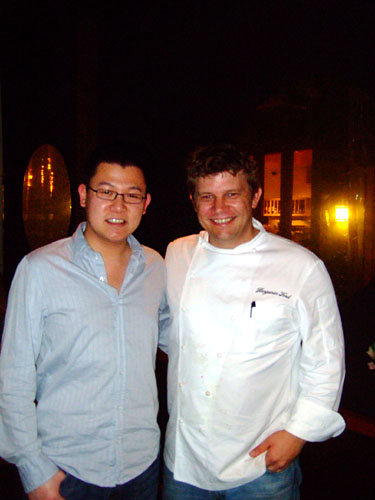 A photo with Chef Ben Ford shortly before he had to leave.
Though not everything worked for me, the clear standout was the pork confit, which was simply heavenly. That alone is something worth coming back for, though I'd also be curious about the regular menu as well. I must say that this was one of the most interesting meals I've had, not only for the food, but for the company. Sharing the meal with such like-minded individuals as mentioned above definitely heightened the experience, and I look forward to many more future meals in the same vein.