The Bazaar (Los Angeles, CA)
The Bazaar
465 S La Cienega Blvd, Los Angeles, CA 90048
310.246.5555
www.thebazaar.com
Mon 11/17/2008, 08:15p-12:50a
I was first introduced to José Andrés at his mezze eatery
Zaytinya
in Washington DC. This was several years ago, and ever since then, I'd wanted to try another one of Andrés' restaurants:
Minibar at Cafe Atlantico
, arguably the most progressive restaurant in the country. Andrés, a discipline of Ferran Adrià, is perhaps best known for his small plates, "avant garde" cuisine, so I was thus very excited to hear than he'd be opening a restaurant right here in LA. The anticipation built for several months, and I made reservations for opening night as soon as I could. I was especially interested in comparing the place to
XIV
(also owned by SBE), as I attended and reported on that restaurant's opening night a month ago.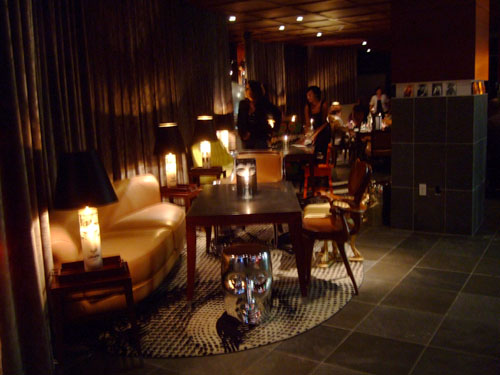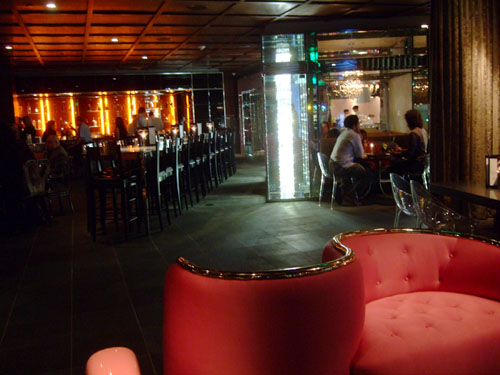 Designed by Phillipe Stark, The Bazaar is divided into several distinct areas. The first is Bar Centro, located immediately behind the entrance. The bar/lounge is decorated eclectically, and makes interesting use of the space. The actual bar is located near the back.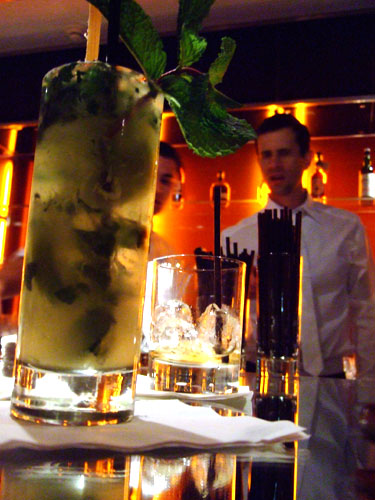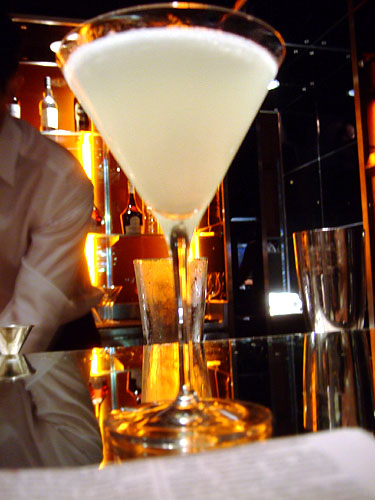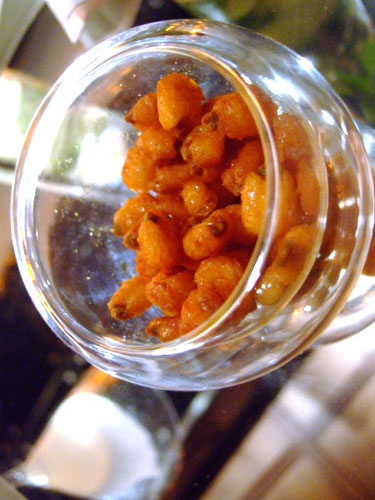 While waiting for my entire party to show up, we decided to order a few drinks at the bar. Naturally, I had to go with a mojito [$16.00], replete with a piece of sugar cane (which was nice to chew on). It was an excellent example, well very balanced, with just the right amount of sweet and sour, while being still light and refreshing. I also sampled the "Salt Air" Margarita [$14.00], which was basically a classic margarita topped with salt air (foam). Again, an excellent example, with the air basically serving the exact same function as a salt rim. There were also some sweet "corn nuts" to munch on.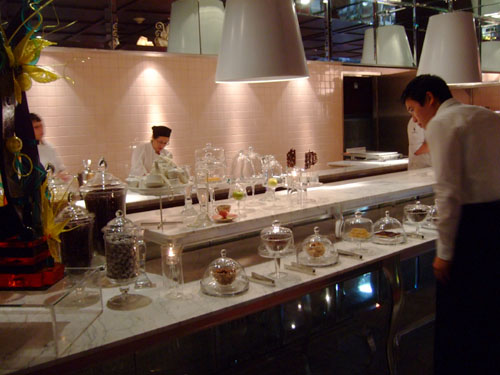 To the right of Bar Centro is the Patisserie, or dessert station. In addition to offering a selection of cakes, candies, and chocolates, the Patisserie also serves up tea and coffee.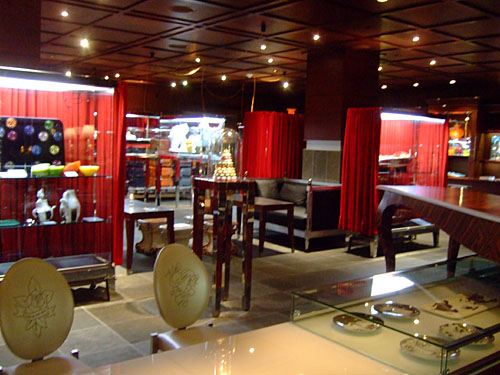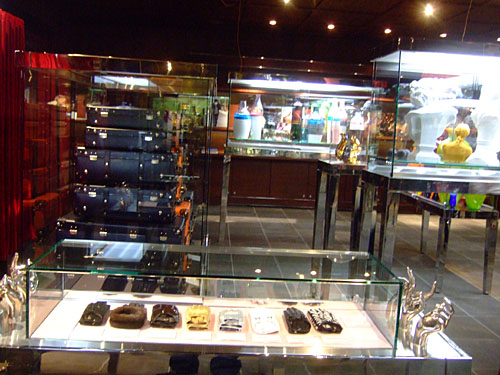 Further to the right is the shopping area by Moss, showcasing a wide range of high-end trinkets and baubles.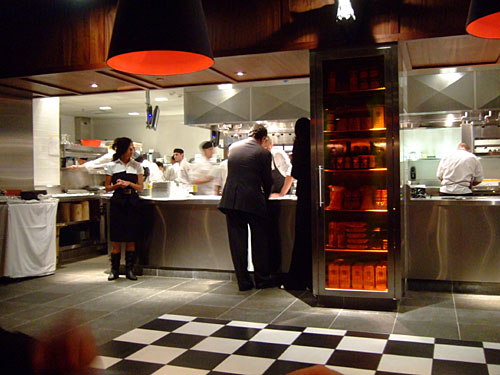 With my party complete, we were seated in Rojo y Blanca, the main restaurant at The Bazaar. We were seated in "Rojo," one of two dining rooms, and were provided with an excellent view of the kitchen.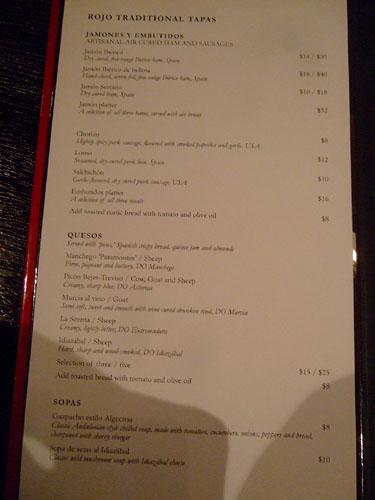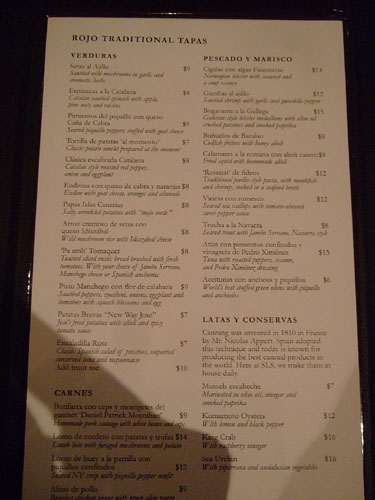 The menu focuses on tapas and is similarly divided into "Rojo" and "Blanca" sections, with the former being more traditional and the latter more progressive. As with
XIV
, our goal was to order "the gamut," or everything on the menu. There were 62 items, and I proposed that we order two of everything on the menu, split amongst six people. Unfortunately, this time we failed by 13 dishes, significantly underestimating the size of the courses. In hindsight, we should've ordered just
one
of everything (a paradigm which we did move to toward the end of the meal). Click for larger versions.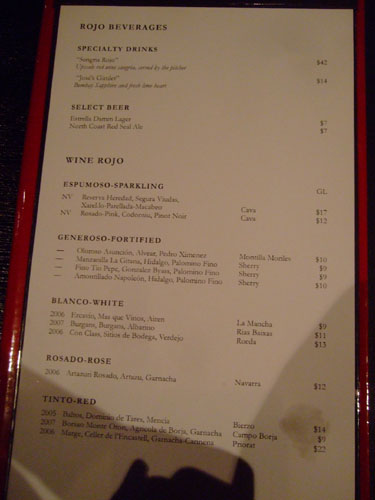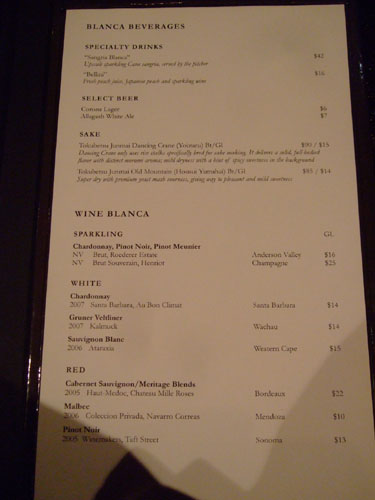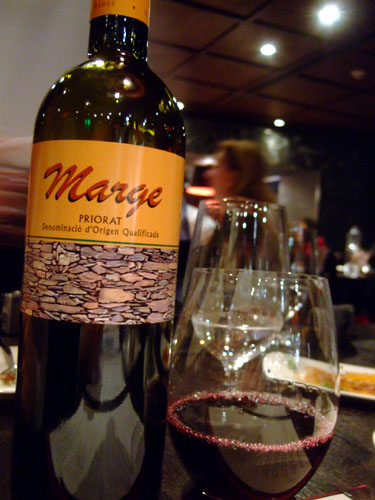 A small selection of wines is offered. We decided to go with a bottle of the 2006 Marge, Celler de l'Encastell, Garnacha-Carinena, Priorat [$86.00]. I thought the wine was way too young, though it did open up a bit after an hour or so, showing lots of spice, smoke, and earth, with a bit of heat on the finish; not enough fruit though. We were told that eventually, diners would be able to order the wine selections from Bar Centro as well. Click for larger versions.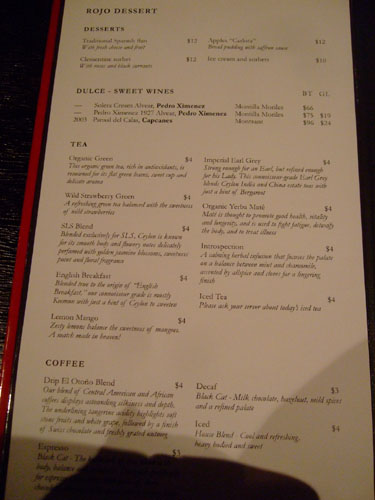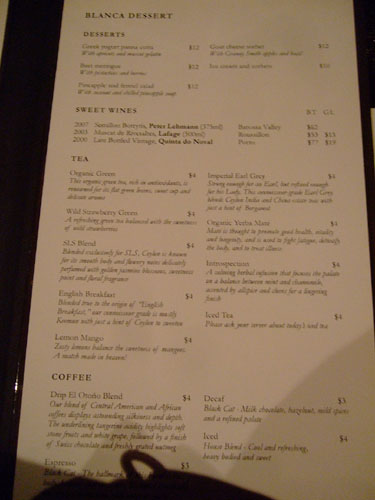 There aren't a lot of desserts offered at Rojo y Blanca, though the Patisserie does supplement this list considerably. Click for larger versions.
Now, with all the formalities out of the way, we'll delve into each of the 49 dishes I had: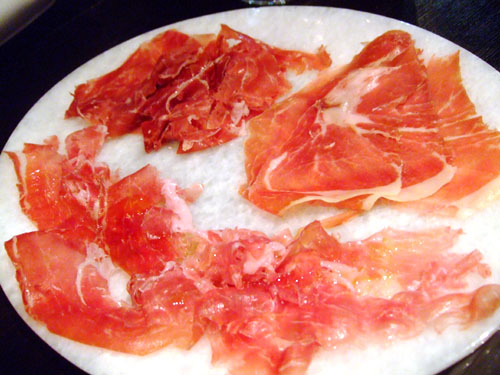 1: Jamón platter [$32.00]
Clockwise from top left, we have: Jamón Ibérico de bellota, Jamón Ibérico, and Jamón Serrano. Jamón Ibérico comes from the Black Iberian Pig, and was, until recently, not available in the US. Jamón Ibérico de bellota is the most prized version, and is made from pigs that eat only acorns during the last periods of their lives. This resulted in the meat being sweeter, nuttier, and fattier than the non bellota version, which had a stronger, "hammier" flavor. This was my first time having Jamón Ibérico and it didn't disappoint. The much more common Jamón Serrano (made from white pigs) was somewhat drier and less fatty, but still delicious.
2: Selection of five cheeses [$25.00]
Served with 'picos,' Spanish crispy bread, quince jam and almonds:
Murcia al vino - This was a goat's milk, semi-soft, smooth cheese with a red wine-washed rind from Murcia in southeastern Spain. It had just a hint of fruitiness and nuttiness and was quite nice overall.
La Serena - La Serena is made from Merino sheep's milk in La Serena, Spain. It had a soft, creamy consistency, backed by a bitter, almost astringent taste.
Manchego 'Pasamontes' - Manchego is a sheep's milk cheese made in the La Mancha region of Spain. I found it firm and mild, with just a bit of saltiness.
Idiazábal - Idiazábal is a hard, mildly smoky, nutty sheep's milk cheese from the Basque region in Spain. At XIV, I had it paired with bacon.
Picón Bejes-Treviso - A creamy, sharp blue made from cow's, goat's, and sheep's milk from Liébana, Cantabria, Spain. A prototypical blue.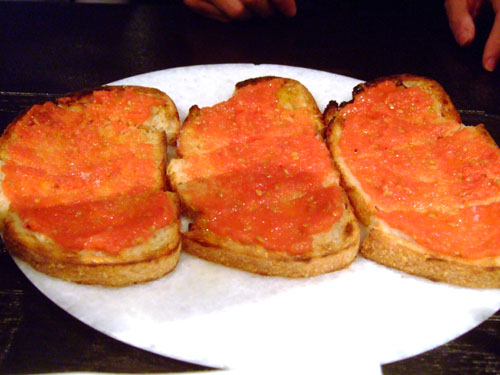 3: 'Pa amb' Tomaquet [$8.00]
Toasted sliced rustic bread brushed with fresh tomatoes. This typical preparation of Catalan cuisine was surprisingly tasty, with the tomato adding an interesting contrast to the toasted bread. It was a nice accompaniment for the jamón and cheese.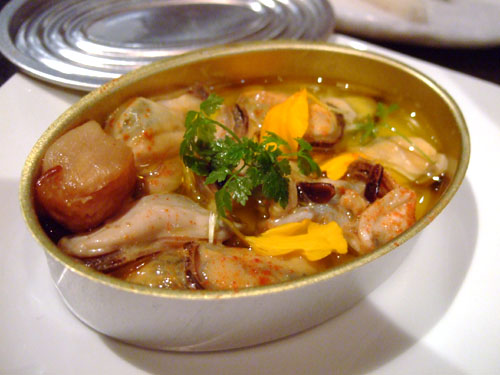 4: Mussels escabeche [$7.00]
Marinated in olive oil, vinegar and smoked paprika. This was definitely one of the better preparations of mussels I've had, with the marinade adding a spicy, tart kick to the natural flavor of the mollusks. Perfect texture too.
5: King Crab [$16.00]
With raspberry vinegar. The raspberry was initially a bit strange, but turned out quite nicely, with the flavor of the berries pairing well with the crab meat's inherent sweetness.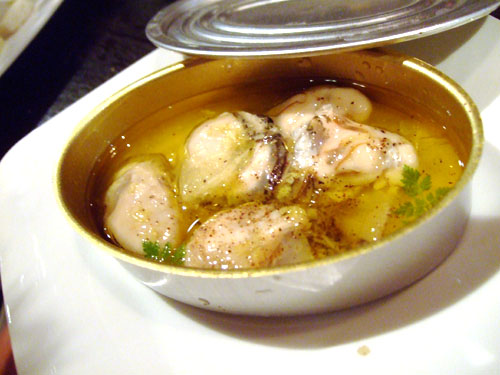 6: Kumamoto Oysters [$12.00]
With lemon and black pepper. Kumamotos are my favorite type of oyster, and here again, they lived up to their reputation, with the lemon adding a great kick. I will say though that although tasty, these were actually quite similar in taste to the oysters on the half shell that you normally get.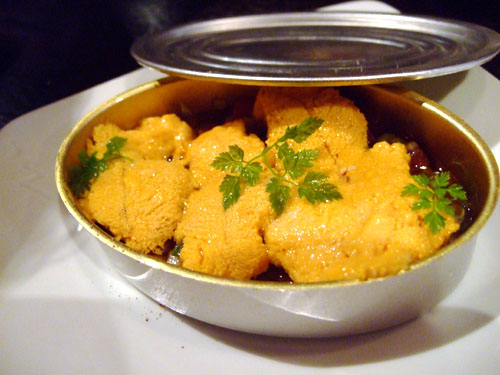 7: Sea Urchin [$16.00]
With pipirrana and Andalusian vegetables. This was my favorite of the canned dishes, and was an exemplary preparation of uni. The sea urchin itself was mild, smooth, and delicious, while the veggies (peppers, tomatoes, onions, etc.) added a fantastic textural contrast. Arguably the best dish of the night.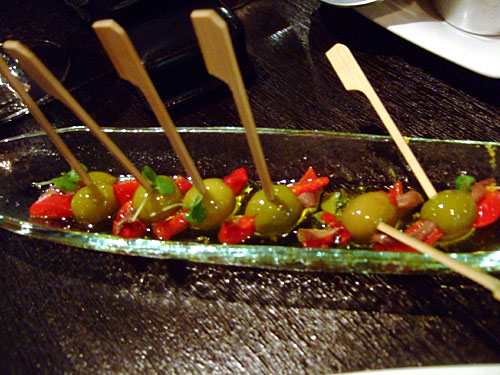 8: Aceitunas con anchoas y piquillos [$6.00]
Stuffed green olives with piquillo and anchovies. Though advertised as "world's best," these tasted pretty much just like olives. The piquillos didn't add much, and the anchovies were simply not apparent.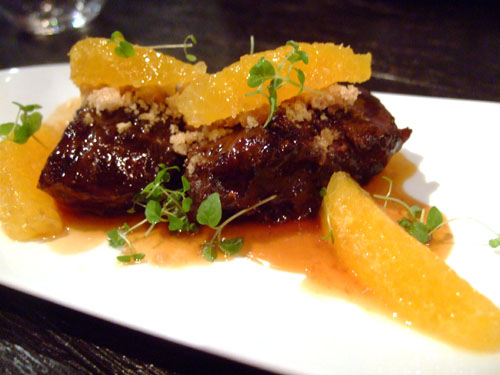 9: Carrilleras de cerdo con naranja [$8.00]
Braised pork cheeks with California oranges. Quite nice. The pork was braised, so it was very tender, but the meat still had a bit of bite to it, which I appreciated. The oranges did well to offset the heaviness of the meat.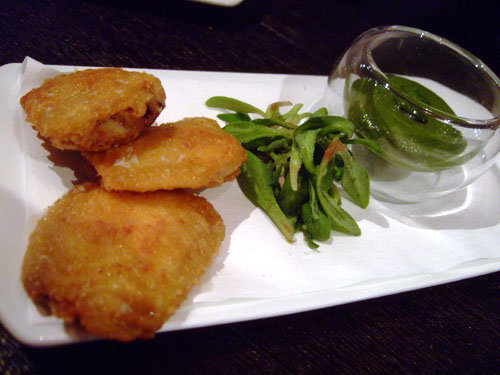 10: Alitas de pollo [$9.00]
Boneless chicken wings with green olive puree. I liked these. The chicken was extremely juicy and rather fatty, reminding me of almost an Asian-style street food. However, tasting the bird with the included olive puree and greens added layers of complexity to the dish that elevated it above mere fried chicken.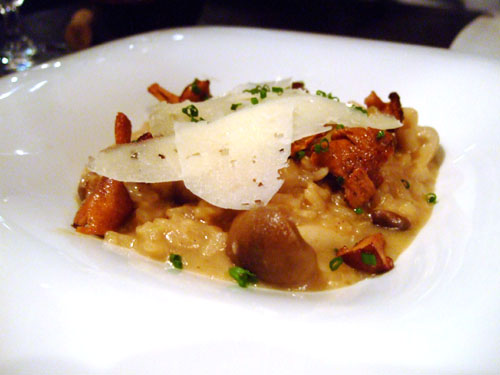 11: Arroz cremoso de setas con queso Idiazábal [$8.00]
Wild mushroom rice with Idiazábal cheese. The rice didn't have that risotto-like texture that I love, but nevertheless, I quite enjoyed this dish and its rich, hearty interplay between rice, earthy mushroom, and smoky cheese. It actually reminded me of the mushroom risotto I had at
Café Hiro
.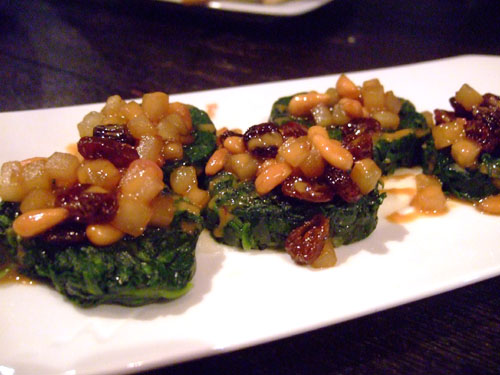 12: Espinacas a la Catalana [$8.00]
Catalan sautéed spinach with apple, pine nuts and raisins. The sweetness hits you first, which is then followed by the bitterness of spinach. A bit strange at first, but then it makes perfect sense. I had a similar Catalan style spinach at
Mizuna
only days earlier. There, I felt the amalgam was too sweet, but that didn't pose a problem here.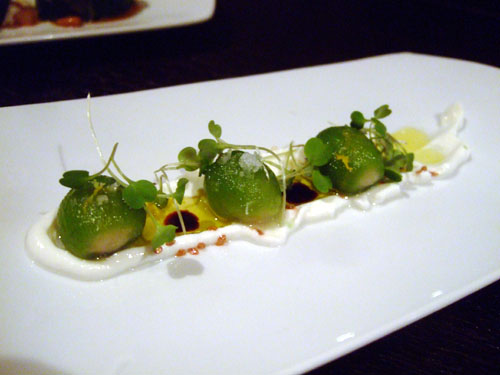 13: Japanese baby peaches [$12.00]
With yogurt and olive oil. The peaches had a lovely sweetness that was deftly set off by the yogurt, an interesting contrast. This looks like it could've been a dessert from
Providence
!
14: Lomo de buey a la parrilla con piquillos confitados [$12.00]
Seared NY strip with piquillo pepper confit. The meat was aptly cooked and I liked the texture, but the taste somehow seemed off to me; it just lacked the beefiness that I was looking for. The piquillos did work well here though.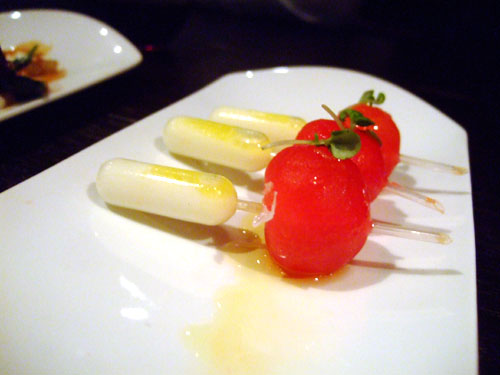 15: Mozzarella-tomato pipettes [$8.00]
With micro basil. Interesting presentation here. You first taste the tomato with a hint of basil, then get hit by the mozzarella a second later, resulting in a quasi-insalata caprese experience. Quite a pleasing effect overall.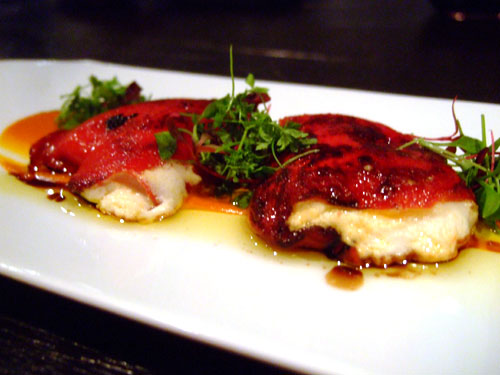 16: Pimientos del piquillo con queso Caña de Cabra [$9.00]
Seared piquillo peppers stuffed with goat cheese. Here I noted an initial burst of strong cheesy taste, gradually leading to the much milder flavor of pepper near the finish. Nothing special.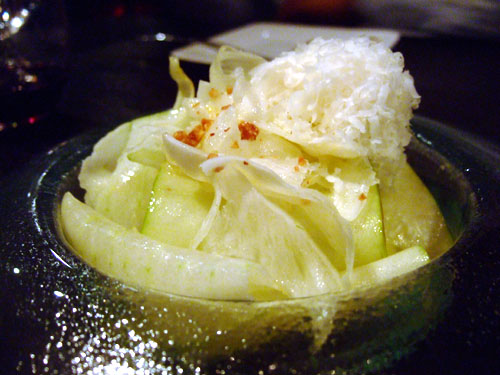 17: Sliced apples and fennel salad [$7.00]
With Manchego cheese, walnuts, olive oil and cava vinegar. I had a really hard time discerning anything else but apple here. There was just too much of it, and it dominated the other flavors. I didn't even know about the cheese and walnuts before reading the menu! With its sharp, cool tartness, this was almost like a palate cleanser.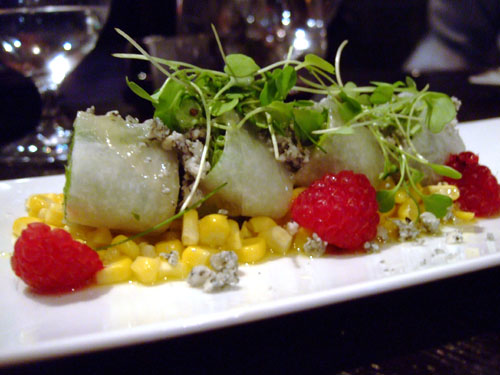 18: Organized arugula salad [$9.00]
With raspberries, corn and Cabrales blue cheese. The arugula, when eaten alone, had a dry, spicy bitterness that wasn't too pleasant, but adding the cheese didn't help either, as it just overpowered everything else. The corn and raspberries were a tad incoherent.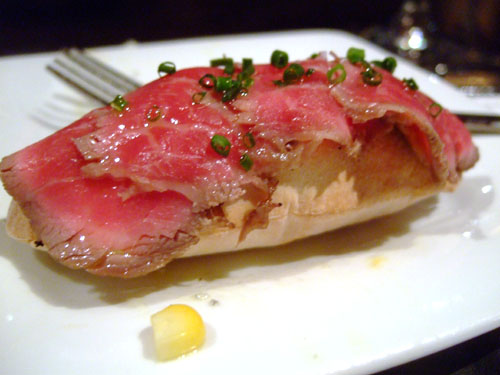 19: 'Philly cheesesteak' [$7.00]
Air bread filled with cheese and topped with Kobe beef. I loved the lightness of the air bread and how it almost explodes in your mouth, coating it with cheese. Unfortunately, the cheese drowned out the taste of the beef.
20: Ensaladilla Rusa [$7.00]
Classic Spanish salad of potatoes, imported conserved tuna and mayonnaise. The tuna flavor was very strong here, though not unpleasantly so. The dish reminded me of a cross between tuna salad and potato salad. In that vein, I think it would've been better served a bit colder.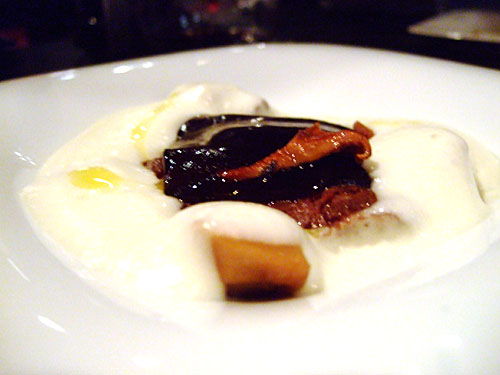 21: Lomo de corder con patatas y trufas [$14.00]
Lamb loin with foraged mushrooms and potato. The meat was extremely tender and almost pork-like in nature (one of my dining companions guessed that it was done sous-vide), and served as a base on which the potatoes and mushrooms could come to the fore.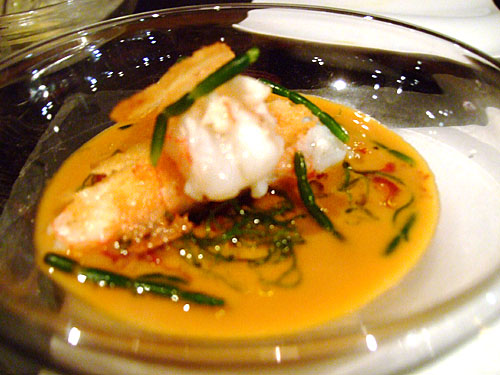 22: Cigalas con algas Finisterrae [$14.00]
Norwegian lobster with seaweed and a soup essence. The seaweed added an extremely briny essence to the dish that tended to overpower the lobster; I wasn't a fan of its texture either. My attention was pretty much drawn to the seaweed and not the lobster.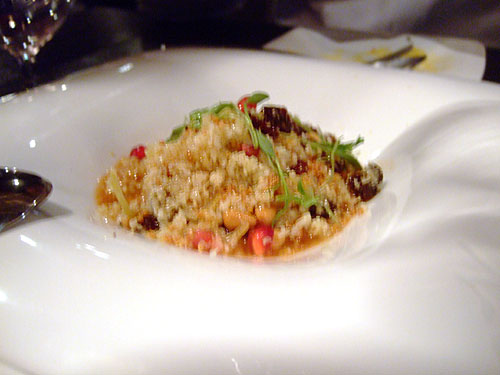 23: Sautéed cauliflower "couscous" [$9.00]
With cauliflower puree, vegetable harissa broth, preserved lemon and fried quinoa. I'm generally a fan of cauliflower, and I appreciated its creative use here as "couscous." It had a subtle bitterness that contrasted with the sweeter elements of the dish, along with a great mouthfeel. Quite good.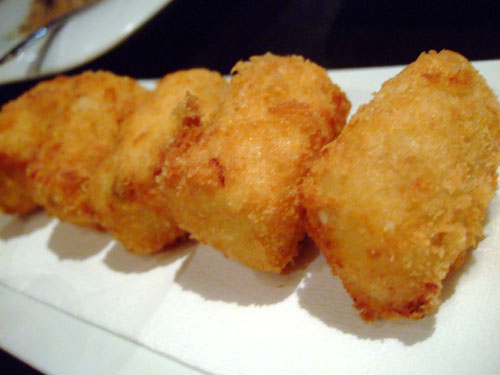 24: Croquetas de pollo [$7.00]
Chicken and béchamel fritters. The unique amalgam of chicken and béchamel gave the croquettes a lovely golden brown exterior hiding a warm, creamy center. It was akin to a chicken pot pie, and I rather liked it.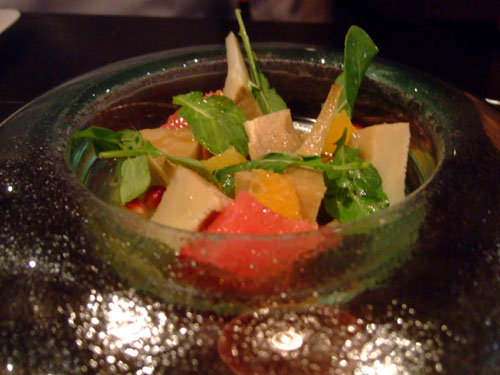 25: Artichokes and citrus salad [$9.00]
With orange blossom dressing and pomegranate. I found the citrus jarring, and not at all integrated with the artichoke, which was just bland. This was disjointed to say the least, a mismatched mishmash and one of the weakest dishes of the night.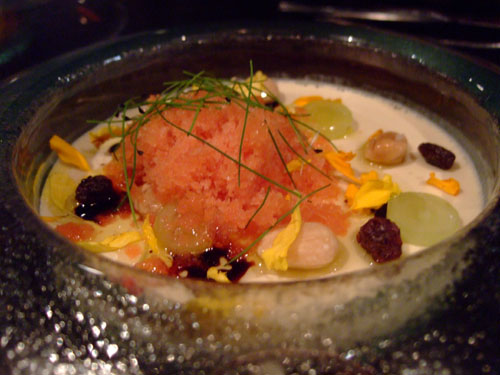 26: Ajo blanco gelatin [$8.00]
With tomato granité. Also competing for the title of worst dish of the night was this strange amalgamation. Ajo blanco is a type soup traditionally made from bread, olive oil, vinegar, water, garlic, and almonds. Sounds pretty good on its own, but here the interplay of savory and sweet elements just didn't work out. The jarring coldness of the granité didn't help either. Like an experiment gone wrong at
Alinea
.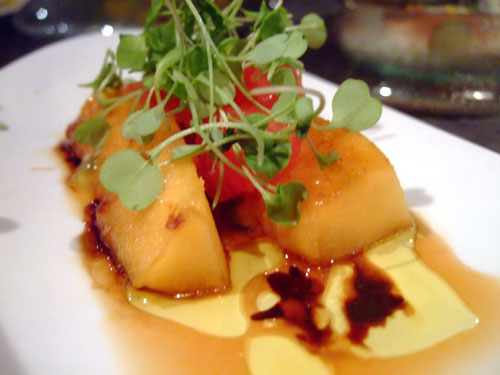 27: Seared cantaloupe [$7.00]
With arugula and grapefruit salad. I've never had seared cantaloupe before, but I must say that the cooking process intensified the natural flavor of the fruit and gave it a rich heaviness that stood in stark contrast to the grapefruit. Surprisingly nice.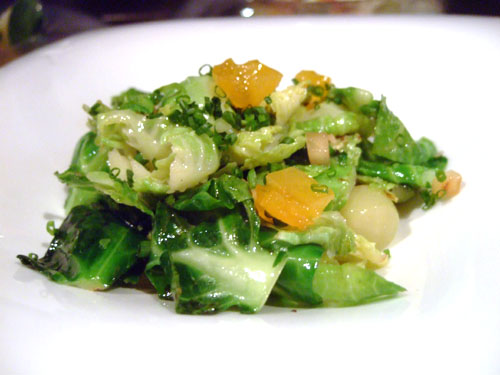 28: Brussel sprout salad [$8.00]
With lemon puree, apricot preserves and lemon air. Having found a new appreciation for Brussels sprouts just days earlier at
Ford's Filling Station
, I rather liked the salad. The sprouts had a great crunchiness along with their signature bitterness, which was subsequently cut by the use of lemon and apricot.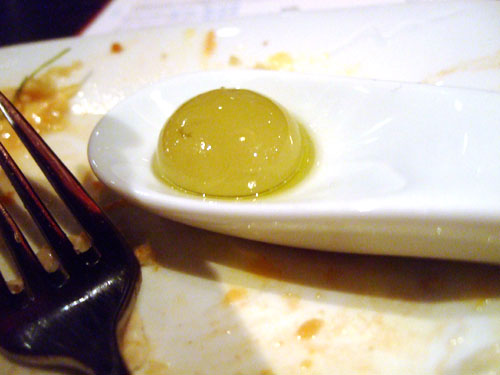 29: Olives Ferran Adrià [$10.00]
Liquid 'olives'. A nod to his former teacher, the "olives" consisted of an olive flavored liquid encased in a thin membrane. I'm not sure what the hype is all about, it tasted like an olive, nothing more.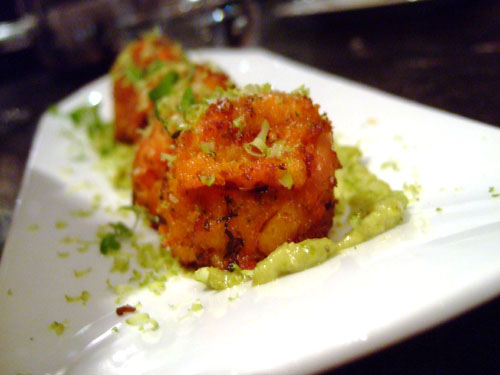 30: Traditional Ottoman carrot fritters [$7.00]
With pistachio sauce. The fritters had a decidedly "Indian" taste to them, which I rather enjoyed. I also appreciated their texture, which was not unlike that of a hash brown. Nice!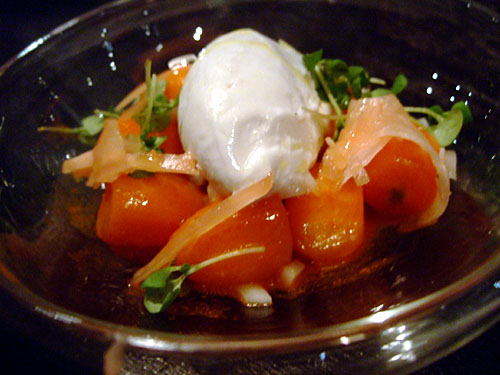 31: Stewed baby carrots [$8.00]
With coconut sorbet and ginger. The sorbet by itself was superb, with a rich taste of coconut backed by a lovely cool creaminess. The carrots were also quite tasty by themselves. But when eaten as a whole, the dish just fell apart for me, with its quasi-Thai flavor.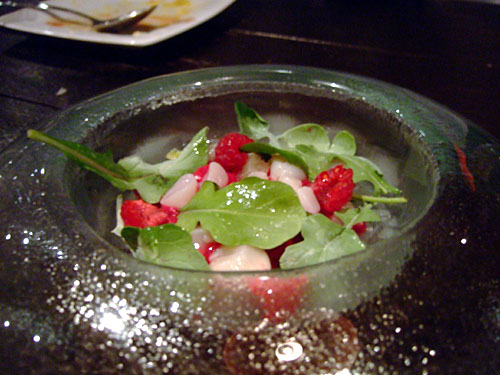 32: Taylor Bay scallops [$10.00]
With beet nitro, pistachios and arugula. All I could taste was the sweetness of the beets and berries, locked in some sort of frozen mass. Were there even scallops here? Could've fooled me!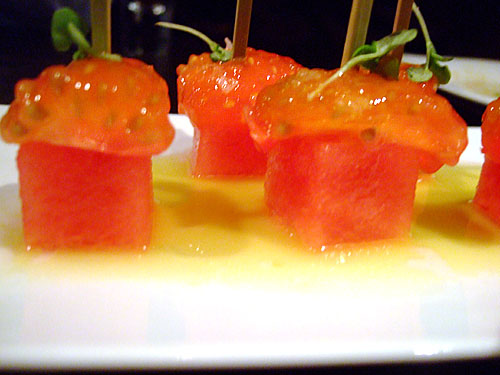 33: Watermelon tomato skewers [$15.00]
With Pedro Ximénez reduction and sexy tomato seeds. Yes, the tomato seeds are actually described as "sexy" on the menu. But sexy or not, this was damn good. The tartness of the tomato formed the perfect foil for the watermelon, and the whole mélange was ridiculously juicy to boot.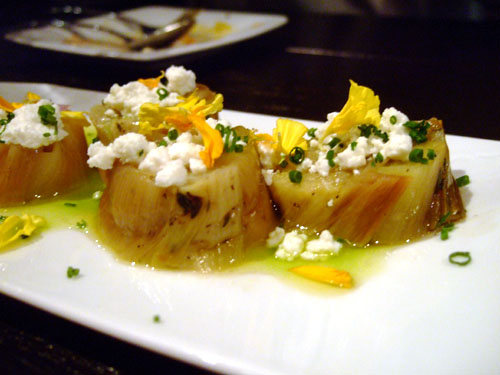 34: Warm leek salad [$8.00]
With goat cheese and lemon dressing. I don't recall the particulars about this dish, but I do remember that I didn't care for it. The table agreed with me, and these were left largely untouched.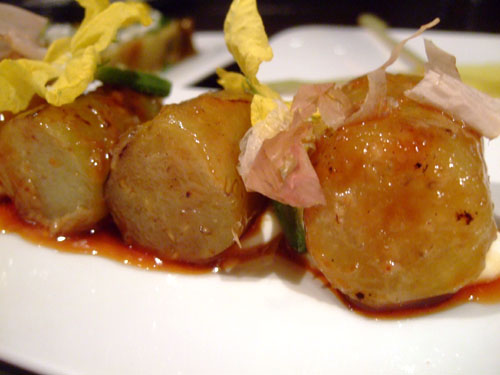 35: Japanese eggplant [$8.00]
With soy sauce-miso glaze and yogurt. Continuing the trend from the previous dish, this was pretty awful. I'm not sure what else to say. I don't think it had a single redeeming quality. Sorry.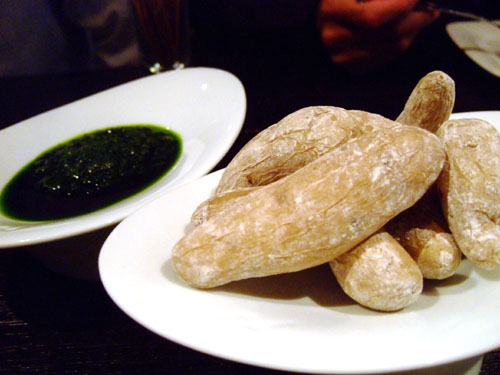 36: Papas Islas Canarias [$8.00]
Salty wrinkled potatoes with "mojo verde." The potatoes were delightfully salty and very delicious on their own, with an absolutely lovely texture. They were even tastier when dipped in the piquant mojo sauce. Simple, yet effective, this was one of the highlights for me.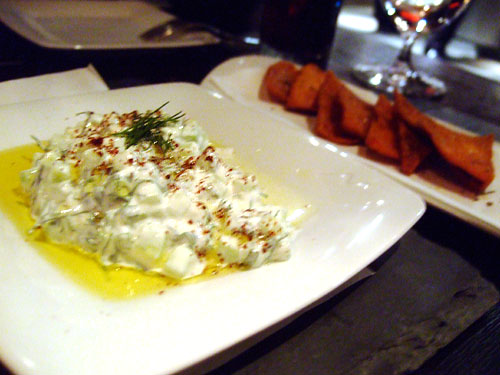 37: Traditional tzatziki [$7.00]
Diced cucumbers, garlic, dill and yogurt, served with pita chips. A very straightforward preparation of tzatziki, this would've been a great starter, but just seemed out of place at this point in the meal. Nothing wrong with it though.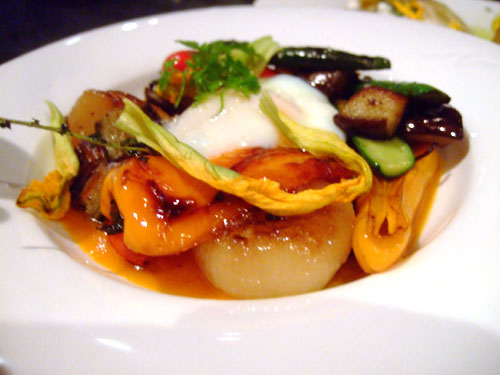 38: Pisto Manchego con flor de calabaza [$9.00]
Sautéed peppers, zucchini, onions, eggplant and tomatoes with squash blossoms and egg. Here we have basically a medley of sautéed vegetables, decent on their own, but made much better by the unifying presence of the soft boiled egg.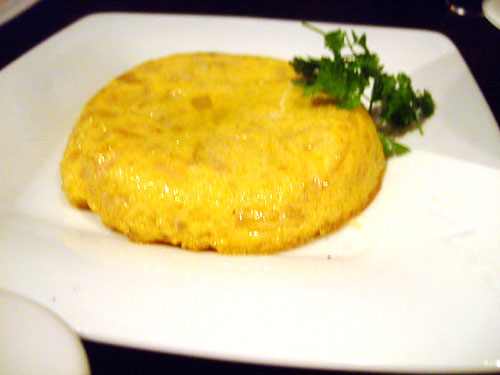 39: Tortilla de patatas 'al momento' [$7.00]
Classic potato omelet prepared at the moment. I actually quite liked the flavor of this course, but its soft, creamy, foamy texture just seemed a bit incongruous to the dish's character.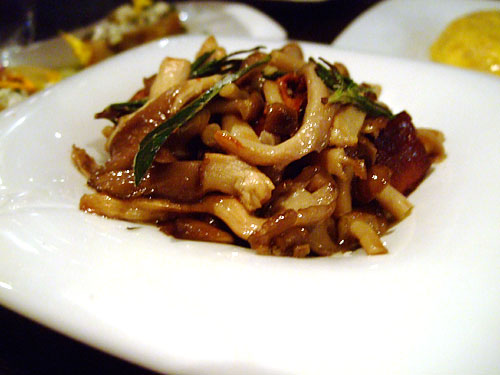 40: Setas al Ajillo [$9.00]
Sautéed wild mushrooms in garlic and aromatic herbs. Sautéed mushrooms can hardly be bad, and certainly this was no exception. At the same time though, it's not like this brought anything new to the table.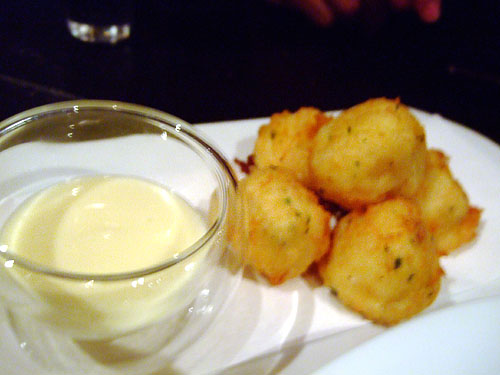 41: Buñuelos de Bacalao [$8.00]
Codfish fritters with honey aioli. I'd appreciate another type of fish here, as I found the cod rather mushy and a touch fishy, though the aioli did help with the latter problem. Next!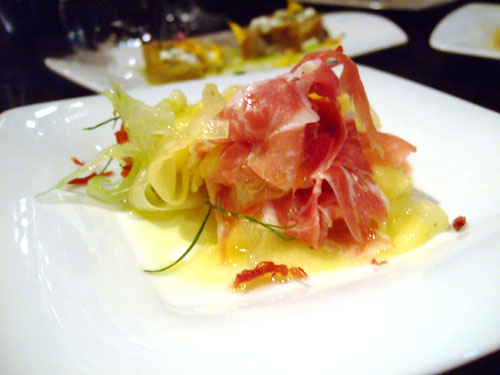 42: Ibérico ham and pineapple [$12.00]
With fennel sherry dressing. While I was eating this, all I could think of was Hawaiian pizza (not necessarily a bad thing mind you). What really stood out to me though wasn't the ham, but the sweet juiciness of the pineapple.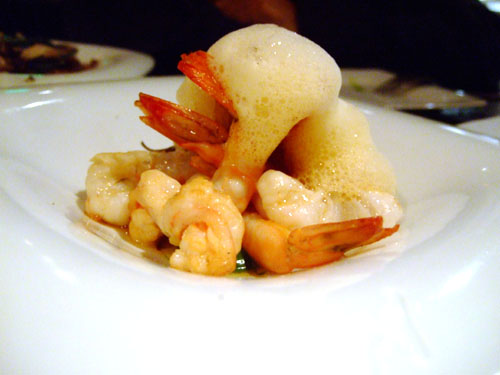 43: Gambas al ajillo [$12.00]
Sautéed shrimp with garlic and guindilla pepper. Nice texture on the shrimp, but the accompanying sauce was just plain strange. I don't know what it was, but it certainly didn't taste like garlic or pepper. I thought the equivalent dish at
The Courtyard
was much better.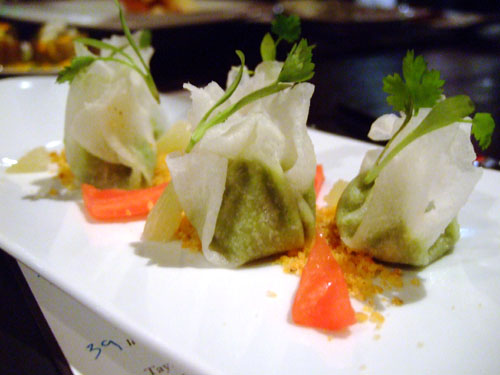 44: Jicama wrapped guacamole [$10.00]
With micro cilantro and corn nuts. I didn't get much of the supposed corn nuts, but the jicama wrapper added a lovely crunch to the smooth creaminess of the guacamole. Very light and refreshing, with a great avocado taste.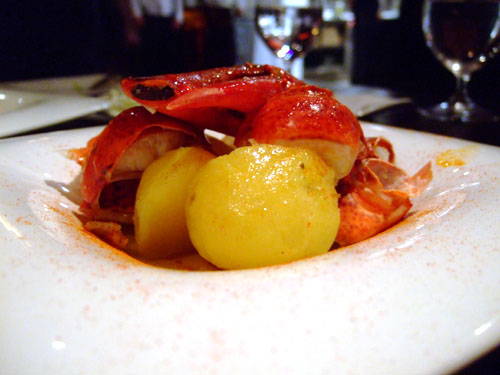 45: Bogavante a la Gallega [$15.00]
Galician-style lobster medallions with olive oil crushed potatoes and smoked paprika. I ate the claw of the lobster and was duly disappointed, as I found it overly salty and limp in texture. The potatoes were quite good though I'm told.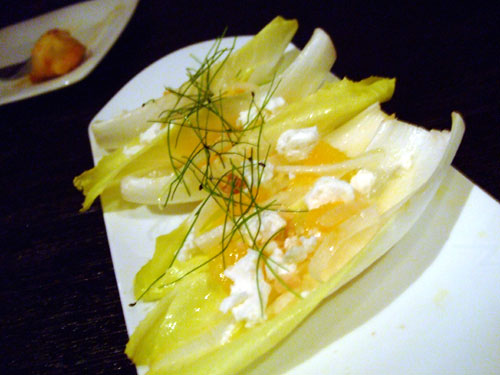 46: Endivas con queso de cabra y naranjas [$8.00]
Endive with goat cheese, oranges and almonds. Not bad, but not great, the whole thing just sort of melded together taste-wise and nothing was particularly discernable. Juicy though.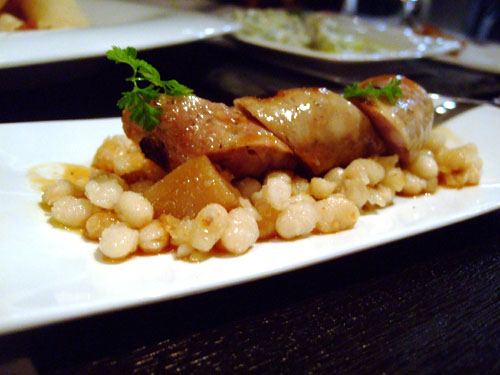 47: Butifarra con ceps y montgetes del gantxet 'Daniel Patrick Moynihan' [$9.00]
Homemade pork sausage with white beans and ceps. Daniel Patrick Moynihan was a US senator from New York, and apparently he was a huge fan of these sausages. I'm not as enthusiastic, though it certainly wasn't bad. It just lacked the rich flavor and juiciness that I'd hoped for.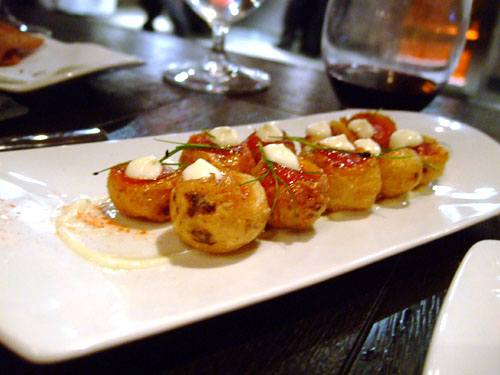 48: Patatas Bravas "New Way Jose" [$7.00]
José's fried potatoes with aioli and spicy tomato sauce. The tomato sauce here tasted basically of ketchup, and the whole dish seemed rather blunt and unrefined. "No way José!"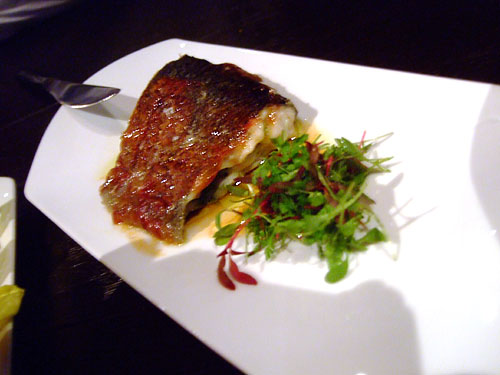 49: Trucha a la Navarra [$8.00]
Seared trout with Jamón Serrano, Navarra style. We found this far too fishy and just not very good in general, one of the worst preparations of trout I've had actually. We didn't exactly end the meal on a good note here.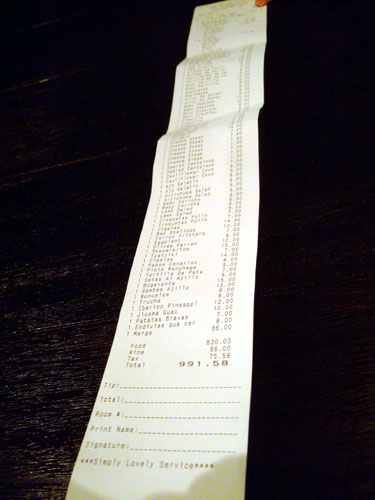 At nearly two feet long, this was certainly the longest bill I've had, though not the highest. Thankfully, the amount shown was subsequently cut in half. You see, I originally had a reservation for the 10th, and because the opening date of the restaurant was pushed back to the 17th, I received a 50% discount on the food. Not a bad deal if you ask me!
I think there are two things that need to be addressed at The Bazaar. First is the food. Though we had some great dishes, we also had some truly god awful ones. I mean, some of it just tasted plain bad (as in, what were they thinking putting this on the menu?). Indeed, many of the dishes are very ambitious in terms of flavor pairings, and while I appreciate such novelty, sometimes it just doesn't work. I think what needs to happen is that the menu needs to be rationalized, to cull out the weaker dishes, and perhaps add some new ones to make up the difference. Hopefully, if you're thinking of going to The Bazaar, I've been able to help in deciding which the stronger dishes are. I do think there is
a lot
of potential here though; the place simply needs time.
Moving away from the food now, I was actually much more put off by the no photography policy that the restaurant has. While we were waiting for our table, we were told that we could not photograph the decor, because it was designed by Phillipe Stark and thus "copyrighted." Now, I'm no lawyer, but this sounds like a BS reason and I question if it's legally defensible. Note that
XIV
was also designed by Stark and we encountered no such "copyright" issues there. Once we were seated, we were informed by the "manager" (I didn't get her name) that food photography was similarly prohibited; she then directed me to Andrea Sun, a public relations manager, who reiterated that line. Interestingly, one of my dining companions later told me that he'd received permission from Andrea to photograph the food earlier in the night, so perhaps the restaurant needs to hold a consistent line on this. Except for that, I actually didn't have a problem with the service, and in fact, give a lot of credit to our server for handling our sometimes mercurial requests. I will say though that I don't plan on coming back until the restaurant institutes some less ridiculous policies.