Surah (Buena Park, CA)
Surah
5333 Beach Blvd, Buena Park, CA 90621
714.523.0056
www.yelp.com/biz/surah-korean-restaurant-buena-park (Yelp, restaurant has no web site)
Tue 09/30/2008, 08:40p-10:15p
So what brought me to Surah? I actually came here to dine with an old friend from my high school days, who happened to live in the area. I mentioned I'd like a place with a good bibimbap, so Surah was his choice. It is interesting to note that although Surah is a Korean restaurant, a large number of Japanese dishes are available.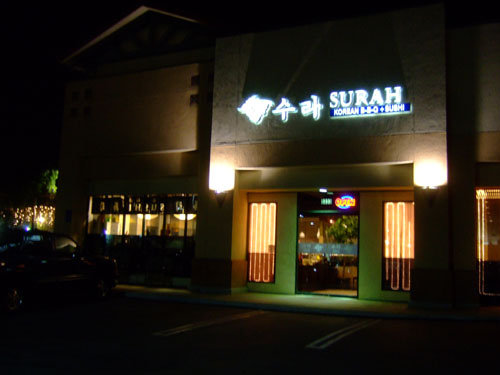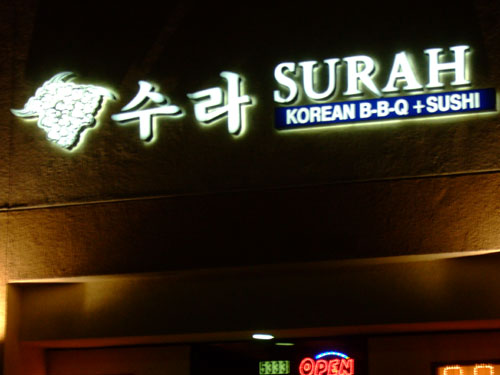 Located in a Korean strip mall, Surah's exterior is fairly pedestrian. Parking is plentiful in the mall's lot.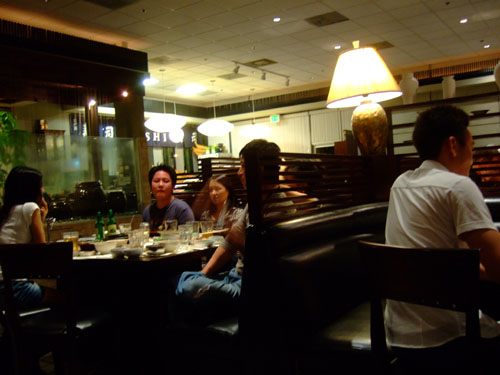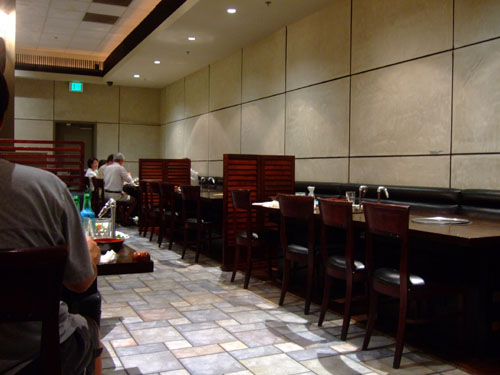 The interior is surprisingly contemporary, as it appears that the owners actually put some thought into the decor. Surah is literally the nicest looking Korean restaurant I've been to.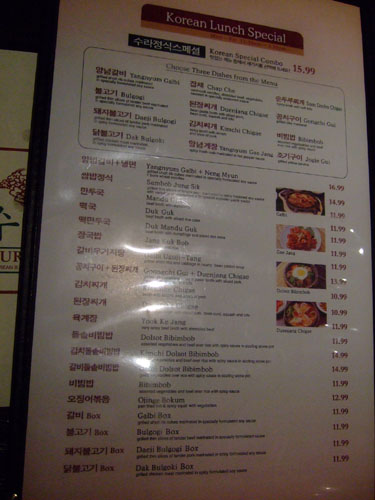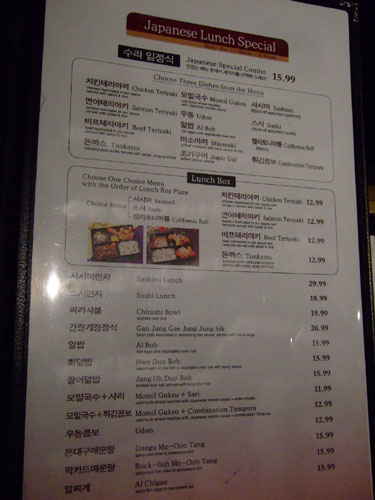 The vast menu begins with Korean and Japanese lunch specials. Click for larger versions.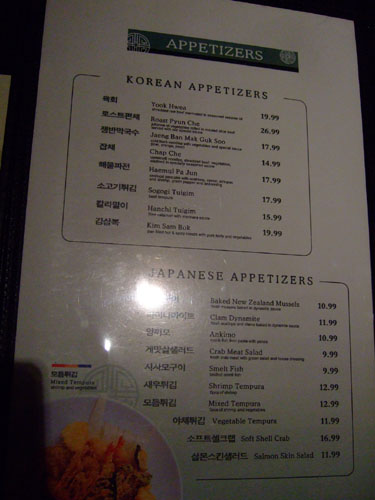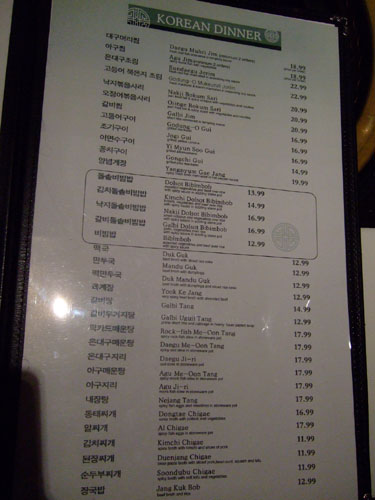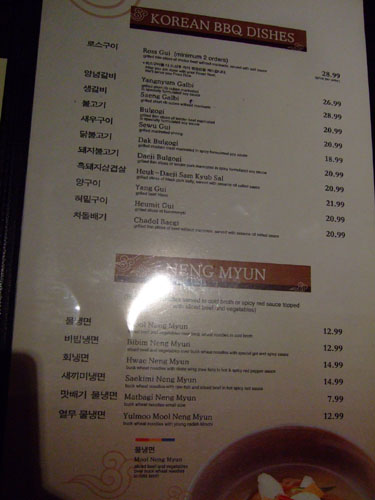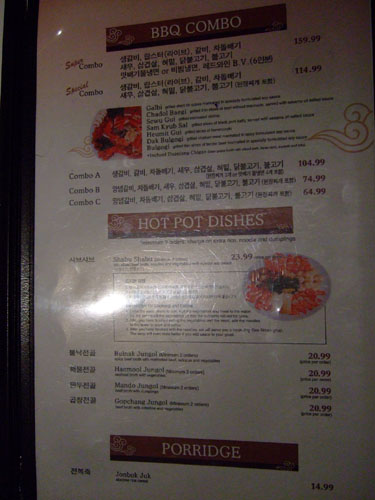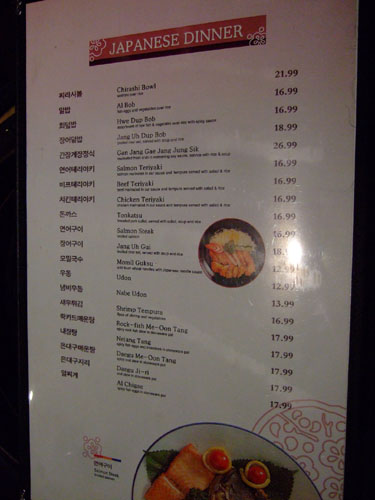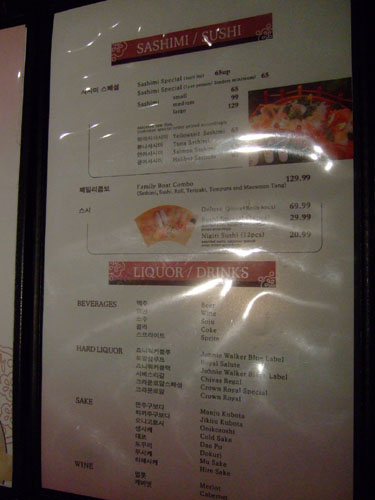 But we were here for dinner. With such a large selection, we had a difficult time choosing what to order (naturally, the bibimbap was a must). Prices are higher than normal, though I think this is partly justified by the nicer surroundings. Click for larger versions.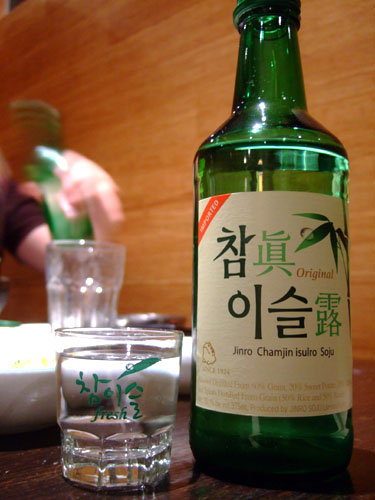 To drink, we ordered two 375mL bottles of Jinro Chamjinisulro Soju, one of the most popular mass-market sojus available. Weighing in at 20.1% alcohol, this was akin to a lower proof version of a potato vodka such as Chopin. Indeed, it's distilled from potatoes and grain (rice and barley), and filtered four times through bamboo charcoal. It had a slight sweetness, and was overall quite smooth, with only a tinge of alcoholic burn on the finish.
Let's begin with a recounting of the various banchan that we were presented with. I must admit that this was the most challenging set of banchan I'd ever encountered, as many of the dishes were completely foreign to me.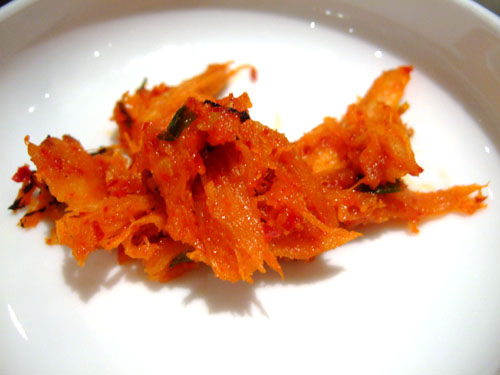 Deodeok
This was the root of the bonnet bellflower, made here into a kimchi-like form. It had a crunch to it, with a bit of spice as well.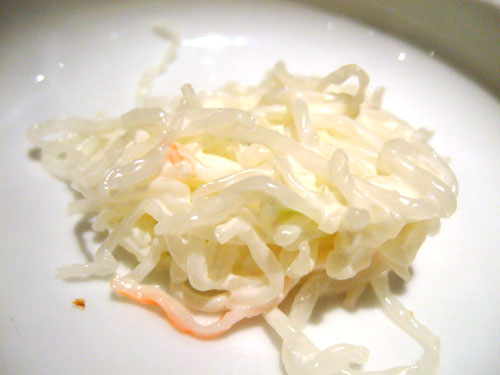 Shirataki Noodles
I wasn't quite sure what this was initially, but according to one of my commenters below, this was a dish of
shirataki
, noodles made from starch-based jelly, Japanese in origin but popular in Korea too. They showed off a definite bit of crunchiness, and came smothered in a mild, creamy sauce.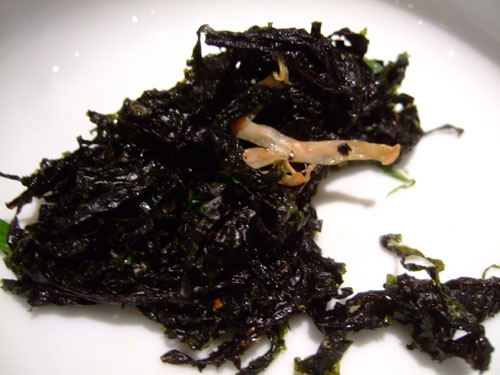 Seaweed
I'm not sure if this was
miyeok
(wakame) or
gim
(nori), but it did have a nice smoky flavor to it, and was quite good.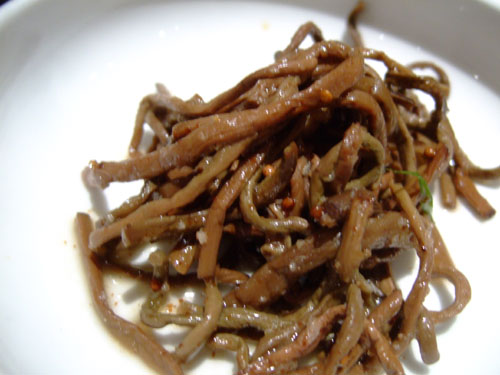 Gosari Namul
Gosari namul
consists of sautéed bracken fiddlehead fern fronds, not too dissimilar to bamboo in taste and texture actually. This turned out to be one of my favorite banchan.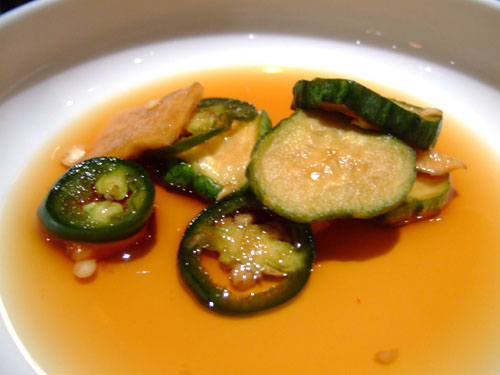 Oiji
Oiji
is salt-pickled Korean cucumber. The pieces had a nice bite to them, and went nicely with the relatively mild green chilies.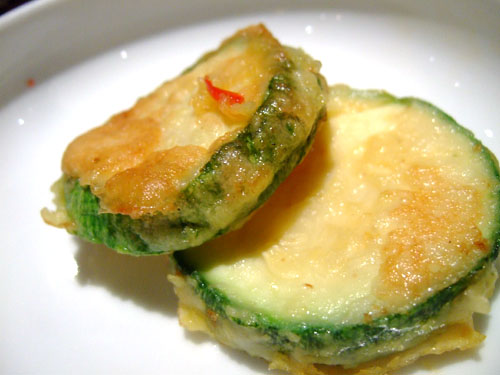 Hobakjeon
Hobakjeon
means squash
jeon
, with
jeon
referring to the popular Korean batter pancake-esque banchan. The result was almost like a tempura-style preparation of the squash. Quite good.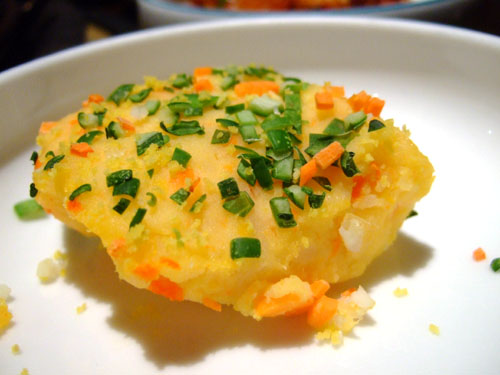 Gamja Cake
This tasted like a potato, or
gamja
, cake, topped with scallion and carrot. I'm not sure if this would be considered
gamjajeon
(potato pancake), as those are usually much thinner. In any case, it went over well with me.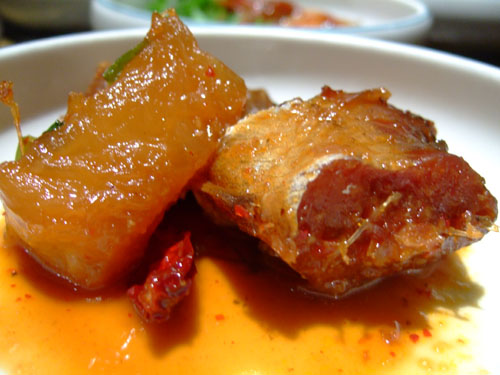 Buk Uh Gi
I believe this was a type of pickled fish, pollock I think. It had a fairly intense flavor, which unfortunately I wasn't a huge fan of.
Gul Jut
This was simply raw oysters marinated in a spicy chili sauce. I initially mistook it for kimchi, but the dish had a slimy texture that took me by surprise.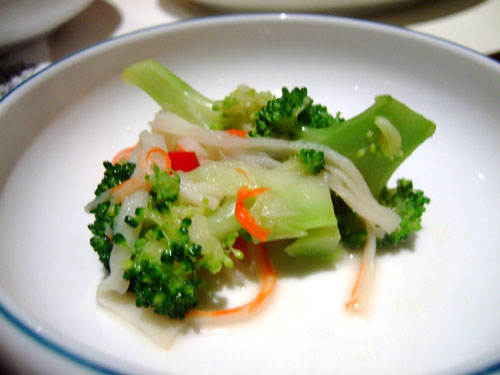 Broccoli
Boiled broccoli, served with strands of imitation crab.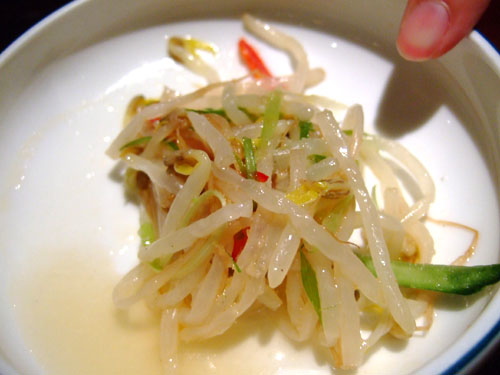 Kongnamul
Soybean sprouts, boiled and seasoned with sesame oil.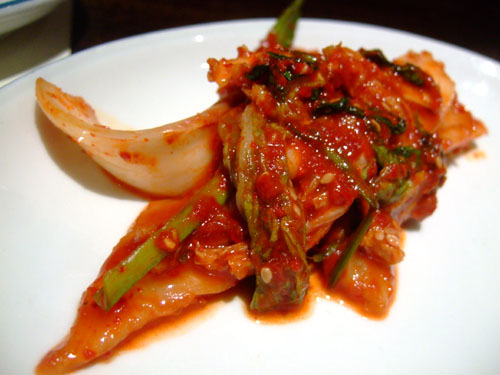 Baechu Kimchi
The Korean standard: kimchi made with napa cabbage. A bit spicier than usual, but still tasty.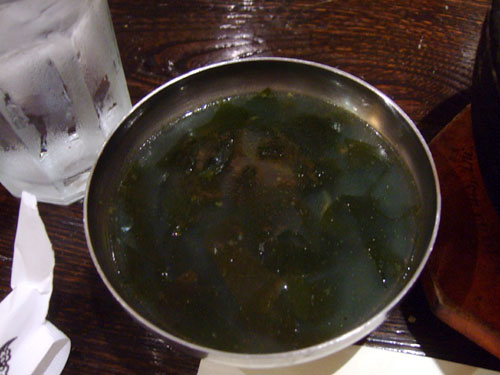 Miyeok Guk
This was a soup made of wakame kelp. Apparently, it's often consumed by women who have just given birth, and traditionally on one's birthday in Korea.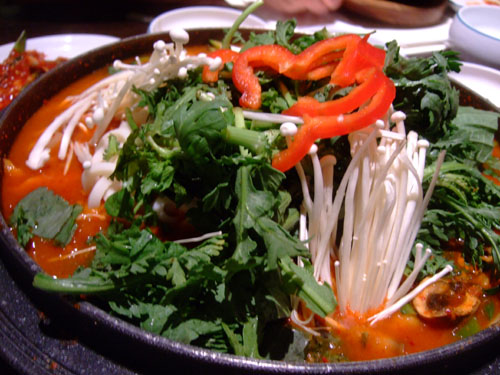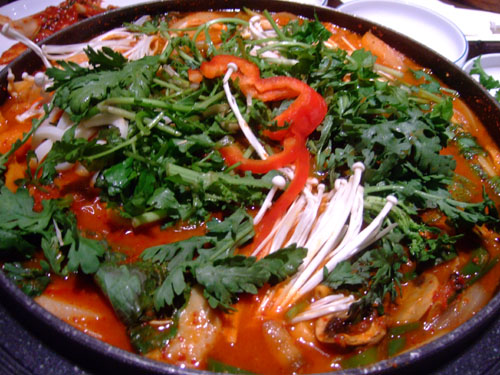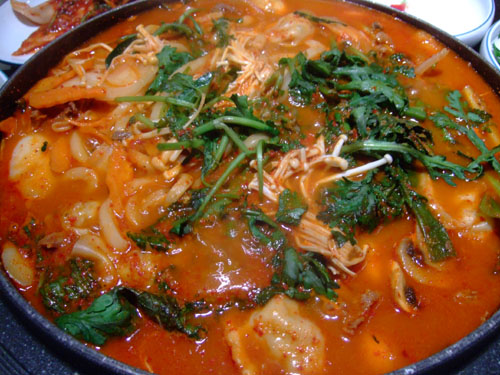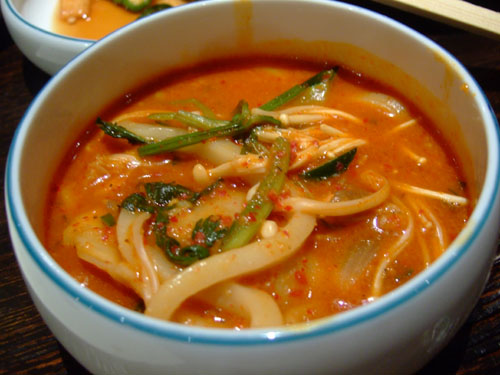 Mando Jungol [$41.98, $20.99x2 orders minimum]
Mandu Jeongol is an elaborate Korean stew made with dumplings (
mandu
) in a beef broth. In addition to the dumplings, the stew contained enoki mushrooms, cremini mushrooms, red bell pepper, thick noodles, and rice cake (
tteok
), along with plenty of
gochujang
. The end result was delicious, albeit a bit too spicy for me. I especially enjoyed the flavor and textural contrasts provided by all the disparate ingredients, held together by the fiery broth.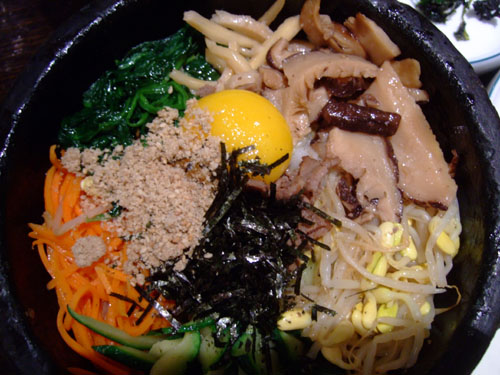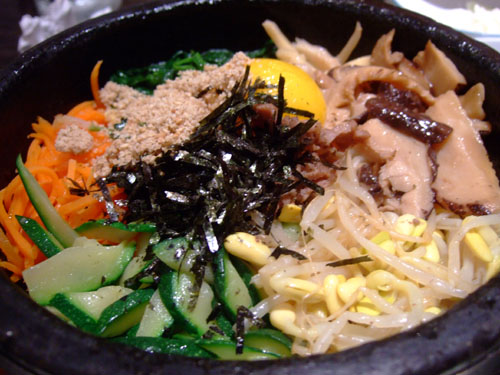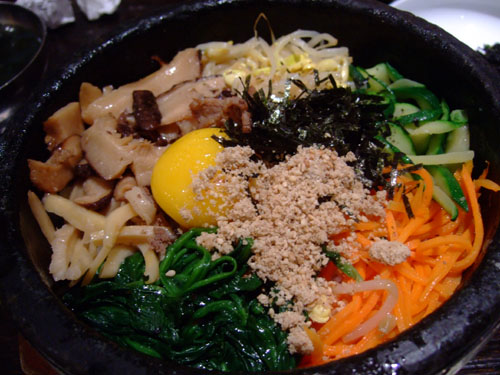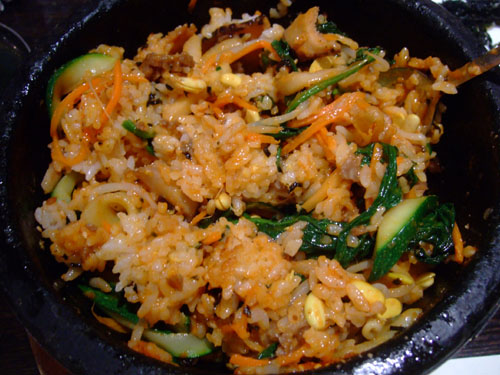 Dolsot Bibimbob [$13.99]
Finally, the bibimbap. This version contained a fairly standard assortment of ingredients: beef, egg,
gim
(seaweed), cucumber, carrot, spinach, bamboo, mushroom, and
kongnamul
(soybean sprouts). The amalgam was delicious, though not the strongest I've had (
Jeon Ju
and
Young Dong
were slightly better I thought). The reason was that the ingredients didn't harmonize as well as they could've, with certain items, such as the mushroom, dominating. Nevertheless, I definitely enjoyed it.
I did like what I had at Surah, but I think I really need to try more dishes if I'm to give a definitive judgment of the place. From what I've read, it seems like although Surah may not be the "best" for a particular dish, as a whole, the food here is quite solid. And with the vast menu, there should be plenty to satisfy just about anyone.