Volcano Burgers (Los Alamitos, CA)
Volcano Burgers
3652 Cerritos Ave, Los Alamitos, CA 90720
562.430.6004
www.yelp.com/biz/volcano-burgers-los-alamitos (Yelp, restaurant has no web site)
Fri 09/26/2008, 08:05p-08:20p
Regular
kevinEats
readers will recognize Volcano Burgers as perhaps the lowest-priced restaurant ever to appear on this blog. A sign of harsh economic times? Hardly. Don't worry faithful readers; we'll get back on track with the spendy stuff in October. On the slate for next month are Fogo de Chao,
Urasawa
,
Lawry's
, Studio, and possibly Totoraku. In any case, getting back to Volcano Burgers, the restaurant holds a special significance for me. Located across the street from Los Alamitos High School, my alma mater, Volcano was my choice for after school dining. I cannot recount the number of chili-cheese fries I devoured from the place over the years!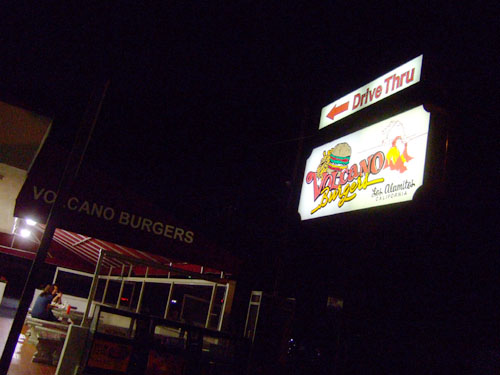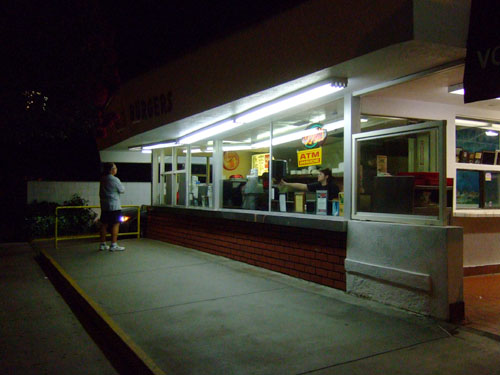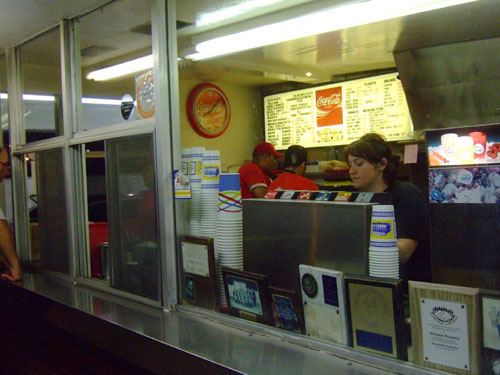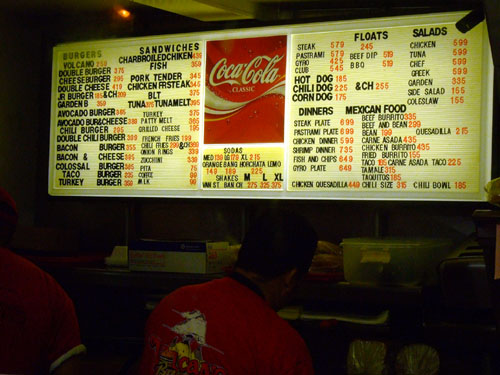 Volcano Burgers looks pretty much like any other generic burger joint, as in there's not my ambiance to speak of. Lining the windows are the plaques of various Los Al sports teams; during my years at the school, the football team was especially dominant; I wonder how they stand now? Parking is out back, and there is a drive-thru offered.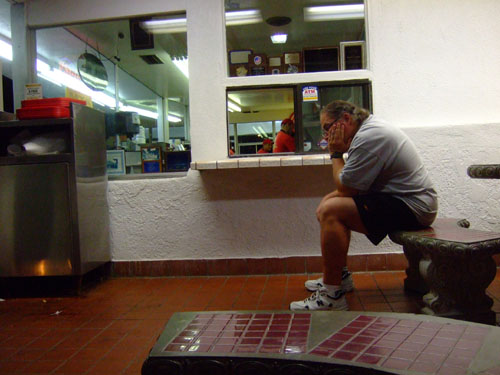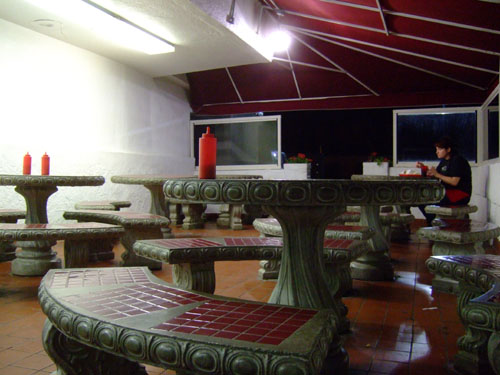 Once you order, you pick up your food at a small window facing a covered dining area.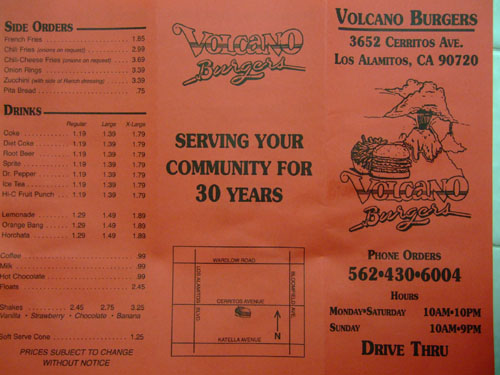 Despite the name, Volcano Burgers does a lot more than burgers. Prices are fairly low, and portions quite large. Click for larger versions.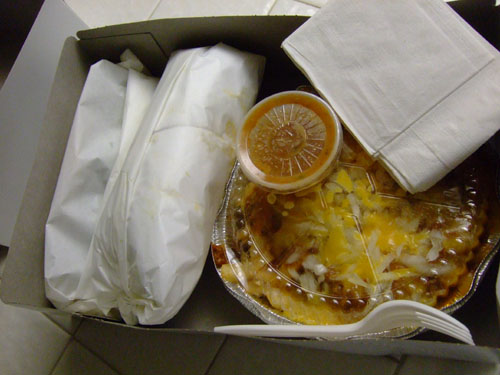 I ordered to go, so I appreciated the security of using boxes instead of bags to hold the food.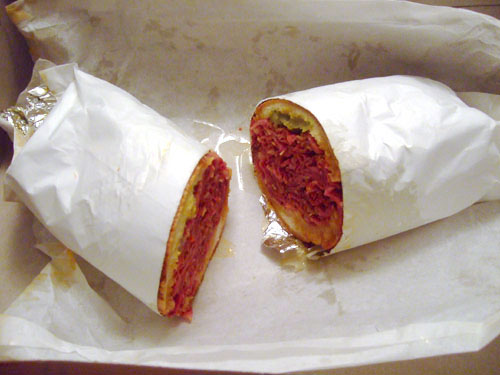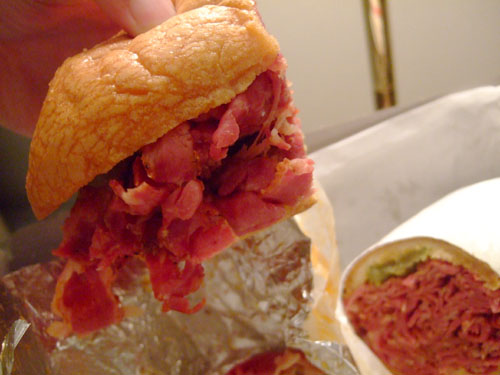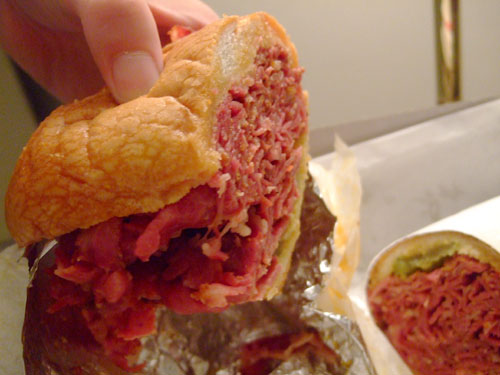 Pastrami Sandwich [$5.79]
On a French roll with mustard and pickle. A massive mound of pastrami awaits you here. It was as good as any other I've had (though I do need to try The Hat), and was nicely highlighted by the tartness of the mustard and pickle. My only real complaint was that the roll ended up being quite soggy.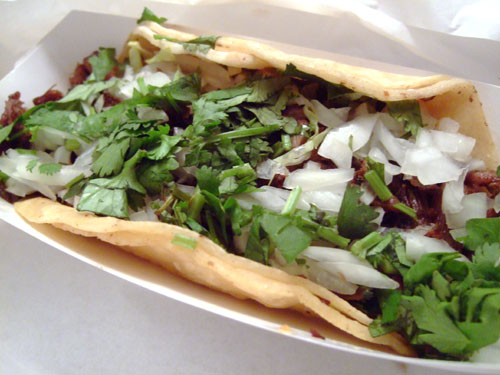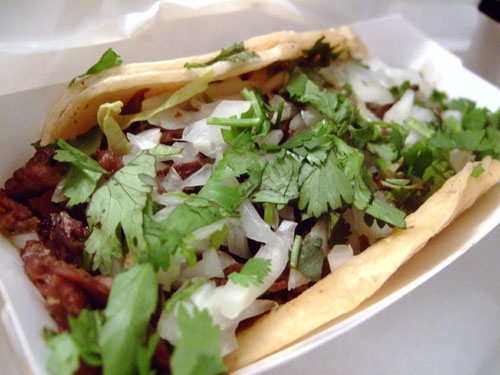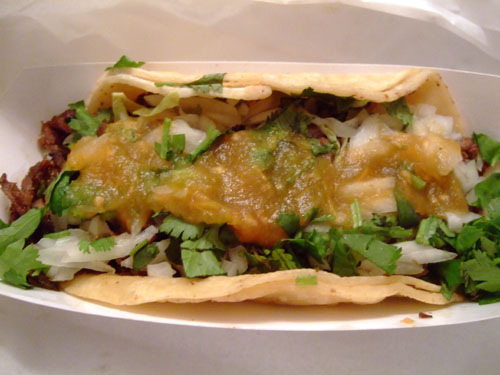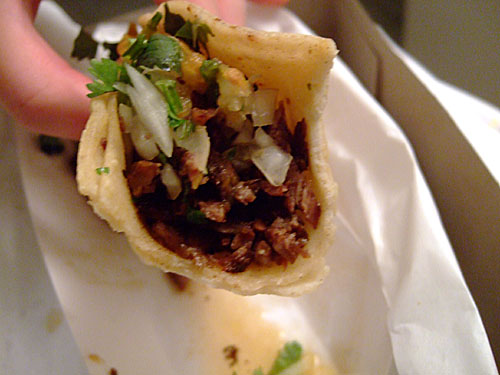 Carne Asada Taco [$2.25]
With a side of salsa. This was a pretty generous serving of beef. Unfortunately the meat was a tad dry, but nevertheless the taco was still quite tasty. I think it must've been the onions and cilantro. Adding onions and cilantro (as well as a nice dollop of salsa) to nearly anything makes it better.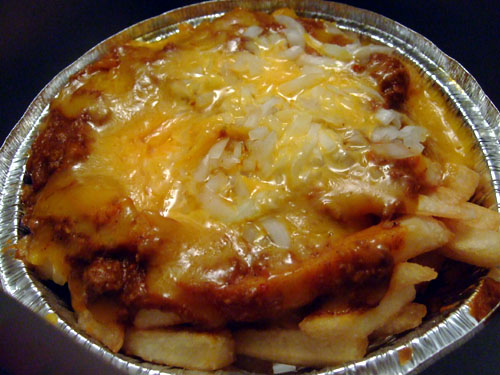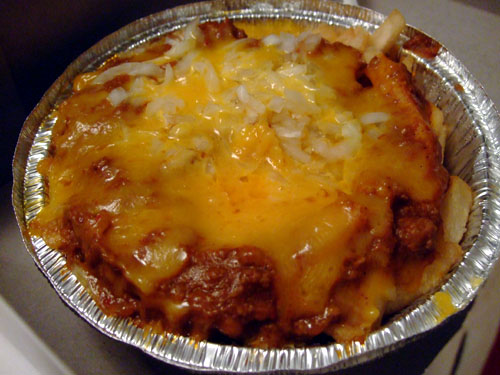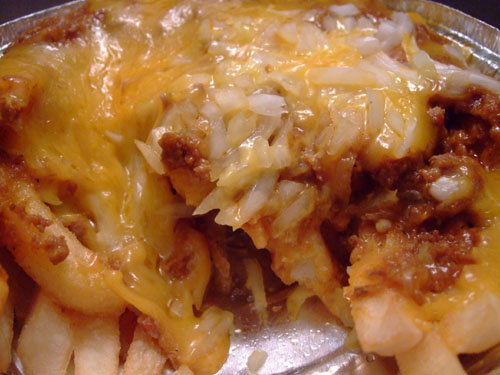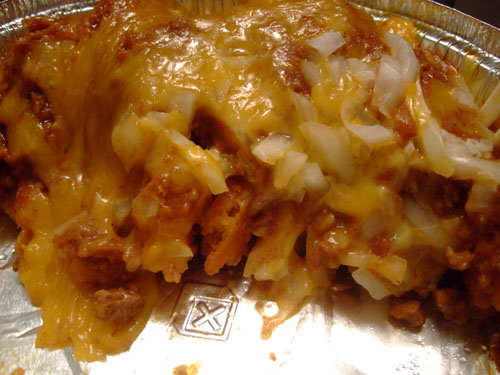 Chili-Cheese Fries with Onions [$3.69]
Ah, this is what brought me back. The fries would be boring on their own, but the chili managed to tie everything together, while the onions added a sharp tang to contrast the richness of the dish. I do think the fries could've used more chili and less cheese though, as near the end of the dish, the cheese was getting a bit overwhelming. Next time I'll ask for more onions too, and hell, maybe ask 'em to throw on some cilantro!
I must say that, after all these years, Volcano Burgers nevertheless manages to satisfy. This is cheap, simple, straightforward food, exactly the type of eats favored by high school students such as myself back in the day, and current Los Al students today. Even now, nearly ten years after graduation (that reminds me, my ten-year reunion is coming up...), those chili fries still do hit the spot!