Ciudad (Los Angeles, CA)
Ciudad
445 S Figueroa St, Los Angeles, CA 90071
213.486.5171
www.ciudad-la.com
Sun 09/21/2008, 07:00p-09:40p
Ciudad is the brainchild of Chefs Mary Sue Milliken and Susan Feniger, otherwise known as Food Network's "Too Hot Tamales." The restaurant is a pan-Latin affair, specializing in food from South and Central America, Cuba, Spain, and Portugal.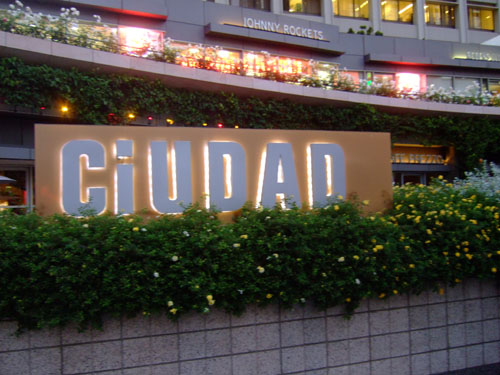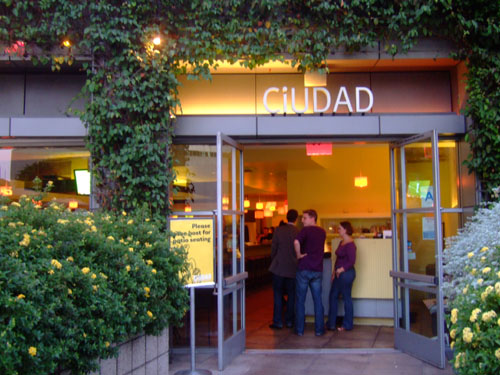 Ciudad is located in the heart Downtown, in sort of a food court area at the base of the Union Bank building. Outdoor patio seating is available out front. Valet parking is offered, as is a self-service garage ($5 with validation).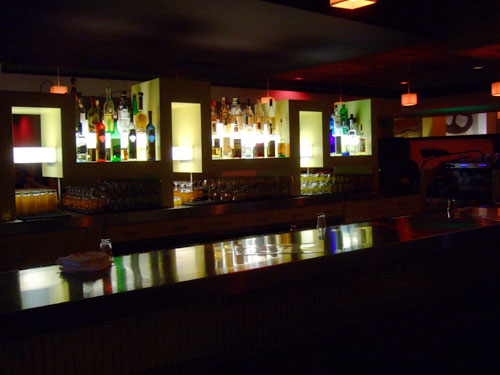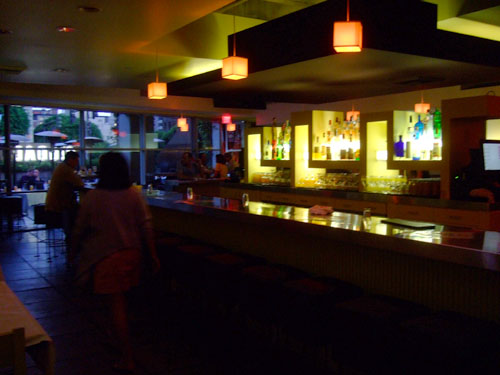 Upon entering the restaurant, you're greeted with a rather large bar.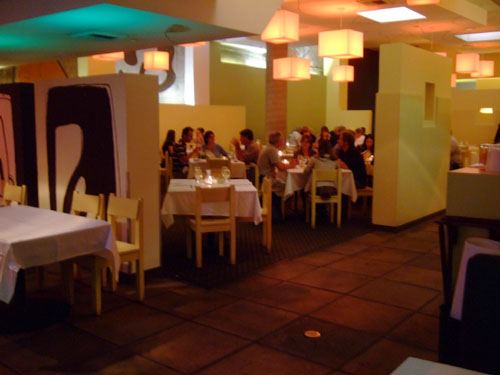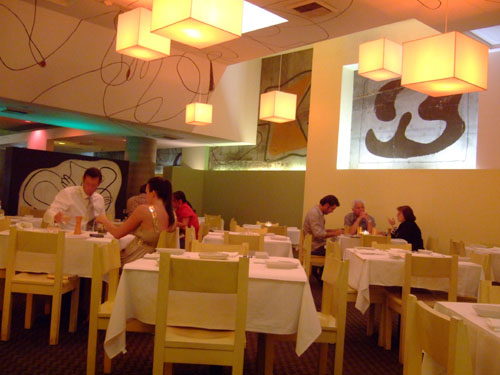 Past the bar is the main dining area. Awash in soft tones and soft lights, the space is comfortable, calming even.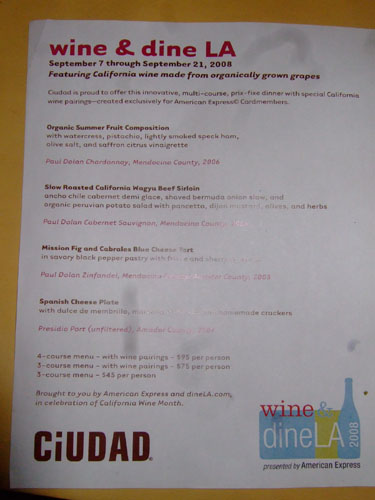 Rather than ordering from the standard menu, we went with a prix fix menu specially designed for
wine & dineLA
. Naturally, I had to go for the "4-courses with wine" option for $95. Click for a larger version.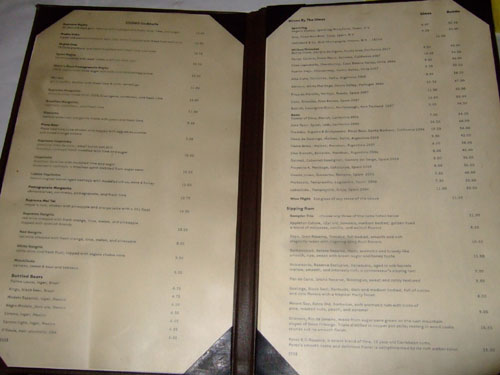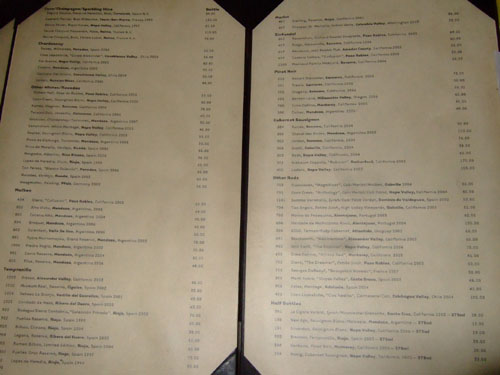 Ciudad has a fairly extensive drinks list, while the selection of wine is reasonable priced and focuses mostly on Californian and Spanish producers. Click for larger versions.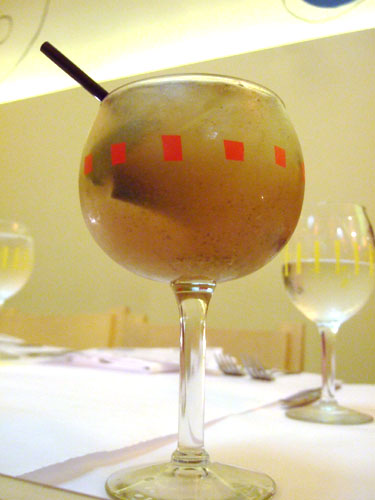 As usual, I started with a mojito, this time the Supremo Mojito [$15.00] made from Zaya Gran Riserva rum with fresh mint, lime, and sugar. Zaya is a 12-year-old Guatemalan rum, double-distilled from sugar cane syrup in copper pot stills, and aged in oak whisky and bourbon barrels. From what I hear, it's quite an amazing rum, so what a waste to use it here! I couldn't taste anything remotely rum-like in the mojito; actually, I couldn't taste much else but a sickly sweetness that pervaded the entire drink. Where's the lime? Where's the mint? This was an utter failure, especially given the price!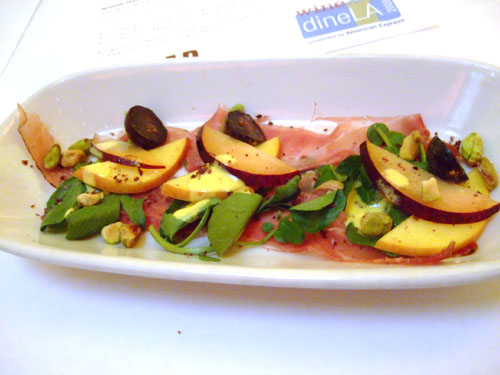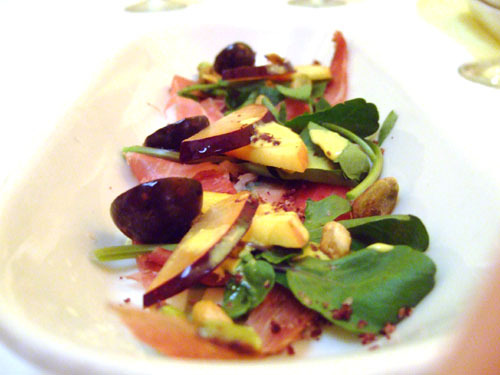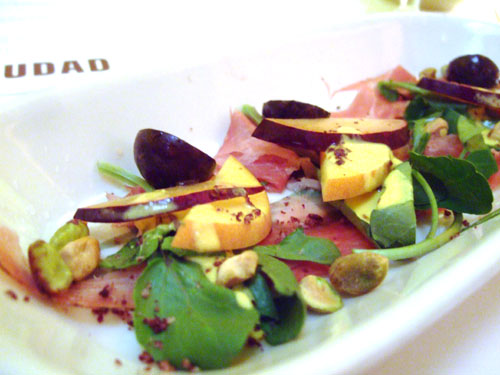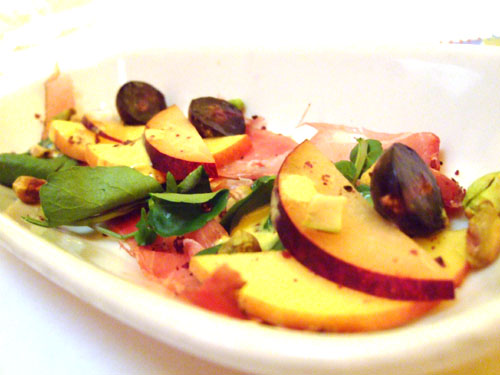 1: Organic Summer Fruit Composition
Paul Dolan Chardonnay, Mendocino County, 2006
With watercress, pistachio, lightly smoked speck ham, olive salt, and saffron citrus vinaigrette. Speck is a type of prosciutto traditionally from Tyrol, a region between Austria and Italy, and is quite delicious when eaten alone. I understood what they were trying to do here, to temper the speck's smoky savoriness with the sweetness of the fruit, but I don't think the dish entirely succeeded in that regard. The pistachios were a valiant attempt to add some textural contrast, but I found them a bit distracting. Things were not helped by the paired wine. I admit that I'm not a huge Chardonnay fan, but the wine here exemplified why I don't care for the varietal. I found it heavy and clumsy, dominated by disconcerting vegetal notes, with a spicy finish tinged with alcohol.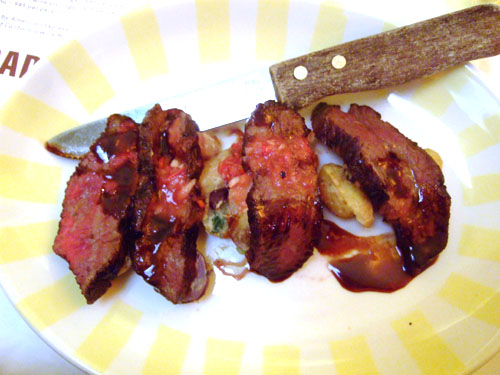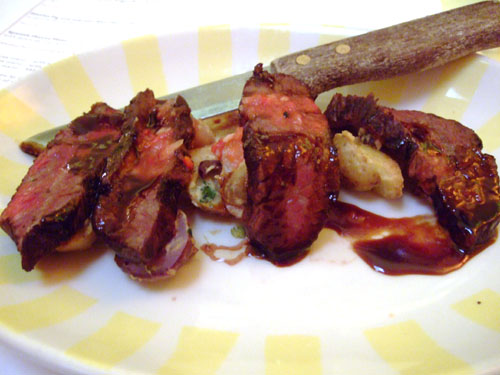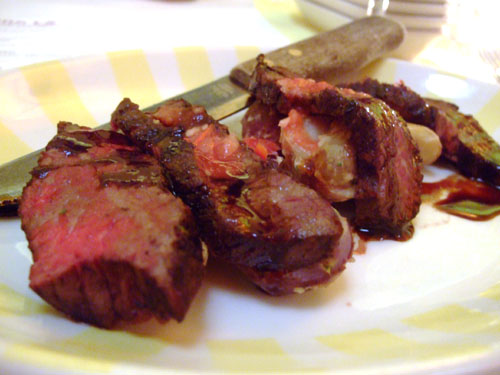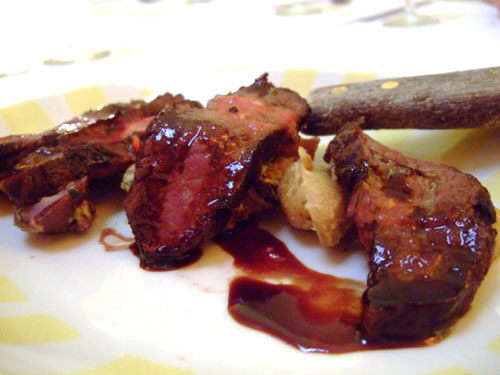 2: Slow Roasted California Wagyu Beef Sirloin
Paul Dolan Cabernet Sauvignon, Mendocino County, 2005
Ancho chili Cabernet demi glace, shaved Bermuda onion slaw, and organic Peruvian potato salad with pancetta, Dijon mustard, olives, and herbs. Ancho chilies can be a bit overpowering at times (as I discovered when I made tri-tip at
Cakebread U
), and I was genuinely concerned that the meat would be oversauced. Fortunately that wasn't the case here, as the demi glace added a much needed kick to the sirloin, which otherwise would've been quite boring. Although the meat was advertised as Wagyu, it lacked the richness, tenderness, and oiliness that I expected (see
CUT
). The potatoes, meanwhile, were a nice way to cut the monolithicity of the meat. Overall, this was my favorite course of the night.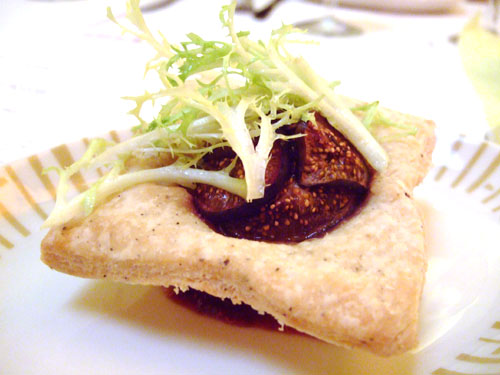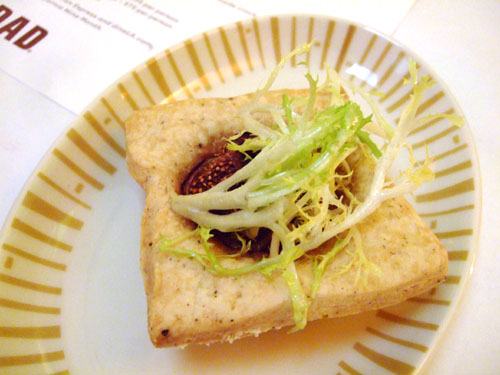 3: Mission Fig and Cabrales Blue Cheese Tart
Paul Dolan Zinfandel, Mendocino County/Amador County, 2005
In savory black pepper pastry with frisee and Sherry fig syrup. This was supposed to pass for dessert, but I'd never seen frisee in a dessert before! I was not a fan. The figs did indeed add a modicum of sweetness to the dish, but I found the blue cheese simply overwhelming. Combined with the overt spiciness of the pepper pastry, the whole experience was rather unpleasant. The paired Zin did make things a bit better though, with its slight spiciness and bold flavors of dark berry.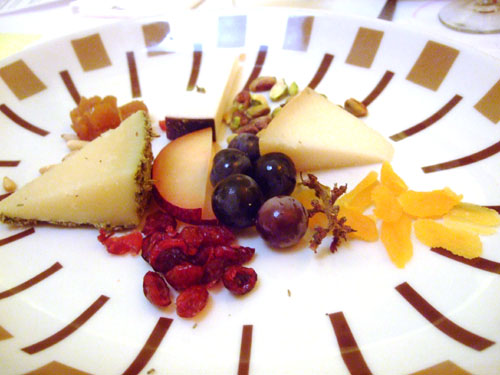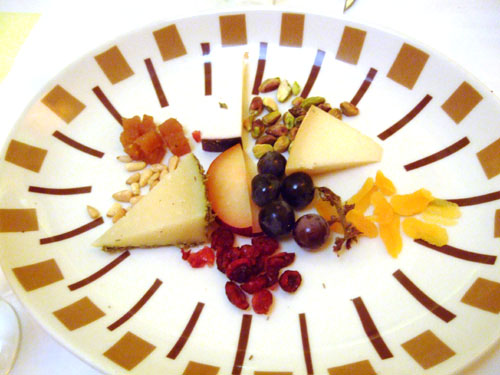 4: Spanish Cheese Plate
Presidio Port (unfiltered), Amador County, 2004
With dulce de membrillo, marcona almonds, and homemade crackers. Sadly, we weren't told what the cheeses here actually were. I thought one of them could've been Manchego, but one of my dining companions disagreed. In any case, this was a nice presentation of cheese, with some fitting accoutrements, though it certainly didn't blow me away.
Overall, I found the flavors here a bit awkward and perhaps lacking élan. I do believe that my meal wasn't as strong as it could've been, had I ordered à la carte. The place does have some potential, so I think I need to come back to sample the regular menu before passing final judgment.