Tsuruhashi (Fountain Valley, CA)
Tsuruhashi
18798 Brookhurst St, Fountain Valley, CA 92708
714.593.8393
www.yelp.com/biz/tsuruhashi-fountain-valley (Yelp, restaurant has no web site)
Fri 09/19/2008, 06:55p-08:40p
As with
Jeon Ju
, Tsuruhashi was recommended by a
reader of this blog
. Tsuruhashi specializes in yakiniku (Japanese for "grilled meat"), basically a Japanese interpretation of Korean BBQ. This is my second time blogging about yakiniku; my first experience was at
Gyu-Kaku
in Huntington Beach.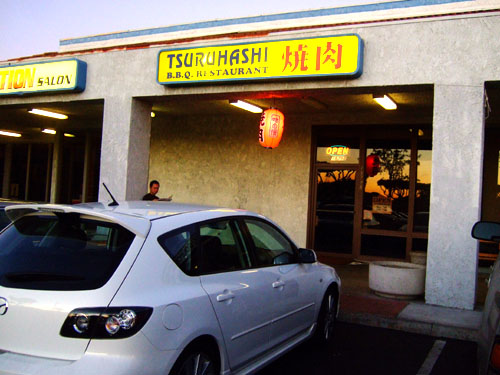 Located in a nondescript strip mall, Tsuruhashi is easy to miss if you're not looking for it.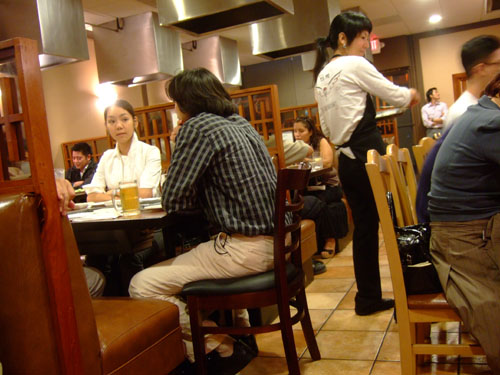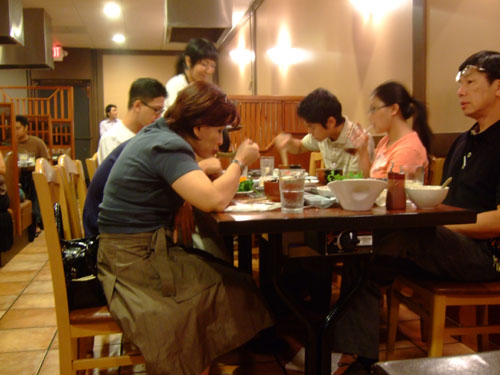 Inside, things start to look better; the space is clean and tidy, albeit a tad tight. Most of the tables seat four, while total capacity is around 50. At peak hours, the restaurant's din can be quite intense, though we never had a problem with conversation.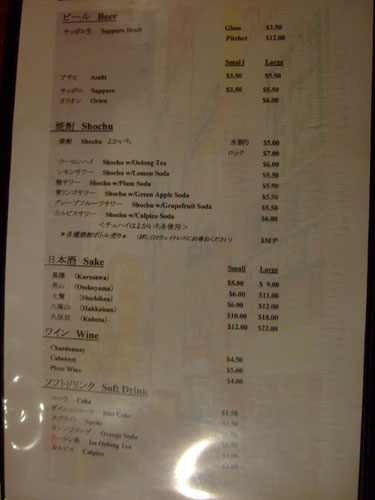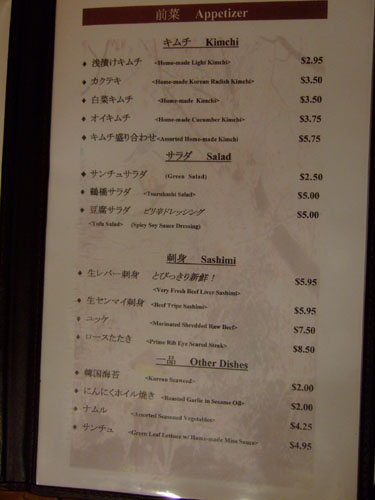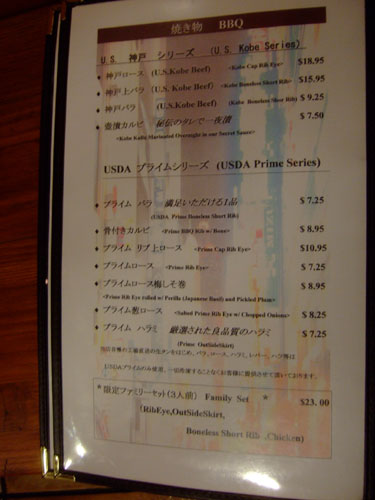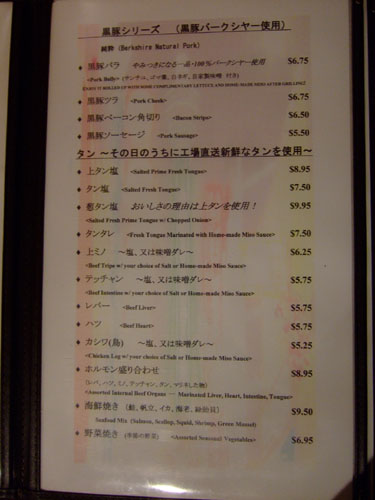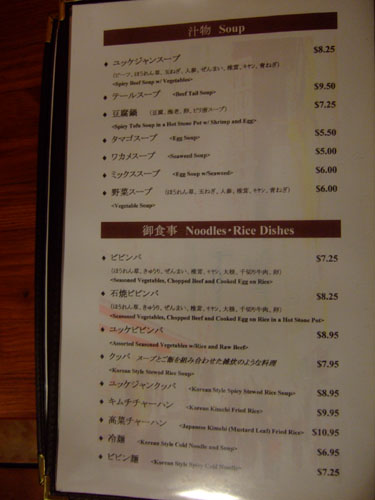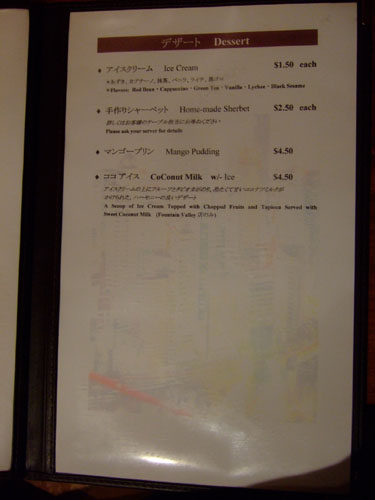 Though firmly focused on grilled meat, Tsuruhashi offers a full complement of accompanying dishes, many of Korean origin (e.g. bibimbap, sundubu jjigae, and kimchi bokkeumbap). Come early if you want to try some of the Wagyu beef; by the time we got there, the restaurant was already out of the rib eye cap and upper short rib cuts. Click for larger versions.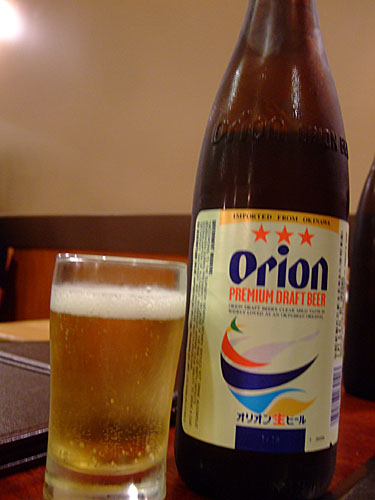 To whet our palates, we ordered two large Orion beers [$6.00], imported from Okinawa. I think this was my first time having Orion, and I found it to be very light and easy drinking. It's unique amongst Japanese beers in that it's brewed in a more American, as opposed to German, style. Tsuruhashi also offers Yebisu, which is fairly hard to find in the States; in fact, I've only had it twice in Japan (at
Imahan
and
Natori
). It wasn't listed on the menu, and we only spotted it in a refrigeration unit in the back towards the end of the meal. Next time...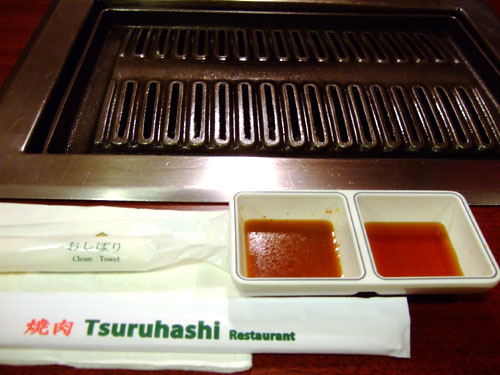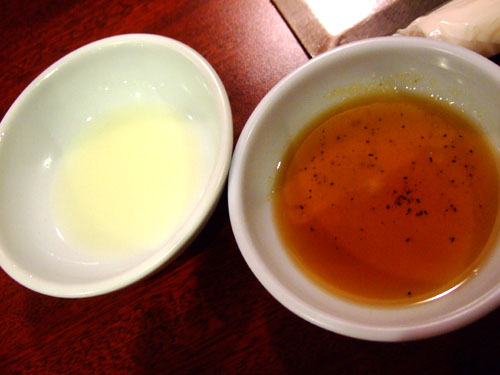 Two sauces were brought out for dipping the meat. These are known as
tare
and included what I believe were a sweet miso sauce and soy sauce and vinegar combination. Later in the meal, we were also brought lemon juice for the tongue and sesame oil with pepper for the pork cheek and belly.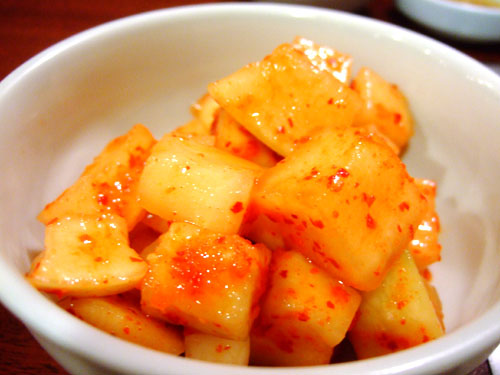 Home-made Korean Radish Kimchi [$3.50]
This was basically
ggakdugi
, or kimchi made with daikon radish. I enjoyed its mild flavor and refreshing crunch, though it wasn't as good as the version I had recently at
Jeon Ju
.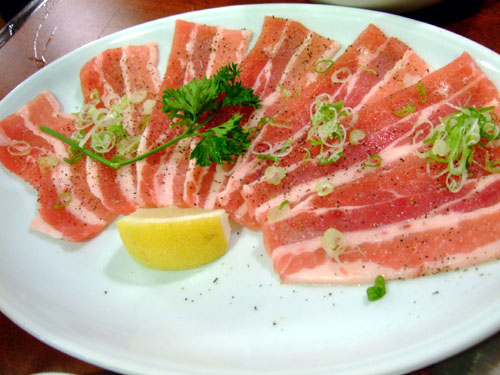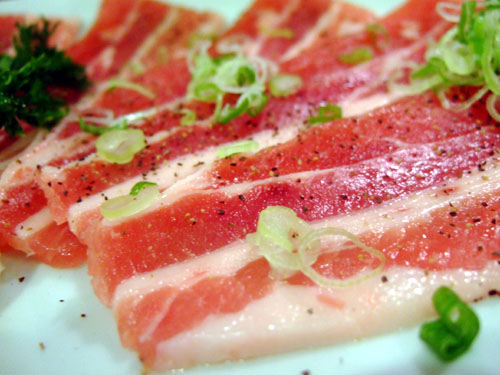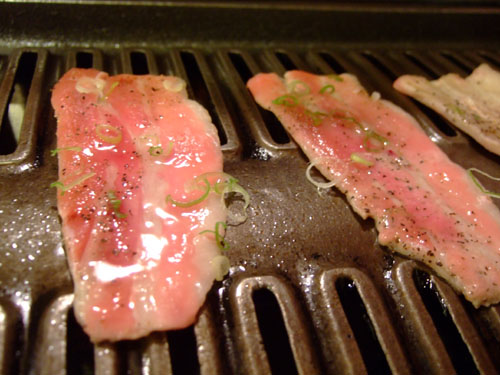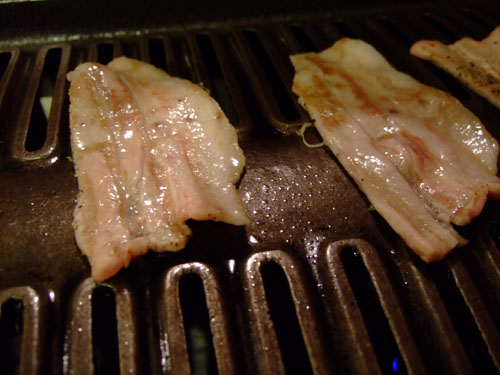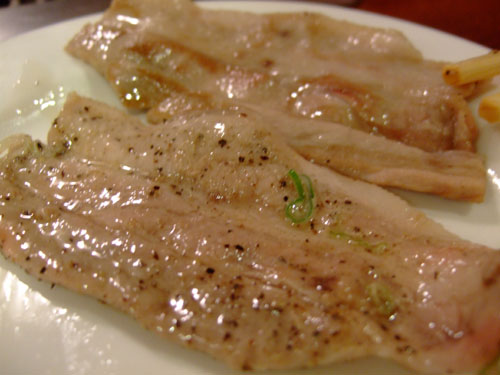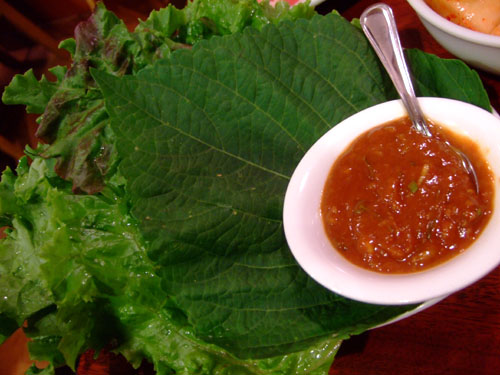 Berkshire Natural Pork Belly [$6.75]
This was like uncured bacon or the Korean
samgyeopsal
. I found the meat quite flavorful and fatty, though a bit tough and chewy texture-wise. The pork came with lettuce and
ssamjang
, a condiment made of
doenjang
(Korean soybean paste),
gochujang
(Korean chili paste), sesame oil, onion, garlic, and scallions. The idea was to wrap the pork and sauce in the lettuce before eating; I tried it that way, but wasn't particularly impressed.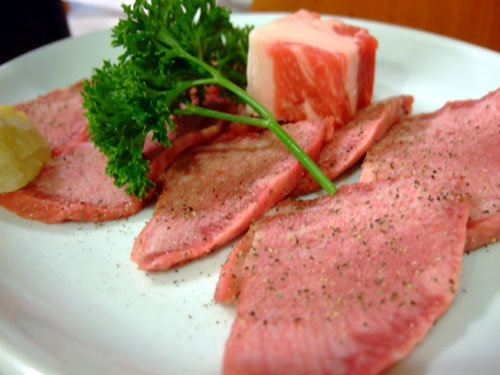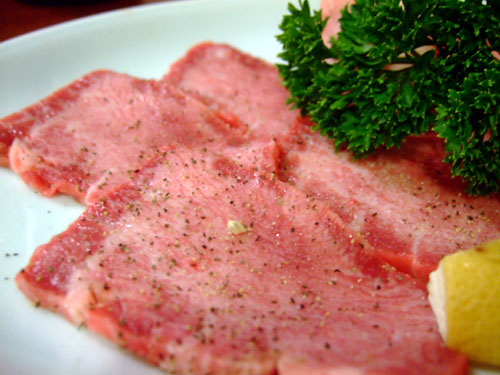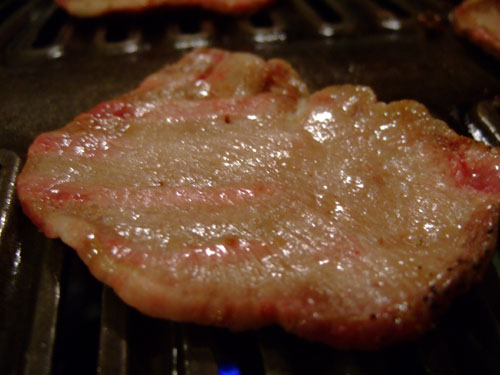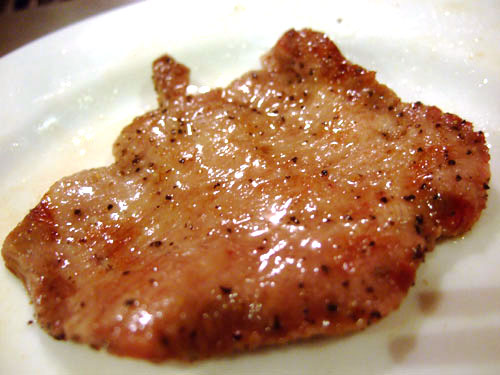 Salted Prime Fresh Tongue [$8.95]
Tongue may sound unappetizing, but it was actually one of my favorite meats of the night. It had a great beefy flavor and a delightfully rubbery texture to it. Great on its own, it was further heightened when dipped in the lemon juice.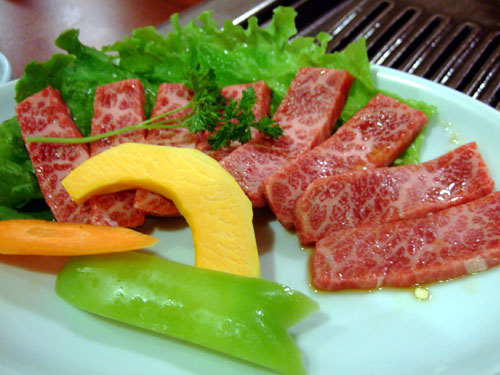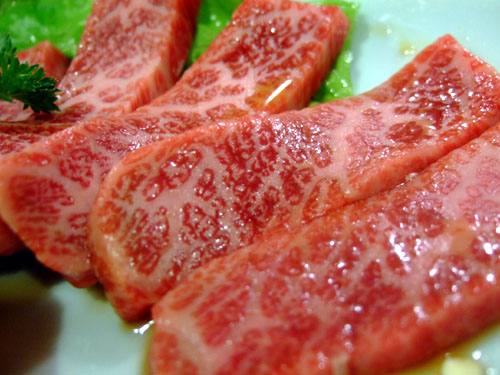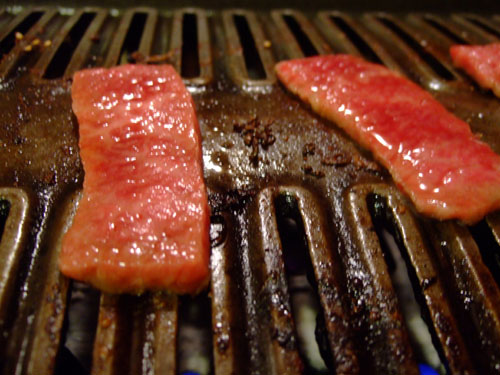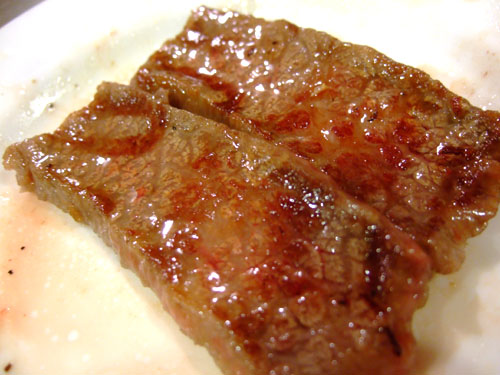 US Kobe Boneless Short Rib [$9.25]
Look at that marbling! Not surprisingly, this was my favorite meat of the night. Immensely soft and buttery, with a good amount of oiliness, it literally required no chewing. I must say that it was a different experience compared to
a good Wagyu steak
though.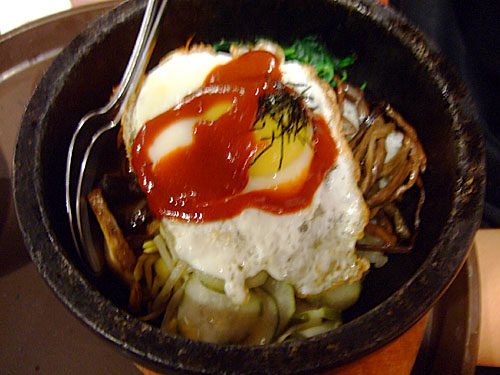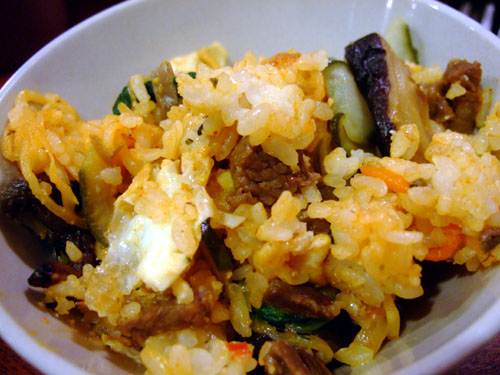 Seasoned Vegetables, Chopped Beef and Cooked Egg on Rice in a Hot Stone Pot [$8.25]
As at
Gyu-Kaku
, dolsot bibimbap was offered, and thus I had to try it. This version had
gim
(seaweed), egg,
gochujang
, pickled cucumber,
kongnamul
(soybean sprouts), mushroom, spinach,
doraji
(bellflower root), carrot, and finally beef. This was a bit of a step up from Gyu-Kaku, though still not at the level of
Young Dong Tofu
or
Jeon Ju
, as the rice still was a bit imposing, thus preventing a complete harmonization of the various ingredients.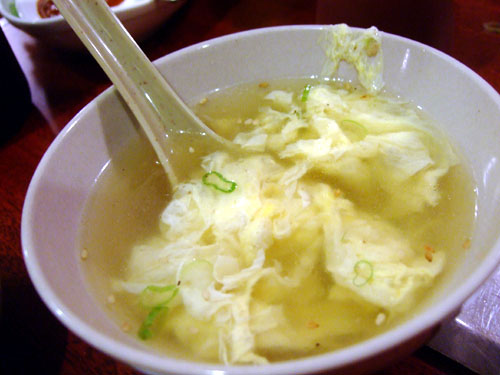 Egg Soup
The bibimbap above came with a bowl of what amounted to an egg drop soup. Made with egg, chicken broth, salt, pepper, and scallion, both my dining companion and I found it surprisingly delicious.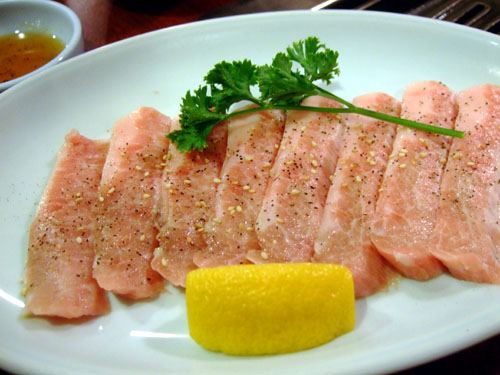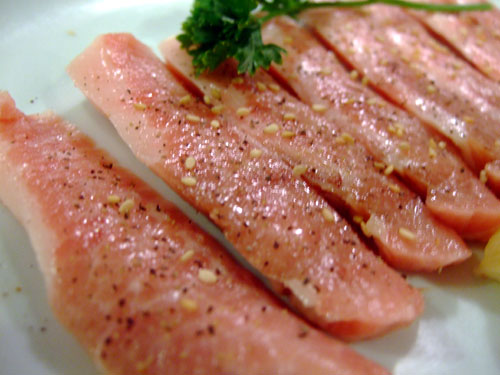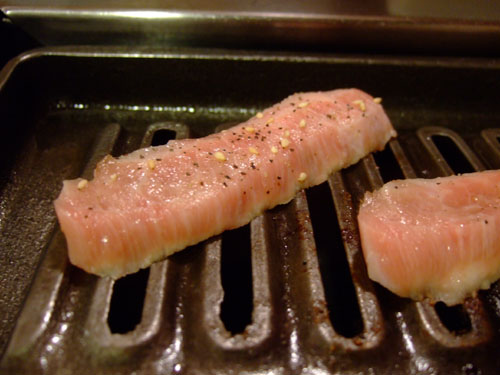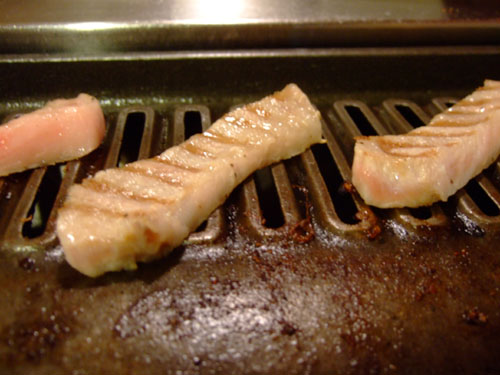 Berkshire Natural Pork Cheek [$6.75]
I wasn't a huge fan of this, as I found the cheek rather tough, and not nearly as flavorful as the pork belly. As with the belly, this also came with lettuce and
ssamjang
, which was left largely unused.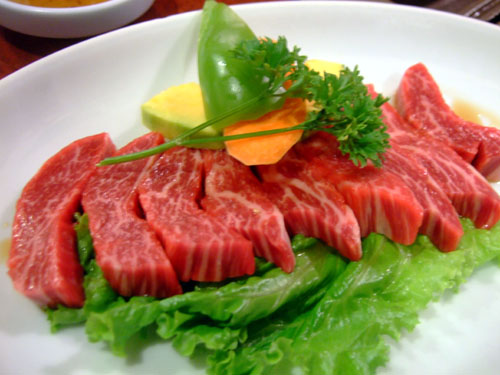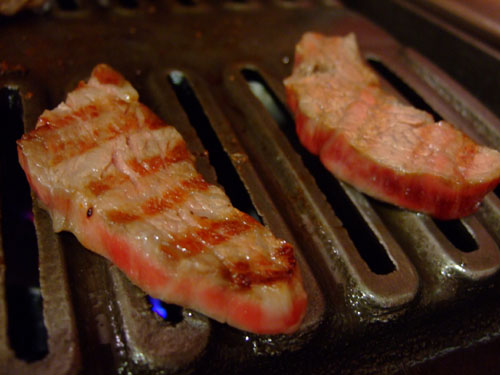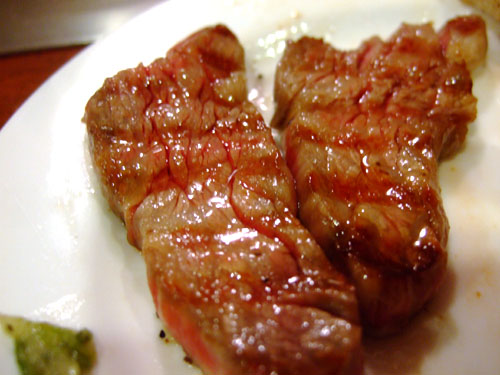 USDA Prime Cap Rib Eye [$10.95]
Since the restaurant had already run out of the Wagyu rib eye cap, we ordered the USDA Prime version in its place. Nicely marbled, this was very good, flavorful, yet tender and succulent, only surpassed by the Wagyu short rib.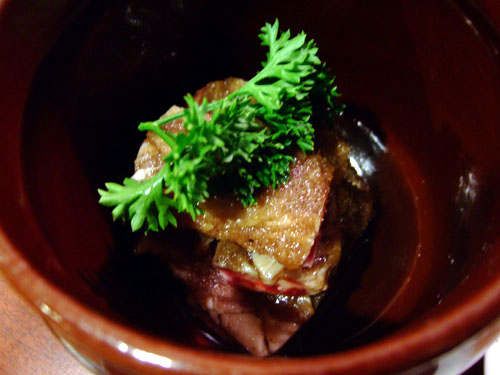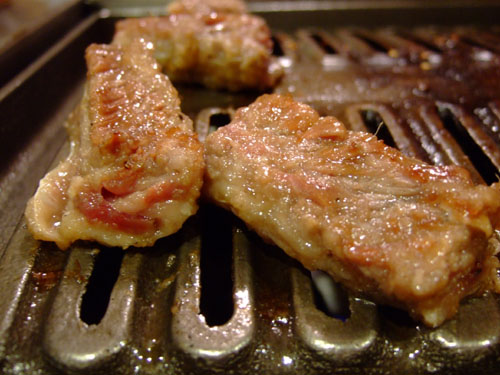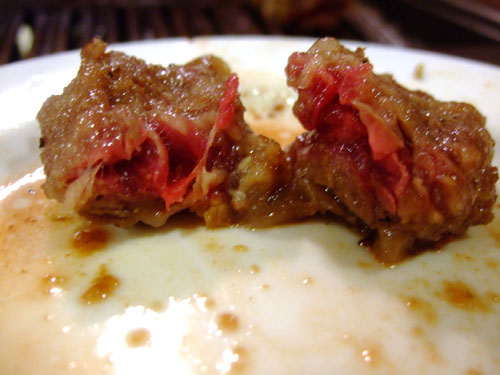 US Kobe Kalbi Marinated Overnight in our Secret Sauce [$7.50]
Unlike all the other meats, the kalbi came in its own stone pot, and we were told to grill the meat on the side of grill for a lower heat. I really liked the flavor here, which was slightly sweet thanks to the marinade of Korean soy sauce, garlic, and sugar. Unfortunately, the meat was marred by an overly chewy texture and the presence of small pieces of bone.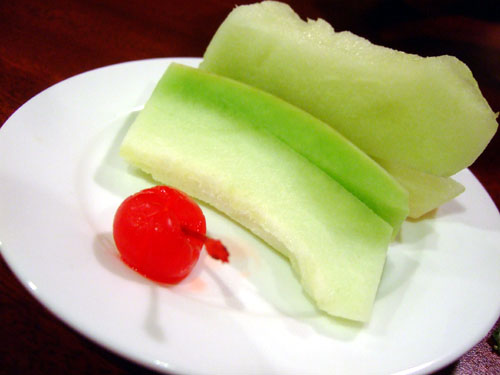 Honeydew
We passed on ordering dessert, so we were pleasantly surprised when we were presented with honeydew. It was good, but when eating it, I kept thinking back to the ridiculously sweet and succulent Shizuoka musk melon I had at
Imahan
in Japan (at $15 per slice!).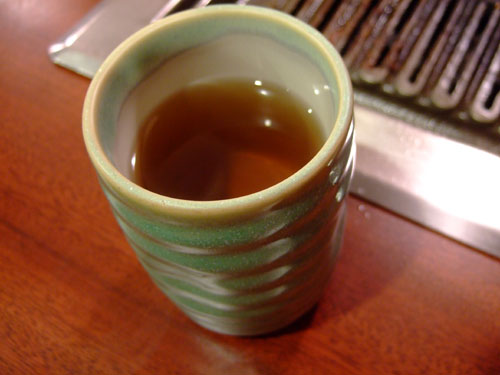 Oolong Tea
A nice, steaming cup of tea was a fitting way to close out the meal.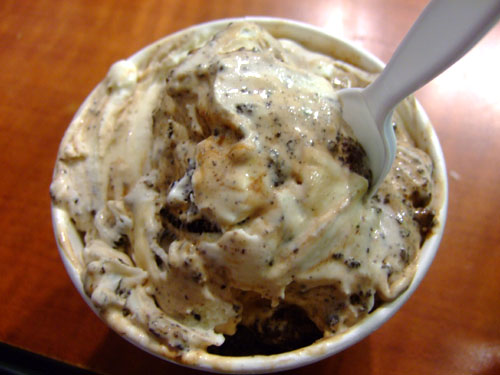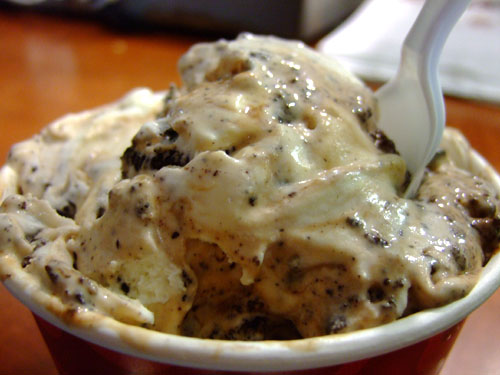 Cold Stone Creamery "Love It" (8 oz) Oreo Overload [$4.99]
Since we didn't end up ordering dessert at Tsuruhashi, we were hankering for something sweet. The Cold Stone across the street was the answer. The Oreo Overload comes with sweet cream ice cream, chocolate chips, double Oreo cookies, and fudge. My server also accidentally grabbed a brownie, which I subsequently asked to be included in the amalgam. How could this not be delicious? I especially enjoyed the textural interplay between the frozen chocolate chips, crisp Oreos, rich brownie bits, and soft ice cream.
I had a good time at Tsuruhashi. I enjoyed most everything we ordered, and look forward to trying some of the other items on the menu; plus, there is indeed something satisfying about cooking your own meat. I think Tsuruhashi is a great alternative to the ubiquity of Korean BBQ. It's definitely pricier, and you don't get all those free tasty banchan, but the wider selection and higher quality of the meats make it worthwhile to me.