Carnegie Deli (New York, NY)
Carnegie Deli
854 7th Ave, New York, NY 10019
800-334-5606
www.carnegiedeli.com
Fri 12/19/2008, 12:00p-12:35p
When one thinks of the quintessential New York food, what is the first thing that pops to mind? Pizza perhaps, or maybe hot dogs, but surely the delicatessen must be among the top three. I was determined to visit one on my recent trip to the City, and what better place to sample than Carnegie? Sure, there's Katz's, but time and location restraints made that an impracticability.
Opened near Carnegie Hall (from which the restaurant derives its name) in 1937, Carnegie Deli is easily the most well-known deli in all of New York, and perhaps the world. The place is owned by Milton Parker and family, the deli's third generation of owners. Interestingly, though Carnegie is a "Jewish-style" deli and serves lox, latkes, matzoh and the like, the restaurant also serves items such as ham and bacon, and thus is obviously not completely kosher.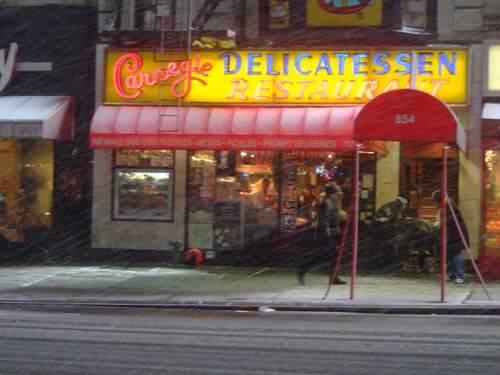 The deli is located in the upper portion of midtown Manhattan. It was a cold, windy, snowy, blustery day and I decided to walk from my hotel on 45th St wearing minimal protection--not a good idea. As can be seem in the photo above, the snow was pretty much coming down sideways.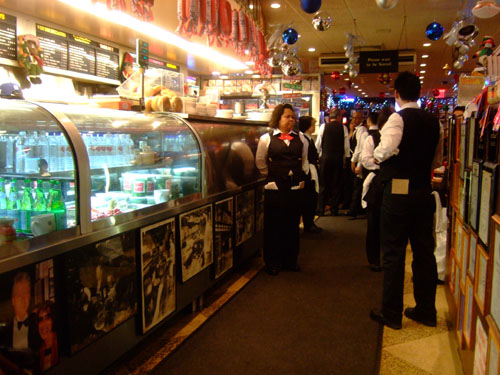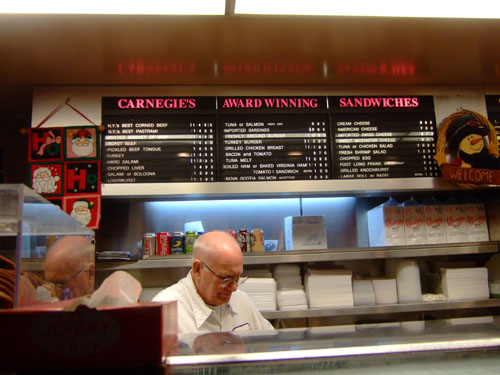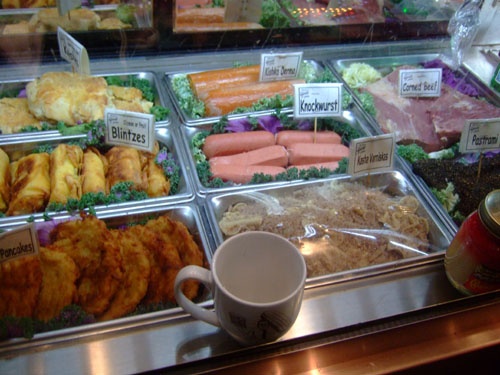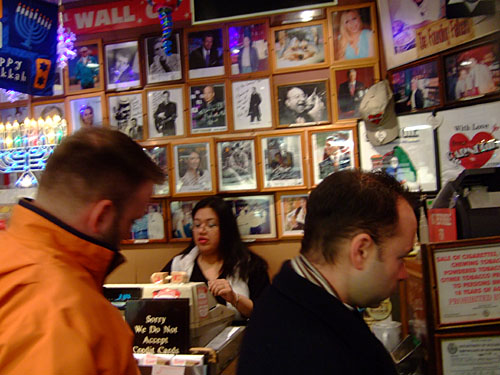 The hostess would only seat a complete party, so I had a few minutes to wait near the entrance for my dining companions to show up. The food is prepared behind the counter, and it's here that you can order food to go. This is the also the area where you pay for your meal. Annoyingly, the restaurant does not accept credit cards.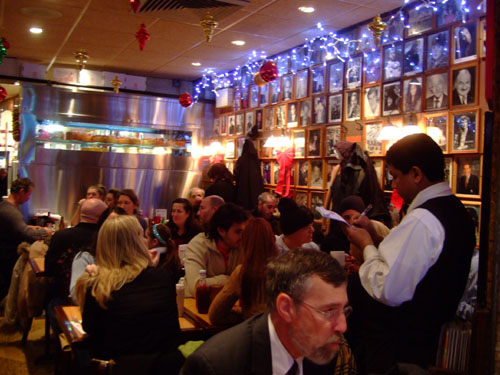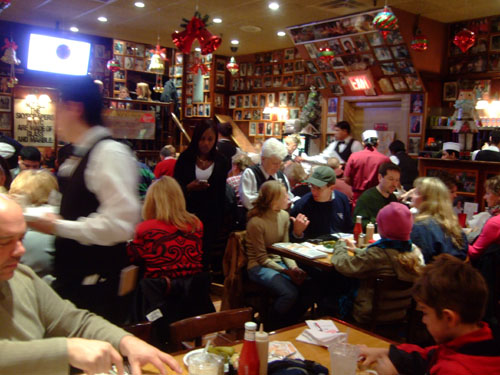 Past the counter is a dining area (left photo). To the right of that is another dining room, where we were seated. Note how the walls of the place are covered with autographed pictures of celebrities who have eaten there.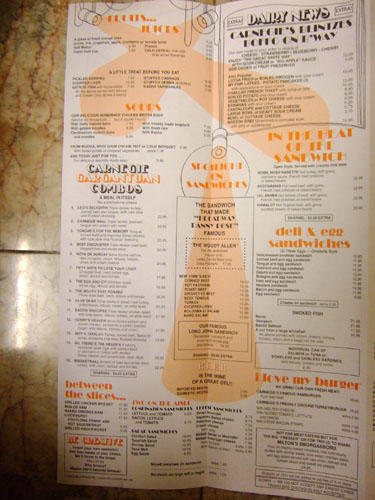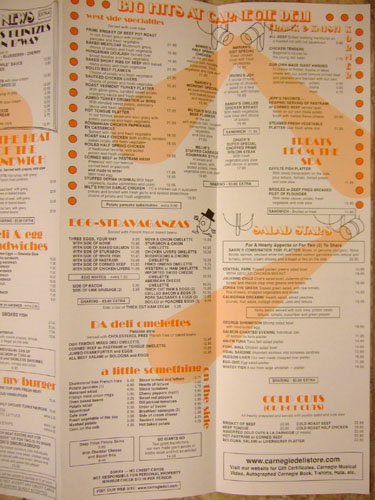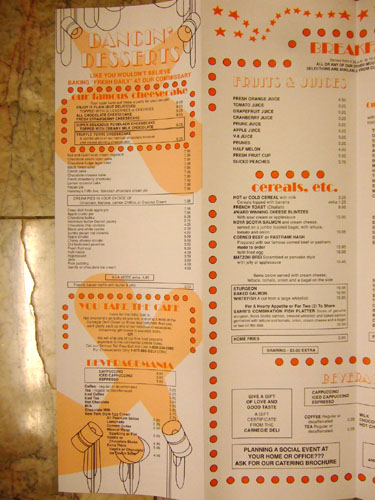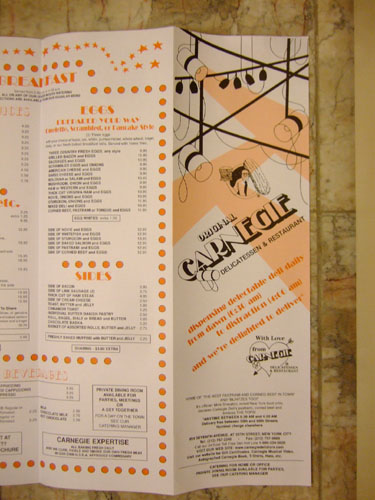 The menu is massive, with well over 100 items, though I imagine the bulk of sales come from only a few select dishes. For example, one of my dining companions was interested in a fish dish, and our waitress told her not to get it, stating that people order it about "once a year." Irritatingly, there was a minimum charge of $12.50 per person, which was problematic for said dining companion, who wasn't feeling particularly hungry.
On your table you'll find a complementary bowl of pickles. There were two varieties; I preferred the smaller, greener ones, as they were crisper and more refreshing. My dining companions, however, liked the larger, tarter ones better, which one described as reminiscent of "Big Mac pickles."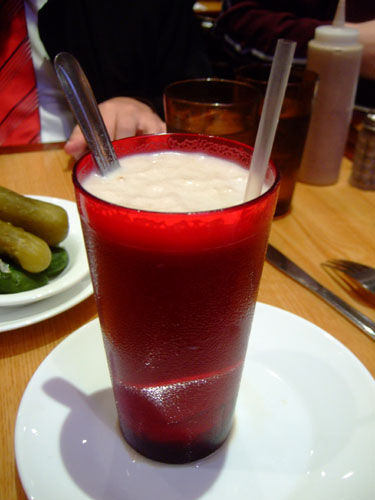 New York Style Egg Cream [$2.75]
I initially wanted to order an ice cream soda, but was told by our waitress that they were not available; she recommended an egg cream instead. This was my first time having such a thing (egg creams being rather unknown outside of New York), and I rather liked it. It was quite fizzy, with a bit of tartness and a touch of creaminess. Not heavy at all, and surprisingly refreshing. Amazingly, the concoction contains neither egg nor cream, but is made from soda water, milk, and chocolate syrup.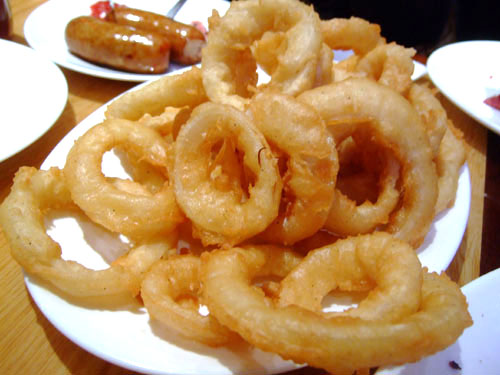 French Fried Onion Rings [$5.95]
The onions rings were underwhelming. I found them far too sweet, with a batter that was soft rather than crunchy. They also had an "Asian" flavor to them, almost like a tempura.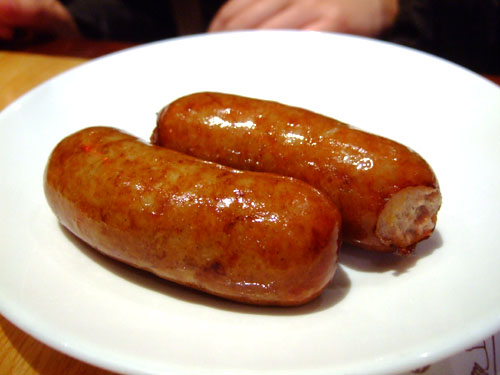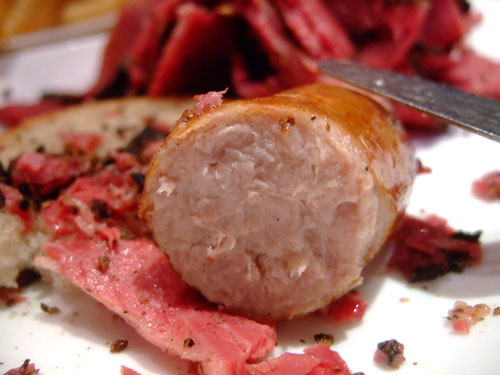 Breakfast Sausages (2) [$3.95]
Now the breakfast sausages were tasty, though not particularly distinctive; notice how the meat is very uniform. I did appreciate the snap of the sausage casings though.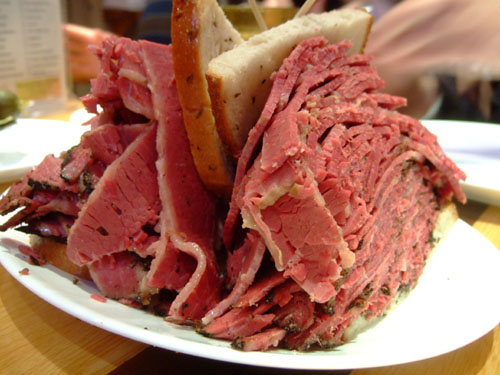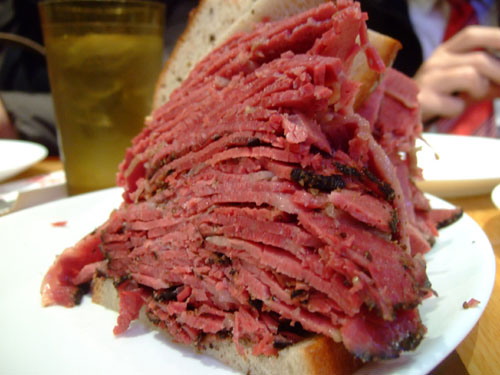 The Woody Allen [$17.95]
Here's what we really came to Carnegie for--their most famous item, The Woody Allen. As for the name, Woody Allen shot scenes in his film
Broadway Danny Rose
at the deli, so the item was named after him. Advertised as "for the dedicated fresser (glutton) only," this was a grotesquely beautiful mound of pastrami and corned beef, sandwiched between two utterly useless pieces of rye. Interestingly, corned beef and pastrami are actually very similar preparations of beef. They both begin life as brisket pickled in brine; but after this, the two diverge, as corned beef is subsequently boiled, while pastrami is smoked and spiced. In any case, the end result was delicious. Both meats were among the best I've eaten, though I had a preference for the pastrami due to its spicy outer layer, which gave the meat a peppery kick.
In addition to its gargantuan portions of pastrami and corned beef, Carnegie Deli is also known for its churlish wait staff. Our waitress was a prime example of such. She really reminded me of the stereotypical New York waitress who's been through it all, having being rendered a bit jaded, callous, and blunt as a result. For example, when I asked for the check, she gruffly replied that she'd get to it with her "third arm." Once nice thing she did, however, was get rid of the $12.50 per person charge by claiming that one of us was a child (or perhaps we were acting as such!). So in the end, her surliness was a bit endearing, and really part of the whole experience. Her name was Susan Palmucci and you can even see a photo of her on the front page of the
Carnegie Deli web site
, holding a pastrami on rye.
In the end, though not all the items we had were spectacular, Carnegie delivered where it mattered with The Woody Allen. Even one of my dining companions, a New Yorker who "didn't do delis," was suitably impressed. My only regret was not trying the cheesecake.