Adour (New York, NY)
Adour
2 E 55th St, New York, NY 10022
212.710.2277
www.adour-stregis.com
Thu 12/18/2008, 10:00p-12:40a
Ever since his eponymous 3-star restaurant at Essex House closed in 2007, Alain Ducasse had been missing from the New York culinary scene. But after a brief hiatus, Ducasse opened Adour (named after a river in southwestern France near Ducasse's hometown) in early 2008, along with his bistro concept, Benoit. The theme of Adour is somewhat unique, and ambitious: to develop a menu where the dishes and wine pairings are designed to complement each other right from the get go.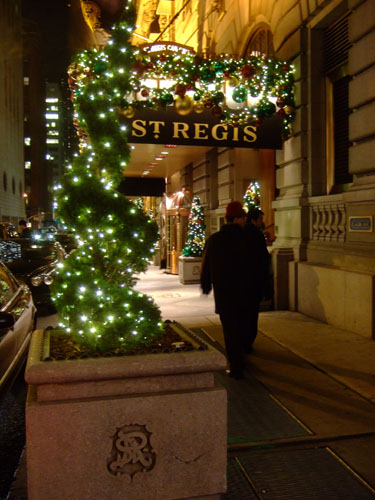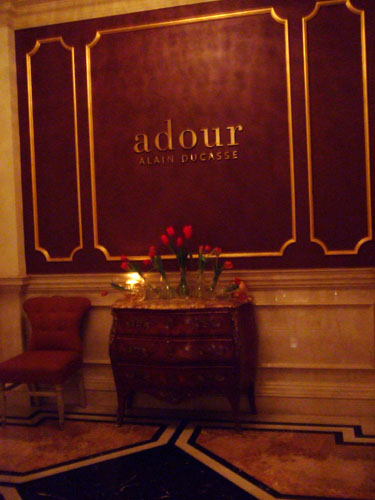 Adour is located on the main floor of the St. Regis in the heart of midtown Manhattan. The restaurant sits off to the side of Astor Court, the hotel's more casual eatery, and is somewhat easily missed.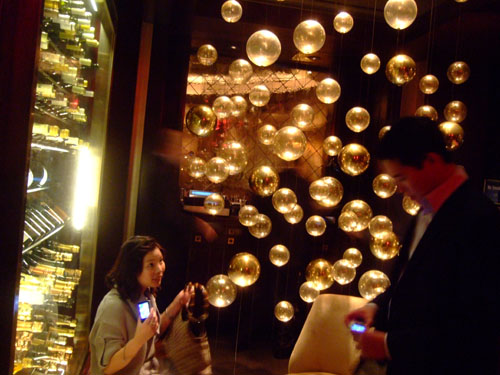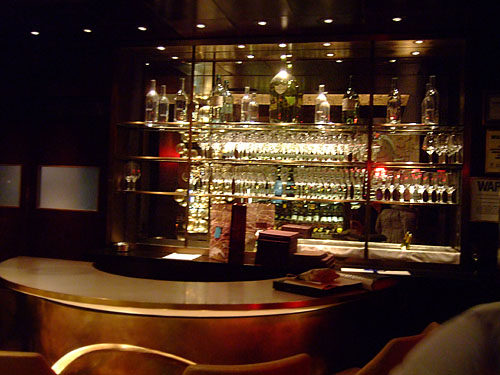 When I arrived, my table wasn't quite ready, so I waited a few minutes in the Sommelier Bar, which is anchored by a mesmerizing array of hanging golden globules. The bar itself utilizes a unique hi-tech interactive projection system to help diners chose wine, but unfortunately, I didn't have time to play with it.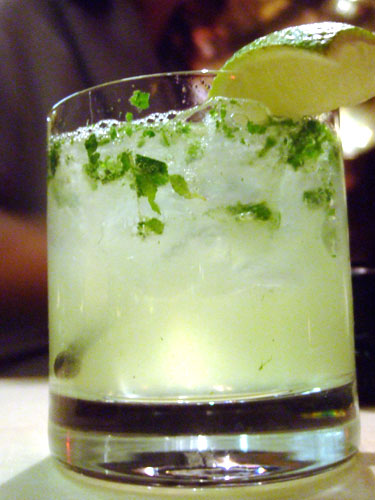 While waiting, I ordered up my standard Mojito [$20.00], which turned out to be one of the best I've had. It had a complexity missing from most variations, a perfectly balanced commixture of sweet, sour, and alcoholic flavors that was simply marvelous.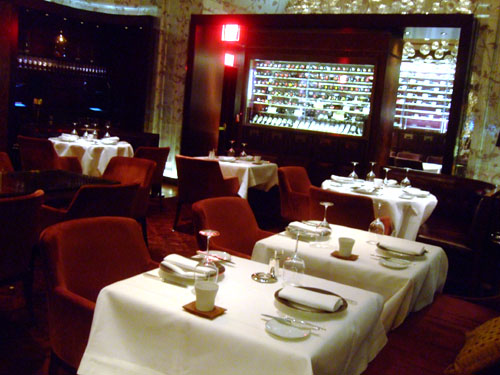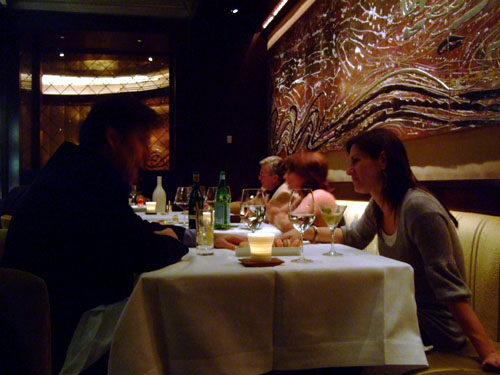 The decor is a mix of modern and traditional, a Beaux-Arts amalgam inspired by the colors of wine, with Burgundy floors and chairs melding seamlessly with Chardonnay walls and banquets. Adour is divided into a number of rooms. The largest is the Great Room (left photo), while we were seated in the River Room (right photo). Total capacity is 88, and nearly every seat in the house provides ample view of the restaurant's wine vaults.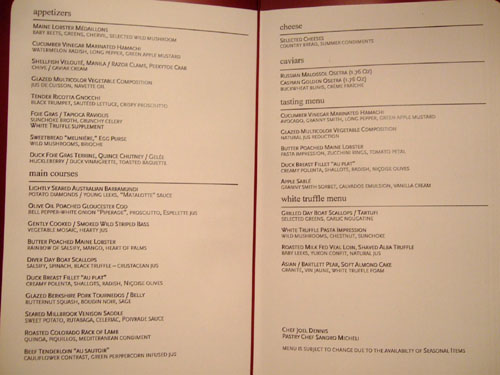 Here we see Adour's menu; click for a larger version. We decided to do the Tasting Menu [$110.00], along with a couple of supplemental dishes that we wanted to try. Adour's Chef de Cuisine is Joel Dennis (Blue Water Grill, Aureole,
TRU
), who just replaced former head chef Tony Esnault. Interestingly enough, from what I've read, Esnault was booted for personal reasons but is now employed as Martha Stewart's private chef!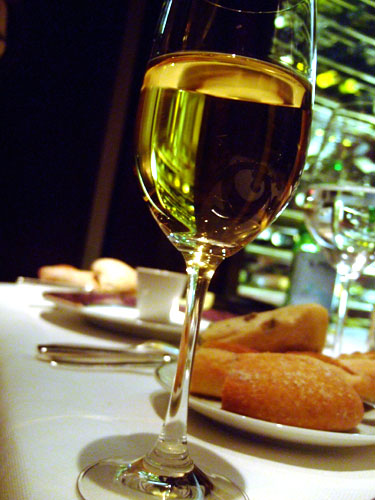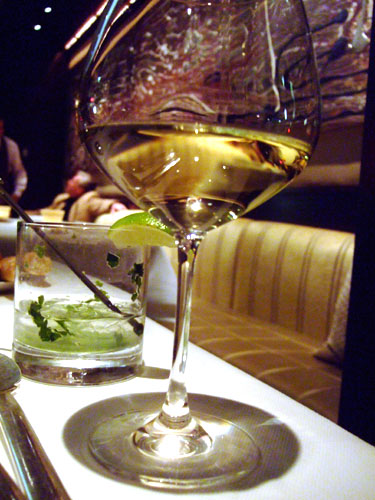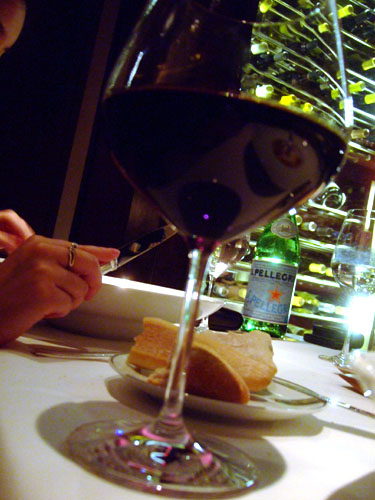 Since my dining companions weren't drinking this night, I decided to forego bottles and do it by the glass. What's unique about Adour is that each night, a number of jeroboams (3.0L bottles) are opened and wine from them sold by the glass. I didn't order the following wines specifically, but rather, let our server decide.
Castelnau de Suduiraut, Sauternes, Bordeaux 2001 [$35.00] - Though of one my dining companions thought this tasted like cough medicine, I rather enjoyed it. I noted a nose typical of Sauternes of honey and apricot, which continued on to the nicely acidic palate. The wine was a lovely complement to the foie gras dish.
René Monnier, Puligny-Montrachet, Burgundy 2006 [$32.00] - From a jeroboam. This was a classic white Burgundy, with a full, rich body and plenty of minerals on the nose as well as palate. Dry, refined, and well-balanced, it went beautifully with the lighter dishes of the meal.
Icardi, Parej, Barolo 2001 [$48.00] - From a jeroboam. Juicy aromas here of raisin and berries, which seem to disappear once the wine is actually tasted, transforming to loads of spice and smoke, with light tannins. Was not a huge fan of this one.
The wines were solid; what shocked me were the prices. Castelnau de Suduiraut is the Château's second wine but was priced like the real deal. I was at Le Bernardin the following night, which had the same wine for only $18 a glass, half the price. And $48 a glass for the Icardi? Yikes.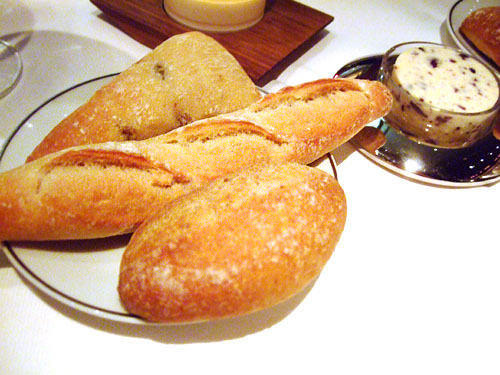 We were provided a trio of breads--sourdough, baguette, and olive, along with some olive butter. My dining companions complained about the cool temperature of the breads, as well as their rather tough consistency. One also questioned the pairing of an olive butter with olive bread. I wasn't a huge fan either of the bread, but I've certainly had worse.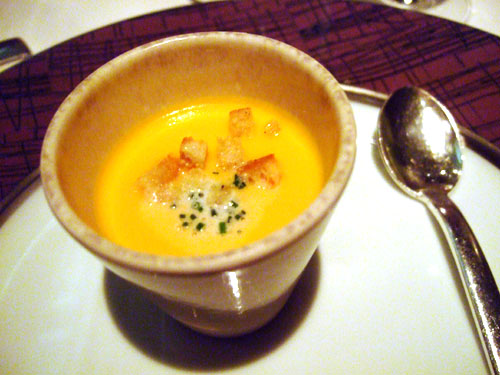 Amuse Bouche: Butternut Squash Soup with Chive Cream
I seem to be having quite a few squash soups as of late, after having examples at both
Coi
and
Manresa
recently. I'm not a huge fan of squash, and generally, I find such soups to be a bit on the sweet side for me. Fortunately, that wasn't the case here. The soup was just savory enough, and was further accented by the addition of chives and bits of crouton-like pieces, which added a tinge of saltiness and a lovely crunchy texture to the dish.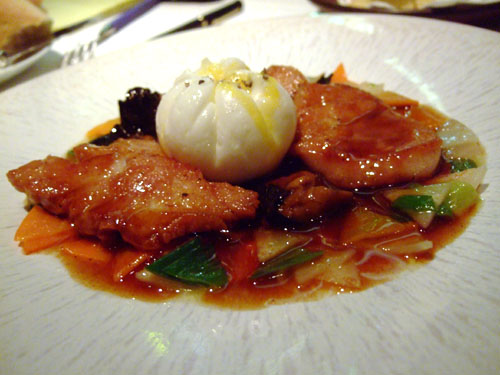 Supplement: Sweetbread "Meunière," Egg Purse [$24.00]
Wild Mushrooms, Brioche. Overall, this was a very strong presentation of sweetbreads. The sweetbreads themselves were richly and intensely flavored as expected, without being too gamey, and were well-accentuated by the earthiness of the mushroom. I especially appreciated the creamy yolk of the egg purse, though one of my dining companions did think that the egg white was too firm--I rather liked it. As for the brioche, I found it acceptable but unnecessary; however, some thought it was "eggy," "sweet," and even "stale."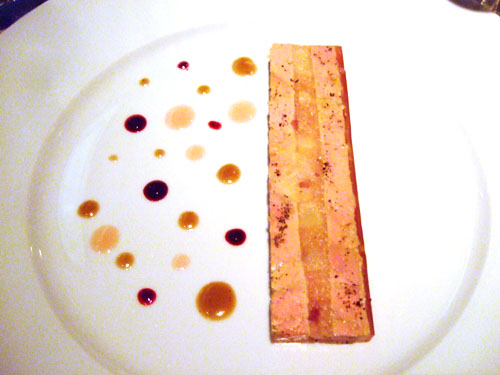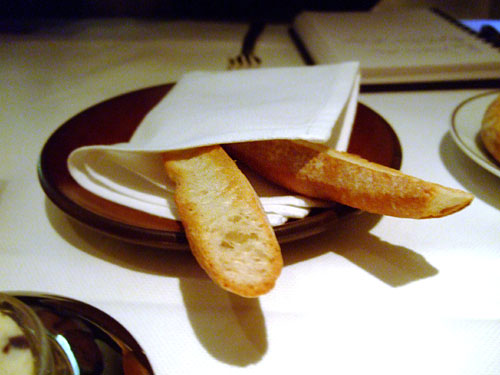 Supplement: Duck Foie Gras Terrine, Quince Chutney Gelée [$29.00]
Huckleberry / Duck Vinaigrette, Toasted Brioche. I quite liked the presentation here, with the foie and chutney sandwich looking somewhat like a slab of bacon. In any case, the foie itself was fairly strongly flavored, and thus the quince did well to temper the muskiness of the liver. It was a wonderful accompaniment to the crunchy toasted brioche.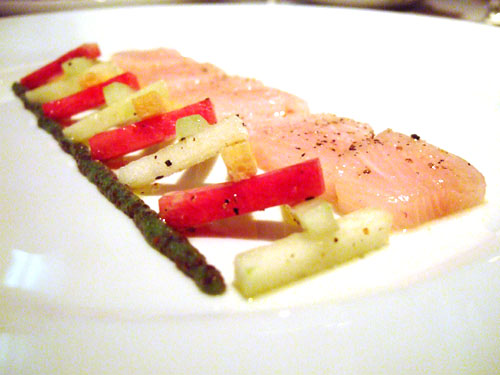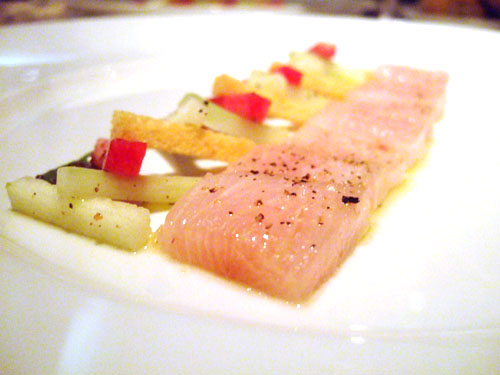 1: Cucumber Vinegar Marinated Hamachi
Avocado, Granny Smith, Long Pepper, Green Apple Mustard. The hamachi, taken alone, was rather plain despite the cucumber marination, and was served a bit too close to room temperature actually. For me, the key with this dish was to eat everything in one bite, which resulted in a somewhat "tropical" flavor and an interesting textural mélange of the fish, toasty bread pieces, and crisp cucumber and apple. My dining companions preferred to eat the fish with only the mustard, which one likened to tasting like a "gummy bear;" I personally thought it was more akin to a Jolly Rancher!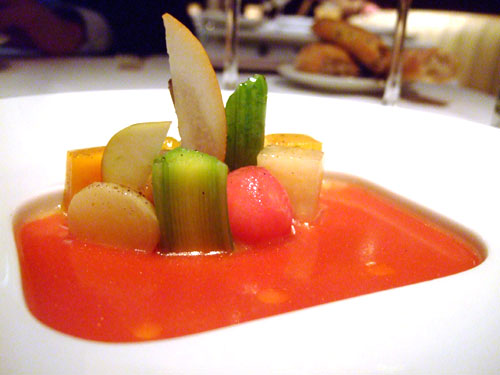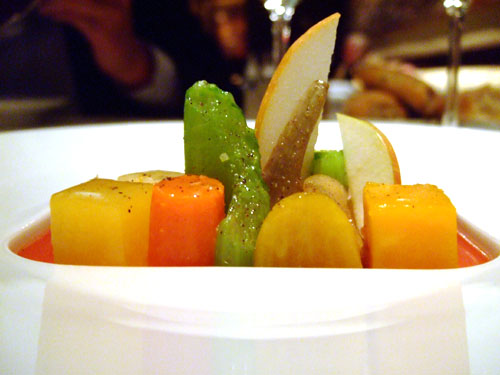 2: Glazed Multicolor Vegetable Composition
Natural Jus Reduction. When I saw the name of this dish on the menu, I pictured something in my mind along the lines of the "Into the Vegetable Garden" dish at
Manresa
or the "Garden, Late Fall" at
Coi
. Rather, compared to those more free-form presentations, this course was purposefully arranged and structured. The vegetables (I identified carrot, celery, leek, chestnut, beet, and apple) were thoroughly cooked, which did indeed make them lose some distinctiveness compared to a more
au natural
presentation. The vegetable jus, meanwhile, lent a slightly sweet backdrop to the entire dish.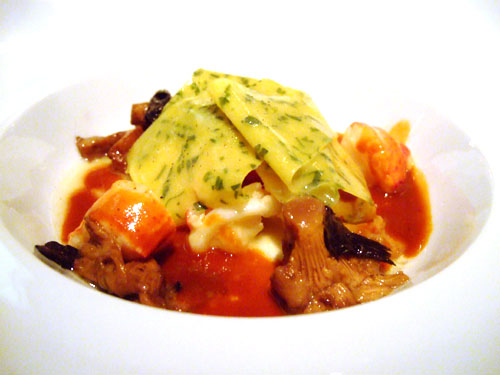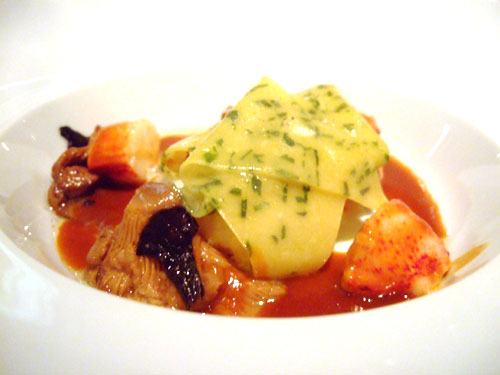 3: Butter Poached Maine Lobster
Pasta Impression, Zucchini Rings, Tomato Petal. The zucchini was the crux of this course. It was clearly the most dominant flavor component here, and easily overpowered the delicate flavor of lobster if not taken in careful amounts. The pasta was fairly bland on its own, but added a great textural contrast when eaten with the rest of the dish. The lobster itself was well-cooked, though one of my dining companions did note a few overcooked pieces.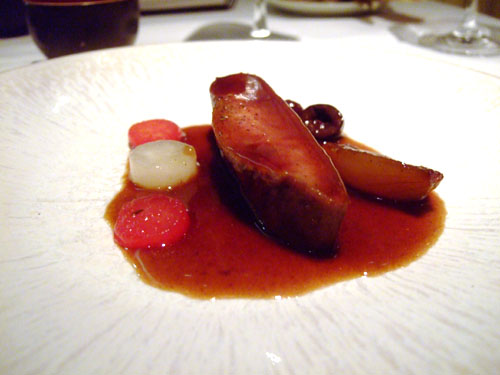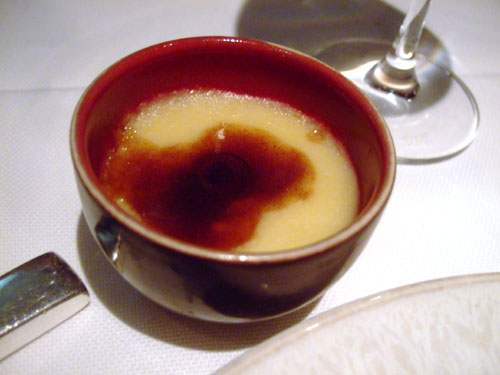 4: Duck Breast Fillet "Au Plat"
Creamy Polenta, Shallots, Radish, Niçoise Olives. The duck here was perhaps a tad overdone, giving it a bit of a tough, chewy texture. The sauce was a touch monolithic, and was dominated by the tartness of olive. I would've liked something more subtle and more complex, to let the natural flavor of the duck shine through. As for the polenta, we all thought it was some of the best we've had, though admittedly, we rarely eat it; one of my dining companions even thought it tasted like Chinese tapioca!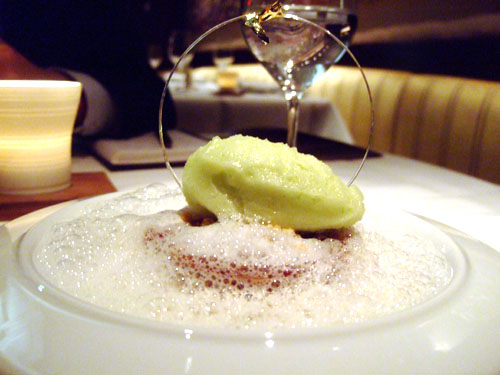 5: Apple Sablé
Granny Smith Sorbet, Calvados Emulsion, Vanilla Cream. "Sablé" means "sand" in French and the name comes from the crumbly nature of the cookie. Here, it formed a wonderful base for the cool, tart apple sorbet, rich vanilla cream, and light, airy Calvados foam. The crispness of the sorbet hits your first, then the other parts of the dish come into play one after another. The dish was a multilayered interplay of tastes, temperatures, and textures that resulted in a superb dessert experience. Humorously, one of my dining companions was afraid to eat the bit of gold foil on top of the ring (she was also concerned with the gold on my last trip to
Urasawa
); I was more than happy to eat it for her!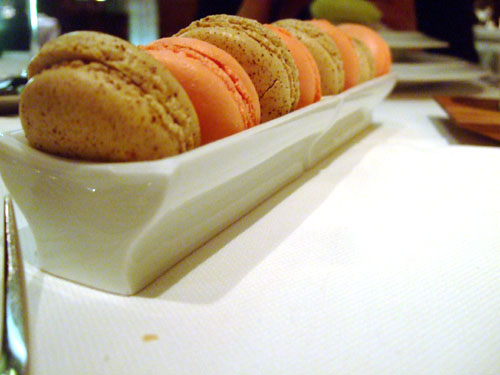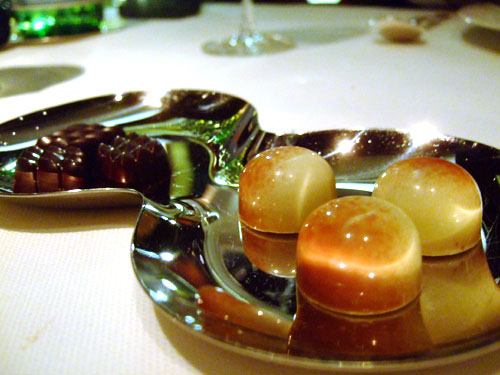 Mignardises
To close out the meal, we were presented with a selection of Raspberry and Chocolate Macarons and Passion Fruit and Rum-Vanilla Chocolates. All were tasty, as expected, but the raspberry macaron was notable for its especially lovely jammy center.
One of the initial criticisms of Essex House was that the place was too complex, too extravagant, too over-the-top. I've heard stories of a dozen different pens being provided to sign the check, and a similar number of knives that diners had to chose from to cut their perfectly roasted squab. Ducasse was well aware of this, and thus wanted his next restaurant, Adour, to be simpler, more straightforward, both in terms of food, and experience. But perhaps the pendulum has swung a bit too far here. Overall, I liked most everything I ate, but I kept wishing for a little more boldness, a little more lavishness, a little more "wow factor." The place is close, and has potential, and perhaps the experience was affected somewhat by the recent change in head chefs, but Ducasse and company do need to step up their game to the next level if they ever want a shot at that third
étoile Michelin
.