Famous Original Ray's Pizza (New York, NY)
Famous Original Ray's Pizza
1710 Broadway, New York, NY 10019
212-247-7901
www.rayspizzany.com
Fri 12/19/2008, 12:40p-12:55p
When I think of New York food, the first thing that springs to mind is pizza. Thus, in my limited time here, I wanted to make sure to experience this quintessential staple.
I had heard about the dozens of "Ray's Pizza" places throughout Manhattan ("a Ray's on every corner"). These restaurants are supposedly "famous" for their pizza, but strangely do not seem to form any single franchise. The oldest Ray's was founded in 1959 in Little Italy by Ralph (Raffie) Cuomo, while the Ray's I visited claims to have been established in 1964, and has eight locations throughout the borough.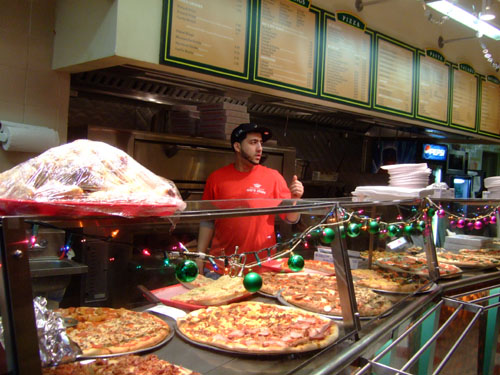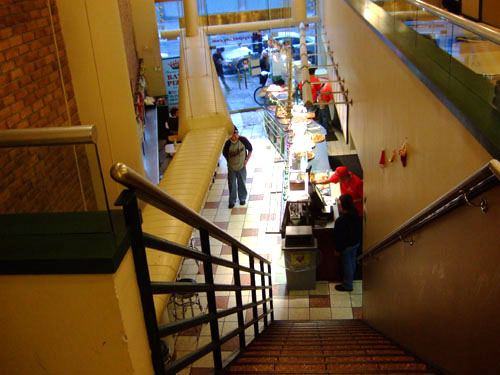 Upon entering, you place your order at the counter. Since I'd partaken in a Woody Allen at
Carnegie Deli
just minutes earlier, I limited myself to a single slice. It was interesting to note that all the pizza was sitting out initially, and then was placed in the oven to cook upon ordering.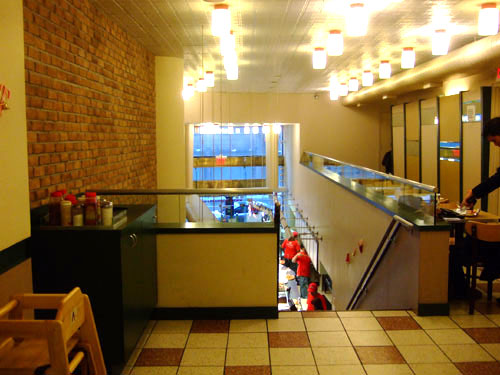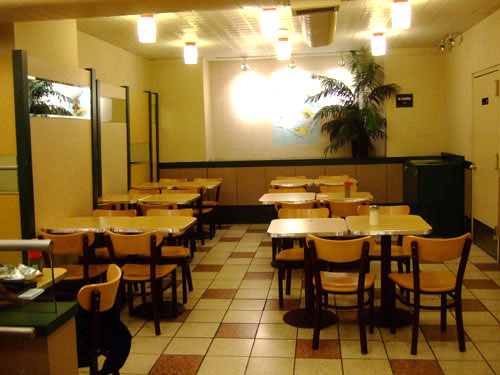 We proceeded to the upstairs dining area, away from the hustle and bustle of the ground floor. The space was surprisingly empty.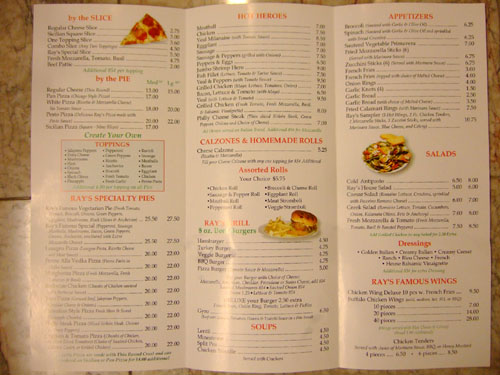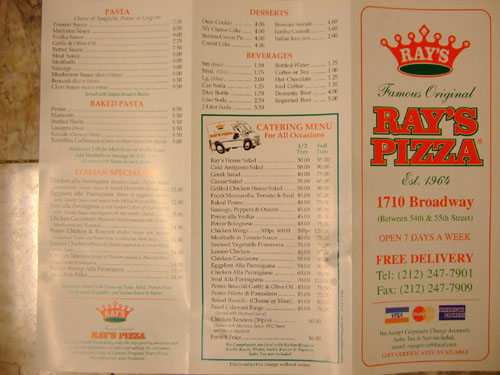 Here we see the menu. Though Ray's is most known for its pizza, a wide array of other items are available, including soups, salads, sandwiches, pastas, and various Italian-style dishes. Click for larger versions.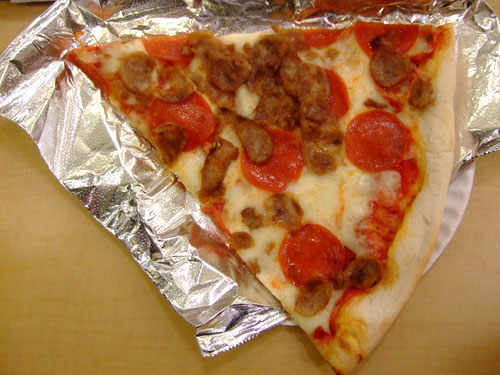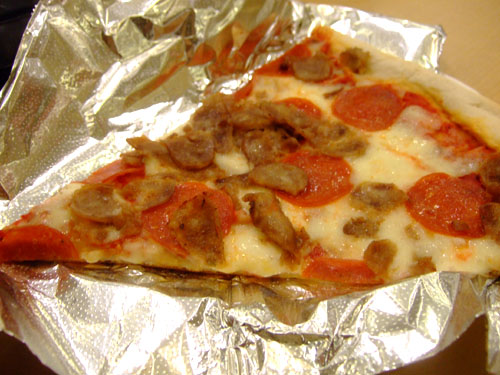 Combo Slice (any two toppings) with Pepperoni and Sausage [$4.50]
So how was the pizza? Not bad, though not outstanding. The crust was nicely thin and crisp, with a mild flavor (in addition to the standard crust, Sicilian and Pan styles are available as well). The mozzarella cheese was fairly nondescript, as was the pepperoni. The sausage was a bit funky, however, with somewhat of a strange sourness.
All in all, a decent pizza, though nothing special. I think next time I'm in New York, I'll need to check out the real "original" Ray's on Prince and Mott and see how that one fares.