Binh Dan (Westminster, CA)
Binh Dan
10040 McFadden Ave, Westminster, CA 92683
714.839.7050
www.yelp.com/biz/binh-dan-restaurant-westminster (Yelp, restaurant has no web site)
Sat 04/25/2009, 06:05p-07:10p
Most of us are familiar with
bo 7 mon
, the famous seven courses of Vietnamese beef. Start with that, replace the beef with goat, move a few notches down on the classiness scale, and you're left with what we have here:
de 7 mon
(seven courses of
goat
) at Binh Dan in Westminster. The restaurant is well known for its goat dishes; Binh Dan sources its meat from the owner's father's goat farm in Riverside, and the kitchen is adept at mitigating goat's signature gamey flavor. The name of the restaurant,
binh dan
, means "commoner," and that nomenclature is glaringly evident here, from the ambiance to the people to the cuisine. Binh Dan features
mon nhau
, or "alcohol food," that is, food meant to be eaten with booze. In fact, goat is not typically consumed in Vietnamese cuisine, save for
mon nhau
-style dishes.
So...this obviously isn't the type of place I usually frequent. The impetus for my meal here was
Wandering Chopsticks
, who had organized her
Foodbuzz
24, 24, 24 meal at Binh Dan (Foodbuzz's "24 Meals, 24 Hours, 24 Blogs" concept showcases posts from 24 Featured Publishers over a 24-hour period, with Foodbuzz picking up the tab). In addition to me, WC also invited Aaron of
Food Destination
, Danny of
Kung Food Panda
, and Mike of
Right Way to Eat
.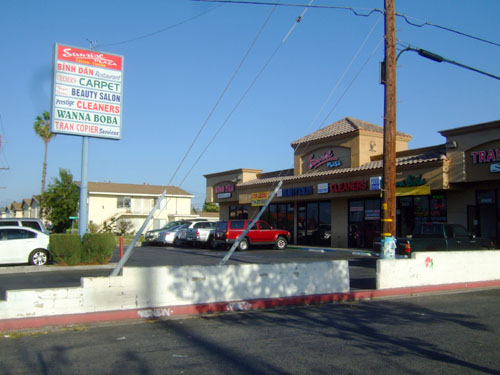 Binh Dan is located in a rather nondescript strip mall on the southern edge of Little Saigon. The place looks decent from the outside...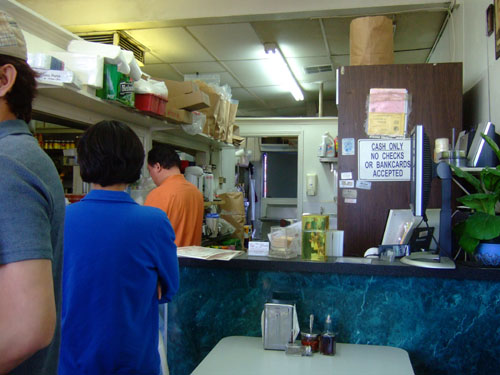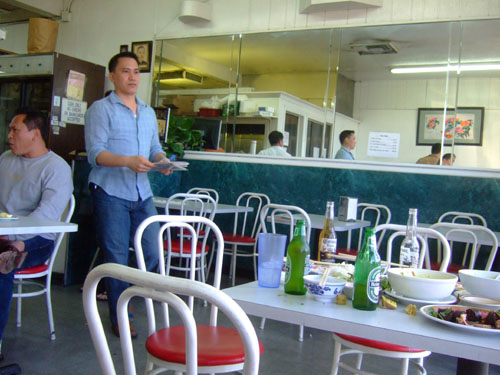 Wandering Chopsticks had chosen Binh Dan in part to mark the Fall of Saigon, which took place on April 30, 1975, effectively ending the Vietnam War. Stepping inside Binh Dan, I could imagine myself stepping inside a
quan nhau
drinking establishment in 70's era Saigon; the Nixon-era fixtures and furnishings were belied only by the presence of a computer and LCD monitor. I was the first one of my party to arrive, and as an "outsider," I did not feel welcomed.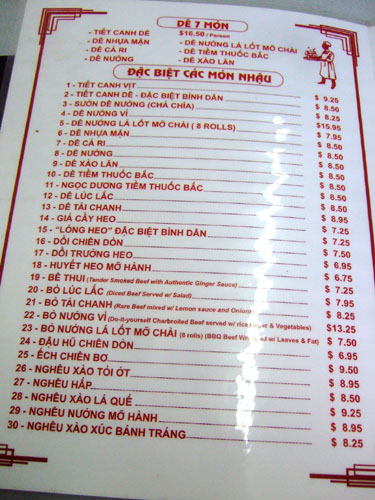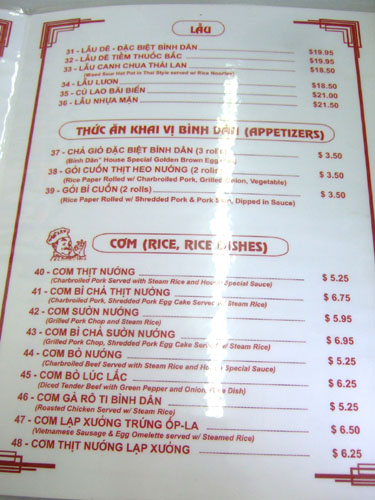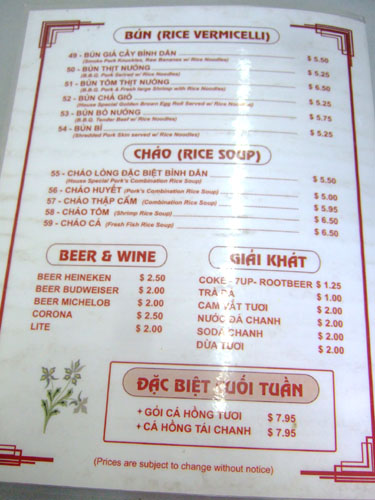 Binh Dan's surprisingly comprehensive menu is shown above; click for larger versions. The
de 7 mon
is listed right up top at $16.50 per person; we ordered two servings and also a couple of specials (posted on the wall). Underneath the
de 7 mon
are the
mon nhau
dishes, followed by some more typical Vietnamese fare. Note that only certain items are subtitled in English; my guess is that those are meant to be the less intimidating dishes.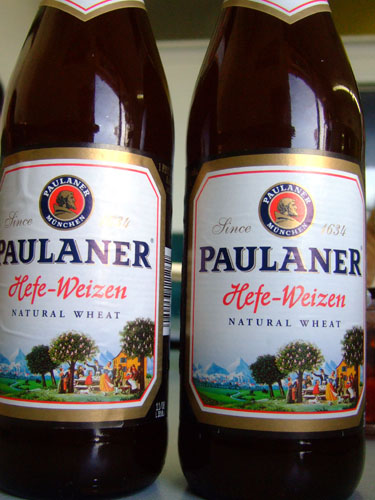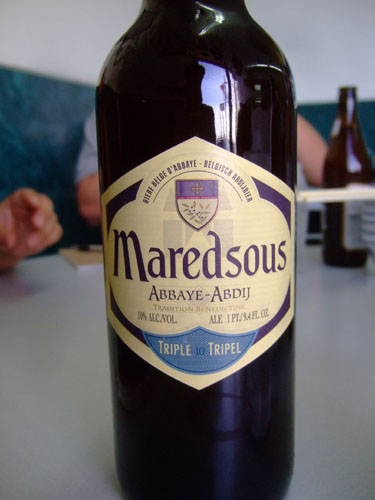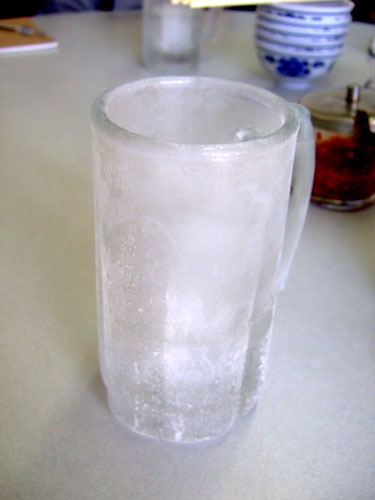 Since we were having
mon nhau
, beer was definitely in order. Not impressed with Binh Dan's pedestrian selection of Bud, Corona, and "Lite," I took the initiative to provide our own libations. Wandering Chopsticks had worked out a $1 corkage arrangement with the restaurant beforehand, but said agreement was tossed out the window once we were actually there. Fortunately, though we were warned never to bring outside beer again, they did let it slip this time. We ended up attaching the "corkage" fee in the tip. We first had the Paulaner Hefe-Weizen, really a prototypical example of the style, with notes of lemon, spice, and banana, all balanced by a nice hoppy bitterness. The other beer was the Maredsous Tripel from Brouwerij Duvel Moortgat. It was a more distinctive brew than the hef, with a fruity nose, loads of apple and stone fruit on the palate, and a bit of heat on the finish. Both went well enough with the food. What was fascinating was my beer mug, which had a puck of ice lodged on the bottom. What they do is fill a mug with water, and stick it in the freezer; I'm not sure if that's ghetto or genius, maybe both?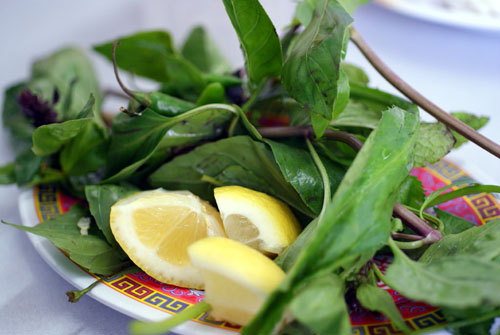 The first plate to appear on our table was filled with Thai basil, sawtooth (
ngo gai
, or
Eryngium foetidum
), cilantro, mint, and lemon.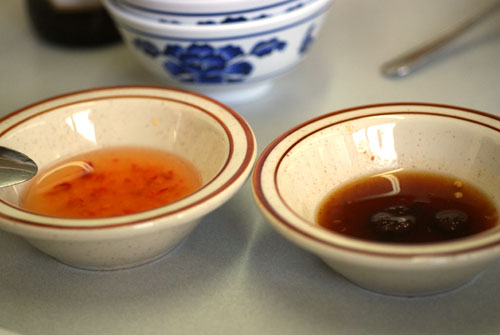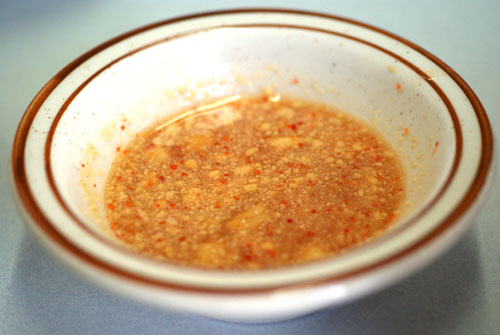 We were given the standard
nuoc mam
fish sauce as well as soy sauce. In addition, what I believe was peanut sauce was provided.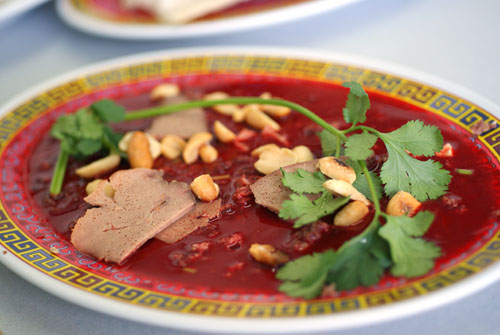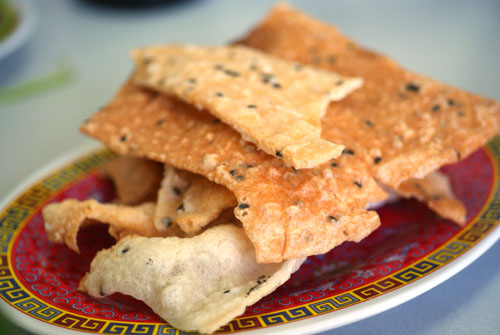 1: Tiet Canh De
The first course of the meal was also the most menacing. What we have here is goat blood pudding, basically a mixture of congealed blood and minced meat, topped with liver slices, peanuts, and cilantro. You eat this by scooping up the amalgam with the included
banh trang me
(toasted sesame rice cracker). The flavor of the
tiet canh de
wasn't particularly appealing, though it wasn't offensive either; instead, it was rather nondescript, but with a somewhat disconcerting finish.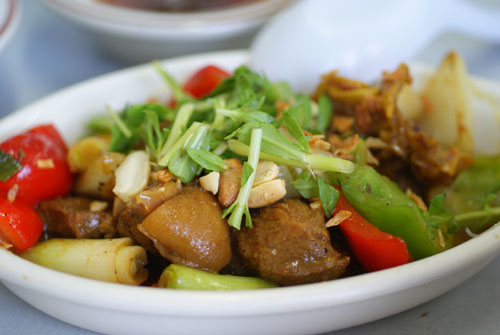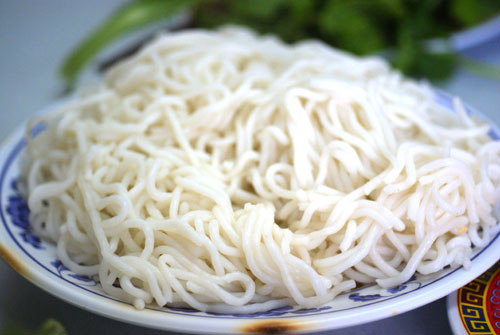 2: De Xao Lan
The
de xao lan
was goat, stir fried with curry, served with rice noodles. The meat itself was surprisingly tender, and flavor-wise, was nicely complemented by the curry. The veggies (onion, bell pepper, and
ngo om
--rice paddy herb) provided a nice contrast, balancing the power of the meat.
Supplement: De Vu Nuong [$8.50]
Our first special of the meal was a dish of grilled goat udder,
de vu nuong
. I believe this was seasoned with the same curry used in the stir fry dish above, though the udder was noticeably stronger in flavor. It was balanced with a light spiciness, and well as the peanuts and scallion. Texture-wise, some pieces were indeed quite chewy, as you might expect from udder, but overall, this was actually quite innocuous.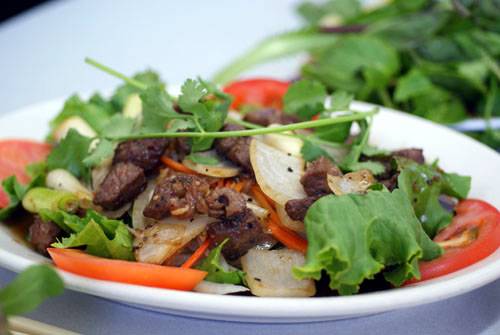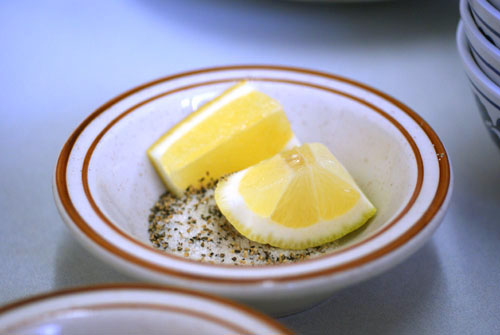 Supplement: De Luc Lac [$8.50]
You should be familiar with
bo luc lac
or "shaking beef," basically cubed beef sautéed with vegetables. Substitute goat for beef, and you get this,
de luc lac
. This was easily the most non-threatening dish of the night, and I had a hard time identifying this as uniquely goat, save for the rather tough texture. It had a mild, subtly sweet flavor that went beautifully with the included pepper and lemon. I also quite enjoyed the refreshing selection of vegetable accompaniments.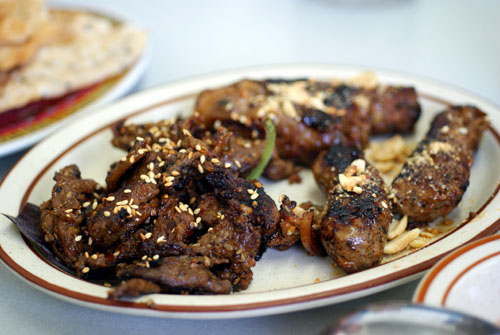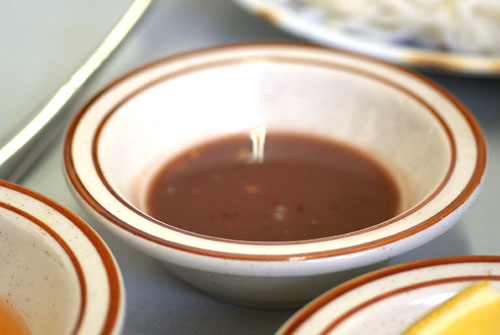 3 & 4: De Nuong & De Nuong La Lot Mo Chai
Next, we have two courses on one plate: Grilled goat (
de nuong
) and grilled ground goat with wild betel leaves encased in caul fat (
de nuong la lot mo chai
), served with
mam ruoc
(fermented shrimp paste). The simply grilled goat had a nice sweet/spicy flavor contrast going, and I appreciated the light sapor of the sesame seed topping. The ground goat was more interesting, with the wild betel adding a bit of vegetal sweetness to the meat (it reminded me of grape leaves). I enjoyed both preparations.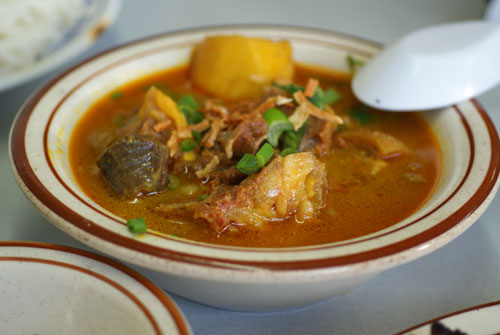 5: De Ca Ri
De ca ri
is a goat curry stew, made with Indian-influenced Madras curry powder (the only type used in Vietnamese cuisine, apparently). The goat was tender enough, but flavor-wise, it was completely dominated by the curry.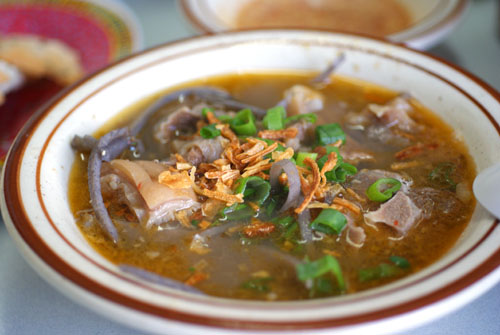 6: De Nhua Man
This was a goat stew, though even Wandering Chopsticks was unsure as to exactly what kind. According to one of her
commenters
, it might have been stew prepared in the style of dog meat. In any case, the dish had a distinctly tangy flavor, with cuts of rather tendinous pieces of goat. This didn't go over too well with me.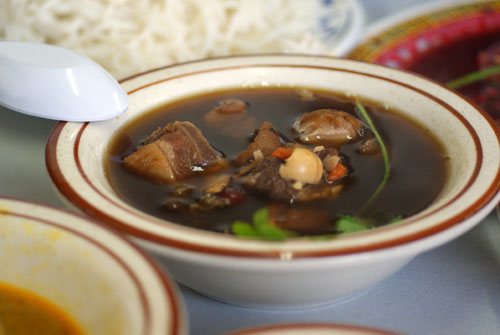 7: De Tiem Thuoc Bac
Another goat stew, this time with Chinese medicinal herbs. Unfortunately, the herbs pretty much obliterated any other flavors in the dish. Not a huge fan of this.
So...though I certainly didn't love everything I ate here, it was a unique experience to be sure. Binh Dan might be worth a visit if you're in the mood for something adventurous, a bit off the beaten path, and $2 for beers ain't a bad price either! Thanks again to
Wandering Chopsticks
for organizing the event, and for helping me with the proper names and descriptions of the dishes.